This pumpkin mug cake is absolutely perfect for the times when cravings hit but you don't want to commit to baking a giant cake!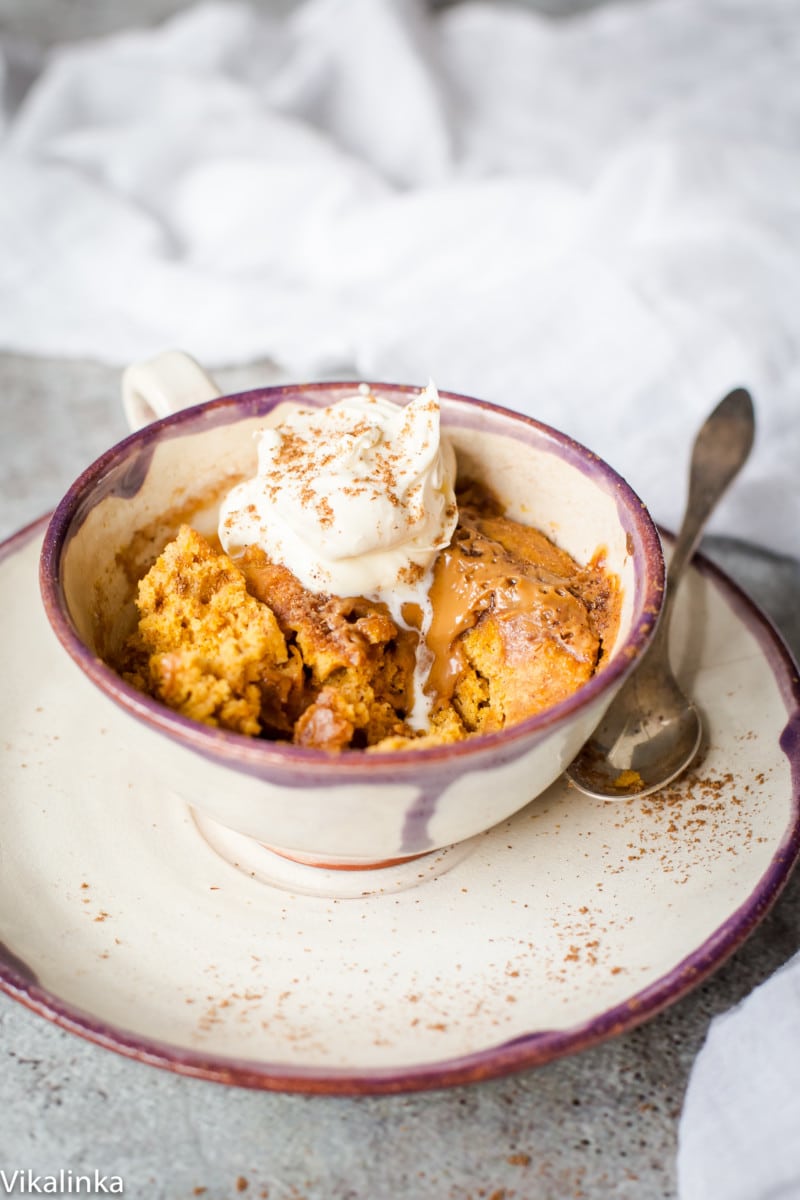 I took a day off work today to hang out with my girl for the last day of a half-term break. Did you know that British kids have breaks from school every 6 weeks? Bliss for happy kidlets, nightmare for working parents.
Anyway, I was hoping to spend some quality time with her but ended up doing a whole bunch of work from home. Sigh.
One of those days I will master that work-life balance but right now I am leaning heavily on the work side of things. Help!! Any great tips you would like to share?
Anyway, my only claim to fame is I made her this Spiced Pumpkin Molten Mug Cake. I wanted to spoil her a bit and had intentions to bake these Pumpkin Spice Latte Cupcakes or these Toffee Honeycomb Pumpkin Muffins.
I was realistic enough about not having enough time to bake this Spiced Pumpkin and Chocolate Cake with Maple Cinnamon Mascarpone Cream.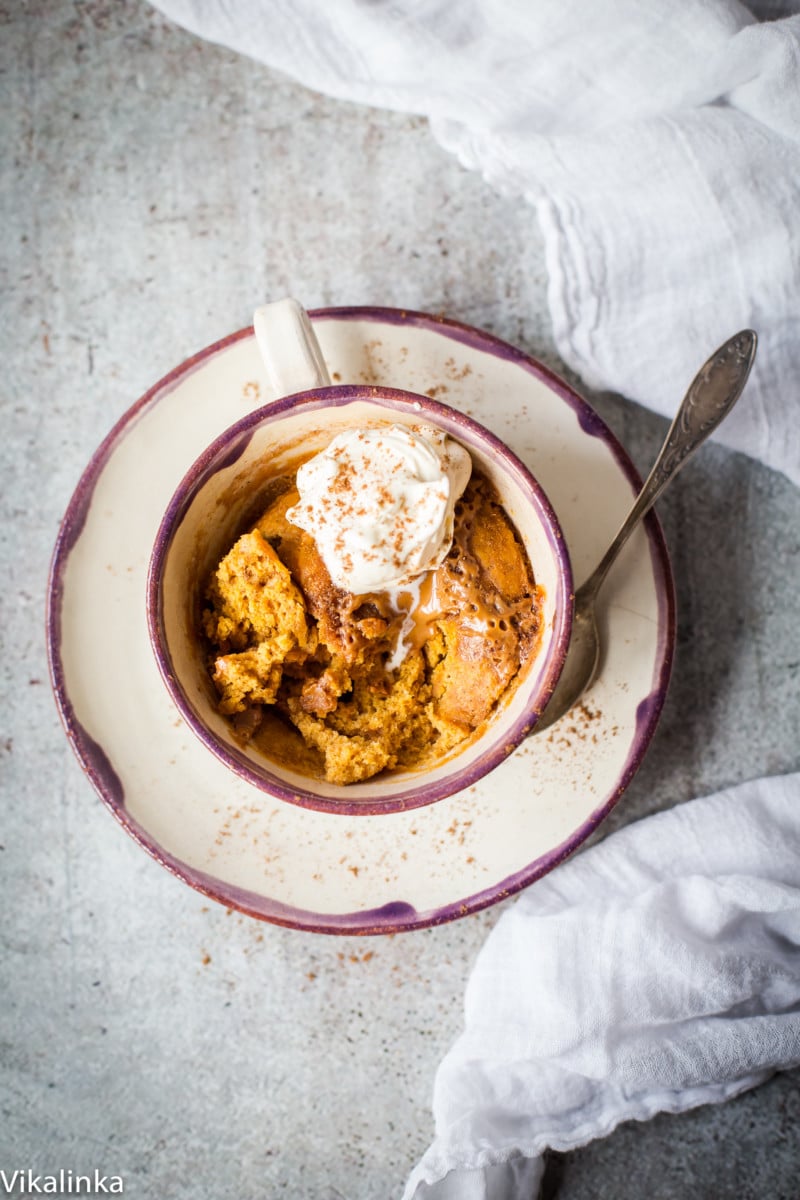 I might be too late to the mug cake party but they are new to me, so I thought why not try and share with you, friends.
Why mug cakes are great
I had leftover canned pumpkin in the fridge that needed to be used pronto. The beauty of a mug cake is in its streamlined, uncomplicated process .
You could be stuffing your face with cake 3 minutes after you thought you wanted one. It is however not that bad for you because this pumpkin mug cake comes with a built-in portion control!
The pumpkin mug cake takes 2 minutes to mix and 1 minute to cook in a microwave. And that is why even being short on time I could still test the recipe a few times to perfect it.
The one you see is version 3. There is one more after that but it was definitely a step backwards although Mitchell didn't know it and happily gobbled it up when he got home from school.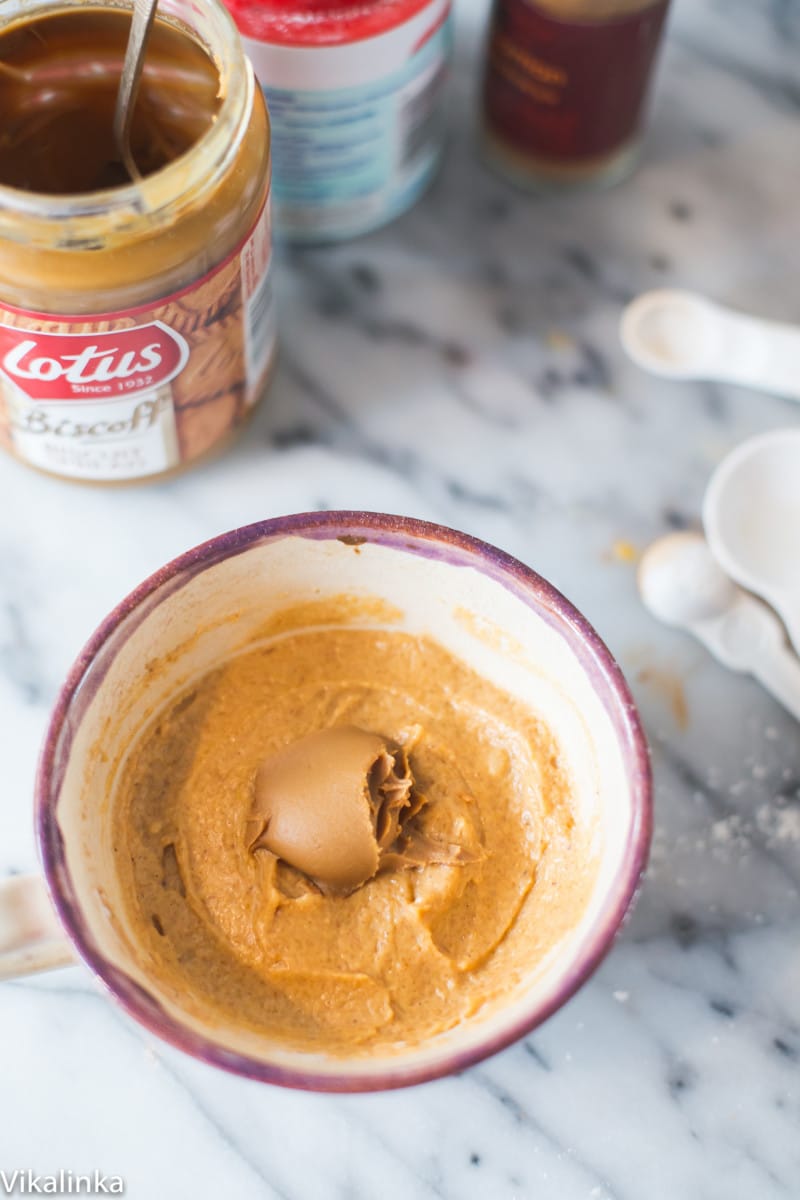 How do you make a mug cake that tastes like cake?
There are two types of mug cakes out there.
The ones with an egg and the ones without. I tried both and I can vouch for the recipe without an egg.
Adding an egg makes the cake tastes like pumpkin pie flavoured, stodgy cooked eggs. Not at all what I was looking for. So no egg.
What you should include however, is a spoonful of Biscoff spread. If you are not too familiar with it, imagine delicious biscuits pulverized and blended with caramel.
Yup, that's Biscoff spread. If you are not a fan, feel free to swap it out for Nutella or even Peanut Butter.
What you will end up with is a sweet and spiced pumpkin cake with a gooey middle. I also topped mine with a Bourbon spiked whipped cream.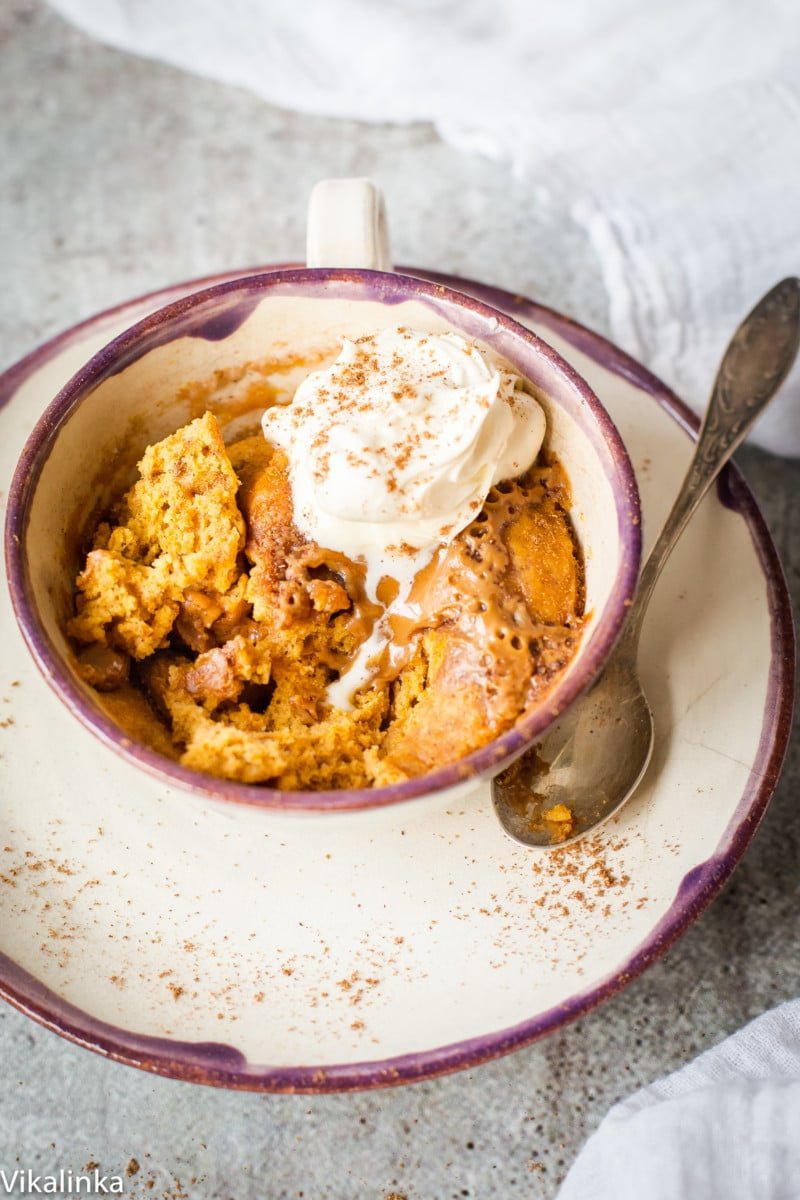 How do I whip a small amount of cream without a mixer?
To whip a tiny amount of cream to top your mug cake pour ½ cup of double/whipping cream with 1 tsp of icing sugar and any flavouring of your choice in a jam jar, pop a lid on a shake for a minute. Done!
I am not sure if I am delighted or disturbed that I discovered this shortcut to happiness. Mug cake path is a dangerous one! Only indulge in case of emergency!!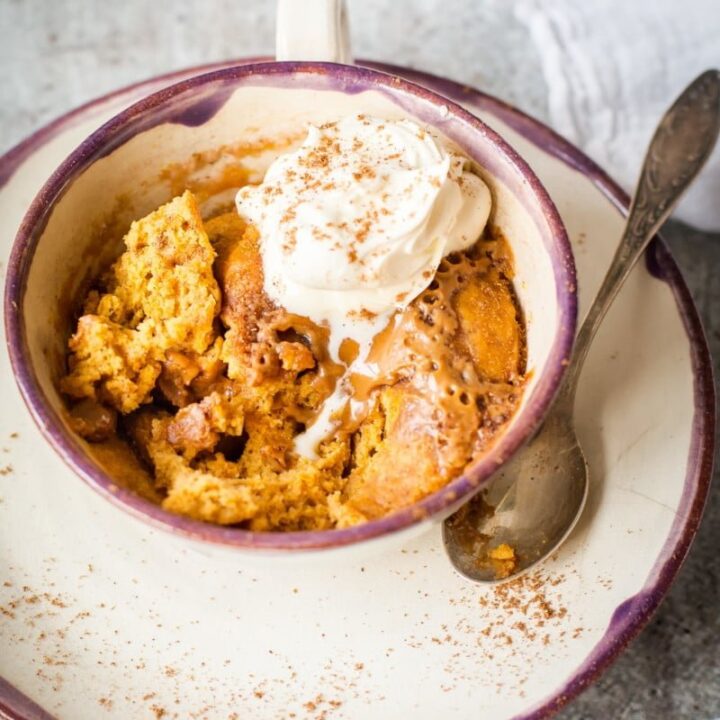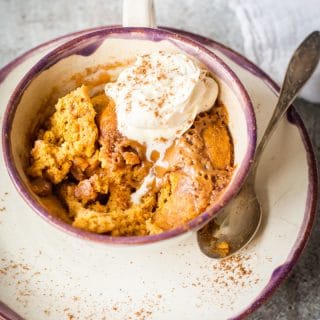 Spiced Pumpkin Molten Mug Cake
This pumpkin mug cake is absolutely perfect for the times when cravings hit but you don't want to commit to baking a giant cake.
Ingredients
4

tbsp

flour

1 ½

tbsp

sugar

⅓

tsp

baking powder

½

tsp

mixed spice or pumpkin spice

¼

tsp

cinnamon

½

tbsp

oil

2

tbsp

canned pumpkin/cooked pureed pumpkin

2

tbsp

milk

1

tbsp

Biscoff spread

whipping cream or cool whip

optional
Instructions
Mix all dry ingredients in a microwavable medium sized mug with a fork.

Add pumpkin, oil and milk and mix till well combined.

Drop a tablespoon of Biscoff spread right in the middle.

Microwave on high for 70 seconds.

Top with a dollop of whipped cream.
Nutrition
Calories:
416
kcal
Carbohydrates:
55
g
Protein:
5
g
Fat:
19
g
Saturated Fat:
6
g
Cholesterol:
23
mg
Sodium:
22
mg
Potassium:
269
mg
Fiber:
2
g
Sugar:
25
g
Vitamin A:
4890
IU
Vitamin C:
1.2
mg
Calcium:
106
mg
Iron:
2
mg