This Malted Chocolate Cake is what your dreams are made of!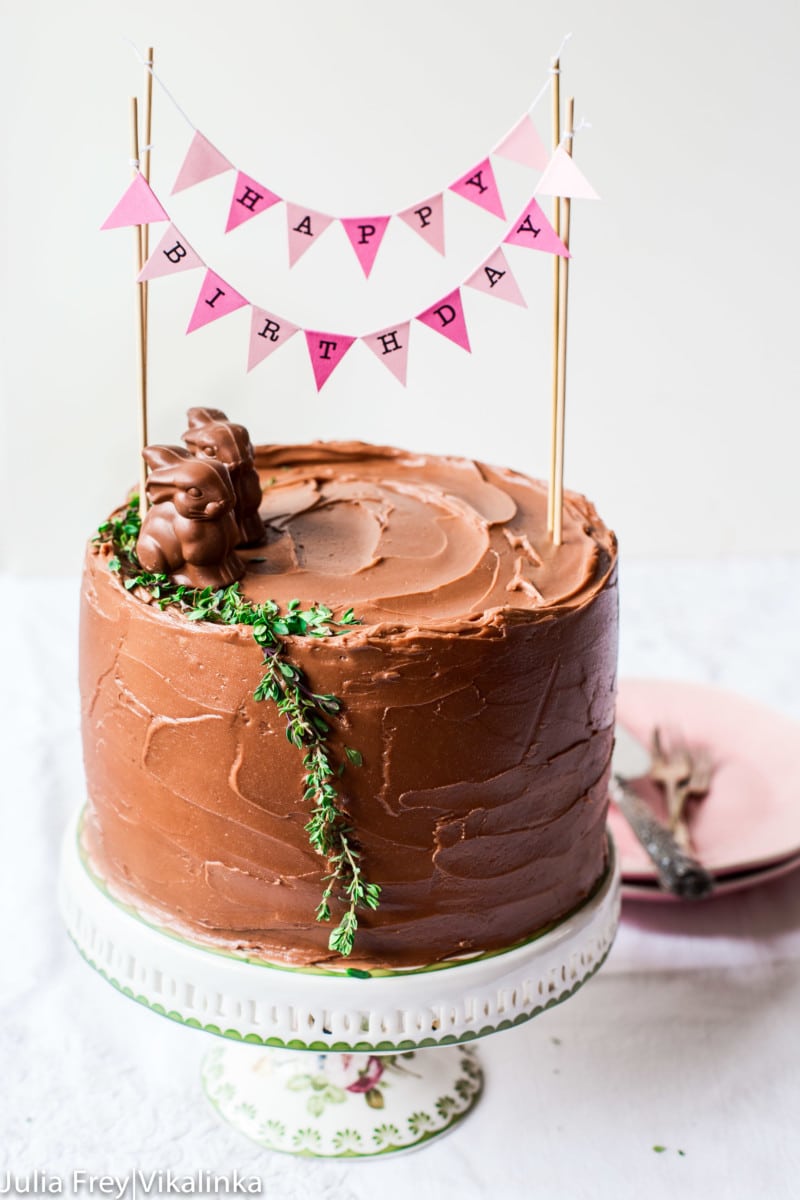 So the name for this cake is not really Malted Chocolate Cake. The real name for this cake is Sugar and Brownie Cake, which was named after the newest additions to our family…our pet bunnies.
Our bunny story began on Christmas Day when Vika, our youngest, received a long awaited pet…a rabbit named Wabbit or Wabbie for short. He was black and white with soft, floppy ears.
We loved him from the moment we saw him. Sadly Wabbie was only with us for short 3 weeks until an evil fox snapped his little neck and caused an unbelievable pain to our children.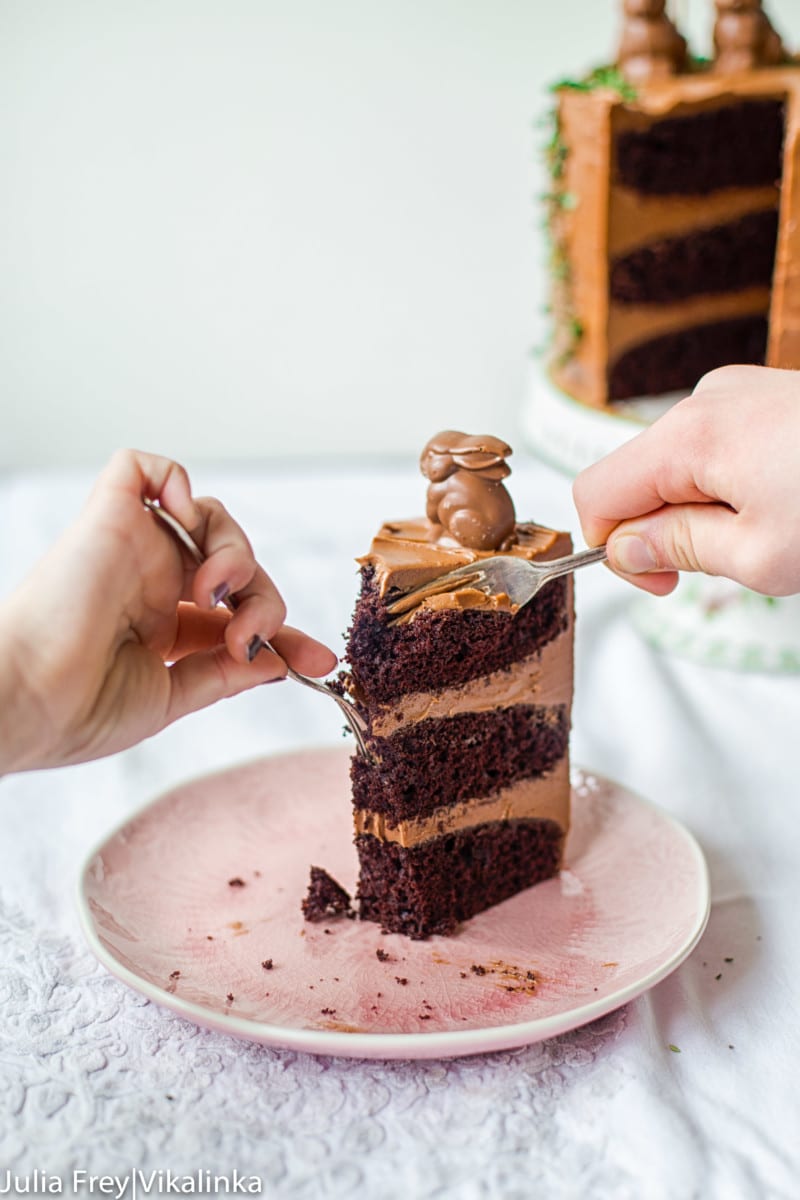 I bet you are surprised that London wildlife is that rich and diverse but hungry city foxes are the bane of our existence. The kids were inconsolable as they dealt with their first pet loss.
Their little hearts were broken, so being good parents that we are, we didn't wait too long to replace their furry friend. In fact, we didn't just buy one, we bought TWO!
Two little girl bunnies. Sugar and Brownie. They are both brown with adorable little cotton tails. They are the cutest and cheekiest little creatures you will ever meet. They mended our broken hearts.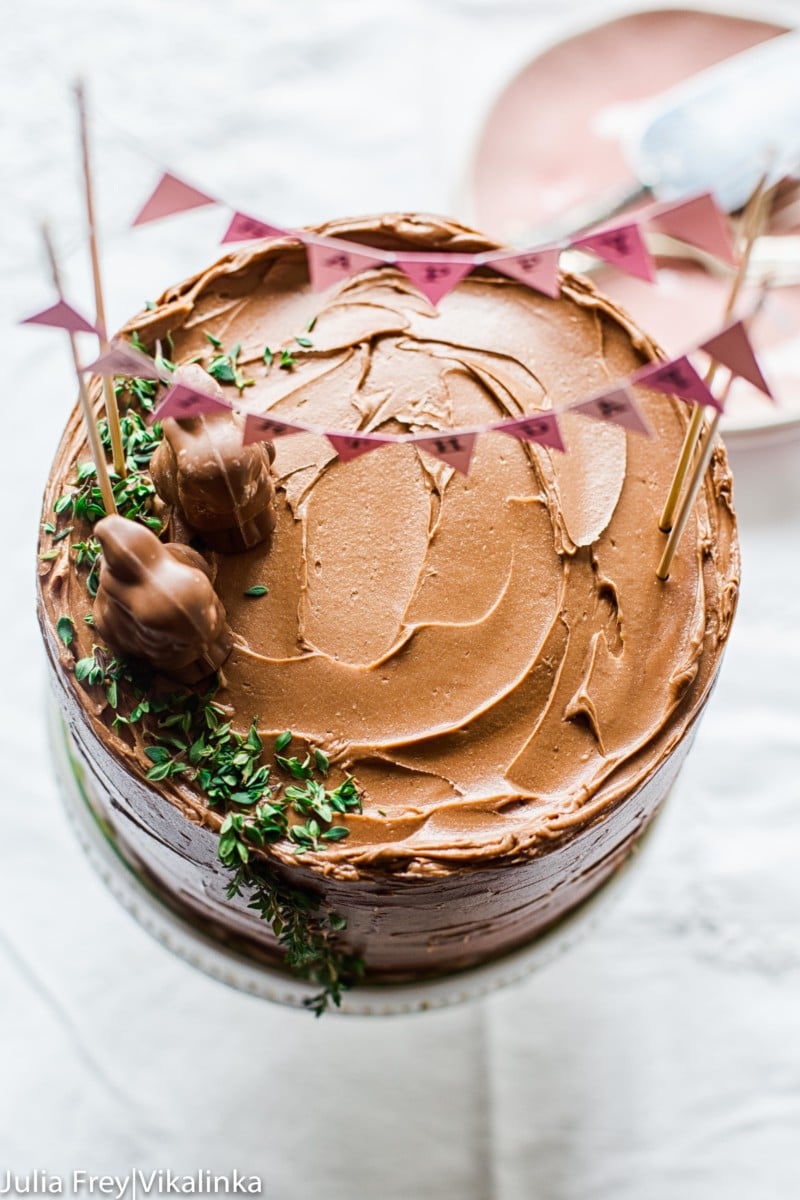 This malted chocolate cake I am sharing today was Vika's birthday cake and, as you can see, was inspired by the little cuties, who live in our garden.
As soon as the concept entered my head I couldn't wait to make it a reality for Vika. I knew she'd go mental for it!!!
I also kept the decorating idea a secret until the big reveal. I just couldn't wait to see the look of delight on her little face. I wasn't disappointed!
I knew the cake itself had to be chocolate to support the brown bunny idea but the problem is that Vika is not a huge chocolate fan, she finds it too strong.
I know that is just crazy but I had to work with her taste, so I decided to make a chocolate cake with malted milk chocolate frosting, which is sweeter and less intense than dark chocolate. Just what my little girl loves!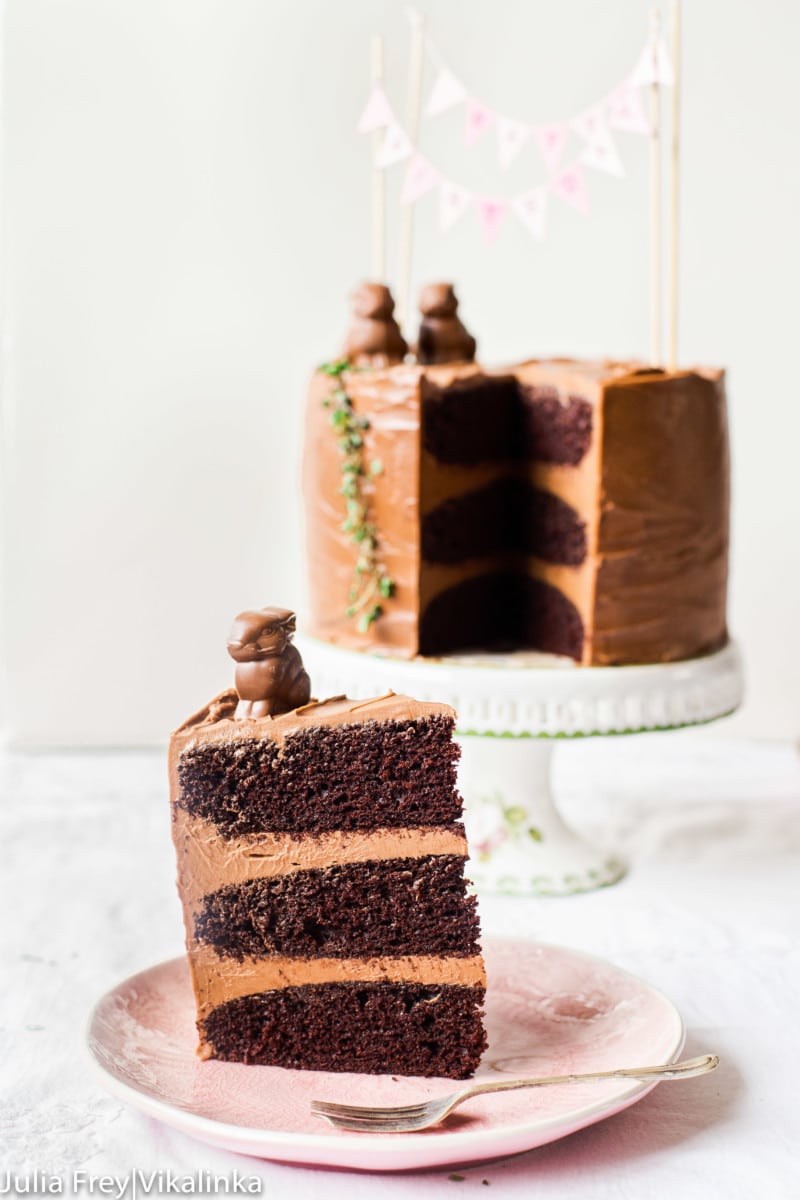 I searched the internet for a while for the best frosting and ended up using Sweetapolita's recipe because when it comes to cakes, she is the queen!
That frosting is easily made in a food processor and produces the creamiest texture I HAVE EVER SEEN!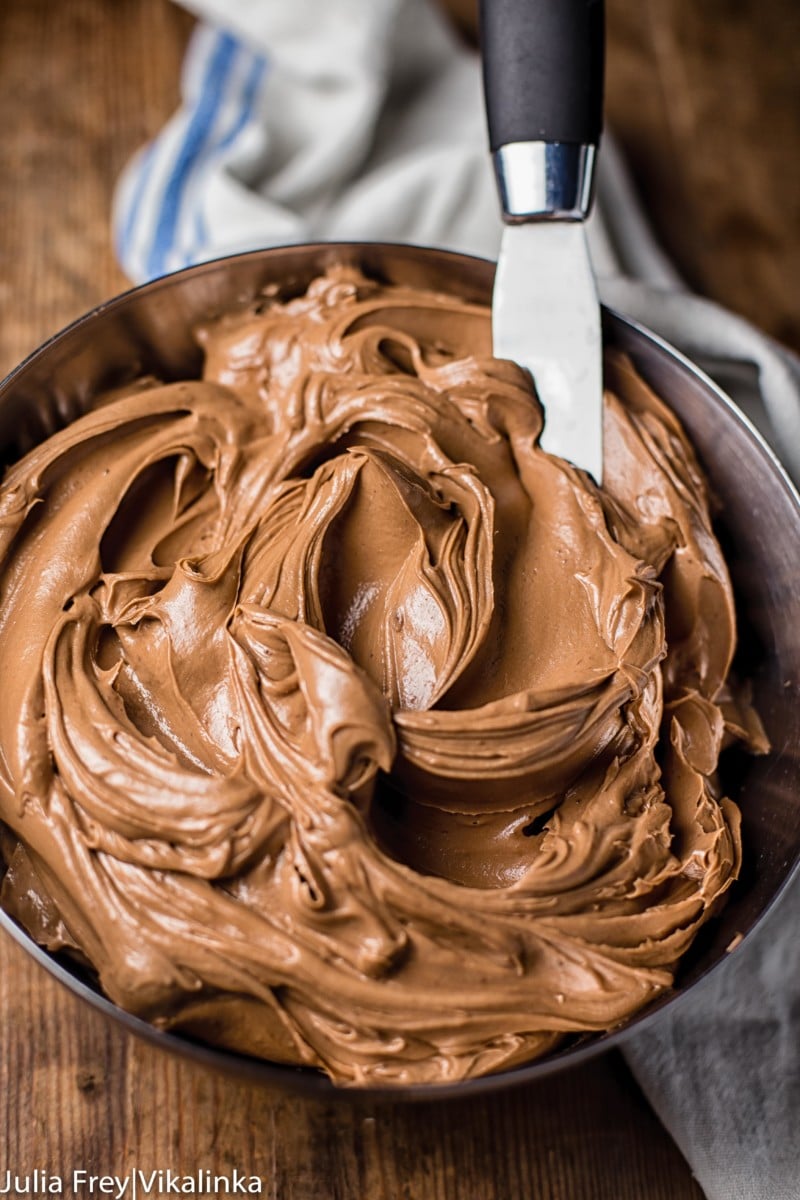 Try and tell me you don't want to dive right in! I dare you! If you are looking for a delicious chocolate cake with easy, no-fail steps, this cake is for you!!
The chocolate sponge is my stand-by and couldn't be easier to make, and is virtually impossible to mess us. And the icing is made in a food processor in a matter of 5 minutes! Even a beginner can successfully make this cake and wow everyone! Enjoy!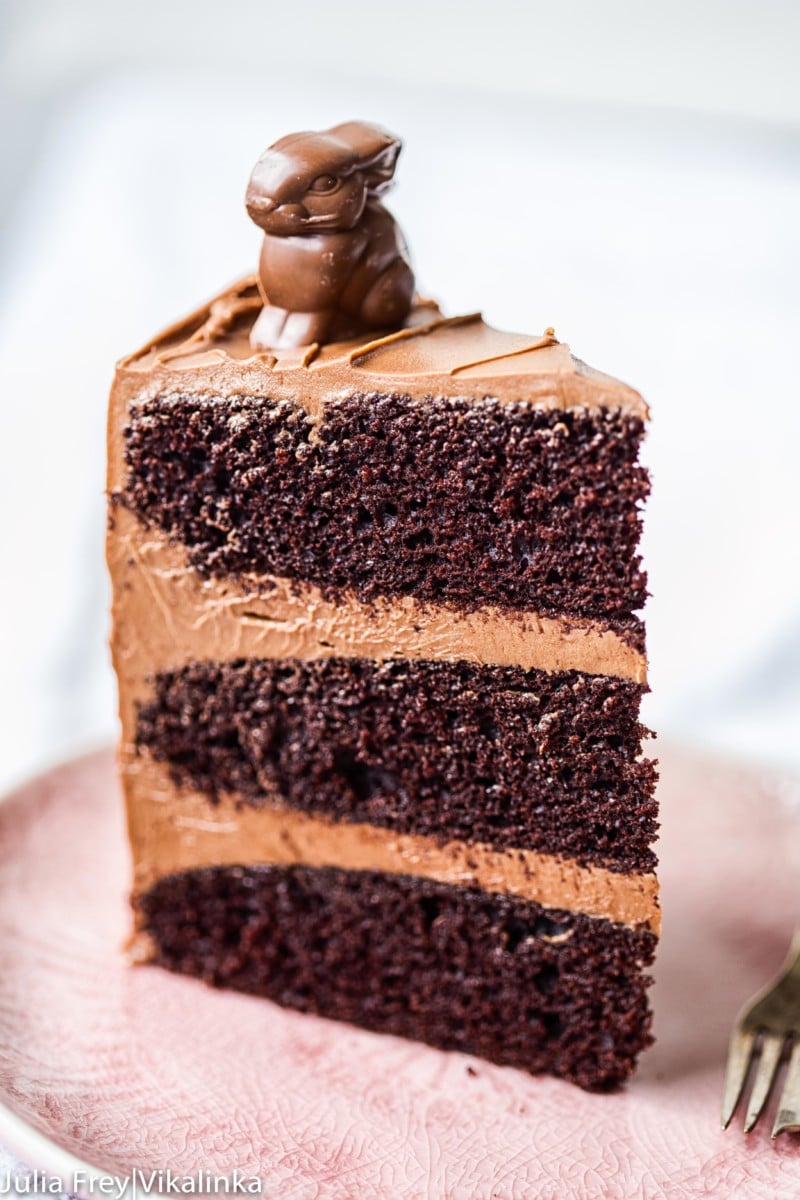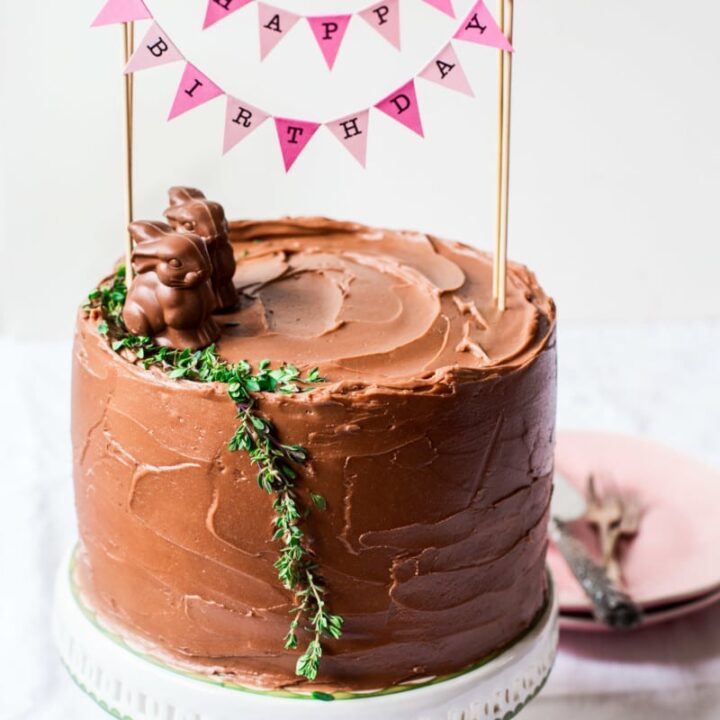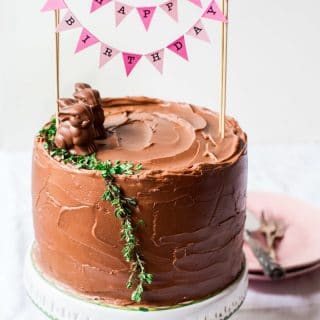 Ingredients
For the cake
1 ¾

cups/220 g flour

¾

cup/90 g cocoa

2

cups/400 g granulated sugar

1 ½

tsp

baking powder

1 ½

tsp

baking soda

1

tsp

salt

2

eggs

large

1

cup/ 250 ml whole milk

½

cup/ 125 ml vegetable oil

2

tsp

vanilla
For the malted chocolate frosting
2 ¼

cups

510 g unsalted butter, room temperature

4

cups

500 g confectioners' sugar

½

cup

chocolate Ovaltine or malted milk powder of your choice

⅓

cup

80 ml double cream/whipping cream

2

teaspoons

pure vanilla extract

Pinch

of salt

¼

cup

60 ml creme fraiche or sour cream

9

ounces

265 g good quality milk chocolate
For the decoration
2

chocolate bunnies

lemon thyme leaves

bunting
Instructions
For the cake
Preheat your oven to 350 F/180 C, butter and line 3 8"/20cm cake pans with parchment paper.

Mix together flour, sugar, cocoa, baking powder, baking soda and salt in a large bowl until combined. In a separate bowl mix eggs, milk, oil and vanilla essence. Add the wet ingredients to the dry ones and beat with an electric mixer until well incorporated.

Divide evenly among 3 pans and bake in the preheated oven for 25 minutes until a toothpick comes out clean. I baked 2 layers together and then the third one later.

Cool in the pans for 10 minutes, then remove cakes from the pans and cool completely on a wire rack.
For the malted chocolate icing
Combine all ingredients except melted chocolate in a food processor and pulse until well combined. Take the lid off and check to make sure the ingredients on the bottom are well incorporated, use a spatula to mix them in if necessary.

Add melted chocolate and pulse a few more times until the frosting is creamy and spreadable.

Use immediately to fill the layers and cover the cake.

Decorate with a sprinkling of lemon thyme leaves for the "grass" and "ivy" on a side and place chocolate bunnies on top.