This brioche like sweet Easter bread glazed with a simple sugar icing or melted white chocolate, aka Kulich in Russian, is always the biggest hit at holiday brunches!
Try this Kulich recipe with another Russian Easter favourite Sweet Cheese Pudding Paskha.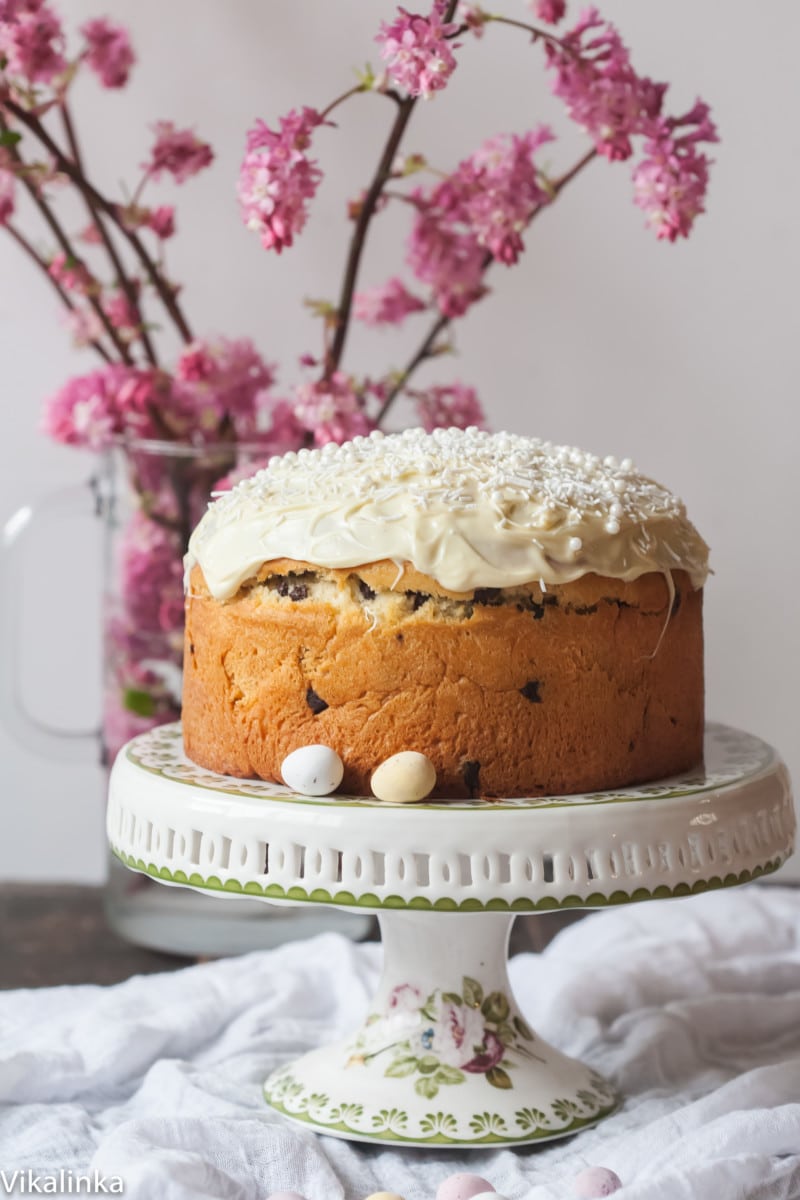 I feel an incredible pull of tradition every year when Easter comes around. No matter how busy I am, the need to cook, bake and colour eggs overpowers everything else.
I've written about Russian Easter traditions here and here, so if you've been following me for a while you know that Easter is the biggest holiday in the Orthodox tradition, which affects everyone in the whole country… Orthodox or not. Everyone celebrates Easter.
What is Russian Easter Bread Kulich?
Kulich is a sweet bread that every Russian family eats for Easter… it's an unbreakable tradition. Its sweet, rich and buttery yellow-coloured flesh studded with all kinds of great things-golden raisins, candied citrus peel, almonds is what I want to stuff my face all the time.
But I wait till Easter like a good girl. If I were to compare it to anything I would say it's a cross between Italian Panettone and French Brioche.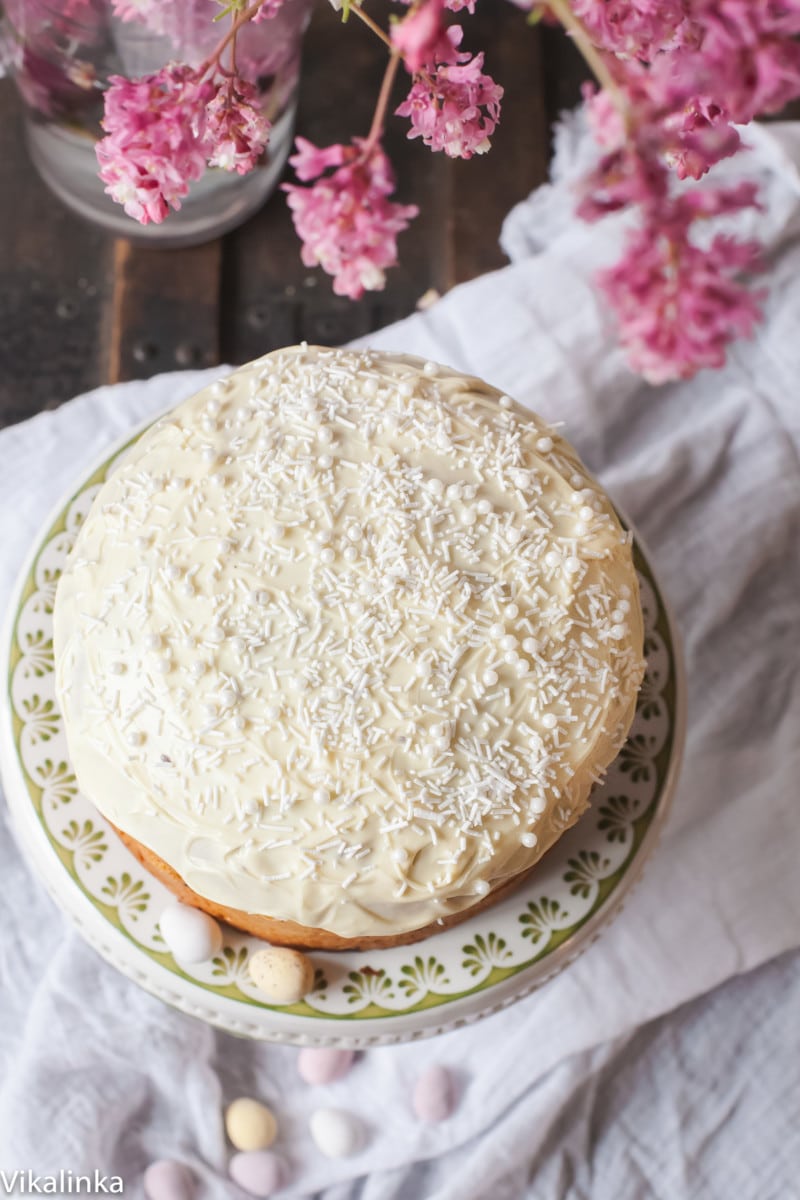 My grandma would start the dough the night before, let it rise overnight and wake up well before dawn to make all kinds of goodies- filled pastries, sweet and savoury, cinnamon buns and Kulich.
Waking up to sweet aroma of freshly baked bread is one of my favourite childhood memories.
My grandma's baking was the best, none of my friends' grandmas came even close to her greatness but, unfortunately, she never wrote down any recipes and some of the most traditional Russian recipes, which she was the keeper of, got lost with her passing.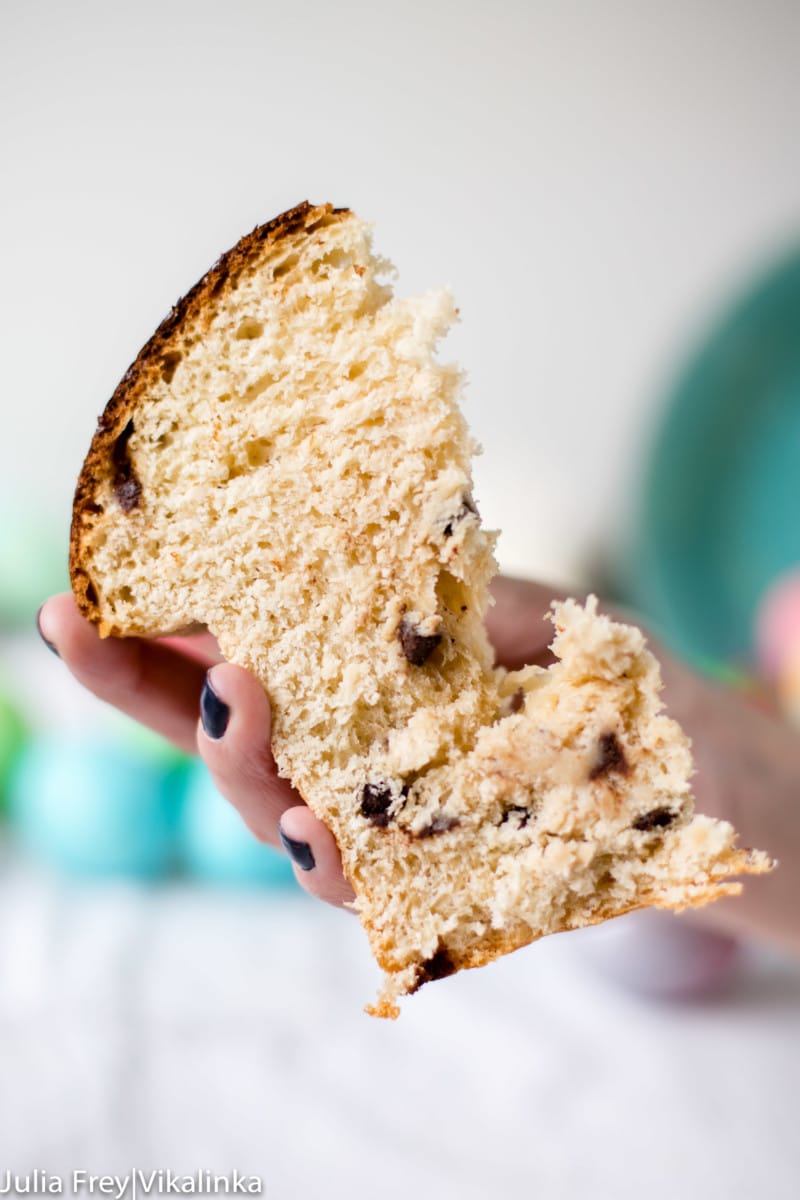 Because of such high expectations, only heightened by my nostalgic memories, I never thought I would like another Kulich. However, I wanted to revive the tradition in my own family, so I went on a recipe hunt.
I spent a while searching in hopes to find one that resembled my grandma's. Truth is, I was only a child and didn't remember how grandma made the bread. In the end, I had to turn to Natasha's Kitchen.
She's got her mom and aunts with their wealth of knowledge and experience when it comes to Russian and Ukrainian food, and everything always looks incredible!
I consult her blog any time I am unsure about any traditional recipe and she never disappoints. I followed her recipe religiously except for the finishing touches. I used chocolate chips instead of traditional raisins and I topped it with white chocolate instead of sugar glaze.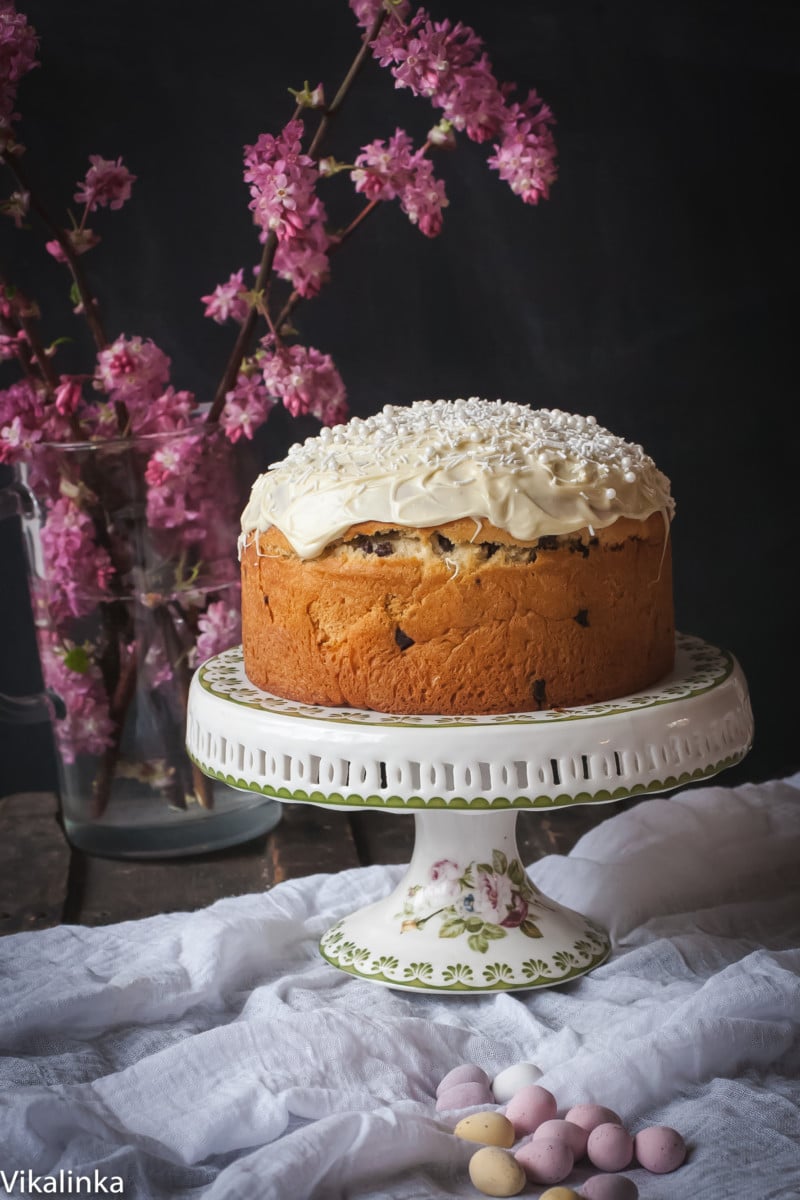 I didn't think any recipe could top my grandma's and I almost feel guilty for saying this but Natasha's recipe is without a doubt the most luxurious Kulich I have ever had! The first loaf was gone within hours…thank God that the recipe makes 3!
Now I can relax knowing that once again my Easter table with be crowned with this gorgeous bread that's been enjoyed by generations of others before us.
Happy Easter!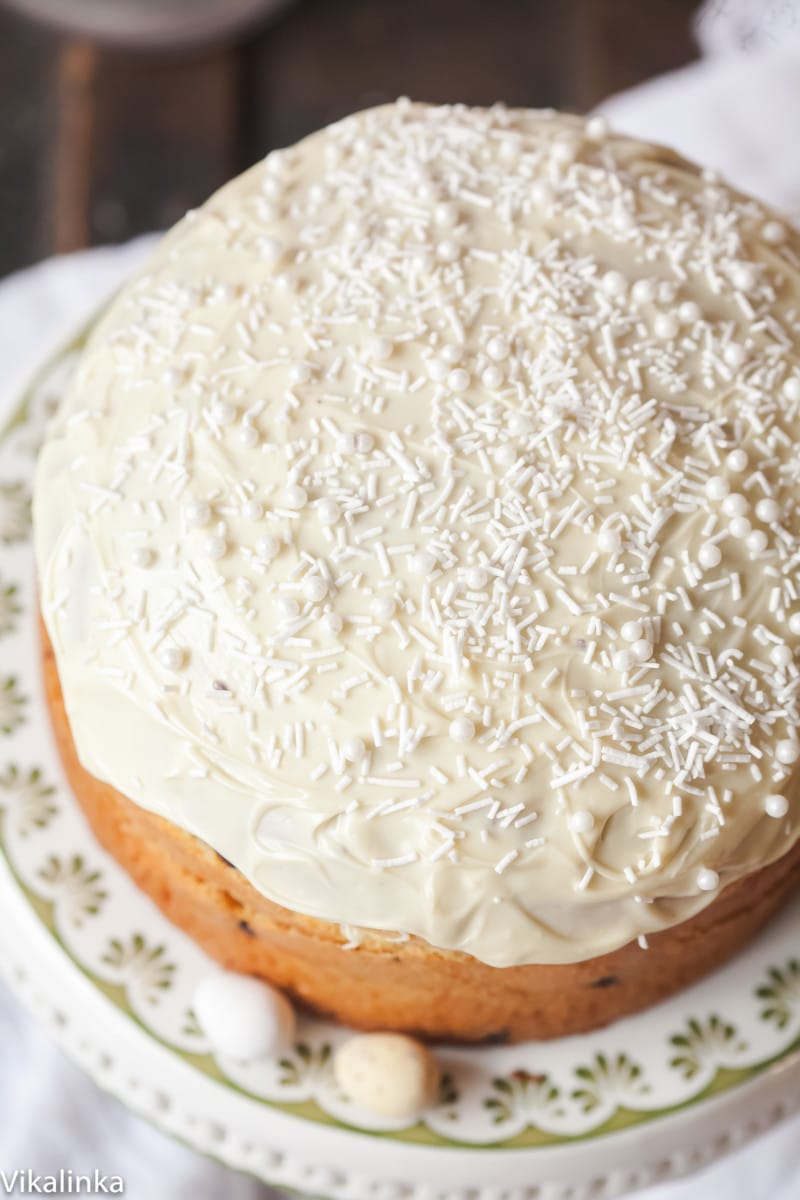 More Easter recipes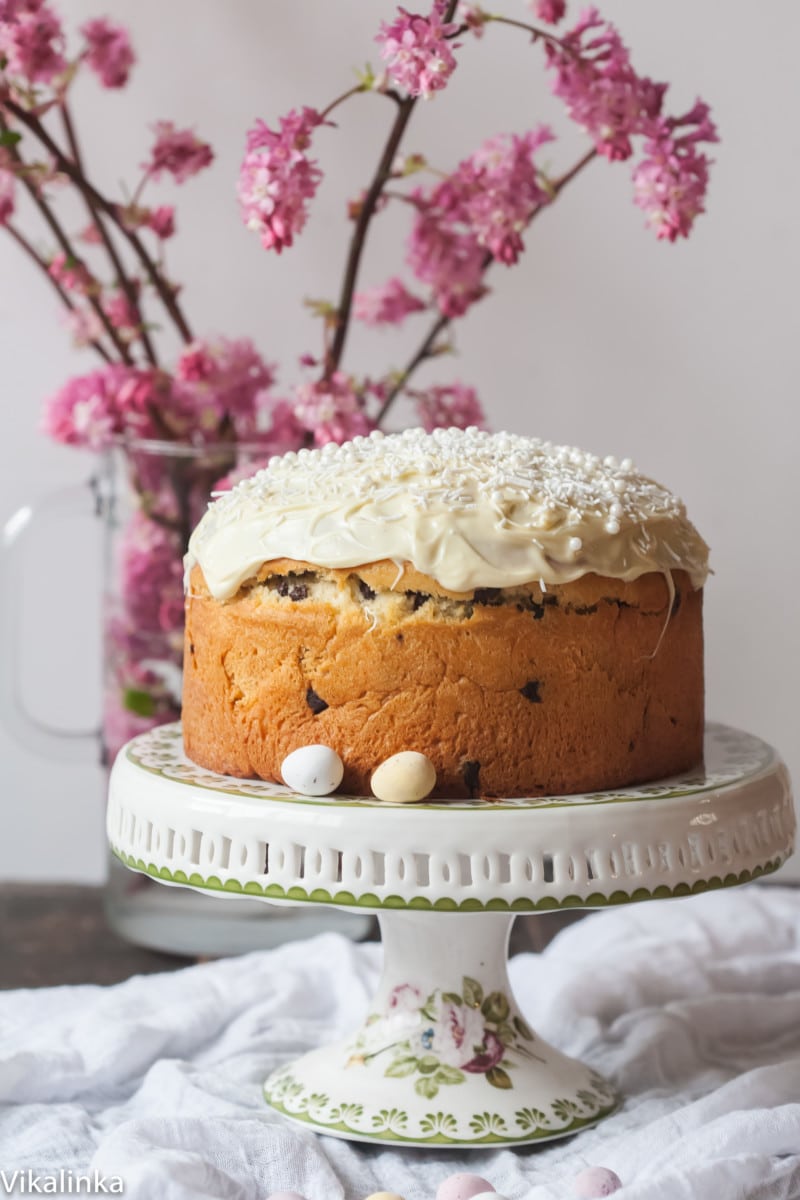 Ingredients
For the bread
2

cups

+ 2 Tbsp warm whole milk

6

eggs

room temperature

1

tbsp

active dry yeast

2

cups

sugar

250

gr/ 0.5 lbs butter

melted (if using salted butter, omit the salt)

½

tsp

salt

½

cup

sour cream

1

tsp

vanilla

9

cups

all-purpose Canadian flour

divided

1 to 1½

cups

chocolate chips or raisins
For the glaze
200

gr/ 2 bars -white chocolate

melted

sprinkles
Instructions
In the bowl of a stand mixer or another large mixing bowl combine 2 cups + 2 tbsp warm milk, 6 eggs, 1 tbsp yeast, 2 cups sugar, warm melted butter, ½ tsp salt, ½ cup sour cream and 1 tsp vanilla. Add 4 cups flour to make a batter consistency of sour cream. Cover with a cling wrap and a towel and let it rise in a warm place for 2 hours.

Add 5 more cups of flour; one cup at a time or until the dough no longer sticks to your hands to make a very soft and elastic dough. Stir in 1 to 1½ cups of chocolate chips or raisins, candied citrus peel or nuts. (Anything you like in your sweet bread). Cover and let dough rise another 2 hours in a warm place. The rising process will take longer if your house is not very warm.

Divide dough evenly into three deep 8" baking pans, that have been well-oiled. Try not to handle the dough too much. Let dough rise uncovered in a warm place for additional 2 hours or until you see a significant rise.

Bake at 350F/180C for 35-40 minutes or until golden.

Remove from the pan and cook on a wire wrack.

Once the loaves are at room temperature, melt while chocolate in a double boiler over low heat and cover the tops of bread with it.

Use sprinkles to decorate.