This brioche like sweet Easter bread glazed with a simple sugar icing or melted white chocolate, aka Kulich or Paska in Russian and Ukrainian, is always the biggest hit at holiday brunches!
Try this Kulich recipe with another Russian Easter favourite Sweet Cheese Pudding Paskha.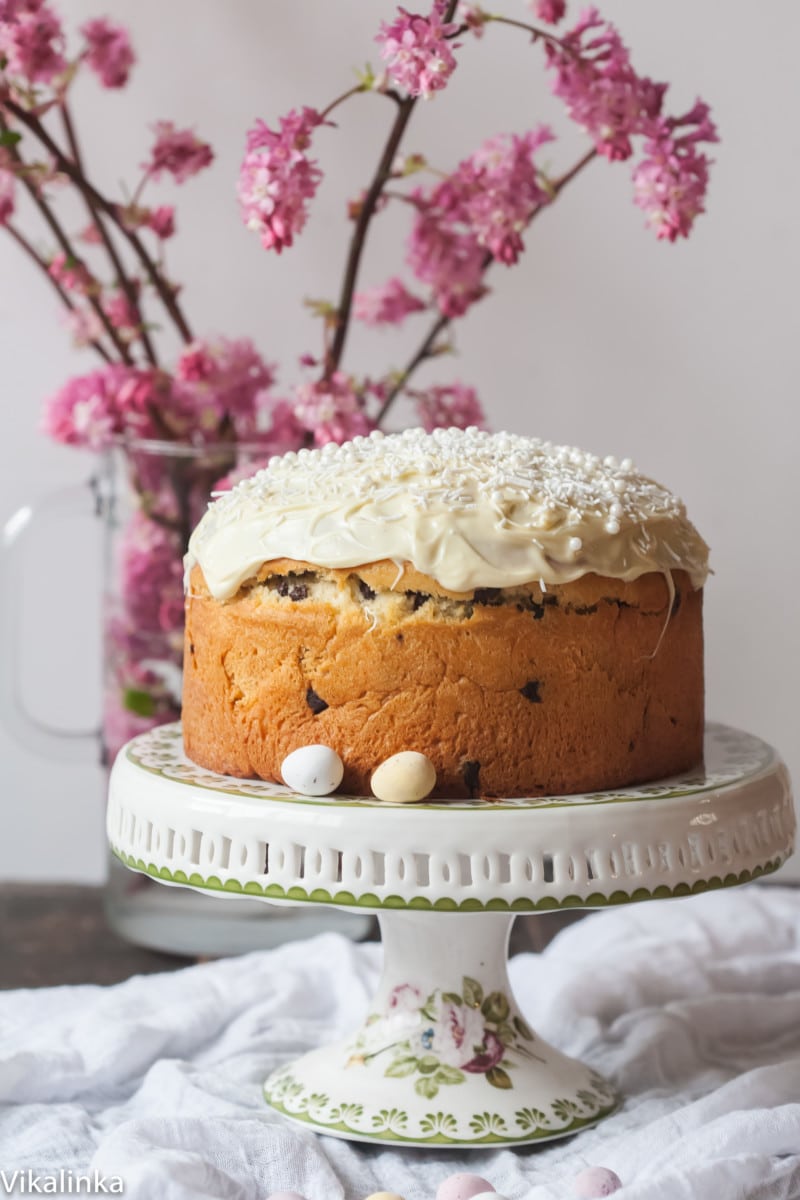 I feel an incredible pull of tradition every year when Easter comes around. No matter how busy I am, the need to cook, bake and colour eggs overpowers everything else.
I've written about Russian Easter tradition of egg colouring. And if you've been following me for a while, you know that Easter is the biggest holiday in the Orthodox tradition, which affects everyone in the whole country… Orthodox or not. Everyone celebrates Easter.
What is Russian Easter Bread?
It's called Kulich and also Paska. It is a sweet bread, that every Russian and Ukrainian family eats for Easter. It's an unbreakable tradition.
Its sweet, rich and buttery yellow-coloured flesh studded with all kinds of great things like golden raisins, candied citrus peel, almonds is what I want to stuff my face all the time.
But I wait till Easter like a good girl. If I were to compare it to anything I would say it's a cross between Italian Panettone and French Brioche.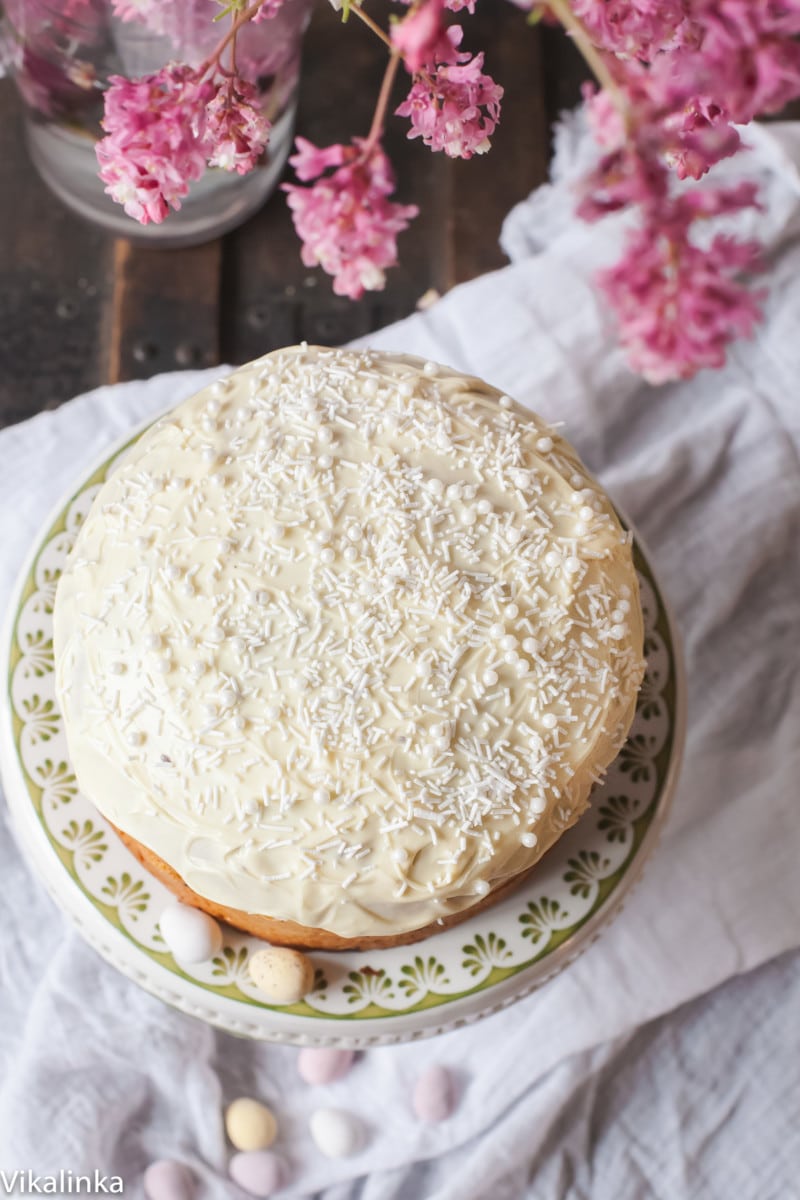 How to make Kulich
My grandma would start the dough the night before, let it rise overnight and wake up well before dawn to make all kinds of goodies. Sweet and savoury filled pastries, cinnamon buns and Kulich.
Waking up to the sweet aroma of freshly baked bread is one of my favourite childhood memories. And I hope to pass them onto my children.
My grandma's baking was the best, none of my friends' grandmas came even close to her greatness. Unfortunately, she never wrote down any recipes, and some of the most traditional Russian recipes, which she was the keeper of, got lost with her passing.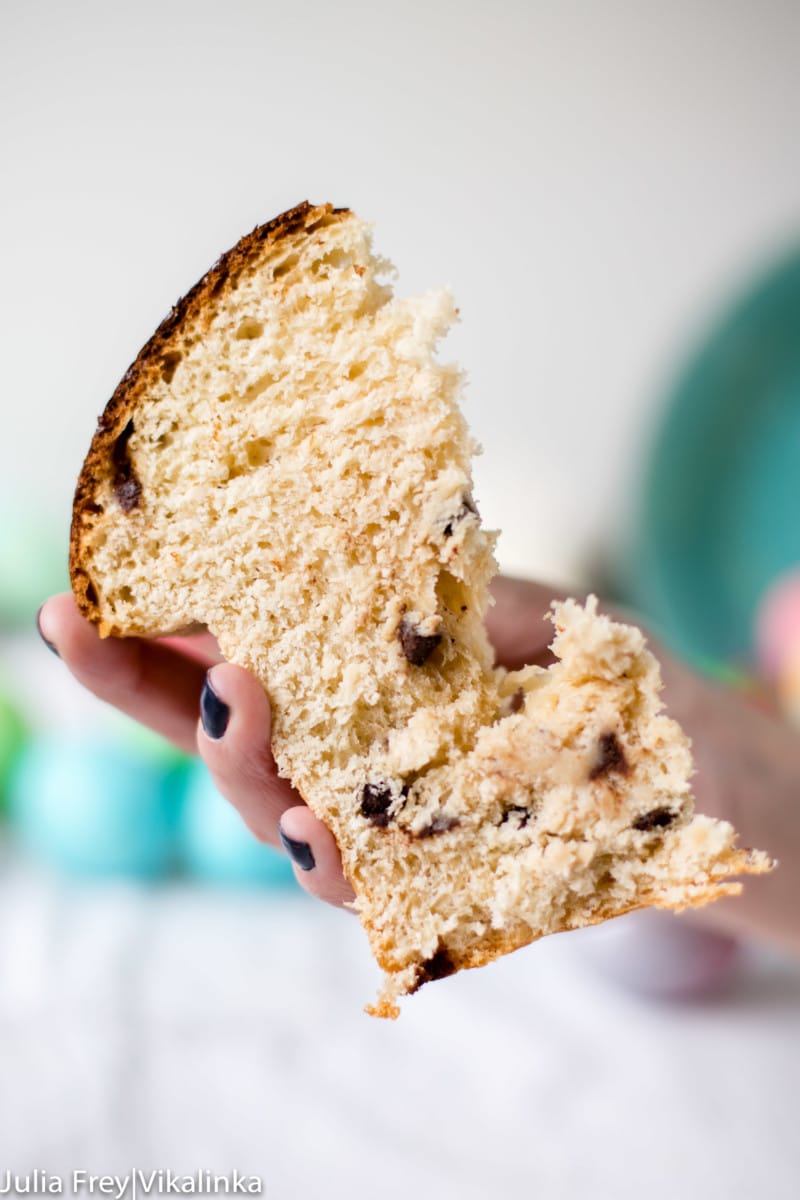 Because of such high expectations, only heightened by my nostalgic memories, I never thought I would like another Kulich. However, I wanted to revive the tradition in my own family, so I went on a recipe hunt.
I spent a while searching in hopes to find one that resembled my grandma's. Truth is, I was only a child and didn't remember how grandma made the bread. In the end, I had to turn to Natasha's Kitchen.
Here is my rendition of the recipe. I used chocolate chips instead of the traditional raisins and I topped it with melted white chocolate instead of sugar glaze.
If you make bread or cinnamon rolls, making this Easter bread recipe is not too different. It takes a whole day because it consists to 3 stages. Nonetheless, none of them are time consuming or difficult.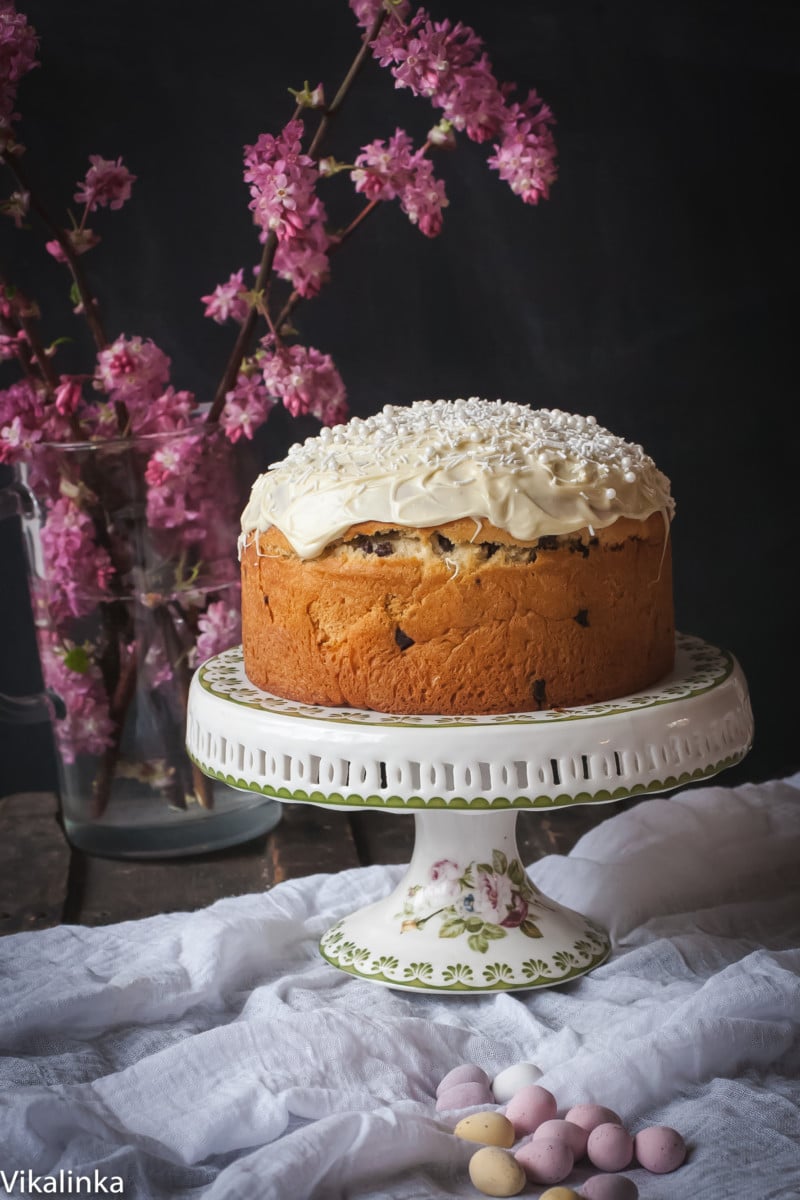 What pan to use for Kulich
Kulich is baked to be a very tall bread, so large coffee cans are often used in Russia to create that traditional shape. However, I bake mine in a deep 8 inch cake pan.
You can also order special pans and molds, that are made for the Italian Panettone to bake yours.
Decorating Tips
Traditionally Kulich is covered with a simple sugar glaze made with a mix of icing sugar and water. My grandmother poured a combination of beaten egg white and sugar, which hardened and turned glossy.
I personally prefer using melted white chocolate to top my Easter bread. Sometimes I like to keep it unglazed and pipe the traditional Orthodox lettering on it.
XB, which stands for Christ is Risen in Russian. It's the phrase you will hear people say to each other all day long. Powerful words that replace 'hello' for the day!
Usually our first loaf disappears within a couple of hours…thank God the recipe makes 3!
So you can indulge before the day knowing that your Easter table will be crowned with this gorgeous bread, that's been enjoyed by generations of others before us.
Happy Easter!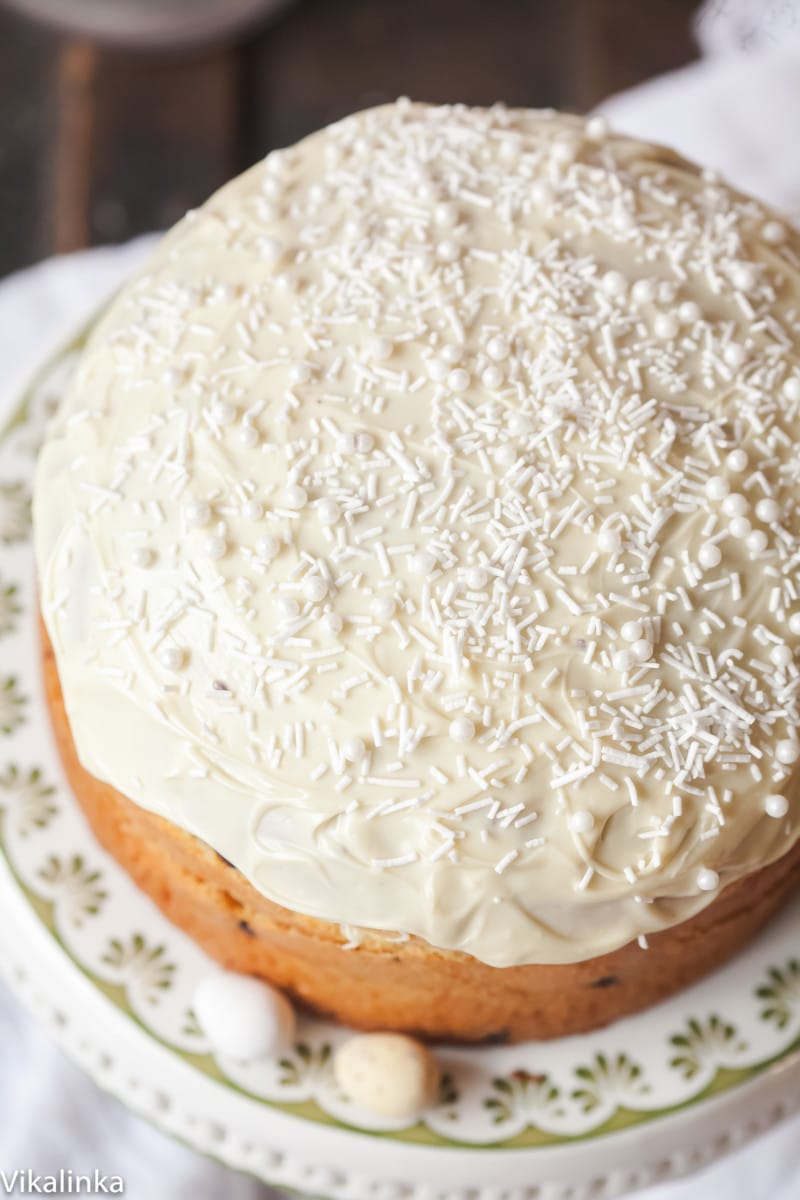 More Easter recipes
Recipe originally published in 04/2015. Updated and republished in 04/2020.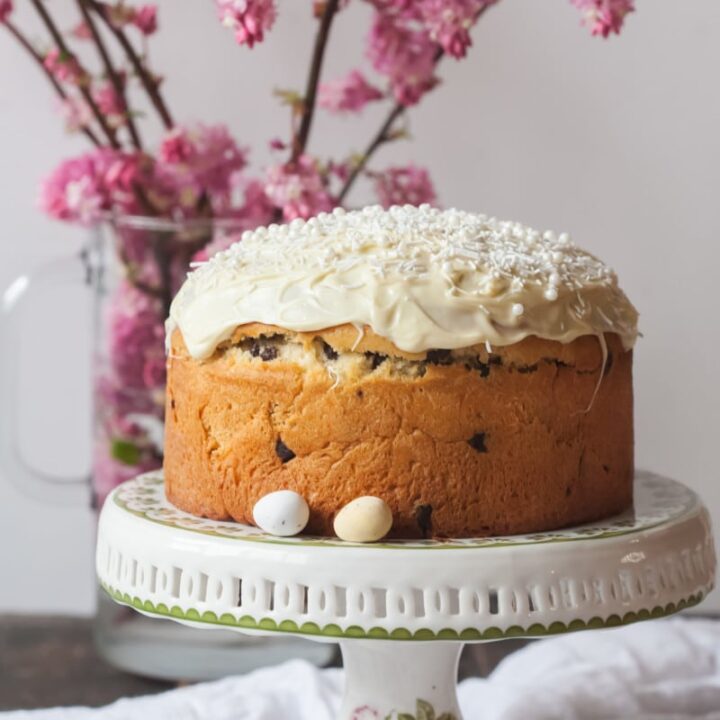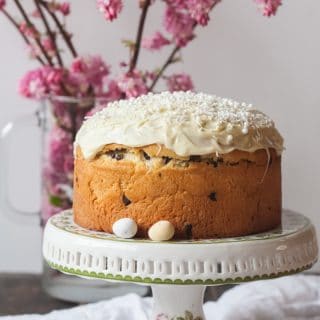 Russian Easter Bread Kulich
Makes 2 X 5 inch round loaves.
Ingredients
For the bread
500g/4 ½ cups

strong bread flour

125 ml/1/2 cup

whole milk

pinch

saffron threads

14 g/ 2 Tbsp

active dry yeast

150g/3/4 cup

granulated sugar

150g/1/2 cup + 2 Tbsp

unsalted butter

2

egg yolks

2

eggs

2

tsp

vanilla

¼

tsp

salt

100g/1/2 cup

chocolate chips

milk or white
For the glaze
100g/3.5 oz

white chocolate

melted

1

tbsp

sprinkles
Instructions
To a small saucepan add the milk with a pinch of saffron and warm up lightly without bringing it to a boil. Alternatively, you can warm up the milk in a microwave. In the bowl of a stand mixer, fitted with a paddle attachment, combine the infused milk with the yeast, 50g of the sugar and 200g of the flour, cover it with plastic wrap and let it rise in a warm place for 1 hour.

With an electric mixer whip the softened butter with the remaining sugar until creamy, then add the eggs, egg yolks, vanilla and the salt. Then add this mixture to the yeast mixture and mix until well combined.

Replace the paddle attachment with a dough hook, add the remaining flour and start kneading until you get elastic dough. This will take 10-15 minutes on medium speed. Towards the end of the kneading time turn the speed up to high and knead for 5 minutes to develop gluten in the dough. At the end the dough will be very soft and a little sticky. Fold in chocolate chips until evenly distributed.

Transfer the dough to an oiled bowl, cover with plastic wrap and let it rise in a warm place for 2 hours-2.5 hours until it's doubled in bulk. It might take longer if your house is cool.

Divide the dough and with oiled hands transfer into two 5 inch or 6 inch pans. Ideally you pans should also be tall or you can use panettone moulds. You can build up the sides of your pan with parchment paper if your pans are not tall enough. Your dough should come up no higher than halfway up the sides of the pans. Let the dough rise one more time for 40 minutes to 1 hour.

Bake in the preheated to 180C/350F for 35-40 minutes. Take out of the oven and let it cool, then remove from pans when cool enough to handle. Don't remove if using paper moulds.

Cool and glaze with melted white chocolate and decorate sprinkles. The bread is best on the day it is baked or the following day.
Notes
This bread could be toasted or made into French toast if you have leftovers and it has gone a little stale.
Nutrition
Calories:
247
kcal
Carbohydrates:
34
g
Protein:
4
g
Fat:
11
g
Saturated Fat:
6
g
Polyunsaturated Fat:
1
g
Monounsaturated Fat:
2
g
Trans Fat:
0.2
g
Cholesterol:
54
mg
Sodium:
45
mg
Potassium:
82
mg
Fiber:
1
g
Sugar:
14
g
Vitamin A:
249
IU
Vitamin C:
0.03
mg
Calcium:
32
mg
Iron:
1
mg