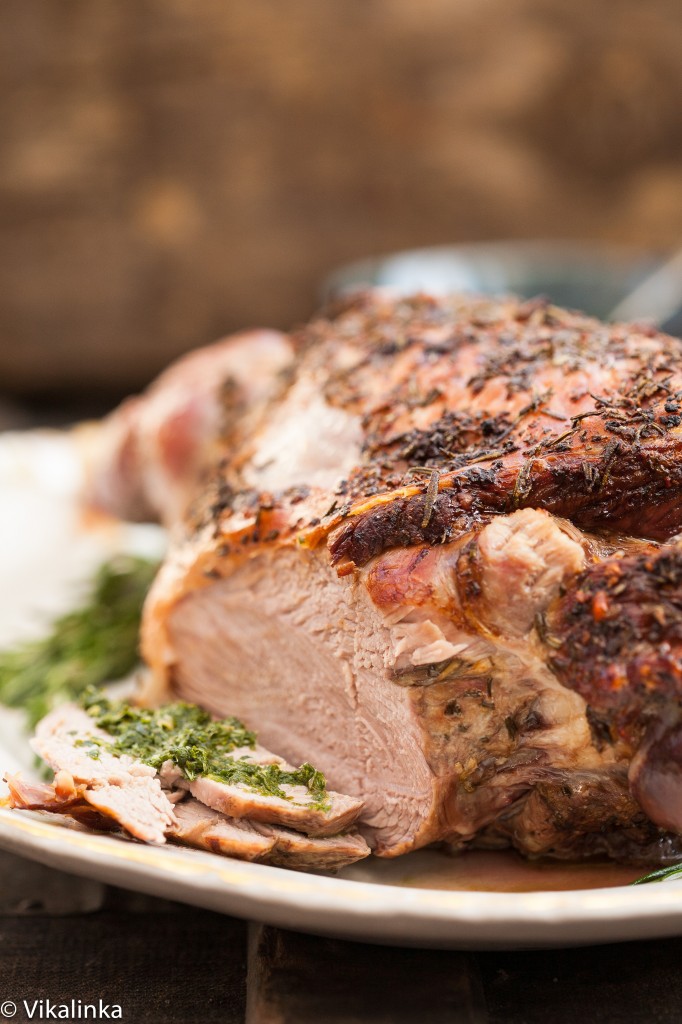 What will you be having this Easter? Are you a traditionalist or do you like to mix things up a bit? I wouldn't consider myself very traditional except for the holidays. I expect certain items to be present, by which I mean meat and potatoes are a must. Everything else is a fair game. Our family's Easter favourite is glazed ham, and I usually get creative with the glazes but nothing too crazy. I didn't realize until we moved to the UK that the tradition is different here and roasted lamb usually adorns the Easter table. I've always been a huge fan of lamb so I happily embraced this tradition.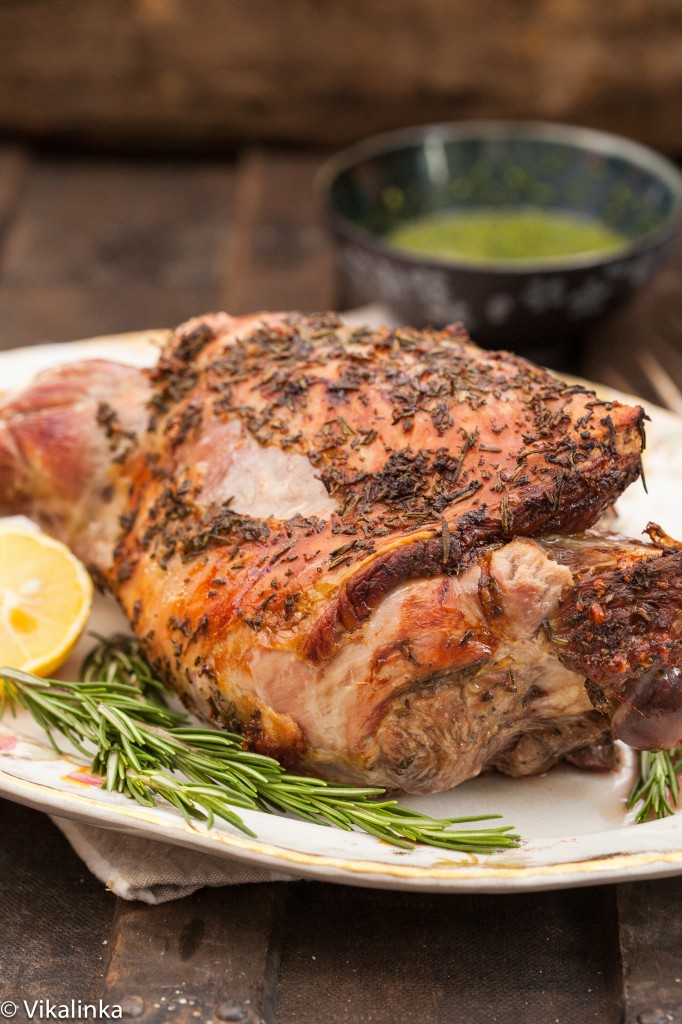 No one likes being stuck in the kitchen while family and guests enjoy a relaxed Easter Sunday. That tells me to be prepared, planning and prepping ahead of time as much as I can manage, so when the day arrives I don't have to get up at the crack of dawn and rush around all day to get everything ready. I especially dislike being around the hot oven for too long and then greet my guests red-faced and sweaty! Who is with me on this one?
Then you will love this roast leg of lamb, which hardly takes any hands-on time and cooks within 1 hour and a half. That is a win-win situation for me.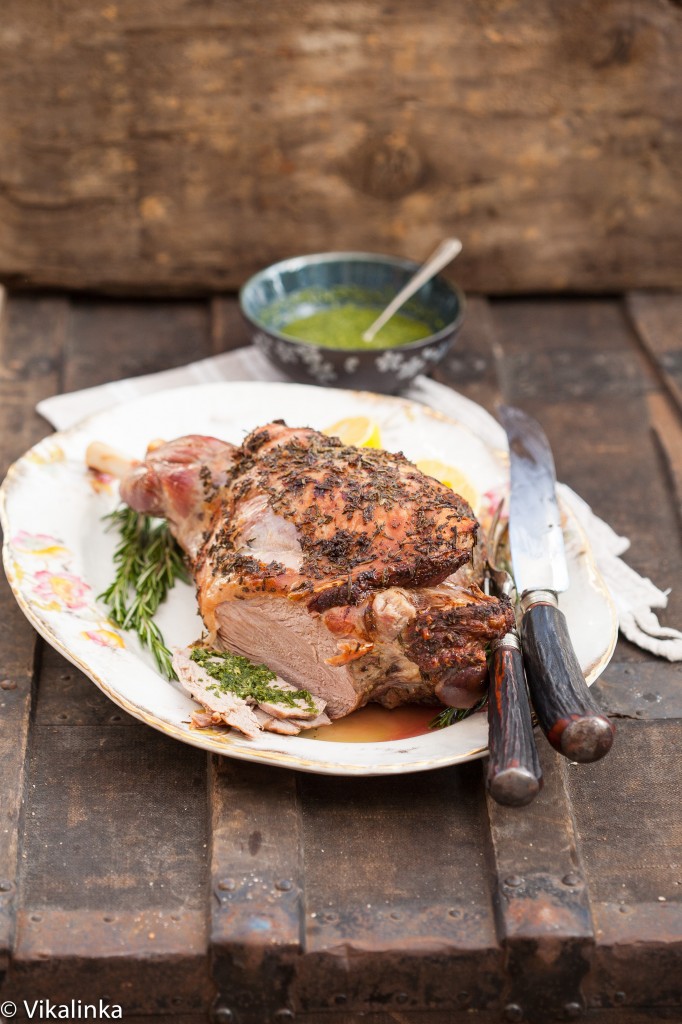 The only thing you'd have to do is to prepare the aromatic herb rub, spread it on the lamb and stick it in the oven for 1 hour and 15 minutes for a medium rare lamb and 1 hour and 30 minutes for well done meat.
The combination of rosemary, garlic and lemon zest does wonders to improve the taste of this lamb roast. If you are not a big lamb fan like my husband was, I urge you to try it one more time with this rub because it might force you to change your mind! The flavours of rosemary and lemon zest cut through the richness of the meat and balance it out beautifully, while the mint sauce brings the freshness of spring and lifts that heavy flavour often associated with lamb. Cooking this lamb at high temperature but for shorter time than is traditianal produces the most tender and juicy roast I've ever had!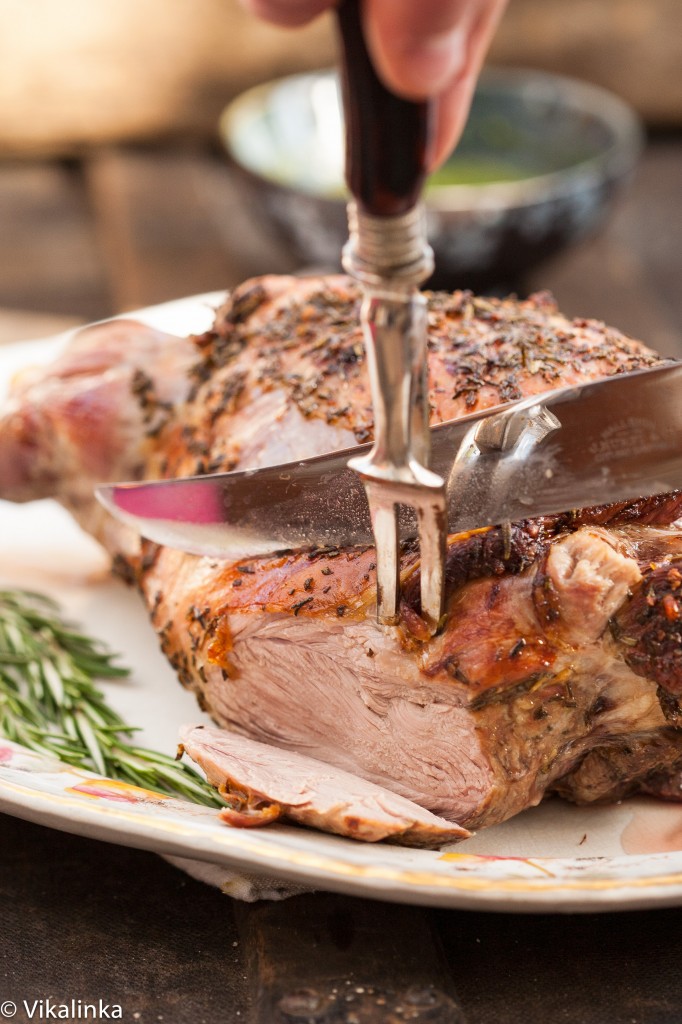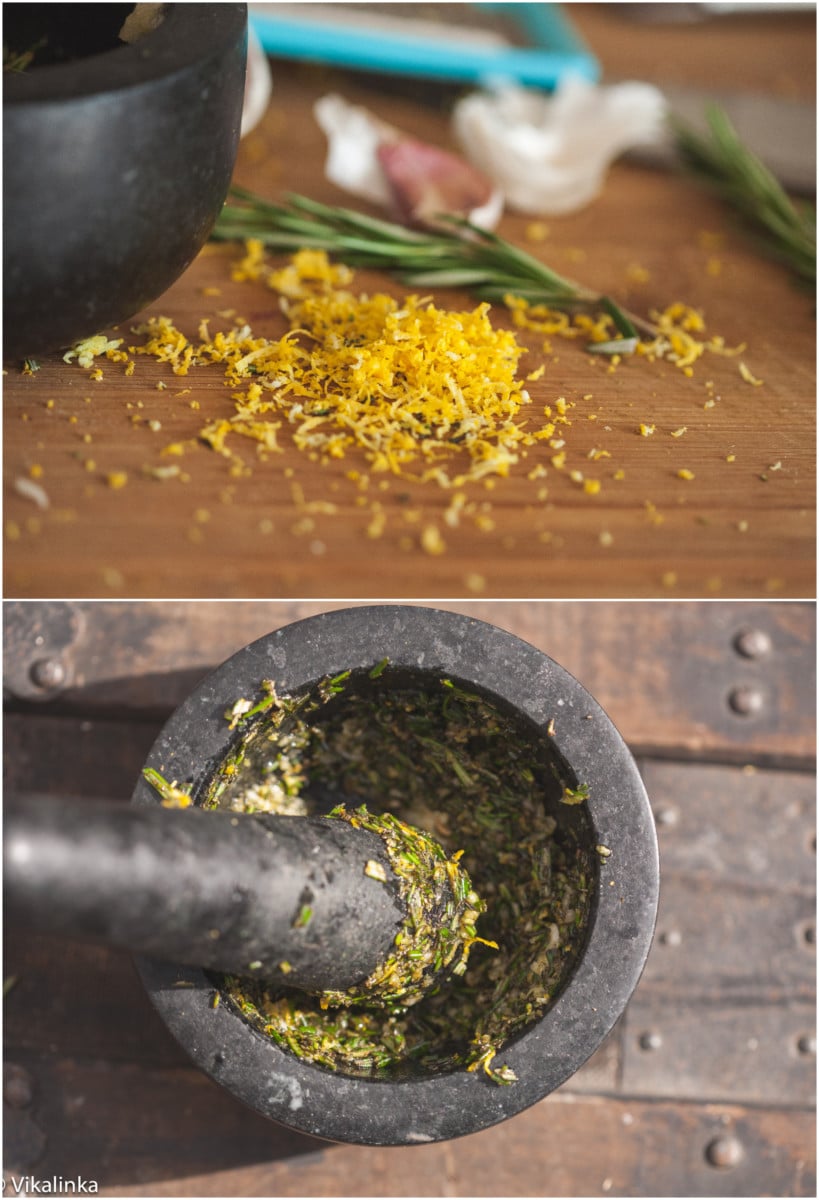 Ingredients
3

cloves

garlic peeled and crushed

1/2

small bunch fresh rosemary

half the leaves removed and chopped

1

lemon, zest

2

tbsp

olive oil

2

kg

quality leg of lamb

salt
For the Mint Sauce:
20

g

fresh mint leaves

1

tsp

sugar

1

tsp

salt

1

tablespoon

hot water

3

tablespoons

white wine vinegar

2

tbsp

olive oil
Instructions
Preheat the oven to 200C/400F

In a mortar combine chopped rosemary leaves, crushed garlic, coarse salt, lemon zest and olive oil. Bash it with a pestle till rosemary and lemon zest release their oils and the mixture resembles a paste.

Rub the mixture all over the leg and roast in the preheat oven for 1 hour 15 minutes for a medium-rare and 1 hour 30 minutes for a well done roast.

Put mint, sugar, salt, water, white wine vinegar and olive oil in a food processor and blend until smooth.

When your roast is cooked take it out of the oven and allow it to rest for 15 minutes before cutting it.