This tender and succulent lamb with red wine sauce is the most elegant dinner you can make in your slow cooker. Easy, convenient and so delicious.
Our creamy Irish mashed potatoes (Champ) are the perfect companion for this lamb recipe.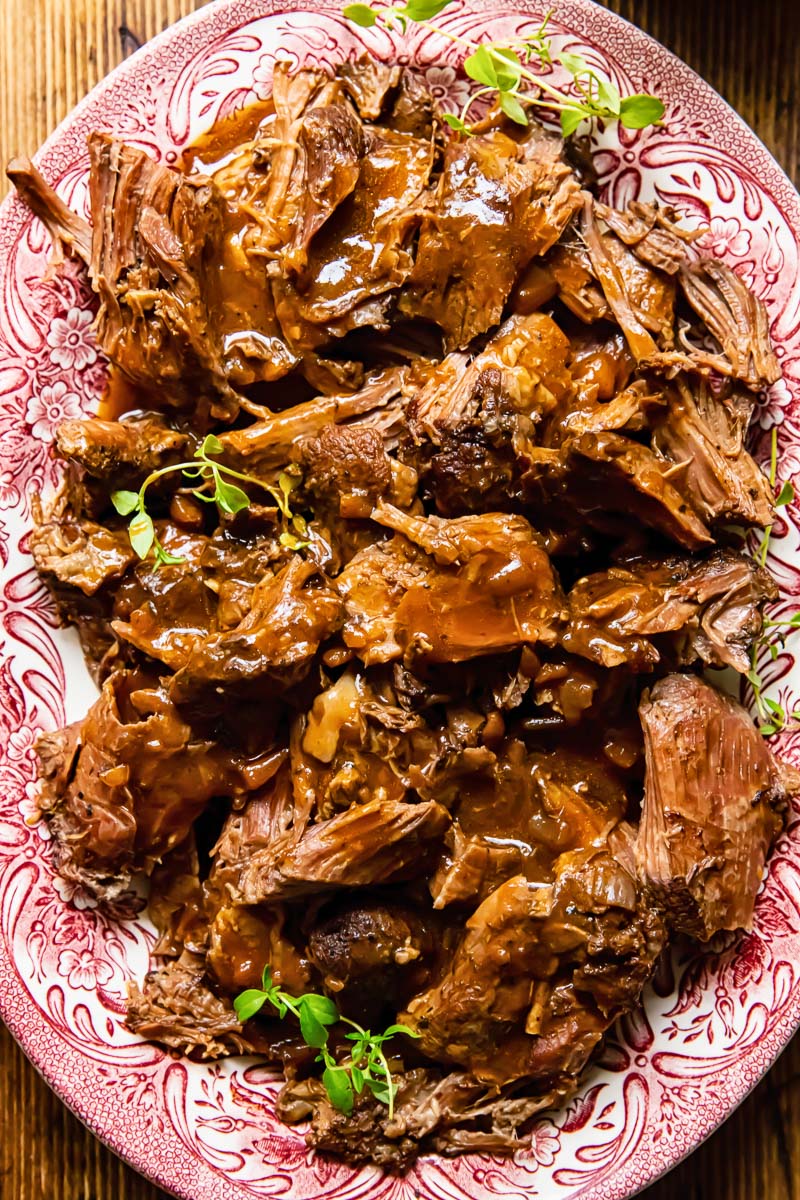 Sunday roast is a British tradition I adore. A big and delicious meal at the end of the week, which brings the whole family together.
Unfortunately, I cook all week long for my family and for my job. So when Sunday rolls around I don't want to see my kitchen.
This slow cooker recipe, which requires as little effort as possible, is the perfect solution for my dilemma and for the rest of you! Even better when you can delegate someone else to be in charge of the Sunday dinner.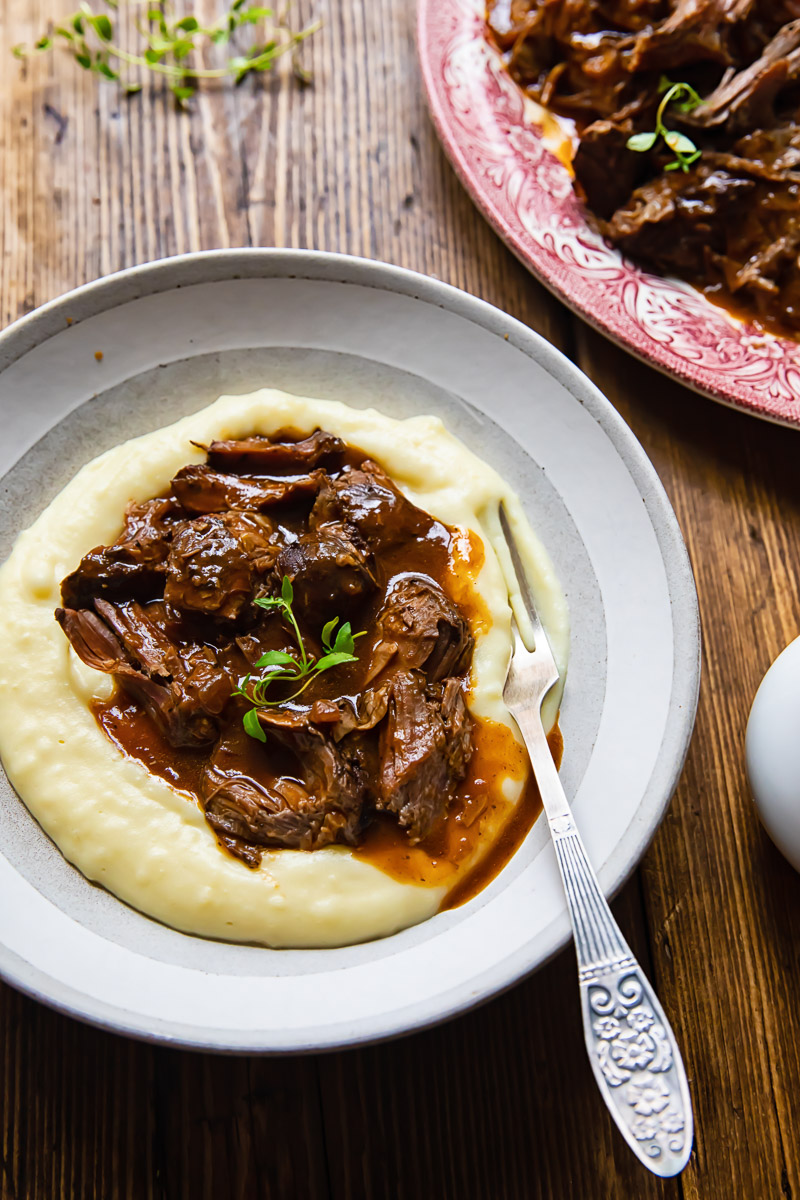 Slow Cooker Method
There are two ways to cook lamb and both are brilliant. The one is when a leg of lamb is roasted at high temperature until it's just pink inside, which is pretty similar to roasting a good quality beef joint.
This is how I serve my lamb at Easter. I also make a homemade mint sauce.
You can also roast it low and slow until it's tender and juicy and practically falling apart. I love the results of this method so much, especially in the winter. To me it's the epitome of comfort food.
To make things simpler, I used my slow cooker to achieve the same results but eliminating most of the fuss. I cooked my bone-in leg of lamb in a red wine sauce with added onions, garlic, carrots and herbs for succulent tender meat with loads of flavour.
Red Wine Lamb Sauce
Roast lamb is delicious with mint sauce as it balances out the rich flavour of the meat and adds a boost of freshness. While this is a classic combo, mint sauce is not the only good pairing.
Red wine sauce is another brilliant partner, which does the same balancing job through the acidity and deep fruity notes, red wine is known for.
If you are a fan of the famous Beef Bourguignon aka beef in red wine, you will love this lamb recipe as well.
I also added the famous veg trio of onion, carrot and garlic for a mix of sweet and savoury flavours. They truly enrich the taste of the red wine sauce.
The best thing is you don't need to lift a finger to make this sauce. Your slow cooker does all the heavy lifting.
Simply add a tablespoon of corn starch (cornflour in the UK) to the juices at the bottom of the slow cooker at the very end, then allow them to simmer and thicken.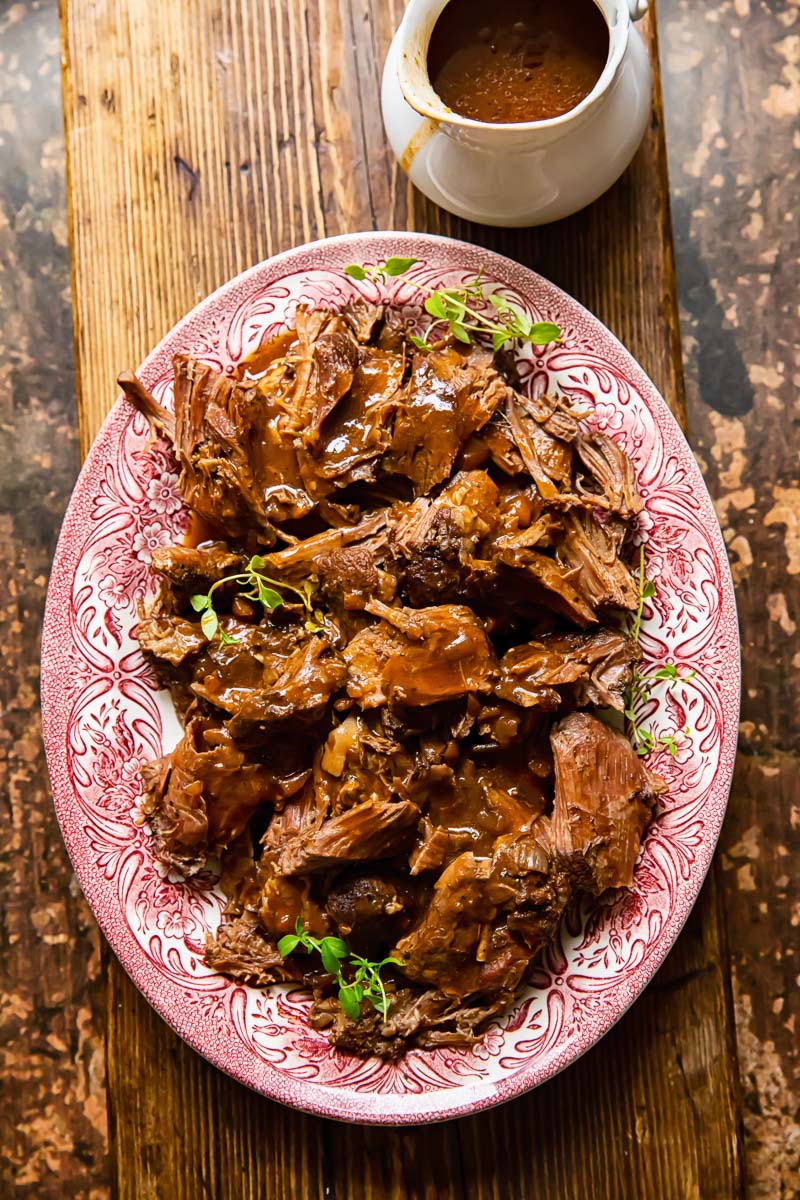 Recipe Tips and Notes
This recipe is very simple and mostly is done in your crock pot. However, there are few things you need to do for maximum flavour.
First of all, brown the meat for deeper, richer taste before slow cooking it. I used half leg of lamb but you can also use lamb shoulder.
Add diced onion, carrots and sliced onion for a more complex taste.
I also added thyme and a touch of tomato paste. But rosemary is just as good here.
Finally, don't skip adding bay leaves. They are my secret weapon when it comes to soups and stews. However, make sure your bay leaves are still fragrant. If not, replace them asap!
Needless to say, you can always use beef joint instead of lamb if that is your preference. Any inexpensive tough cuts like brisket or shin of beef will be brilliant when cooked in a slow cooker.
Favourite Recipes with Red Wine Sauce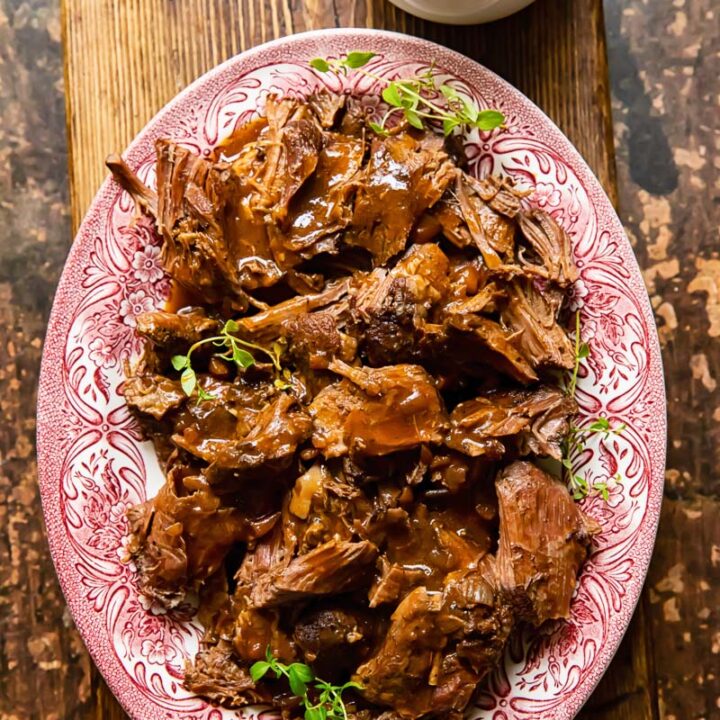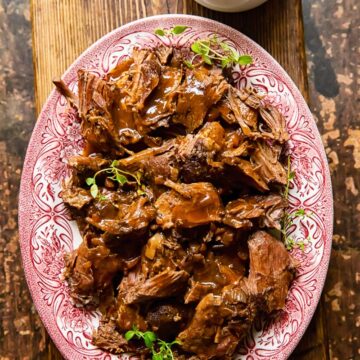 Slow Cooker Lamb in Red Wine Sauce
This tender and succulent lamb with red wine sauce is the most elegant dinner you can make in your slow cooker.
Ingredients
2

lbs

half leg of lamb (bone in or boneless)

or lamb shoulder

salt and pepper

1

tbsp

olive oil

1

carrot

diced

1

onion

chopped

2

cloves

garlic

125ml/1/2 cup

dry red wine

Merlot, Cab Sauv or anything you like

125ml/1/2 cup

beef stock

1

tbsp

tomato paste

½

tsp

dried thyme or rosemary

2

bay leaves

1

tbsp

corn starch/cornflour
Instructions
Pat the leg of lamb dry with paper towel, then season generously with salt and pepper. Heat 1 tbsp of olive oil in a large frying pan and brown the lamb all over. Transfer to a slow cooker.

To the same pan, add the chopped onion and diced carrot, cook for 5 minutes over low heat, then add the sliced garlic and cook briefly for a few seconds to avoid burning, then deglaze with the red wine and scrape the bottom of the pan to release the burnt bits into the sauce. Add the beef stock, the tomato paste and the thyme, stir to combine and take off the heat.

Pour the mixture over the lamb together with the bay leaves and cook on LOW for 8 hours or on High for 6 hours.

Remove the meat from the slow cooker and keep warm. Add the cornstarch to the pan juice and simmer until thickened. Gently pull the lamb apart with two forks into large chunks before serving with the red wine sauce.
Nutrition
Calories:
183
kcal
Carbohydrates:
6
g
Protein:
21
g
Fat:
7
g
Saturated Fat:
2
g
Polyunsaturated Fat:
1
g
Monounsaturated Fat:
3
g
Cholesterol:
61
mg
Sodium:
518
mg
Potassium:
406
mg
Fiber:
1
g
Sugar:
2
g
Vitamin A:
1745
IU
Vitamin C:
3
mg
Calcium:
20
mg
Iron:
2
mg