Wouldn't you want to come home and to find that the house smells of this amazing Venetian Chicken Ragu? All you need is to load up your slow cooker and press ON!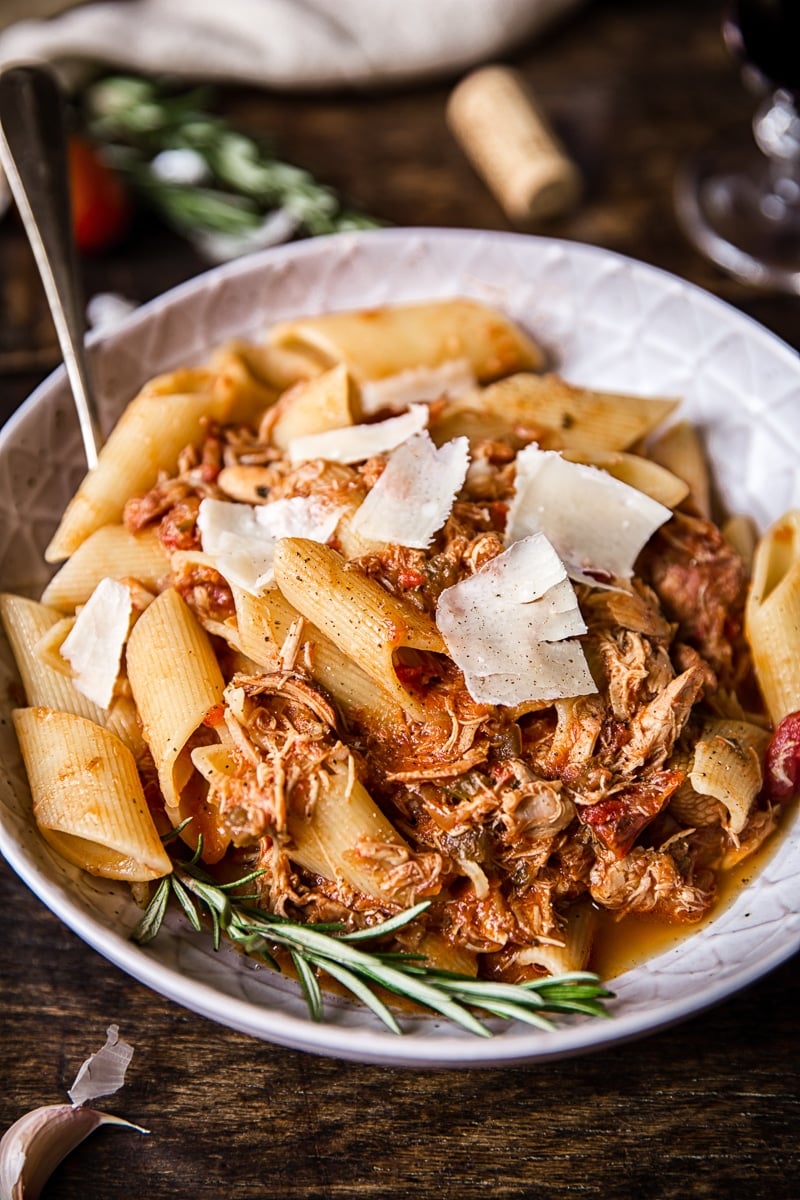 The other night I woke up with a jolt because the most delicious aroma had somehow escaped the confines of my kitchen, climbed two flights of stairs, then turned left and squeezed itself through the door crack right into my bedroom.
I literally sat up in my bed and wondered if it was morning already, my sleepy brain desperately trying to comprehend what was happening until I was finally awake enough to grasp what I was feeling. Or rather what I was smelling. My slow cooker.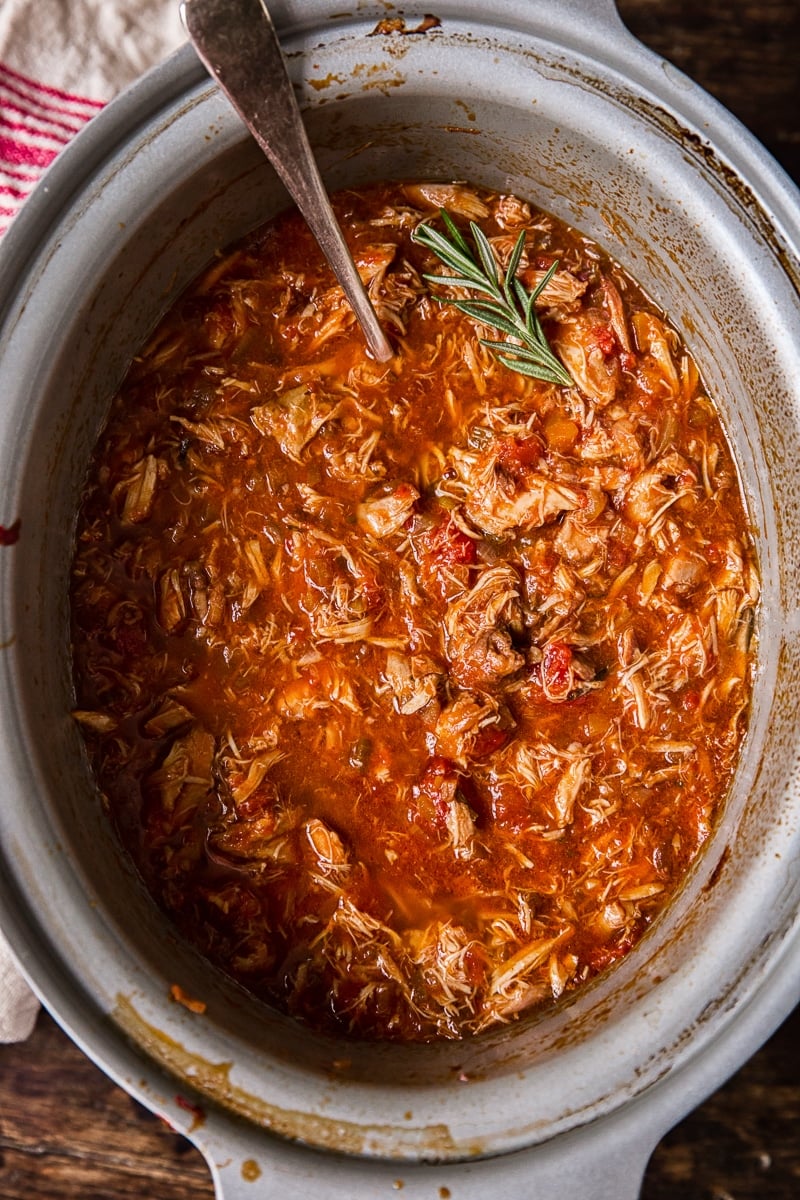 You see normal people would set their slow cooker in the morning in order to enjoy a fuss free dinner in the evening. We food bloggers are a different breed. We need daylight for photography!! So the only solution to take mouthwatering photos of this savoury triumph aka Venetian Chicken Ragu was to cook it overnight!
Good thinking, right? Well the only downfall of this is being woken up at an ungodly hour because the most seductive smells are travelling through the house and playing tricks on your brain, making you think it's time to get up and get that Venetian chicken ragu in your mouth ASAP!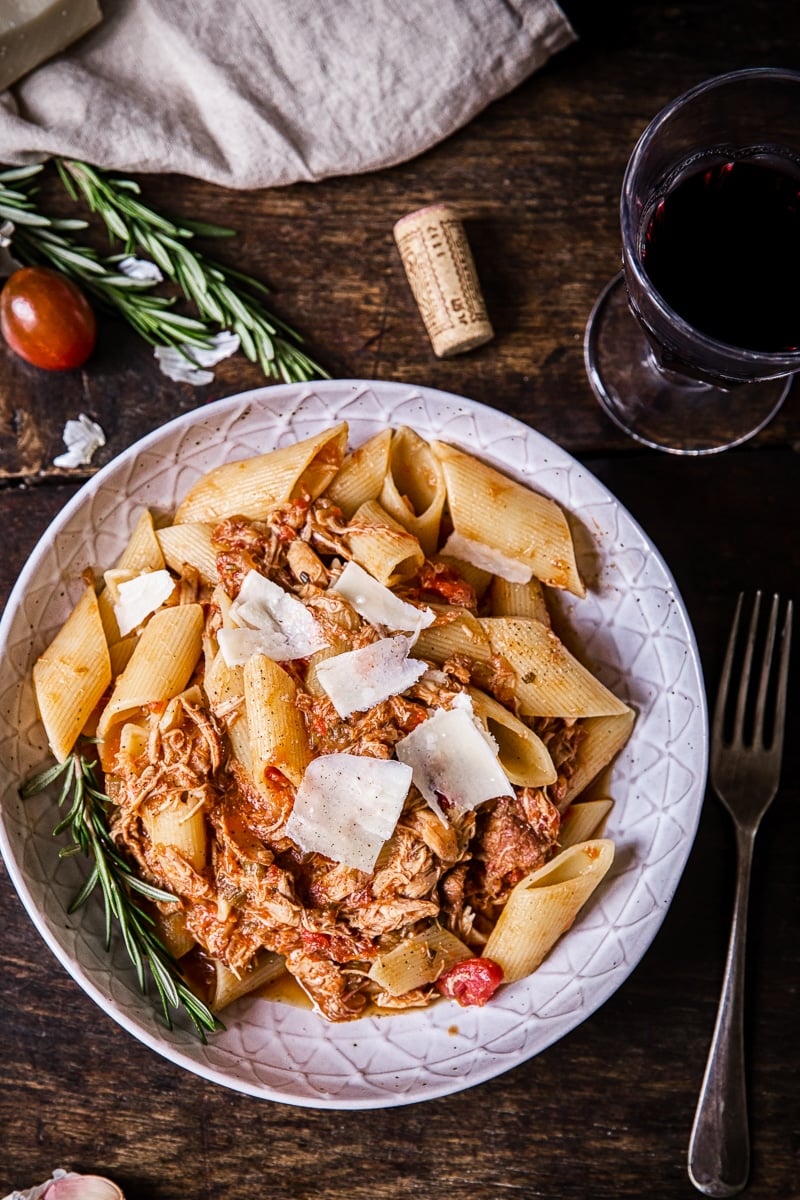 If you are familiar with Italian ragu sauces, you will be doing a happy dance right about now because although usually made with beef, this recipe is boasting inexpensive chicken thighs without any compromise on flavour.
This Venetian Chicken Ragu is my interpretation of the Italian classic. Traditionally made with duck legs and served with thick pappardelle pasta, this ragu is as robust as the beef version. I've adapted my recipe to the modern reader and used skinless, boneless chicken thighs instead, and cooked it in my slow cooker for the ease of preparation and convenience.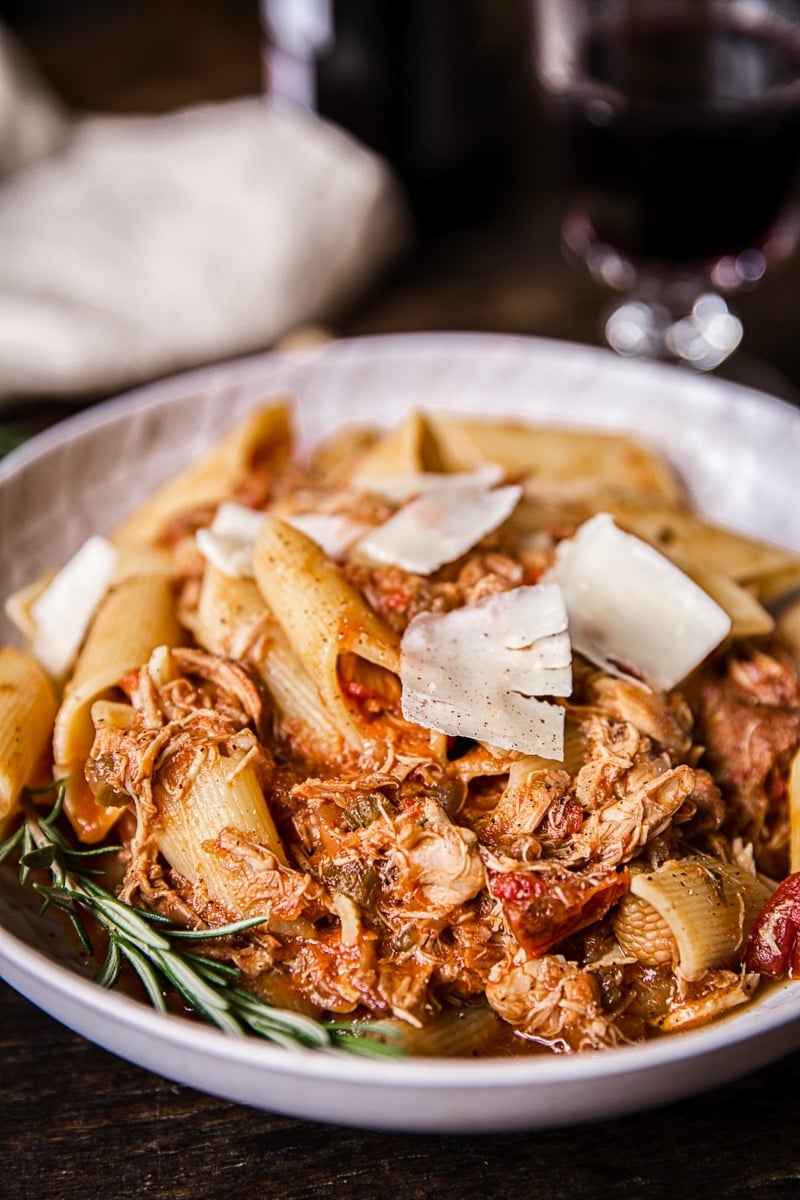 The result is quite spectacular my friends! This dish is absolutely perfect for cold winter nights served with some good crusty bread to mop up the rich sauce at the bottom of your pasta bowl. Just add a simple salad and you've got yourself a great meal, the one you wouldn't be embarrassed to serve even at a dinner party!
This Venetian Chicken Ragu recipe makes quite a bit, so freezing leftovers is one of my favourite things about it! I always feel so organised and prepared when my freezer is stocked with ready meals! You can pull them out later and make a delicious baked pasta dish. Personally I am set on lasagna this week!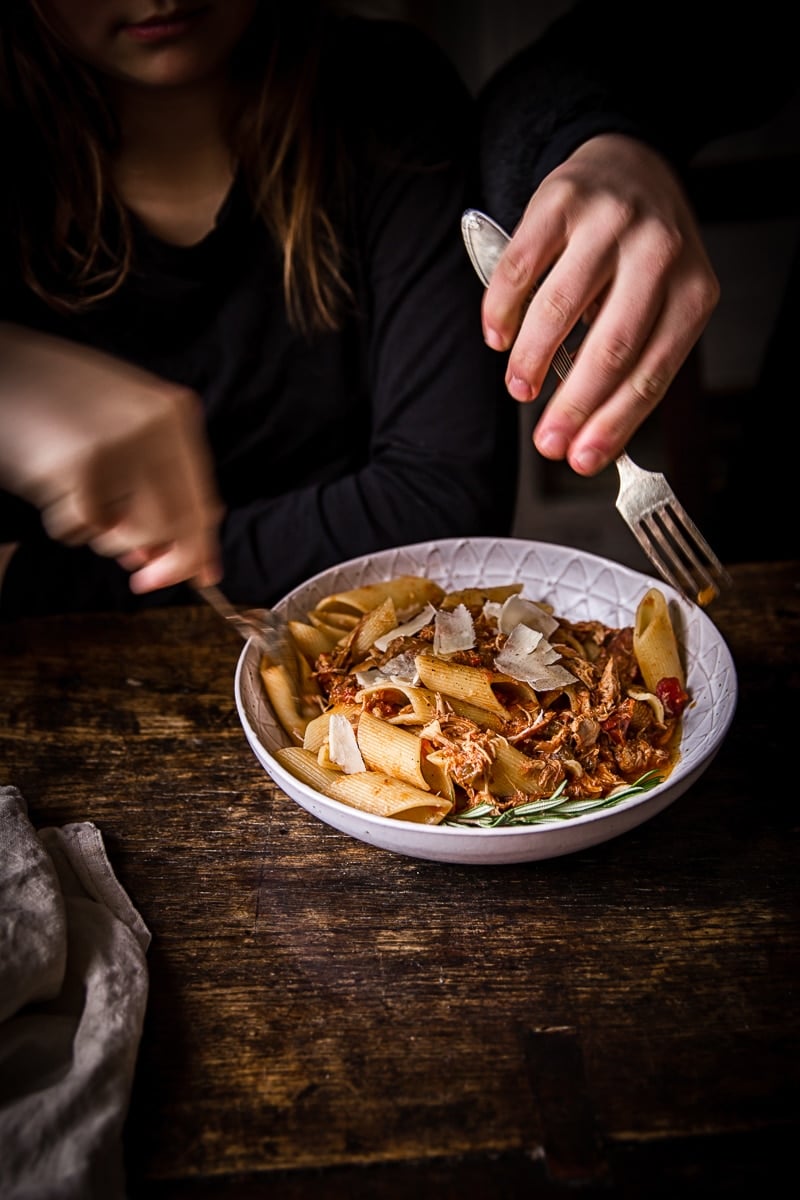 I always know I created a winner when my kids are circling me impatiently as I am taking photos, desperate to dive into the food in front of the camera lens, which was exactly the case with this one!
Recipe Notes for Venetian Chicken Ragu: I am usually all for substitutions but I beg you not to use chicken breasts here, they are just not succulent enough for this sauce. Also, make sure you are using skinless and boneless chicken thighs as slow cooked chicken skin is not very appetizing and it's almost impossible to remove all the tiny bones from chicken thighs and legs. Trust me I tried!!
Enjoy!!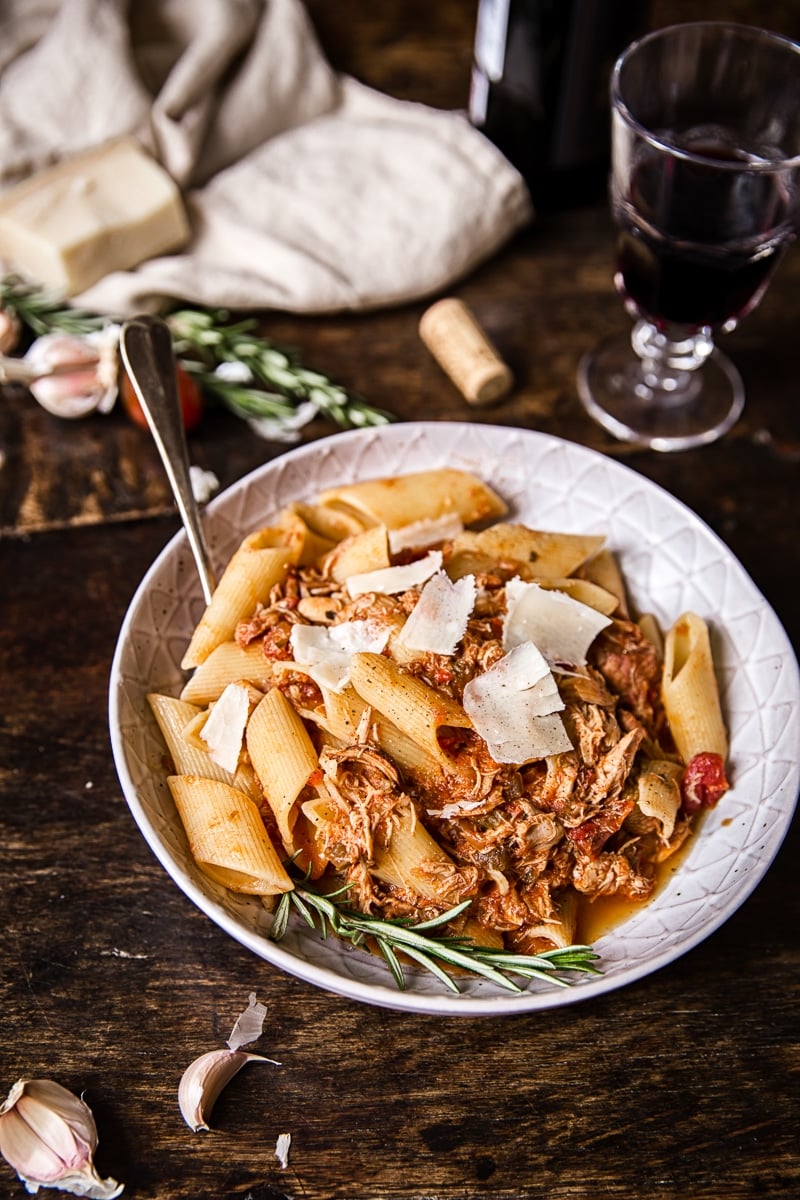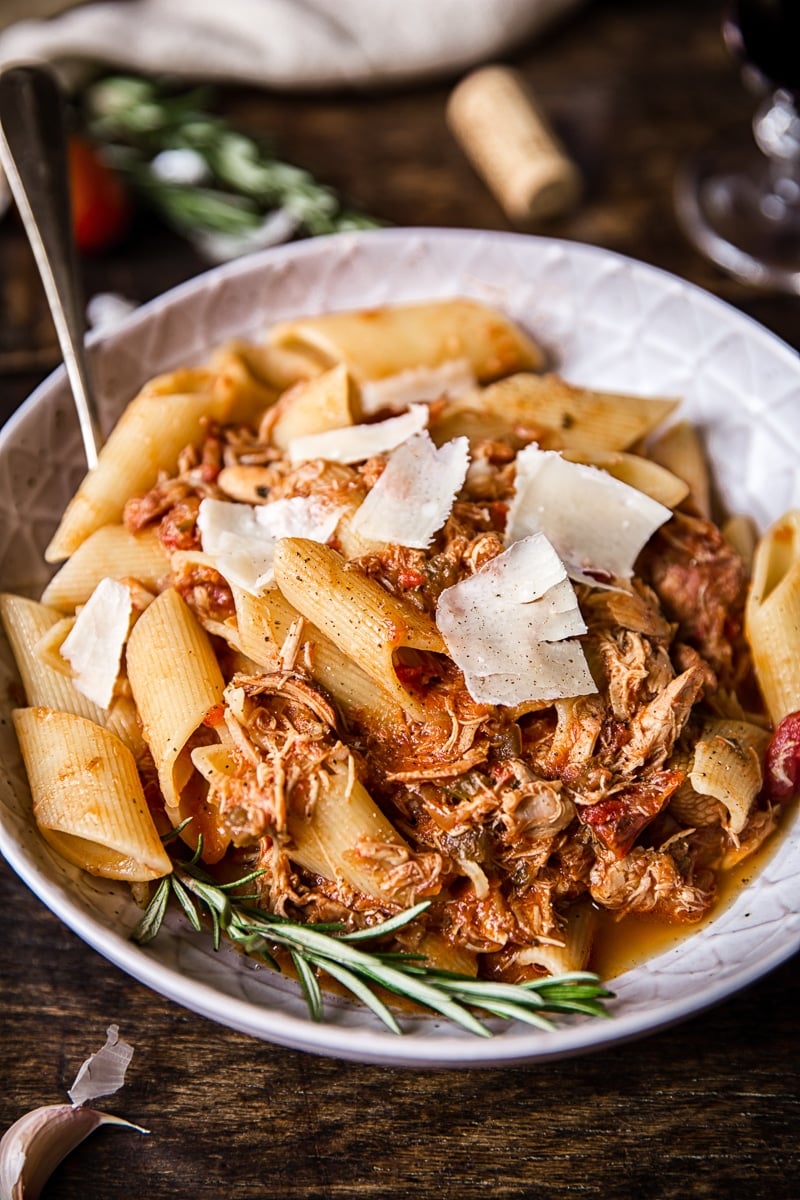 Ingredients
3

lbs

skinless

boneless chicken thighs or duck legs

salt and pepper

2

tbsp

olive oil

2

carrots

diced

2

celery stalks

diced

2

onions

diced

4

cloves

garlic

minced

2

sprigs rosemary

chopped or 1 tbsp dried rosemary

2

X 400g/14oz cans of chopped tomatoes/crushed tomatoes for the US readers

250

ml/1 cup dry red wine

1

lbs

robus pasta such as penne or pappardelle

no spaghetti
Instructions
Heat the olive oil in a large pan and saute diced carrots, celery and onion over low heat for 10 minutes, add minced garlic and rosemary and cook for 2 minutes longer.

In a slow cooker combine the sauteed vegetables, skinless, boneless chicken thighs previously seasoned with salt and pepper, chopped tomatoes and red wine.

Set your slow cooker to LOW and cook for 8 hours. At the end of the cooking time remove the chicken thighs with a slotted spoon to a large plate and shred the chicken with two forks. The chicken should be easy to work with. Return to the sauce, season with salt and pepper to taste and mix thoroughly.

Cook the pasta according to package instructions and combine the desired amount with Venetian Chicken ragu, freeze the leftover chicken ragu.

Serve with shaved or grated Parmesan cheese.