This Italian classic recipe for Bucatini all'Amatriciana gets a fun twist! Meatballs! Your family will go crazy for this pasta coated in a flavourful tomato basil sauce with a touch of heat from chilli peppers served with juicy meatballs!
Or you can bake meatballs separately with melty mozzarella!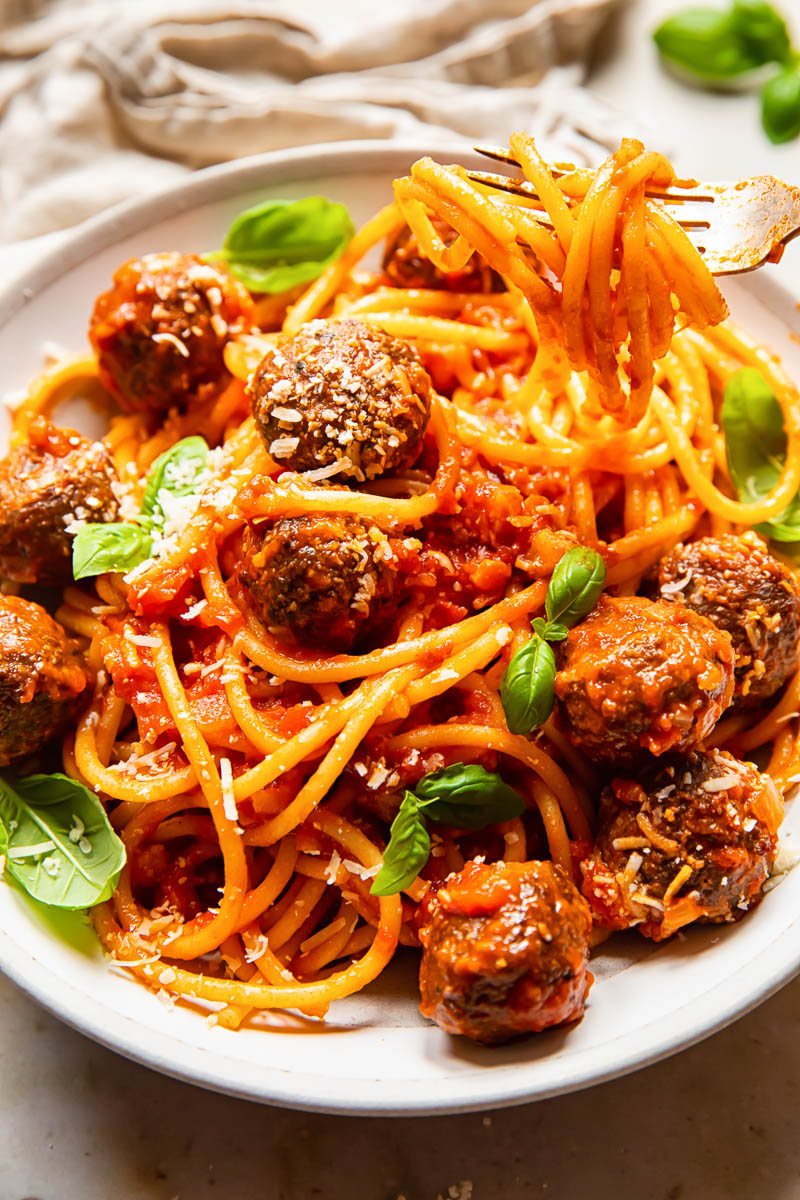 My kids absolutely adore meatballs. So when I suggested spaghetti and meatballs for dinner, it was received with an overly enthusiastic YAY! However, when I reached for spaghetti in my cupboard, I came back with a pack of bucatini instead.
No matter, my kids actually prefer bucatini. According to them it's "fun and slurpy". And the best sauce, that comes with this type of pasta, is Amatriciana. Bucatini all'Amatriciana it is. Plus meatballs of course!
What is Bucatini?
Although very similar to spaghetti, bucatini is thicker and hollow inside. So they behave slightly differently when you try to suck them in like you would with spaghetti. They wriggle and slurp.
Bucatini is slightly divisive as far as pasta shapes go. There are diehard fans, who adore the slurpy pasta. And those, who steer clear of it. As predicted, our family is also divided! In which camp are you?
Whether you love bucatini or not, this recipe is a keeper. You can easily substitute it with spaghetti if bucatini is difficult to find or it's simply not your favourite pasta shape!
Amatriciana Sauce
Bucatini pasta is very popular in the Rome region of Italy, and the most famous sauce that goes with this spaghetti-like pasta is Amatriciana!
Thick, tomato based sauce, that starts off with fried guanciale or pancetta for an incredible rich flavour. A thickly cut, good quality bacon could be used in place of guanciale or pancetta.
The main distinct feature of the sauce is its slightly spicy taste, which comes from red chillies. Not enough to burn your tongue, just a touch to make it exciting. You can use fresh chilli or dried chilli flakes like I did in my recipe.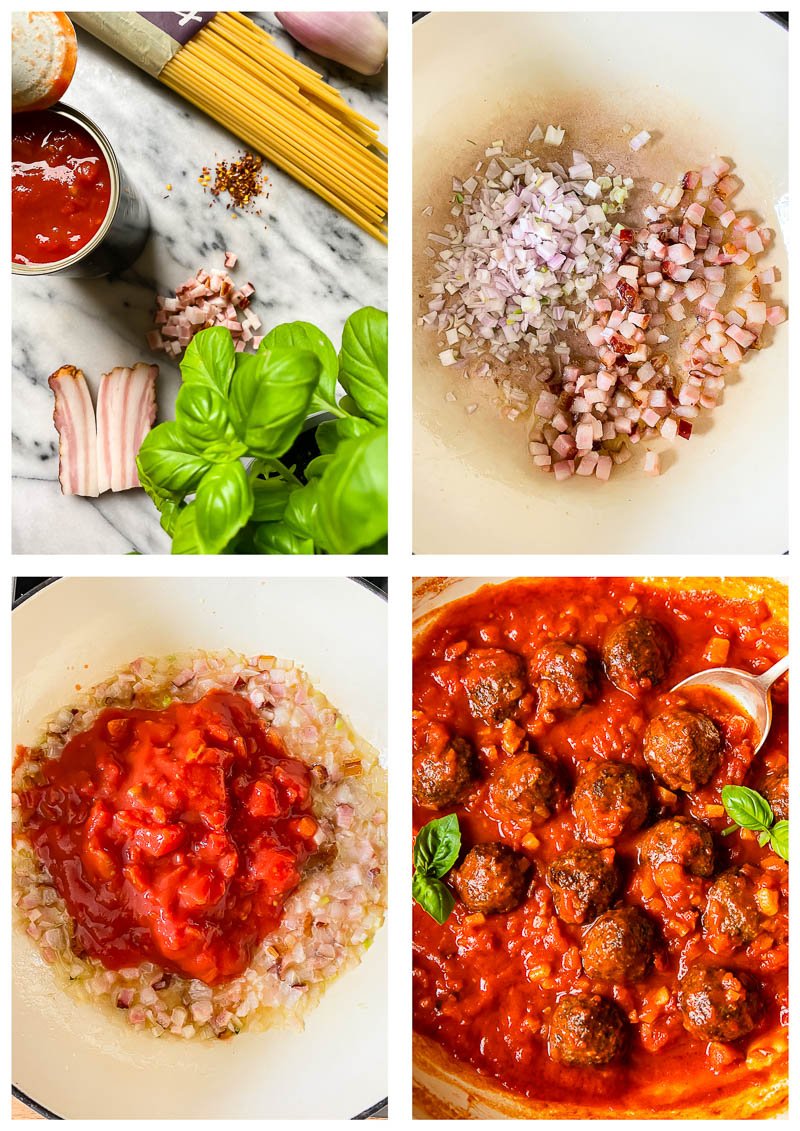 Meatball Recipe
This dinner is so simple. You could easily cook it on a busy weeknight. I am not sure why I often think that meatballs take too long to make because they don't.
Mixing and rolling them took a whole 10 minutes! To save time I would recommend opting out for larger meatballs, approximately the size of a medium plum.
However, to make this meal even faster and easier, you can use pre-made, store bought meatballs. I recently started cooking meatballs in my air fryer. They take 8 minutes to cook and come our in perfect round shape without having to stir or even lift a finger!
The sauce is an Italian classic and could be used for a number of different pasta recipes. The whole combo produces an incredibly satisfying dinner for both kids and adults.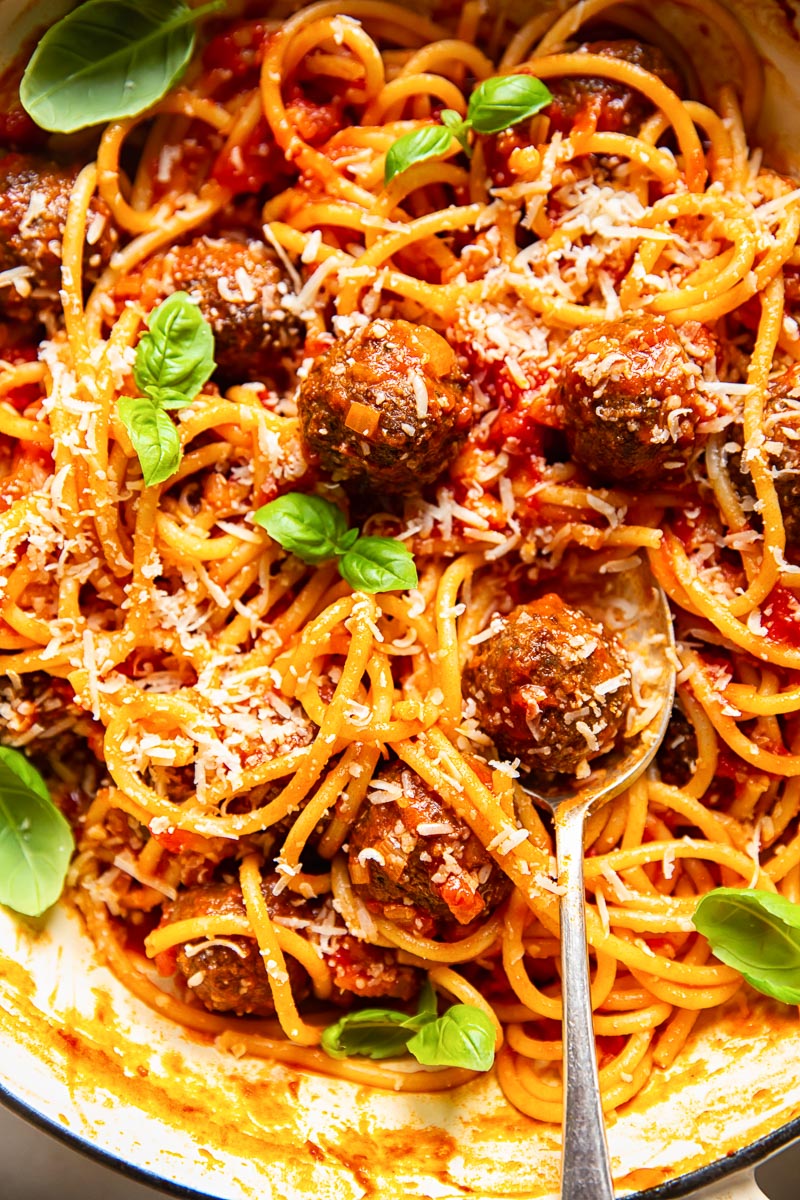 Serving Suggestions
All you need to compliment bucatini all'Amatriciana and meatballs is a tasty and simple vegetable side dish like my Lemon Garlic Green Beans with Parmesan Cheese or Roasted Parmesan Broccoli with Sun-Dried Tomatoes.
However, if you are looking to make this into a more elaborate Italian dinner, add my Healthy Eggplant Parmesan for a luxurious side dish or take a look in our Antipasti recipe collection for inspiration.
More Classic Italian Pasta Sauce Recipes:
This recipe was originally published in 08/2015. Updated and republished in 04/2021.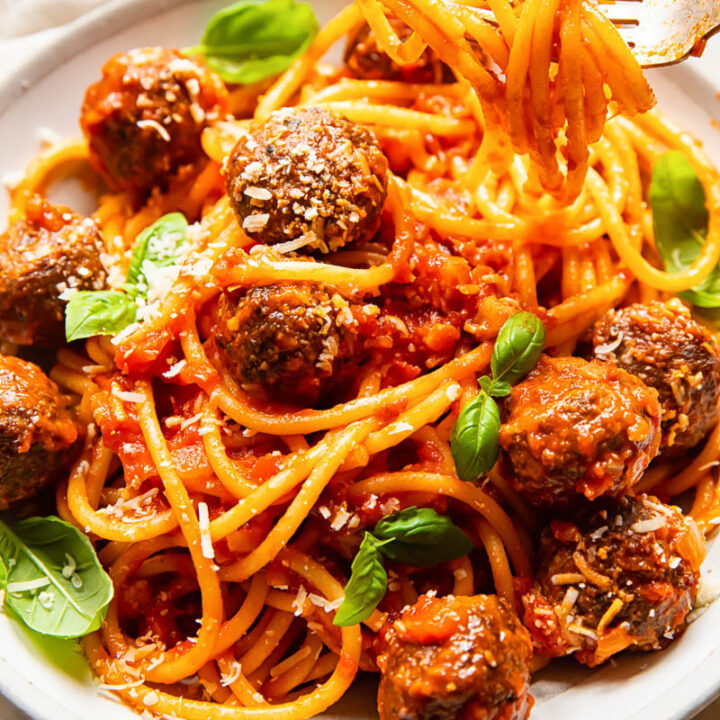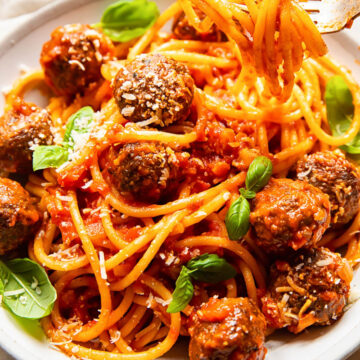 Bucatini all'Amatriciana and Meatballs
Try this quick and delicious pasta recipe with the famous Amatriciana sauce and the best tasting, juiciest meatballs!
Ingredients
For the meatballs
1

lbs

ground beef

or a combination of ground pork and beef

2

tbsp

breadcrumbs

1

egg

2

tsp

salt

1

tbsp

fresh basil

chopped

1

tsp

oregano

dried

¼

tsp

pepper

1

tbsp

olive oil
For the tomato sauce
1

tbsp

olive oil

100g/1/3 cup

pancetta or thickly cut bacon

cubed, rind cut off

1

shallot or ½ onion

chopped

60ml/1/4 cup

dry white wine

or Vermouth

½

tsp

dried chilli flakes

400g/14oz

canned chopped tomatoes

high quality

¼

cup

basil leaves

chopped

1

lbs

bucatini

salt to taste

2

tbsp

Parmesan or Pecorino Romano
Instructions
Combine all ingredients for the meatballs in a medium sized bowl, mix well and roll meatballs. Set aside.

Heat olive oil in a large pan, add the pancetta and cook over very low heat allowing the fat to render. Then add the chopped shallot and continue cooking for 5 minutes longer until the shallot is soft. Pour in the white wine and let it simmer, the liquid should reduce by a half.

Add chilli flakes and stir for a few seconds, then add canned chopped tomatoes or crushed tomatoes and basil, stir everything together and let it simmer on low heat for 10-15 minutes, season with salt to taste. Meanwhile cook the pasta according to package directions.

While pasta is cooking, brown the meatballs in a separate pan over medium heat for 7-10 minutes. They don't have to be cooked all the way through, just browned.

Remove the meatballs from the pan add them to the tomato sauce, cover with a lid to allow the meatball to finish cooking for another 5 minutes.

Drain cooked pasta and gently toss it with the sauce and meatballs. Serve with freshly grated Parmesan cheese or Pecorino Romano.
Nutrition
Calories:
638
kcal
Carbohydrates:
63
g
Protein:
28
g
Fat:
29
g
Saturated Fat:
9
g
Trans Fat:
1
g
Cholesterol:
93
mg
Sodium:
1489
mg
Potassium:
583
mg
Fiber:
4
g
Sugar:
4
g
Vitamin A:
263
IU
Vitamin C:
7
mg
Calcium:
93
mg
Iron:
4
mg