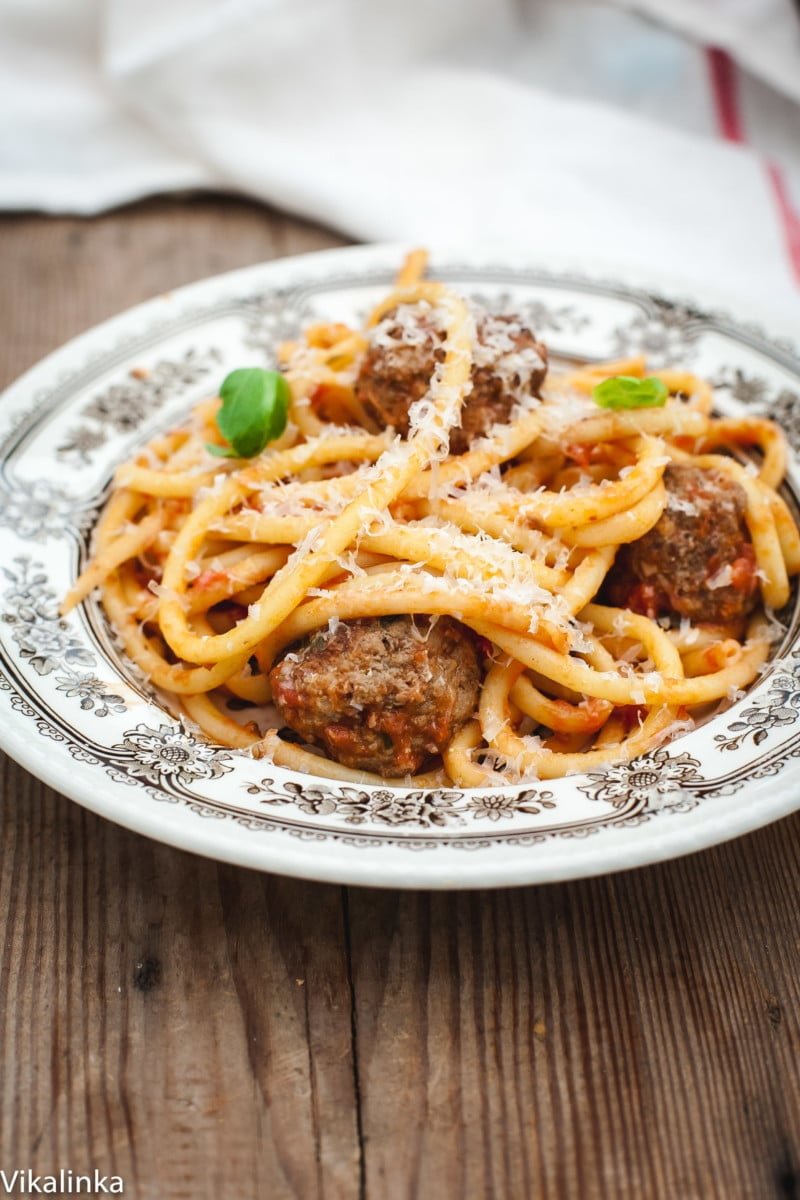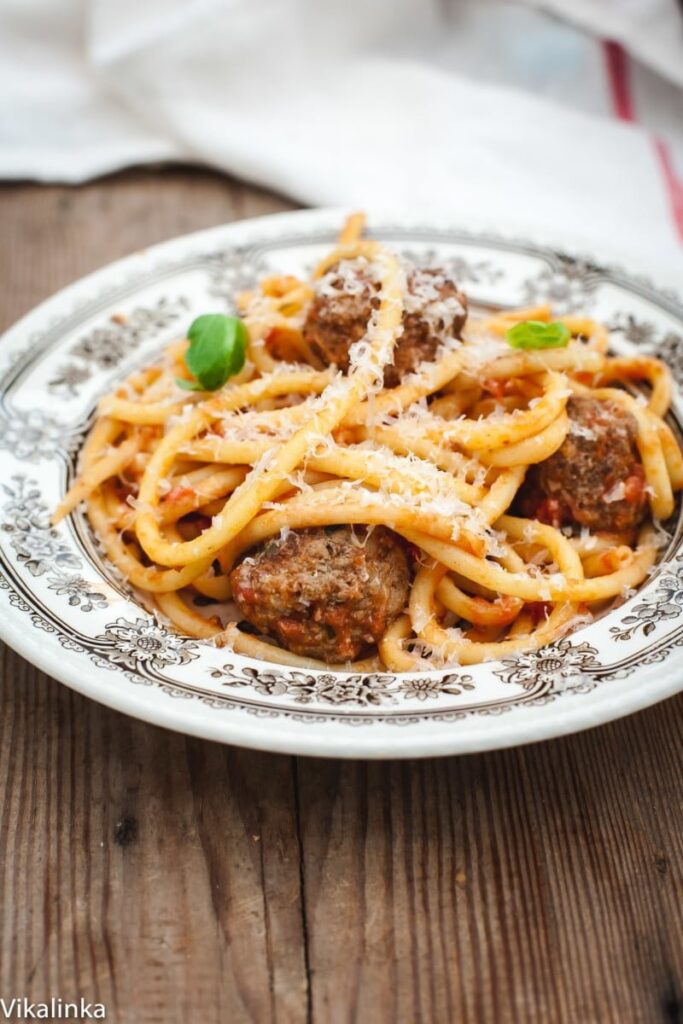 I've made a lot of kid-friendly meals in the last 2 weeks when Brad was away. It's harder to argue when you are outnumbered so I gave in and this is the story of bucatini and meatball dinner.
My kids absolutely adore meatballs. I am guessing they'd eat them every day if I cared to make them so often but I don't. So when I suggested spaghetti and meatballs for dinner it was received with an overly enthusiastic YAY!
We were actually at a grocery store picking up ingredients and my arm was reaching for a pack of spaghetti when Mitchell spotted bucatini and his eyes lit up.
That's how I learned that both of my kids prefer bucatini because they are "fun and slurpy".
What makes them fun and slurpy you might ask? They are thicker than spaghetti and hollow inside, so they behave slightly differently when you try to suck them in like you would with spaghetti. They wriggle and slurp.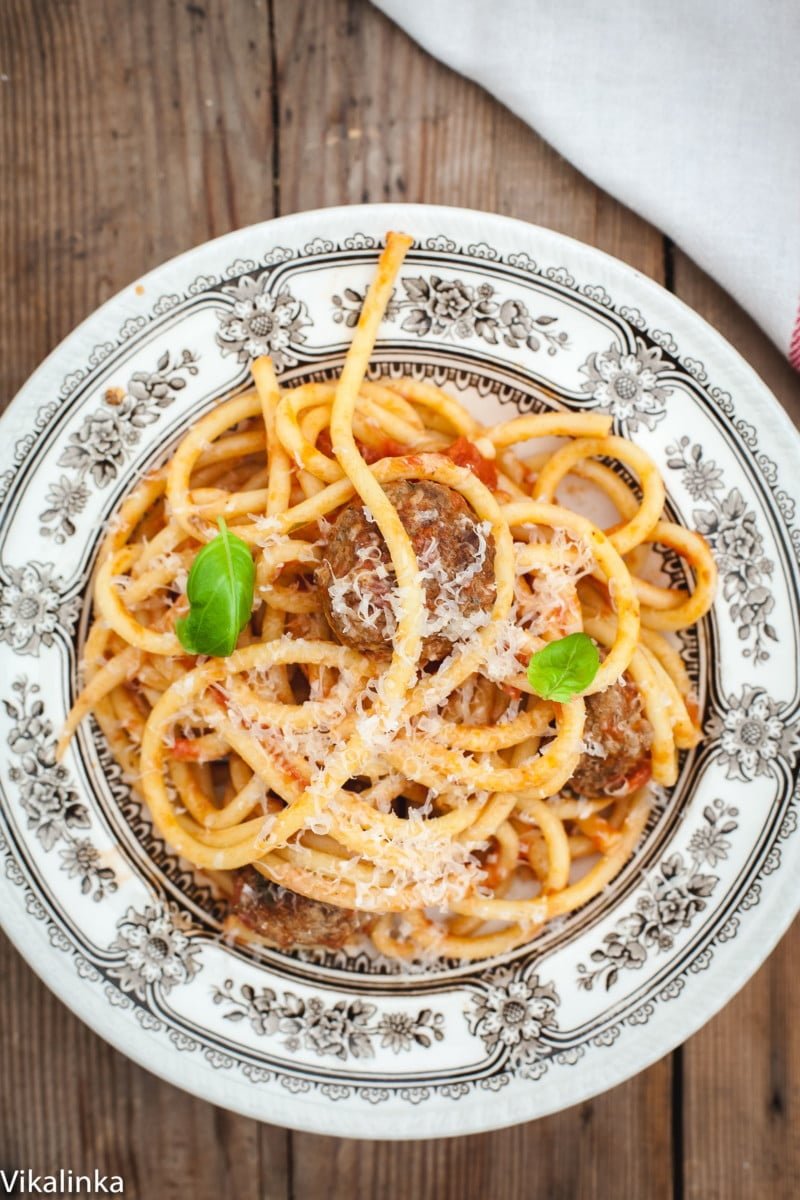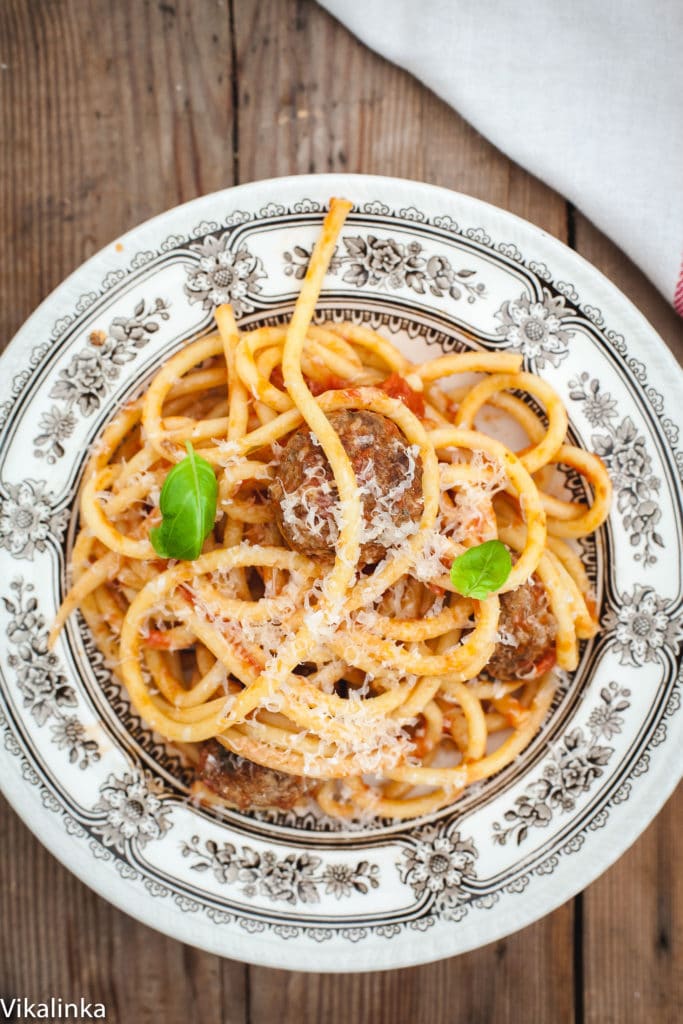 This dinner is so very simple and could be easily cooked on a regular week night. I am not sure why I often think that meatballs take too long to make because they don't.
Mixing and rolling them took a whole 10 minutes! To save time I would recommend opting out for larger meatballs, approximately the size of a medium plum.
The tomato sauce I used for this recipe is my standard garlic, tomato and basil sauce with a hint of heat from chillies.
The latter is optional, take them or leave them, it's up to you. The sauce is an Italian classic and could be used for a number of different pasta recipes.
The whole combo produces an incredibly satisfying dinner for both kids and adults. It's uncomplicated and I wasn't planning on posting this recipe but quickly changed my mind after the first bite. It's just that good.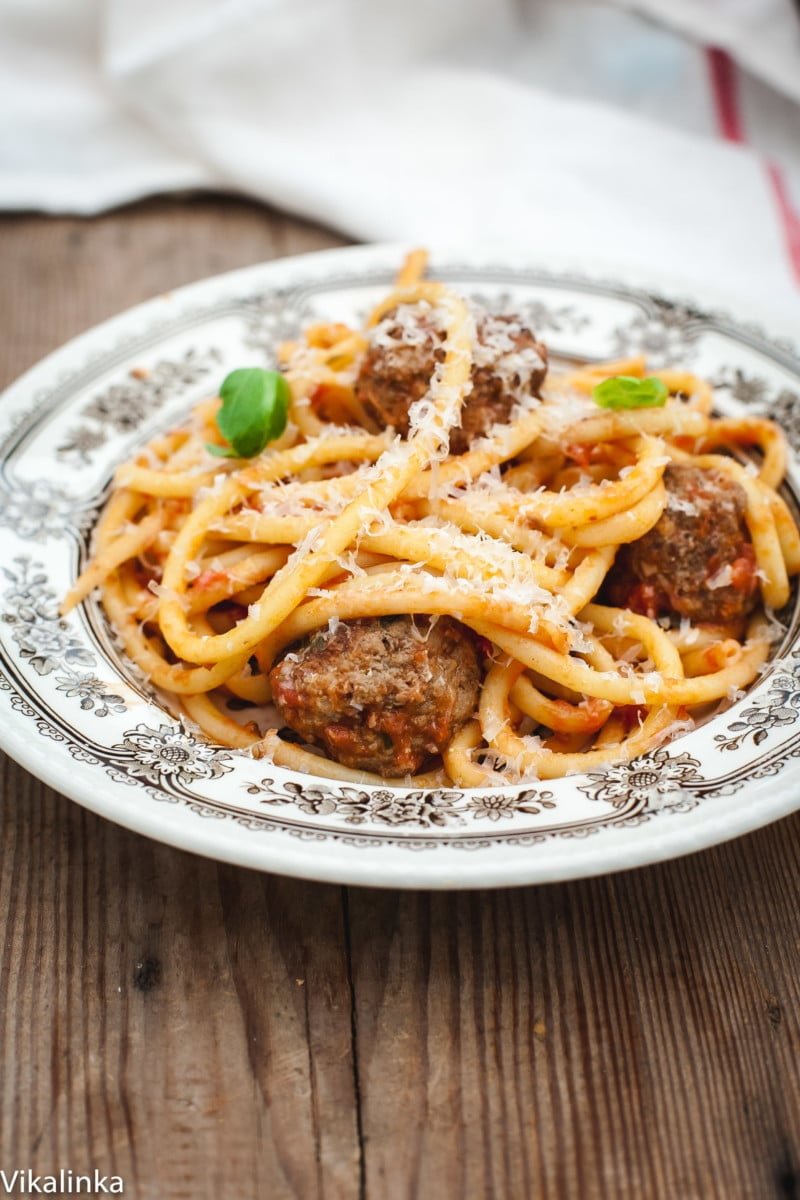 Ingredients
For the meatballs
1

lbs/454 g extra lean ground beef

2

tbsp

bread crumbs

1

egg

2

tsp

salt

1

tbsp

fresh basil

chopped

1

tsp

oregano

dried

pepper
For the tomato sauce
2

tbsp

olive oil

2

cloves

of garlic

sliced

1/2

tsp

dried chilli flakes

1/4

cup

basil leaves

chopped

1

can chopped tomatoes

high quality

1

lbs

bucatini
Instructions
Combine all ingredients for the meatballs in a medium sized bowl, mix well and roll meatballs. Set aside.

Heat olive oil in a large pan and cook sliced garlic in it for a minute over low heat, do not let it colour.

Add chilli flakes and stir for a few seconds, then add canned chopped tomatoes or crushed tomatoes and basil, stir everything together and let it simmer on low heat for 10-15 minutes.

Meanwhile cook pasta according to package directions.

While pasta is cooking brown meatballs in a separate pan over medium heat for 7-10 minutes. They don't have to be cooked all the way through, just browned.

Remove the meatballs from the pan add them to the tomato sauce, cover with a lid to allow the meatball to finish cooking for another 5 minutes.

Drain cooked pasta and gently toss it with the sauce and meatballs.

Serve with freshly grated parmesan cheese.