These baked meatballs in a rich tomato sauce with mozzarella and arugula could be whipped up in a matter of minutes! Serve them with our Spaghetti alla Siciliana.
Or try another classic Swedish Meatballs with Cream Sauce.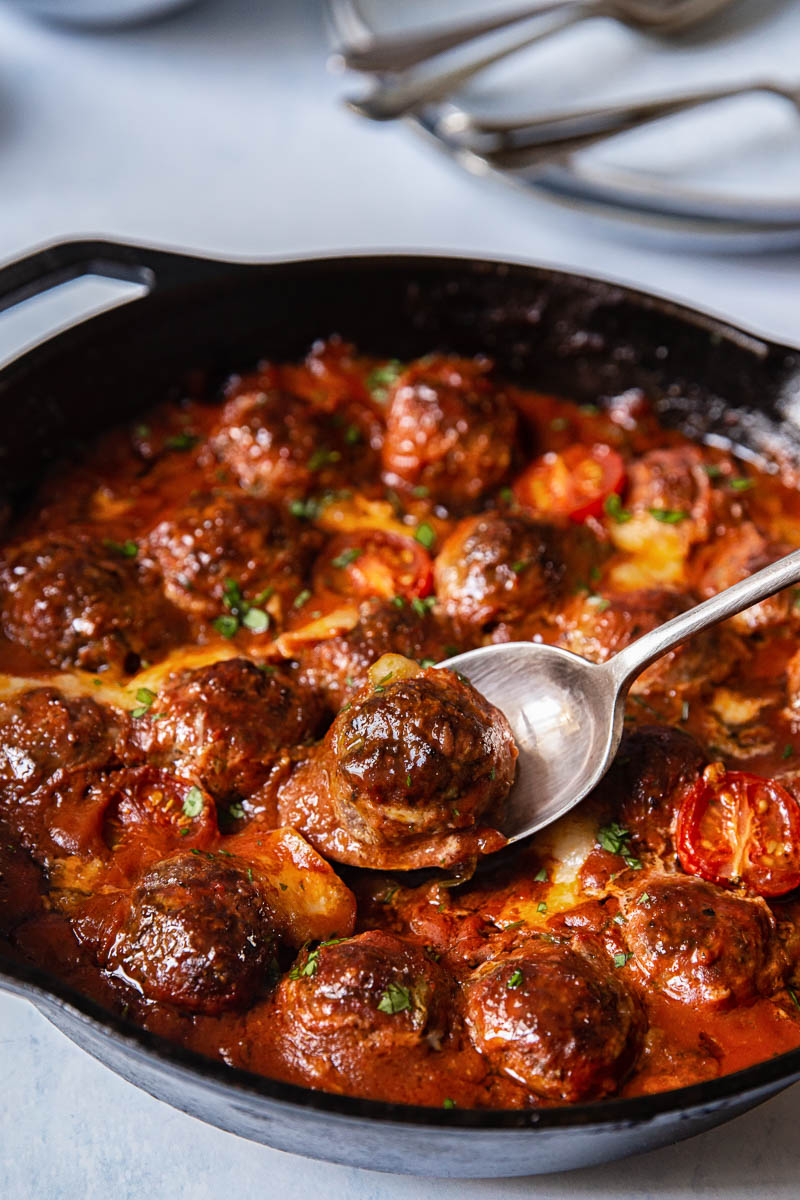 I've never been able to find a person who doesn't like meatballs. I am particularly pleased with this recipe for baked meatballs for three reasons.
They are such a crowd pleaser. Even picky eaters adore meatballs.
Baked meatballs are inexpensive but don't look like a cheap meal.
The recipe is a snap to make, especially if you use store-bought meatballs!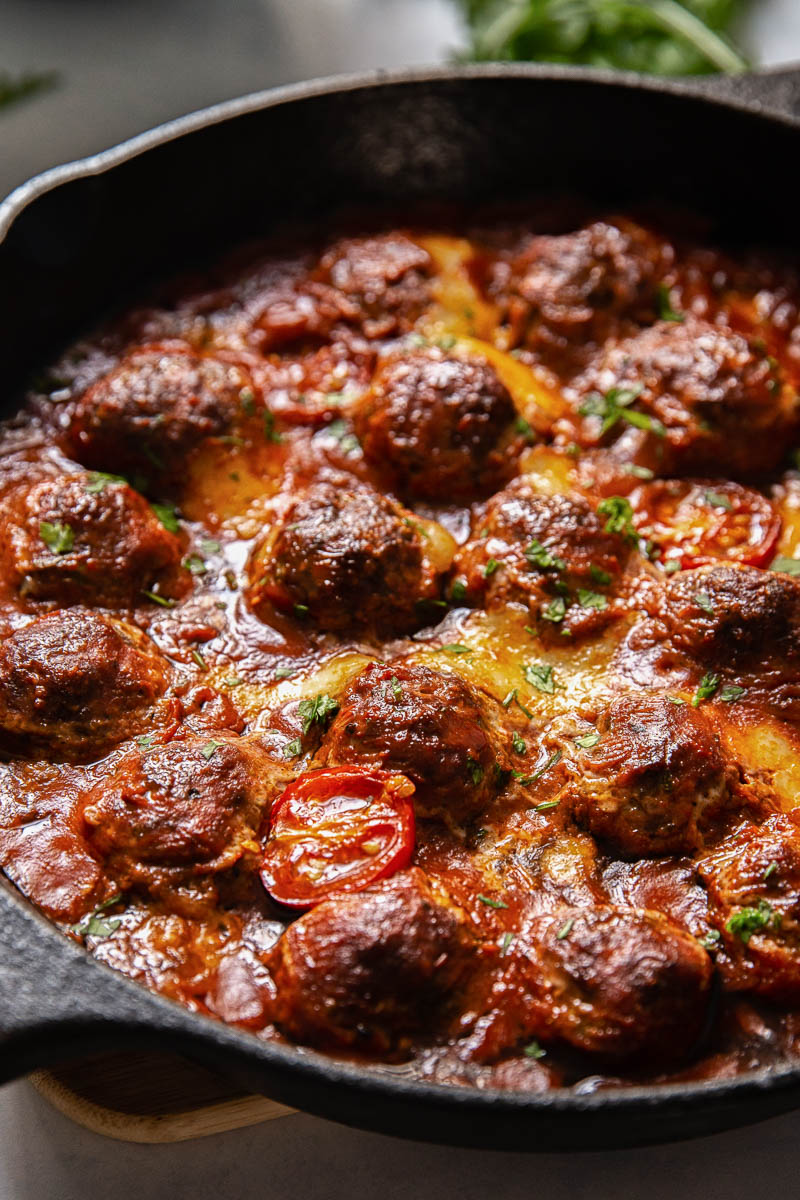 Baked Meatballs vs Fried Meatballs
Which ones are better? The answer is not so straightforward as each method has their advantages. However I prefer baking mine and here is why.
You can fit quite a few meatballs on a rimmed baking sheet at once without the fear of overcrowding. Baking meatballs instead of cooking them in a pan is a time saver.
You don't need oil when you bake meatballs in the oven, so you end up with less calorific meatballs.
They remain perfectly round while frying meatballs can leave them misshapen.
You avoid oil splatters when baking your meatballs in the oven.
On the other hand, you get this perfectly seared exterior on your meatballs that just won't happen if you bake them.
Is it worth the hassle? Sometimes but most often, it's not! Either way I provide both methods in the recipe card below and you can choose for yourself.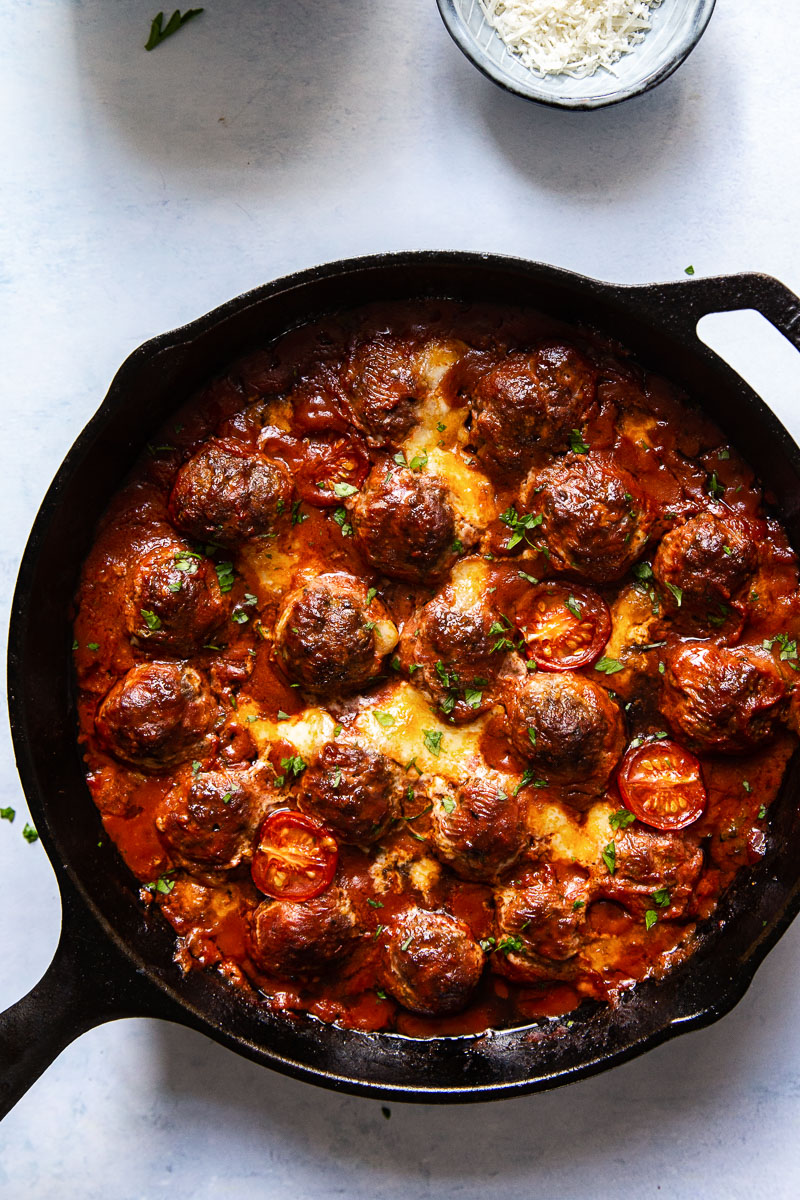 These baked meatballs, swimming in the most flavourful tomato sauce imaginable, are a riff off another popular recipe on my blog Stuffed Shells with Pesto and Tomato Sauce.
The Best Meatball Sauce
What sets this recipe apart from other meatball and tomato sauce recipes is the combination of a tomato sauce and a basil pesto for a creamier and more flavourful MEGA SAUCE.
Prepared pesto is a such an amazing ingredient to have in your arsenal.
Apart from using it straight up in pasta dishes, it could also be used as a flavour enhancer in a variety of ways. This Basil Pesto Caprese Salad is proof. The mix of basil, olive oil, pine nuts and parmesan cheese is a real winner!
If a creamier sauce is more what you have in mind, try my Meatballs in Creamy Marsala Sauce. It has all the comfort food goodness you crave!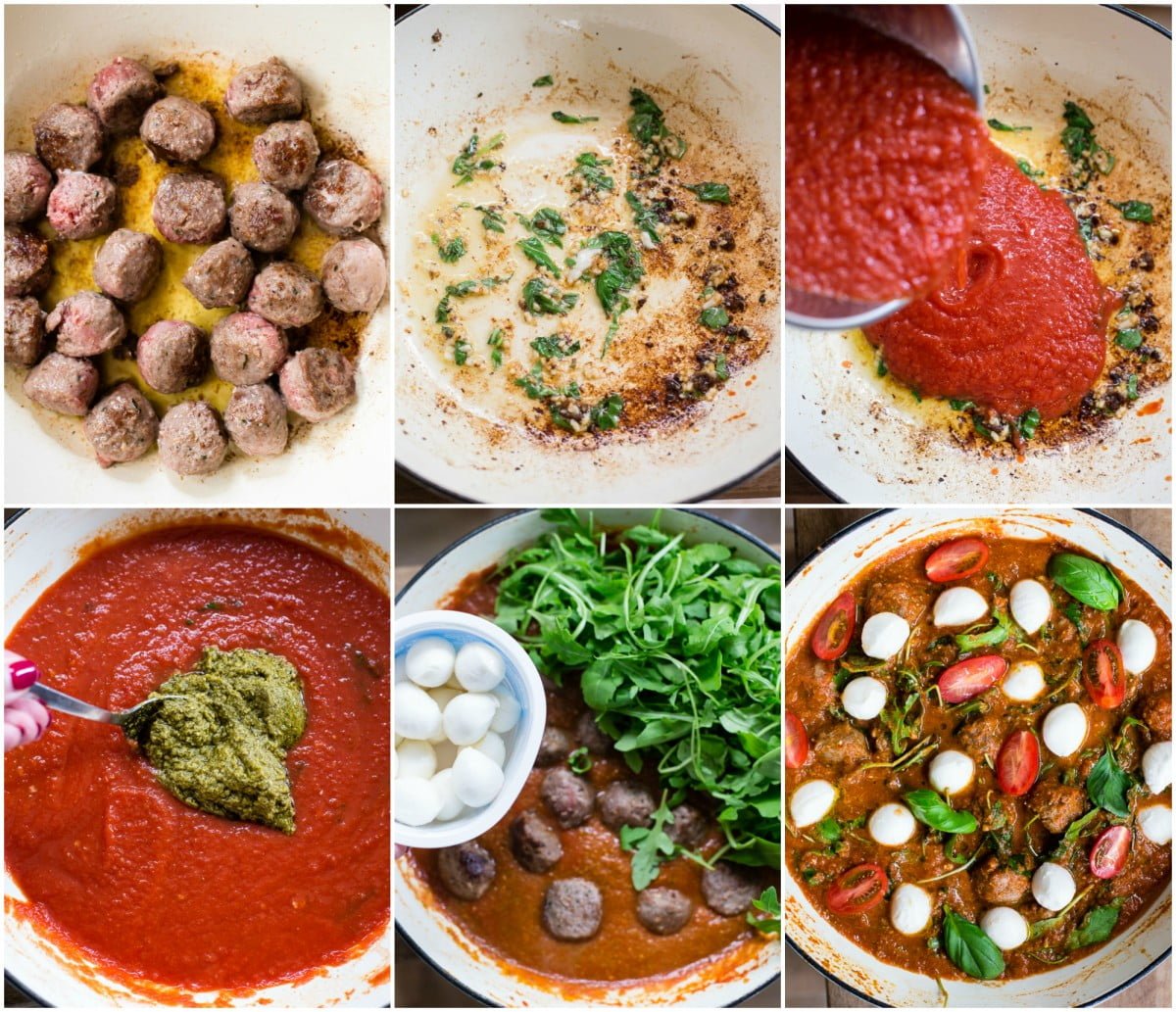 Recipe Tips and Notes
I've also added some peppery arugula for a complexity of flavour and a bonus health boost as well as fresh cherry tomatoes. Mini mozzarella balls take these baked meatballs to another level of deliciousness!
Use prepared, store-bought meatballs to make this meal even quicker and easier. Just make sure the meatballs are of the highest quality you can afford.
Use canned chopped tomatoes, crushed tomatoes or tomato passata to make the sauce.
Feel free to used regular-sized fresh mozzarella or even shredded mozzarella!
I recommend using the combination of pork and beef but these meatballs could be made with 100% beef or 100% pork. Keep the rest of ingredients the same.
You can substitute breadcrumbs with crustless bread, soaked in milk or water first, or oats.
Finally, spinach can work well in place of arugula.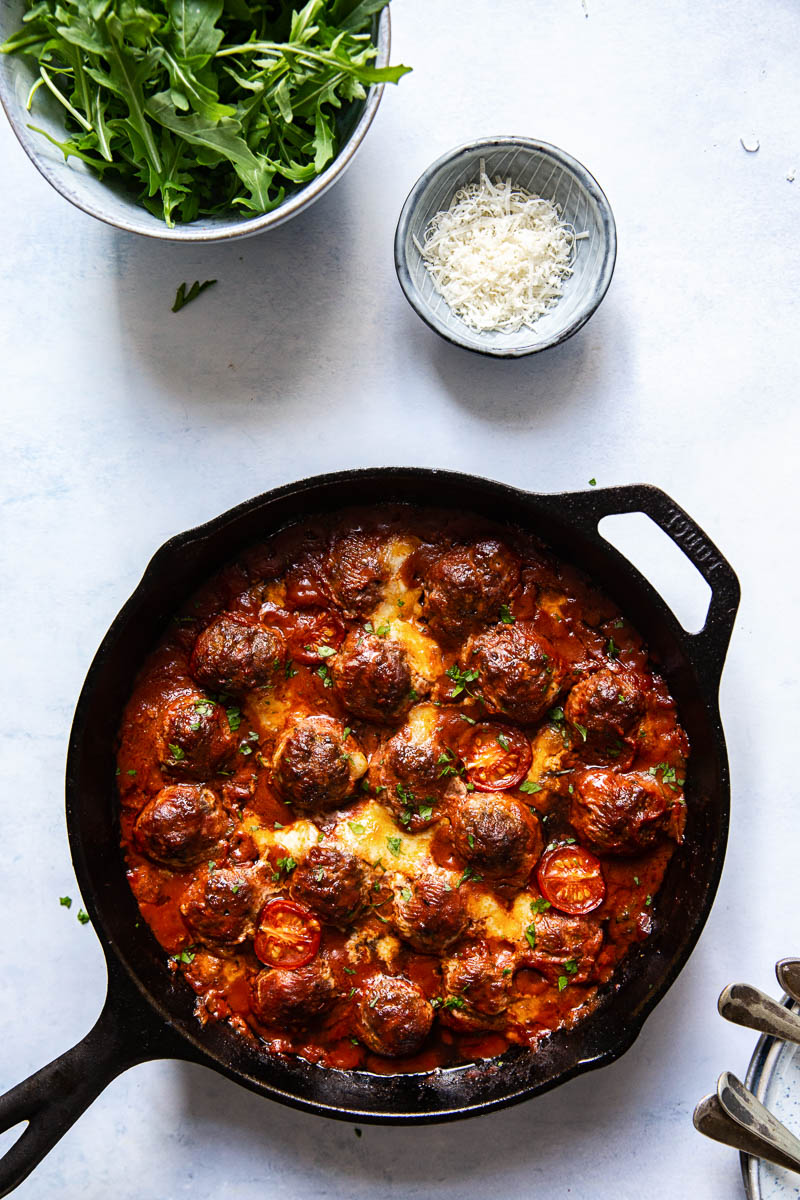 More meatball recipes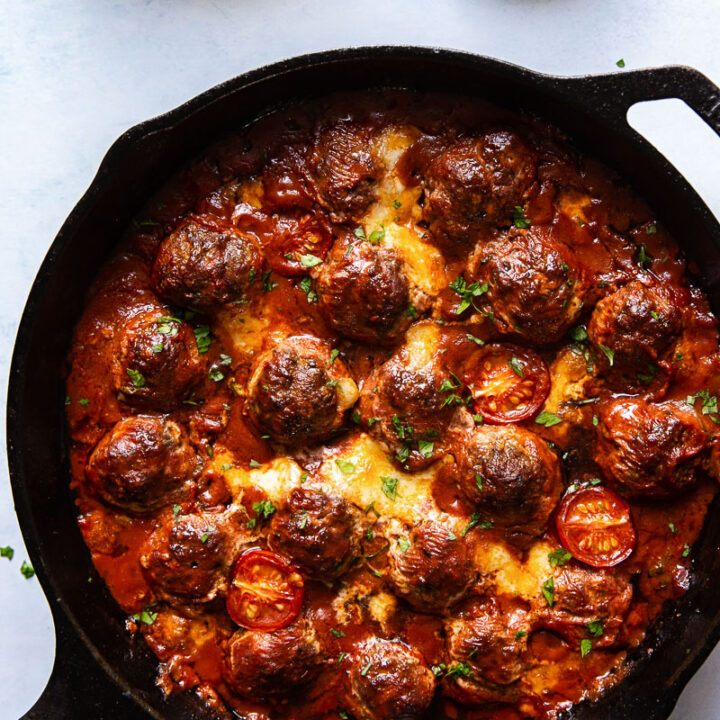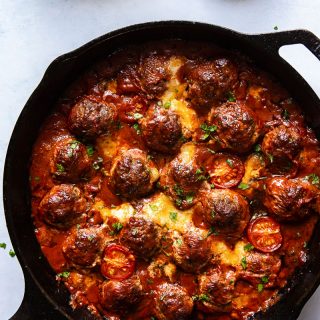 Baked Meatballs with Mozzarella and Arugula
These baked meatballs in rich tomato and pesto sauce with mozzarella and arugula could be made in a matter of minutes, perfect for a weeknight dinner.
Ingredients
For the meatballs
1

lbs

beef

extra lean

1

lbs

pork

extra lean

1

egg

1

tsp

of each dried basil and oregano

¾

cup/75g breadcrumbs

1

tsp

salt

1

tbsp

olive oil
For the sauce
1

tbsp

olive oil

2-3

garlic cloves

minced

4-5

fresh basil leaves

chopped

2

X 14 oz/400g cans chopped tomatoes

3

tbsp

basil pesto

salt to taste
Additional ingredients
2

cups/100g arugula/rocket

½

cup/125 g fresh mozzarella balls

small

4

cherry tomatoes

halved

4-5

basil leaves

optional
Instructions
Preheat the oven to 400F/200C

In a large bowl combine beef and pork, beaten egg, basil and oregano, breadcrumbs and salt, mix well and shape into 20 meatballs. (Alternatively you can use store-bought meatballs and skip this step.)

(Baking method) Place meatballs on a parchment paper lined rimmed baking sheet and bake in the preheated oven at 200C/400F for 10 minutes. (The meatballs will not be baked all the way through.)

OR….(Frying method) Heat olive oil in a large frying pan and brown the meatballs over medium heat but don't cook all the way through. Remove from the pan and set aside.

To the same pan add 1 tbsp of olive oil, chopped garlic and basil and cook briefly for 1 minute, then add canned tomatoes previously processed in a blender until smooth or leave chunky for extra texture if desired.

Then add 3 tbsp of basil pesto and salt, bring to a boil, then lower the heat and let it simmer for approximately 5-7 minutes.

Return the meatballs to the pan with the sauce, add arugula and mix, then scatter mini mozzarella balls, halved cherry tomatoes and basil leaves on top.

Bake in the preheated oven for 30 minutes until the sauce is bubbly and mozzarella is melted and golden.

Serve with pasta or a side of your choice.
Nutrition
Calories:
594
kcal
Carbohydrates:
21
g
Protein:
32
g
Fat:
42
g
Saturated Fat:
13
g
Cholesterol:
138
mg
Sodium:
845
mg
Potassium:
897
mg
Fiber:
3
g
Sugar:
7
g
Vitamin A:
720
IU
Vitamin C:
16.7
mg
Calcium:
155
mg
Iron:
4.9
mg