The easiest and the loveliest this frikadeller soup needs to be in your recipe box! Warm and comforting in the tradition of Russian soup, but surprisingly easy to make.
For another iconic soup, try my traditional borscht recipe!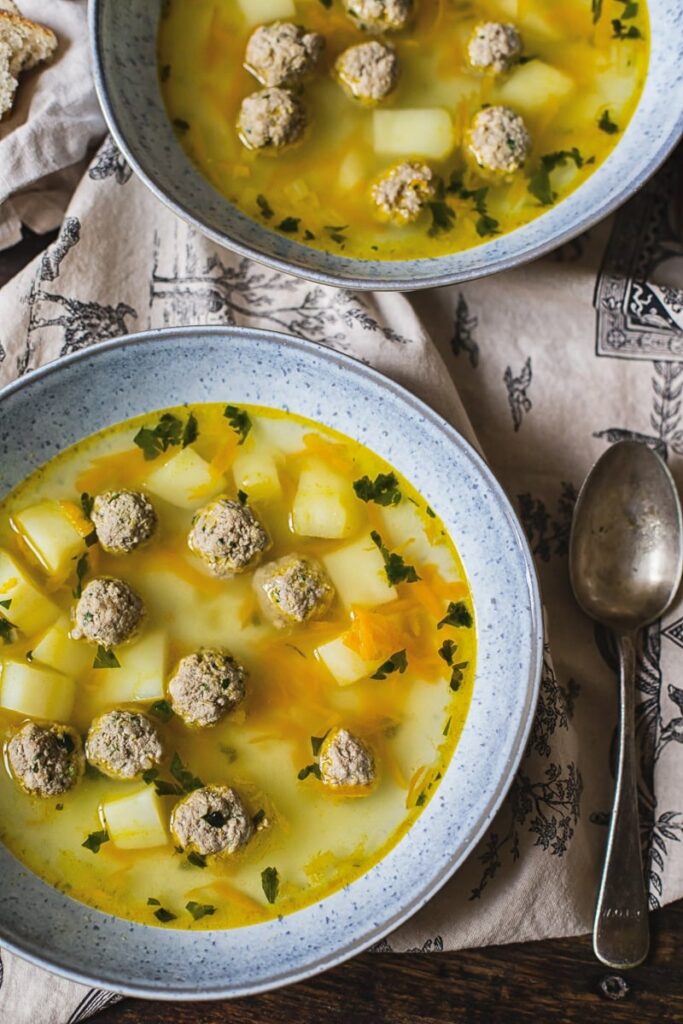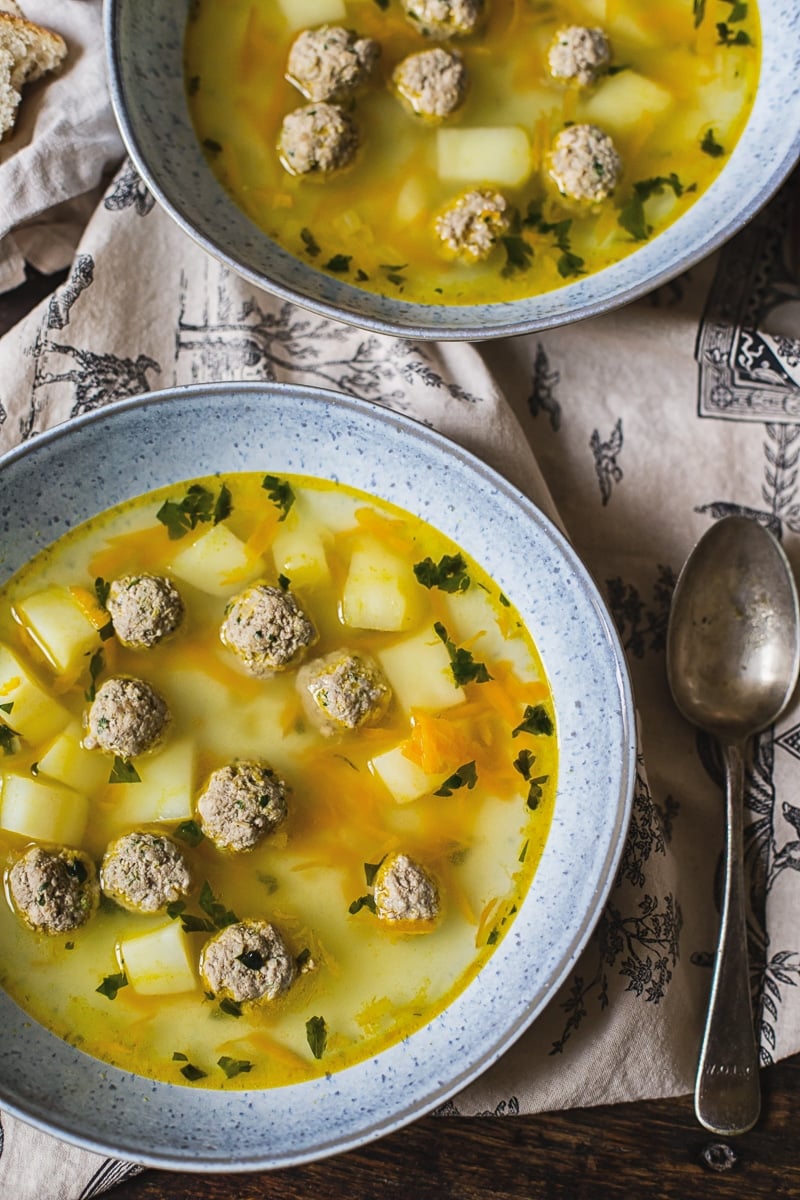 Every time I try to recreate my mum's recipes I think that I am forgetting something. There is just no way that a handful of very ordinary ingredients can create such delicious flavour!
And every time I come back to realisation that simplicity in combination with quality ingredients are the foundation of good food. This Russian frikadeller soup is no exception.
The word 'frikadeller' doesn't sounds very Russian and it is not. The word means 'meatball' and actually has a Danish origin.
The soup, however, is as Russian as vodka, and is known as 'soup s frikadelkami' to many dwellers of the former USSR! It was my favourite soup growing up mostly due to the tasty meatballs!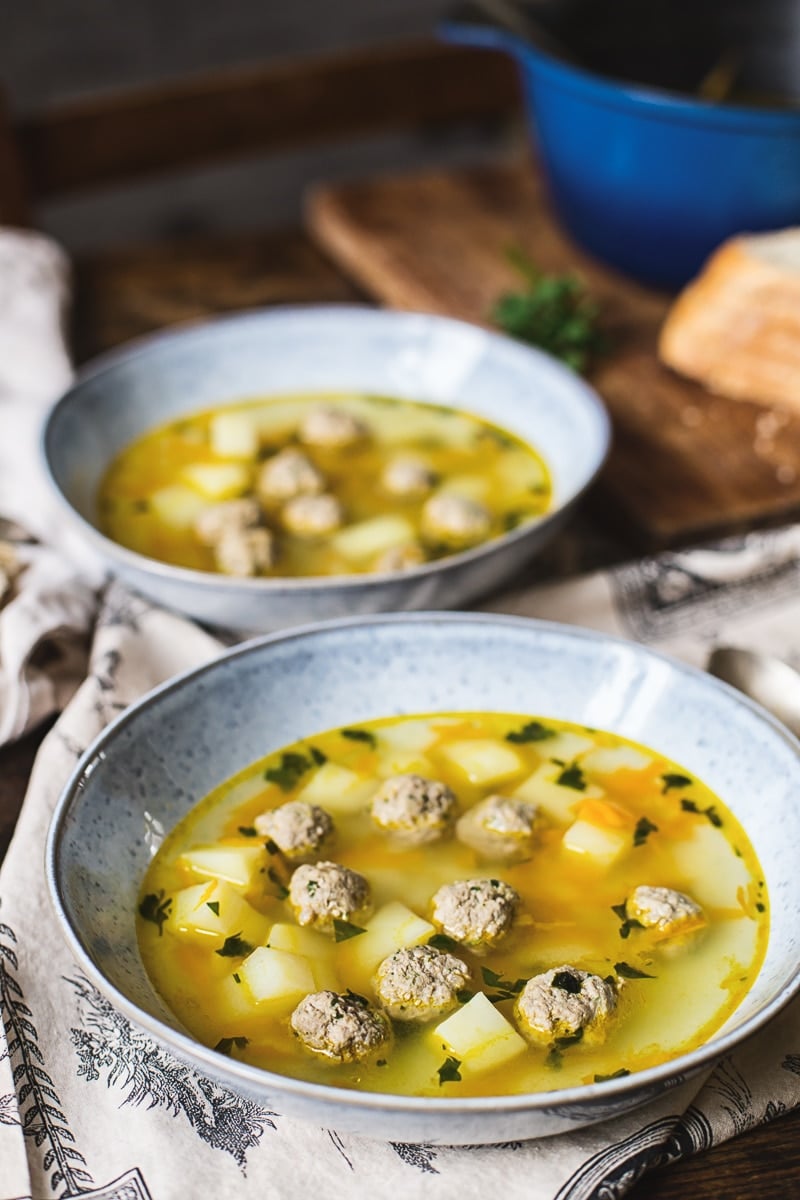 I have to admit the soup section is not very extensive on my blog and there is a good reason for it. I just don't like soups that much.
Growing up with soup every day for lunch ruined it for me. So as soon as I became responsible for my own lunches, I stopped eating soup altogether.
And it's a real shame because soup is so good for us. It's healthy and it's filling as long as you don't overload yours with things like cheese!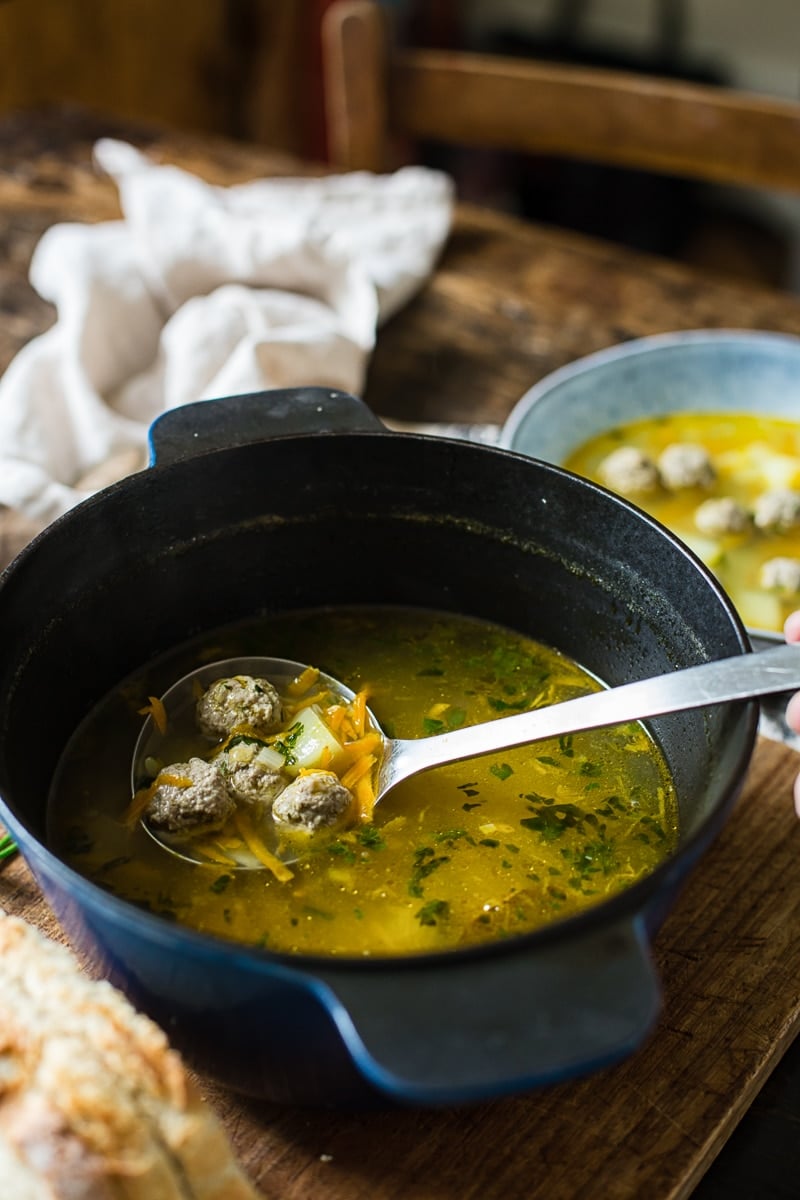 Soups are one of the easiest things to cook. They are very forgiving as they do not require a lot of cooking skills. Making soup was what got me started in the kitchen when I was young!
This meatball soup is another recipe that is easy to make while still being good for you. I've made this recipe with extra lean pork and beef to reduce the calories even more!
Russian meatball soup
As you can see from the photo above, the ingredient list for this Russian soup is quite short. However some love has been put in the meatballs, which is why the soup tastes so good.
I usually make this soup when I have leftover meat from making stuffed peppers or cabbage rolls, which was exactly the case a couple of days ago. I made stuffed peppers but didn't use up all the stuffing.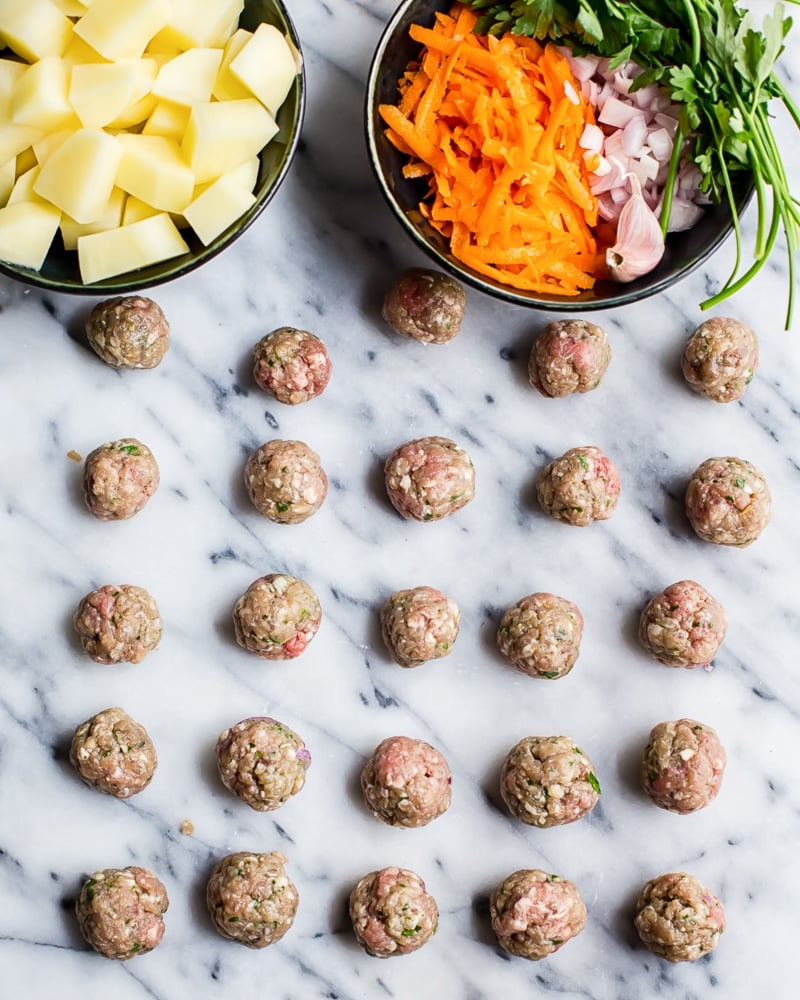 Making your own mix only takes 5 minutes and you can double or triple the recipe to freeze for the future. This kind of planning ahead is what saves me most of the nights when I am too tired or too busy to cook a meal.
When you have a meatball mixture ready, the soup itself only takes about 30 minutes to make. And who wouldn't want to sit down to a bowl of this homemade goodness!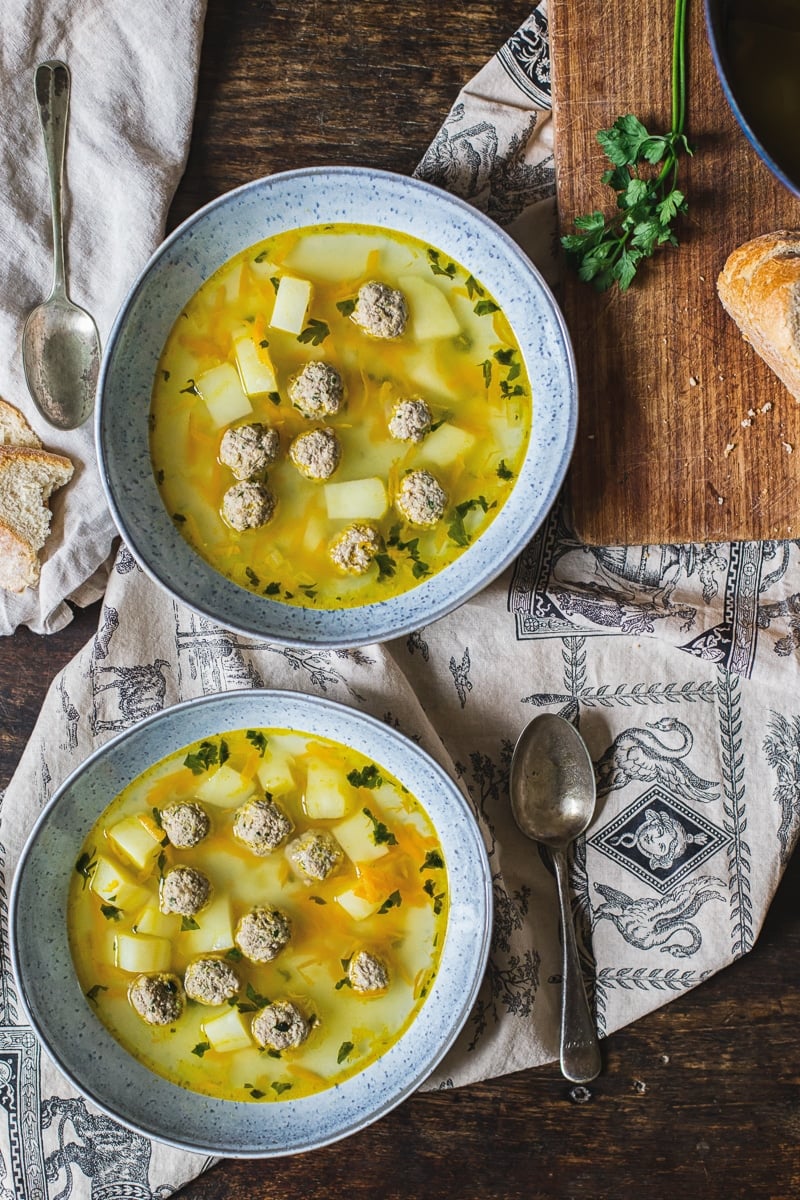 Recipe tips and notes
Pre-made meatballs can be used but are not recommended for the best results as they can be bland. They are a good shortcut if time is short.
I used extra lean pork and beef to reduce calories, but higher fat meat can be used if this is your preference.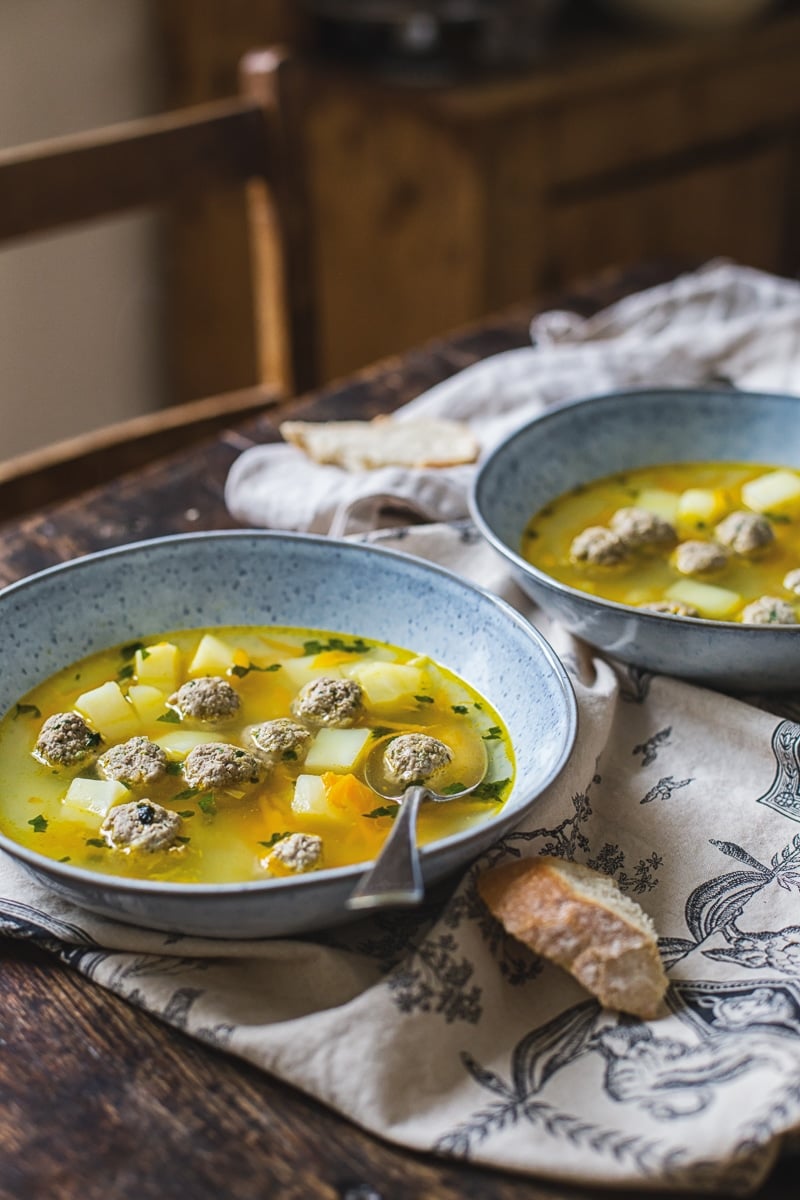 More soup recipes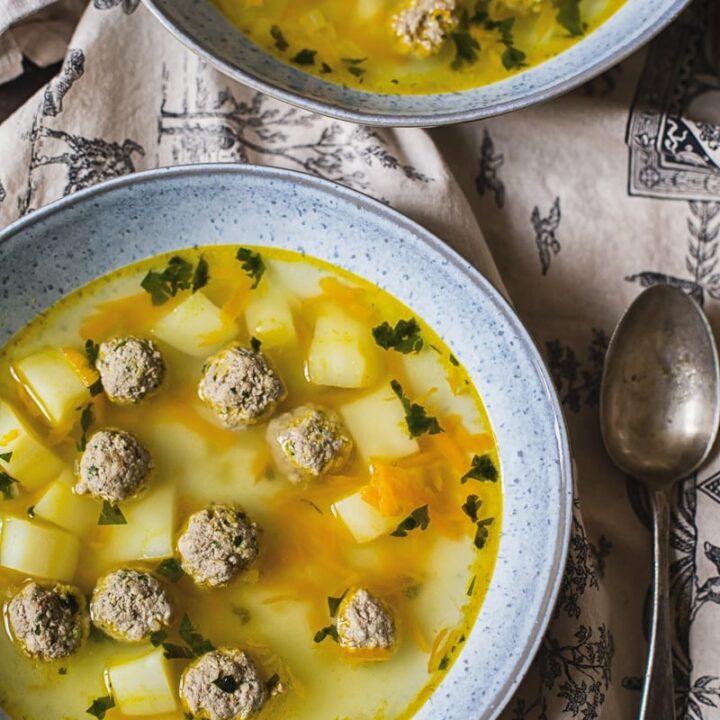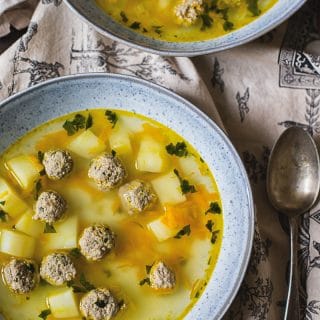 Russian Frikadeller Soup (Meatball Soup)
A traditional Russian recipe for comforting meatball soup.
Ingredients
For the meatballs
100

g

/4oz extra lean ground beef

100

g

/4oz extra lean ground pork

½

onion

small

1

clove

garlic

optional

3-4

sprigs of flat leaf parsley

2

tbsp

water

1

tsp

salt

½

tsp

pepper
For the frikadeller soup
1.5

litres

/6 cups chicken stock

low sodium

1

bay leaf

2

potatoes

medium

1

tbsp

olive oil

1

onion

small

1

clove

garlic

1

carrot

small

2-3

sprigs flat leaf parsley

chopped

Salt to taste
Instructions
To make the meatballs, in a food processor combine onion, garlic, parsley and water and process until smooth. Alternatively you can use a vegetable grater and a garlic press.

Add the mixture to the ground beef and pork with salt and pepper combine and roll 25 small meatballs. Set aside.

Add chicken stock to a large pot together with a bay leaf and bring to a boil. Once the stock boils add meatballs and cook for 10 minutes. Remove the foam that forms at the top with a slotted spoon to keep the broth clear. You might need to do it several times throughout the cooking.

While the meatballs are cooking, peel and dice the potatoes and onions, peel the carrot and grate it using a large hole grater. Chop the parsley.

After the meatballs have been cooking for 10 minutes add the potatoes and continue cooking.

Heat a tablespoon of olive oil in a frying pan and sauté onion and carrot over low heat until tender for approximately 10 minutes, then add chopped parsley and minced garlic and cook for 1 minute longer making sure the garlic and parsley don't burn.

Then add the vegetables to the soup and stir, cook for 5 minutes longer or until the potatoes are fully cooked, then add salt and pepper to taste.

Serve with bread or sandwiches.
Nutrition
Serving:
6
g
Calories:
239
kcal
Carbohydrates:
25
g
Protein:
12
g
Fat:
10
g
Saturated Fat:
3
g
Polyunsaturated Fat:
1
g
Monounsaturated Fat:
5
g
Trans Fat:
1
g
Cholesterol:
34
mg
Sodium:
1214
mg
Potassium:
733
mg
Fiber:
4
g
Sugar:
3
g
Vitamin A:
2661
IU
Vitamin C:
27
mg
Calcium:
40
mg
Iron:
2
mg