Have you ever tasted real Ukrainian borscht? A hearty soup made of beef or pork stock, beets, cabbage and potatoes. If not, here is an authentic recipe that my mother and grandmother used throughout my childhood.
If you like this borscht recipe, try my other Russian dishes like Beef Stroganoff or Russian Meat Dumplings Pelmeni.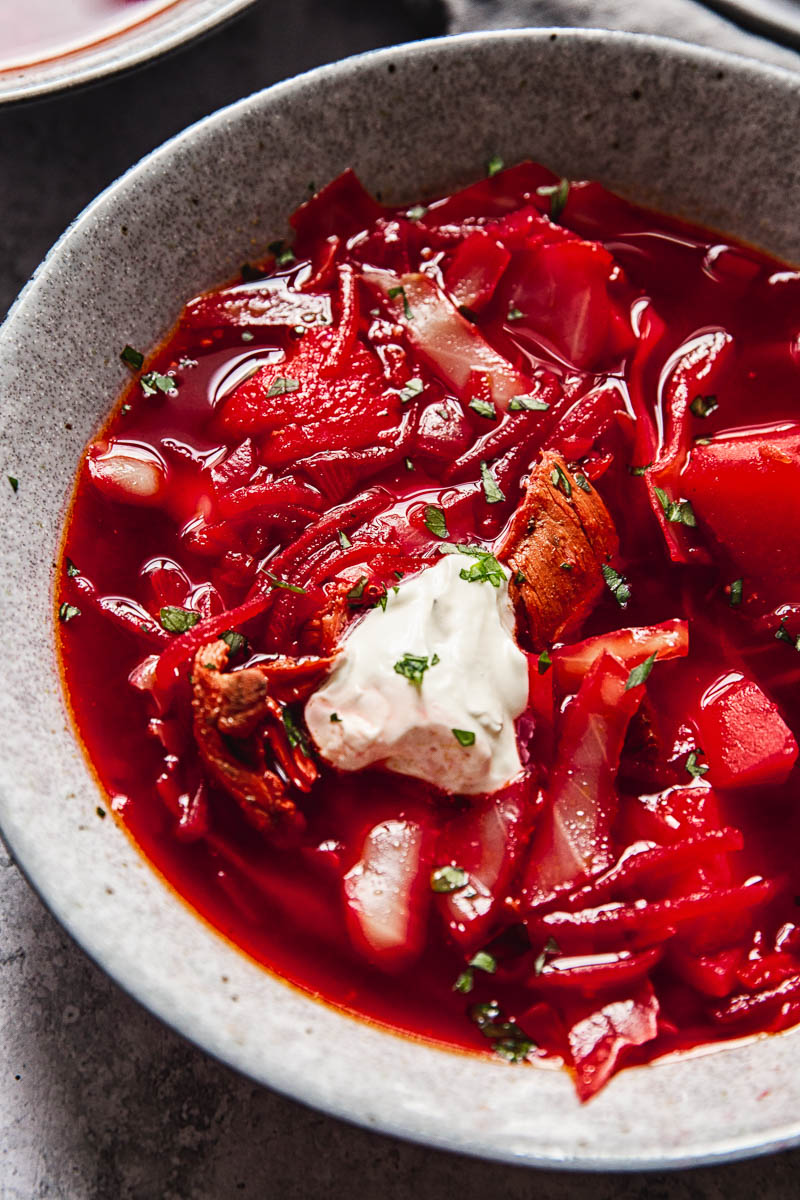 I can hardly believe I am finally sharing my family's borscht recipe! The recipe that was at the top of my list when I first started my blog six years ago.
It took me this long because BORSCHT is the first dish that comes to anyone's mind when they describe Russian food. It is a hefty task to deliver the perfect recipe, which comes with a great deal of responsibility to do it justice.
Sharing my borscht is also one of the simplest tasks because the recipe has been in my family for a few generations, and very much like my Beef Stroganoff recipe or my Cabbage Rolls recipe is in my blood.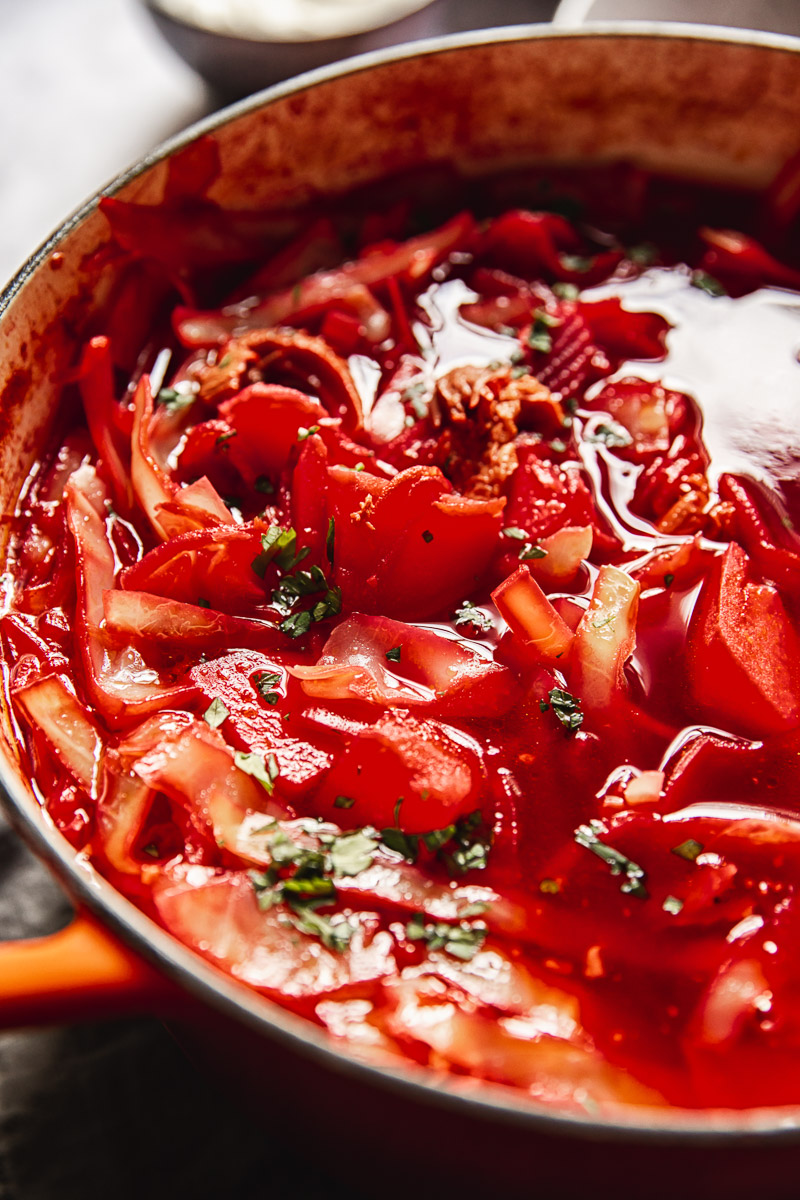 Is Borscht Russian or Ukrainian?
Despite most people associating this recipe with Russia, borscht, or as it is properly pronounced borsch, is actually Ukrainian. Yes, there is no 't' at the end of the word. I know…mind blown!
That being said, there are historical records of Russian tsars eating it centuries ago and the soup is almost as popular in Russia as it is in Ukraine.
There is also a summer version called Green Borscht, which is made with sorrel. And apart from the same name it is an entirely different recipe.
There is also a Polish borscht and although I don't know as much about it I know that it also features beets.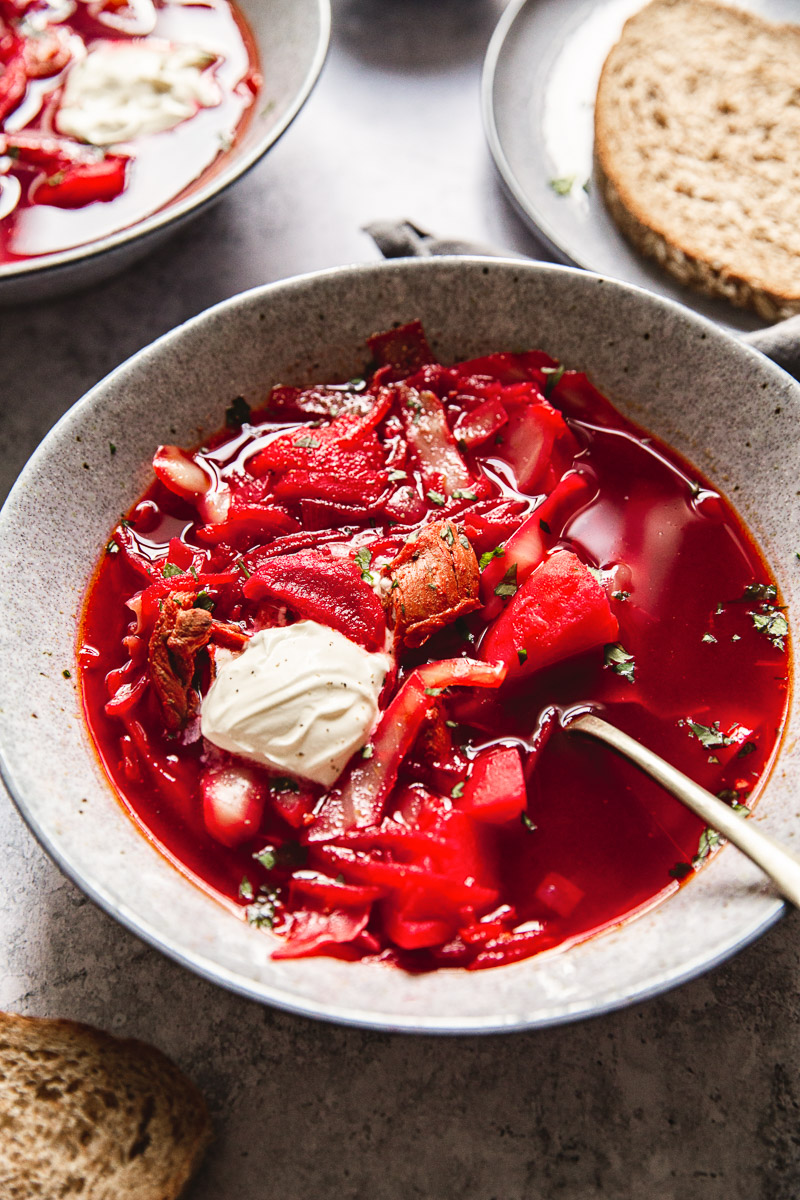 What goes into this iconic beet soup?
Trick question! The truth is that the recipe ingredients vary by country, region and households. However, several ingredients stay unchanged and they are the ones that make a soup into borscht.
beets
cabbage
potatoes
carrots
onions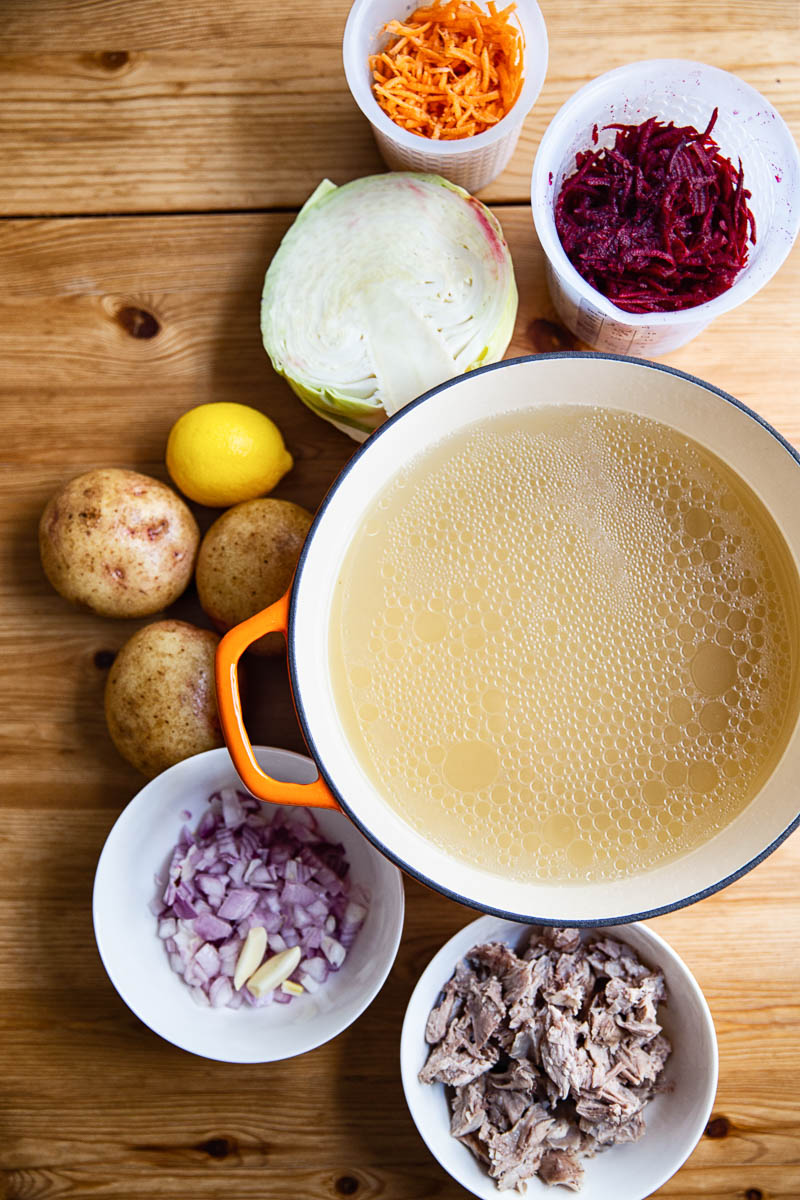 How do I make borscht?
1. Stock
Every building needs a solid foundation and every soup starts with a great stock. Making a delicious stock is by far the most time consuming part of this recipe. It's not difficult, it just takes time.
The best flavour comes from meat on a bone, simple vegetables like onions, carrots and celery and a couple of aromatics. My mother always used bay leaves and peppercorns and I do the same.
2. Soup
Once the stock is made and clarified, the soup itself takes no more than 30 minutes to make.
If you are short for time, I recommend making the stock the night before or even purchasing a good quality broth from a supermarket.
There is no specific technique that is needed for making an authentic Russian borscht but you do need to add vegetables in a specific order to ensure they all get cooked to perfection in the end.
For example, cabbage doesn't take too long to cook and therefore needs to be added last.
Lastly, grated carrots and chopped onions are always sautéed in sunflower oil until caramelised and added to borscht towards the end. This method is called "zazharka" in Russian and Ukrainian cooking.
Many cooks do the same with beets but sautéing beets separately only adds more unnecessary steps to the recipe and doesn't contribute anything to the flavour. I tend to skip sautéing and add raw grated beets directly to the soup.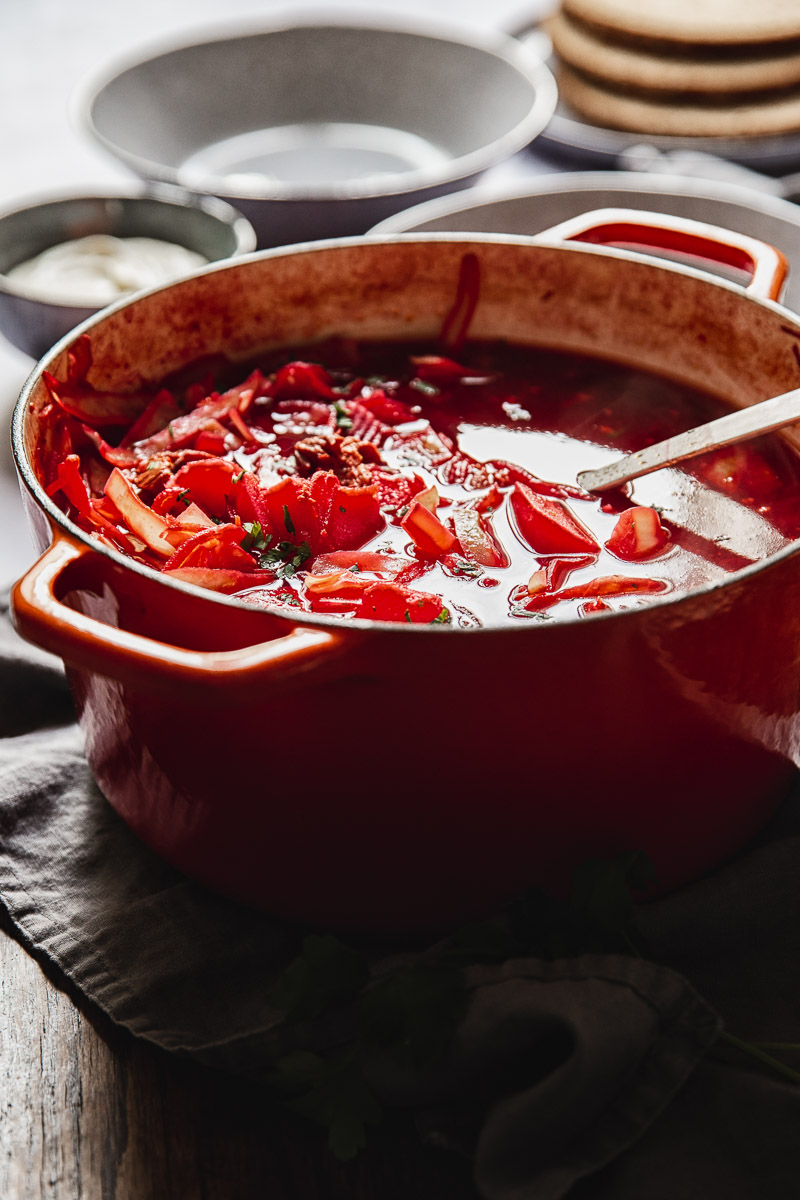 What do you eat with it?
In Russia and Ukraine borscht is usually eaten for lunch as a first course followed by the second course of "meat and potatoes". Although traditionally it was meat and potatoes, I put it in quotations as it could be anything other than soup. The third course is something sweet.
Although traditional not many people have the time or appetite to eat this way in the middle of the day, so many have just the soup.
Borscht is almost always served with a dollop of smetana or sour cream and sprinkled with fresh herbs like dill or parsley. Fresh bread is also a permanent accompaniment to this delicious red-coloured soup.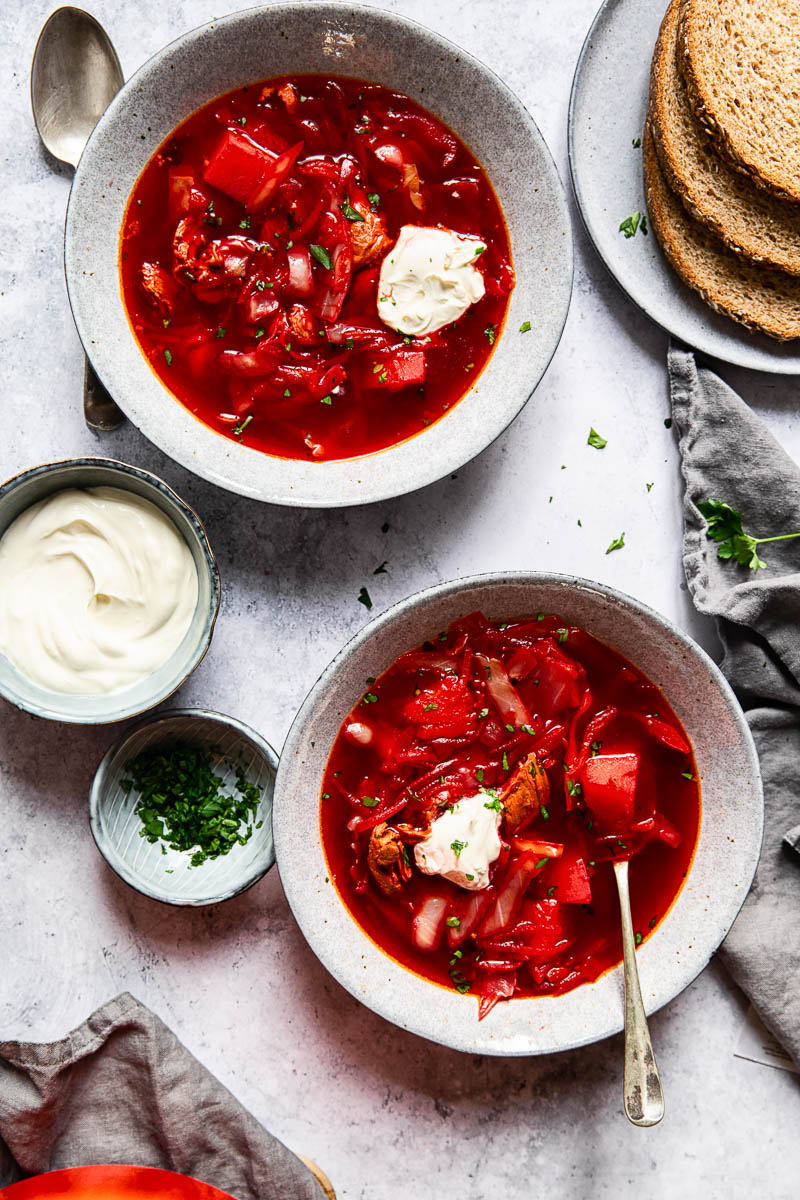 More Russian soup recipes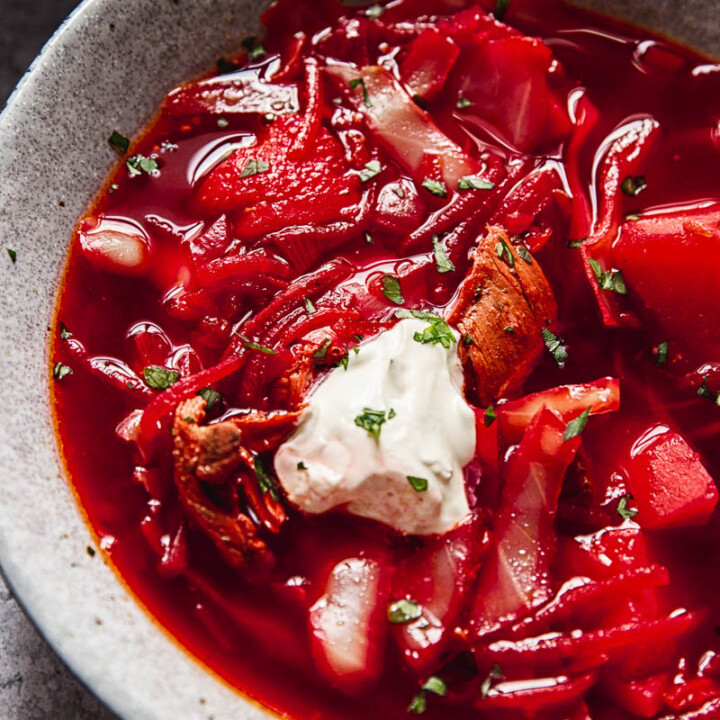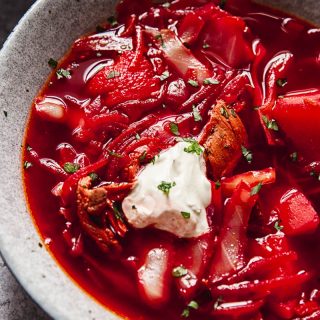 Borscht Recipe
Ukrainian borscht recipe. A rich meat based broth with beets, cabbage, potatoes and carrots served with a dollop of sour cream.
Ingredients
For the stock
3 litres/3 quarts

cold water

600g/1 ½ lbs

pork ribs or beef attached to a bone

½

onion

1

carrot

2

celery sticks

2

bay leaves

5

peppercorns

1

tsp

salt
For the borscht
2

medium beets

peeled and grated

3

medium potatoes

peeled and cut into 2 inch chunks

2

medium carrots

grated

1 (½cup)

medium onion

chopped

2

cloves

garlic

minced

1

bay leaf

3

tbsp

tomato puree/paste

½

small white cabbage

cored and sliced

1

lemon

juice only

or 1 tsp of white vinegar

salt

to taste

pepper

to taste
Instructions
For the stock
In a large stock pot combine water, pork ribs cut into smaller chunks to fit the pot, quartered half onion, celery sticks and carrot cut in half, bay leaves and peppercorns and a pinch of salt.

Bring to a boil and then lower the heat to simmer for 1 hour to 1.5 hours until the meat is nearly falling off the bones.

Remove the scum that floats to the top with a slotted spoon several times through the process.

When the stock is done, let it cool slightly, then remove the ribs to a separate plate and strain the stock by pouring it over a sieve. Discard the vegetables.

When the meat is cool enough to handle, take it off the bones and shred with two forks or by hand. Set aside until needed. Discard the bones. The stock could be made be in advance and frozen until needed.
For the borscht
Prepare all the vegetables by peeling and grating the beets and carrots separately, chopping the onions, peeling and cutting the potatoes and slicing the cabbage. Have all vegetables ready before starting on the soup.

Add the stock to the large soup pot, then add shredded meat, grated beets, cut into medium chunks potatoes, tomato puree, a pinch of salt and one bay leaf. Bring to a boil, then lower the heat and let it simmer.

Meanwhile heat 1 tablespoon of vegetable oil in a pan, then add the grated carrots and chopped onions and saute over low heat for 7-10 minutes until caramelised, then add minced garlic and stir fry for 30 seconds.

When the onions and carrots are done, add them to the soup pot together with sliced cabbage and cook for 15 minutes or until the cabbage leaves are tender but not mushy. Then add the juice of one lemon or 1 tsp of white vinegar and salt and pepper to taste.

Serve borscht with a dollop of sour cream or creme fraiche and sprinkled with fresh dill or parsley.
Video
Notes
Alternatively you can skip making your own stock and purchase a good quality beef or chicken broth from a supermarket.
Nutrition
Calories:
237
kcal
Carbohydrates:
21
g
Protein:
10
g
Fat:
12
g
Saturated Fat:
4
g
Cholesterol:
42
mg
Sodium:
404
mg
Potassium:
722
mg
Fiber:
3
g
Sugar:
5
g
Vitamin A:
1335
IU
Vitamin C:
20.4
mg
Calcium:
49
mg
Iron:
1.6
mg