Potato, Bacon and Caramelised Onion stuffed Vareniki. These little pockets of joy are Ukrainian cousins of Polish Pierogi.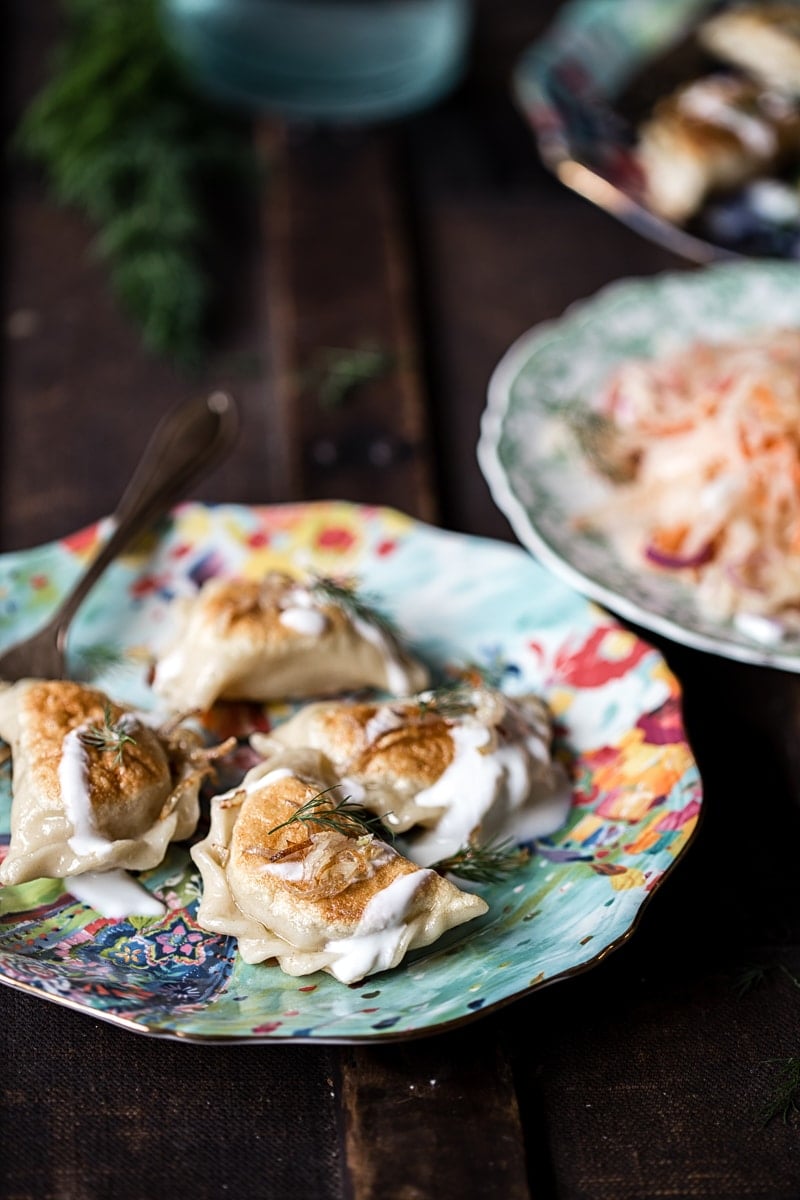 Let me introduce you to little pockets of heaven aka Vareniki. You might know them by another name Pierogi. Vareniki (plural) are Polish pierogi's Ukarainian cousins. What is the difference?
Well I can't really tell you. I was going to say fillings but the filling in these little dumplings are mostly dependent on regions and the cooks, so not a lot of difference I suppose.
Funnily enough, I didn't learn about the existence of pierogi until I went to college in the States and met my husband, who being Canadian, was very excited to educate me about Canada and Canadian food. Pierogi was one of those things he was talking about with great enthusiasm.
What he described though sounded amazingly similar to Ukrainian vareniki that are so popular in Russian, and I couldn't understand for the life of me how Canada could claim them as their national food!!
After a little digging though I realised the dumplings were Polish pierogi. Another surprise because in Russian pierogi are delicious pastries baked in oven, stuffed buns of sorts.
First time Brad brought me home as a girlfriend, he was extremely excited to make pierogi for me, so he pulled out a bag out the freezer and got to cooking. Sadly, I couldn't match his excitement as I bit into my first one. Thick, rubbery dough and a bland potato filling.
Wow, I thought to myself, if he likes that travesty, what would he think of the real deal?! So I got all the needed ingredients out of his mum's pantry and made the homemade vareniki. Everything was done and cleaned before his parents got home.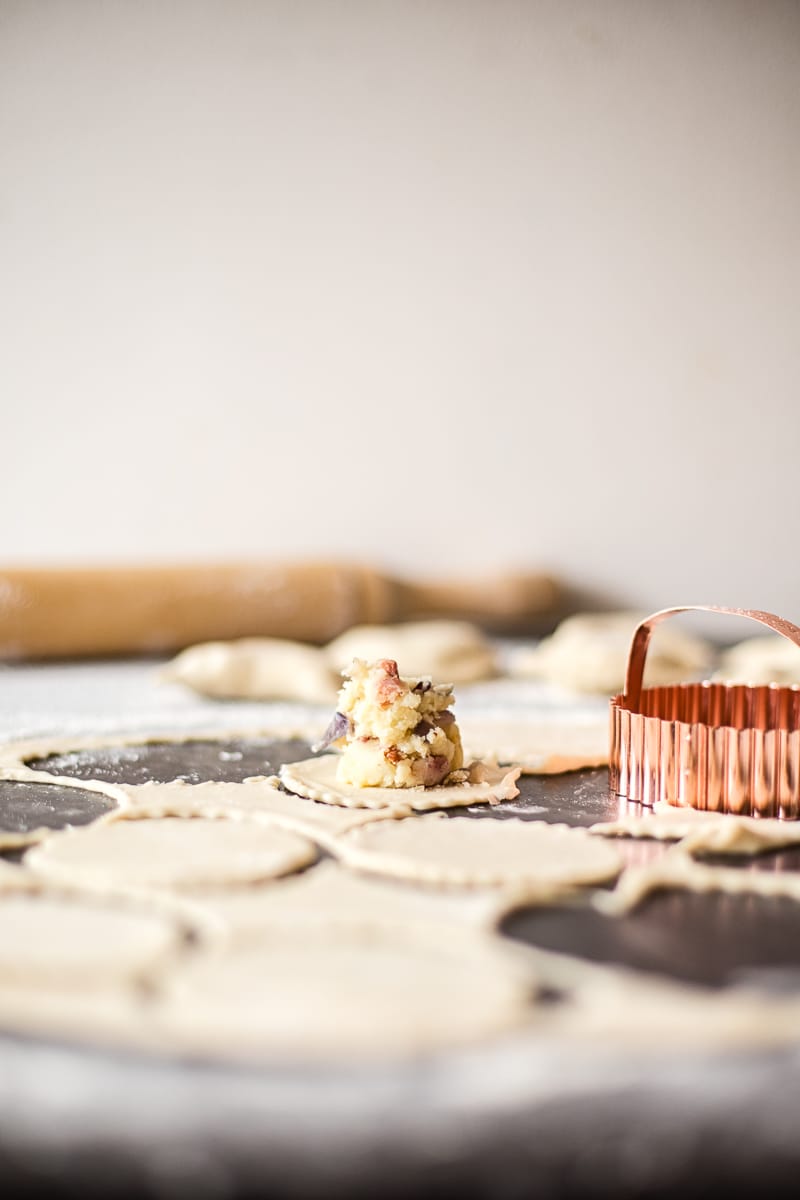 I truly believe I know the moment Brad's parents fell in love with me…after tasting my homemade vareniki.
From that point on they were on my side, cheering me on, supporting me in every way possible. That, my friends, is the power of a well-made dumpling.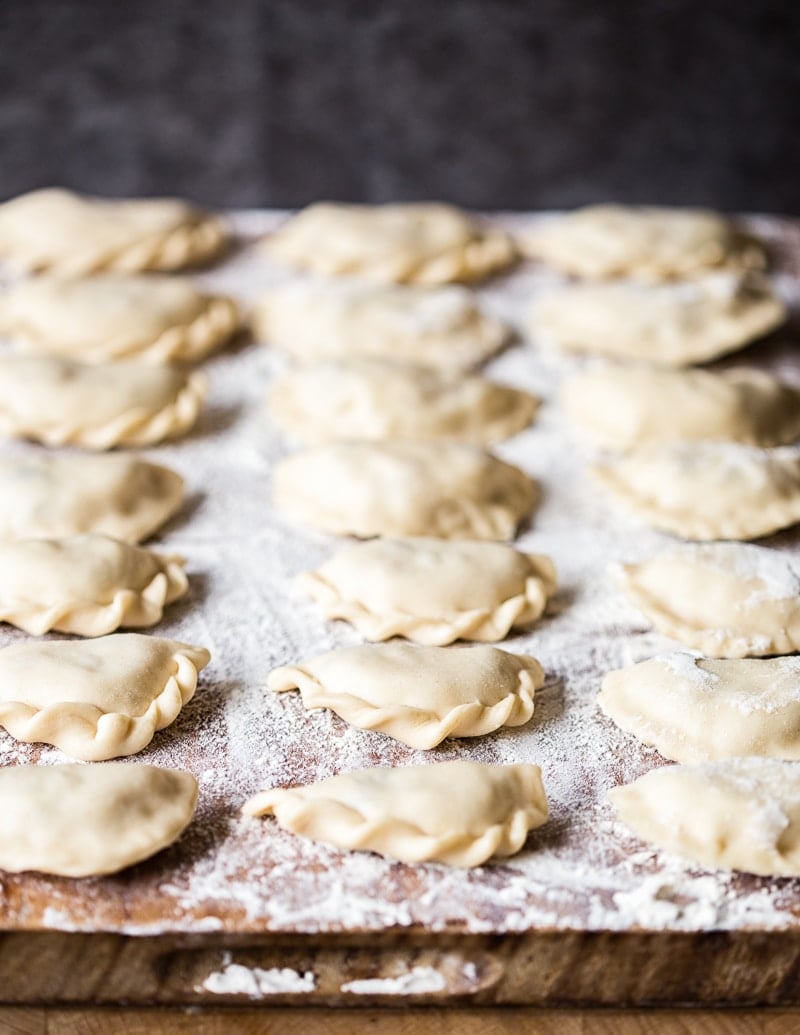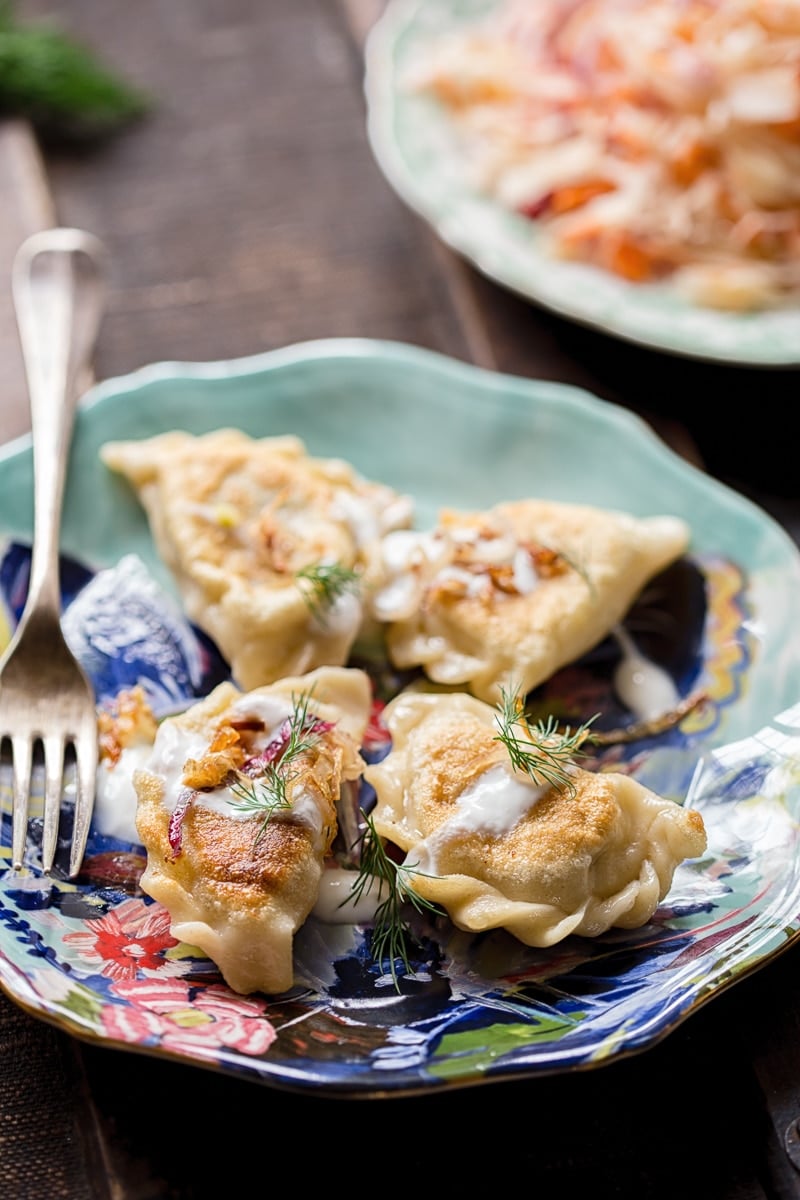 That happened 18-19 years ago and I still remember that first batch of vareniki I made for my future husband's family. I filled them with mashed potatoes, caramelised onions and fried mushrooms.
Today I am sharing my recipe, and this time I swapped mushrooms for bacon because BACON!!!
We had friends over last Saturday and I made a multiple-course Russian feast but Vareniki fried in butter were definitely the centerpiece.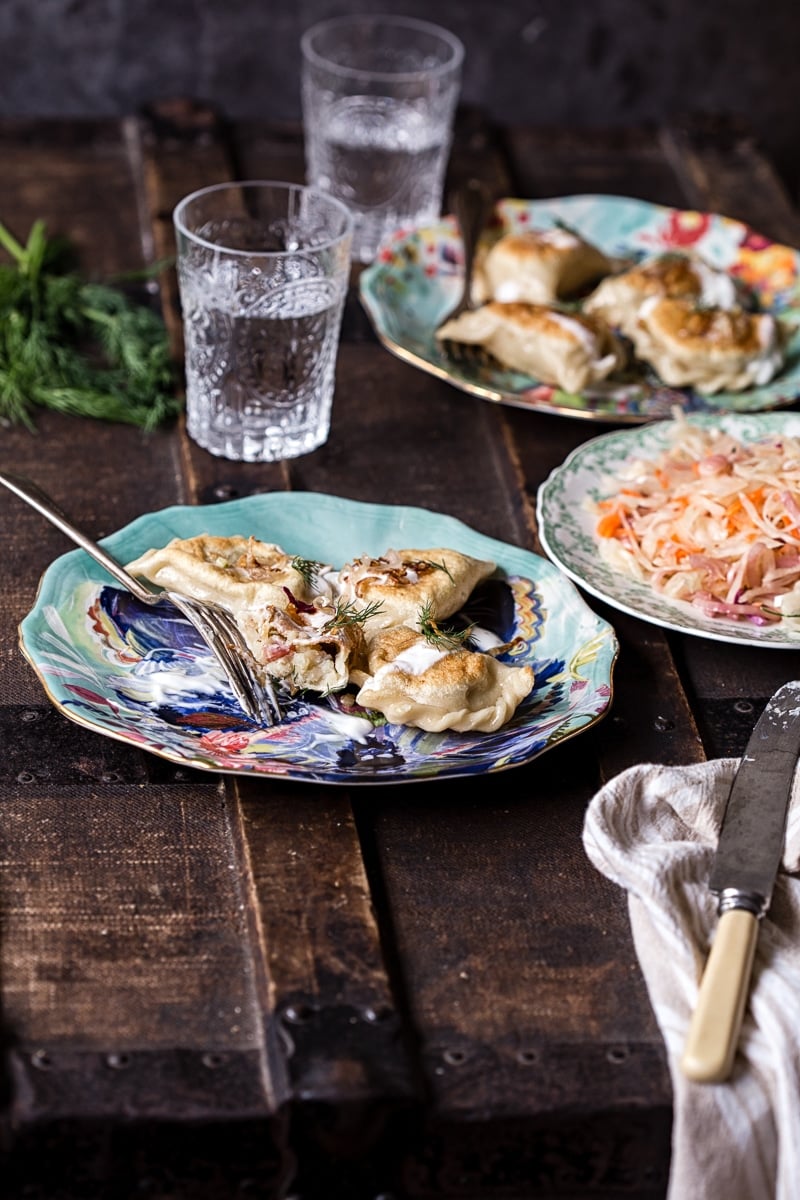 The difference between shop made and homemade pierogi/vareniki
I do not have the words to describe the difference between frozen pierogi/vareniki and homemade ones but let me try. The dough I think is where it starts.
First of all, the frozen, commercially produced dumplings need to be made thicker to remain intact, which comes at the huge expense of the quality.
The homemade dough is thinner, softer, more pliable and infinitely tastier. The filling is where you can get creative! Use your imagination but whatever you do, flavour those potatoes or they will be BLAND! I added butter, salt, pepper, fried bacon and caramelised red onions.
I don't need to go on telling you the vareniki tasted fantastic! Traditionally they are served pan fried in butter with crispy onions and sour cream.
Yes, not exactly the diet food but I make mine about once in three years, so when I do, I do not hold back! I also had sauerkraut on the side as the slightly sour taste balances out the richness of vareniki. If you are curious to make your own, my sauerkraut recipe is easy to follow!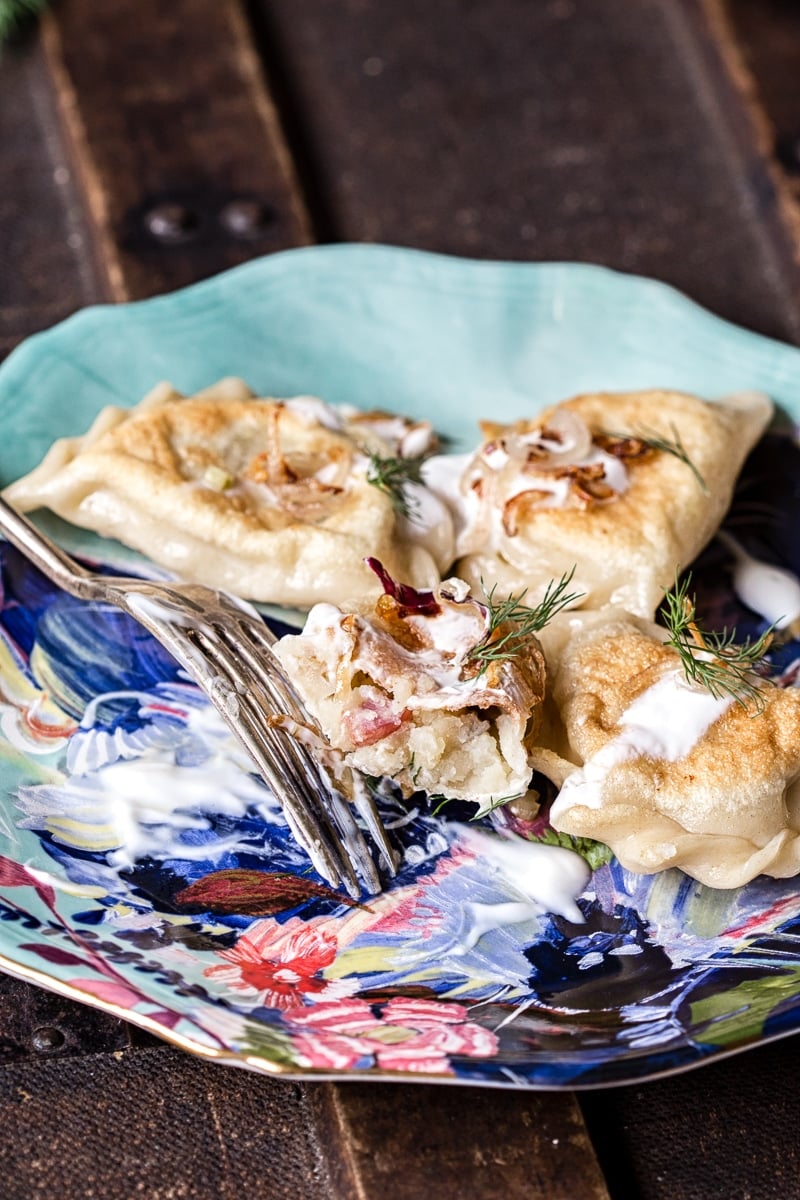 Are vareniki expensive to make?
Apart from being so delicious, vareniki are also very economical!
They use the cheapest ingredients that go a long way. They are also very filling! Just 3 cups of flour and 5 potatoes made 65 vareniki!!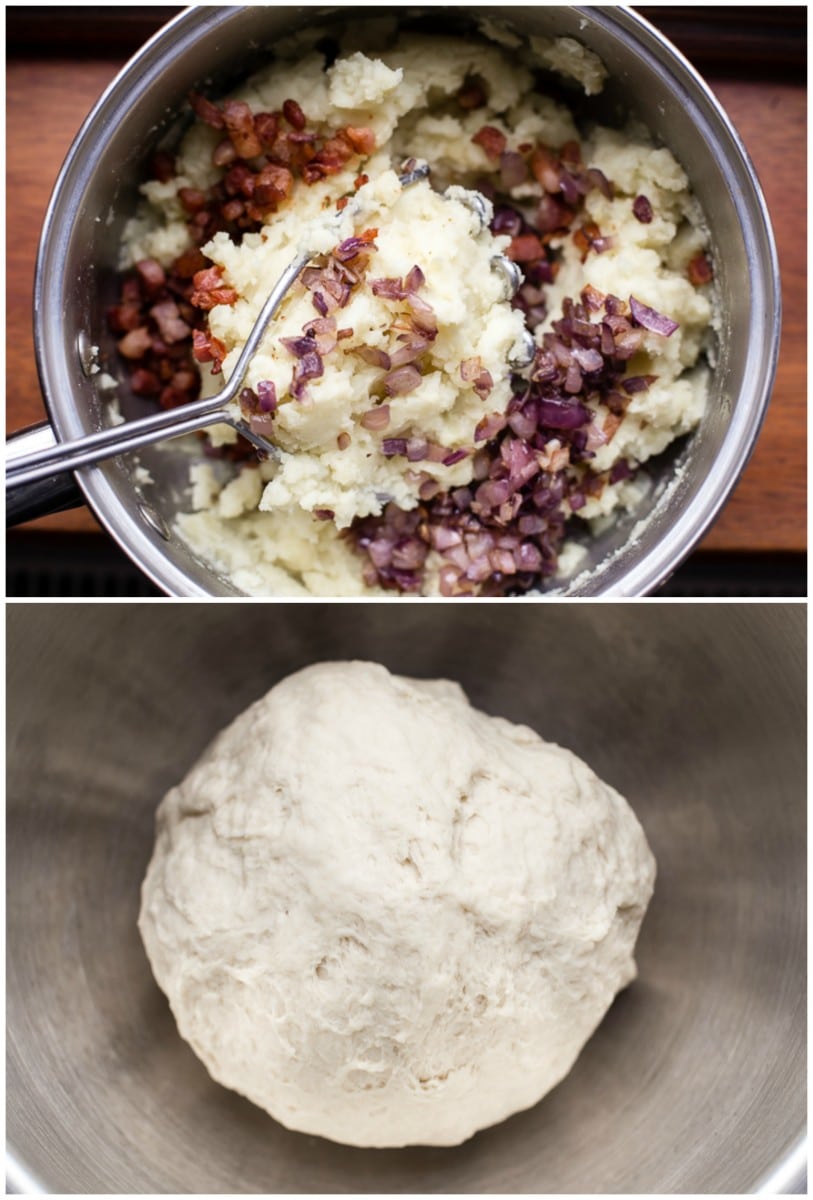 If you are slightly intimidated to dive into vareniki making, do not be afraid!
I wrote extensively about the dumpling making process when I shared my Meat Dumplings Pelmeni, so feel free to take a look at another delicious recipe and photos!
You don't need to crimp the edges for them to taste good, simply fold the dough over the filling and pinch hard like you see in the photo below.
Or watch this video to learn how!!
I hope you enjoy them and tell me everything about it in the comment section!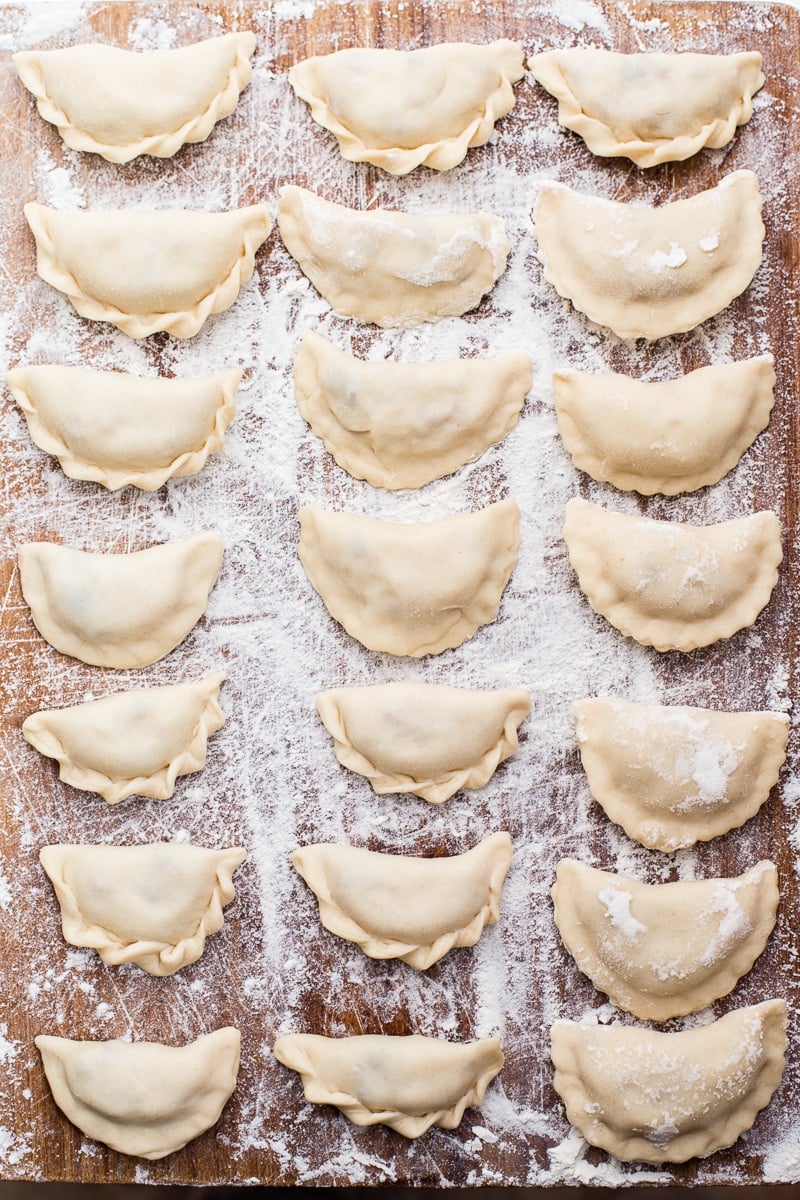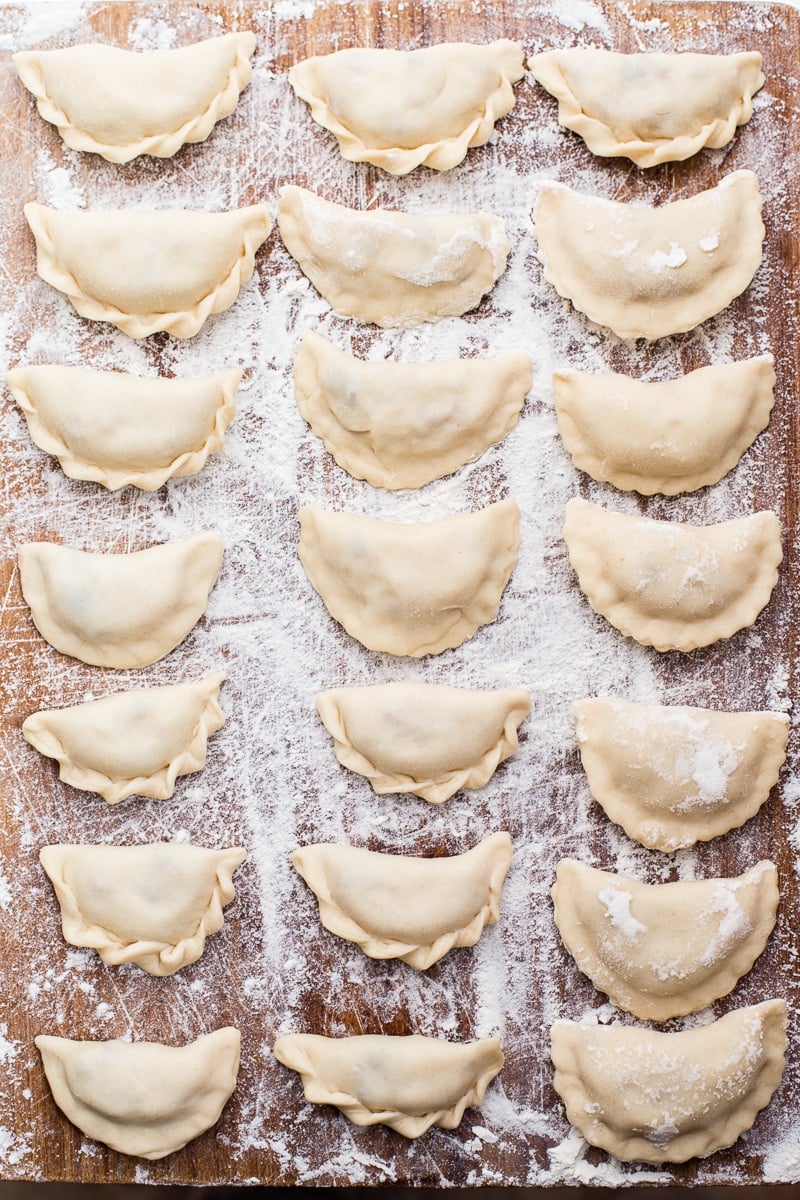 Ingredients
For the dough
3

cups

all purpose flour

1

tsp

salt

1

egg

large

1

cup

cold water
For the filling
5

potatoes

2

tbsp

butter

5

strips/100g bacon

1

onion

chopped

salt and pepper to taste
Instructions
Peel and boil the potatoes until fork tender. While the potatoes are boiling, make the dough.

In a food processor pulse flour and salt. With the motor running add the egg through the tube and then cold water. Let the processor do its work for a minute until the dough forms around the blade.

Transfer the dough into a bowl, cover with a tea towel and let it sit for 30 minutes.

While the dough is resting, make the filling. Frying the bacon and chop it up, then slowly cook the onion in the bacon fat over very low heat for 20 minutes until the onions are caramelised.

Mash the potatoes, add butter, bacon, onions and mix well, add salt and pepper to taste.

Divide the dough into quarters and form your quarters into balls.

Take one dough ball and roll it out on a well floured surface in a thin sheet approximately 1/16" in thickness. Keep the rest of the dough covered to avoid drying out.

Cut out circles with a 2" to 3" cookie or scone cutter. Put a teaspoon of potato filling into each dough circle, slightly off-centre, fold the dough over to form a half-moon shape and pinch the edges shut with your fingertips. If you want a more attractive look go over the edge one more time and this time pinch the edges together using your two fingers and a thumb and twist them to form a ruffled edge.

Repeat with the remaining dough circles until you run out of both dough and the filling. You should have about 65 vareniki.

Set aside a needed amount of pelmeni for dinner and freeze the rest in a well floured and air-tight container to prevent sticking.

Bring a large pot of water to a boil, add salt drop vareniki into rapidly boiling water and stir to prevent them sticking to the bottom, once they float to the top, drain and pan fry in butter over medium heat until golden on both sides.

Serve with sour cream, dill and crispy fried onions or shallots.

*Cook the remaining vareniki from frozen.