Vareniki are like miniature gifts from Ukraine. Delightfully wrapped packages, with either a sweet or savoury surprise inside. Preparing your presents is a labour of love, it takes time. But as they say, the best things come to those who wait. And these tangy and earthy parcels are definitely worth it.
If vareniki-parceling is your new favourite pastime, you could try your hand at crafting their dumpling cousins; Potato, Bacon and Caramelised Onion Pierogi and Meat Dumplings Pelmeni.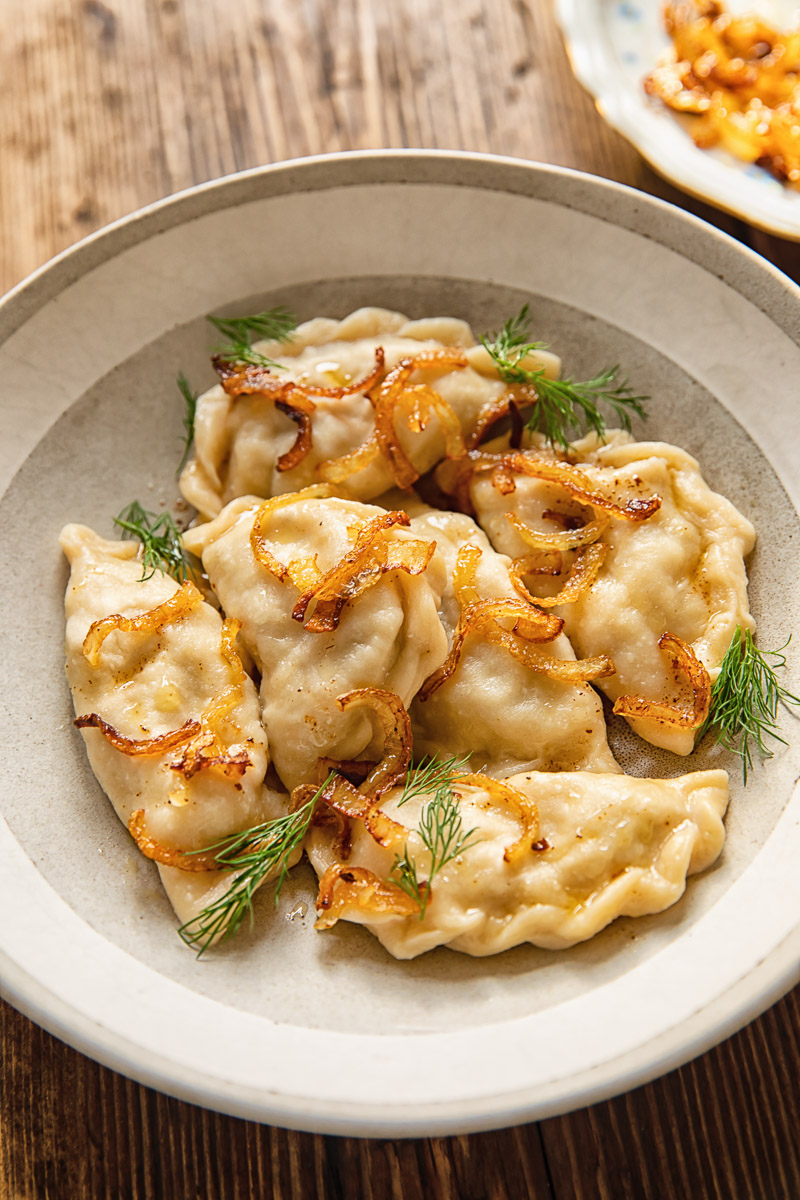 Obviously, I am romantic about all things from that corner of the globe; the landscapes, the architecture, the literary works. And, of course, the food! Steeped in a rich history of power and loss that spans centuries, I feel my personal connection to it whenever making vareniki.
What seems like so many lives ago, I learned from my mother how to prepare the symbolic dish of half-moons. My small hands and fingers perfectly sized for folding and crafting the delicate edges. And knowing how time-consuming they are, it's no wonder she recruited me!
The recipe for vareniki is filled with love and tradition in equal measure, and I hope it will continue to be passed down between mother and daughter for generations to come.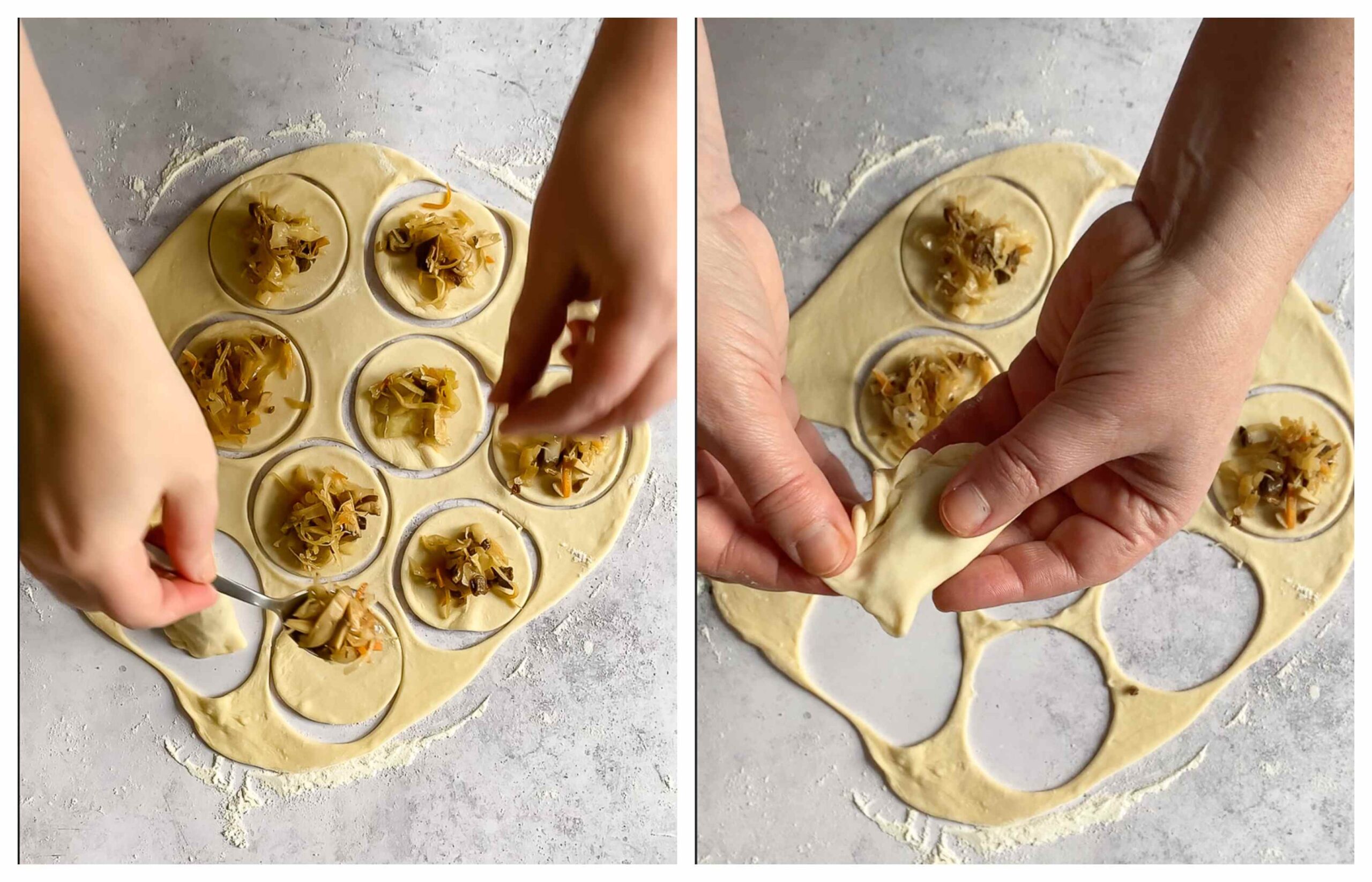 What are vareniki?
Vareniki may be new to you, but you have probably already been introduced to their more famous relatives, pierogi. So, allow me. Both come from Eastern Europe. Both are delicious dough-filled parcels. Both can be either sweet or savoury. Both are (mostly) vegetarian.
Vareniki, or varenyky, is the name more commonly used further east towards Ukraine and Russia. While pierogi is what they are called to the west, in countries like Poland. It's their pleasure to meet you.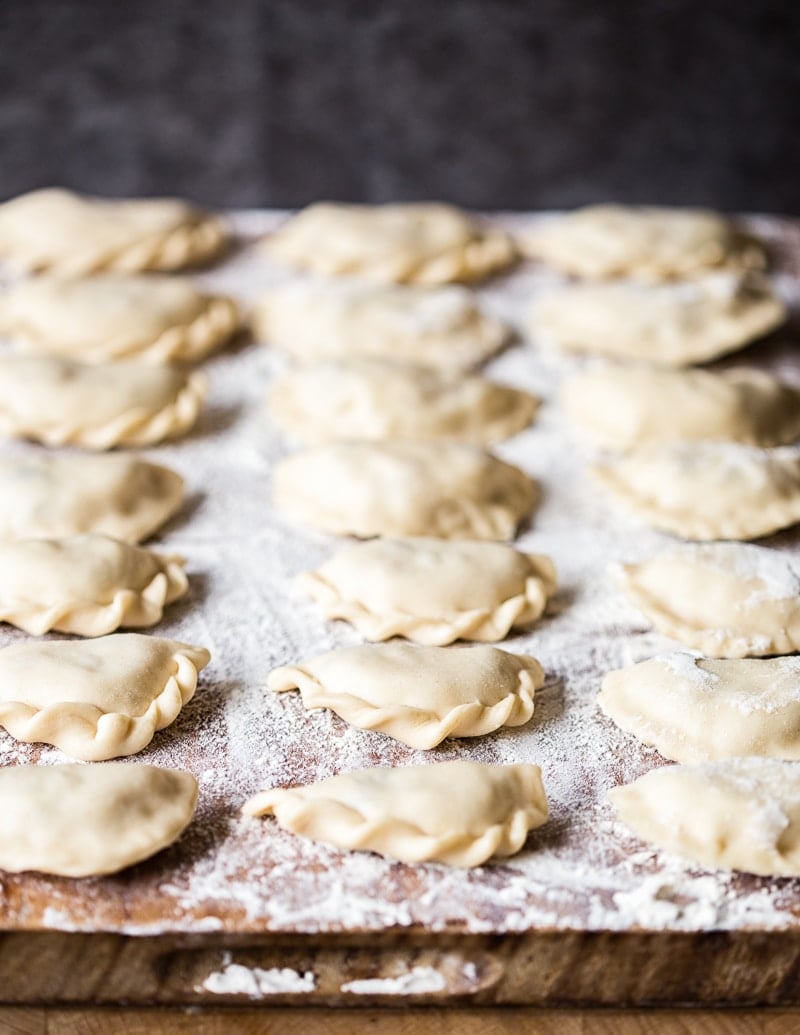 Vareniki vs Pierogi vs Pelmeni
And pelmeni? Who's that guy? Pelmeni is the strictly meaty cousin of the trio and hails from frosty Siberia. Never sweet. And his filling starts out raw. So now you know the whole family.
Types of filling
Traditionally, fillings are simple. Savoury vareniki contain potatoes, or curd cheese, or cabbage. I like to mix my savoury flavours up a bit, like this recipe for tangy sauerkraut and earthy mushroom. I either make my own sauerkraut or buy it from a local Eastern European shop.
You could use plain cabbage, or peas with potato, whatever suits your family's taste. Not forgetting the all important spoonful of sour cream on top.
Sweet vareniki can be gorgeously jammy. Usually filled with sour cherries, you could try other stone fruits or sweeter berries, like blueberries or strawberries. All work well if you want to add the crumbly white cheese too, and of course the generous dollop of sour cream.
Recipe Tips and Notes
As the process is fairly labour intensive, break it down to stages. You can make the filling a day or two in advance.

And because you'll love them, prepare an extra batch for the freezer.

If you've made the potato version before, you'll know the filling is sticky and easy to pack. The sauerkraut is not and can be a bit wild to work with! I suggest using a larger 3.5 inch dough circle to contain everything.

Getting the perfect half-moon and ruffled edge can take practise, you'll have got the hang of it by the thirtieth parcel! If you're unsure, take a look at my video to get you started.

In this recipe, I boil the vareniki because I prefer the soft and delicate texture. They are also eaten fried, just use vegetable oil, or even better butter.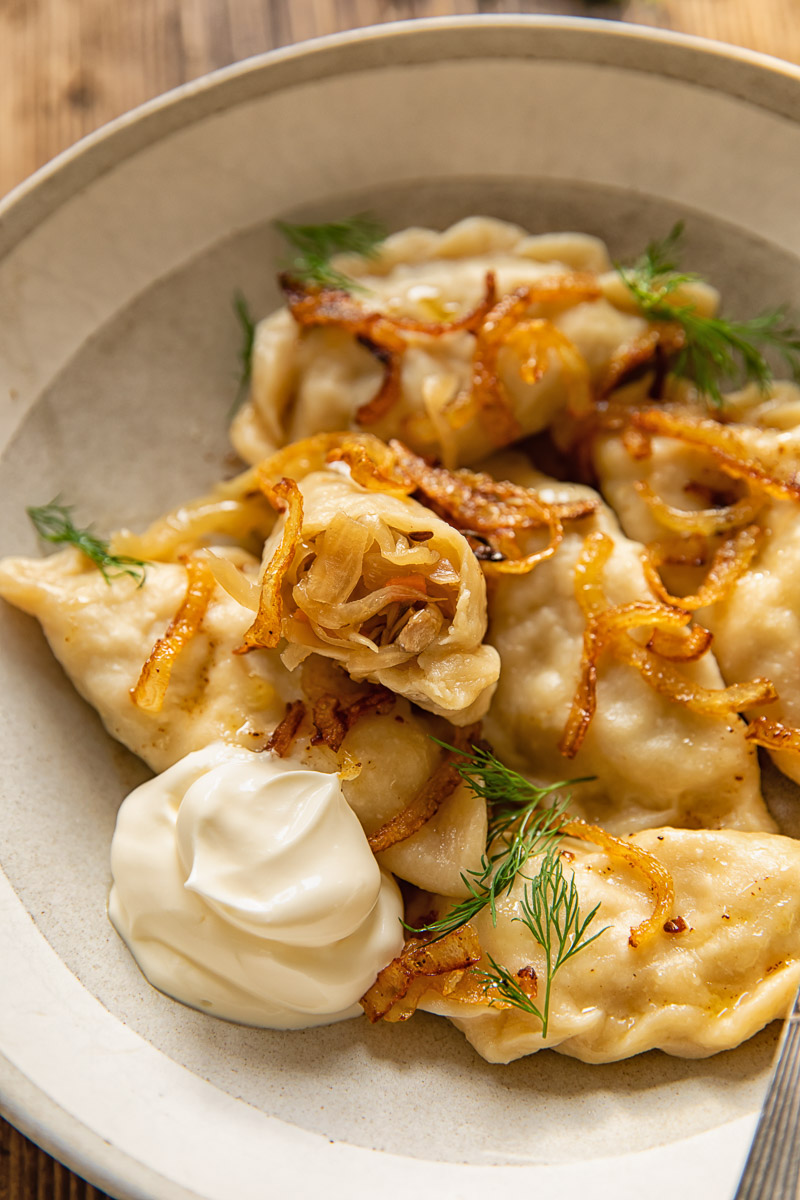 Storage and Leftovers
These dumplings are irresistible, you'll be surprised how many you can eat! And you might as well polish them off, as like pasta, they don't keep well once cooked. They are however made to be frozen!
If you have the time, vareniki are a great batch cook. Freeze your spares in an air tight container and cook from frozen for instant comfort in present form.
More Ukrainian Recipes to Try: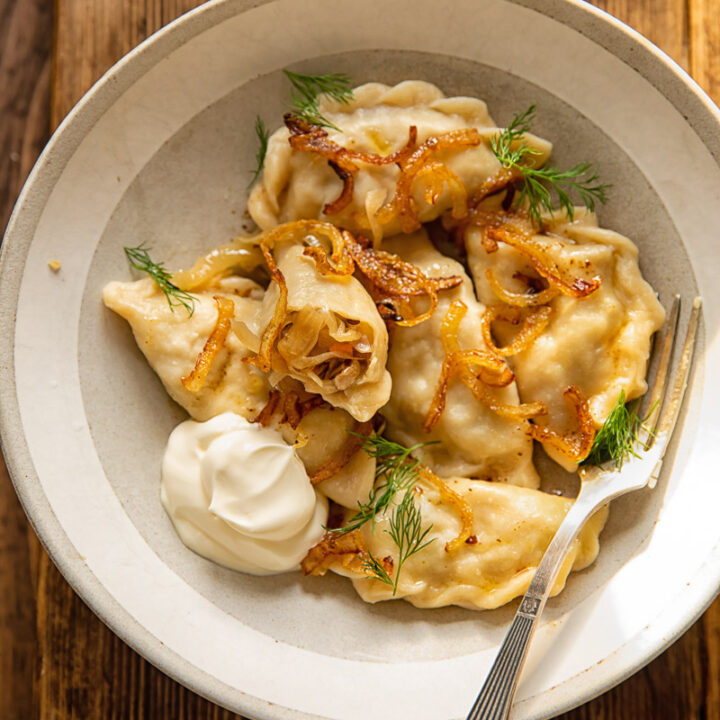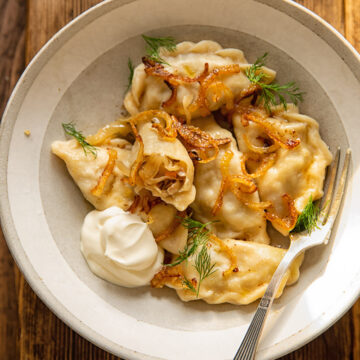 Sauerkraut and Mushroom Vareniki
These Ukrainian vareniki are delicious homemade dumplings filled with sauerkraut, mushrooms and caramelised onions. Makes approximately 45 dumplings.
Ingredients
For the Filling
2

onions

250 g/ 1 ⅔ cups

sauerkraut

2

tbsp

butter

200g/7oz

chestnut or button mushrooms

20g/1/4 cup

dried porcini mushrooms or any other type of dried mushrooms

salt to taste
For the dough
450g/3 ⅓ cups

all purpose/plain flour

1

tsp

salt

1

egg

225ml/1 cup

water
Instructions
Start with the filling, which could be made up to 2-3 days ahead. Pour a cup of boiling water over dry porcini mushrooms and let them hydrate for 30 minutes. Slice the onions and start cooking them in 1 tablespoon of melted butter over low heat until soft and caramelised. This should take approximately 20 minutes. The onions should have absolutely no crunch left at the end. They should be golden in colour and sweet. Once done remove the onions to a medium sized bowl.

Remove the liquid from the sauerkraut by squeezing it over a sink. It should be quite dry. Then add to the same bowl with caramelised onions.

Chop the chestnut mushrooms finely. Remove the rehydrated mushrooms from the liquid and discard the liquid, chop them up as well. Melt a tablespoon of butter in the same pan you used for onions and add both types of mushrooms with a pinch of salt. Cook over medium heat until the mushrooms are slightly golden and there is no liquid left in the pan.

Add the cooked mushrooms to the bowl with the sauerkraut and caramelised onions and mix to combine. Cool slightly and put in an air tight container, refrigerate till needed.

Make the dough. In a food processor pulse flour and salt. With the motor running add the egg through the tube and then cold water. Let the processor do its work for a minute until the dough forms around the blade. Transfer the dough into a bowl, cover with a tea towel and let it sit for 30 minutes.

Cut out circles with a 3-3.5 inch cookie or scone cutter. Put a large spoonful of the filling into each dough circle, slightly off-centre, fold the dough over to form a half-moon shape and pinch the edges shut with your fingertips. If you want a more attractive look go over the edge one more time and this time pinch the edges together using your two fingers and a thumb and twist them to form a ruffled edge.

Repeat with the remaining dough circles until you run out of both dough and the filling. You should have about 35-45 vareniki. The number will vary depending on how large you make each dumpling.

Set aside a needed amount of vareniki (4-6 per person) for dinner and freeze the rest in a well floured and air-tight container to prevent sticking.

Bring a large pot of water to a boil, add salt drop vareniki into rapidly boiling water and stir to prevent sticking to the bottom, once they float to the top, drain and pan fry in butter over medium heat until golden on both sides. Serve with sour cream and crispy fried onions if desired.

* Cook the remaining vareniki from frozen.
Nutrition
Calories:
268
kcal
Carbohydrates:
50
g
Protein:
8
g
Fat:
4
g
Saturated Fat:
2
g
Polyunsaturated Fat:
1
g
Monounsaturated Fat:
1
g
Trans Fat:
0.1
g
Cholesterol:
28
mg
Sodium:
823
mg
Potassium:
280
mg
Fiber:
3
g
Sugar:
2
g
Vitamin A:
123
IU
Vitamin C:
7
mg
Calcium:
30
mg
Iron:
3
mg