Making these meat dumplings Pelmeni is a bit time consuming BUT much easier than you might think!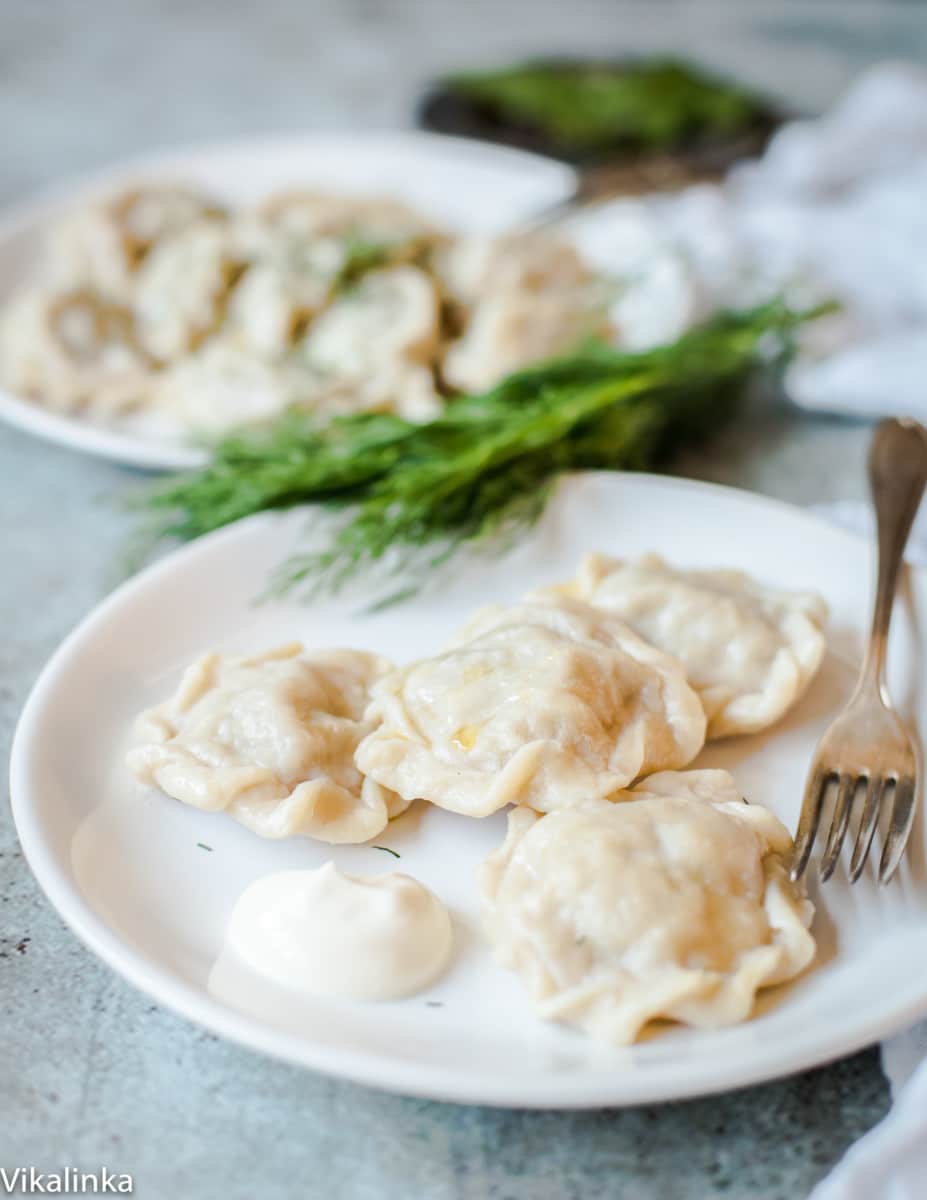 Tonight is Orthodox Christmas Eve, which means all of Russia, Ukraine and many other Orthodox countries are celebrating! (Okay, it was Christmas Eve when I first wrote it but due to technical difficulties it's only being published now!!)
It's been a tradition for our family to do something special on this day for many years. Although we celebrate Christmas on December 25th we love having another holiday meal on January 6th as well.
One of my favourite things to serve for a Christmas dinner is Pelmeni.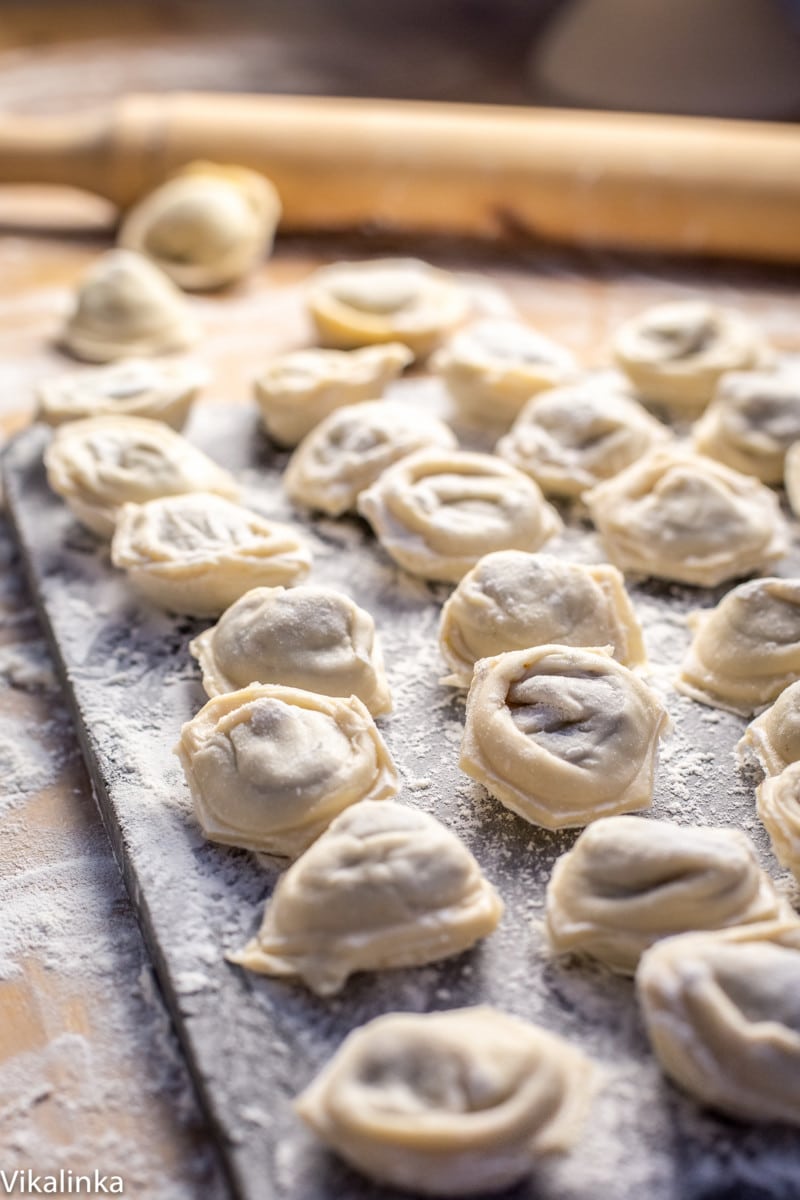 I am grinning from ear to ear just looking at these little beauties! Making Russian meat dumplings Pelmeni and sharing them with you have been on my list ever since I started blogging three years ago!
I cannot even begin to tell you what an emotional attachment every Russian has to these meat dumplings.
If you ever ask me what defines Russian food pelmeni would be without a doubt at the top of my list.
If you ever ask me what I like to eat when I am sad or happy pelmeni would be way up there as well.
If you ever ask me what Russian food I would like to teach my children these meat dumplings will be my most earnest answer.
After all, that is what my mom taught me when I was barely my daughter's age! And not the sloppy ones, she taught me how to make them "properly"; pelmeni with pretty ruffled edges!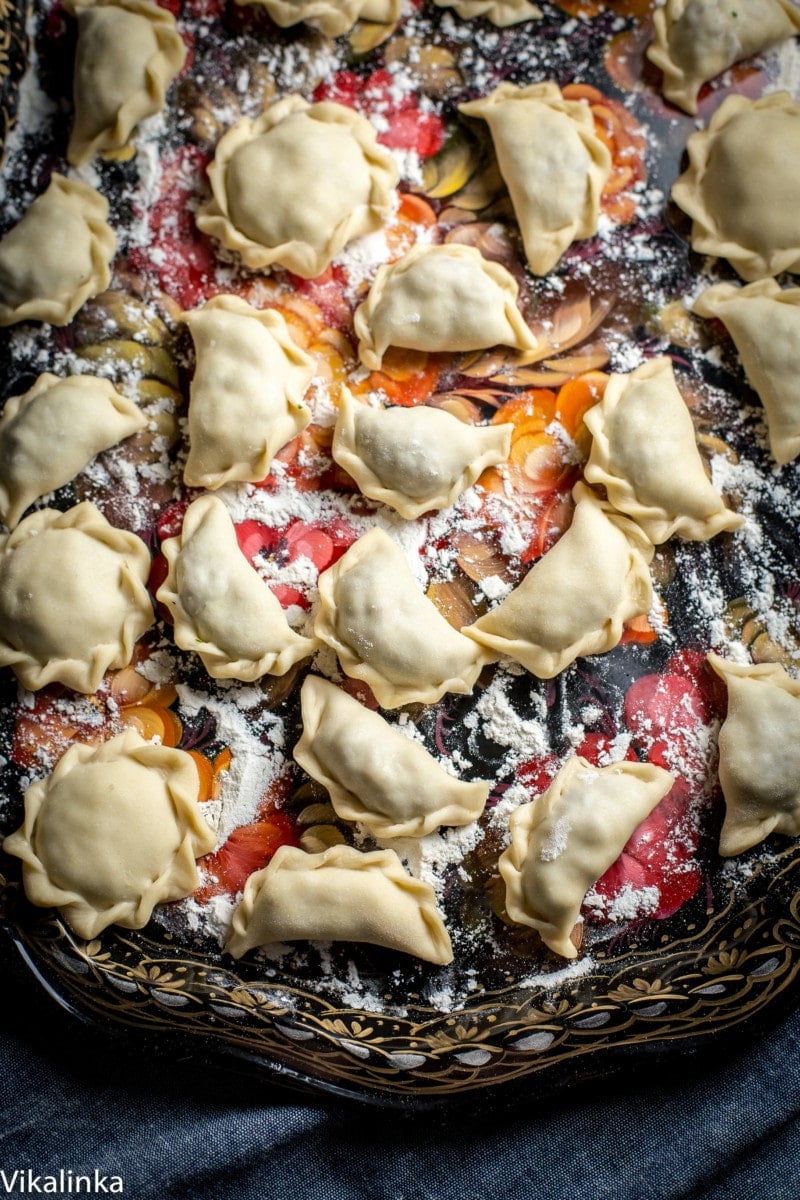 Traditions associated with Pelmeni
Pelmeni making is an incredibly social affair, you NEVER make them alone!
Traditionally all women of the extended family would gather to make pelmeni! They would make loads and loads and then freeze the lot, which would last them through a long Russian winter.
So it's no wonder I Skyped my mom and got her to keep me company as I cranked out about 130 of those glorious meat dumplings!! There are many ways to make them.
How do you make Russian Pelmeni?
The traditional way is handmade but there is also a special mold you can use that speeds up the process quite a bit! I will attempt to walk you through the handmade method.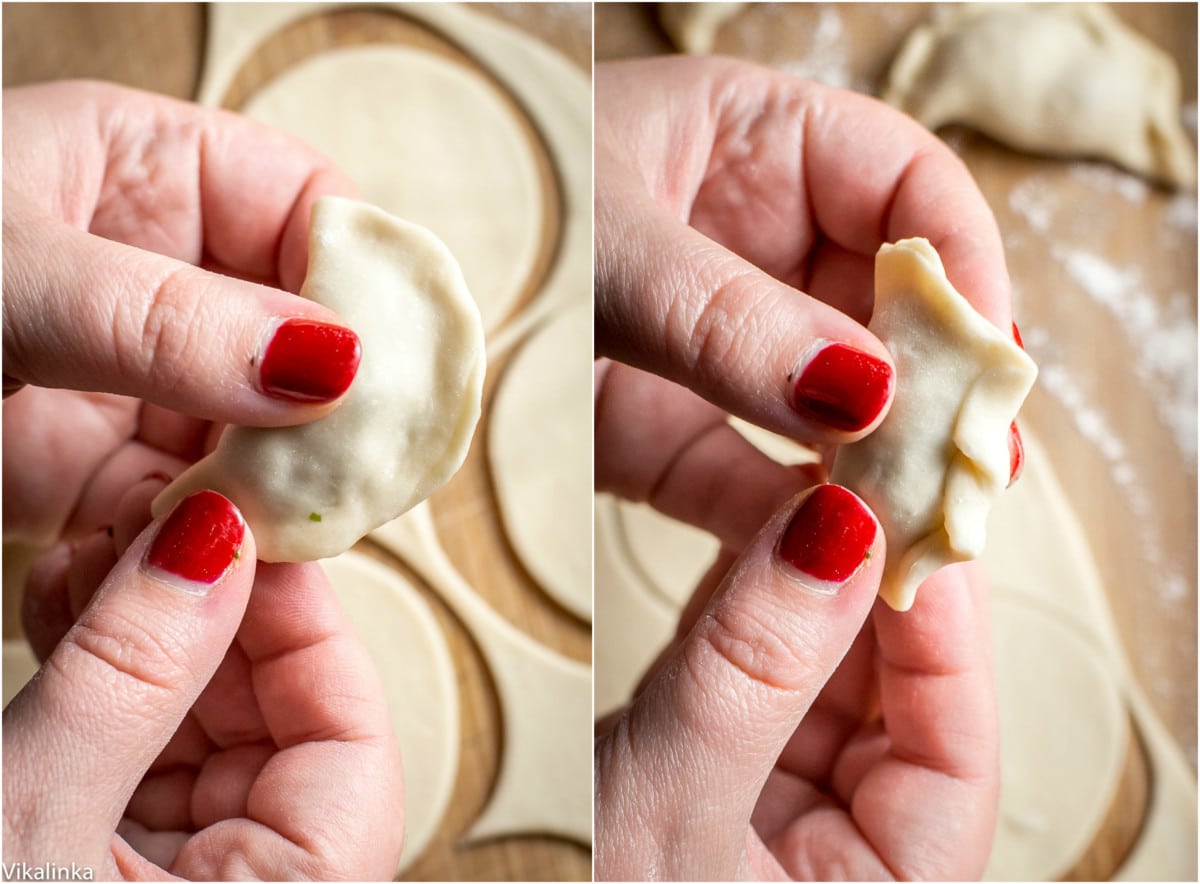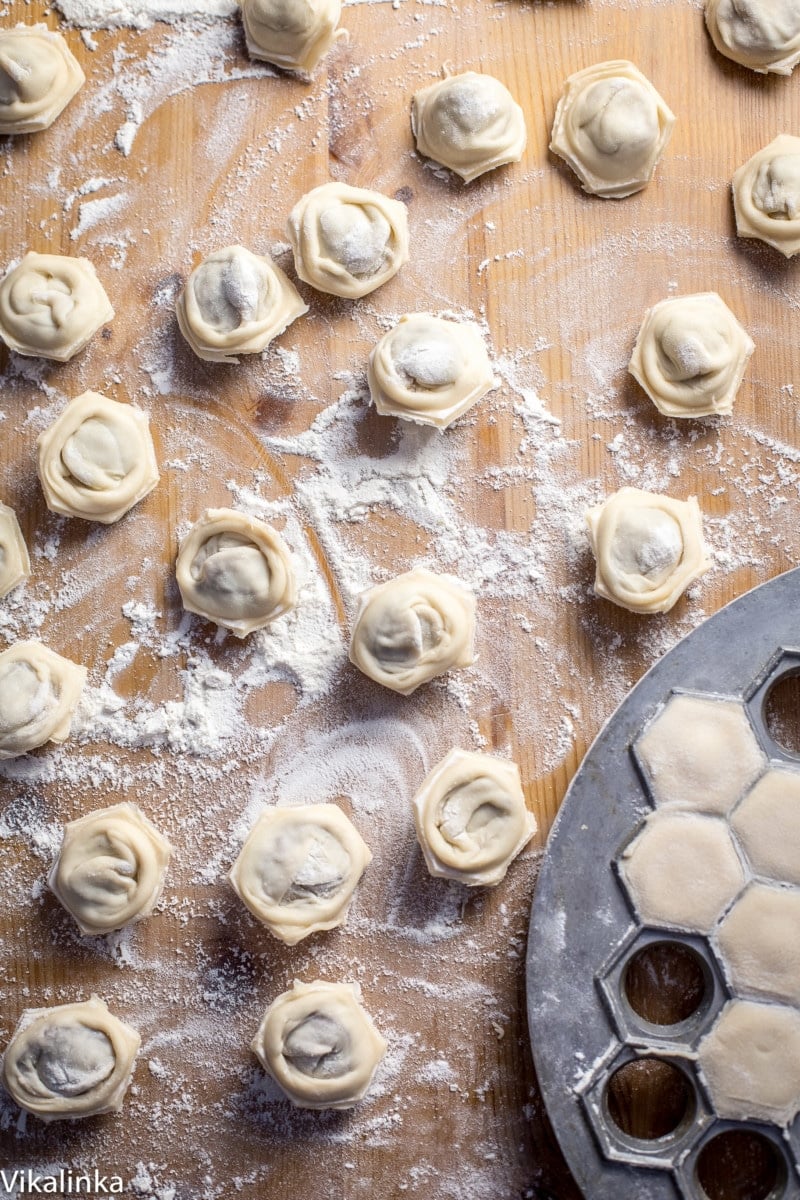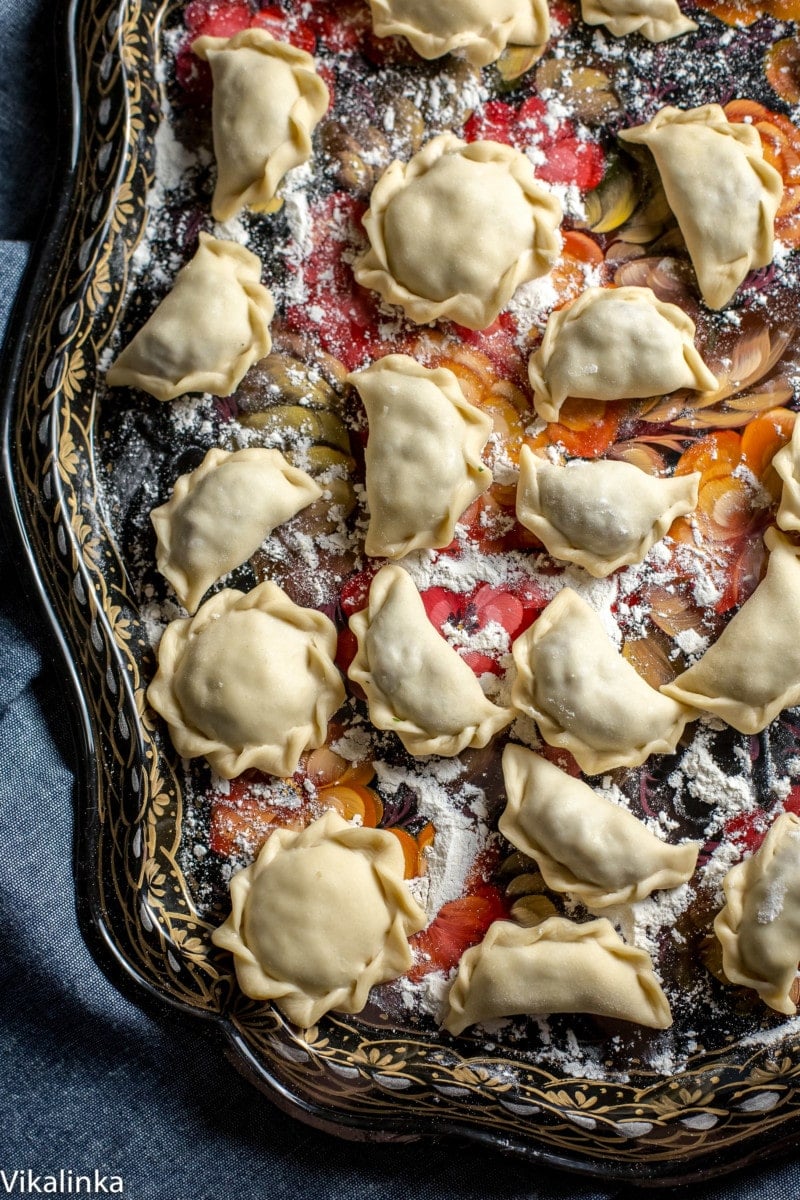 What is in Pelmeni?
If you are a pasta lover, you will be all over these meat dumplings as they are essentially meat filled pasta but not just any meat, it's so juicy you better watch out or it will drip all over your chin when you bite into one!
The most common meat found in pelmeni is a combination of minced beef and pork with onion, garlic, salt and pepper.
Pelmeni come in different shapes and sizes and I've shown you the most common ones.
They do take a bit of time but they are well worth it. It's truly incredible to see what gorgeous flavour can come out of the simplest ingredients!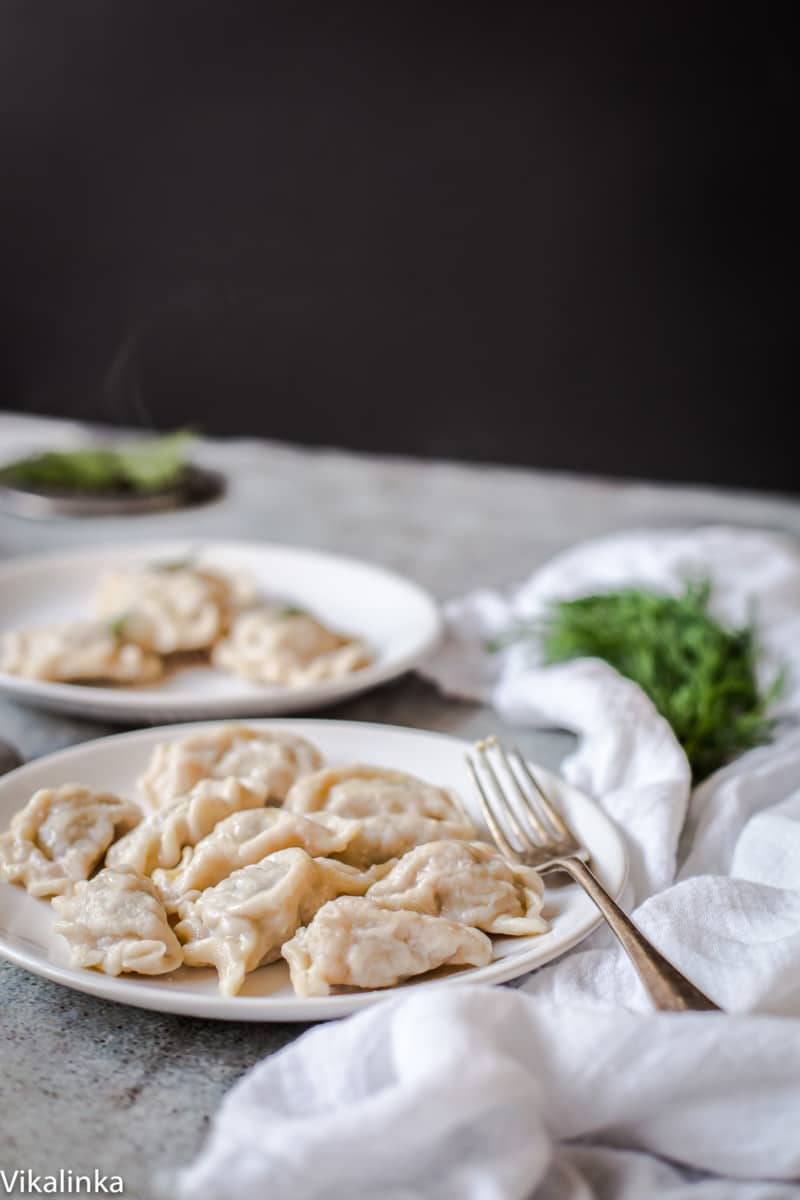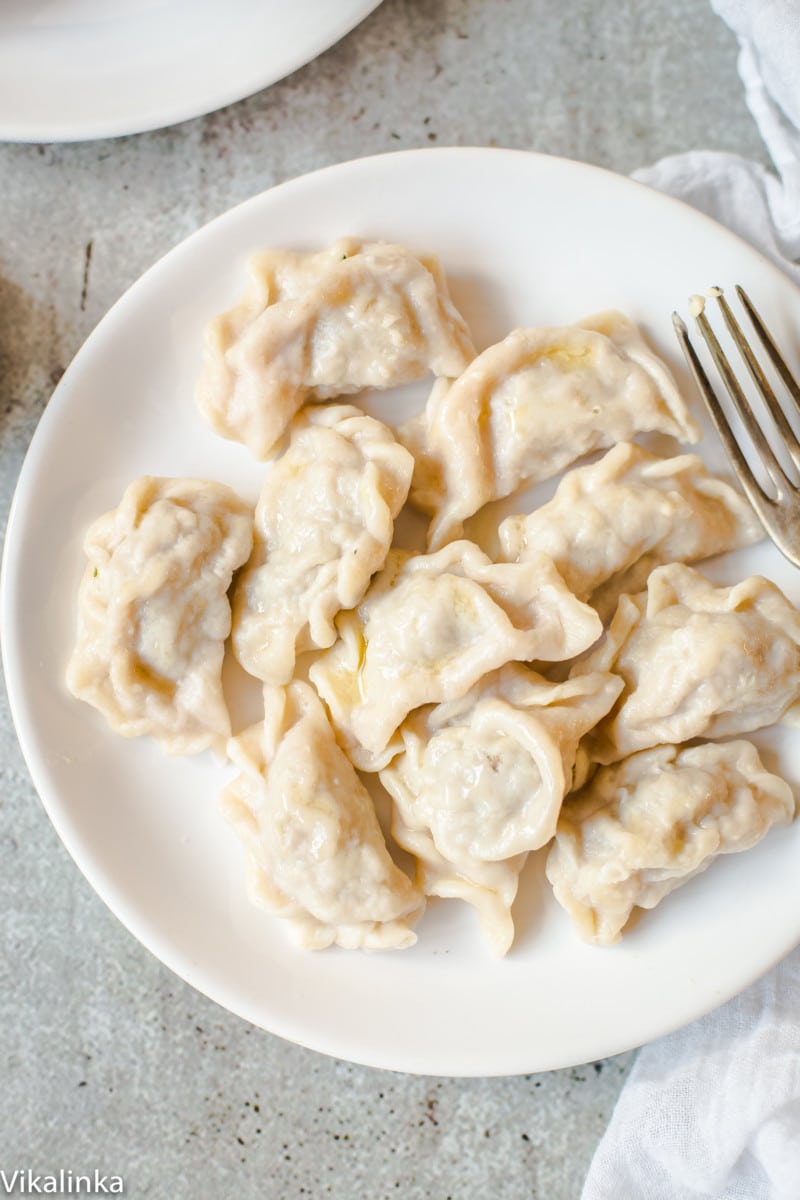 How do you eat Pelmeni?
Pelmeni recipe is pretty standard but it varies greatly in how people eat them.
I like mine buttered, sprinkled with fresh dill and black pepper and then dipped in sour cream. Brad likes his pelmeni with dijon mustard and sour cream.
Some people have them with a bit of vinegar and I am getting reports from family in Russia that lately even soy sauce has become a favourite!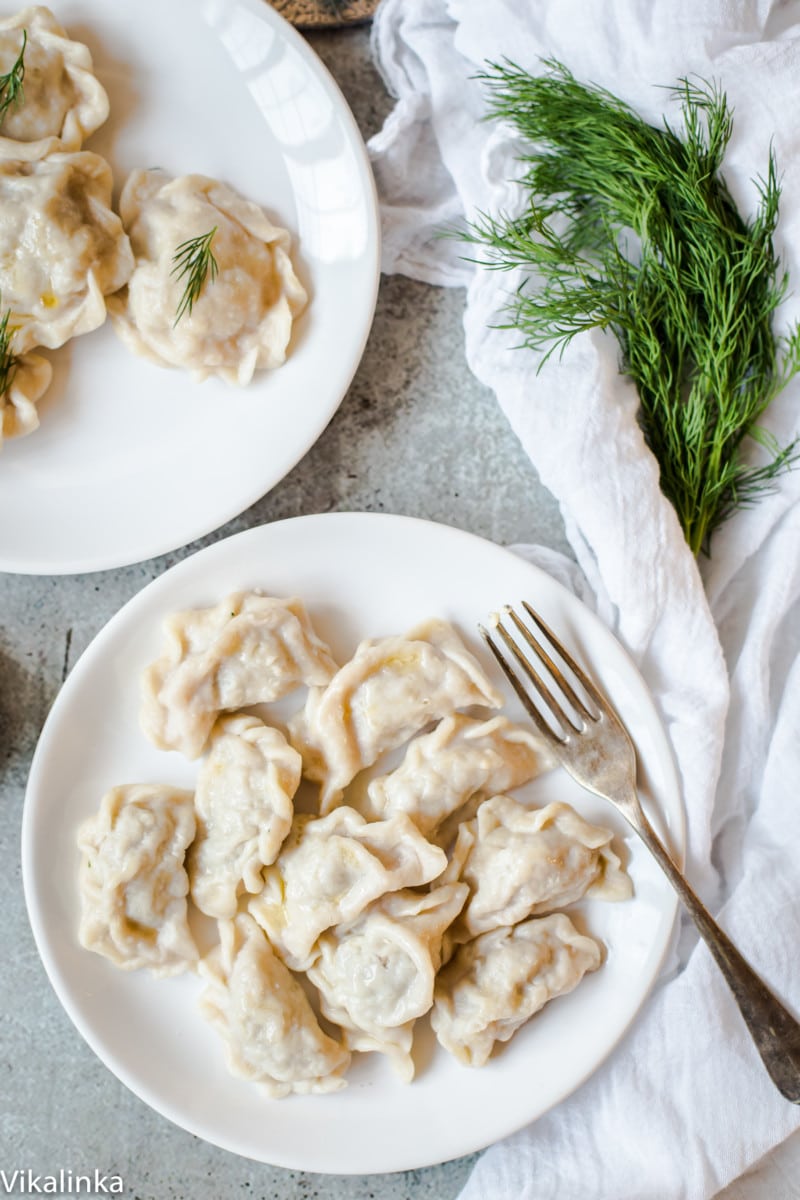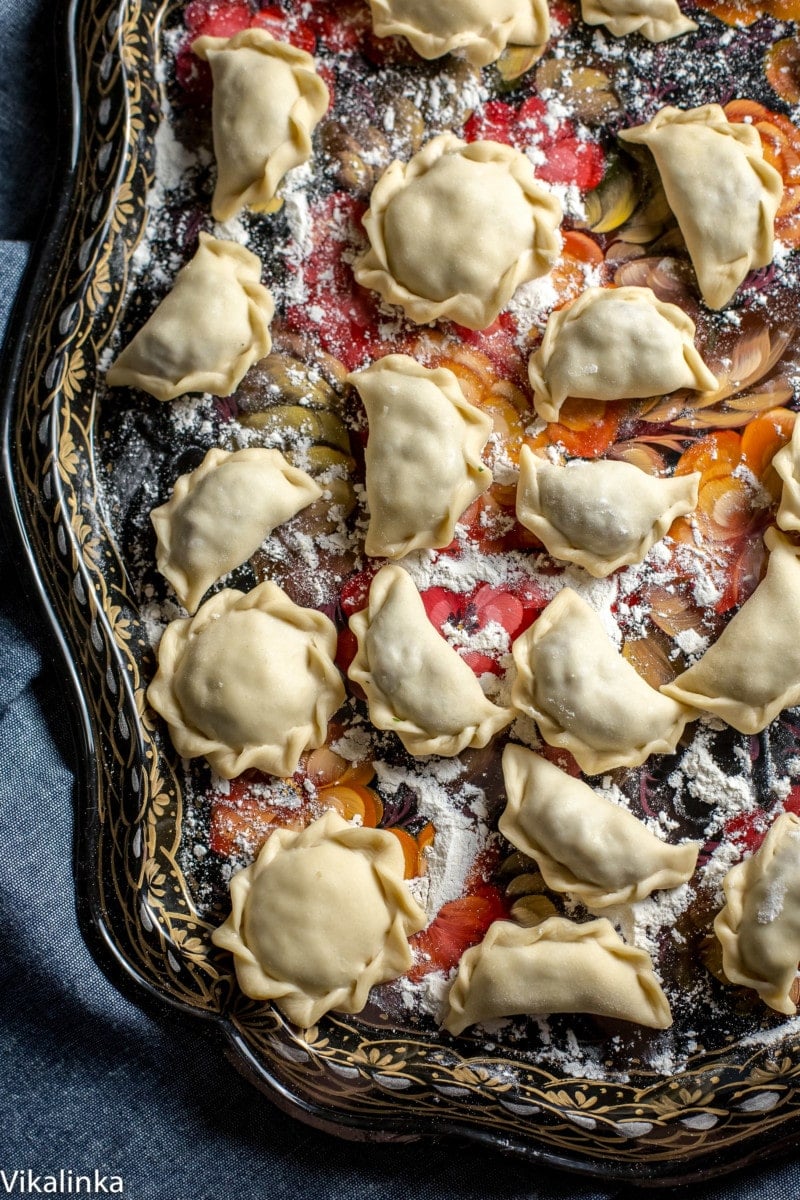 Total Time:
1
hour
15
minutes
Ingredients
For the dough
3

cups

all purpose flour

1

tsp

salt

1

egg

large

1

cup

cold water
For the meat filling
1

lbs

extra-lean ground beef

1

lbs

extra-lean ground pork

2

onions

medium

4

cloves

of garlic

1/4

cup

water

1/2

bunch flat leaf parsley

1/2

bunch dill

2

tsp

salt

pepper

2

bay leaves

2

tbsp

butter

sour cream

fresh dill or parsley
Instructions
In a food processor pulse flour and salt. With the motor running add the egg through the tube and then cold water. Let the processor do its work for a minute until the dough forms around the blade.

Transfer the dough into a bowl, cover with a tea towel and let it sit for 30 minutes.

Meanwhile make the meat filling by combining beef, pork, salt and pepper. Then in a food processor blend onions, garlic, parsley, dill and water and add to the meat mixture.

Use your hands to combine well, then pinch a small amount off and form a meatball. Fry the meatball and taste it for the right combination of salt and spices in your filling. Adjust spices if necessary.

Divide the dough into quarters and form your quarters into balls.

Take one dough ball and roll it out on a well floured surface in a thin sheet approximately 1/16" in thickness. Keep the rest of the dough covered to avoid drying out.

Cut out circles with a 2" to 3" cookie or scone cutter. Put a teaspoon of meat filling into each dough circle, slightly off-centre, fold the dough over to form a half-moon shape and pinch the edges shut with your fingertips. If you want a more attractive look go over the edge one more time and this time pinch the edges together using your two fingers and a thumb and twist them to form a ruffled edge.

Repeat with the remaining dough circles until you run out of dough and meat.

Set aside a needed amount of pelmeni for dinner and freeze the rest in a well floured and air-tight container to prevent sticking.

Bring a large pot of water to a boil, add salt and 2 bay leaves, drop pelmeni into rapidly boiling water and stir to prevent them sticking to the bottom, once they float to the top, cook for 10 more minutes.

Drain pelmeni and pour meted butter over them, gently stir or toss to coat.

Serve with sour cream and chopped fresh dill or parsley.

* Do not thaw frozen pelmeni before cooking. They should be boiled from frozen for 15 minutes.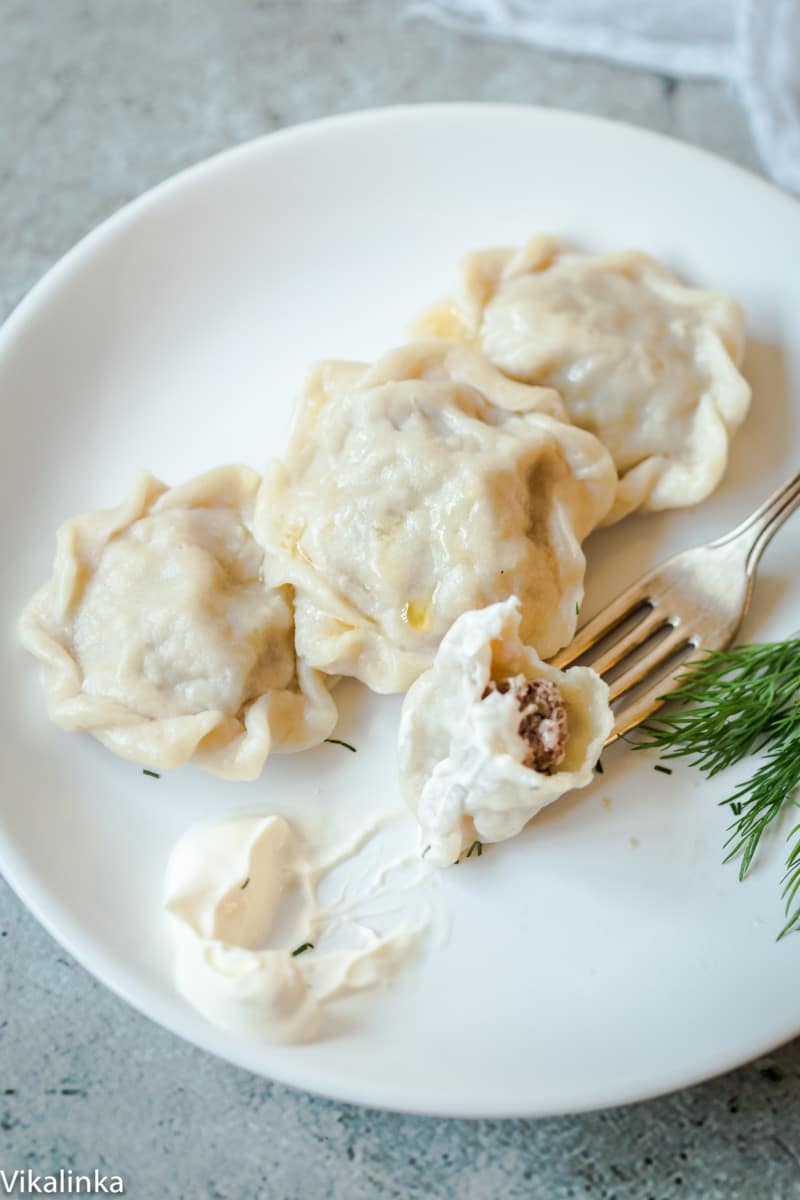 I hope I've convinced you to venture out into the delicious world of meat dumpling making. I promise you will not regret it!! Or try potato, bacon and caramelised onion dumplings Vareniki.