These porcupine meatballs baked in a rich sour cream and tomato sauce are a perfect mix of deliciousness and nostalgia!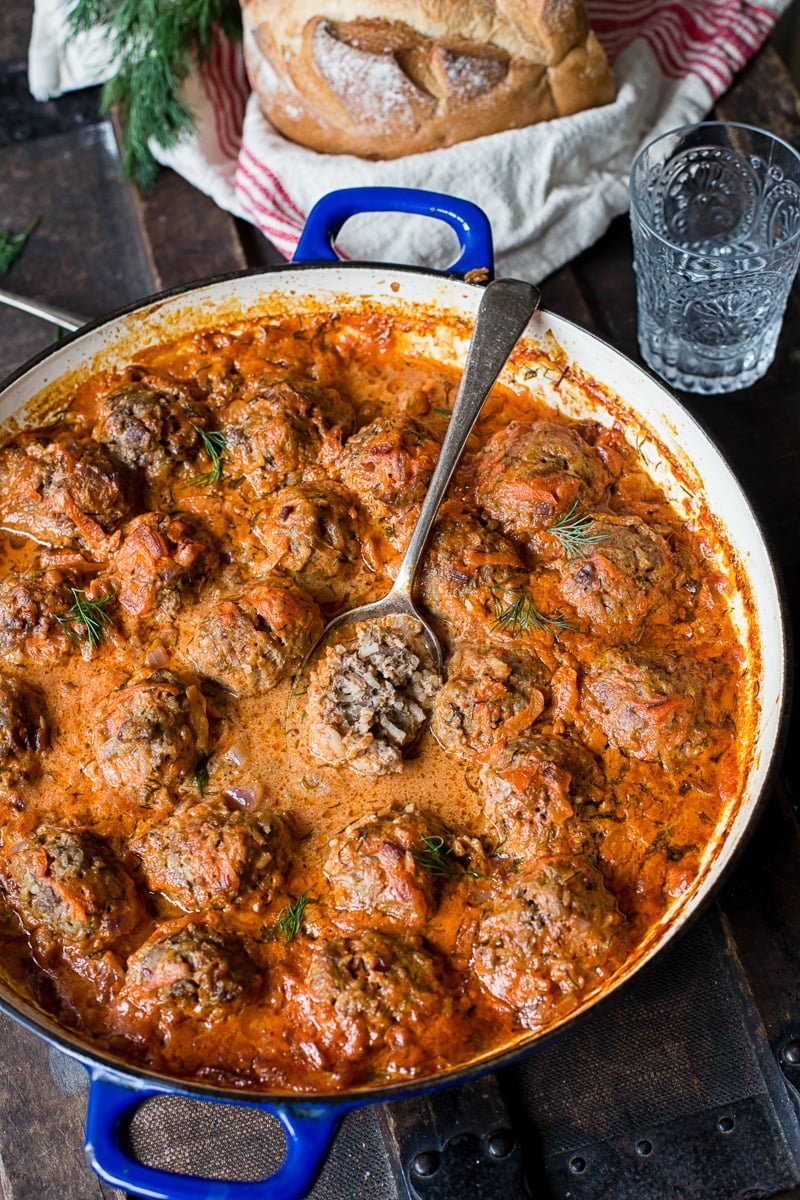 Just a couple of days ago I wrote about my favourite childhood meal, the recipe that won me many friends including my parents-in-law! Curious?
Check out my best Vareniki recipe! And today I am sharing another childhood favourite, Porcupine Meatballs baked in sour cream and tomato sauce or as they are known in Russia 'Tefteli'!
My mom made them a lot because there were never complaints when porcupine meatballs were for dinner. They are so delicious with mashed potatoes or if you want to go the real Russian way, try them with buckwheat kasha!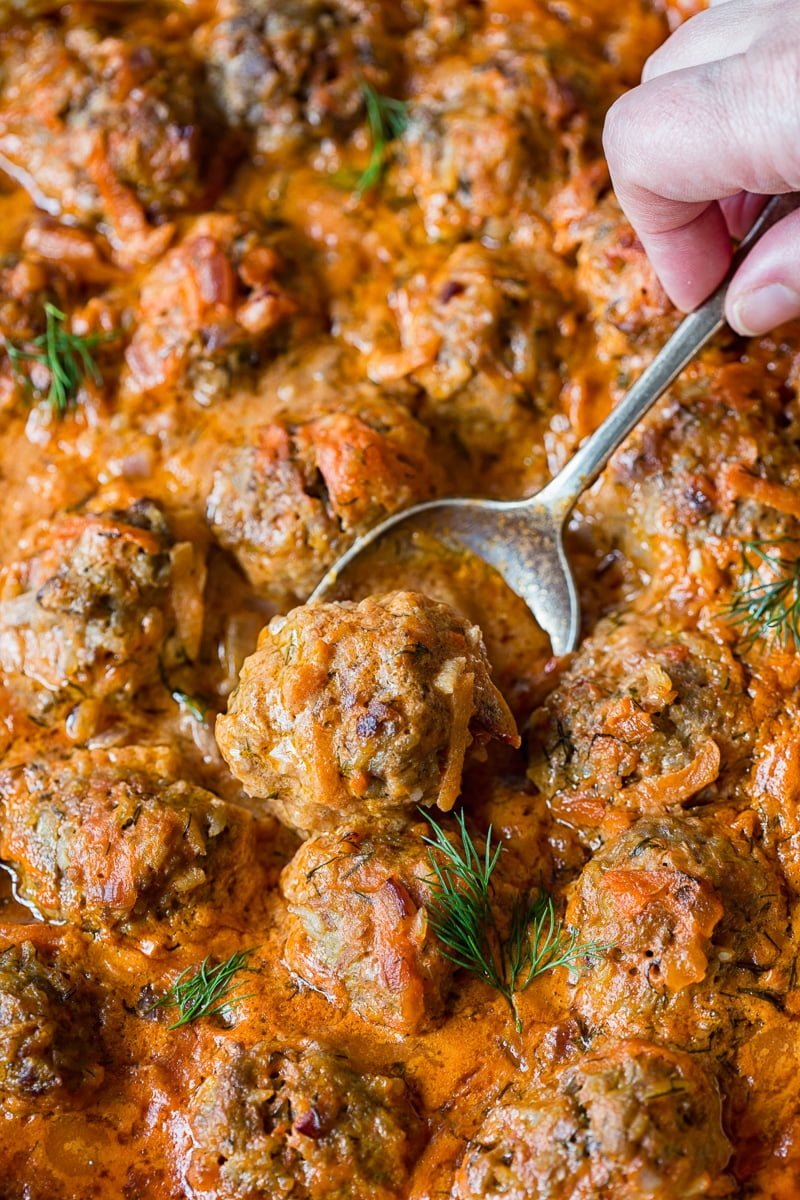 What are porcupine meatballs?
If you are not familiar with porcupine meatballs (hedgehog meatballs in Russian! :-)), you better listen up because you are going to LOVE them.
They are a combination of meat and rice and got their name because rice often pokes out of them and resembles porcupine quills! Predictably as a little girl I found it adorable!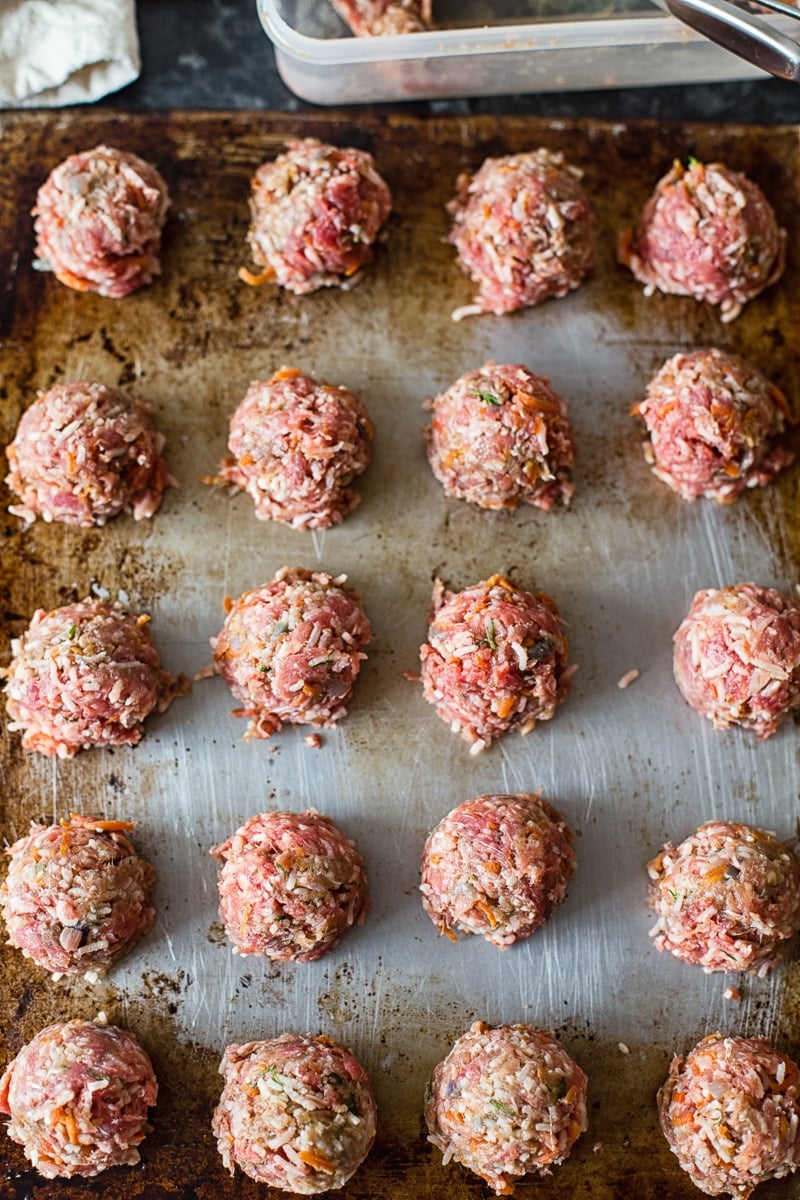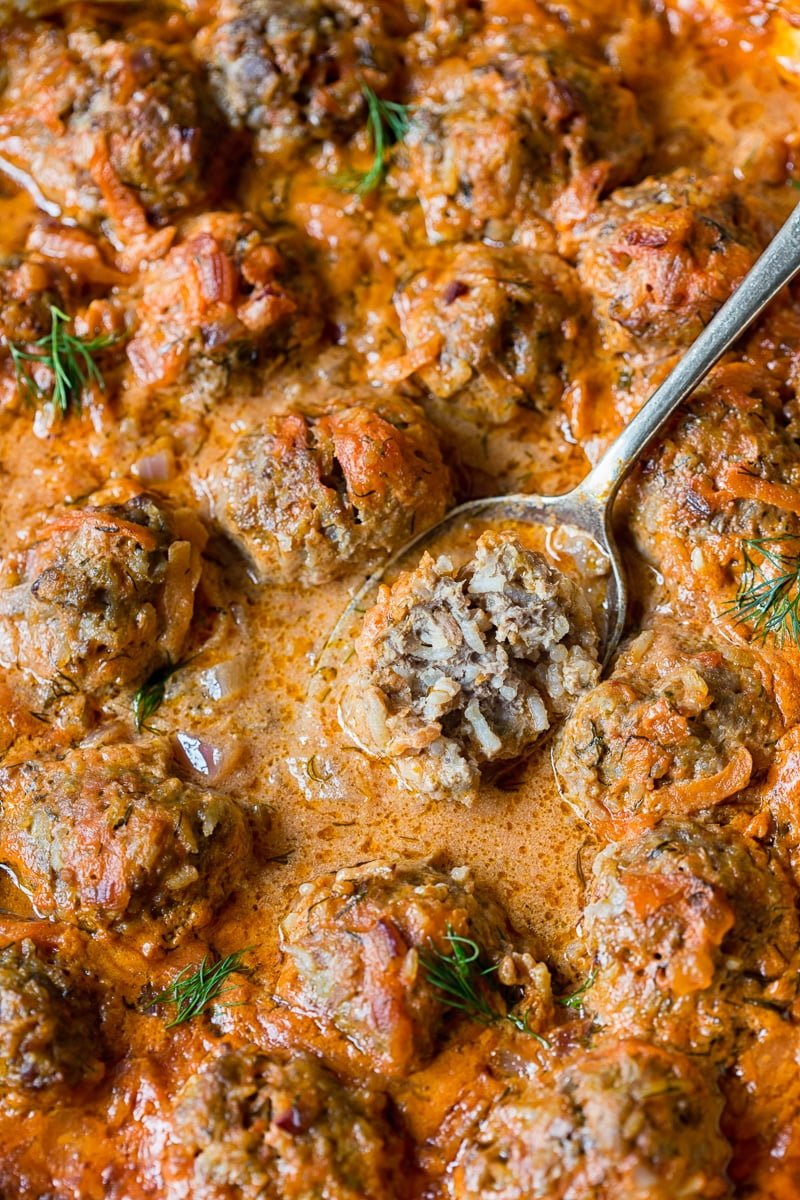 What to serve with porcupine meatballs
Now there is this creamy tomato sauce. Let me clarify right away that I realise Russians don't have a monopoly on 'creamy tomato sauces', admittedly they feature prominently in many cuisines but…this sauce does taste quite differently!
Most Russian and Ukrainian sauces have an onion and carrot base that gives them a slightly sweet and intensely delicious taste.
The onions and carrots are cooked in oil and butter for at least 15 minutes until their natural sugars are released and they become caramelised.
At that point you can just eat that stuff because it's insanely good, so anything you add to the base is just bonus.
You aren't doing too badly if that bonus is pureed plum tomatoes and sour cream. Who doesn't love creamy stuff! Then there is dill. Dill finds its way in most Slavic dishes and they are better for it!
Well, let's get to it and don't forget to tell me how you liked them afterwards!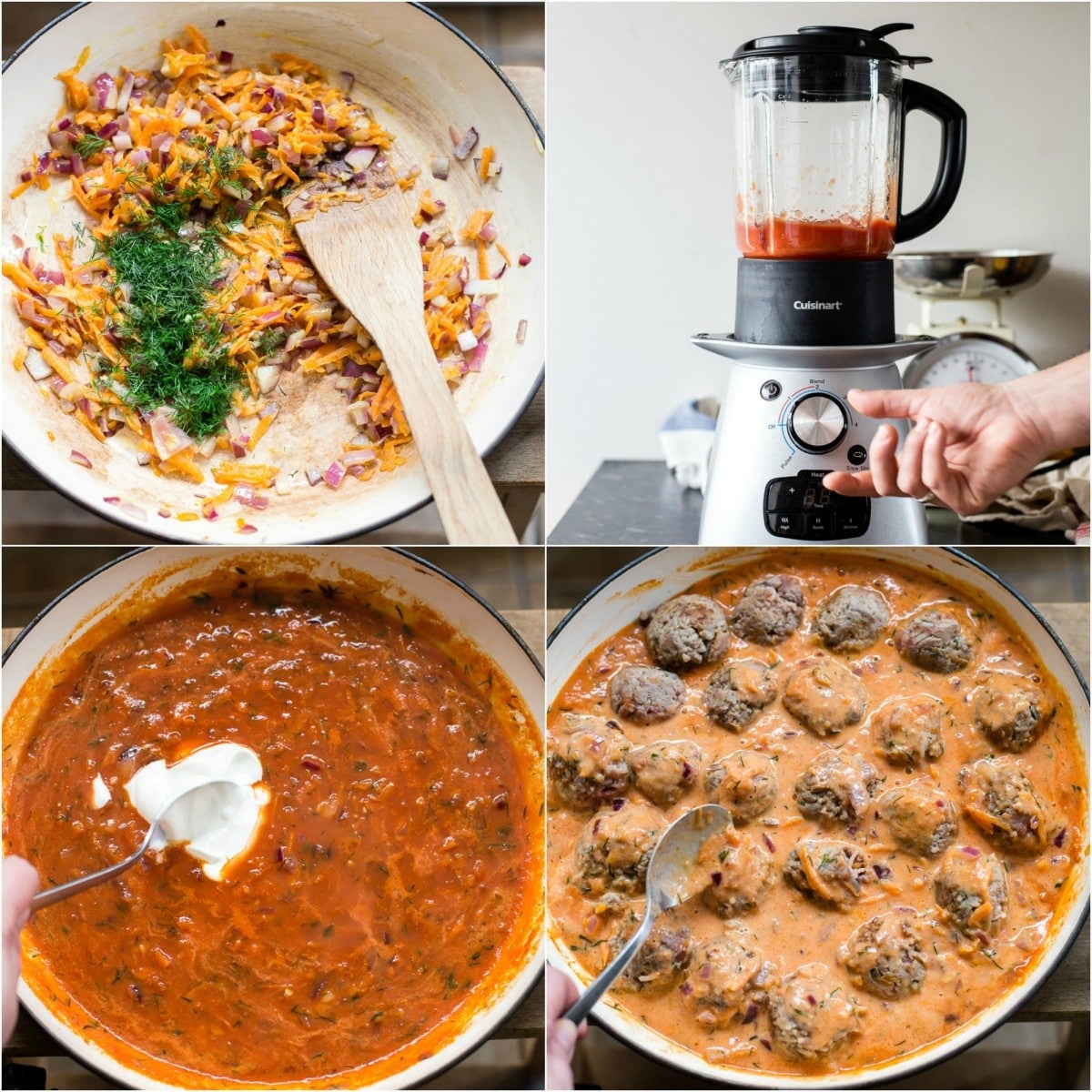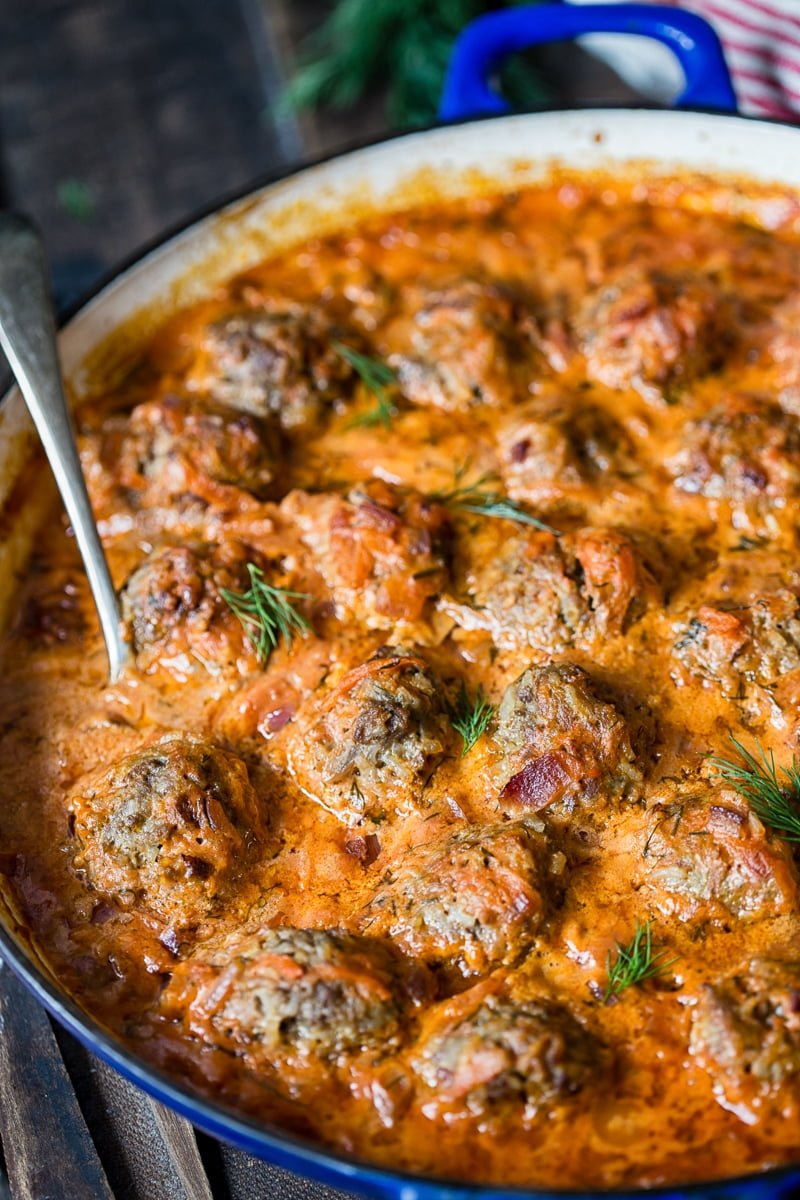 Porcupine meatballs are delicious with mashed potatoes. Don't forget to make them!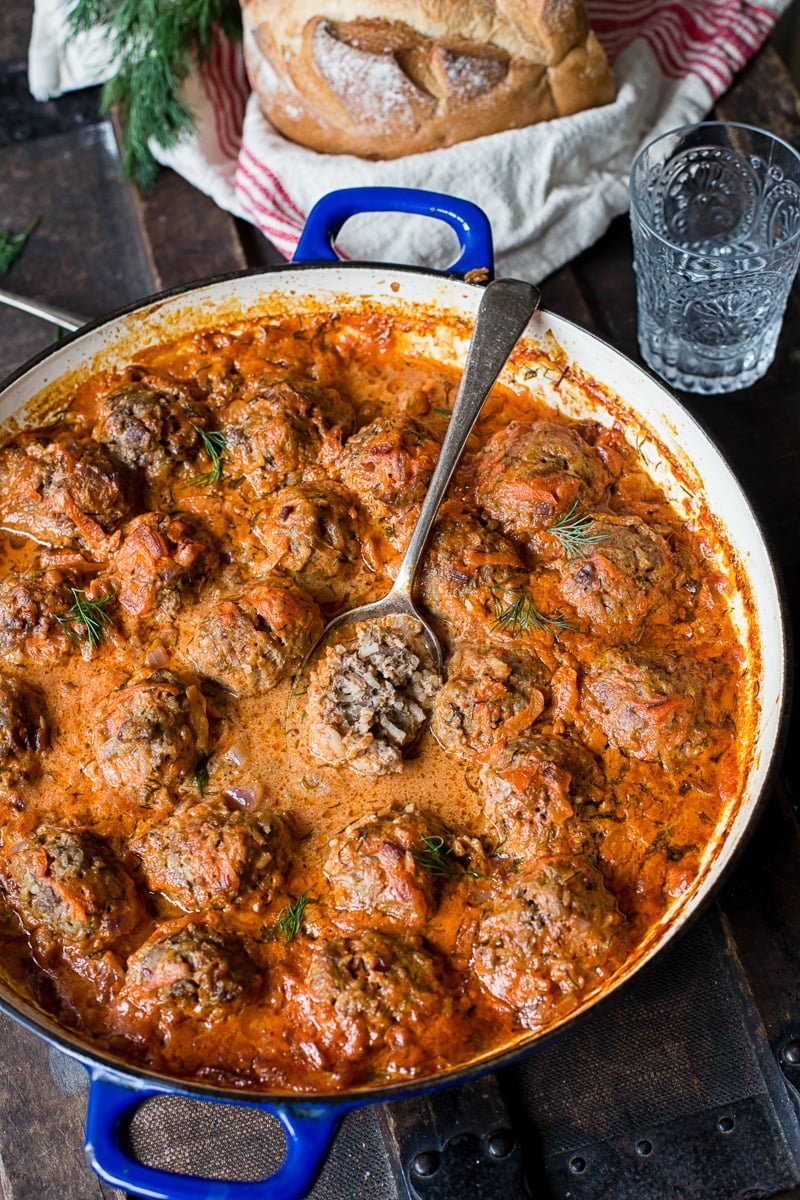 Ingredients
For the porcupine meatballs
½

cup

rice

1

tbsp

olive oil

1

tbsp

butter

1

large onion

chopped

1

large carrot

grated

1

lbs

ground beef

extra lean

1

lbs

ground pork

extra lean

1

tbsp

fresh dill

chopped

2

tsp

salt

0.5

tsp

pepper
For the creamy tomato sauce
1

tbsp

olive oil

1

tbsp

butter

1

large onion

chopped

1

large carrot

grated

2

cloves

of garlic

minced

1

tbsp

fresh dill

chopped

1

X14 oz/400g canned plum tomatoes

1

cup/250 ml chicken stock

3

tbsp

sour cream

full fat

salt
Instructions
Cook rice in plenty of water the same way you would cook pasta until al dente. Rice shouldn't be too soft- about 5 minutes. Drain and set aside.

In a frying pan heat olive oil and butter. Cook onions and carrots over low heat for 10 minutes until tender.

In a large bowl combine beef, pork, dill, onions, carrots, rice, salt and pepper.

Roll meatballs, then brown them on all sides in a little oil but don't cook all the way through. Set aside.

In a large and deep pan cook onions and carrots in olive oil and butter over low heat for at least 15 minutes until tender and caramelised, add minced garlic and cook for a few seconds while stirring, add dill, pureed plum tomatoes and stock, turn the heat up and bring to a boil.

Take off the heat and stir in sour cream. Return the meatballs back to the pan and spoon the sauce over them. The sauce should nearly cover them. If it doesn't, add more stock.

Bake covered at 300F/165C for 40 minutes, then uncover and bake 10 minutes longer. (If baked at a higher temperature sour cream tends to separate!)