Juicy Swedish meatballs in creamy sauce is the ultimate comfort food recipe the whole family will enjoy! They are so simple to make yet the most satisfying to serve for dinner! Feel free to use soya single cream in the sauce to make it dairy free.
Serve these meatballs and gravy over our Herb and Garlic Mashed Potatoes for a stellar meal!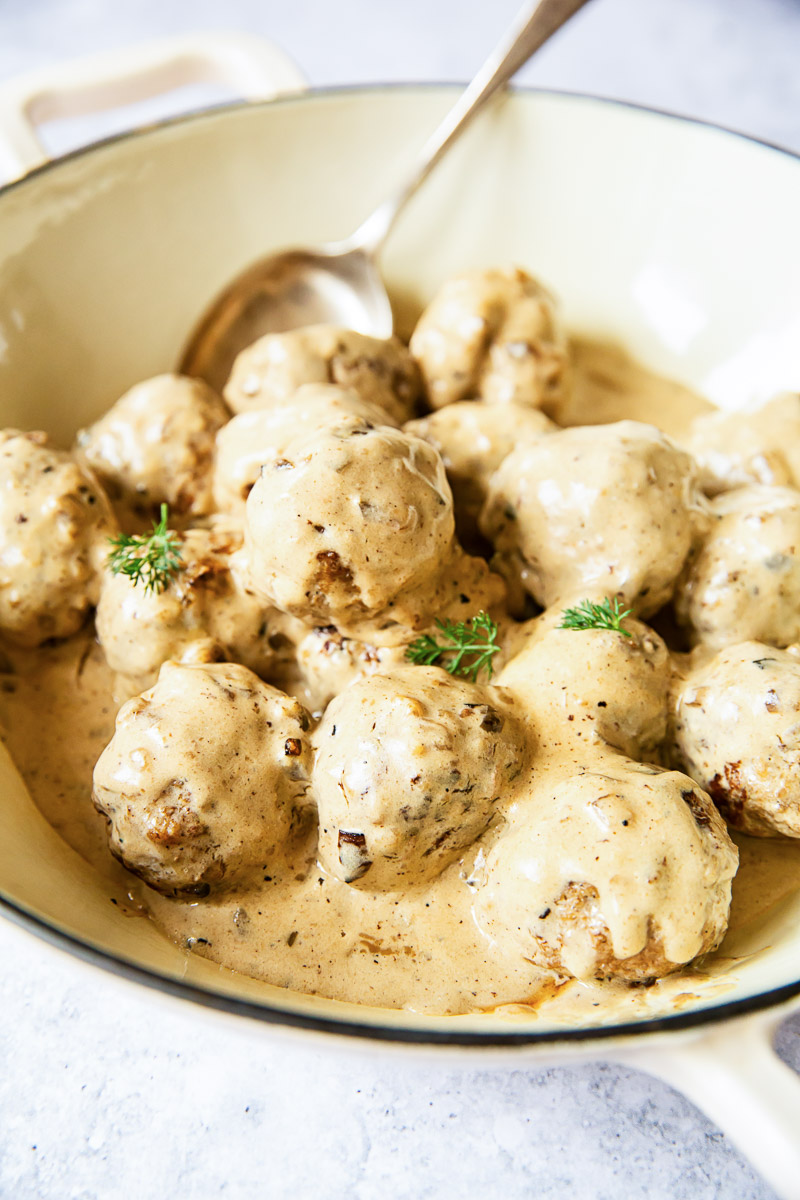 What is it about food rolled into meatballs that makes it so appealing? I have no idea and no desire to change that. Meatballs of any flavour will always be a permanent fixture on our dinner tables.
Swedish meatballs need no introduction thanks to Ikea but I am pretty sure we can do much, much better at home than a furniture store.
Traditional Swedish Meatballs
Trick question because there isn't ONE recipe that everyone in Sweden follows.
As you can imagine there are as many recipe as there are cooks. So with that in mind I am presenting you with my version of Swedish meatballs with cream sauce.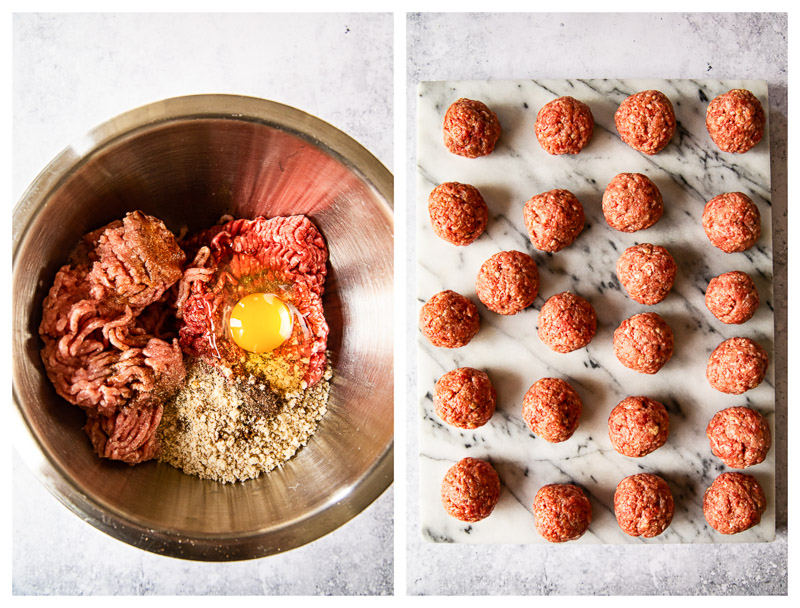 Although there isn't just one recipe, there are definitely certain commonalities between them. And the most noticeable traits that run through all of them is the lack of garlic. I know you are already disappointed, my friend but hear me out.
I was so tempted to throw garlic in my meat mix but restrained myself because…
First all of all, I don't want my Swedish meatballs to taste Italian. Secondly, I want to come up with a recipe that at least has some resemblance with the original.
So with that in mind here are the ingredients that made it to my recipe.
Two types of meat, namely ground beef and ground pork.
Half a grated onion, breadcrumbs soaked in beef stock or milk, one egg, one tablespoon of Worcestershire sauce, black pepper, salt and last but definitely not least one teaspoon of ground allspice.
No matter how much recipes vary they all seem to have allspice as a part of them, so I felt it was important to include it in mine.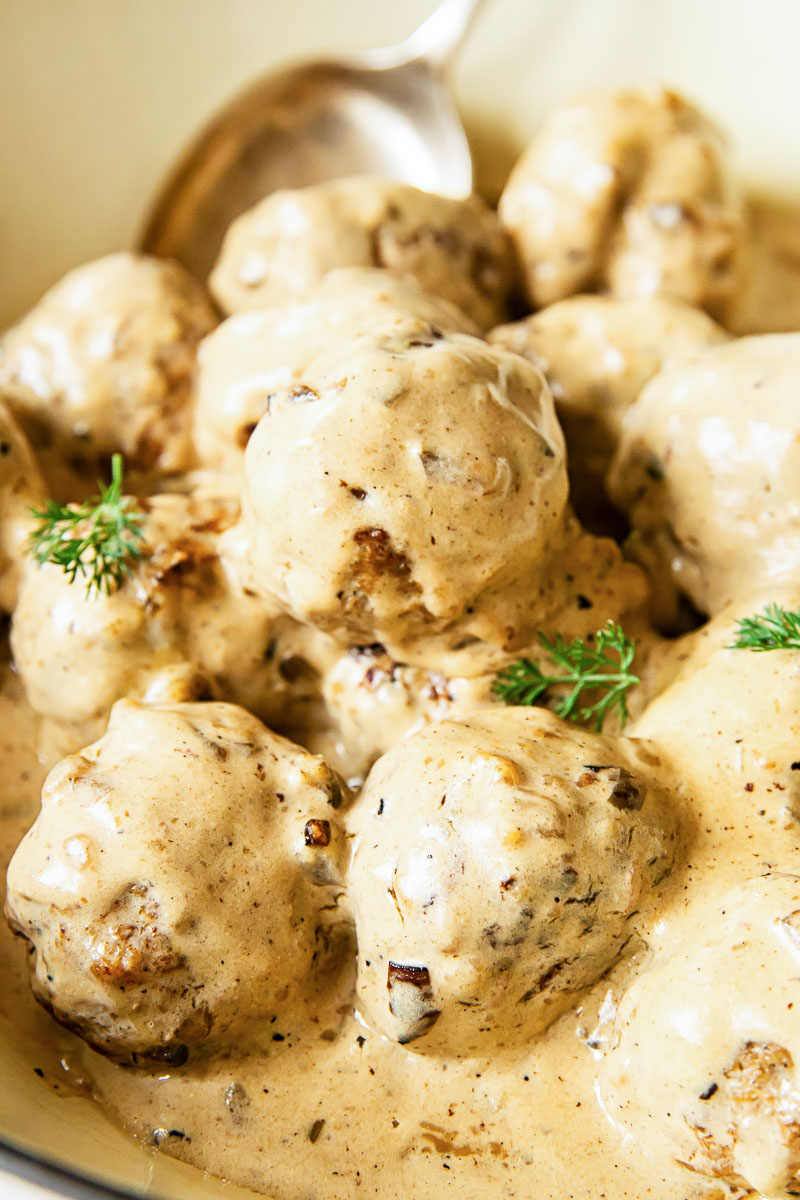 Best Meatballs in Cream Sauce
We often hear that serving meatballs in cream sauce is not that common in Sweden but according to my family the sauce makes this recipe. So I felt it necessary to include a delicious yet incredibly simple cream sauce to go with my meatballs.
The recipe for the meatball sauce is so easy it's hard to believe it will taste as heavenly as it does but trust me. And then go and make it!
The flavour of the sauce mostly comes from the the little bits that are left in the pan after browning the meatballs as well as onions sauteed in butter. Those little things are what takes this gravy to the next level.
Traditional Swedish sauce recipes call for beef stock and cream in equal parts and I've stayed true to that. However, I would like to mention that my son is highly lactose intolerant and I also experimented with making this sauce dairy free by using Alpro Soya single cream with great success.
We honestly couldn't tell the difference! Don't stay away from this delicious recipe for a cream sauce just because you don't do dairy!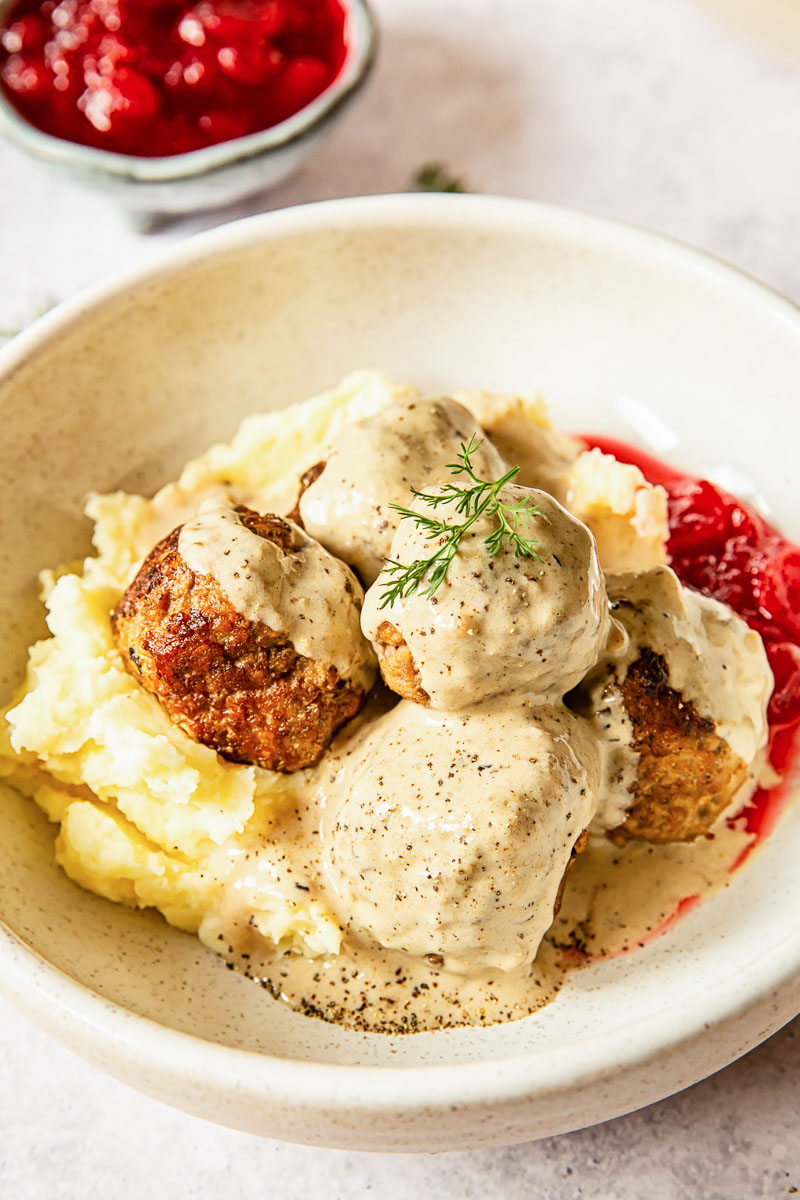 What to serve with meatballs
Personally I am impartial to mashed potatoes being the perfect companion to soak up that delicious sauce but simply boiled potatoes will suffice.
These meatballs are also usually served with a pickled cucumber salad and a dollop of lingonberry preserves. I didn't want to go to Ikea for the preserves, so I used my homemade cranberry sauce as a fine substitute!
Even if you are, like me, not a fan of sweet and savoury combinations, I urge you to try this recipe with a bit of cranberry sauce. It really adds a nice sharp balance to a very creamy dish.
Can I freeze them?
If you make too much or you double the recipe for the future, these meatballs freeze beautifully. Simply store cooked meatballs in sauce in an airtight container in your freezer up to 6 months.
To reheat the meatballs defrost them in the refrigerator, then warm up in a deep pan until hot all the way through.
More favourite meatball recipes to try. It's like a trip around the world through meatballs!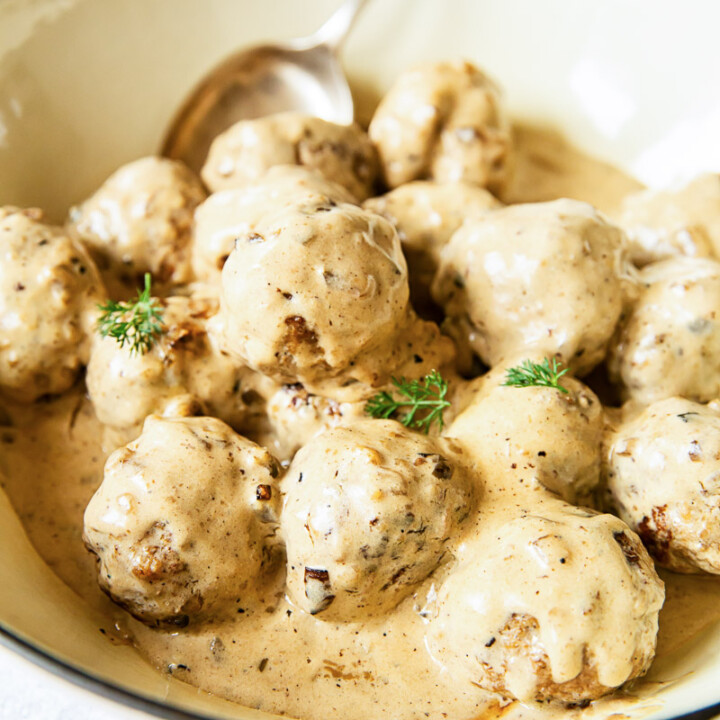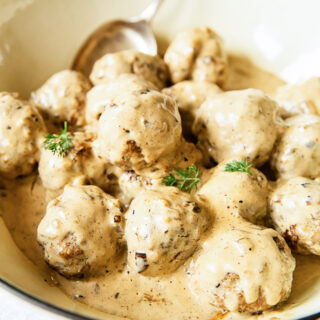 Swedish Meatballs in Cream Sauce
Juicy Swedish meatballs in creamy sauce is the ultimate comfort food recipe the whole family will enjoy! Makes 25-30 meatballs.
Ingredients
For the meatballs
1

lbs

ground pork

1

lbs

ground beef

40g/1/2cup

breadcrumbs

½

finely grated onion, medium

125ml/1/2cup

beef stock or milk

1

egg

1

tsp

allspice

1

tsp

black pepper

2

tsp

salt

1

tsp

Worcestershire sauce

1

tbsp

vegetable oil
For the meatball sauce
1

tbsp

butter

or vegetable oil

½

onion, chopped

1

tbsp

all purpose flour

250ml/1cup

beef stock

250ml/1cup

single/ whipping cream

or use soya single cream for a dairy free option

1

tsp

Worcestershire sauce

salt to taste

pepper to taste
Instructions
For the meatballs
In a large bowl combine both ground pork and beef, breadcrumbs soaked in beef stock or milk if using, finely grated onion, 1 beaten egg, allspice, salt, pepper and Worcestershire sauce. (To test the balance of spices and seasoning pinch off a small amount of the mixture and fry for a taste test.) Adjust seasoning if needed.

Shape the meatballs by rolling them in your hands. You should get approximately 25 golf ball sized meatballs. Brown the meatballs in 1 tbsp of vegetable oil on high heat until nicely brown on the outside but not cooked all the way through. Remove to a large bowl.
For the sauce
To the same pan add 1 tbsp of butter and saute the onion over low heat for 5 minutes, then add the flour and mix it in the melted butter to form a paste, continue cooking for a 1-2 minutes until it smells slightly nutty. Add the beef stock while stirring to prevent lumps, then add single cream or cream alternative (see recipe notes), Worcestershire sauce, salt and pepper to taste, bring the sauce to a boil.

Add the meatballs back to the sauce and spoon the sauce over them, cover with a lid and simmer over low heat for 10 minutes. Stir halfway through to prevent burning. Taste the sauce and add salt if needed.
Notes
Use Soya Single Cream instead of single cream for a dairy free option.
Oil could be substituted for butter.
I used extra lean 5% fat ground pork and beef.
Nutrition
Calories:
609
kcal
Carbohydrates:
10
g
Protein:
30
g
Fat:
49
g
Saturated Fat:
23
g
Cholesterol:
187
mg
Sodium:
1103
mg
Potassium:
643
mg
Fiber:
1
g
Sugar:
2
g
Vitamin A:
520
IU
Vitamin C:
2
mg
Calcium:
79
mg
Iron:
3
mg