If you are a fan of meatballs, you should absolutely try my sweet and sour meatballs in pomegranate sauce recipe! Flavoursome, spicy meatballs in a thick, fragrant and gloriously tangy reduction of pomegranate juice.
Lovers of pomegranate will want to try a sparkling Pomegranate French 75!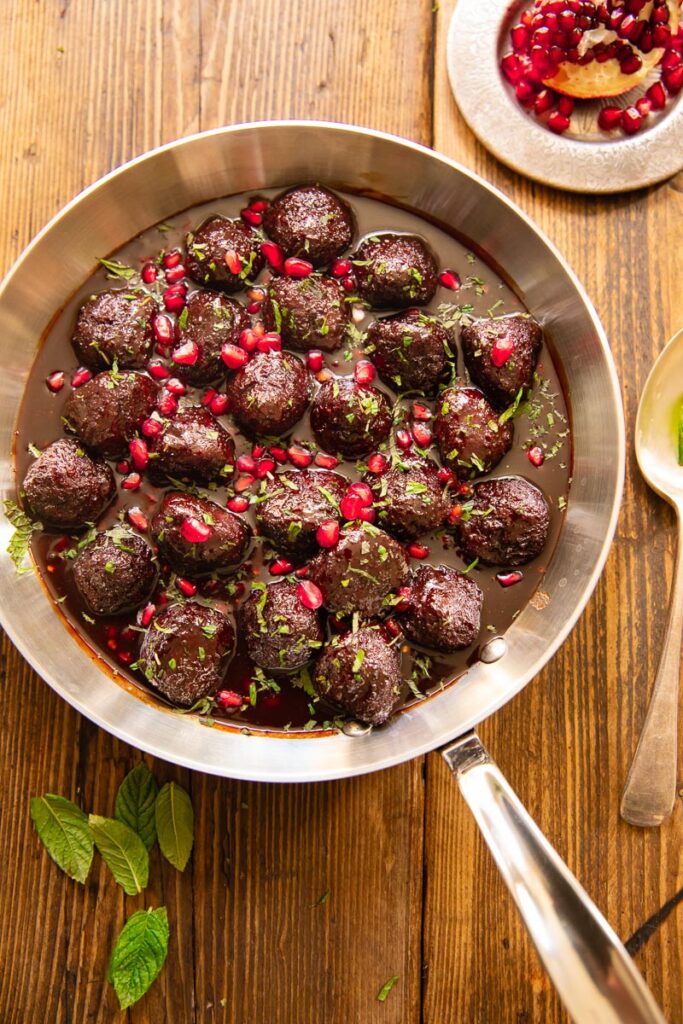 My kids are always begging me to make meatballs for dinner but I'm usually reluctant to oblige. They always seemed so finicky to me. All that rolling and then frying…just the thought of it made me tired.
That being said I also refuse to buy already made meatballs as they always seem to be of the worst quality-too bland and too fatty. Sometimes all you need is a little bit of inspiration.
To find that, I looked into the cuisine of Central Asia. With incredible use of spices, fruit and a genius approach to herbs, it's a cuisine that deserves a lot more attention.
The recipe came from the Central Asian region of the former USSR and I had it bookmarked for ages.
It all came together so well! The meatballs are juicy and jam packed with flavour, while the pomegranate sauce is luxuriously fragrant. Add a bit of spice and a liberal use of herbs and you have a stunningly good meal!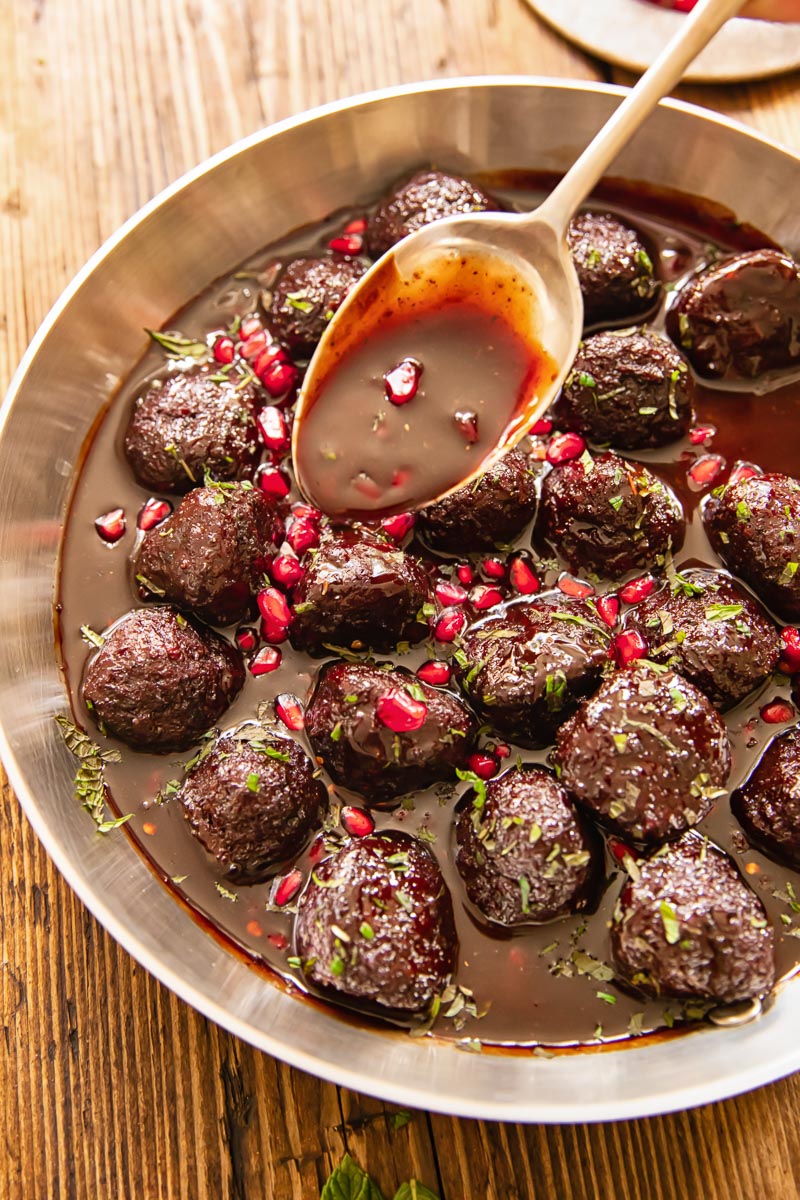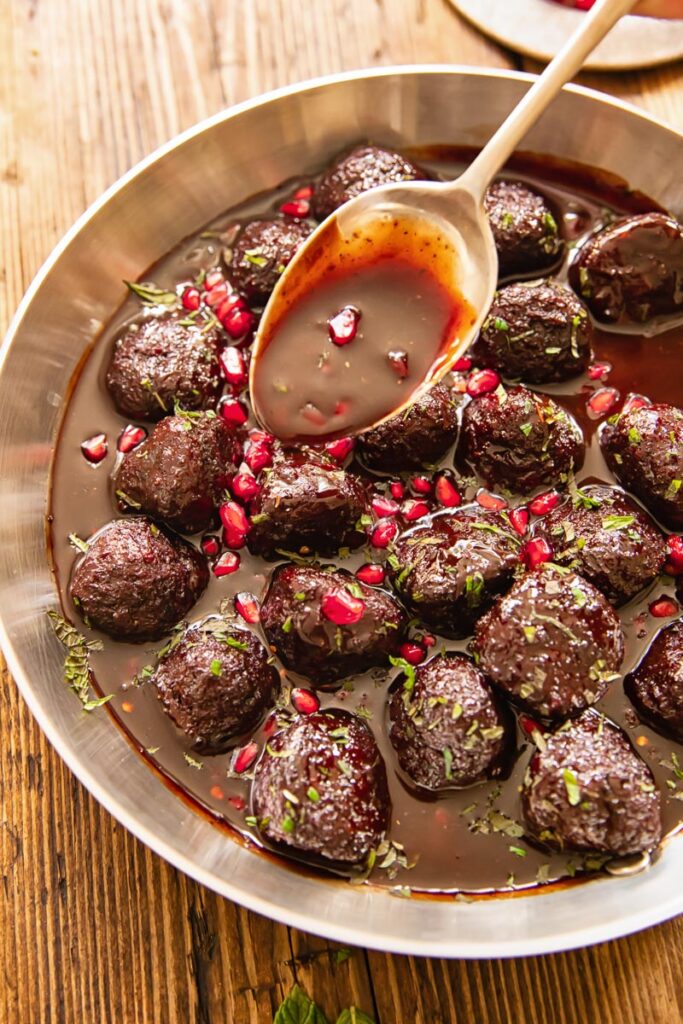 Meatballs and Sweet and Sour Sauce
For the meatballs I used the combination of both extra lean beef and pork. Sumac, cayenne pepper and fresh cilantro was added to the meat mixture to make it spicier.
If you like sweet and sour sauces, you will fall in love with this pomegranate sauce, that the meatballs are glazed in.
The taste is both nostalgically familiar and excitingly new. It reminds us of sweet and sour dishes we grew up eating but is somehow different.
Pomegranate updates this sauce with a much more complex and sophisticated flavour we knew nothing about back in the 80s.
Another reason to love this recipe is it's QUICK! I know, friends, I just told you that I always thought that meatball making is a long and tedious business.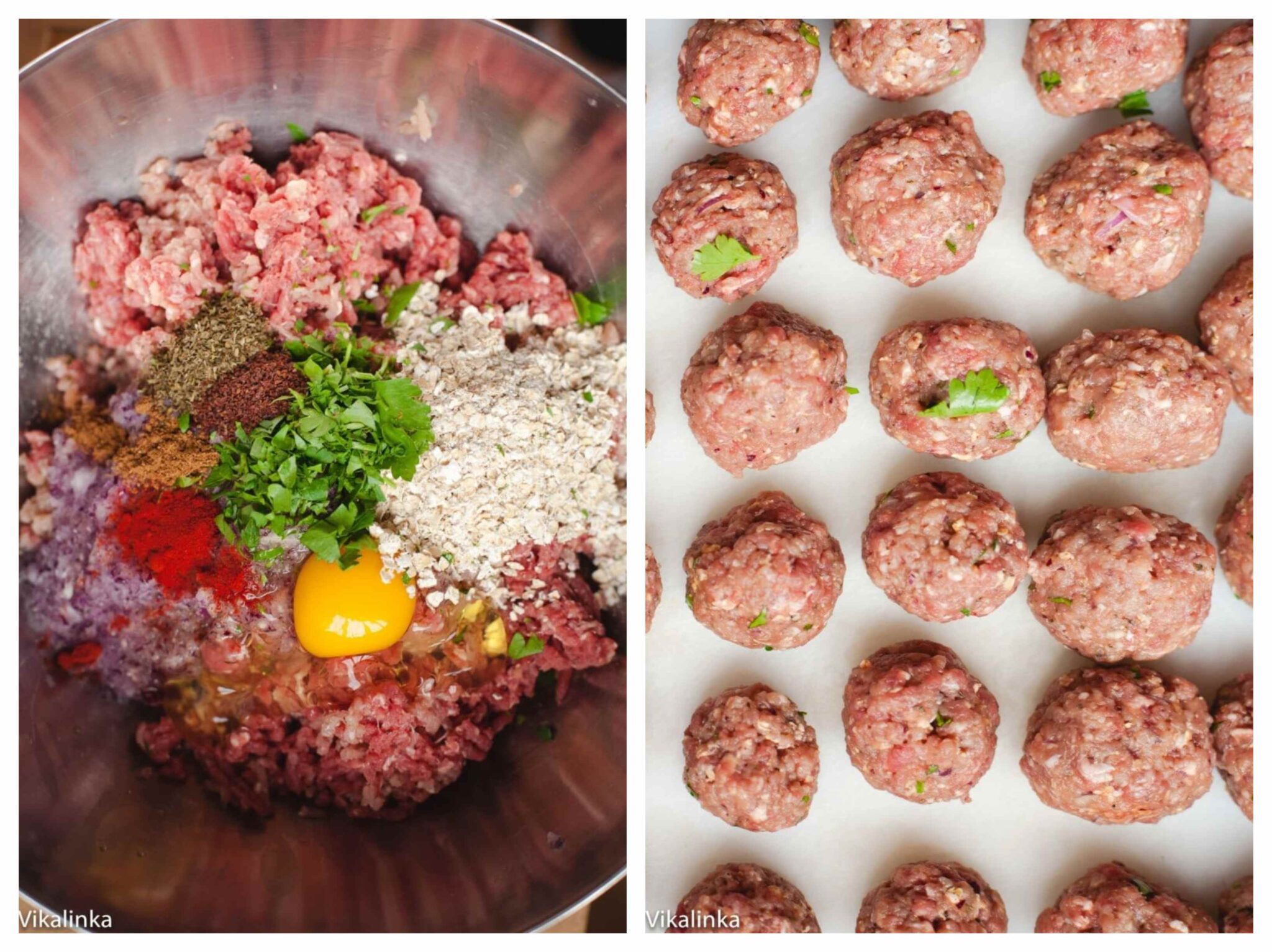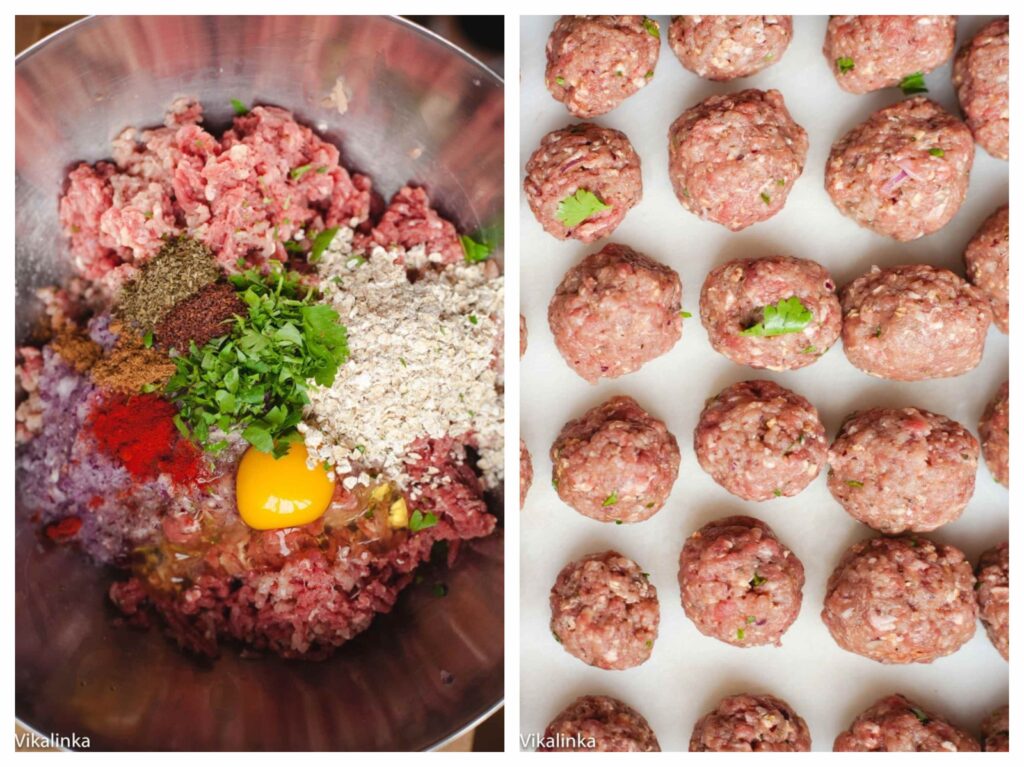 However, when I finished I realised that the whole process took me 1 hour from start to finish. I served these meatballs piled on top of fluffy couscous, and you don't need me to tell you that couscous takes no time at all to prepare!
These meatballs were an absolute hit with the family! You know that moment when dinner conversation ceases and all you hear is the sound of people chewing? Expect that!
Recipe tips and tricks
Ground lamb can be used instead of beef and pork, and would be closer to a traditional recipe from Central Asia.
I used lean beef and pork to reduce the calories of this dish, but other varieties with more fat content can be used instead.
If you can't find pomegranate molasses you can substitute it with a combination pomegranate juice and balsamic vinegar reduced to a thick consistency.
Breadcrumbs can be substituted for oats.
Serve the meatballs over couscous with a side of salad or vegetables.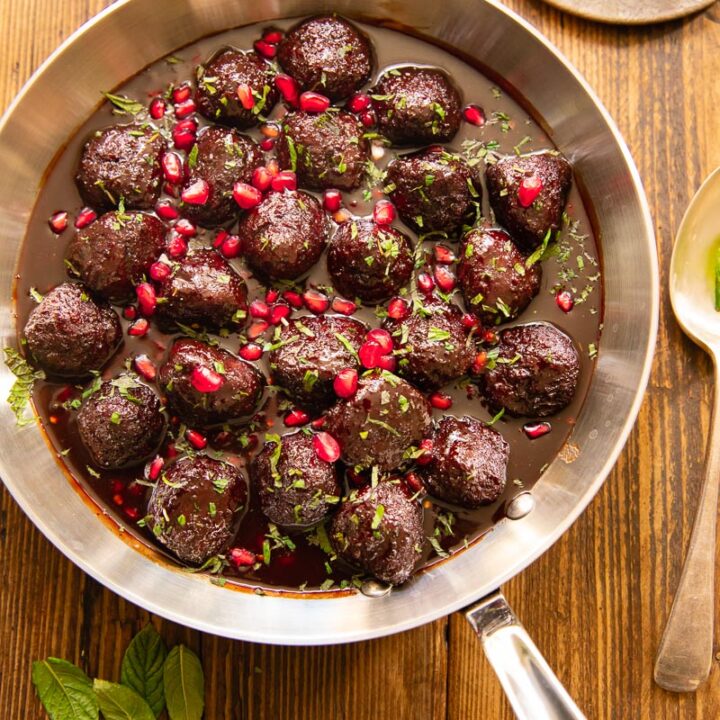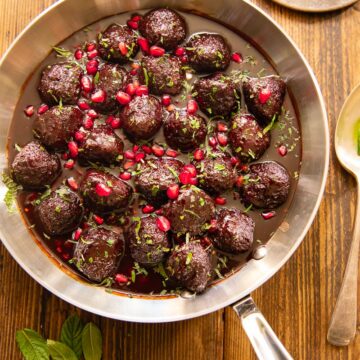 Sweet and Sour Meatballs in Pomegranate Sauce
Makes 38-40 meatballs
Ingredients
For the meatballs
450

g

/1 lbs extra lean ground beef

450

g

/1 lbs extra lean ground pork

1

onion

processed in a food processor with 2 tbsp of water or grated

1

egg

large

30

g

/ ⅓ cup oats

½

tsp

ground allspice

½

tsp

paprika

½

tsp

cayenne pepper

½

tsp

sumac

optional

2

tsp

dried mint

2

tbsp

chopped cilantro

1

tsp

salt

½

tsp

freshly ground pepper

2

tbsp

oil for frying
For the Pomegranate sauce
4

tbsp

Pomegranate molasses

500

ml

/2 cups beef or chicken stock

2

tbsp

brown sugar

1

tbsp

cornstarch + 2 tbsp water

½

tsp

chilli flakes

½

tsp

paprika

½

tsp

sumac

Seeds from ½ pomegranate

1

tbsp

fresh mint

chopped
Instructions
Process the onion with 2 tbsp of water in a food processor to a paste or grate it on a grater. In a large bowl combine both meats, onion, egg, spices and chopped fresh cilantro, oats, salt and pepper.

Form meatballs approximately the size of golf balls. Use a small ice cream scoop to get even sized meatballs. Arrange them on a cutting board and put them in the freezer for 10-15 min to firm up.

Brown meatballs in batches over medium high heat on all sides in hot oil, they don't need to be cooked all the way through. Remove to a paper towel lined plate. Discard the oil meatballs were browned in and wipe the pan with a paper towel.

To the same pan add pomegranate molasses, beef or chicken stock, brown sugar and spices. Bring to a boil and simmer until it starts to get thicker, add a mixture of corn starch and water and stir with a whisk to make sure there are not lumps. Add half of the pomegranate seeds to the sauce together with meatballs.

Simmer for 15-20 minutes shaking the pan once in a while to prevent meatballs sticking until the sauce is thick and syrupy. If your sauce is still thin after the time stated continue simmering until it has the consistency of glaze.

Serve sprinkled with the remaining pomegranate seeds and chopped fresh mint leaves.
Nutrition
Calories:
477
kcal
Carbohydrates:
25
g
Protein:
33
g
Fat:
27
g
Saturated Fat:
9
g
Polyunsaturated Fat:
3
g
Monounsaturated Fat:
13
g
Trans Fat:
0.3
g
Cholesterol:
130
mg
Sodium:
621
mg
Potassium:
678
mg
Fiber:
2
g
Sugar:
14
g
Vitamin A:
395
IU
Vitamin C:
4
mg
Calcium:
44
mg
Iron:
3
mg