This delicious honey garlic shrimp takes less than 10 minutes to make! Get the secrets to this restaurant quality dish, which could be easily made at home!
Chinese food fan? Take a look at another takeout favourite Crispy Honey Soy Pork Belly!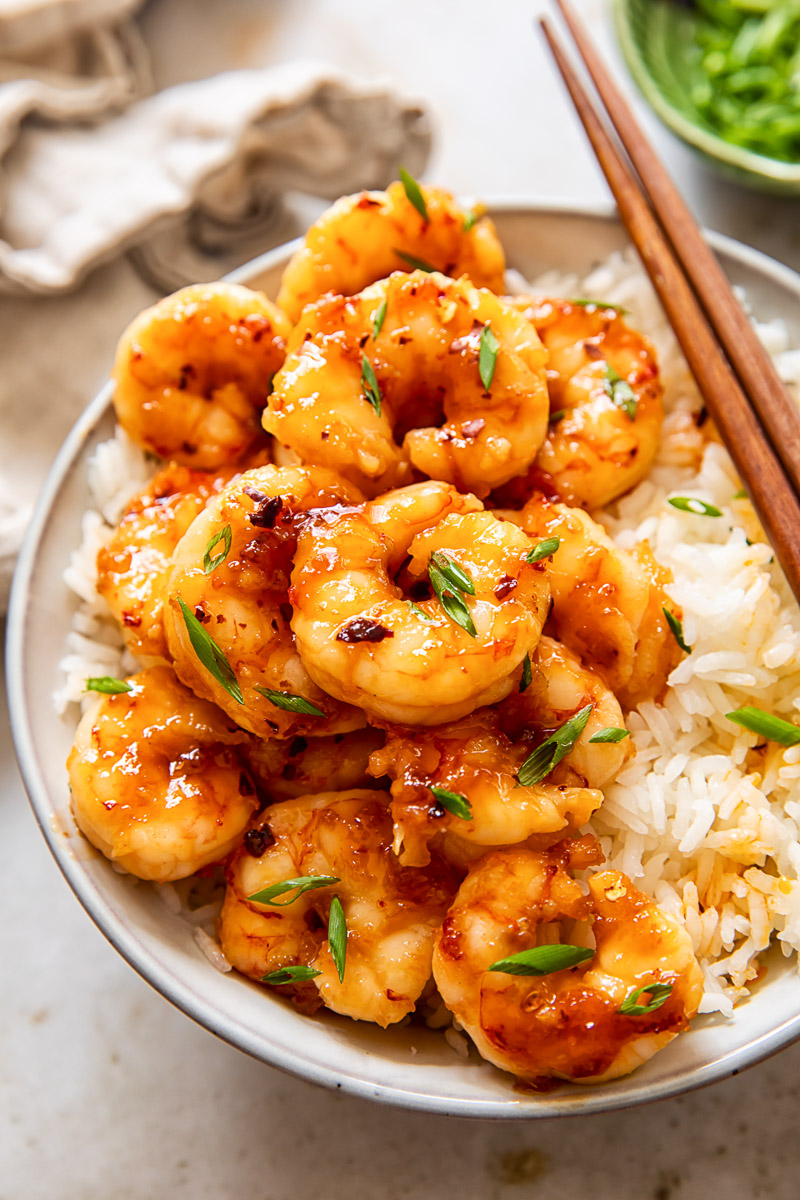 As much as I love our Friday night tradition of ordering in, I love re-creating our takeout favourites at home even more. No matter how you look at it, cooking at home is cheaper and healthier. And it doesn't have to be time consuming.
Let's take shrimp dishes or prawns, as they are known in the UK. They are absolutely brilliant as they take barely any time to throw together. Shrimp takes mere minutes to cook! There is no such thing as cooking shrimp slowly, otherwise it will turn dry and rubbery.
Garlic shrimp in a sticky honey glaze is one of my personal favourites and coconut shrimp is a close second. It's time I share the recipe for this incredibly easy dish. That title is not an exaggeration or a clickbait. It's a speedy recipe. In fact, it takes less than 10 minutes to make it!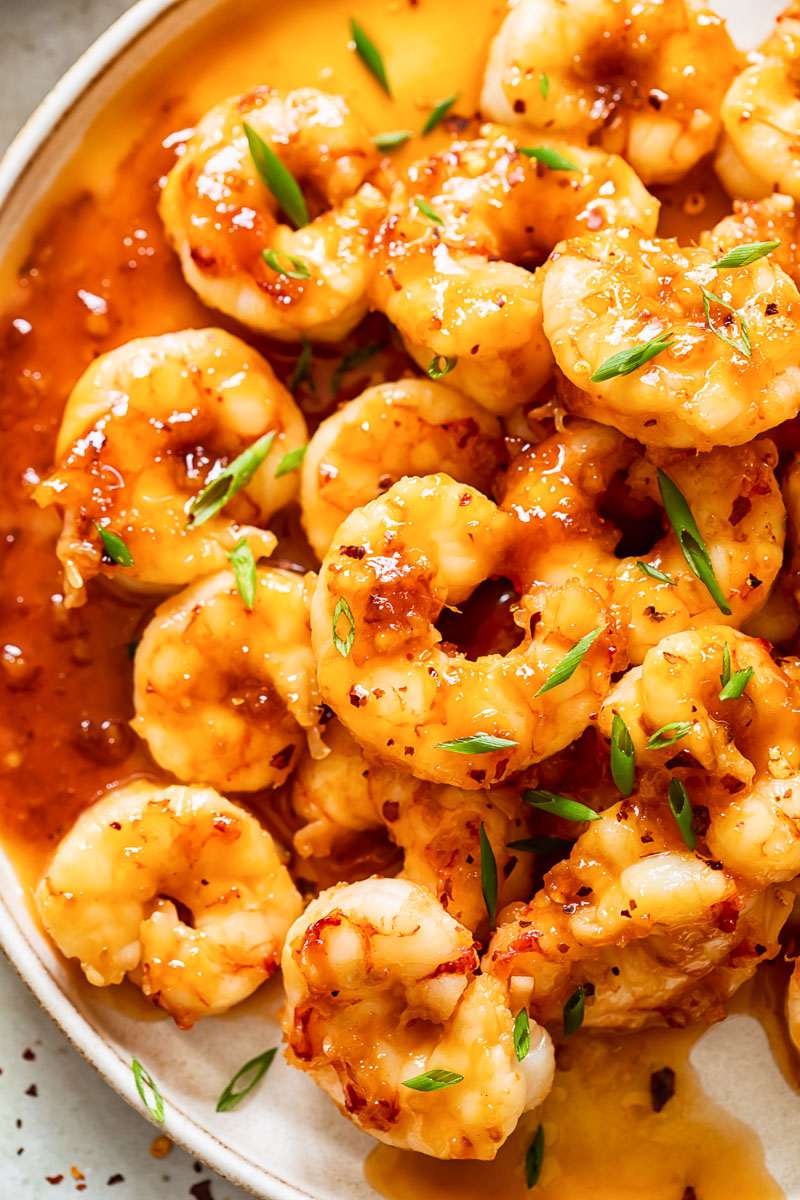 The Ingredients
Whenever it comes to Asian recipes, the ingredient list alone could be intimidating. Many things might look unfamiliar if we are not from that part of the world.
The good news is everything becomes achievable with a little research. And once you dip your toes in the world of the Chinese cooking, there is no going back! So much flavour, and the recipes are often not very complicated.
They are also a lot healthier than one might imagine. We visited China more than 2 decades ago in our early 20s, and were absolutely blown away by the freshness of the authentic Chinese food.
The ingredients for this particular shrimp recipe are easy to source. Shrimp is obviously the star ingredient here, so it needs to be of high quality. The better the shrimp, the tastier your end result will be!
The rest are garlic, ginger, honey, soy sauce and cornstarch. The ingredients most of us keep on hand. If you are not a frequent ginger user, I recommend buying a jar of ginger paste, which keeps in a fridge for several months.
Recipe Tips and Notes
As with a lot of Chinese stir fry recipes, the actual cooking happens very quickly. Which means all ingredients have to be prepared, peeled, cut and minced beforehand.
The first thing you want to do is to pat your shrimp dry with a paper towel. Then coat your shrimp in a mixture of soy sauce and cornstarch. This mixture does two things. It acts as a marinade to infuse flavour as well as forms a protective coating around the shrimp during cooking. This method is called "velveting" in Chinese cooking, and is used when frying delicate meat like chicken and shrimp. That is why chicken in that stir fry at your local Chinese restaurant is so tender!
The shrimp you see in photos are pink but they are raw. I am using Argentine red shrimp/prawns, which are quite large and very delicious.
Use fresh garlic and ginger for the best flavour.
Make sure not to overcook the shrimp, which will result in rubbery texture.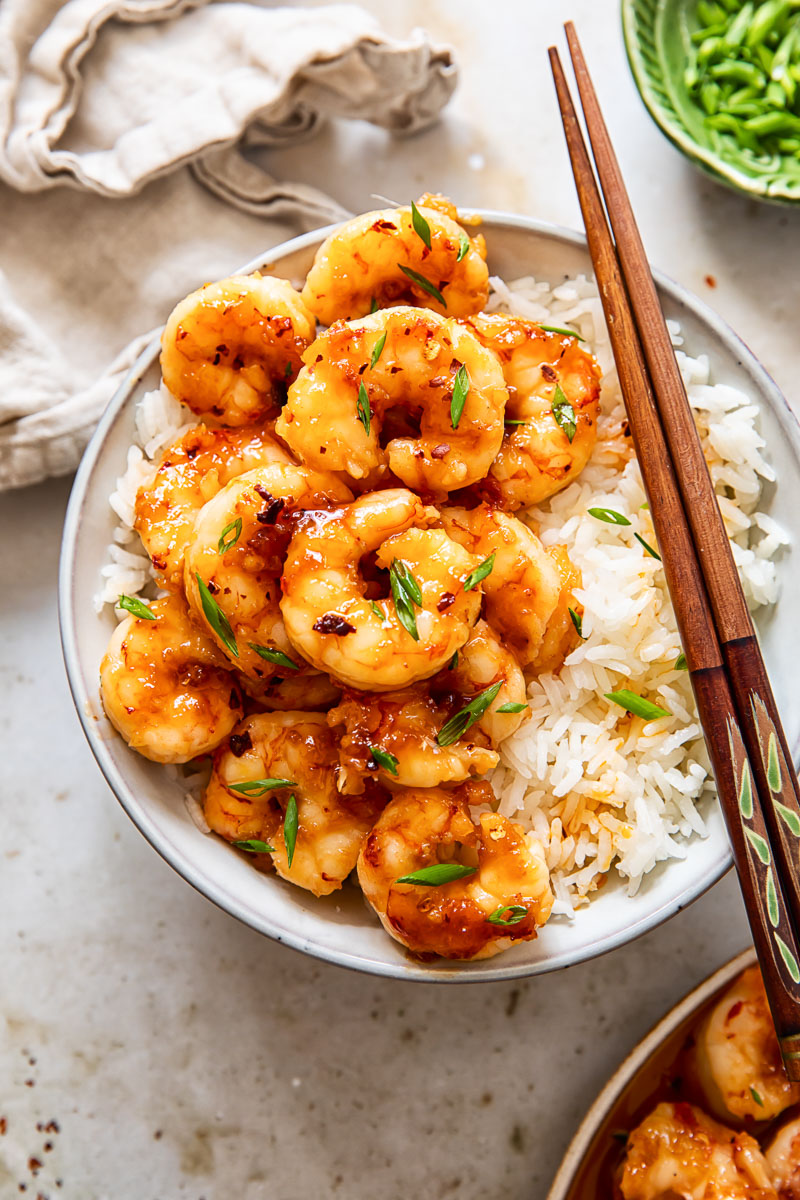 Serving Suggestions
This ridiculously fast and easy shrimp recipe could be served as a main dish over plain rice as the sticky honey garlic glaze will serve as a delicious sauce.
It could also be served as an appetiser/starter to your main meal. It is also elegant enough to feature at a cocktail party.
You can also add quickly steamed vegetables like broccoli, snow peas or cauliflower and make this honey garlic shrimp into a healthy stir fry. Your family will love it!
More favourite Asian shrimp recipes to try: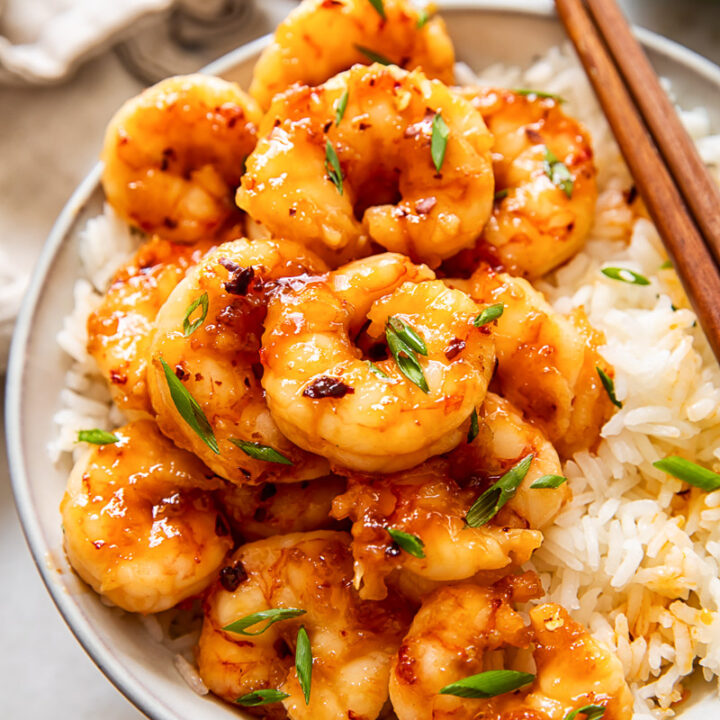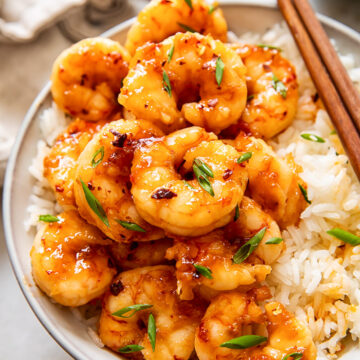 10 Minute Honey Garlic Shrimp
This delicious honey garlic shrimp takes less than 10 minutes to make!
Ingredients
1

lbs

shrimp

peeled and deveined

1

tbsp

light soy sauce

1

tbsp

cornstarch

2

tbsp

vegetable oil

3-4

cloves

garlic

1

tbsp

ginger paste or grated ginger

4

tbsp

honey

¼

tsp

chilli flakes

optional

2

green onions

for garnish
Instructions
In a medium bowl combine the soy sauce and cornstarch, then add the shrimp and toss to combine. Set aside till needed. (This method is called "velveting" in Chinese cooking and is used to protect delicate meat like shrimp and chicken from drying out during cooking.)

Heat the oil in a non-stick frying pan and cook minced garlic with ginger for no longer than 30 seconds over medium heat, then add the shrimp and cook for 1-2 minutes on each side depending on the size of the shrimp.

Pour in honey and chilli flakes if using, toss to coat the shrimp and take off the heat. Sprinkle with sliced green onions for garnish. Serve over rice or as a starter.
Video
Nutrition
Calories:
256
kcal
Carbohydrates:
21
g
Protein:
24
g
Fat:
9
g
Saturated Fat:
6
g
Cholesterol:
286
mg
Sodium:
1138
mg
Potassium:
139
mg
Fiber:
1
g
Sugar:
17
g
Vitamin A:
97
IU
Vitamin C:
7
mg
Calcium:
175
mg
Iron:
3
mg