You simply cannot find a dinner option that is quicker than my shrimp stir fry, that is healthy and delicious, bursting with fresh flavours and vibrant colours!!
Sesame shrimp flavoured with garlic, ginger and chillies, then cooked quickly with crunchy snow peas, baby corn and bean sprouts. It's quicker than ordering a takeout!
For more Chinese recipes, check out my Chinese Chicken Curry.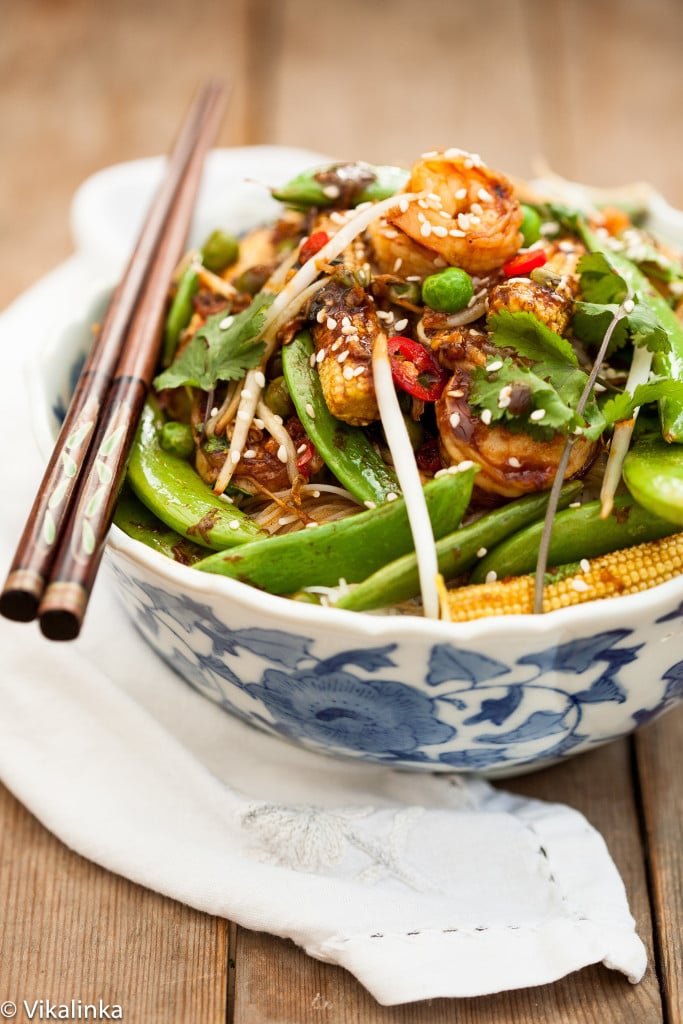 We don't do takeouts too often around here and when we do, it's always Indian. This is mostly because curry has become Britain's national dish and out of 200 + takeout restaurants available in our area 150 of them are Indian and Nepalese.
I love it but Brad often complains that he is in serious need of Chinese food.
I've never been a big fan. Don't take me wrong, I love a good Sweet and Sour Pork or Peking Duck as much as the next person but I can rarely find a restaurant that will do them justice.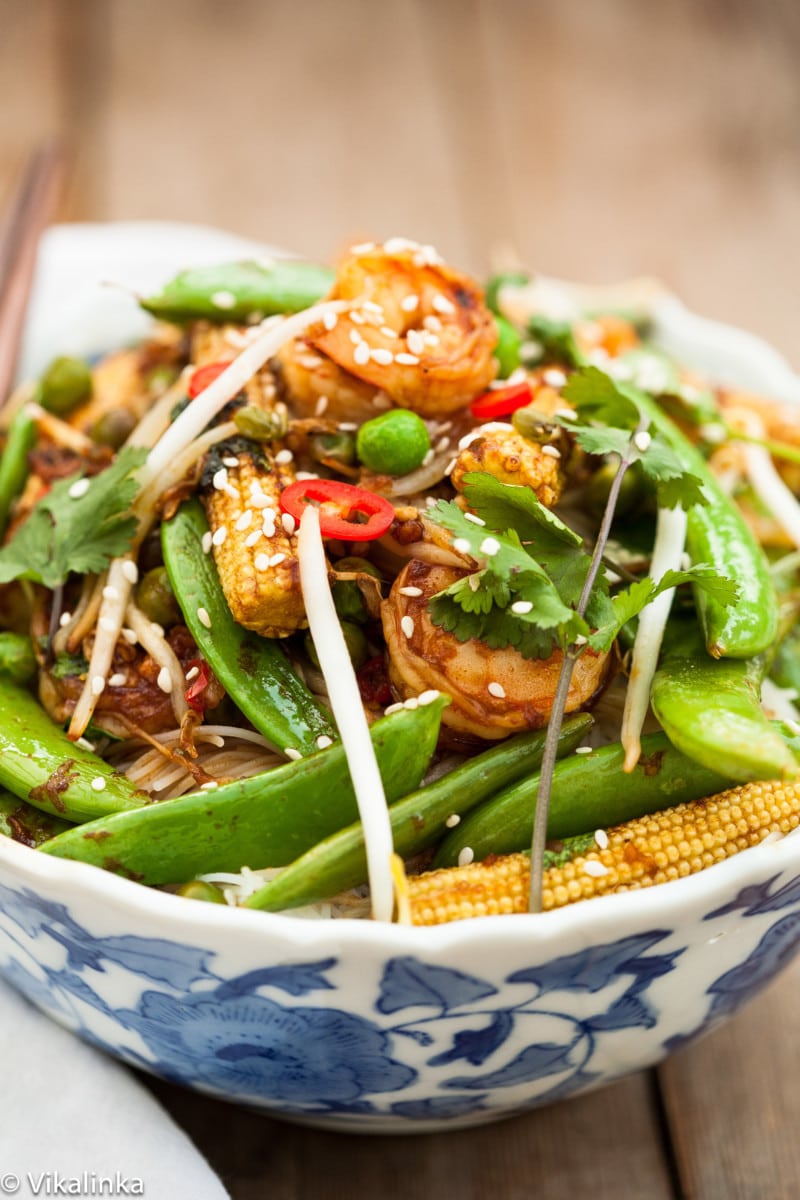 I am as picky as they come but visiting China more than a decade ago and eating authentic Chinese food ruined me for good.
I guess what bothers me most in local takeouts is the overall unhealthiness of the food, which is usually down to the method of cooking and the ingredients not the cuisine itself.
This recipe for shrimp stir fry, however, couldn't be further away from that. My shrimp stir fry is healthy and delicious; bursting with fresh flavours and vibrant colours!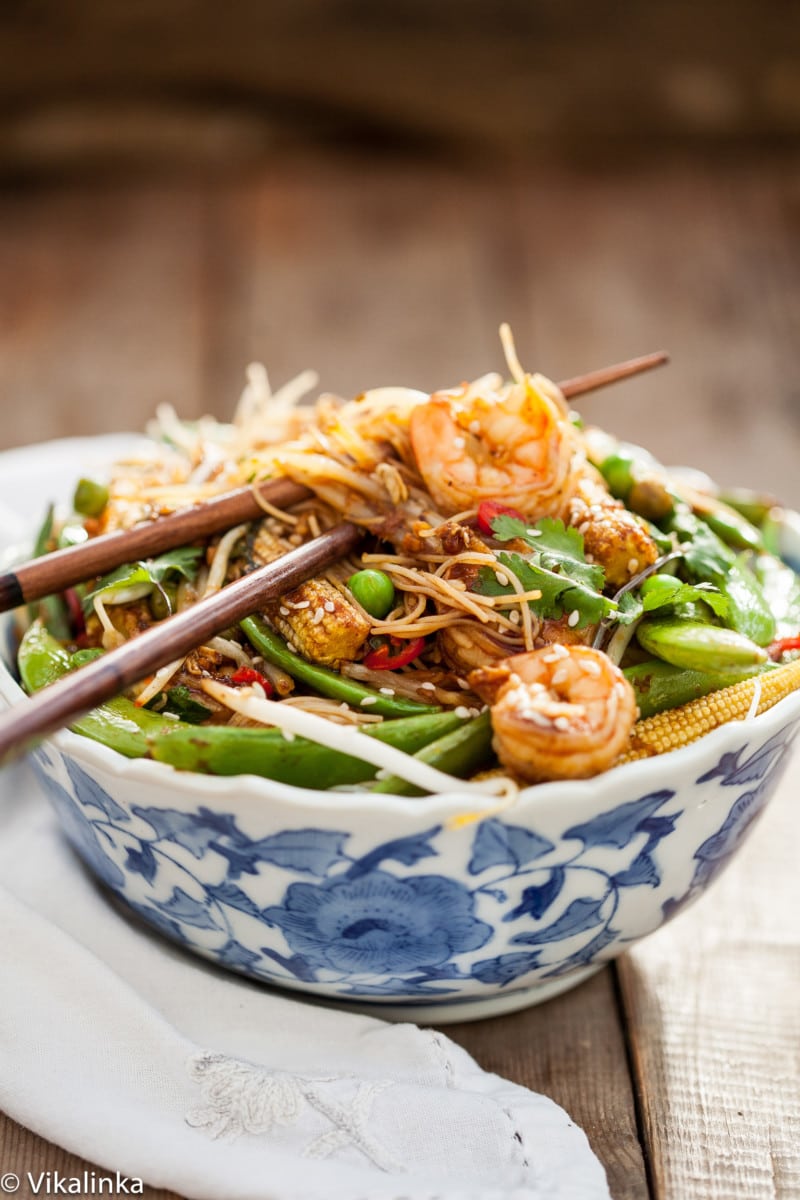 Ingredients
Like most stir fries, the ingredient choices are endless and the recipe can be adapted based on your preferences and what is available to you. Here are some of my favourites:
garlic, ginger, fresh chillies, lime juice, cilantro and sesame oil, soy sauce and 5 Spice Mix for flavour
shrimp or any other protein you like
snow peas, bean sprouts, baby corn, peas or any other veg you prefer

How long does it take to make a Chinese stir fry?
Chinese stir frys are quick dinners. Most of the time goes into preparing the ingredients but peeling and cutting the vegetables. The cooking itself happens within minutes.
That is why it's important to have all ingredients prepped and ready to go before the you turn the heat on.
This recipe comes together in 15 minutes! Quick, healthy, delish. It ticks all the right boxes.
For more tips on making stir fry check out my Beef, Mushroom and Snow Pea Stir Fry.
Substitutions
If you are not a fan of shrimp, it can be easily swapped for chicken or strips of beef or pork. There is no need to make major changes to the recipe other than the time to cook the meat, which will take longer than shrimp.
If you make it vegetarian it's still full of flavour! I love versatile recipes like that.
More stir fry recipes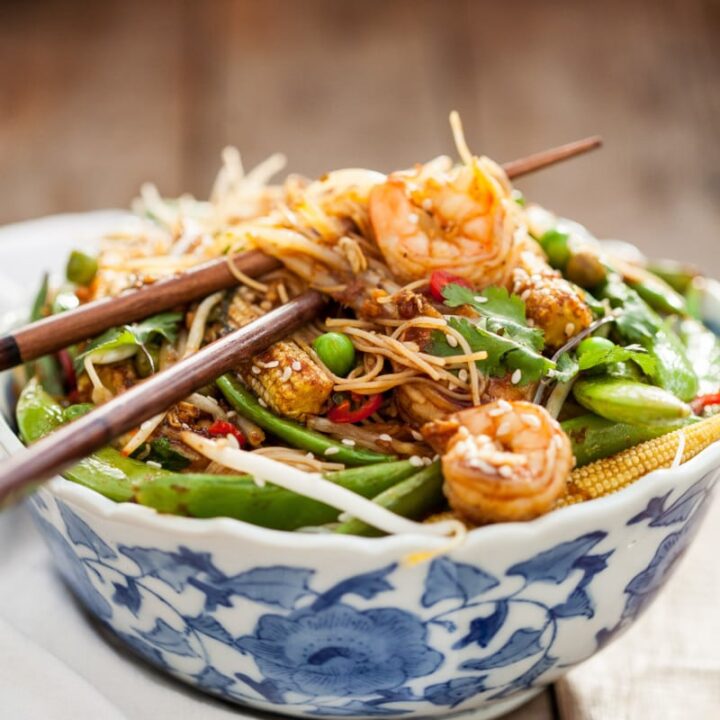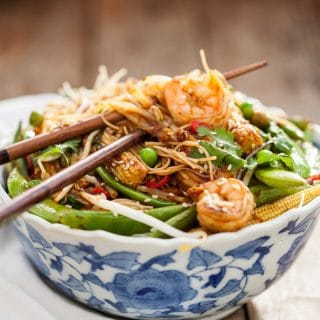 Speedy Sesame Shrimp Stir Fry
This quick sesame shrimp stir fry recipe is what you need when there is simply no time to cook because making it is quicker than ordering a takeout!
Ingredients
2"/5cm

piece

Fresh ginger

grated- 2″ piece

2

cloves

Garlic

minced- 2 cloves

0.5-1

Red Chilli

thinly sliced- 0.5-1

Fresh Cilantro

a bunch, chopped

2

tbsp

Vegetable oil

½lb/225g

Shrimp

peeled

1

tsp

Five-spice powder

1

tsp

Cornstarch

6

Baby corn

10-12

Snow Peas

2

tbsp

Soy sauce

1

Lime

juice only

1

tsp

Sesame oil

½

tsp

Honey

¼ cup/50g

Frozen peas

¼ cup/50g

Beansprouts

¼cup/60ml

Water

1

tbsp

Sesame seeds

7 oz/200g

Rice noodles
Instructions
Set a pot of water on the stove and once the water is boiled cook rice noodles according to package directions.

Meanwhile, get all ingredients out and put them on a counter in front of you. It's very important to be prepared because once you start things happen very quickly. Peel and grate ginger, mince garlic, slice chilli, pick cilantro leaves off the stalk, chop the stalks.

Heat vegetable oil in a large frying pan over high heat and add chopped cilantro stalks, ginger, chilli, garlic, shrimp and five-spice powder, stir fry for 1-2 minutes. Then add cornstarch, baby corn and snow peas and cook for 2 more minutes.

Add soy sauce, lime juice, sesame oil, honey and beansprouts. Stir fry for 2 more minutes, add a splash of water if it's getting too dry and cook for 2 minutes longer.

Drain rice noodles and divide them among bowls. Top with stir fry and sprinkle with sesame seeds.
Nutrition
Calories:
260
kcal
Carbohydrates:
23
g
Protein:
5
g
Fat:
19
g
Saturated Fat:
3
g
Polyunsaturated Fat:
10
g
Monounsaturated Fat:
5
g
Trans Fat:
0.1
g
Sodium:
1016
mg
Potassium:
271
mg
Fiber:
3
g
Sugar:
5
g
Vitamin A:
289
IU
Vitamin C:
33
mg
Calcium:
78
mg
Iron:
2
mg