This teriyaki chicken stir fry is bursting with bold flavours of smoky grilled scallions, fresh bok choy, snow peas and yellow peppers. Chicken breast strips marinated overnight add a depth of flavour and a healthy protein boost.
If you enjoy this chicken teriyaki recipe, check out our baked Teriyaki Salmon.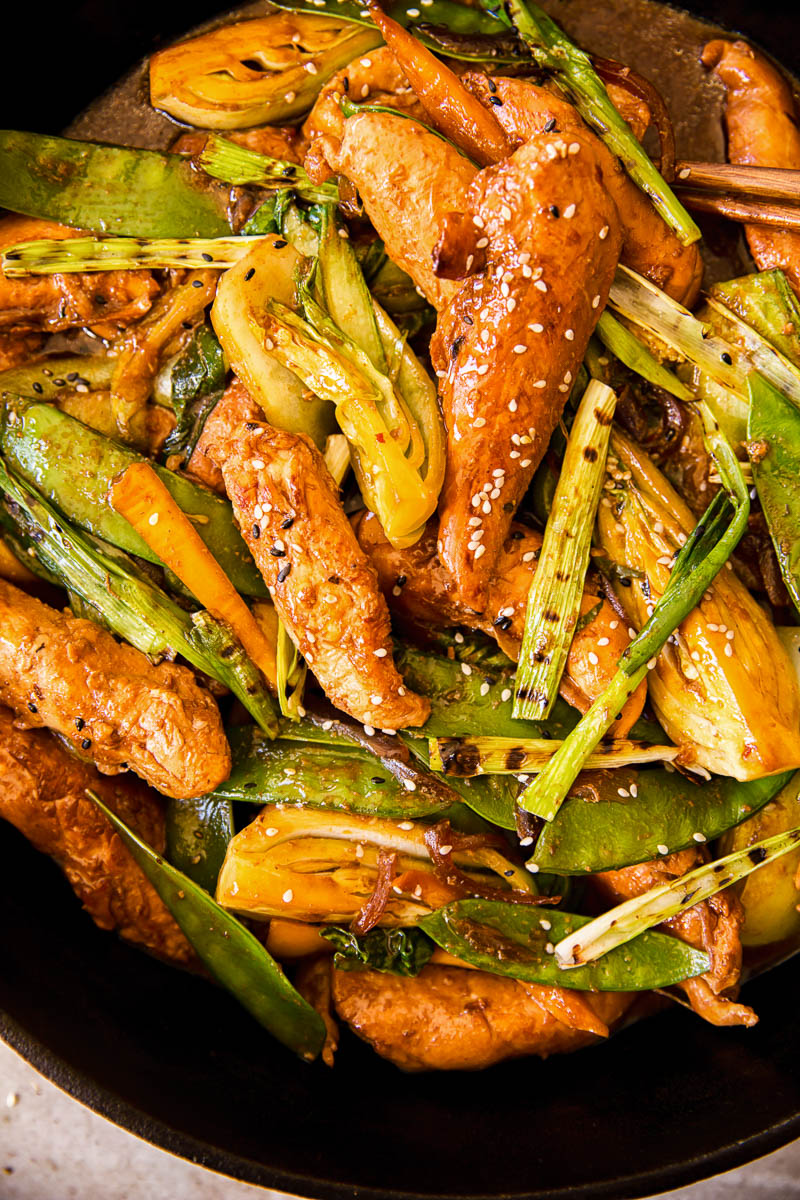 This recipe for Teriyaki Chicken Stir Fry was inspired by our recent obsession with our local Japanese takeout. When we crave a healthy Asian dinner, we often reach for the phone and order Teriyaki Donburi Rice Bowls. They are absolutely delicious!
As this has been happening more and more often, I decided to recreate our favourite flavours at home in the form of teriyaki chicken stir fry. In order to do that, we need to know…
What goes into Teriyaki Sauce?
You might be as surprised as I was to find out that the term teriyaki actually refers to the method of cooking, which is grilling, rather than the sauce.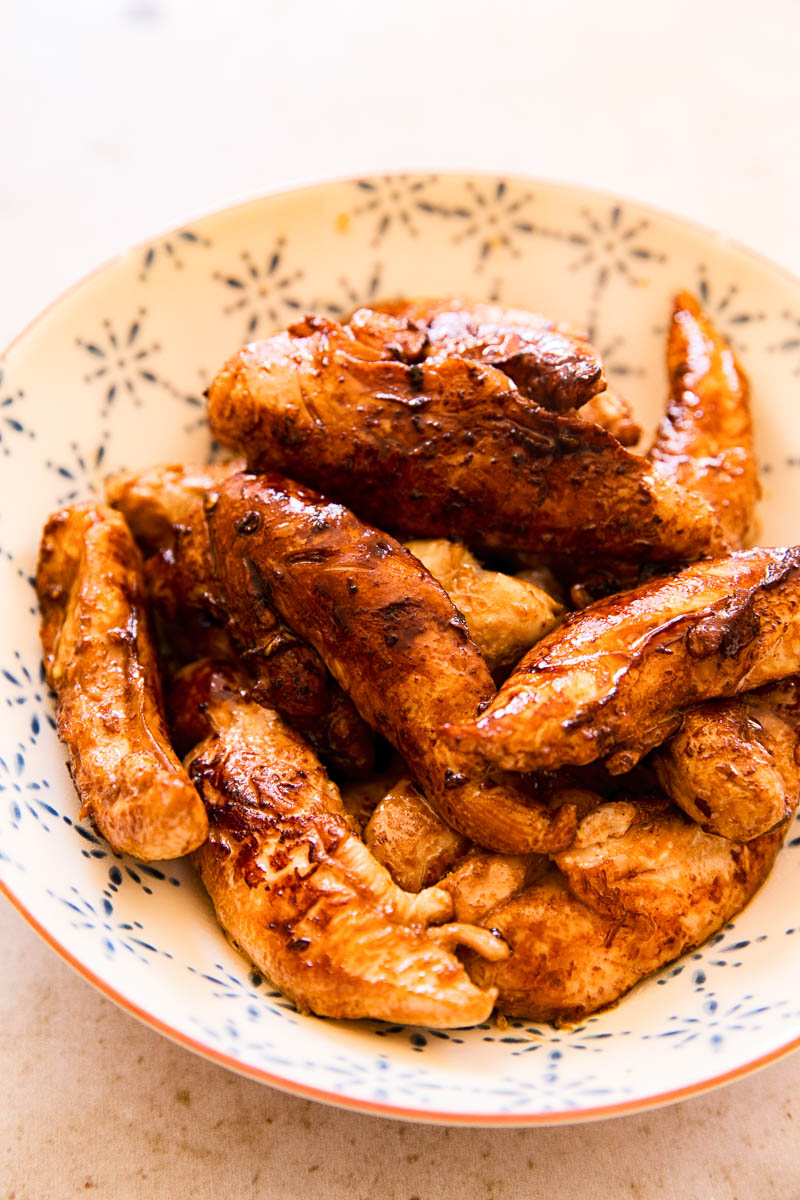 However, there is a classic sauce that is a telltale sign of chicken, salmon or beef teriyaki. Just think of it as a Japanese barbecue sauce.
The main ingredients that make the teriyaki sauce are usually mirin, soy sauce, grated ginger and sugar or honey. In this recipe the teriyaki sauce has a double purpose. To intensify flavours I recommend first marinating your chicken in the teriyaki sauce overnight or at least for 3 hours prior to cooking. Then using the marinade as a sauce in your stir fry.
I often get asked if it's safe to use the marinade as part of the sauce and the answer is. Yes it absolutely is! It would be silly not use it after you put all the best flavours in your marinade. It is absolutely safe as long as the marinade gets boiled for 5 minutes to destroy the bacteria.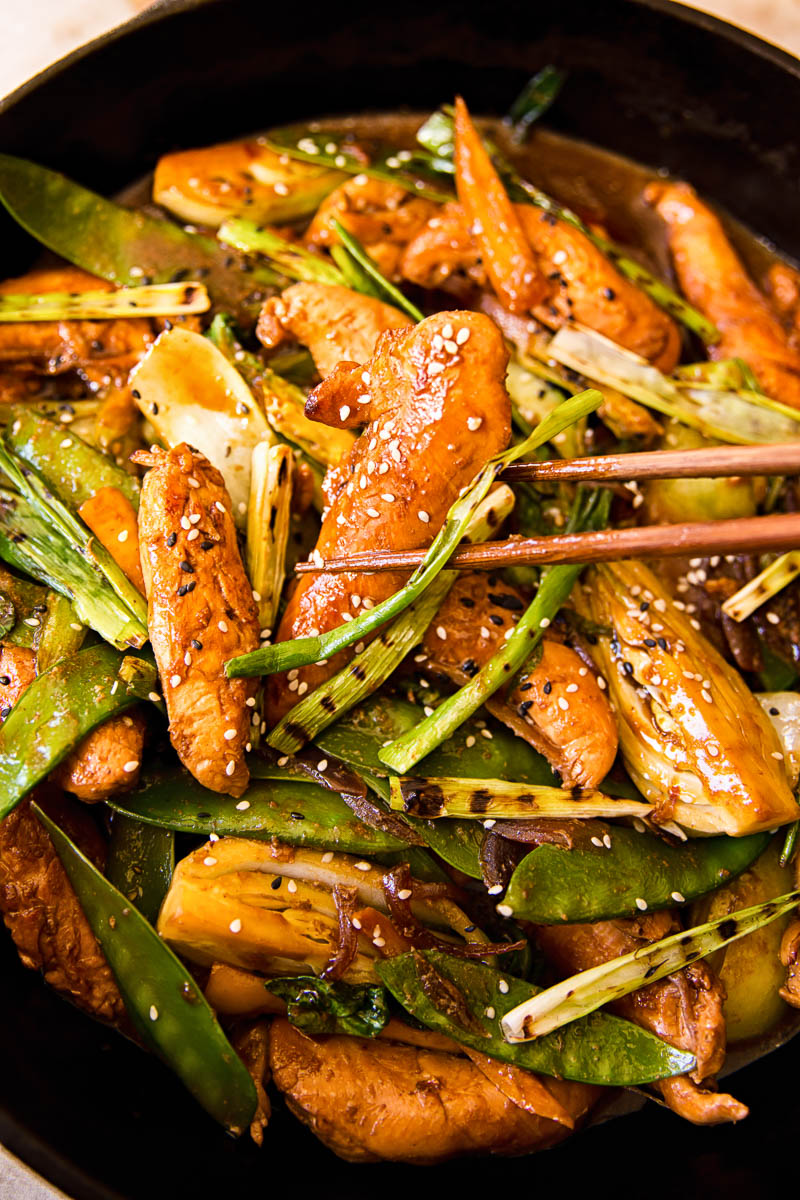 What vegetables to use
The short answer is anything you like, as long as your vegetable mix is of similar texture, meaning all vegetables will cook at the same time. Otherwise, you can cut the hardier vegetables like carrots or broccoli stems into thin strips to speed up the cooking time.
I am happy to share my personal favourites for stir fries. I nearly always use snow peas and red or yellow peppers for their sweetness, texture and the way they look.
For this stir fry I also went with a quartered bok choy, a small red onion, and the real winner, grilled scallions aka green onions.
Since teriyaki is supposed to be grilled, I decided to infuse my stir fry with a bit of smokiness that comes from grilled onions. They only take a minute to get those nice char marks but they absolutely transform this simple stir fry.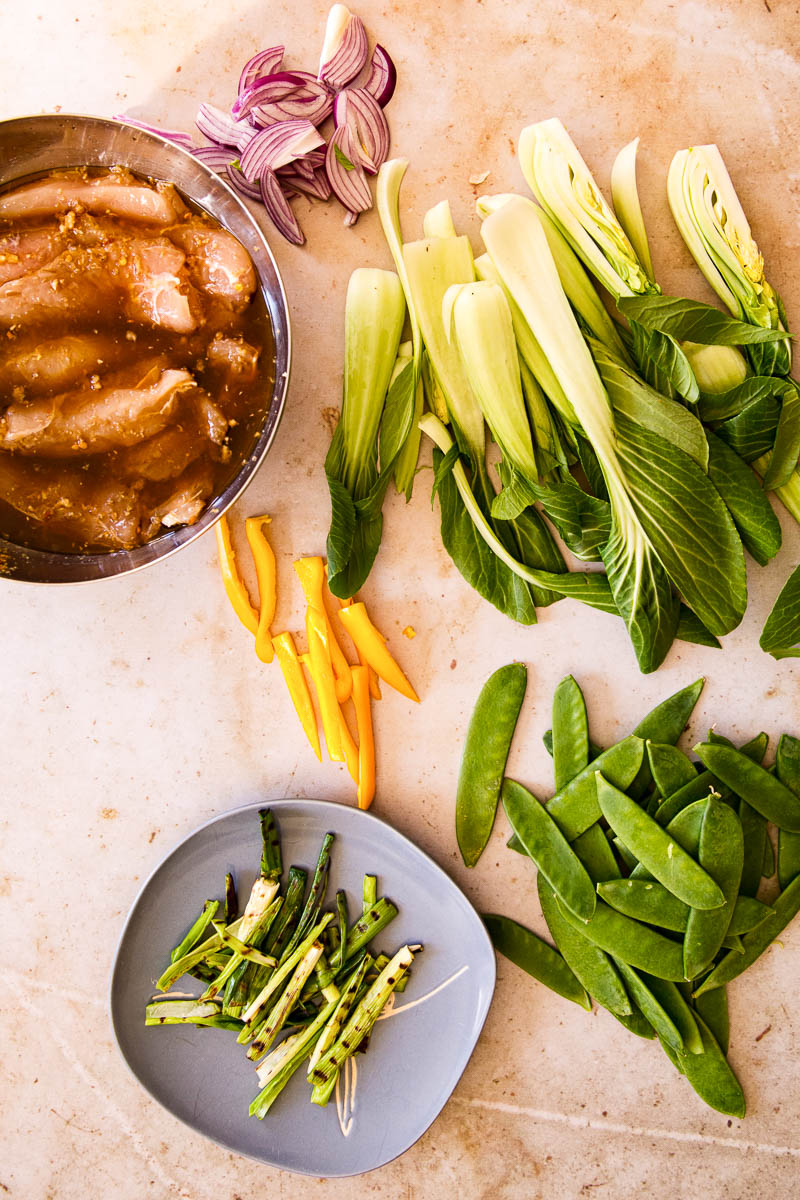 Vegetable suggestions for stir fries
broccoli
asparagus
carrots cut into thin strips, matchsticks
baby corn
kale
red, yellow and green peppers
zucchini
Protein suggestions for teriyaki stir fries
skinless, boneless chicken breasts or thighs
salmon
thin beef strips
shrimp
duck
tofu
As you can see, adding your personal touch to this stir fry recipe, as long as you keep the suggested cooking method and the teriyaki sauce, will get you a delicious and exciting dinner.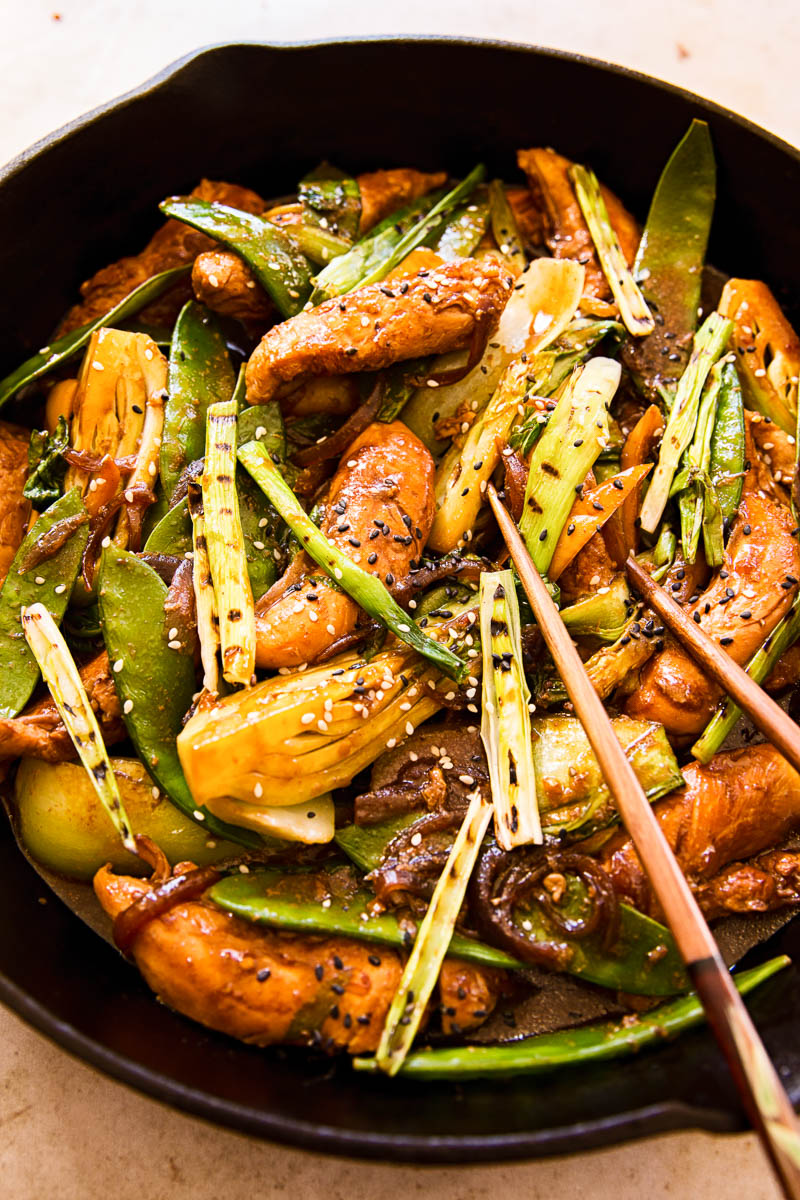 Favourite Stir Fry Recipes: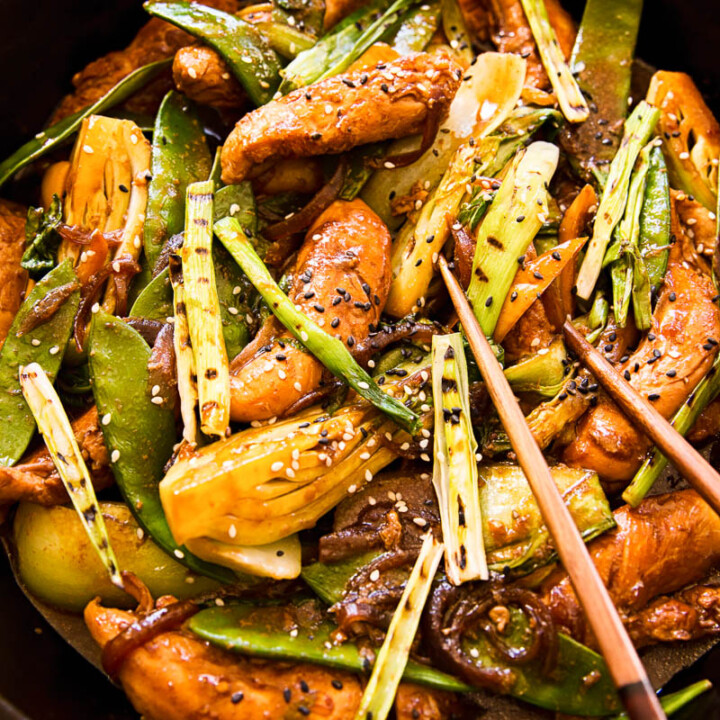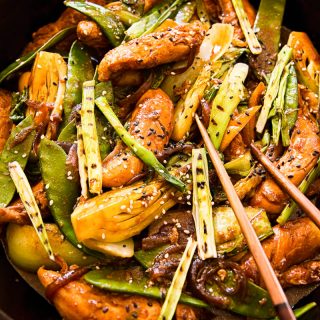 Teriyaki Chicken Stir Fry with Grilled Scallions
Light and flavourful teriyaki chicken stir fry with charred green onions, bok choy, snow peas and yellow bell peppers.
Ingredients
For the marinade
4

tbsp

mirin

4

tbsp

soy sauce

I use Kikkoman

4

tbsp

rice vinegar

1

tbsp

fresh grated ginger

2

cloves

pressed garlic

½

tsp

red chilli flakes

1

tbsp

honey or 2 tsp sugar

1

lime, juice only
For the teriyaki chicken stir fry
1 lbs

chicken breasts cut into strips

2

tbsp

vegetable oil

4

scallions, cut in half

2

bok choy, cut into quarters lengthwise

1

small red onion, sliced

1

yellow pepper, sliced

120g/2cups

snow peas

2

tsp

sesame oil

1

tsp

corn starch

1

tbsp

sesame seeds
Instructions
The night before prepare the marinade by mixing mirin, soy sauce, rice vinegar, fresh grated ginger, pressed garlic, red chilli flakes, honey and the juice of 1 lime in a wide and shallow bowl. Add the chicken strips, mix well, cover with plastic wrap and refrigerate until the next day. Alternatively, you can marinade the chicken for three hours.

Before starting on the stir fry cut and slice all vegetables and have them ready to go.

Set a grill pan over high heat or a skillet and char the scallions for 1 minute on each side until you see char marks on it. Watch carefully not to burn delicate scallions. Remove and set aside.

Heat a large pan or a wok over medium high heat, add the vegetable oil. Take the chicken out of the marinade and brown over medium high heat for 2 minutes on each side. Do it in batches to avoid overcrowding and steaming. (Reserve the marinade, you should have approximately ⅔ cup/175 ml of marinade.) Once chicken is seared but not cooked all the way through, put it in a clean bowl and set aside.

To the same pan add sliced red onion, bok choy, yellow or red pepper and snow peas and stir fry oven high heat for 3 minutes until vegetables got a bit of colour on them but still crunchy.

Return chicken to the pan with the reserved marinade and bring to a boil, then add the cornstarch diluted in water and stir until thickened, continue simmering for 5 minutes, then add sesame oil, grilled scallions, stir to combine and take it off the heat. Serve sprinkled with sesame seeds with sticky white rice or noodles.
Nutrition
Calories:
367
kcal
Carbohydrates:
31
g
Protein:
34
g
Fat:
14
g
Saturated Fat:
6
g
Cholesterol:
72
mg
Sodium:
1549
mg
Potassium:
1710
mg
Fiber:
6
g
Sugar:
15
g
Vitamin A:
19215
IU
Vitamin C:
263.6
mg
Calcium:
505
mg
Iron:
5.3
mg