Donburi bowls are healthy and satisfying. Let me show you how to make one at home using teriyaki salmon and a few vegetables. No need to order a takeout!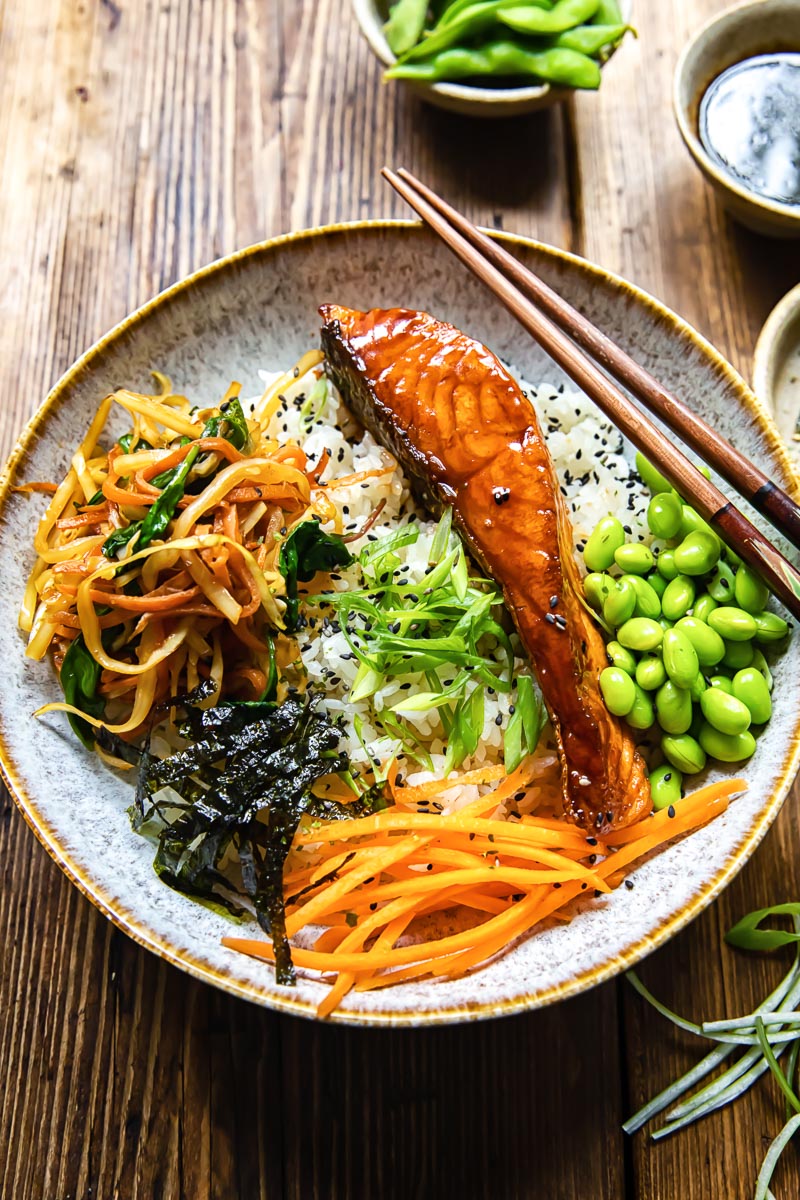 Japanese cuisine has become a firm favourite for my family in recent years. Whenever we feel lazy and don't want to cook dinner, we find ourselves ordering Japanese food more often than anything else.
It all started with sushi but eventually we discovered so many dishes we love. Donburi is one of them.
What is Donburi?
To put it plainly, it means "rice bowl", which also means there is so much variety when it comes to these bowls. You can fill your rice bowl with anything you truly love. My kids favourite is teriyaki salmon, chicken or duck.
I personally love mine loaded with heaps of stir fried vegetables and topped with furikake, a Japanese seasoning of toasted sesame seeds, nori, salt and other things.
The variations of this dish are endless, which means I will probably never get tired of it. Apart, from being very tasty and quite lean, this dish is also stunningly beautiful as most Japanese food.
I love putting together a donburi bowl! It's like a work of art. Each one is unique depending on the ingredients.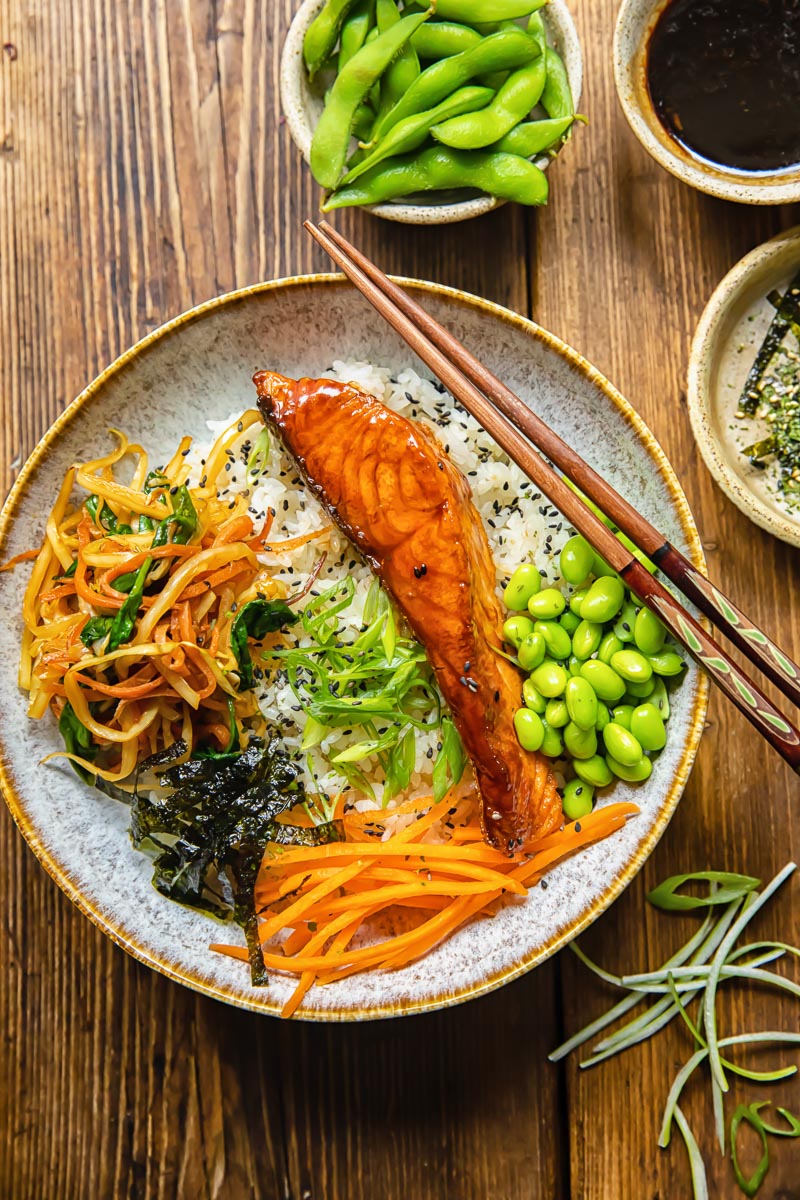 What Rice to Use
Since rice is essential to this dish, it's important to mention what rice to use and how to cook it. I grew up in a European household and until my mid 20s I thought rice was rice. Then I spent a year in the Philippines and realised how wrong I was!
There are many varieties of rice and each dish might require a specific type. This is the case for these bowls. If you are familiar with sushi, you will immediately know that the rice used is short grain and sticky.
It is often called Sushi Rice in supermarkets or Japanese rice. If you can't find it, you can substitute with another type of short grain rice like Italian arborio, used for risotto or Spanish bomba rice, which is used for Paella.
The method of cooking is very simple. My preferred way is done in the Instant Pot. You can also use a rice cooker or a stovetop method.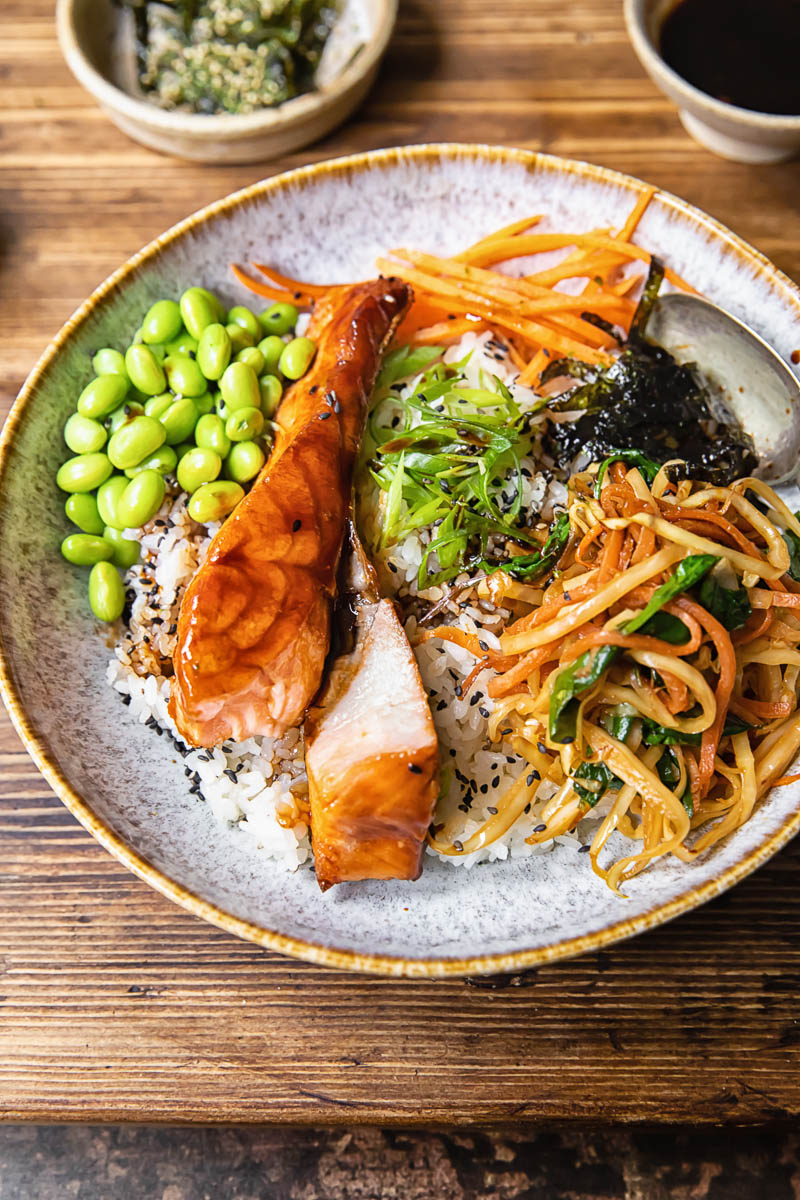 Stir Fried Vegetables
Quite often you will see wilted spinach as a vegetable of choice in donburi. What you use is your preference entirely. I quite like a combination of shredded cabbage, carrots and spinach.
I cook the vegetables very simply with a touch of garlic, ginger and soy sauce. That's it! And if you slice your cabbage very thinly, they stir fry is done in less than 10 minutes.
However, vegetables like mushrooms and broccoli are also very delicious and taste wonderfully with sticky rice. I would recommend do a little fridge foraging and use any vegetables you've got!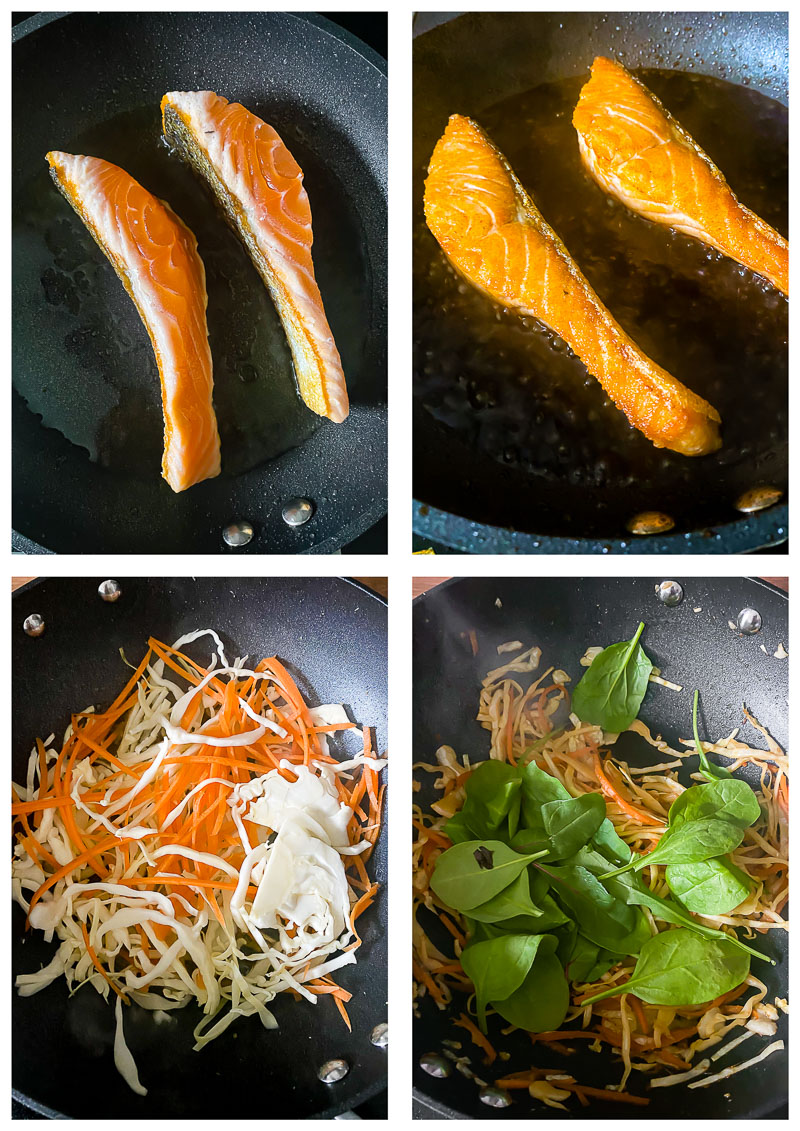 Additional Toppings
It's no secret that all the extras make donburi bowls taste especially delicious. My absolute favourite is furikake seasoning, which I sprinkle over the whole dish immediately before serving.
My teenagers got me into thinly julienned carrots and black sesame seeds. I can't imagine eating these rice bowls without them anymore.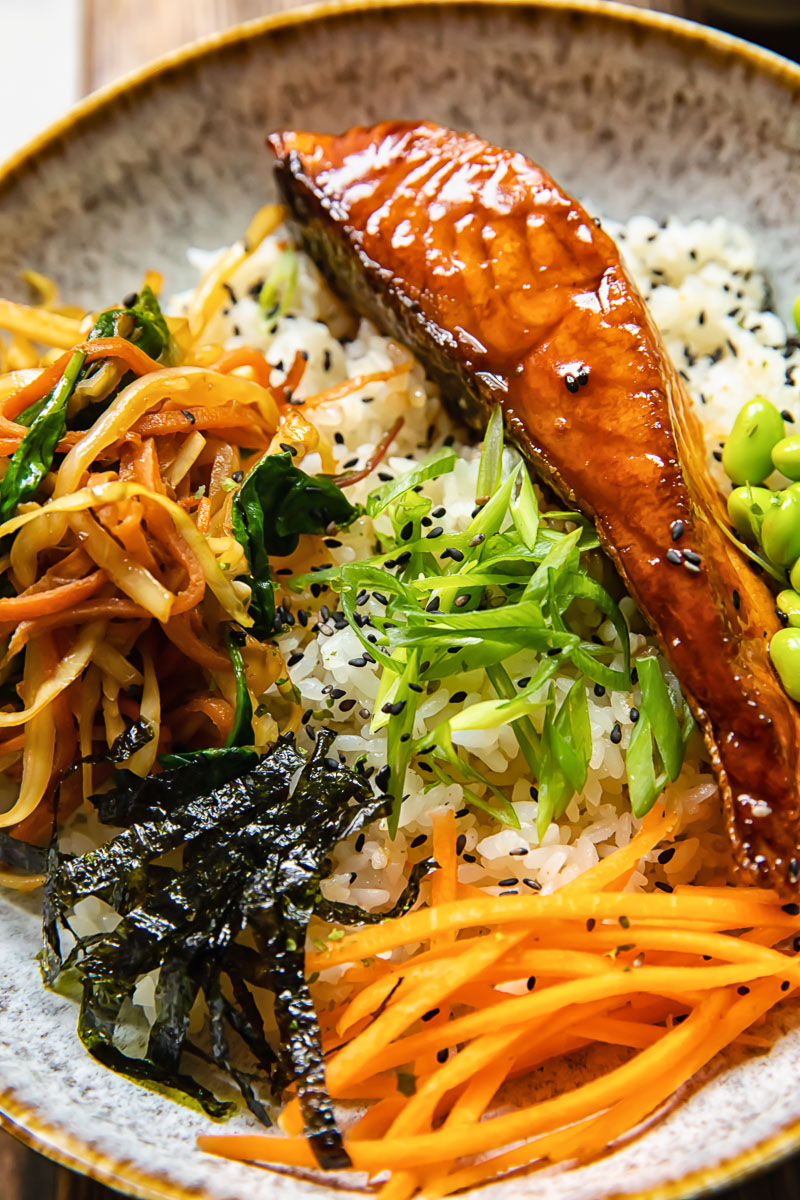 Sliced green onions add a nice bite and a splash of green colour, which looks so pretty. If you ever make sushi at home, you probably have some leftover nori sheets kicking around.
They also add a beautiful umami flavour to donburi bowls. I cut them into narrow strips and sprinkle all over.
Finally, add some edamame beans for extra protein and texture! Or you can serve the edamame beans in their pods as an appetizer.
More Japanese Recipes to Try: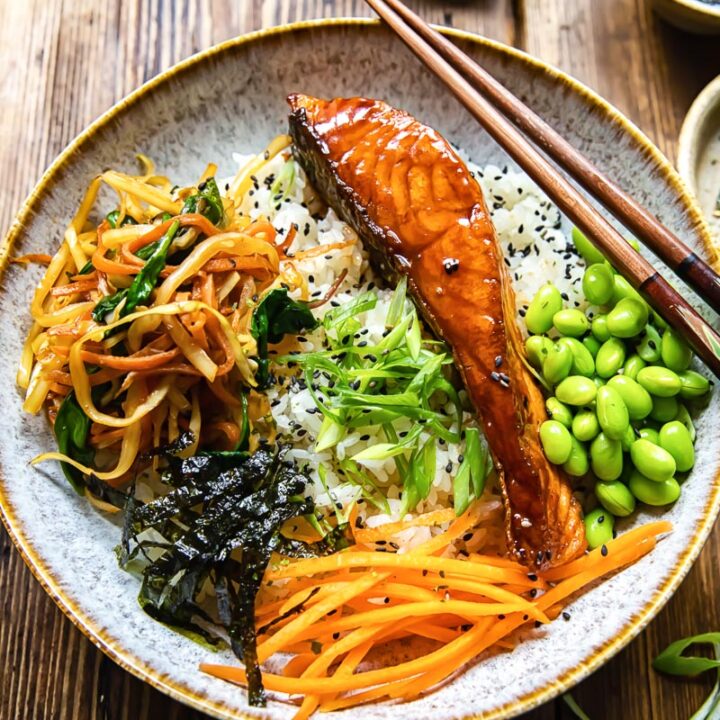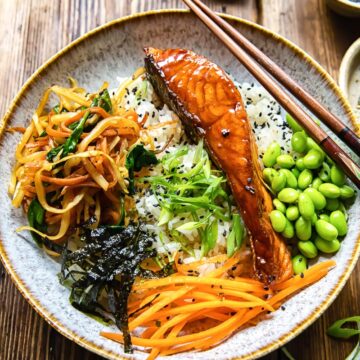 Teriyaki Salmon Donburi Bowl
This donburi bowl is chock full of delicious sticky rice, teriyaki salmon, stir fried vegetables and lots of extra toppings.
Ingredients
210g/1 cup

sushi rice

2

pieces

salmon fillet

120g/4 oz each

4

tbsp

teriyaki marinade

2

tbsp

light soy sauce

2

tsp

mirin

1

tsp

sugar

1

tbsp

vegetable oil

1

clove

garlic

100g

cabbage

sliced

1

carrot

julienned

30g/1 cup

spinach

1

tbsp

soy sauce
Toppings
2

green onions

sliced

¼ cup

edamame beans

optional

½

carrot

juilienned

1

tbsp

furikake seasoning

optional

1

sliced nori sheet

optional
Instructions
Get the rice cooking using ether a stovetop method, rice cooker or Instant Pot.

Make the sauce by mixing the teriyaki marinade, light soy sauce, mirin and sugar. Slice the cabbage and julienne one large carrot. Grate the ginger and mince the garlic. Set aside till needed.

Heat 1 tbsp of vegetable oil in a frying pan, place the salmon fillet skin side up and cook for 2-3 minutes, then flip on the side and cook for 1 minute, then the other side and finally place the fish the top side up and fry for 2 minutes longer, until all sides are golden and the fish is nearly cooked all the way through. Next add the pre-mixed earlier teriyaki sauce to the pan and let it simmer, tilt the pan on one side and scoop some of the sauce, then baste the salmon with it, continue simmering and basting until the sauce turns thick and glossy. Take off the heat and keep warm.

In another pan or a wok, heat 1 tbsp of vegetable oil and add grated ginger and garlic, stir fry briefly for a few seconds, then add the sliced cabbage and carrots, continue stir frying the vegetables for 2-3 minutes over medium high heat, then add the soy sauce and spinach and continue cooking for a few minutes longer until the vegetables have softened but still retain their bite.

Assemble the donburi bowls by dividing the cooked rice among two bowls, then placing the teriyaki salmon and stir-fried vegetables on top. Drizzle the teriyaki sauce from the pan all over the rice and salmon. Add the sliced green onions, fresh julienned carrots and black sesame seeds on top. You can also add defrosted edamame beans if you wish but they are optional.
Notes
More Information about the delicious toppings you can add to your Donburi Bowls in the body of the post.
Nutrition
Calories:
651
kcal
Carbohydrates:
103
g
Protein:
37
g
Fat:
8
g
Saturated Fat:
1
g
Polyunsaturated Fat:
3
g
Monounsaturated Fat:
3
g
Cholesterol:
66
mg
Sodium:
3031
mg
Potassium:
1077
mg
Fiber:
5
g
Sugar:
11
g
Vitamin A:
9217
IU
Vitamin C:
10
mg
Calcium:
82
mg
Iron:
5
mg