This Easy Spanish Chicken and Rice with Shrimp is the recipe that will make your summer brighter and tastier!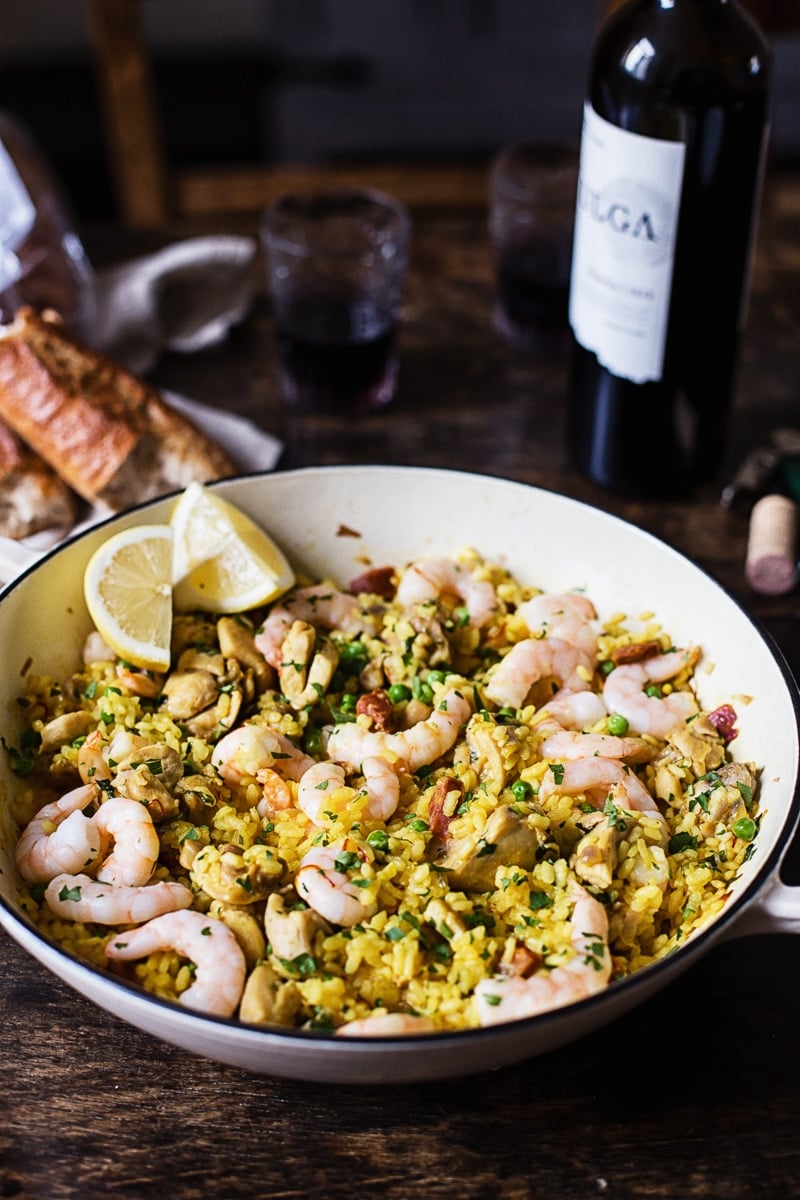 Spanish sun is bold and intense but the sea is warm and friendly. The waves are so tame and playful that all I wanted to do was bob along the natural flow of the Mediterranean sea for hours and simply enjoy being.
For four brief days that I spent in Spain with my childhood friend and her family I was truly living in the moment, not worrying about the kids, what to make for dinner, how I look in my swimsuit (okay maybe a little bit), social media responsibilities of a blogger or even what hour of the day it was! I was living the dream.
The food and wine we consumed daily made the dream only sweeter. When I returned to London I wasn't ready to face the reality although I was so happy to see Brad and Vika at the airport, I wanted to prolong the holiday mood.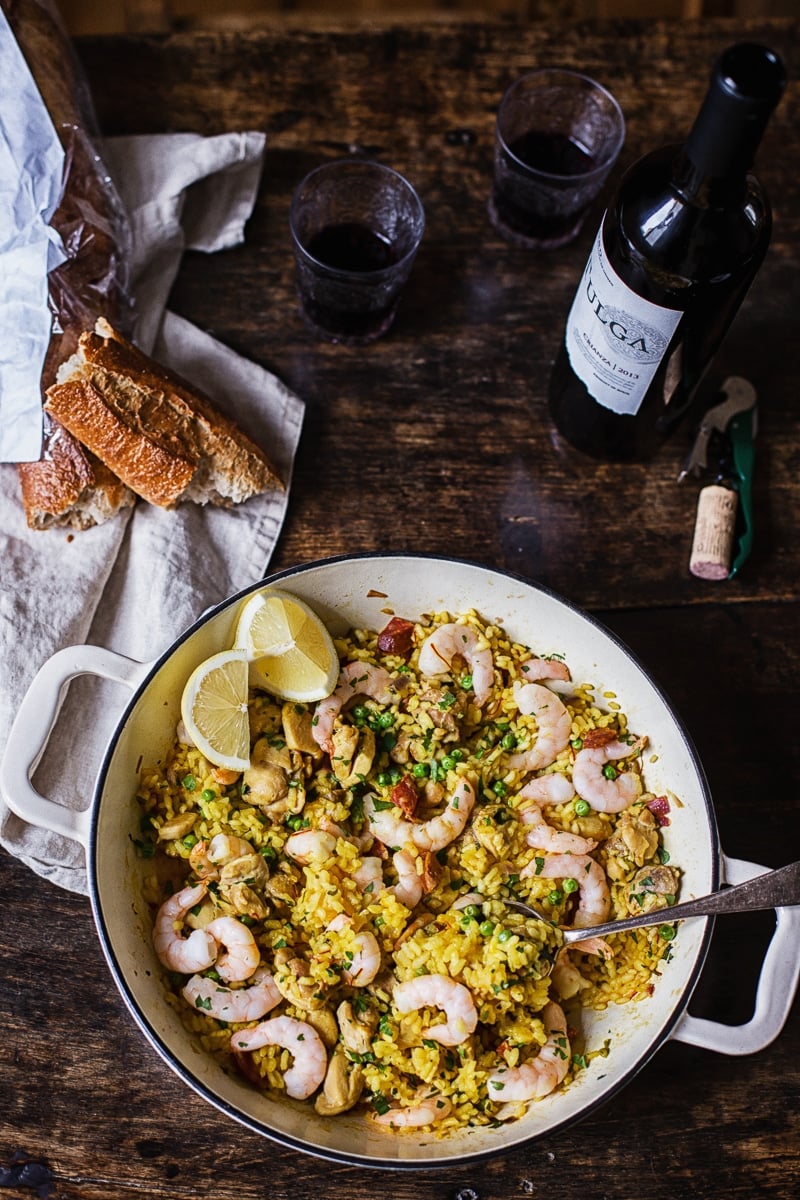 And since conjuring up the sunshine and beach is pretty much impossible in England at any time of the year, my plan was to recreate some of the food we ate. Thankfully for me, it wasn't difficult given that most ingredients are readily available.
I love Spanish paella, the plump yellow rice studded with prawns and mussels! We were treated to the most delicious version on my last night in Castillon by my friend's mum. In that moment I wished I could carry on eating but my stomach wasn't on board.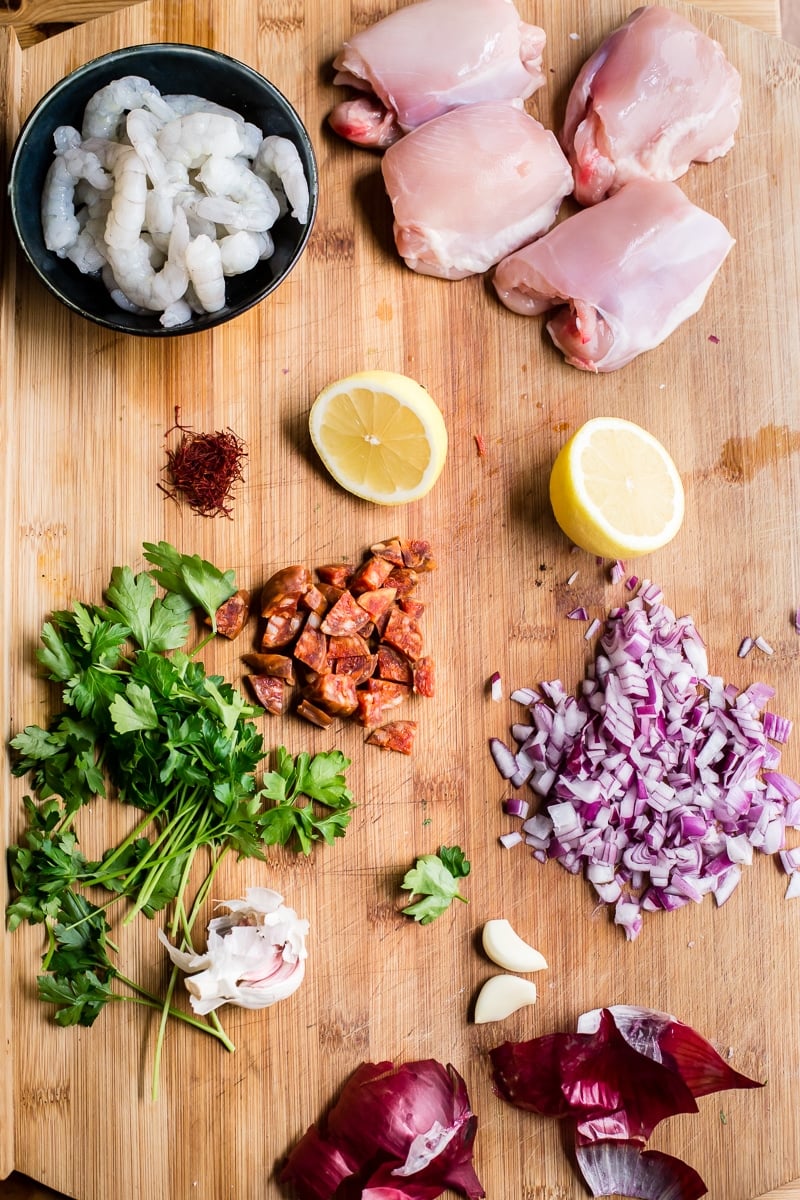 So when I got home I wanted to recreate the famous Spanish paella but at the same time I wanted to make it more accessible to an everyday cook and to the ingredients available to us.
So I made my Spanish Chicken and Rice recipe, something I cook when I want a quick one-pan dinner. The recipe is quick and it's a one-panner but it is by no means plain.
I made sure of it by adding a teensy bit of chopped chorizo (a big no-no in authentic Spanish paella) and real saffron. Then I topped it with shrimp! You can always add mussels as well but I felt like by putting them on the ingredients list I was veering into the "expensive recipe" territory and I really didn't want to do that.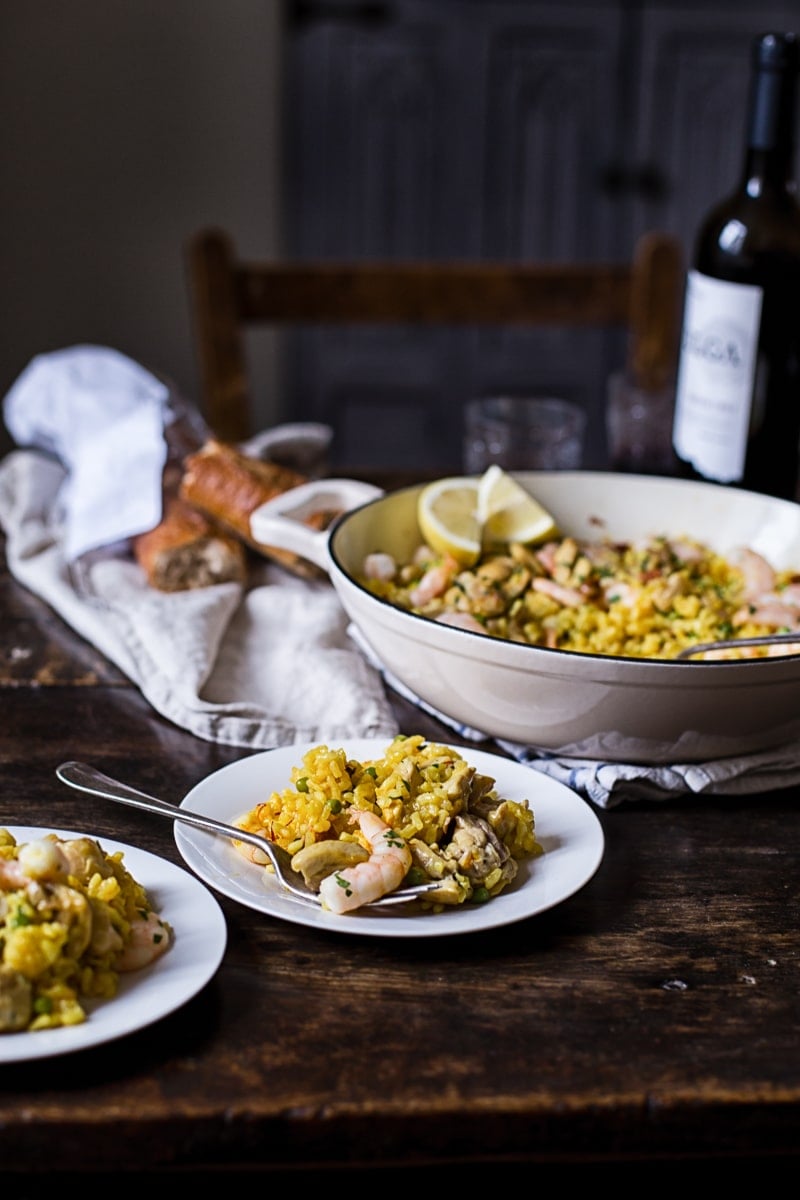 In this recipe for Spanish Chicken and Rice I give you general guidelines but you can experiment with the add-ons. You can substitute chicken with pork or add any other vegetables you like and it will still turn out delicious.
I have also used special Paella rice, which is available in every major supermarket in the UK but you can safely go with Italian Arborio if you have trouble locating it.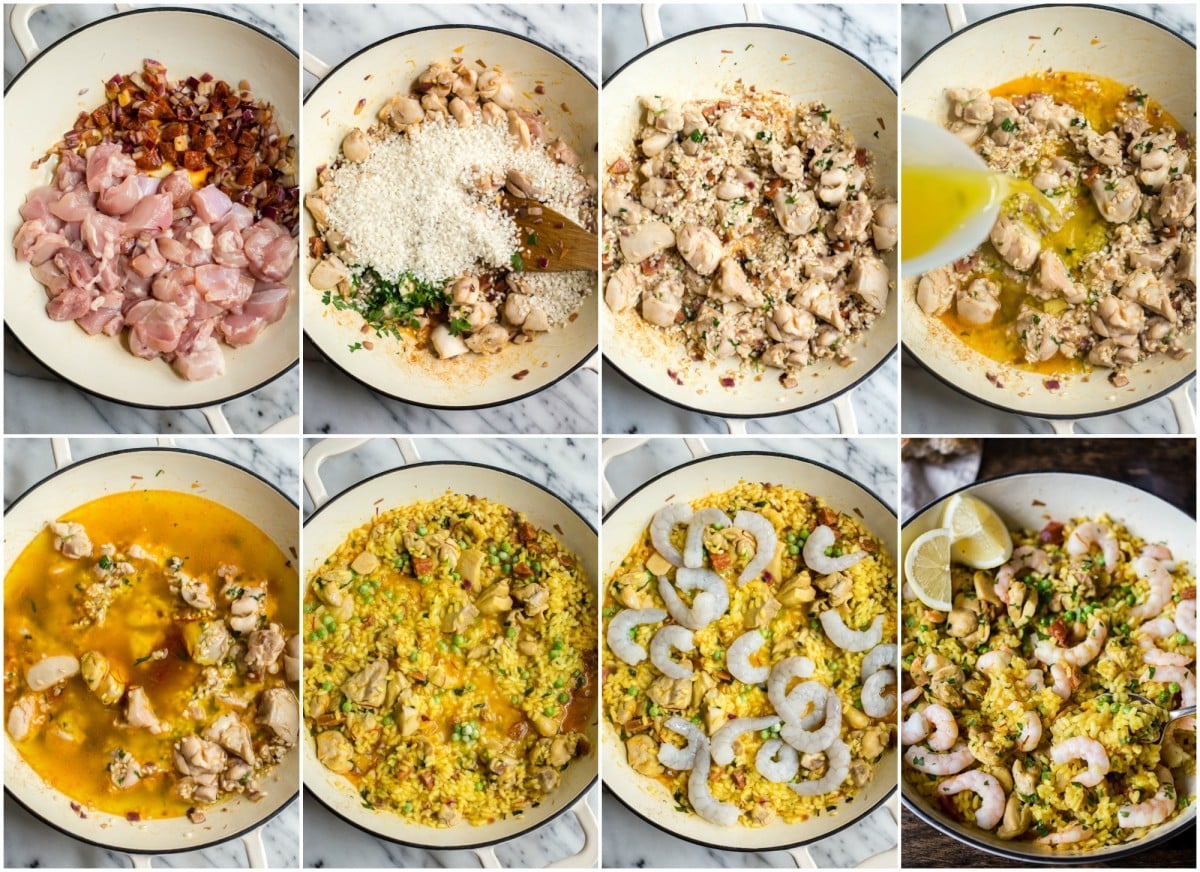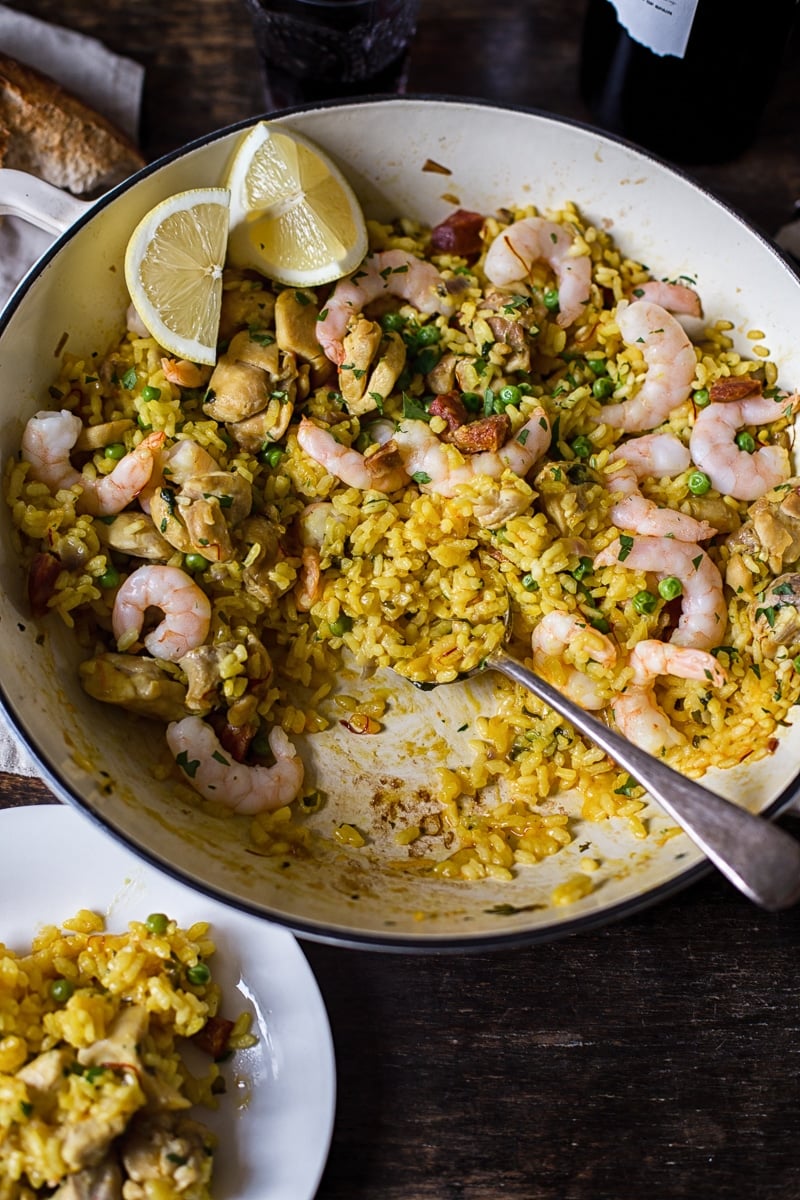 Now let's talk about saffron. For centuries it's been regarded as the most precious and expensive spice in the world. It is still on a pricey side but I find it to be much cheaper if you go to Middle Eastern shops or markets. You can also try Amazon!
A very few threads of saffron add a unique flavour that could not be duplicated but my favourite part is they colour an entire dish bright yellow. The colour of a Spanish sunshine!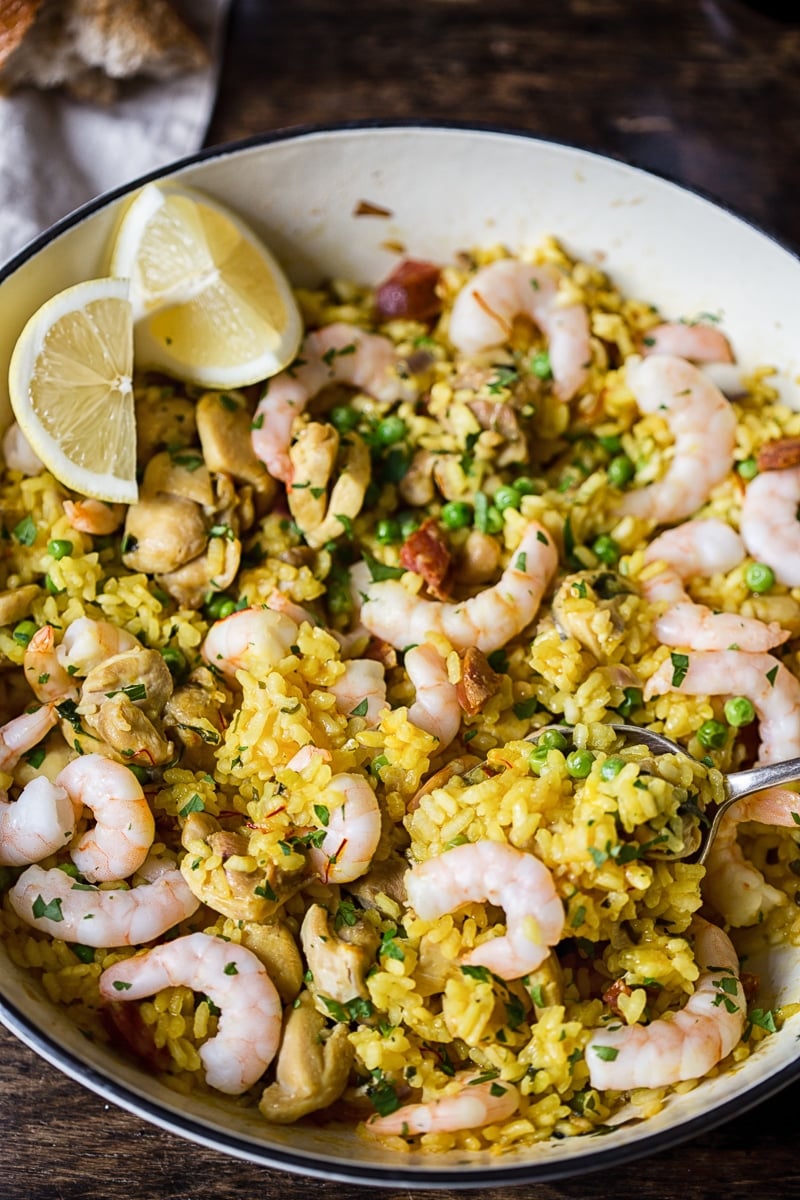 My whole family and especially my kids ADORE this dish. They request it often as it has a true comfort food quality without being heavy.
It is also so very beautiful! I usually serve it with a bottle of Spanish red wine for Brad and I as well as some crusty bread and simple green salad. Dinner is done!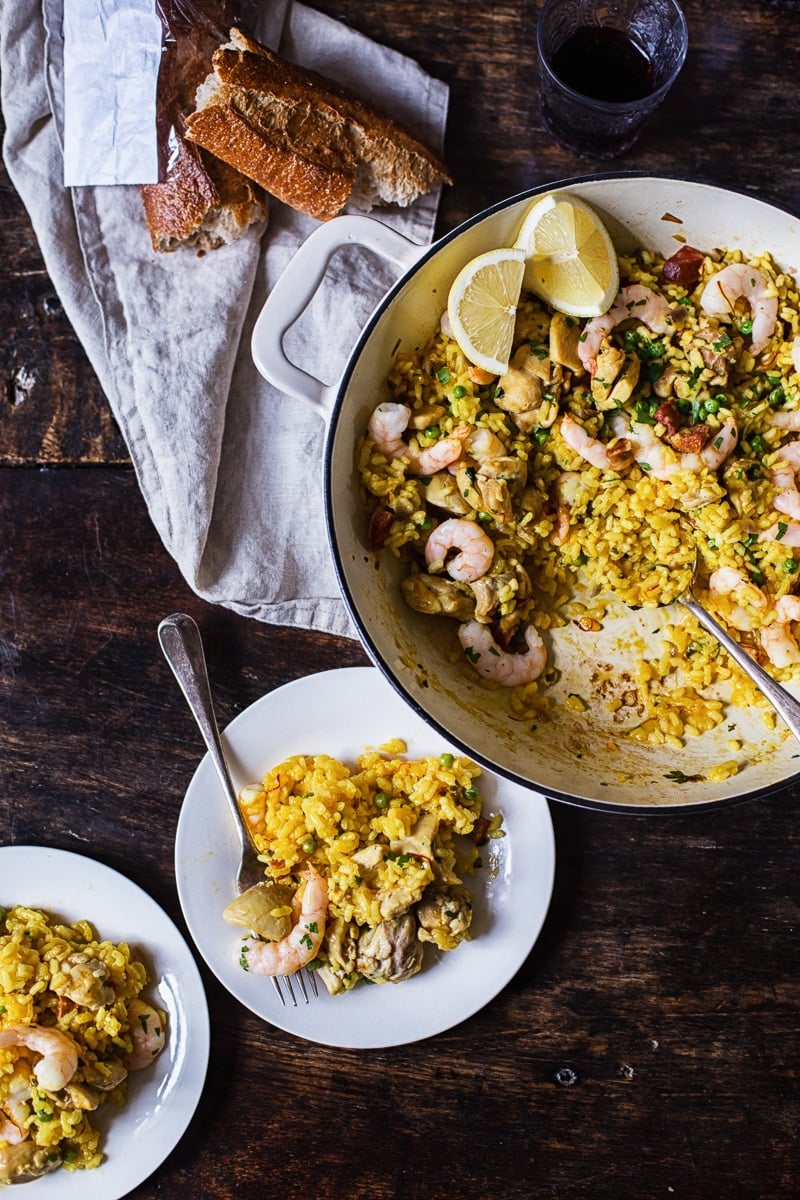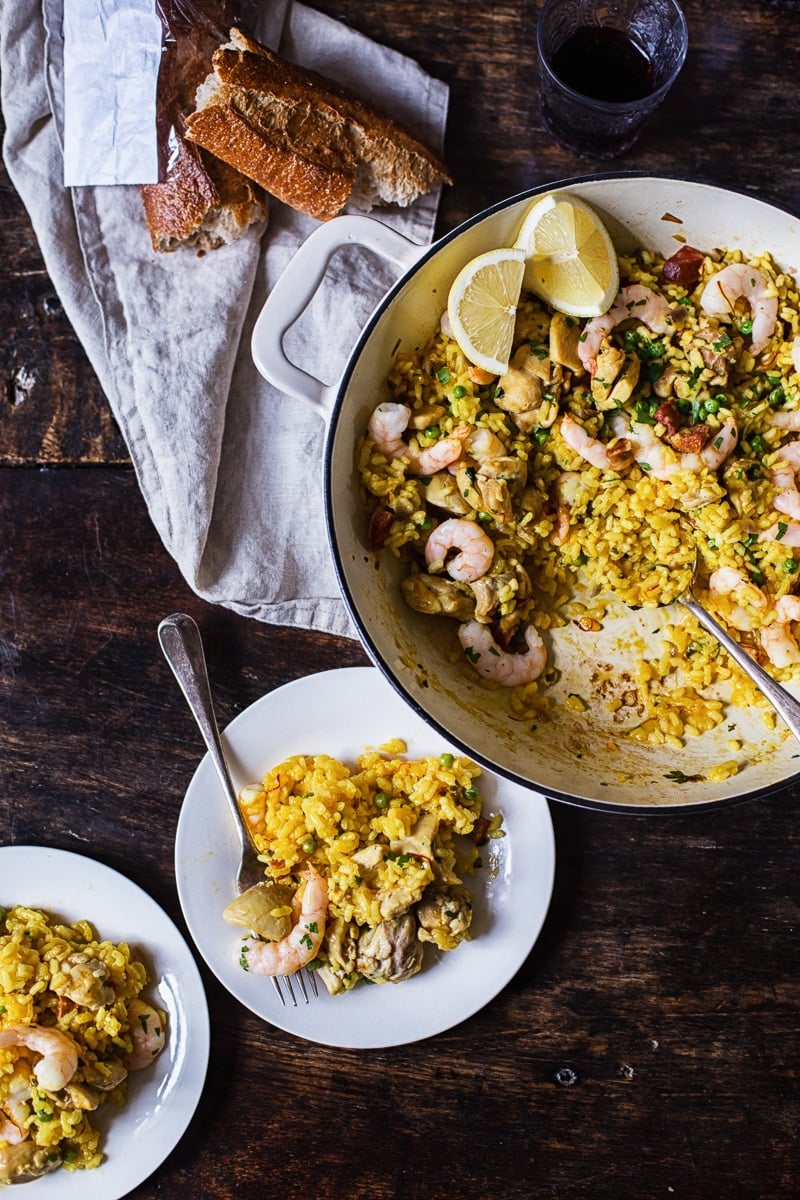 Ingredients
1

tbsp

olive oil

1/2

onion

chopped

2

cloves

of garlic

4

skinless and boneless chicken thighs

cut into bite-sized pieces

100

g/1/4 cup chorizo

chopped

225

g/1 cup shrimp

10

g/1/4 cup fresh flat leaf parsley

chopped

1/2

lemon

juice only

185

g/1 cup rice

500

ml/2 cups chicken stock

a pinch/1 tsp saffron threads

40

g/1/4 cup frozen peas

salt to taste
Instructions
Cook chopped chorizo in olive oil over medium heat for 2 minutes until slightly browned and the oil is coloured orange. Add chopped onions and cook for 5 minutes over low heat, then add chicken and a pinch of salt. (Do not oversalt as chorizo is salty and so is chicken stock) Cook for 5 minutes until chicken is mostly done, add minced garlic and parsley and cook while stirring for 30 seconds.

Then add rice and stir until the rice is evenly coated in oil for a minute or so, add chicken stock, saffron and lemon juice, stir to combine and bring to a boil, lower the heat, cover with a lid and cook for 15 minutes. Check for doneness. You might want to cook a few minutes longer is rice is not done or uncover if there is still too much liquid.

Add peas and stir lightly, then top with shrimp, cover and cook for 5 minutes longer. By the end, the liquid should be entirely absorbed by the rice and rice is tender but not mushy.

Taste and add more salt if needed.

Serve with lemon wedges.