Get the most out of summer produce by combining simple and quality ingredients in this flavour packed cucumber and tomato salad. Dressing your garden vegetables with an easy vinaigrette is all you need to let the ingredients shine.
Serve this salad with our delicious and hearty Mushroom Stuffed Meatloaf and Herb and Garlic Mashed Potatoes for a vibrant summer meal.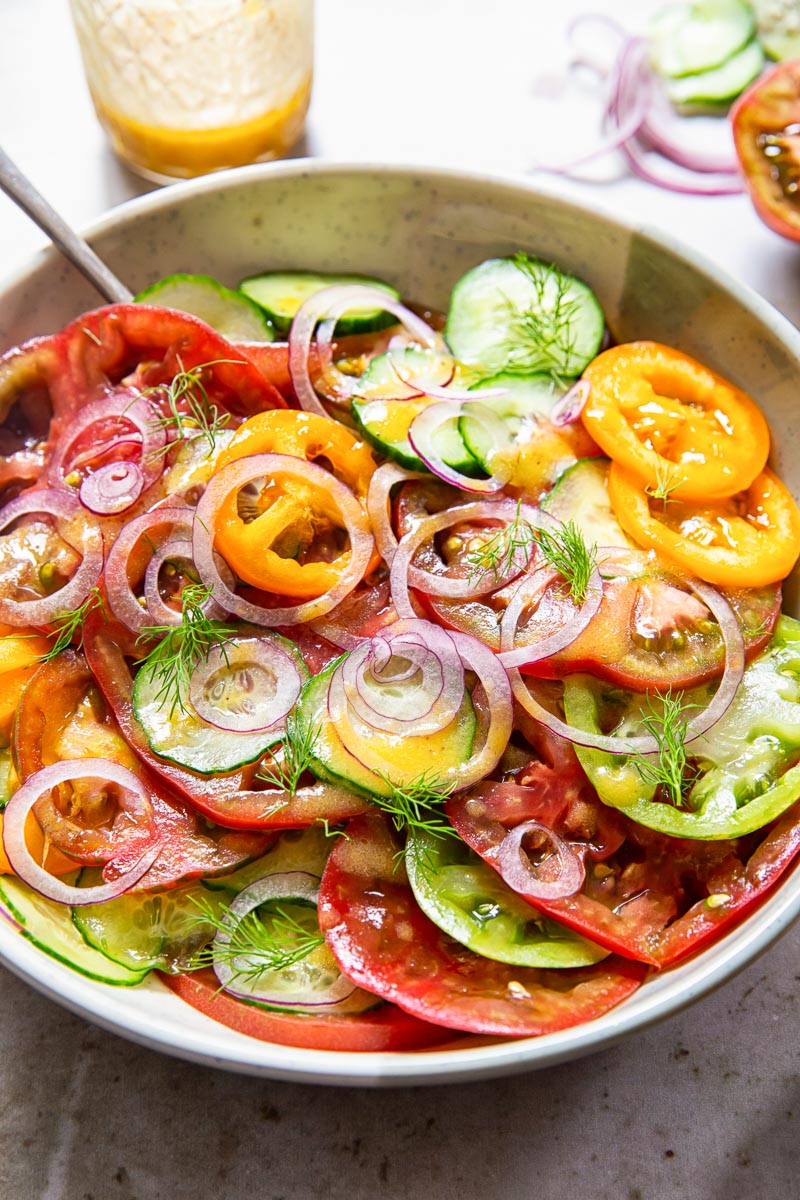 The older I get the more I long for a small vegetable patch but the reality of urban living leaves me only wishing for one. The alternative to getting fresh, seasonal vegetables is farmers market. Luckily there is no shortage of them in London.
Whenever I venture out to my local market the main thing I am looking for is large, ripe, bursting with flavour heirloom tomatoes. Everything else I happen to find there is secondary.
Heirloom Tomatoes
I've loved tomatoes all my life and could never understand when people rejected them until I moved to the States in the 90s only to realise the tomatoes sold in most supermarkets were nothing like the ones I was brought up on.
Hard, anemic looking and watery in taste. If that was people's only idea of what tomatoes were, I didn't blame them.
Thankfully the 2000s brought in slow food movement, farmers markets and quality produce. My beloved tomatoes were restored to me and I couldn't be happier.
The beauty of these tomatoes is in their variety. Different shapes and colours all speak of different taste and even texture! When working with ingredients of this quality you don't need much seasoning to conjure up the taste. All you need is a little help to enhance what is already there.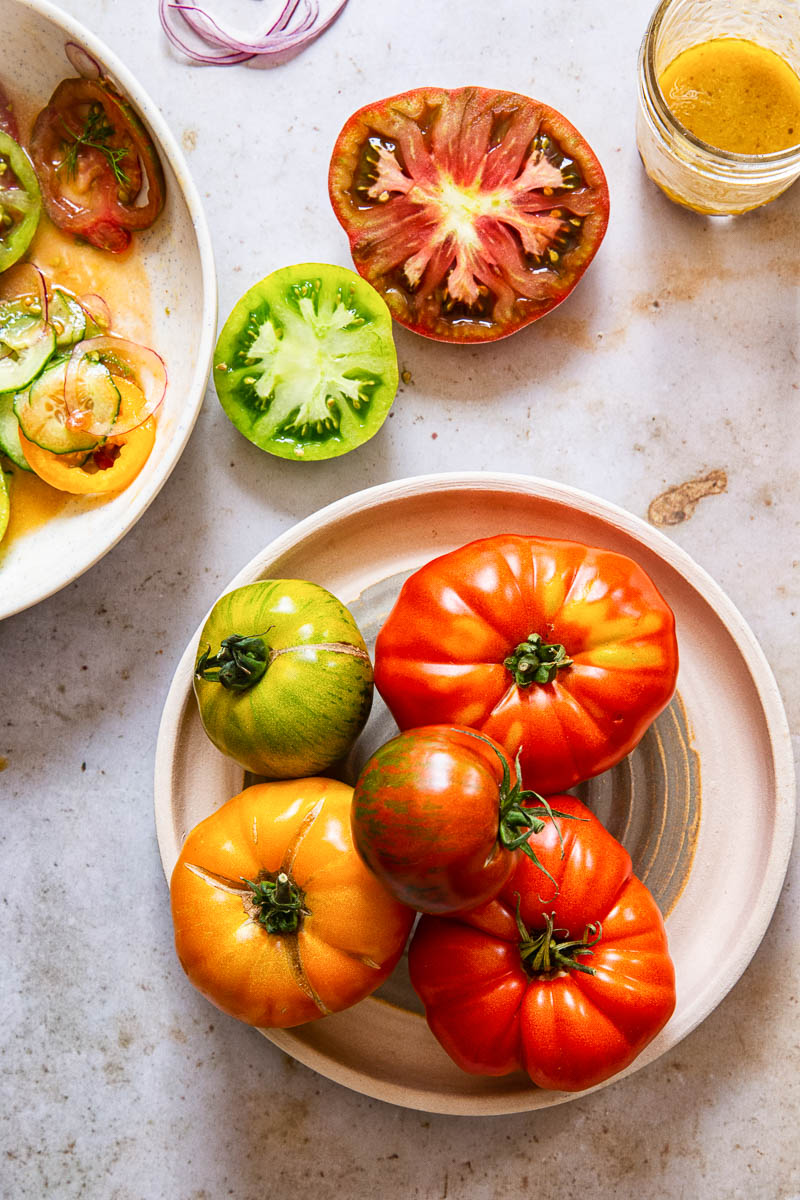 Classic Cucumber and Tomato Salad
The salad recipe I am sharing with you today is not revolutionary. It's the recipe I grew up eating every single day in the summer. No exaggeration here.
The ingredient list can differ slightly but the constat ones, the backbone of this salad, are crunchy cucumbers and ripe, juicy tomatoes.
The best ones to use are heirloom or garden tomatoes and small Kirby cucumbers, sometimes also called Persian cucumbers. They have tiny seeds and a whole lot of crunch!
It might not be immediately obvious by you can change the taste of this salad by varying the way vegetables are cut. When I want my tomato flavour to be dominant I cut them in thick wedges like I did in the Fattoush Salad.
In this salad I sliced everything very thinly using my mandoline. I wanted the flavours to blend instead of competing with each other. The uniform cut achieves that quite well.
Paper thin slices make a big differences when adding fresh onions or shallots to salads as well as dressing them with a vinaigrette.. Mix the onions with the dressing a few minutes before adding the rest of the ingredients. The acidity mellows them out, taking the bitterness away but leaving the flavour and sweetness to shine.
Another important point in making salads is leaving the salt and dressing until the last minute as they draw moisture out of vegetables. Do it too early and you end up serving a very soggy salad. Not good!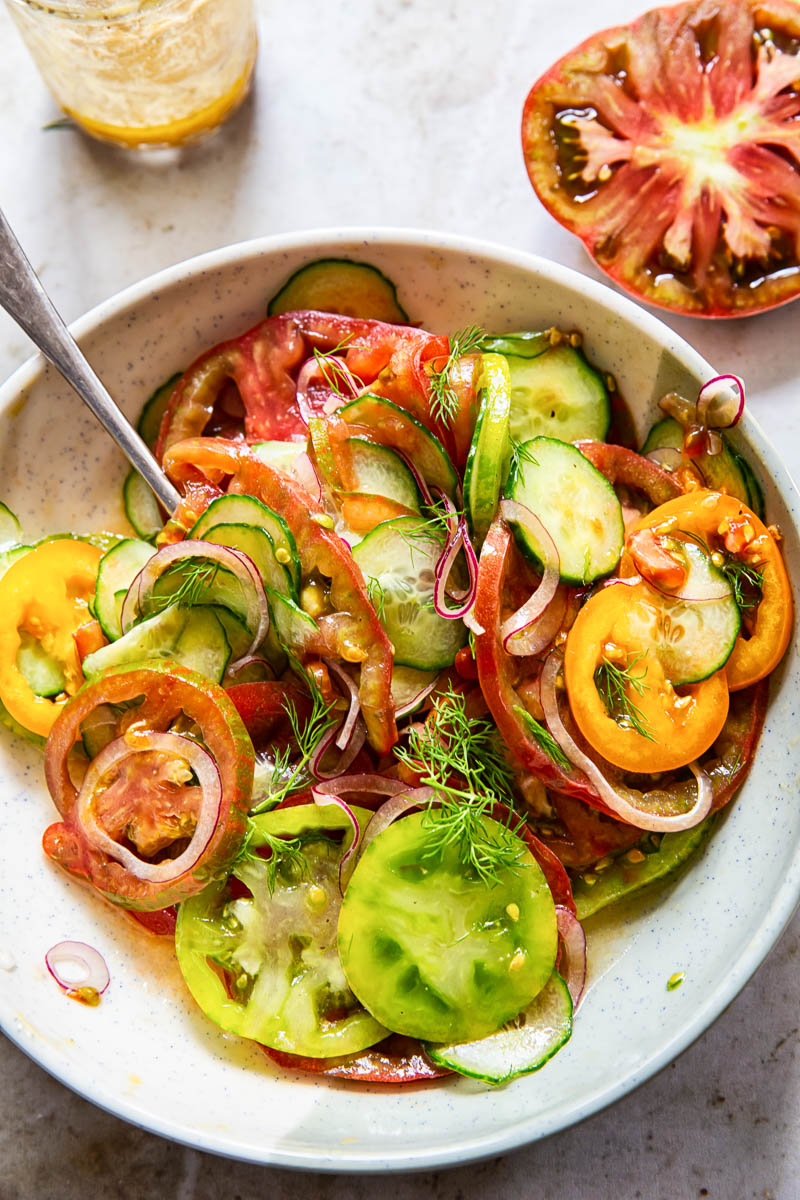 Salad Dressing Options
The dressing comes in two varieties. You can either add sour cream or creme fraiche to the tomato and cucumber salad. Or dress it with a zesty vinaigrette.
When I was little my mum used unrefined sunflower oil in this salad and it added a distinct flavour. Sadly I can't find a similar product in the UK. I substituted it with unrefined olive oil, which turned out to be an excellent choice.
Although the salad of my childhood was dressed simply with salt and good quality oil, nowadays I go just a step further and make a simple vinaigrette. The acidity in the vinaigrette balances out the flavours so well and soften the bite of red onions.
In this case I mixed up red wine vinegar, half a teaspoon of Dijon mustard, salt and olive oil in a mason jar, gave it a shake and the vinaigrette is ready.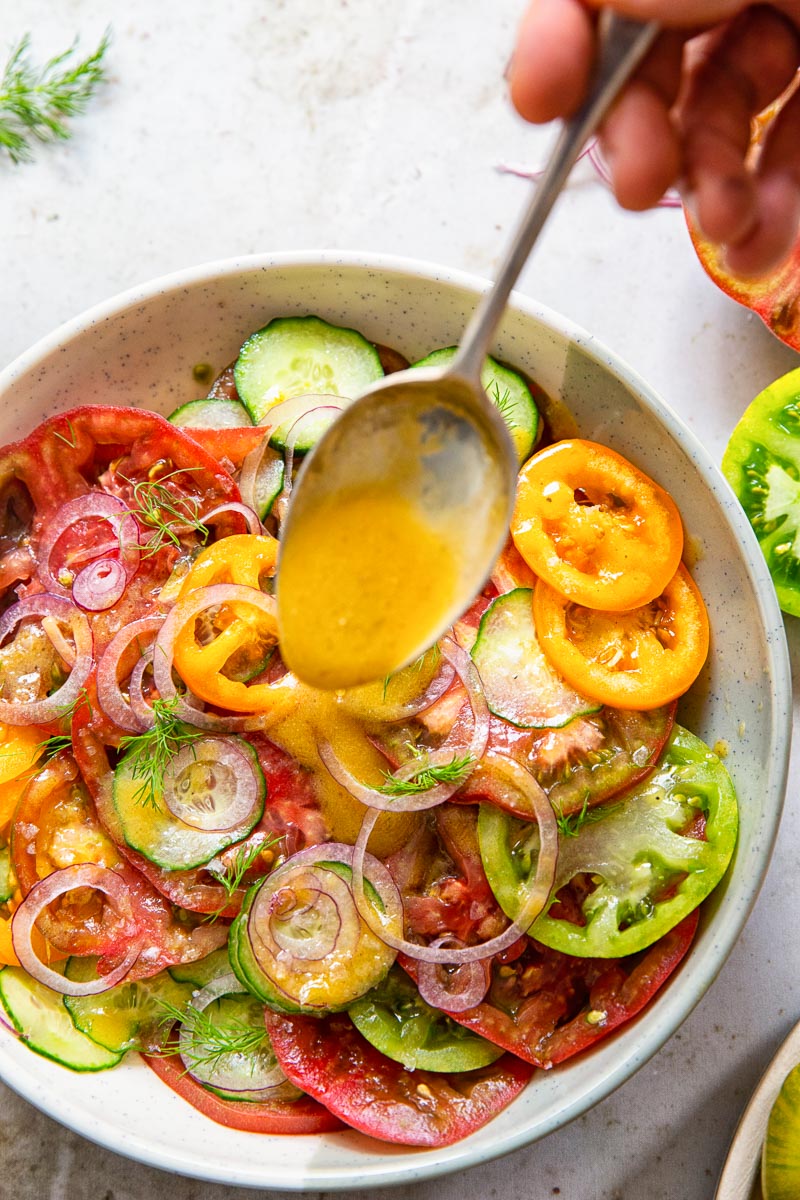 What goes well with this salad?
I opted for the simplest version here. Just cucumbers, tomatoes, thinly sliced red onion and a touch of fresh dill. However a myriad of other things could be added. Here are my suggestions.
Radishes, bell peppers of all colours, avocadoes, olives, green onions instead of red onions, chives
If dill is not your herb, you can use parsley or basil in this beautiful salad. Or add a bit of oregano, sprinkle with feta and enjoy this tomato cucumber salad Greek style.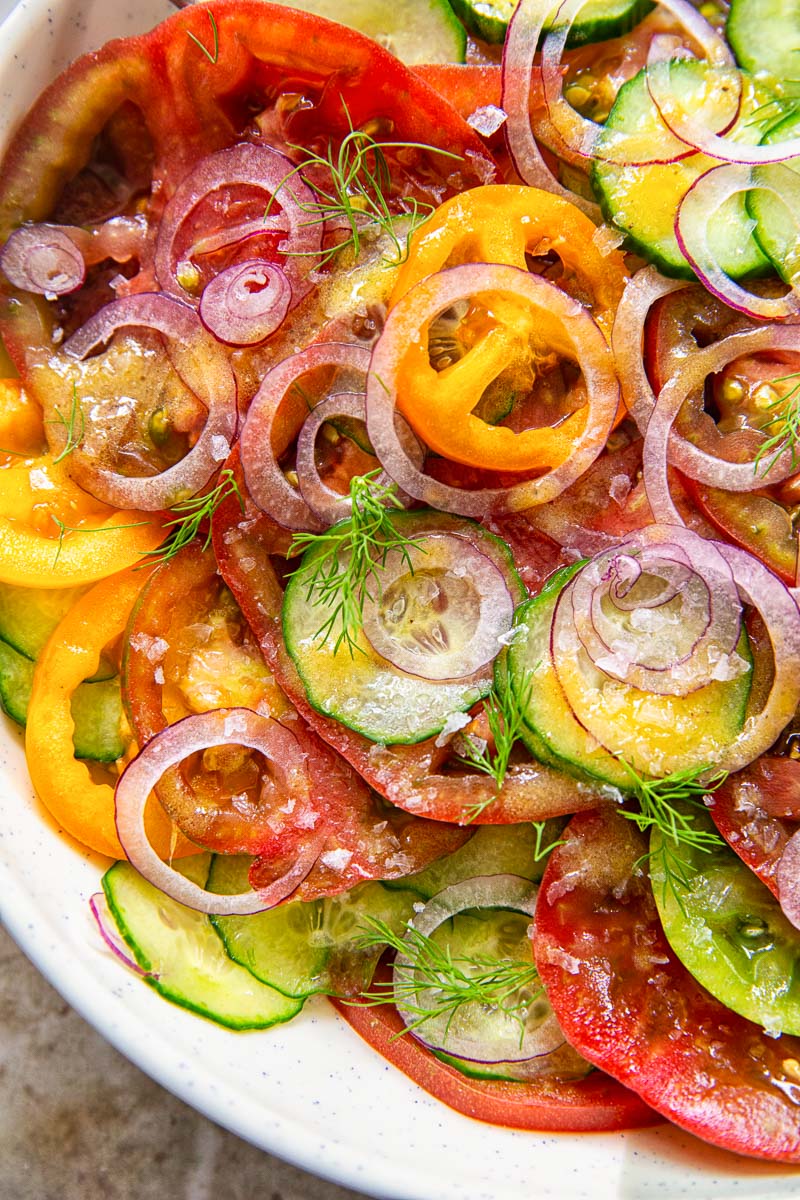 This salad is incredibly versatile and goes well with a variety of main dishes. I love serving it on the side of Ribeye Steak, Spatchcock Chicken or this Oven Baked Bacon Wrapped Fish. Truth is you'd be pressed hard to find a dish this salad doesn't go with.
If you want to experience a true Russian meal, try serving it together with this Russian classic Meat Patties Kotleti!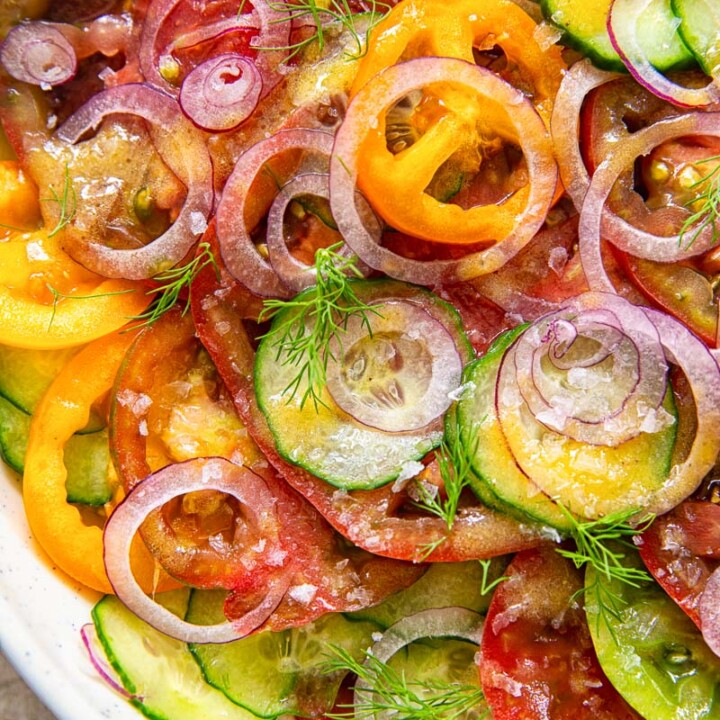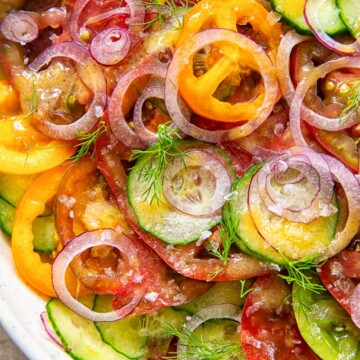 Cucumber and Tomato Salad with Red Onions
Crunchy cucumbers, heirloom tomatoes, thinly sliced red onions and fresh dill all dressed in a simple vinaigrette for a beautiful summer salad.
Print
Pin
Rate
Ingredients
3-4

ripe tomatoes

I used heirloom tomatoes

3-4

Kirby cucumbers or 1 thin English cucumber

⅓

red onion

sliced thinly

1

tbsp

fresh dill

or herb of your choice
For the salad dressing
2

tbsp

red wine vinegar

3

tbsp

good quality extra virgin olive oil

I used unrefined olive oil

0.5

tsp

Dijon mustard

or multigrain mustard

salt to taste
Instructions
In a small mason jar combine the red wine vinegar, olive oil, Dijon mustard and salt, put a lid on and shake till the vinaigrette emulsifies.

Using a mandolin or a sharp knife slice the cucumbers, tomatoes and red onions. Combine all ingredients in a salad bowl, top with fresh dill or another herb if using. Start by adding 2 tablespoons of the vinaigrette and tossing the salad gently, taking care not to tear the thinly sliced ingredients. Add more dressing if desired. Reserve the rest for another use. Serve immediately.
Nutrition
Calories:
102
kcal
|
Carbohydrates:
13
g
|
Protein:
2
g
|
Fat:
6
g
|
Saturated Fat:
1
g
|
Sodium:
17
mg
|
Potassium:
563
mg
|
Fiber:
2
g
|
Sugar:
7
g
|
Vitamin A:
1005
IU
|
Vitamin C:
20
mg
|
Calcium:
45
mg
|
Iron:
1
mg