I can eat this tomato and cucumber salad with sour cream and dill dressing every day and never get tired of it! 5 ingredients that create summer magic!
Serve this delicious salad with 4 ingredient marinated chicken breasts or sticky Asian chicken for a glorious summer meal!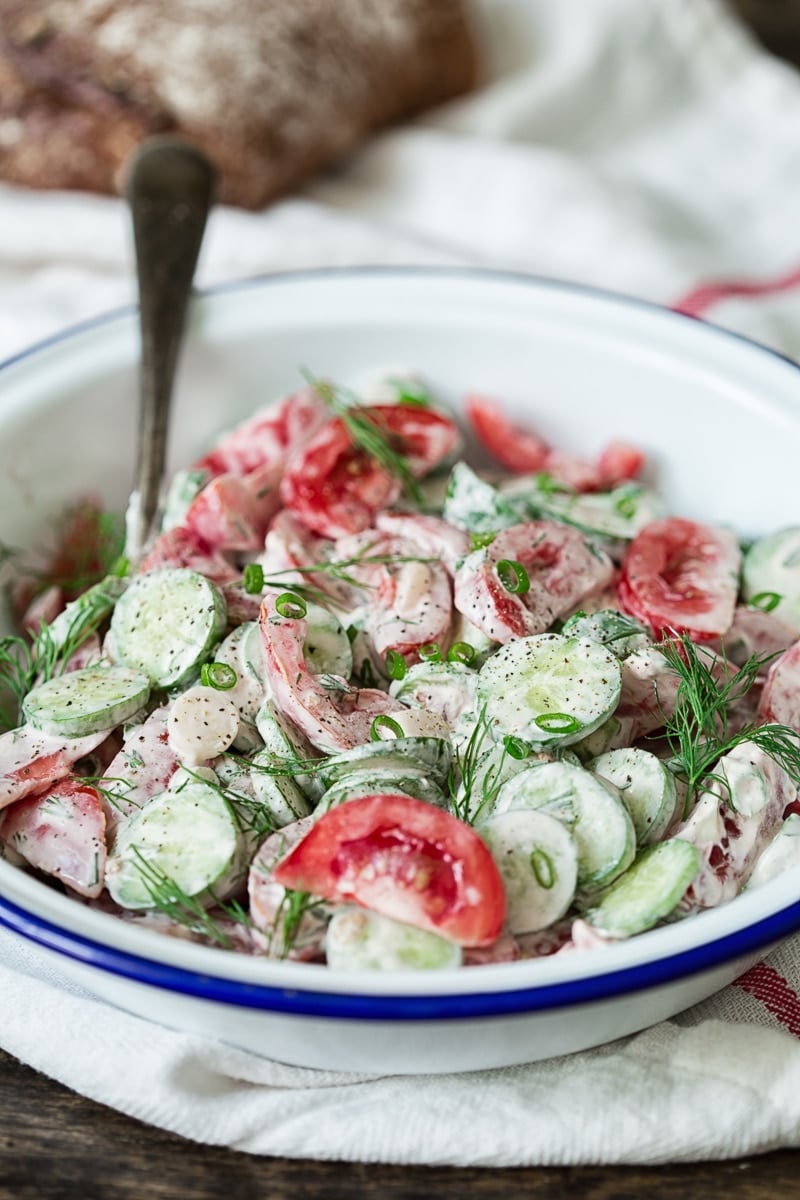 It is not very often that Brad asks me to make a salad for dinner but he does in the summer all the time. And his favourite one is this tomato and cucumber salad.
It's not difficult to oblige because I love it as well. My affection for this salad goes way back as it is my mother's recipe although so many of you would probably say, "Wait a minute, it is MY mother's recipe".
Truth be told, this salad is a summer staple in every Russian and Ukrainian household and exists in two version; dressed with sour cream or unrefined sunflower oil.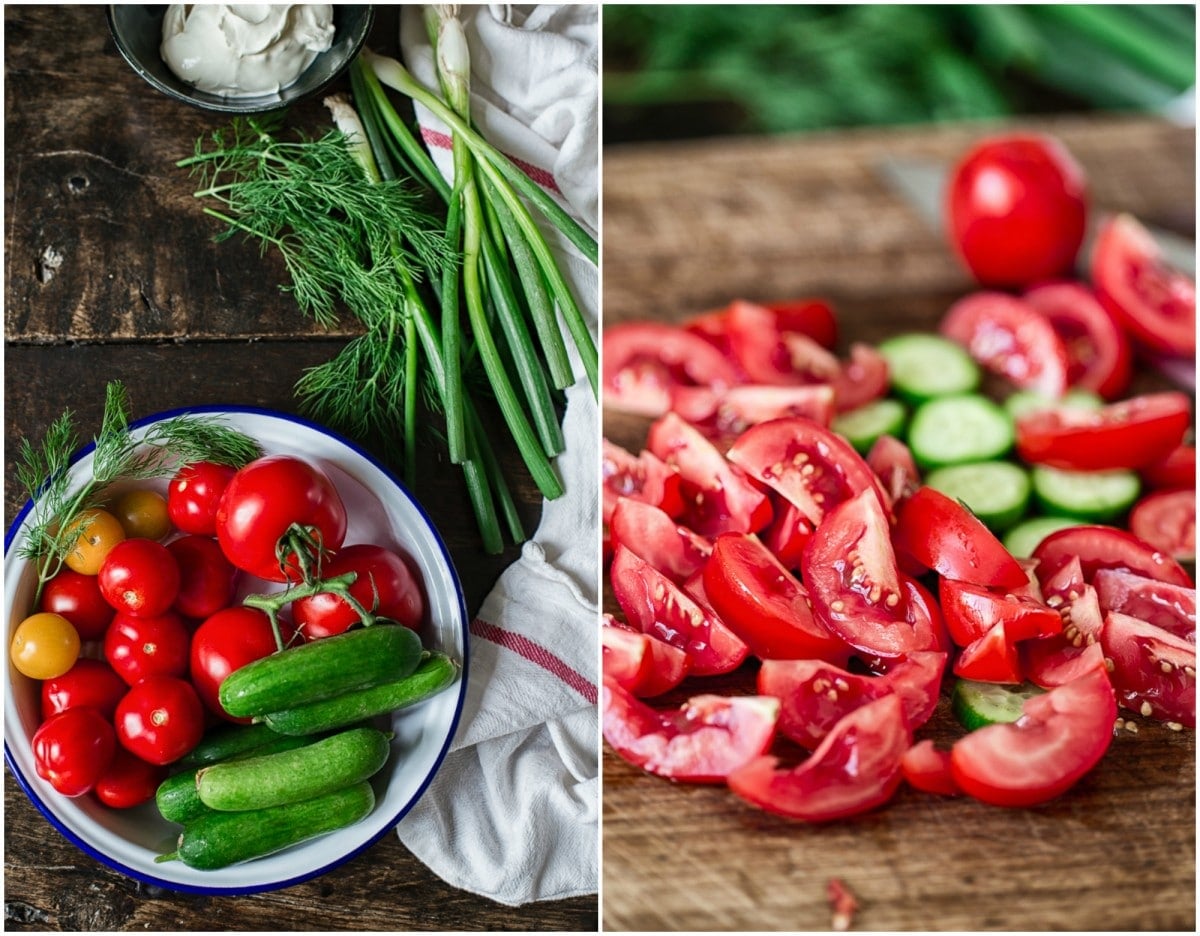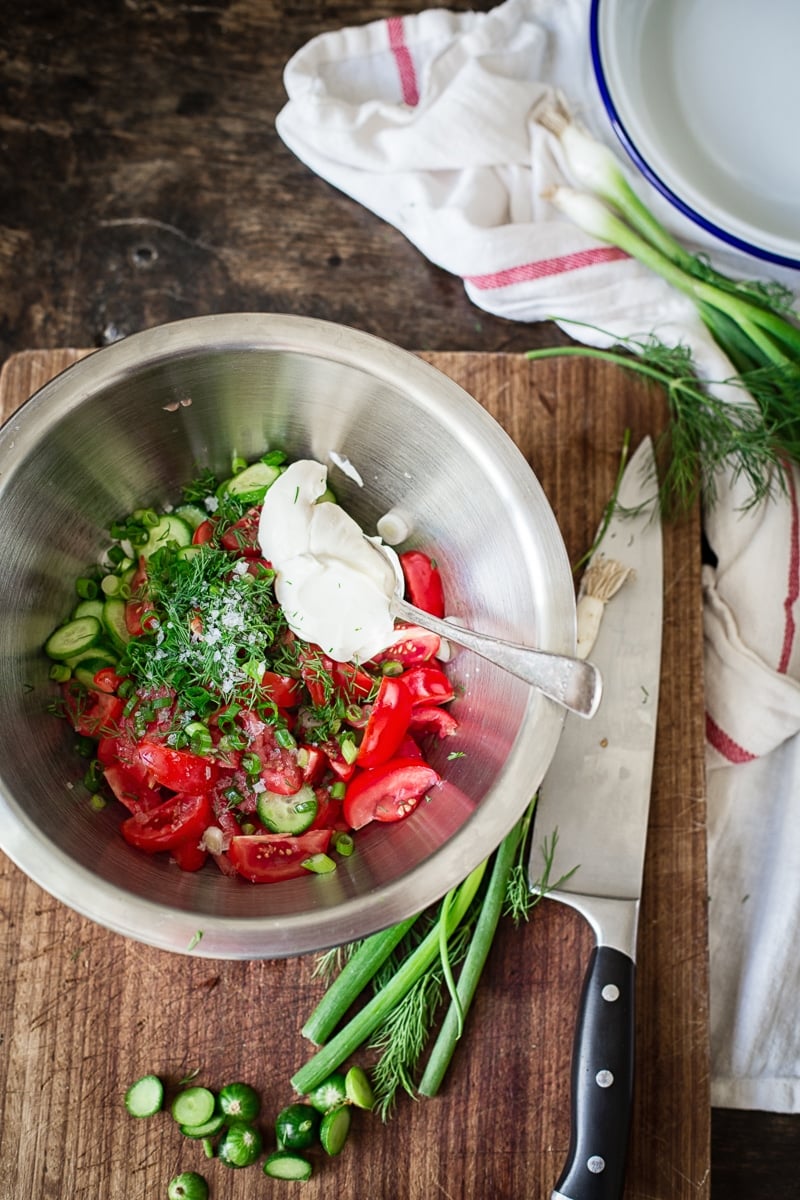 How do I make tomato and cucumber salad?
It might not sound awfully exciting but this tomato and cucumber salad is as delicious as it is simple. Of course, the best of summer produce is the reason for its superb taste, so use only the best.
First of all, tomatoes have to be very ripe and very sweet and cucumbers needs to be very fresh and crunchy.
What tomatoes are best for salads?
When you use tomatoes raw, they have to be absolutely at the peak of their ripeness, otherwise they don't taste like much.
My first choice would always be homegrown tomatoes but unfortunately it's not an option for many, myself included.
My second choice will be farmer's market tomatoes. I especially love heirloom or heritage tomatoes.
If none of the above is an option, I always go for supermarket cherry tomatoes. They seem to have much better flavour than regular varieties.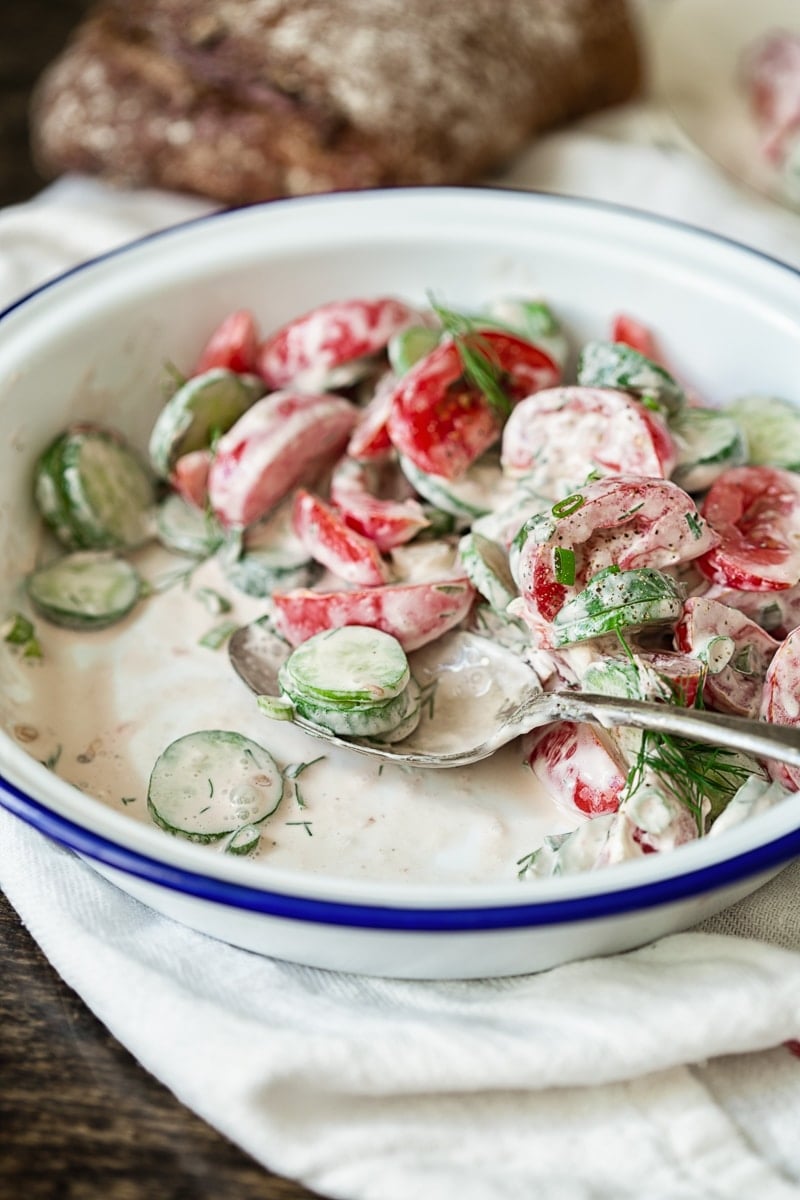 What cucumbers are best for salads?
Secondly, the only type of cucumbers that are usually used in Eastern European cooking are SMALL ones, so look for them in your supermarkets or farmer's markets.
They are called kirby cucumbers or sometimes Persian cucumbers. My kids love to munch on these crunchy, seedless guys after school. They are a tasty and healthy snack and absolutely perfect for dipping!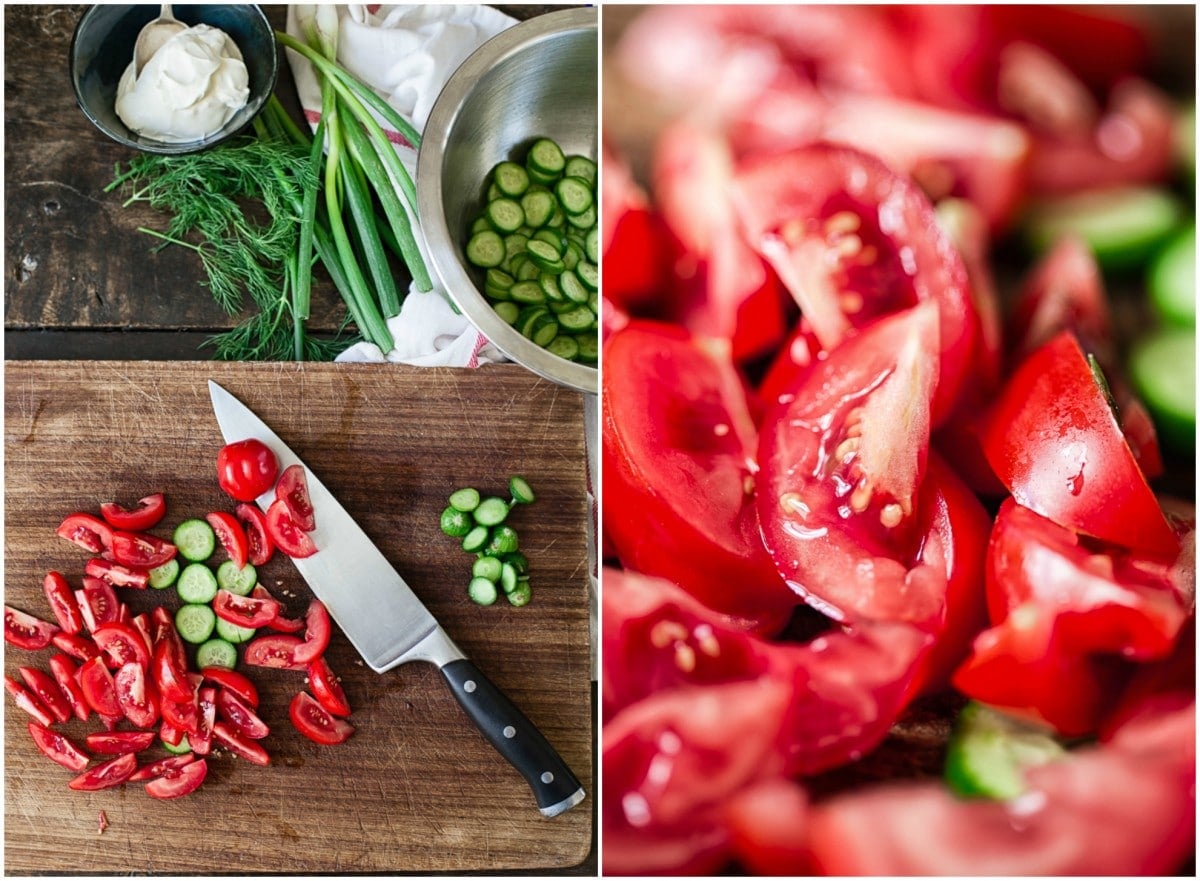 Tomato and Cucumber Salad Dressing
It might sound a bit bland to use only sour cream and salt for the dressing but it's not all that you will taste. All ingredients contribute to the divine flavour of this salad, but especially fresh dill and ripe tomatoes.
Tips for the Best Tomato and Cucumber Salad
After you make this tomato and cucumber salad, let it sit for 5 minutes to allow the flavours to meld together.
Then taste the dressing and, trust me, you will be quite shocked by its complex and delicious taste. Who would've known sour cream can transform like that!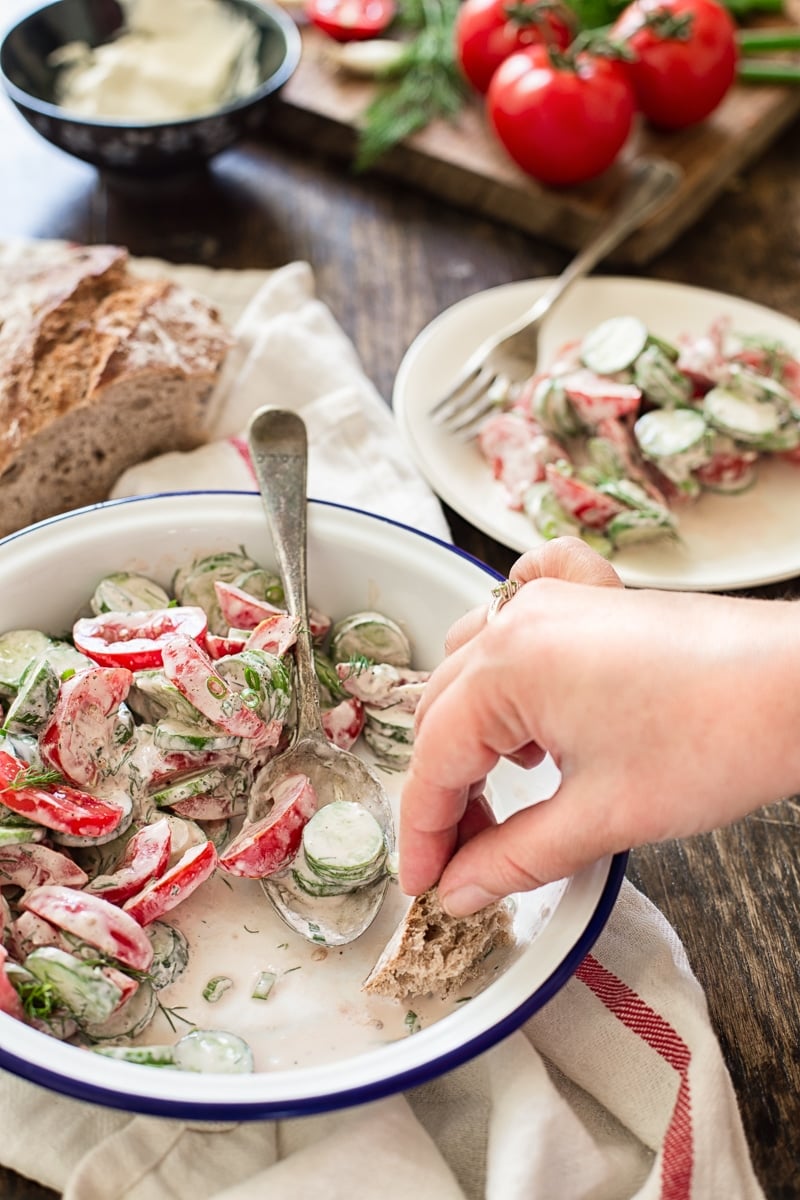 As a little girl I loved dipping my bread in it. Who am I kidding, I still do! Go for a dark rye loaf if you want to have a real authentic experience but actually any crusty white bread would do the trick!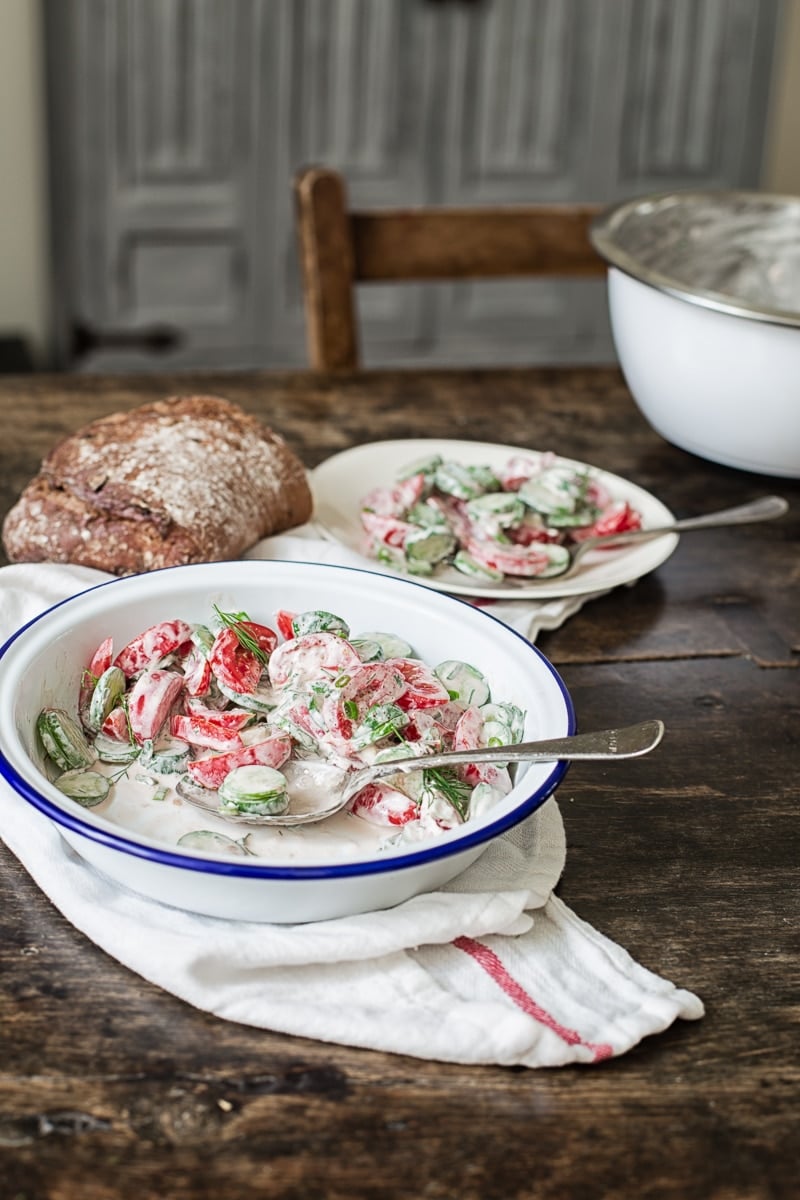 What sour cream is best in salad dressing?
You can try tracking down sour cream or 'smetana' as it is known in Eastern European shops, otherwise creme fraiche works equally well. And by all means, use full fat for a full flavour and creaminess!
Tomato and Cucumber Salad Dressing Options
If you don't like sour cream or dairy intolerant like my son, use extra virgin olive oil or unrefined sunflower oil (it's only worth buying in Russian stores).
Enjoy and let me know how you like it in the comment section!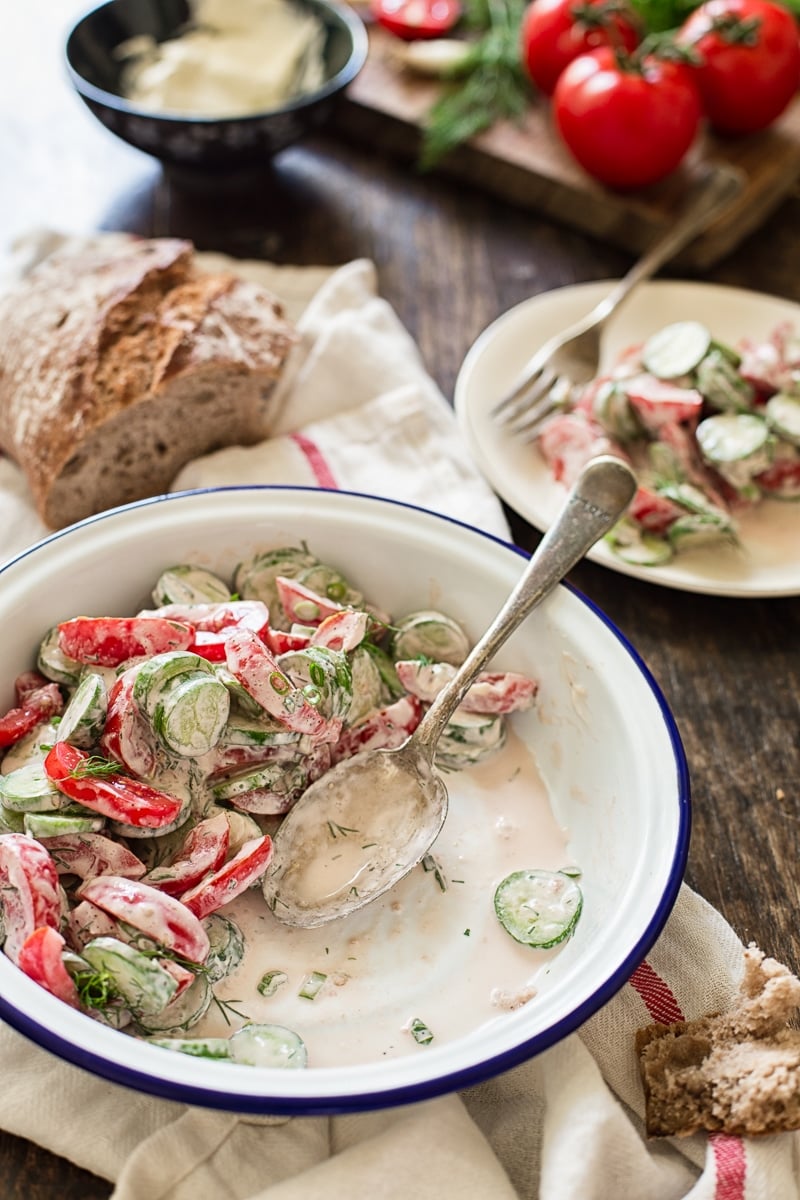 I really hope you give my tomato and cucumber salad a try and when you do SHARE your photos with me on Instagram! Just tag @vikalinka and I will see them!
More summer salad recipes:
Recipe originally published in 07/2017. Updated and republished in 07/2019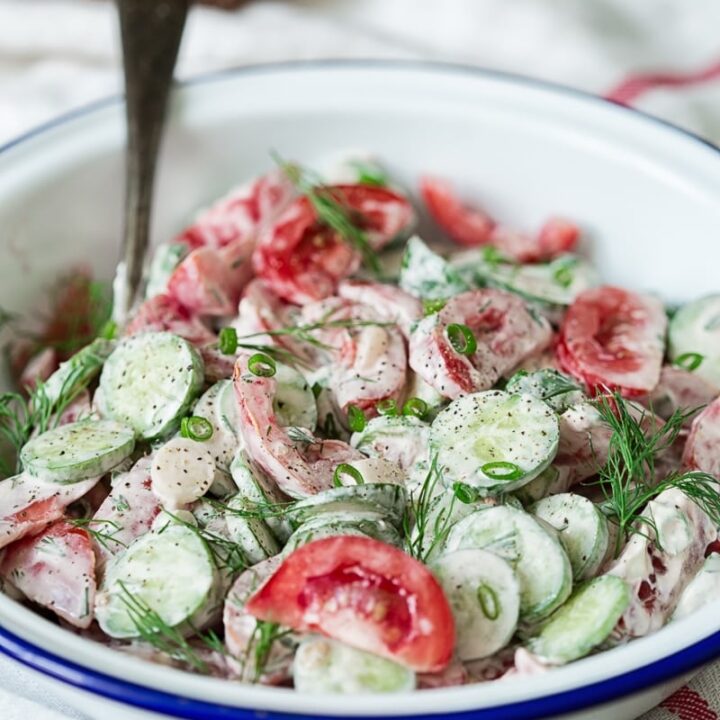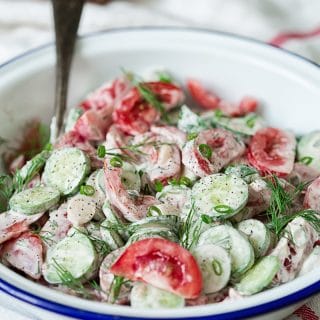 Summer Tomato and Cucumber Salad
This tomato and cucumber salad with fresh dill, spring onions and dressed with sour cream is as delicious as it is simple.
Ingredients
4-5

ripe tomatoes

4-5

Kirby cucumbers

small

2-3

spring onions

sliced

3-4

dill sprigs

leaves only

100

ml/1/3 cup sour cream or creme fraiche

salt

pepper
Instructions
Cut ripe tomatoes in wedges, slice cucumbers and spring onions including the white tops, chop dill.

Combine all ingredients in a medium-sized bowl, add salt and pepper to taste. Add sour cream and mix gently, taste and add more salt if needed. (Salt generously for best flavour!)

Serve with bread.
Nutrition
Calories:
117
kcal
Carbohydrates:
17
g
Protein:
4
g
Fat:
6
g
Saturated Fat:
3
g
Cholesterol:
13
mg
Sodium:
33
mg
Potassium:
784
mg
Fiber:
3
g
Sugar:
9
g
Vitamin A:
1555
IU
Vitamin C:
27
mg
Calcium:
92
mg
Iron:
1
mg