Turn your humble tomato salad into a fabulous one by using ripe seasonal heirloom tomatoes and fresh herbs!
If you are craving a salad in the summer, take a look at our extensive Salad Recipe Category for more ideas, inspiration and helpful tips on how to build better tasting salads!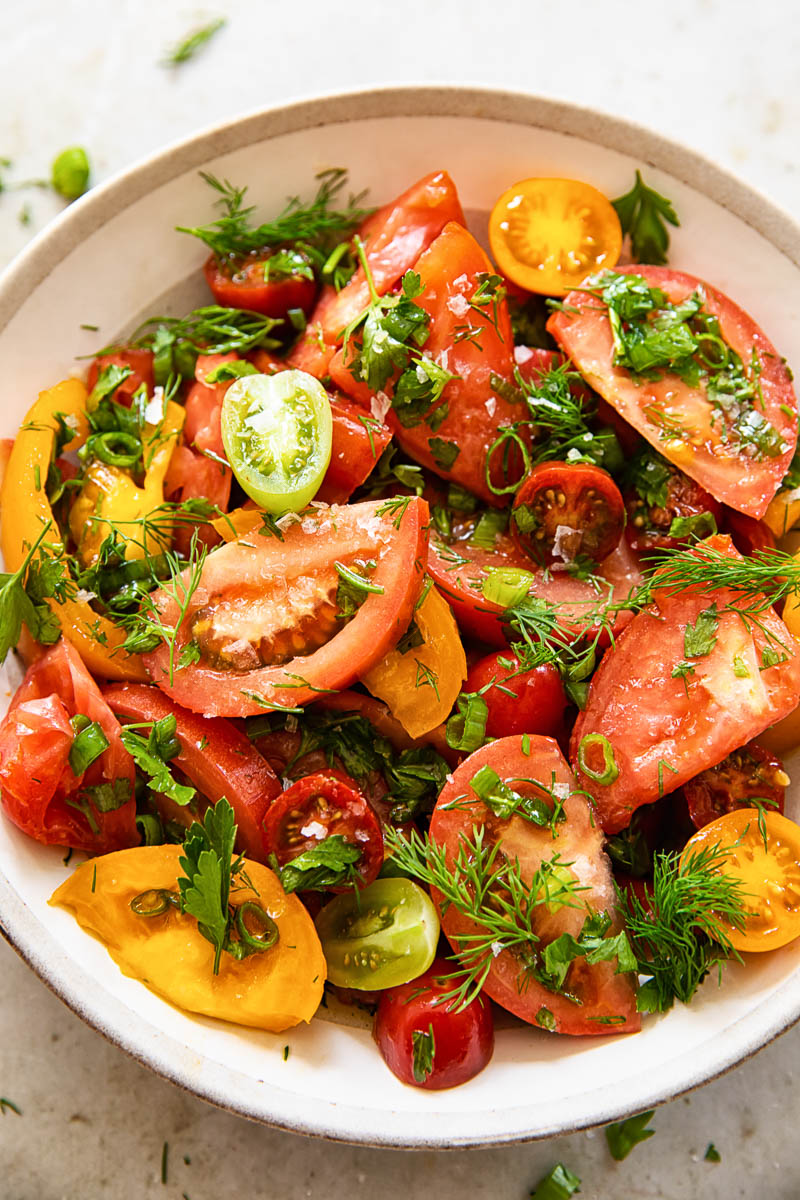 This recipe was our everyday summer salad when I was little. Sometimes cucumbers or radishes would also be added. But the main ingredient remained… gorgeous heirloom tomatoes I was lucky enough to eat regularly growing up.
To this day tomatoes are my favourite vegetable in the summer but only the good kind! I never feel bad spending money on gorgeous heirloom tomatoes from our local farmers. Nothing can compare to them.
I can write endlessly about the beauty and taste of heirloom tomatoes but I won't bore you. However I do want to mention that they come with different flavour profiles depending on their colour and variety.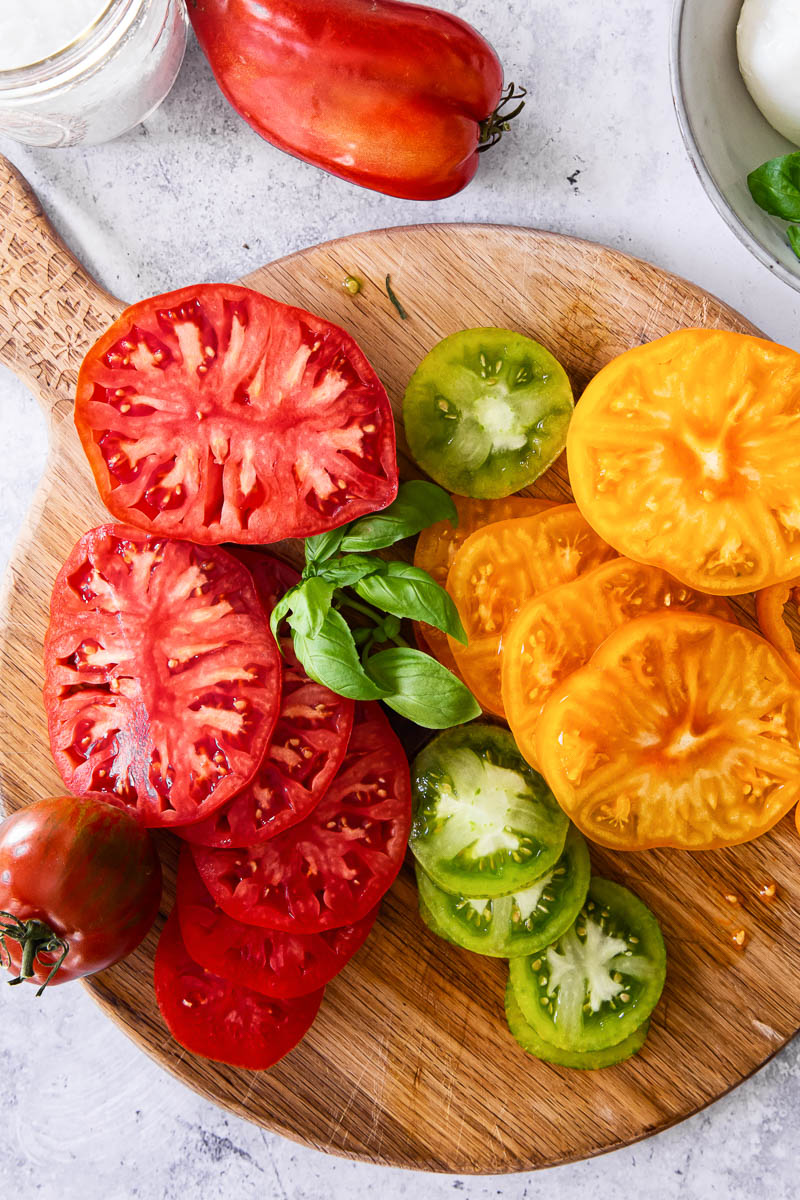 Heirloom Tomato Salad Recipe
Over the years I've shared many tomato salads. Some of them came from my mother like this creamy tomato and cucumber salad. Others were borrowed from friends and travels to other countries.
Those recipes, though different, have one thing in common. They take advantage of the best seasonal produce, which is locally grown.
Gone are the days when we could enjoy fresh vegetables only in the summer. It is now possible to make a tomato salad in the winter but will it be just as good? Not even close! My biggest tip for the best tasting salad is to buy seasonal produce from your local farmers if you don't grow your own vegetables.
If you do that, suddenly you will see it is no longer a battle to get your kids to eat their veggies. Why wouldn't they when they taste this great!
If you are someone, who is reaching for extra cheese to add flavour to your salad, maybe it's time to rethink why you need that. Quality vegetables need no masking. They are delicious on their own!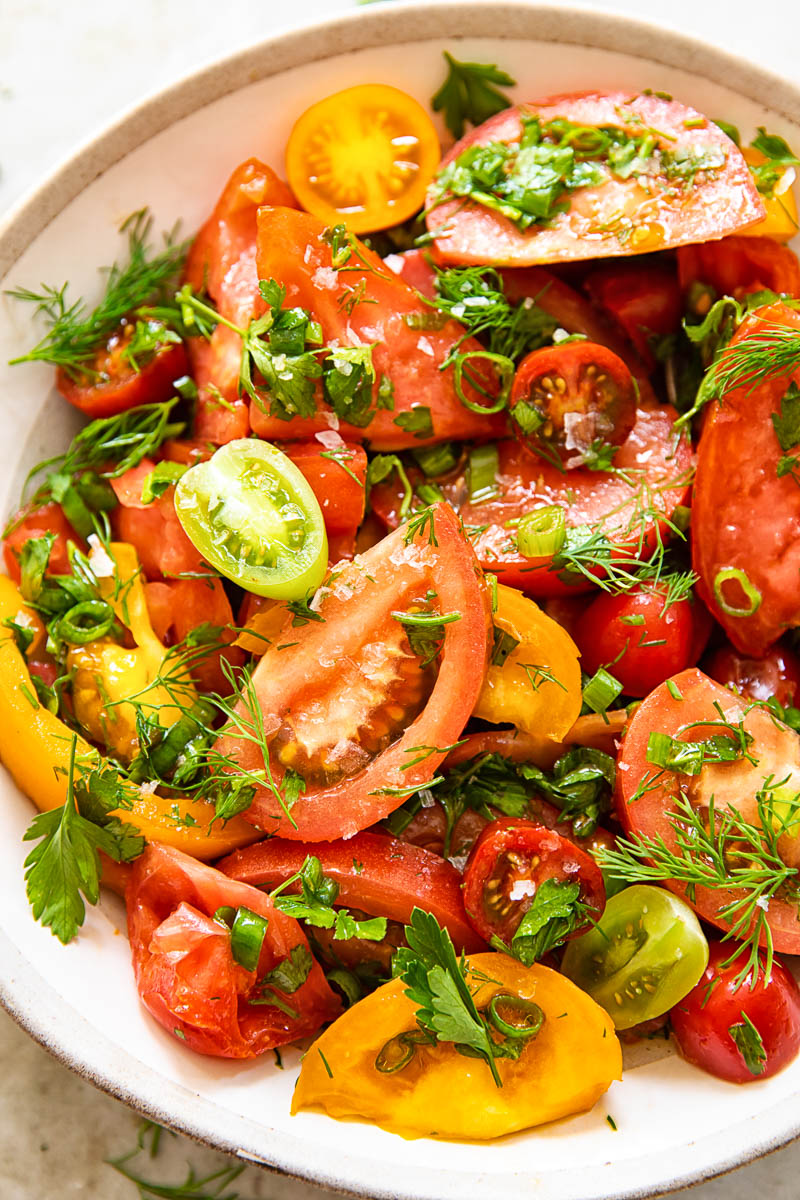 Good quality tomatoes of different varieties is the secret to this salad as well as fresh herbs. The classic herb combination for me growing up was always parsley and dill.
Green onions were also used exclusively in the summer. Why use mature onions when the green ones are only here for a short while was the thinking.
You can easily add mint, oregano or basil to your salad if parsley and dill are not your choice of herbs. But for me and many others of the Eastern European background nothing can smell sweeter than dill!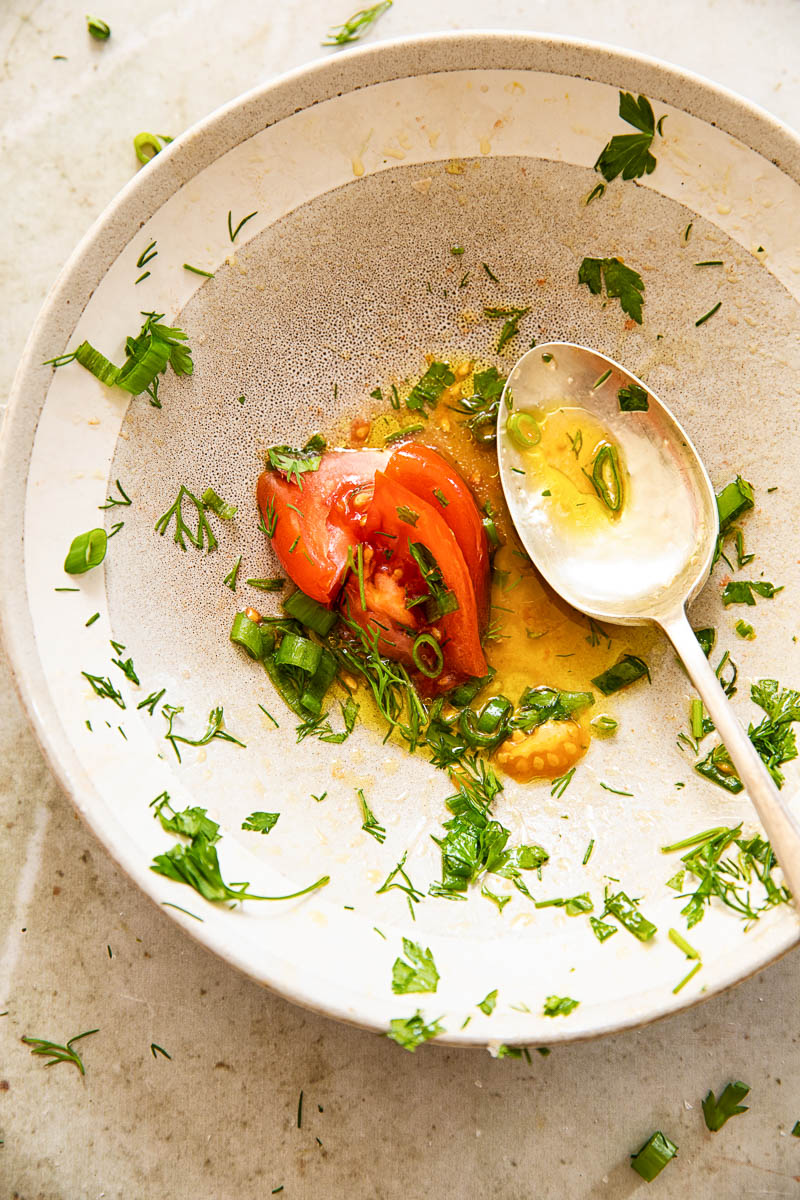 Salad Dressing
The dressing for this salad is just as simple as the salad itself. I use a splash of sherry vinegar and extra virgin olive oil. I always salt generously. Tomatoes love salt!
Extra virgin olive oil is something that is readily available to me in Europe and relatively inexpensive. However it wasn't the case when I was little.
My mother used unrefined sunflower oil, which has a very distinct taste. It is not easy to track down outside of Ukraine or Russia but possible. If you are able to find it, give it a try. It's gorgeous!
You can also use white wine vinegar or red wine vinegar instead of sherry vinegar. There is a lot of room for improvisation in this recipe.
Favourite Tomato Salad Recipes: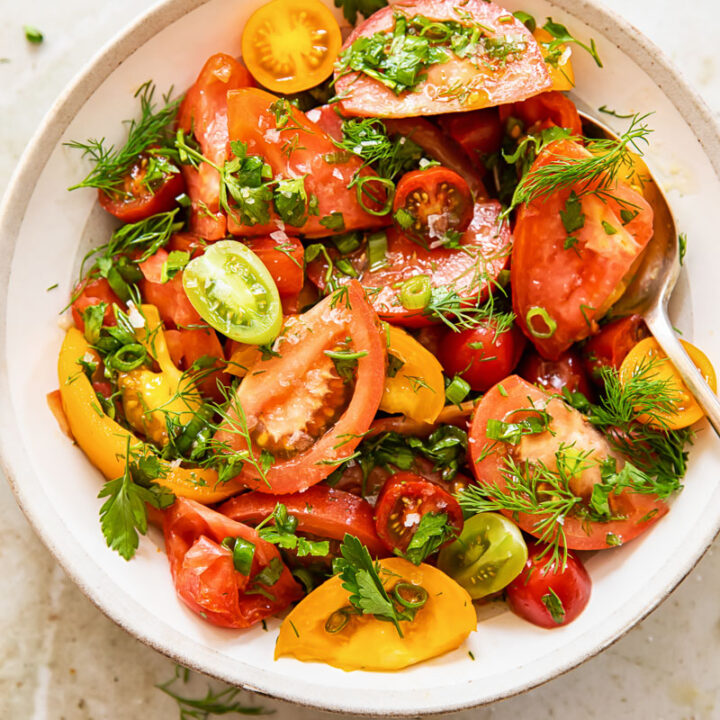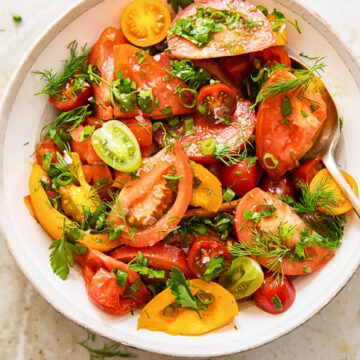 Summer Tomato Salad with Herbs
Turn your humble tomato salad into a fabulous one by using seasonal ripe heirloom tomatoes and fresh herbs!
Ingredients
4

large heirloom tomatoes

cut into wedges

3-4

cherry tomatoes

optional

2-3

tbsp

chopped fresh parsley

stalks removed

2-3

tbsp

chopped fresh dill

stalks removed

2-3

green onions

sliced

2

tbsp

sherry vinegar

or any other vinegar

3

tbsp

extra virgin olive oil

salt to taste
Instructions
Cut tomatoes in half and remove the core, then cut into wedges. Half the cherry tomatoes and add all cut tomatoes to a salad bowl. Take the parsley and dill off their stalks, discard the stalks and chop the herbs, then slice the green onions. Add the greens to the salad bowl and mix gently.

Drizzle the sherry vinegar and extra virgin olive oil over the salad, sprinkle with a generous amount of sea salt and stir to combine. Serve immediately.
Video
Nutrition
Calories:
82
kcal
Carbohydrates:
4
g
Protein:
1
g
Fat:
7
g
Saturated Fat:
1
g
Polyunsaturated Fat:
1
g
Monounsaturated Fat:
5
g
Sodium:
395
mg
Potassium:
240
mg
Fiber:
1
g
Sugar:
3
g
Vitamin A:
907
IU
Vitamin C:
16
mg
Calcium:
16
mg
Iron:
1
mg