This Panzanella Salad made with ripe and juicy tomatoes, crusty ciabatta and fragrant basil is the best of the summer offerings!
Serve this salad with our Stuffed Pasta Shells with Pesto and Tomato Beef Sauce.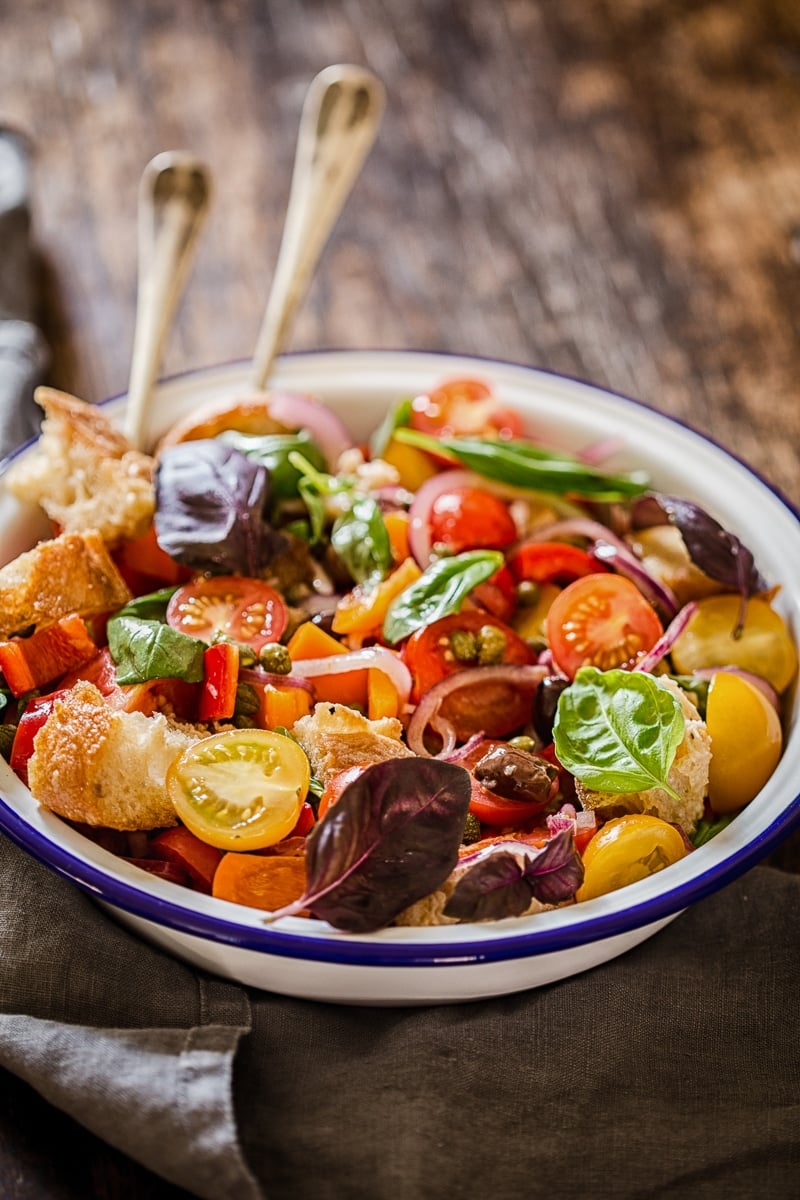 Salads make up ⅔ of what we've been eating lately. Our kids are gobbling them up even though they are NOT tomato fans! So what am I doing making a salad consisting almost entirely of tomatoes? A girl can dream!
Making this Panzanella salad was a gamble, and my main bet on the kids eating it was resting on the fact that it is also full of crusty ciabatta bread flavoured with a bold and punchy dressing.
This Tuscan salad was invented to use up a day old bread and since I bake my own sourdough bread weekly the recipe is a godsent!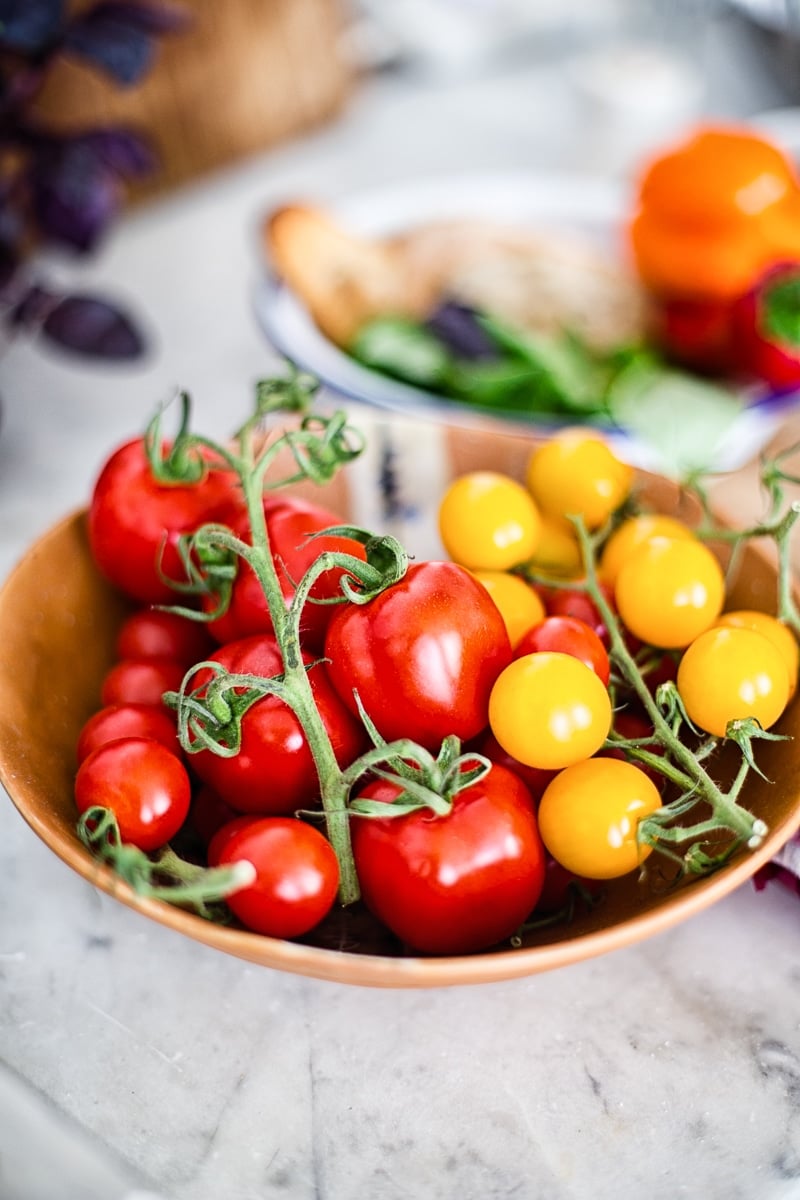 Panzanella Recipe
This Panzanella is a true testament to the summer's magic because the main reason a bunch of tomatoes, peppers and a handful of bread taste so delicious is the sunshine!
This salad HAS to be made using the sweetest, ripest tomatoes you can find, and thankfully right now they are still in abundance.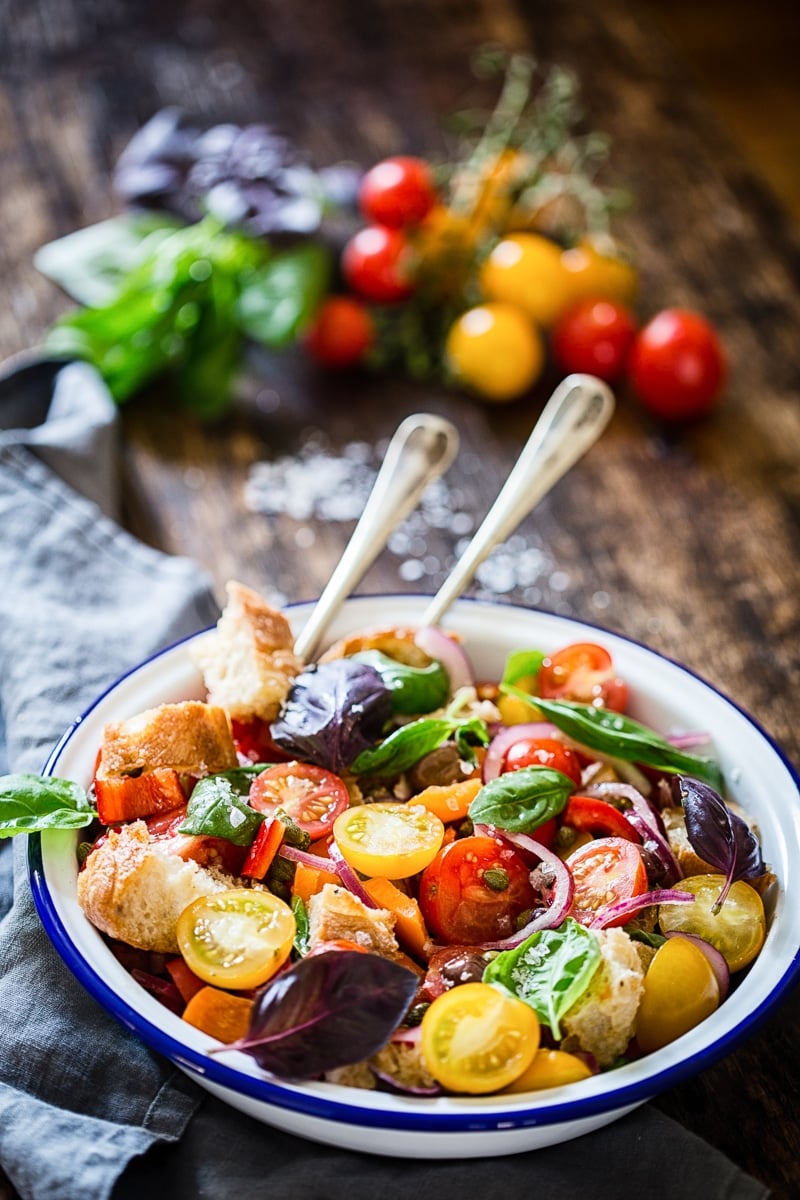 I prefer using a combination of red and yellow cherry tomatoes as they are the sweetest and the most flavourful this time of the year. I also love my latest discovery, Ruby Jewel Tomatoes.
If you grow your own tomatoes or you are a farmers' market shopper, go for large heirloom tomatoes of all kinds like I did in the video. Experiment and find your favourite mix!
You can also add a cucumber or skip it. It's an optional but a tasty addition.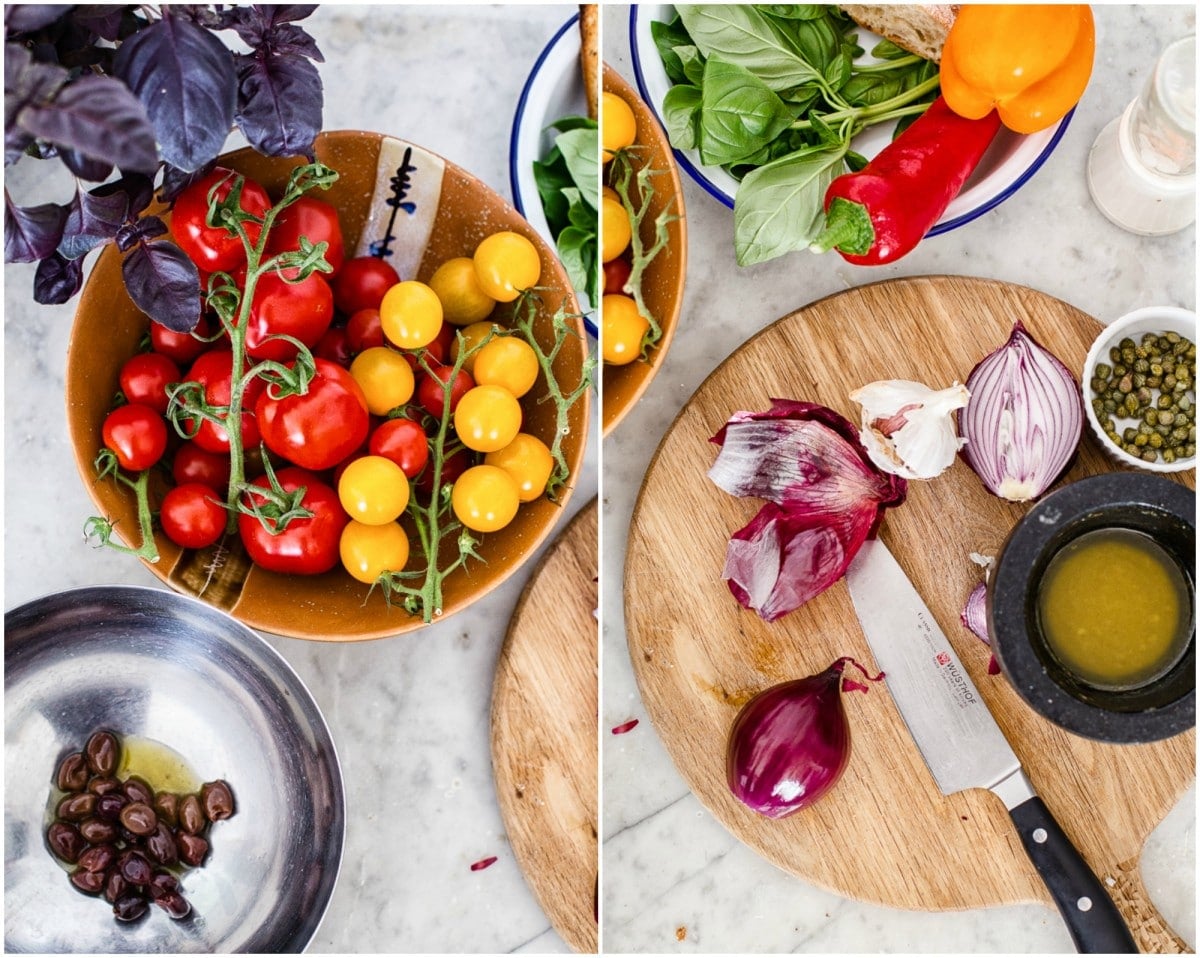 How to Make the Salad Dressing
Other flavours, that take Panzanella to the next level, are found in the dressing. There are some gutsy ingredients in there but fear not because the tomatoes and crusty bread can take them!
First of all, anchovies. I am sure some of you have already lost interest as soon as you saw them BUT please give them a try!
I promise you won't taste something fishy. (Pun unintended) What you will taste is something savoury…umami…anchovies is the magic ingredient here, so don't leave it out.
Unless you really can't stand them, then go ahead and skip the anchovies.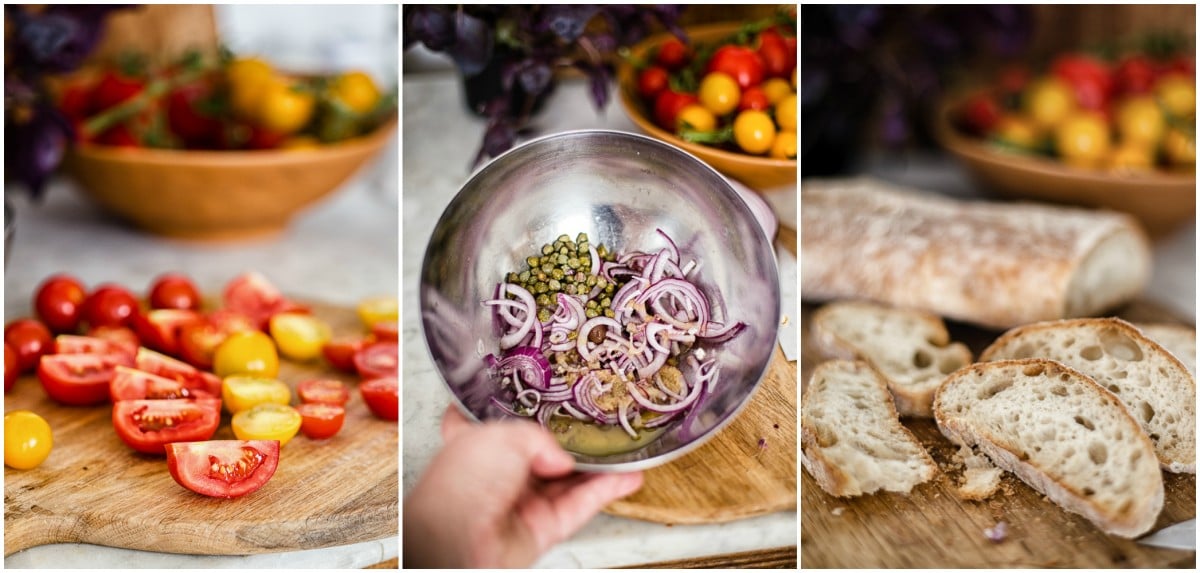 Then we've got garlic, white wine vinegar and olive oil. What's not to love!!
Adding capers and olives are up to you but I would if I were you. They bring a touch of briny saltiness, which is a winner as it balances out the sweetness of tomatoes.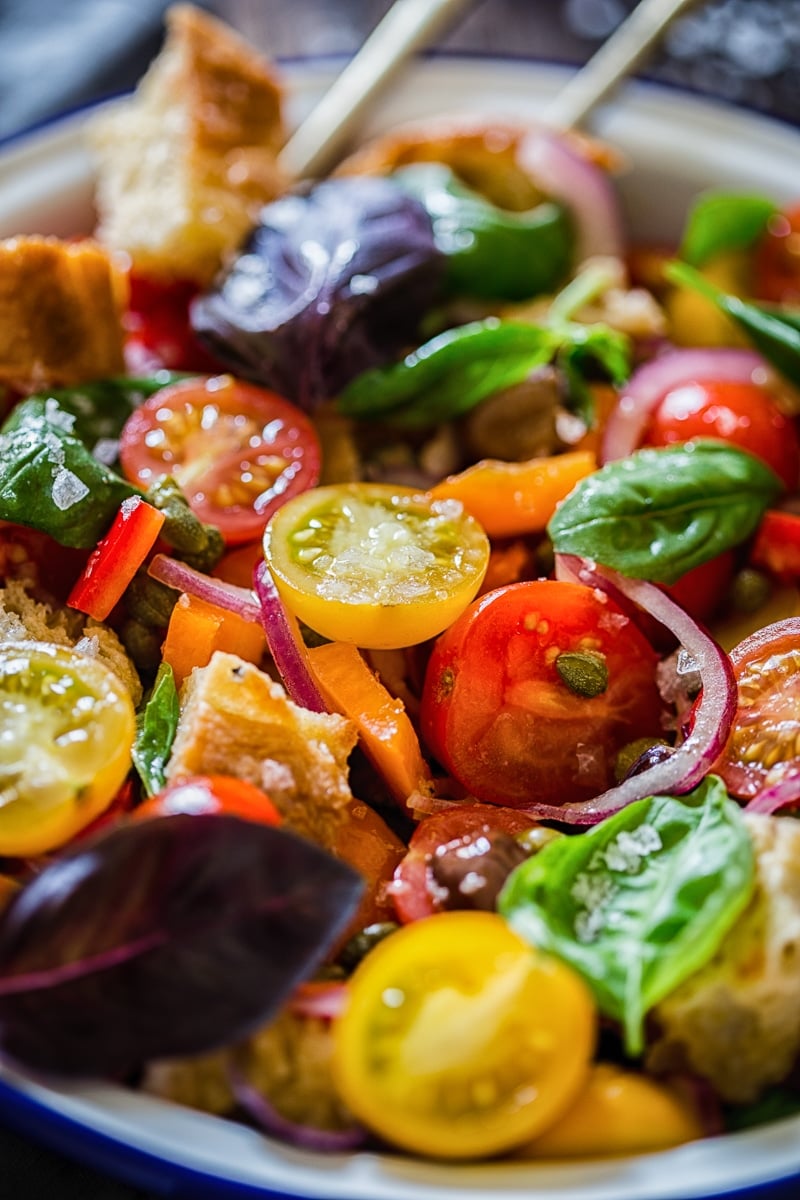 Now let's talk about purple basil. I didn't even know it existed until I saw it in a shop on our recent trip to Russia. The most gorgeous colour, don't you think?!
I had to buy some purple basil as soon as I saw it in my local supermarket.
It tastes the same as the green variety, so if you can't find it, don't lose sleep over it. But if you can, it will add so much beauty and vibrancy to your Panzanella!
More Italian Salad Recipes to Try:
This recipe was originally published in 07/2017. Updated with new text and video and republished in 09/2020.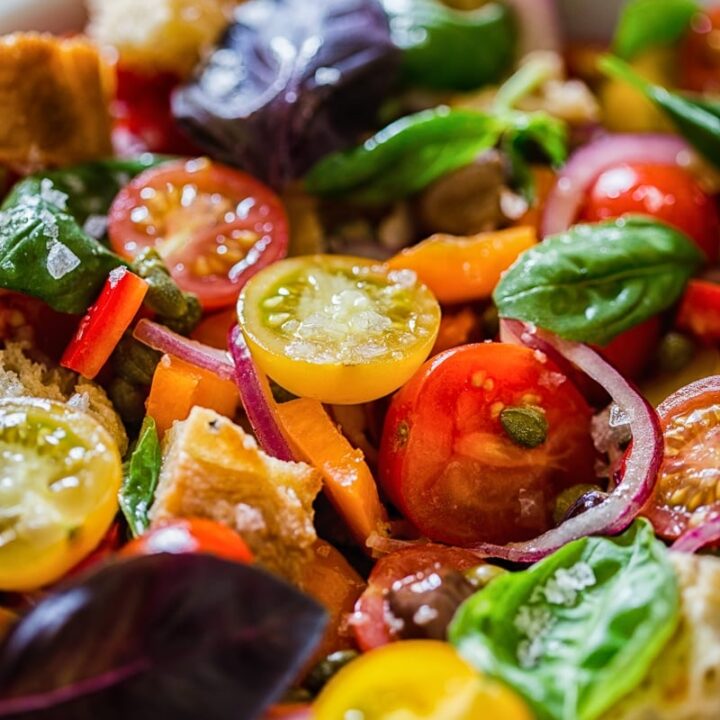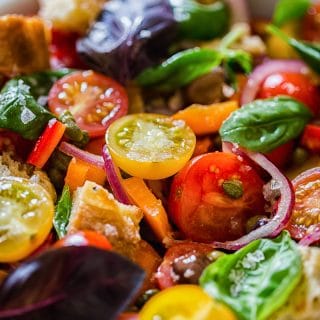 Tuscan Panzanella Salad
This Panzanella Salad made with ripe and juicy tomatoes, crusty ciabatta and fragrant basil is the best of the summer offerings!
Ingredients
200g/7 oz

red and yellow cherry tomatoes

halved

½

each red and yellow pepper

sliced

1

cucumber

optional

4-5

sliced ciabatta bread

day old

½

red onion

sliced thinly

2

tbsp

capers

10

black or green olives

pitted

6-8

fresh basil leaves

green and purple
For the Panzanella Dressing
2

anchovies

optional

1

clove

garlic

4

tbsp

olive oil

1

tbsp

white wine vinegar

salt
Instructions
In a large bowl combine red and yellow cherry tomatoes, sliced red and yellow peppers, red onion, capers, olives, torn-up slices of ciabatta bread and basil leaves.

Make the dressing by turning anchovies into a paste in a mortar together with minced garlic, add olive oil, white wine vinegar and salt, mix until combined. Alternatively, the dressing could be combined in a blender.

Add the dressing to the salad and toss gently, add salt to taste and let it sit for 20-30 minutes before serving.
Nutrition
Calories:
191
kcal
Carbohydrates:
10
g
Protein:
3
g
Fat:
16
g
Saturated Fat:
2
g
Cholesterol:
1
mg
Sodium:
322
mg
Potassium:
275
mg
Fiber:
2
g
Sugar:
4
g
Vitamin A:
835
IU
Vitamin C:
34
mg
Calcium:
37
mg
Iron:
1
mg