This dill potato salad is made even tastier with the addition of greens onion, dill pickles and lots of refreshing herbs and microgreens! Perfect side dish for summer picnics and barbecues!
Serve this classic potato salad with our Epic Smash Burgers and impress your friends and family!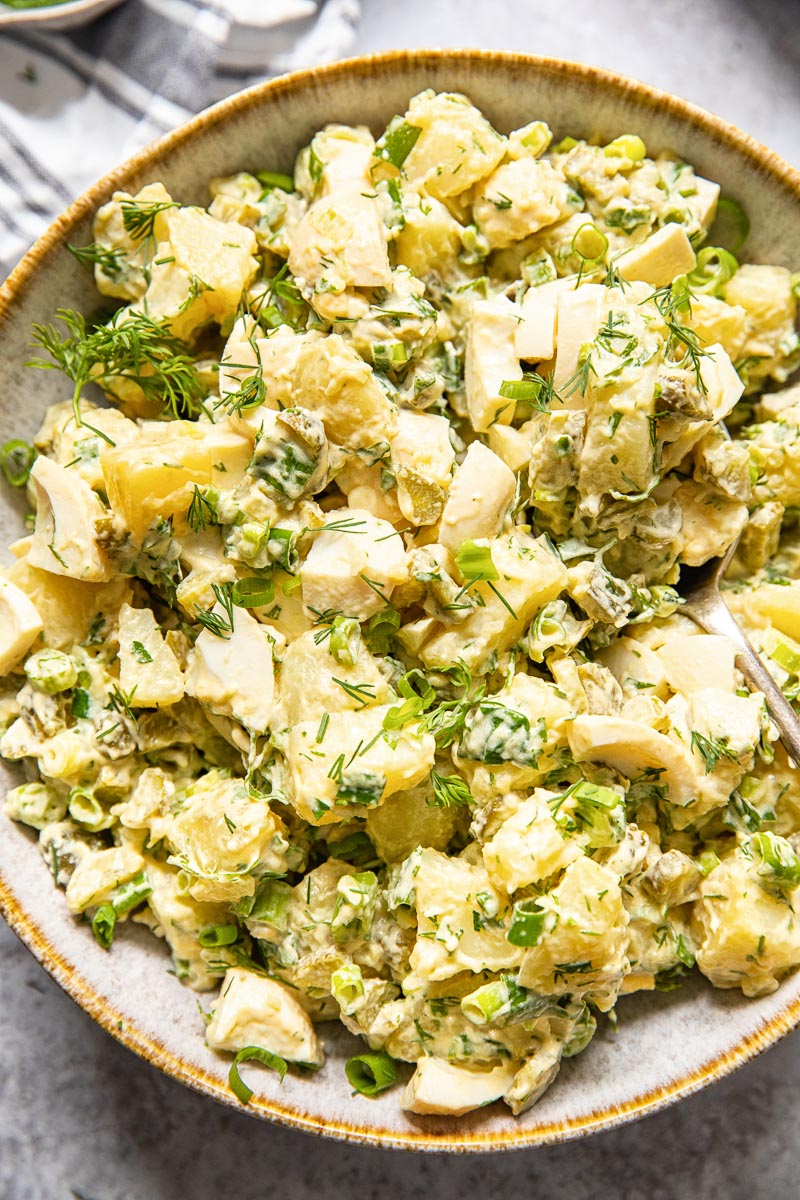 However you feel about a potato salad, you have to admit it's a permanent fixture at summer barbecues, picnics and potlucks.
I personally love a good potato salad but I am also extremely picky about it. The keyword here is a good potato salad.
What defines a good potato salad?
I am not even remotely interested in a bland, mushy, mayonnaise covered mess we often seen sold in supermarkets.
I do, however, adore a potato salad that features a winning combination of the creamy and crunchy with a healthy dose of briny pickles and fresh dill, all pulled together by a perfectly balanced salad dressing.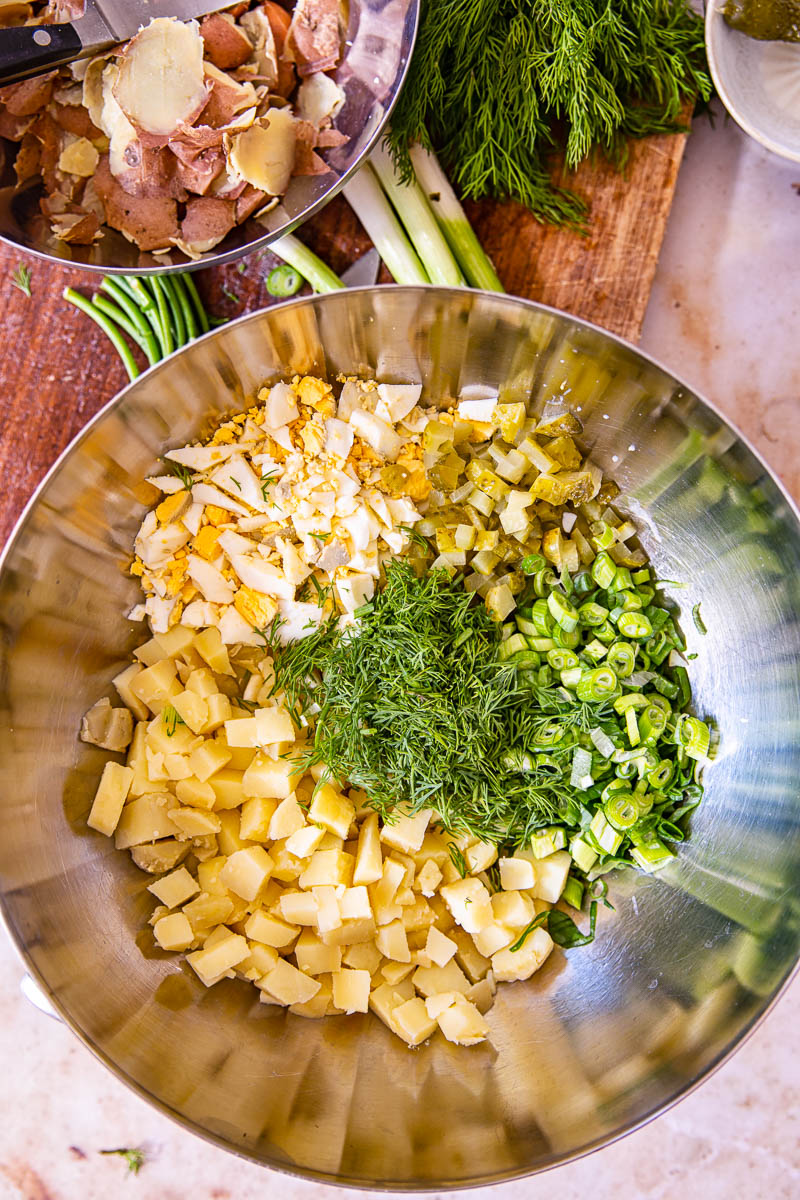 The Salad Dressing
I am a purist at heart when it comes to potato salads. I do like the classic version and I prefer a mayonnaise based dressing to flavour my potatoes.
However, to bring the best out of the creamy mayo I like to add a touch of dijon mustard, white wine vinegar and freshly ground black pepper to my potato salad dressing.
I like to introduce some acidity from vinegar and some spice from the mustard to avoid that bland taste many potato salads are notorious for.
My salad dressing is delicious in its simplicity and works on a variety of salads. One of my favourite examples is this Cabbage Salad.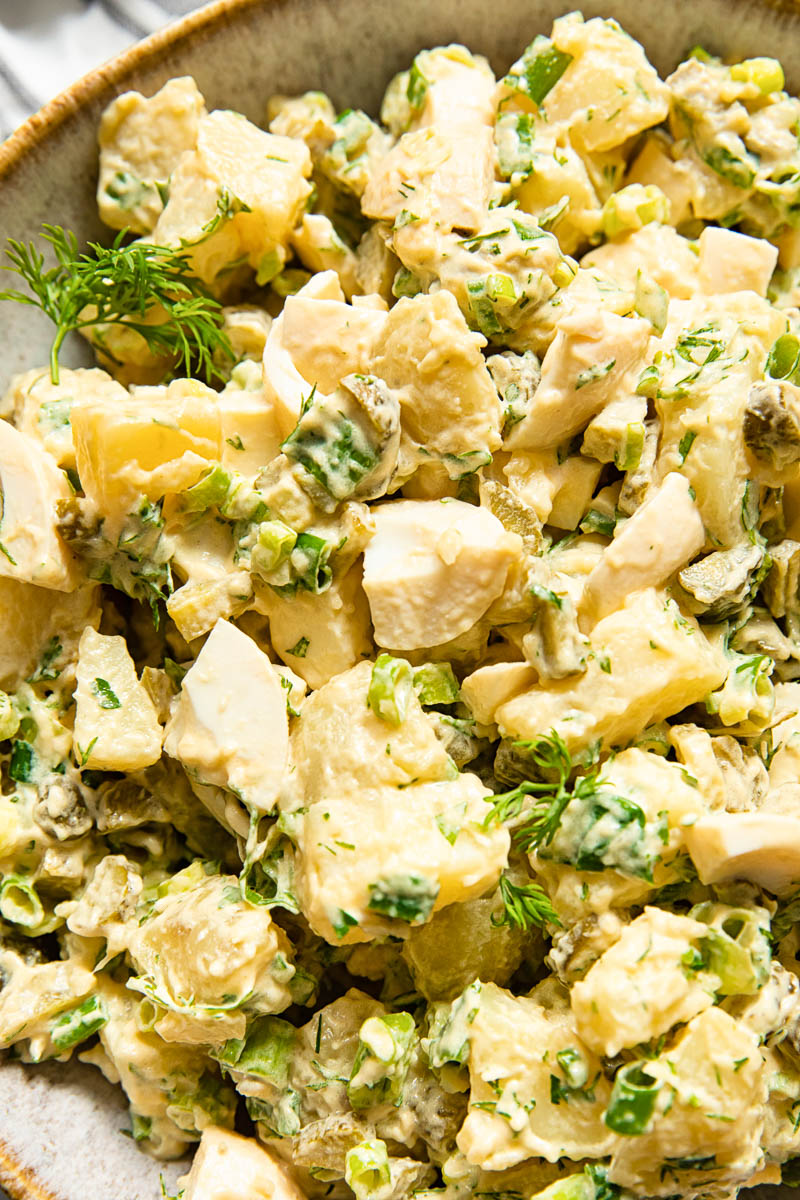 What potatoes to use
Did you know that not all potatoes are created equal? I guess "equal" is a wrong word here. Different varieties might be equally delicious but they certainly have different roles to play in dishes.
There are many spud varieties but all of them fall into two main categories.
Waxy and Floury (Starchy)
The ideal potatoes to use in salads are of the waxy kind as they retain their shape when cooked while the starchy ones fall apart.
The potato varieties you want to use in your salads are Charlotte, Desiree (red potatoes) in the UK and Yukon Gold, Red Blis in the US and new potatoes and fingerling potatoes in both countries.
Potatoes to avoid
Maris Piper and King Edward in the UK and Idaho Russet in the US. Save these varieties to make the creamiest mashed potatoes!

Every cook has their own mix of ingredients for potato salad and here is mine. It's pretty classic but I do love to add a splash of vibrant colour by sprinkling in freshly chopped dill and microgreens.
If you want something more involved, take a look at my classic Russian Potato and Chicken Salad aka Salad Oliver.
Salad Ingredients
waxy potatoes
hard boiled eggs
dill pickles
green onions
fresh dill
microgreens (optional)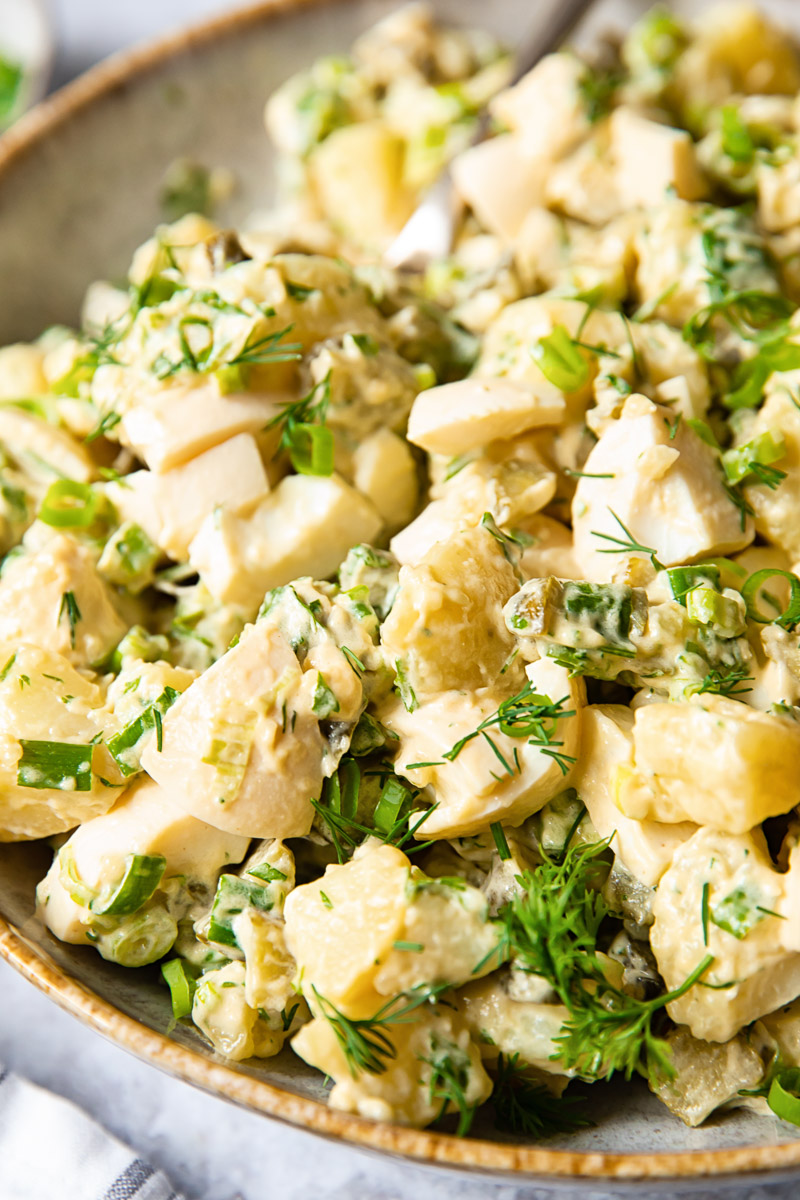 Recipe Tips
You can make this salad a day in advance. Any potato salad will safely keep in a fridge up to 24 hours.
However, I prefer cooking my potatoes with skins on and boiling the eggs one day ahead, then assembling the salad the following day. Cook potatoes in salted water. It does wonders to their flavour.
Let the potato salad chill in your fridge for a couple of hours before serving for best flavour. Always salt your potato salad after mixing with the dressing to avoid oversalting it.
Sprinkle with fresh chopped dill and microgreens such as cress before serving for a boost of colour, taste and visual effect.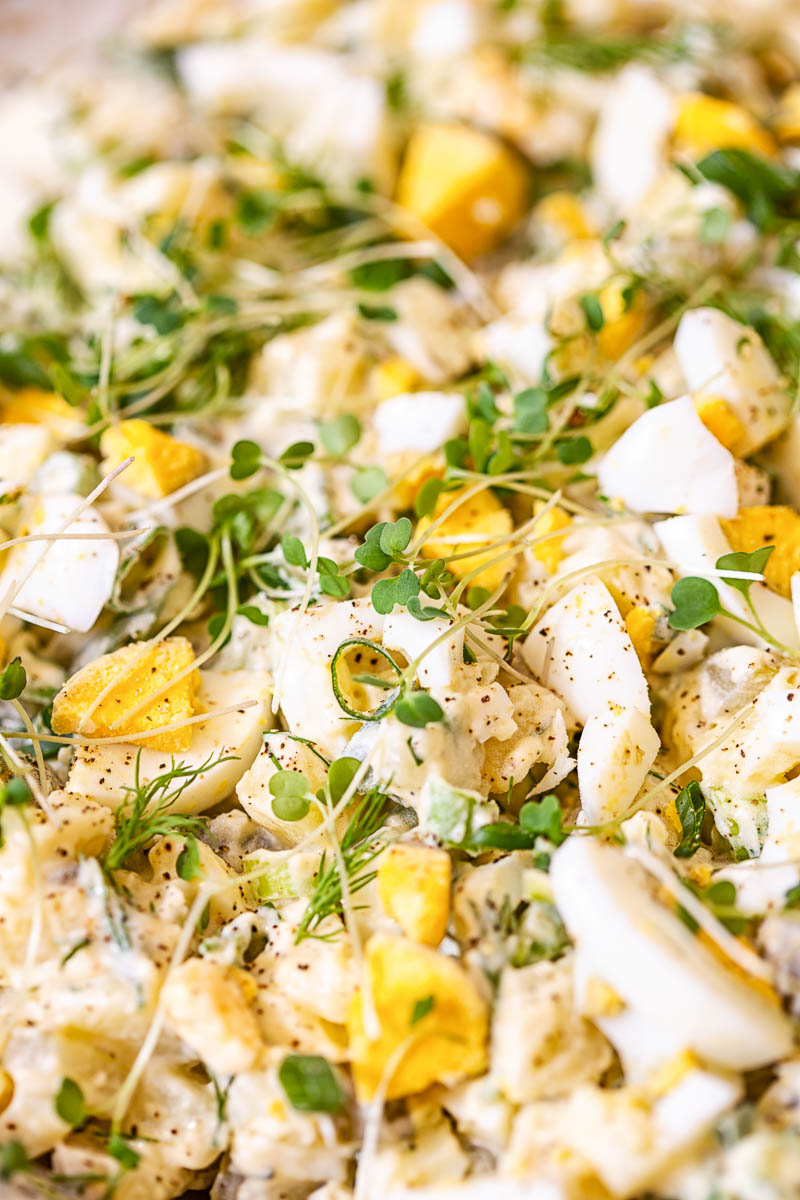 More summer salad recipes: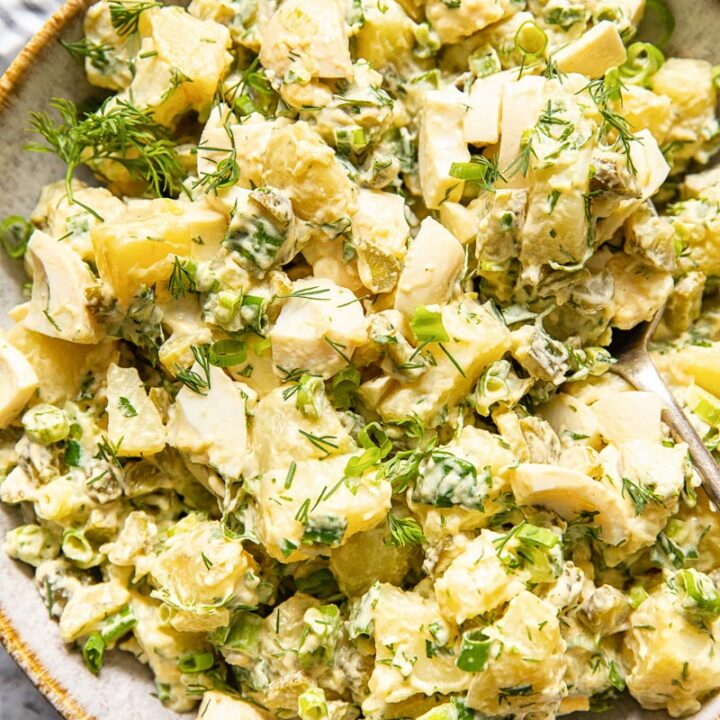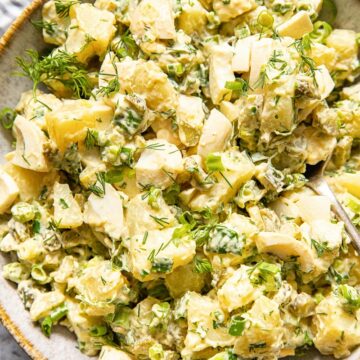 Dill Potato Salad
This dill potato salad is made even tastier with the addition of greens onion, dill pickles and lots of refreshing herbs and microgreens!
Ingredients
For the potato salad dressing
125ml/1/2cup

mayonnaise (low fat is fine)

1

tbsp

white wine vinegar or lemon juice

1 ½

tsp

dijon mustard

½

tsp

black pepper

1

tbsp

water to loosen the dressing to right consistency
For the dill potato salad
4

potatoes, boiled and cooled

6

eggs, hard boiled

4

small dill pickles

Polish gherkins in the UK

3-4

green onions

2

tbsp

fresh dill, divided

salt to taste

1-2

tbsp

microgreens such as cress

optional
Instructions
For the potato salad dressing
In a small bowl whisk together the mayonnaise, white wine vinegar and dijon mustard with a pinch of black pepper, then loosen with 1 tbsp of water to achieve a salad dressing consistency.
For the dill potato salad
Cook eggs and potatoes in their skins, cool. (See the article for what potato varieties to use.) Peel both and set aside.

In a large bowl combine the diced potatoes, hard boiled eggs, chopped dill pickles, sliced green onions, and 1 tbsp of fresh dill. Add the salad dressing and mix gently taking care not to mash the ingredients. Add salt to taste after you add the salad dressing. Refrigerate for 2 hours to allow the flavours to blend.

Sprinkle with the remaining chopped dill and microherbs before serving.
Nutrition
Calories:
221
kcal
Carbohydrates:
27
g
Protein:
9
g
Fat:
9
g
Saturated Fat:
2
g
Cholesterol:
167
mg
Sodium:
638
mg
Potassium:
770
mg
Fiber:
3
g
Sugar:
3
g
Vitamin A:
412
IU
Vitamin C:
14
mg
Calcium:
61
mg
Iron:
2
mg
I originally developed this potato salad recipe for Natasha's Kitchen.