Using super flavourful green goddess dressing, lovely roasted chicken and fingerling potatoes completely transforms this humble potato salad!
If you love this dressing, try it with Green Goddess Pasta Salad!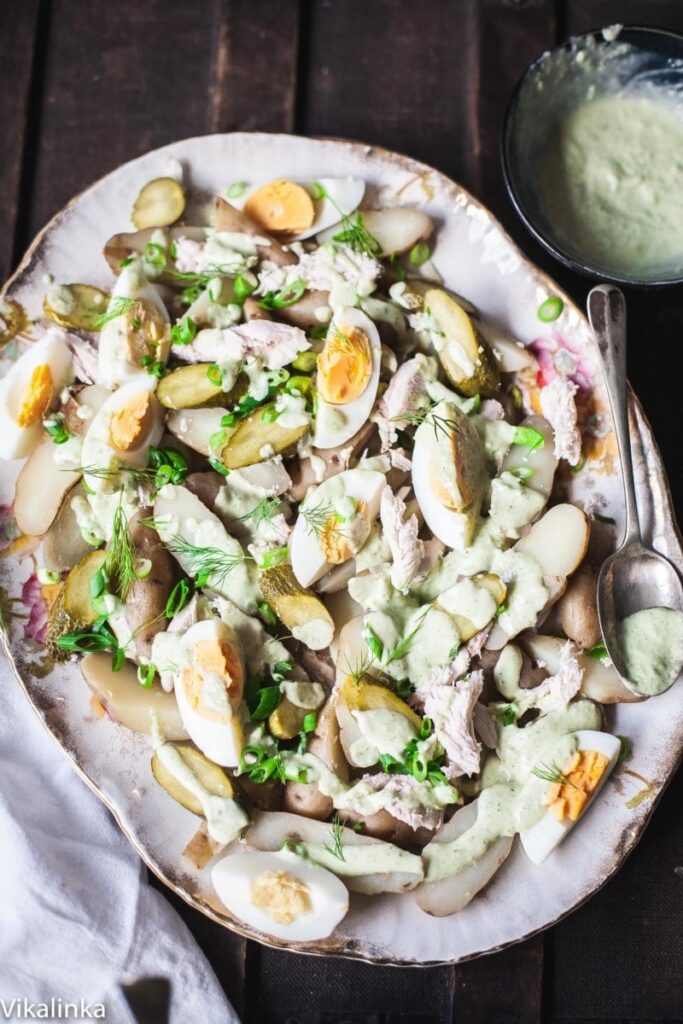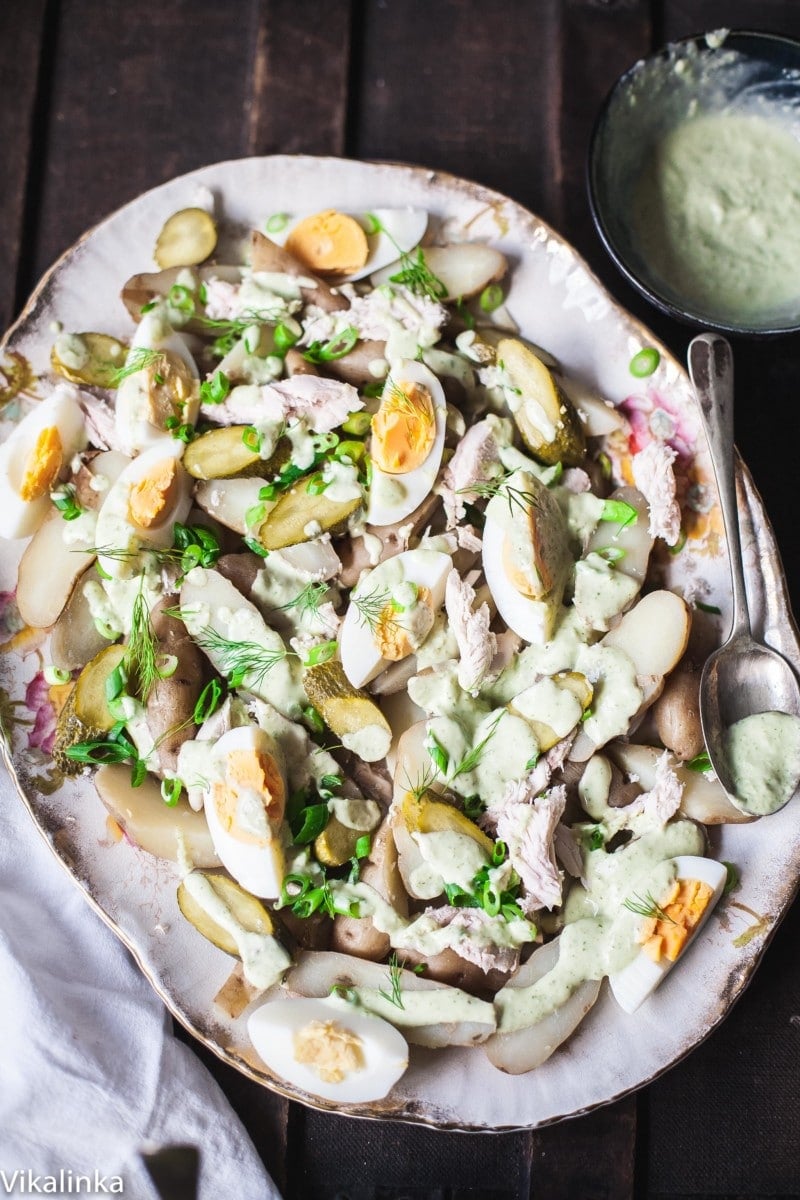 Have I ever bragged about my amazing potato salad? Chances are you've heard about it before if you've been following me from the beginning.
I've been making various versions of this potato salad for years. It is quickly becoming a salad of choice for anyone I've ever cooked it for.
I often bring it to barbecues as it goes ideally with grilled meat. Over time it became one of the most requested items. This version takes things adds fresh Green Goddess dressing to chunky ingredients with just the right amount of herbs. So, so good!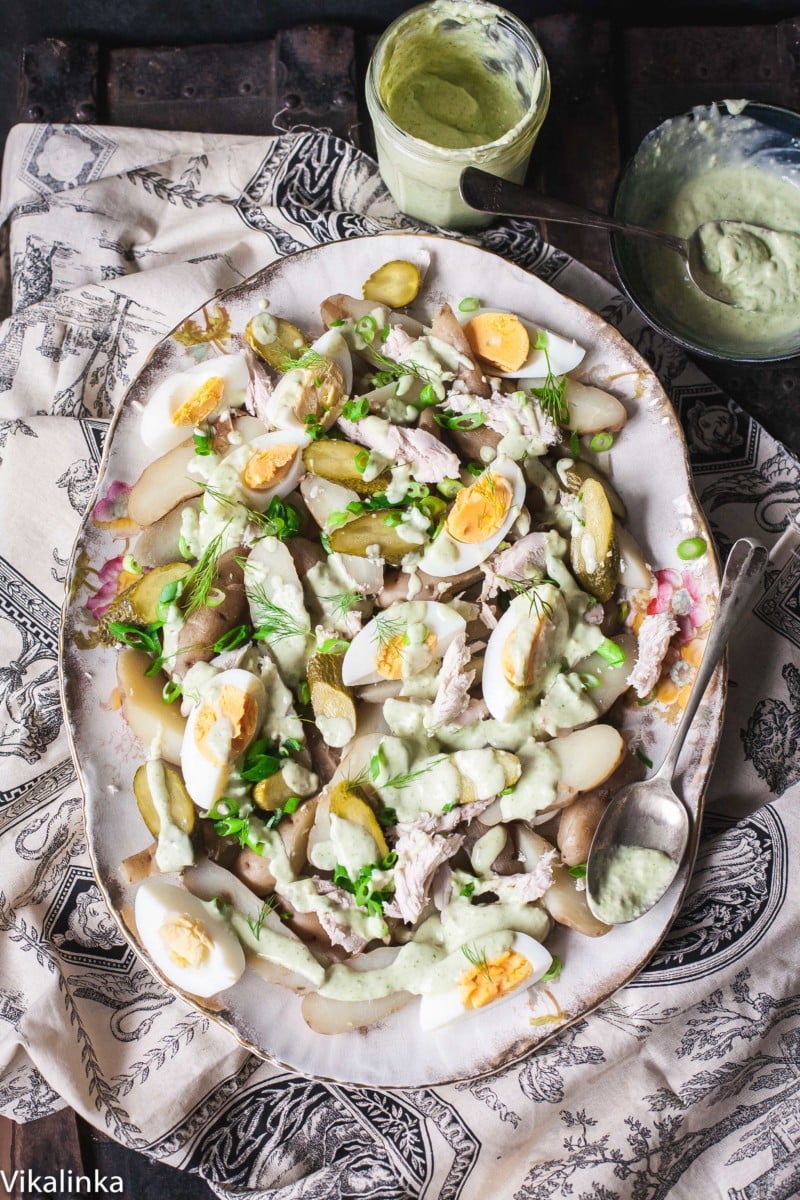 Potato and egg salad
There are as many potato salad recipes as there are home cooks. This one finds its roots in what I ate growing up, the famous Salad Olivier.
It's a salad made with potatoes, eggs, pickles, and chicken with a mayonnaise-based sauce. It sounds simple, but I promise you that it's fantastic, so satisfying to eat!
It was so wildly popular in the restaurant where it was invented that they could never take it off the menu. Many other chefs tried to duplicate it without success as chef Olivier never revealed his secrets. He took the dressing recipe to his grave while the salad lived on.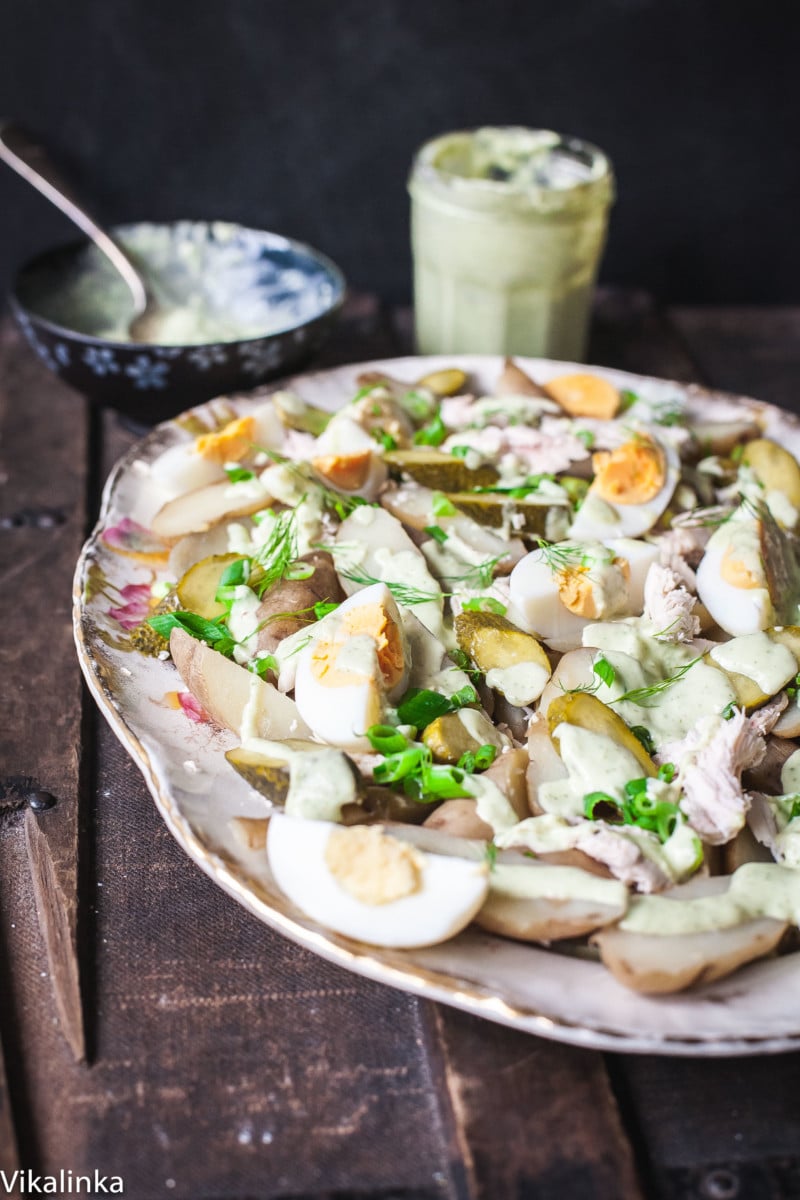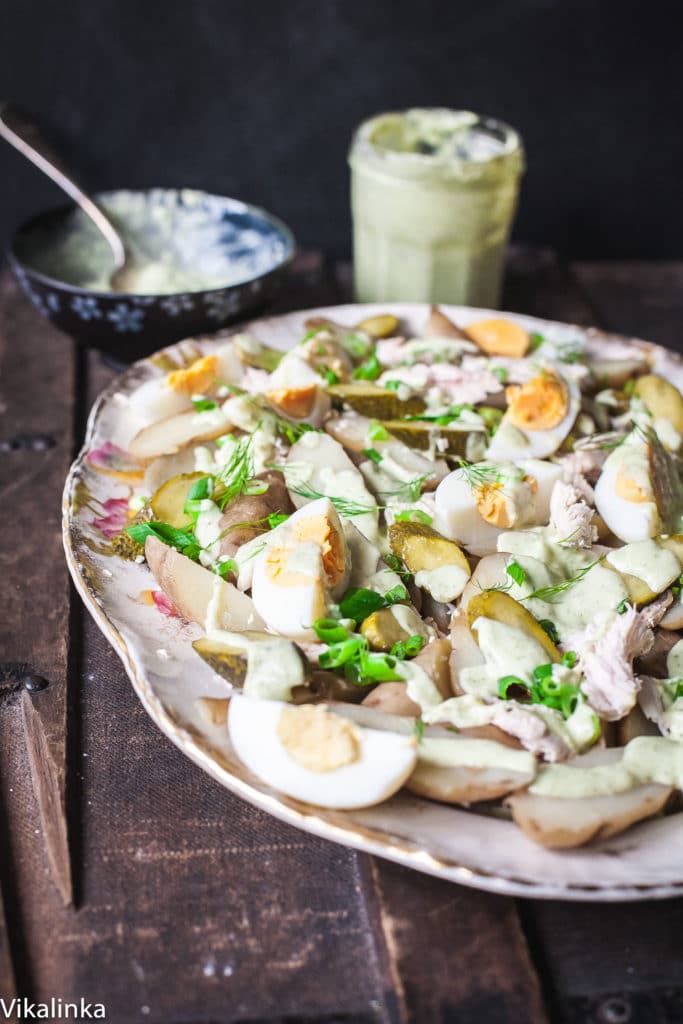 The modern day recipe is not exactly the same as the original and my version will take you even further from the widely accepted one.
Traditionally it's dressed with mayonnaise but not the sort you get in the average supermarket. Russian mayonnaise tastes different, and by different I mean better. It's much closer to the traditional recipe than the Hellmann's version.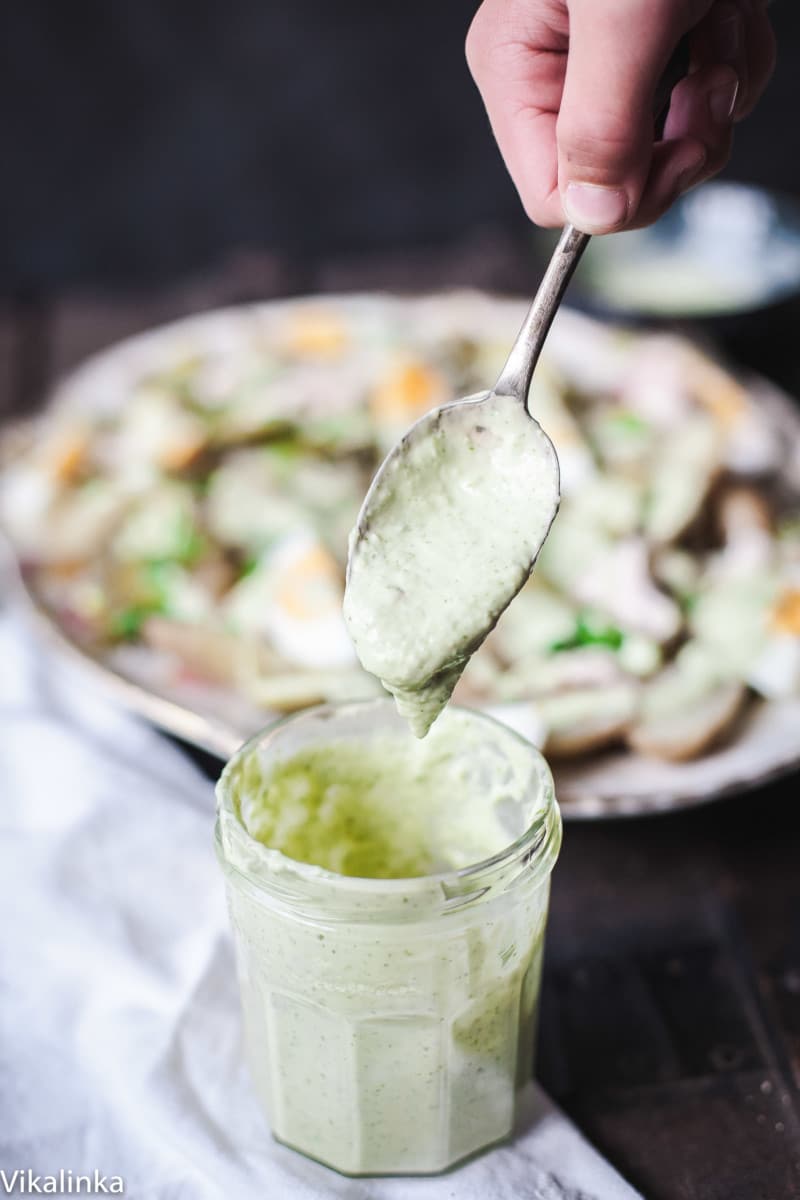 Today I am putting a little twist on it by sprucing it up with gorgeous Green Goddess dressing. It respects the original while adding a fresh twist.
This version is a deconstructed Salad Olivier as all the ingredients are usually cut into a small dice and smothered in dressing. I opted for larger pieces and used my dressing sparingly. You are welcome to mix it in as you wish.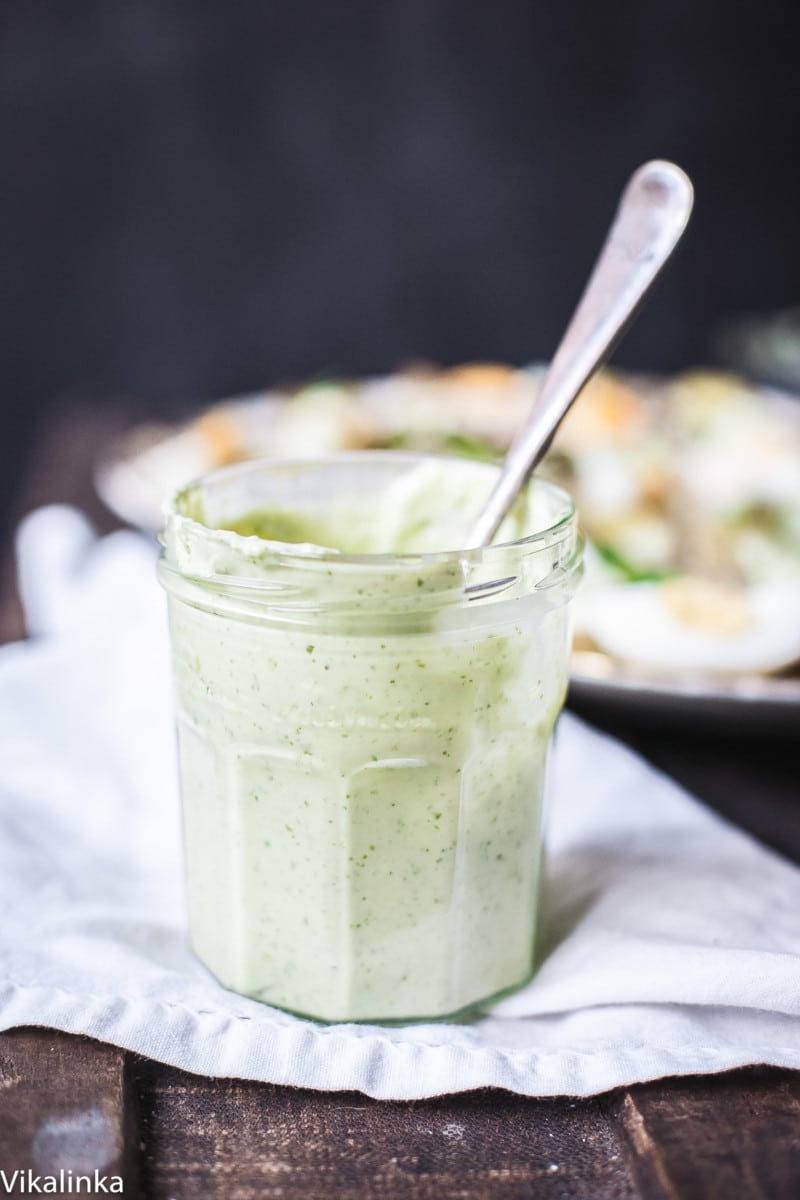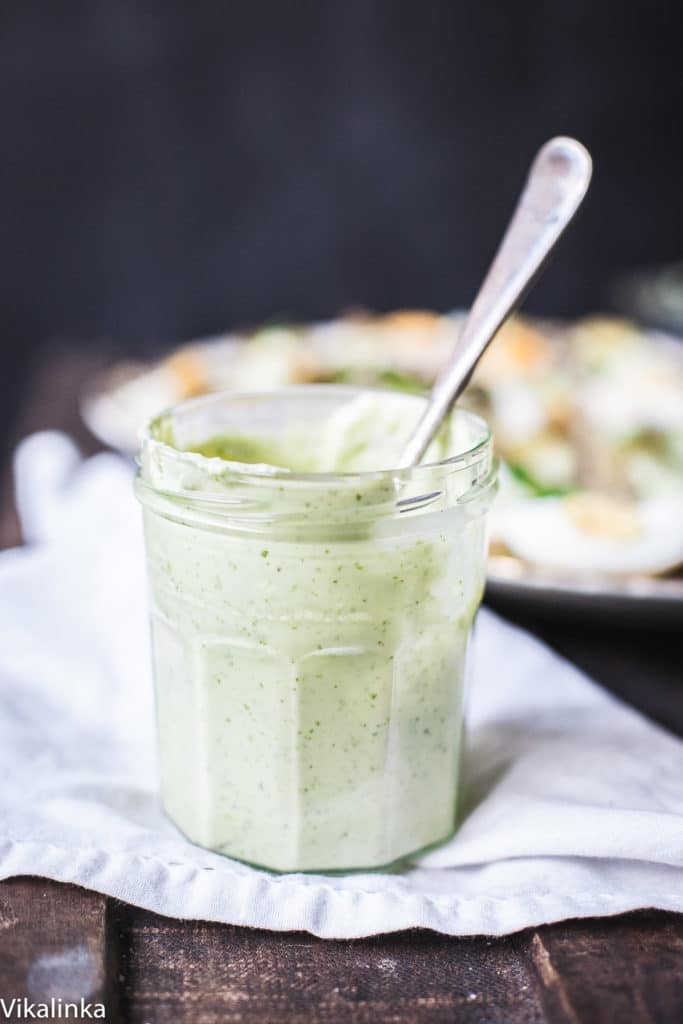 Green Goddess dressing
I seriously never believed it was possible to improve on Russian potato salad until now. I have this fantastic dressing to thank for it!
This Green Goddess dressing is a flavour jackpot and it goes with everything. Try putting it on your regular ham and cheese sandwich and see what happens!
What makes it so special? Um…just loads and loads of herbs blended with some mayo and creme fraiche or sour cream….and a handful of other ingredients. Delicious, fresh and incredibly versatile!
To make this this egg and potato salad a bit leaner, I chose low fat sour cream. It still tastes amazing but doesn't have all the calories!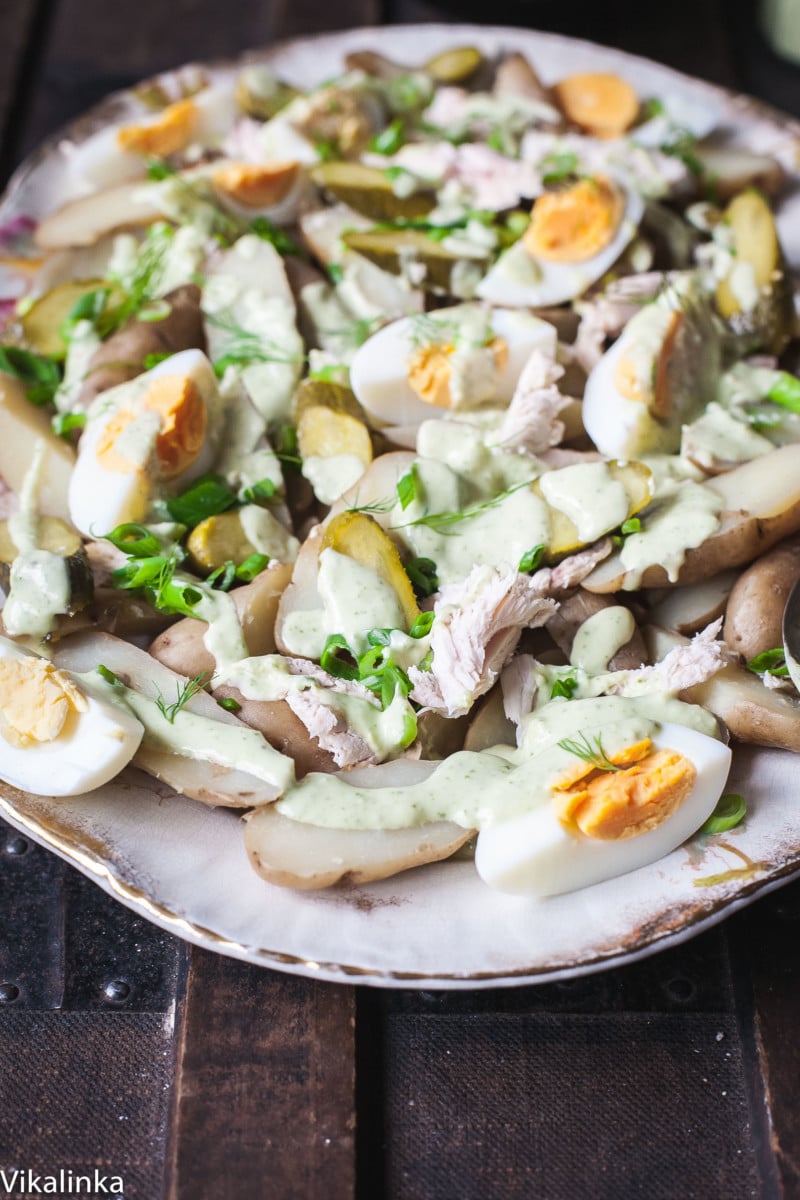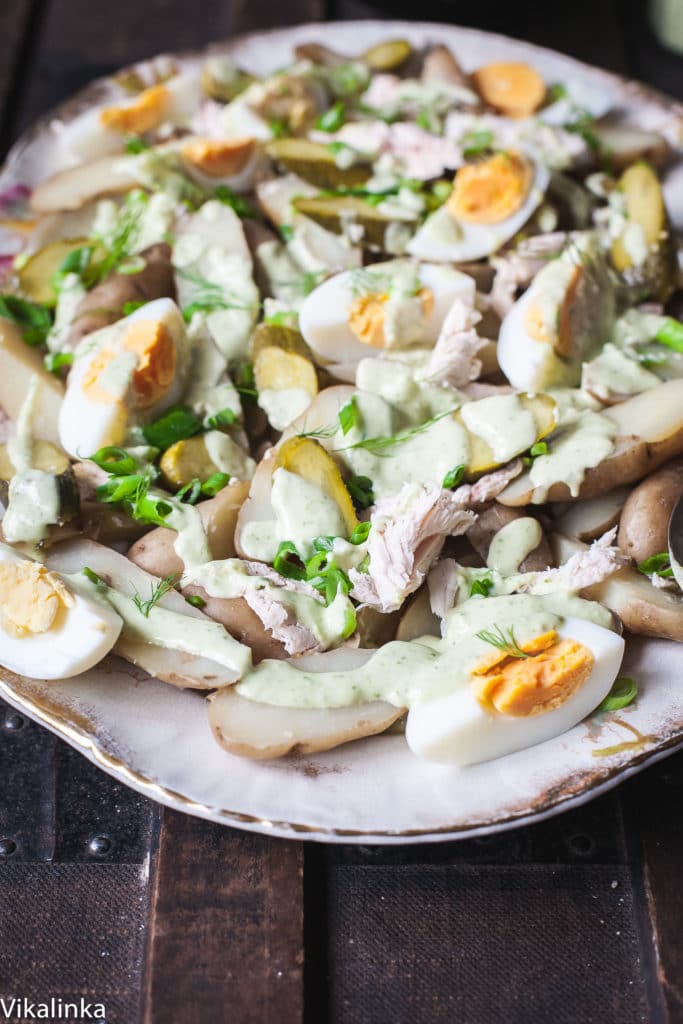 Recipe tips and tricks
Cook the potatoes and eggs a couple hours or even the day before so they cool before being combined into the salad.
Make extra Green Goddess dressing and store it in an airtight container for use in other recipes. It's incredibly flavourful and can be used in a huge variety of ways.
Sliced apples are not essential for this recipe, but do add a fresh kick and even more texture.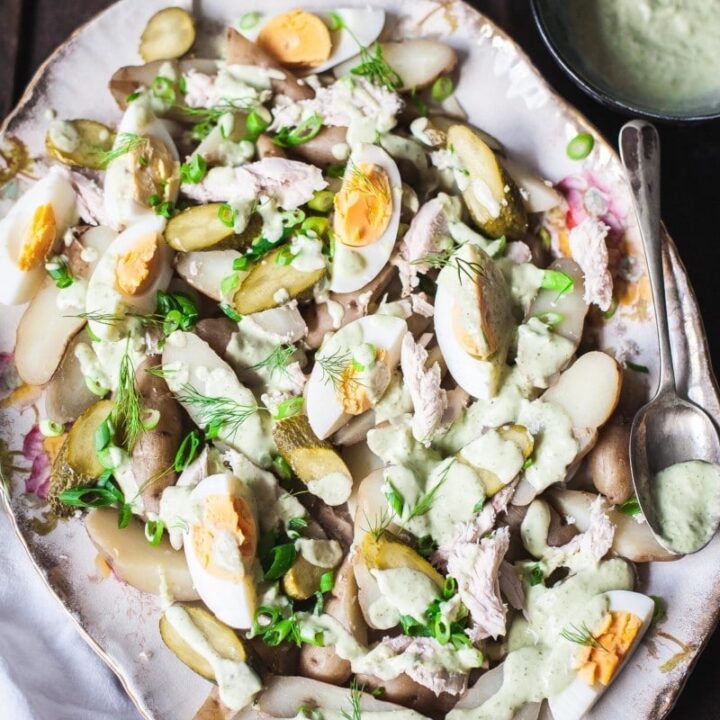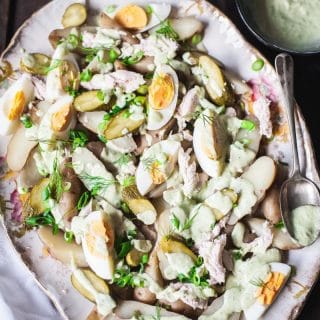 Fingerling Potato Salad with Green Goddess Dressing
Potato and egg salad with Green Goddess Dressing.
Ingredients
450

g

/1lb fingerling potatoes

boiled

4

eggs

boiled

5-6

small pickles

4

green onions

140

g

/1 cup cooked chicken

chopped rotisserie chicken works well

½

green apple

sliced (optional)

2-3

sprigs of dill

salt

pepper
For the Green Goddess Dressing
230

g

/1 cup mayonnaise

I used low-fat

6-7

green onions

white and green parts

20

g

/1 cup fresh basil leaves

1 ½

lemons

juice of

2

garlic cloves

2

anchovies

1

tsp

salt

1

tsp

freshly ground black pepper

160

g

/ ⅔ cup creme fraiche or sour cream
Instructions
Cut cooked fingerling potatoes in half and eggs in quarters, slice small pickles into ½″ slices, chop chicken in pieces to match potatoes in size, slice green onions and apple and arrange everything on a large platter.

To make Green Goddess dressing simply combine all ingredients except for creme fraiche in a food processor and process until smooth. Stir in creme fraiche.

Drizzle about a third of the dressing all over the salad and serve more on the side if desired.
Notes
Leftover Green Goddess Dressing can be stored in an airtight container in the refrigerator for later use.
Nutrition
Calories:
167
kcal
Carbohydrates:
17
g
Protein:
10
g
Fat:
7
g
Saturated Fat:
2
g
Polyunsaturated Fat:
2
g
Monounsaturated Fat:
2
g
Trans Fat:
1
g
Cholesterol:
101
mg
Sodium:
756
mg
Potassium:
465
mg
Fiber:
3
g
Sugar:
4
g
Vitamin A:
565
IU
Vitamin C:
27
mg
Calcium:
76
mg
Iron:
2
mg