No matter how much you love your own potato salad recipe, you absolutely must try mine!! It's everyone's favourite and a Russian classic.
This salad goes so well with our Homemade Burgers or Smash Burgers.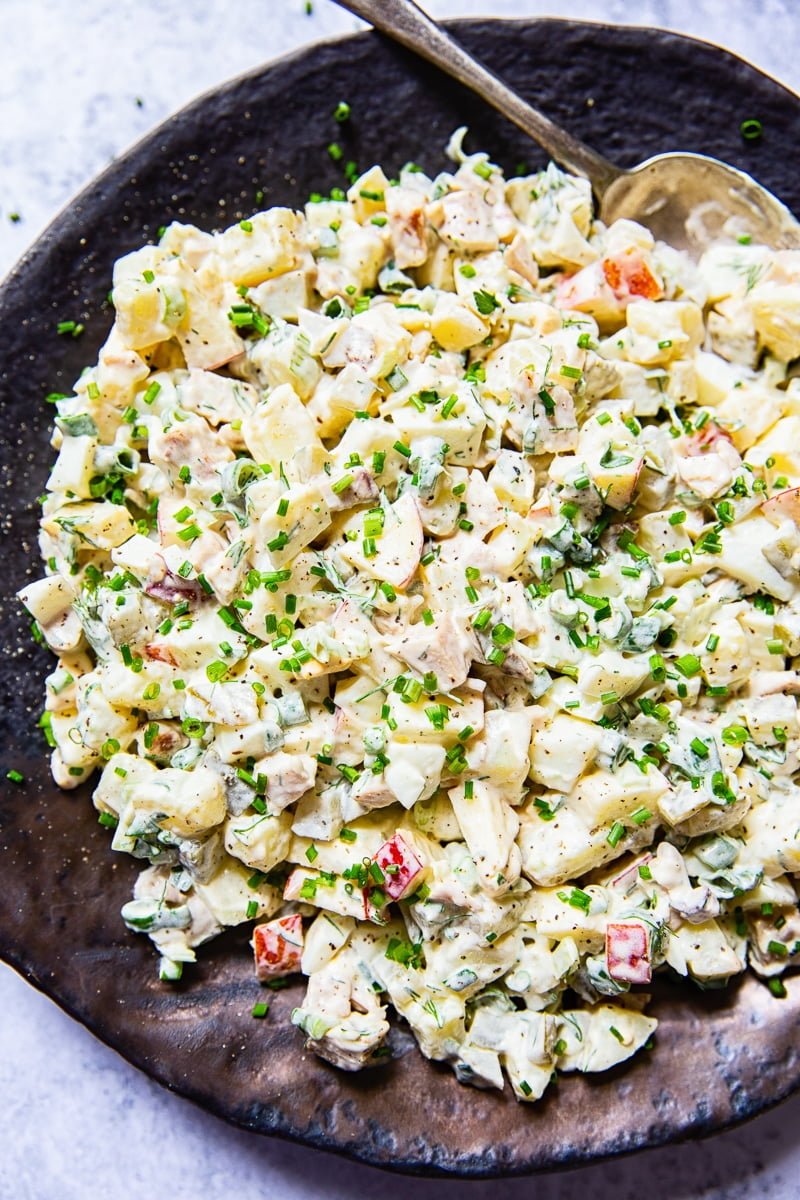 I've resisted sharing this potato salad recipe, my mother has been making for decades, despite the fact that absolutely no holiday table or a summer BBQ goes without my salad Olivier.
I struggled in vain. I believe it's time I reveal my secret.
What is Russian Salad Olivier?
You see this recipe is loved by all. The tradition and history of this creamy potato salad dates to the 19th century imperial Russia in all its glitz and glamour.
The golden century, when Russian nobility could afford only the best of the best, so they hired the cream of the crop staff from all over Europe. And that was especially true for chefs.
French cuisine was in vogue, and that is why many old Russian recipes like Beef Stroganoff feature elements of it, especially in the the sauces.
Back to my potato salad recipe though. What is so special about it?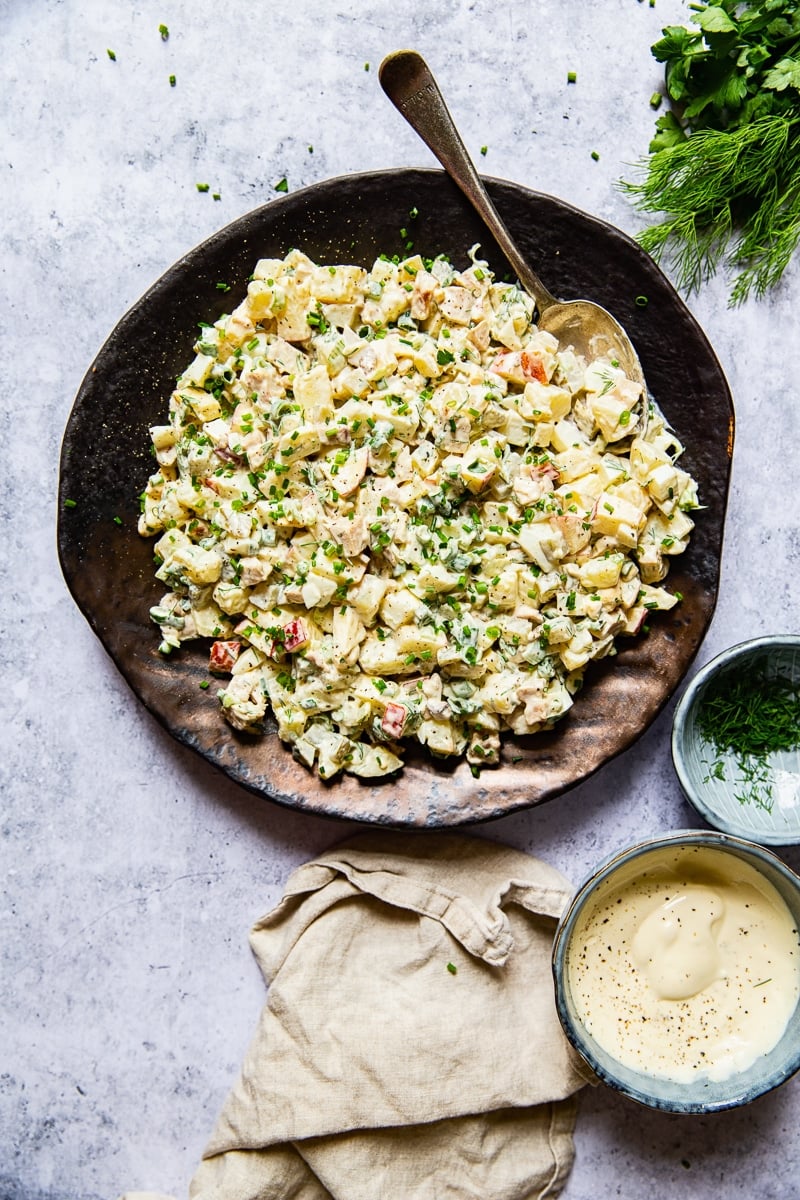 It's been created by a French chef Lucien Oliver for an upscale Moscow restaurant. It soon became so popular that the owner could never take it off the menu or people complained.
Many other chefs were ever so envious and tried to duplicate the recipe but unsuccessfully. However Monsieur Olivier never revealed the secret recipe and took it to his grave.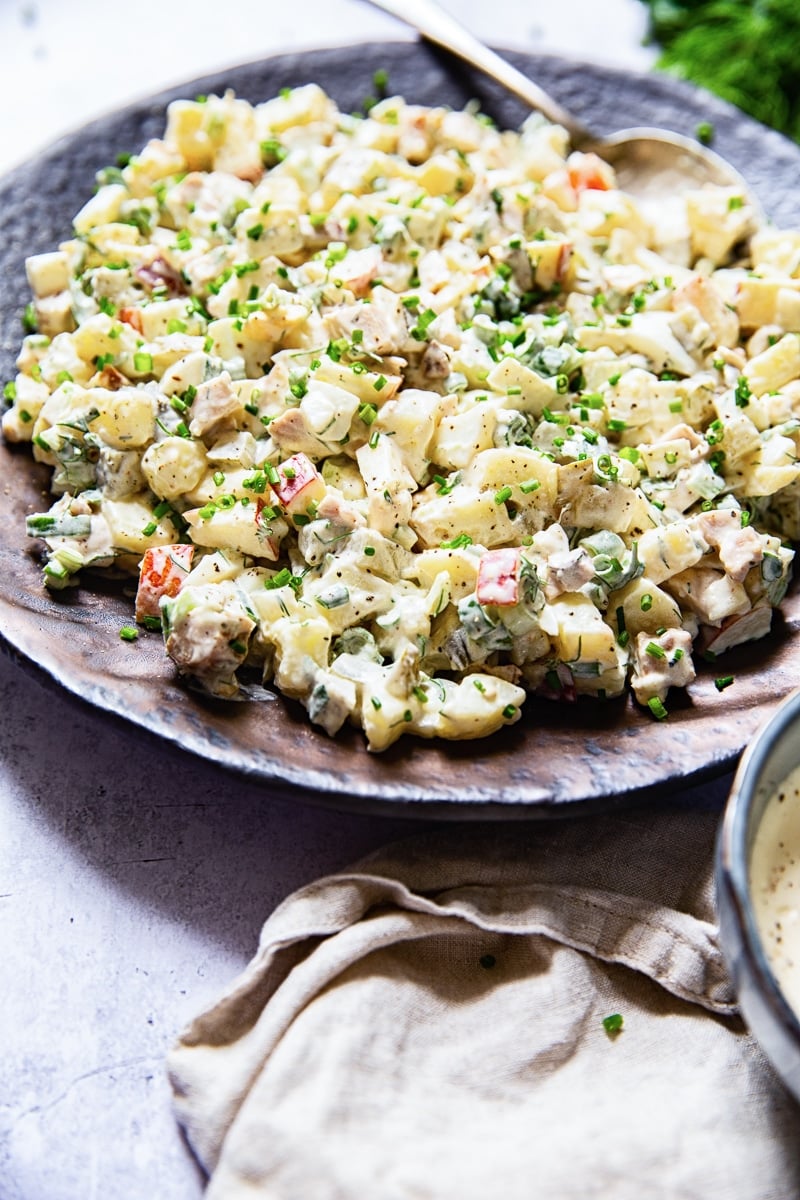 Is it still as popular?
Despite the fact that the the original recipe was never known, Olivier salad continued to live on. To this day it is extremely popular in all parts of Russia and former Soviet Union. It is also known in many European countries simply as "Russian salad".
I was quite surprised to see how ubiquitous "ensalada Rusa" was all over Spanish restaurant menus. It is apparently also very popular in Iran to the point where people don't even know know it's not a Persian potato salad! It truly became a part of their culture.
You learn something new every day!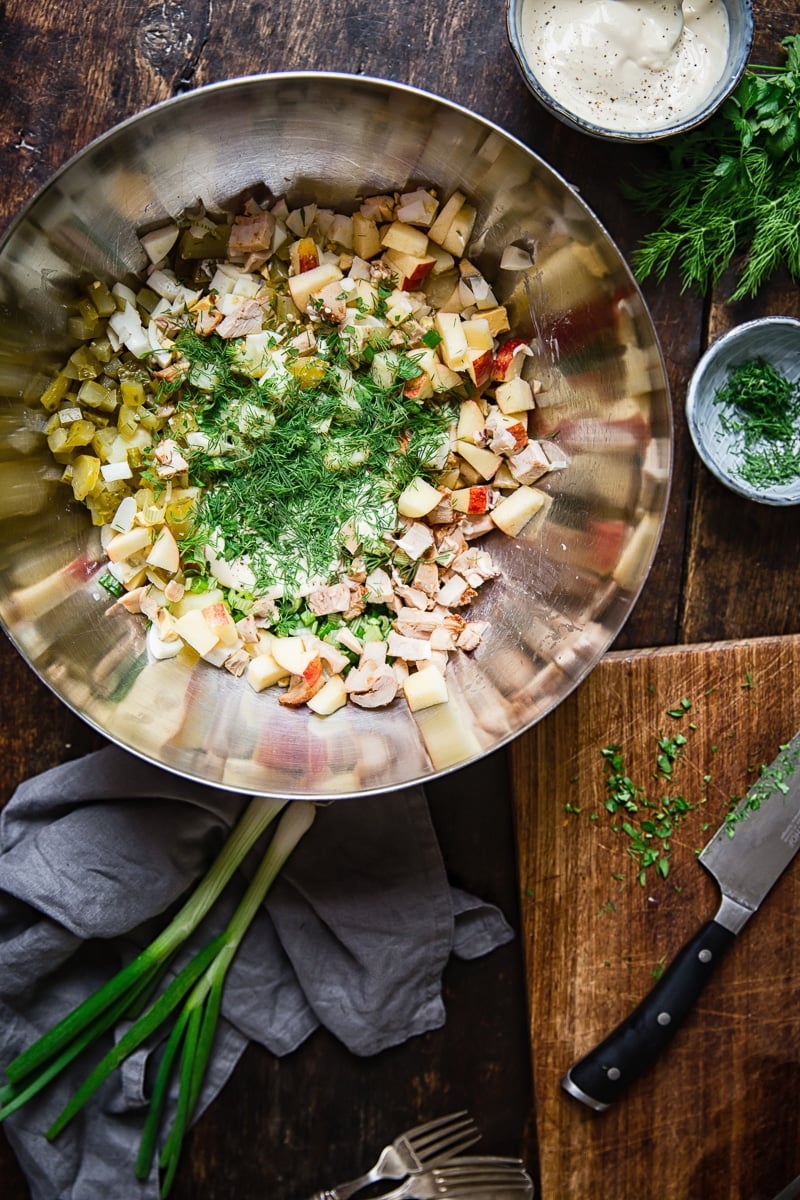 The Ingredients
Anyway, due to this salad popularity, an abundance of recipes exist. So if you've ever tried a different version of it, please know that is how it's supposed to be.
Everyone puts their own spin on this potato salad as long as core ingredients remain. If you mix boiled potatoes, eggs, pickles, some sort of meat and mayonnaise, you've got yourself the Russian salad Oliver.
Why This Recipe Works
Just a few words on how my version of this Russian salad differs from so many. First of all, if you live in Russia, go ahead and use any mayonnaise you prefer. But if you don't, then you absolutely need to make my salad dressing.
Adding Dijon mustard and white wine vinegar makes the mayonnaise like Hellman's taste so much better and much closer to the version I grew up with.
Traditionally ham or boiled kolbasa is used in this salad. My mum always used chicken and I prefer that, which also happens to be more historically accurate.
I usually buy rotisserie chicken or roast chicken pieces in my supermarket as they are more flavourful then plain boiled chicken. If you can get your hands on smoked chicken, try it. Even tastier!
You can also use leftover grilled chicken thighs!
And lastly, I always, always add apple and loads of fresh herbs to my potato salad and no peas!
Please let me know how you make yours!! And if you try my potato salad, let me see your photos! Just tag @vikalinka in your Instagram shots and I will see them!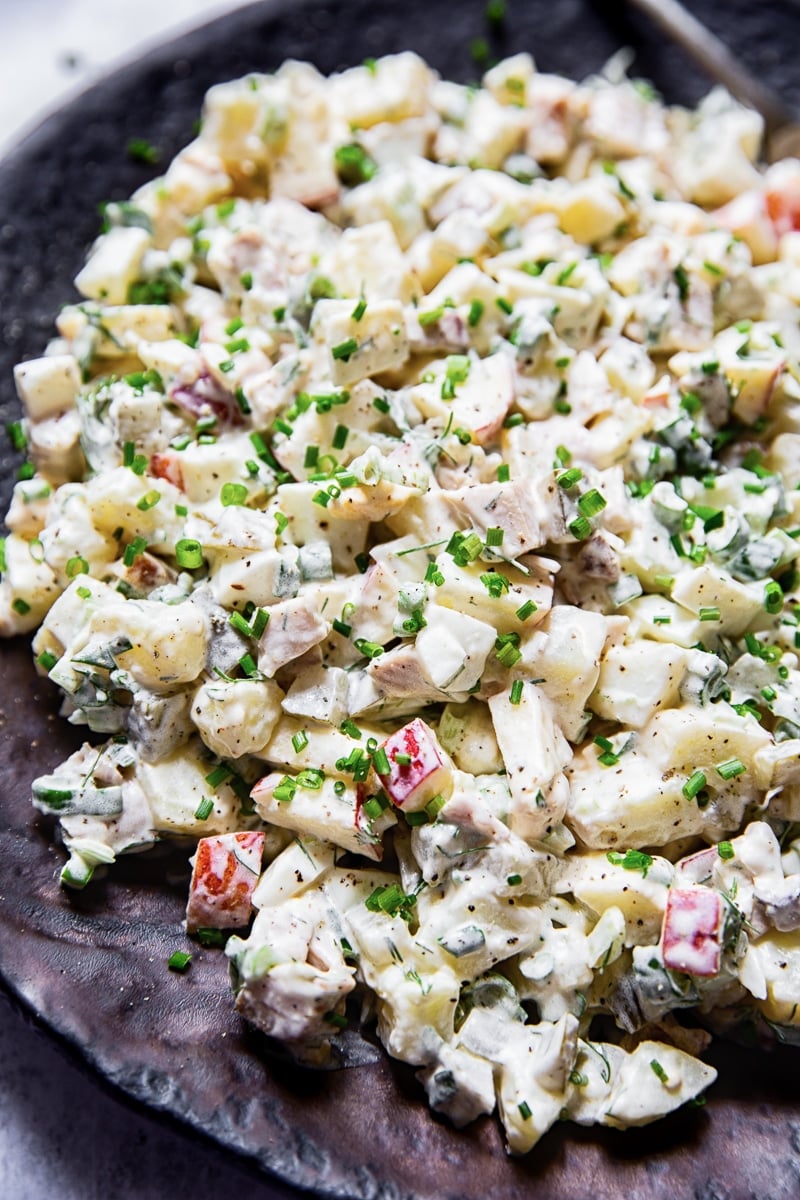 More Classic Russian Salad Recipes: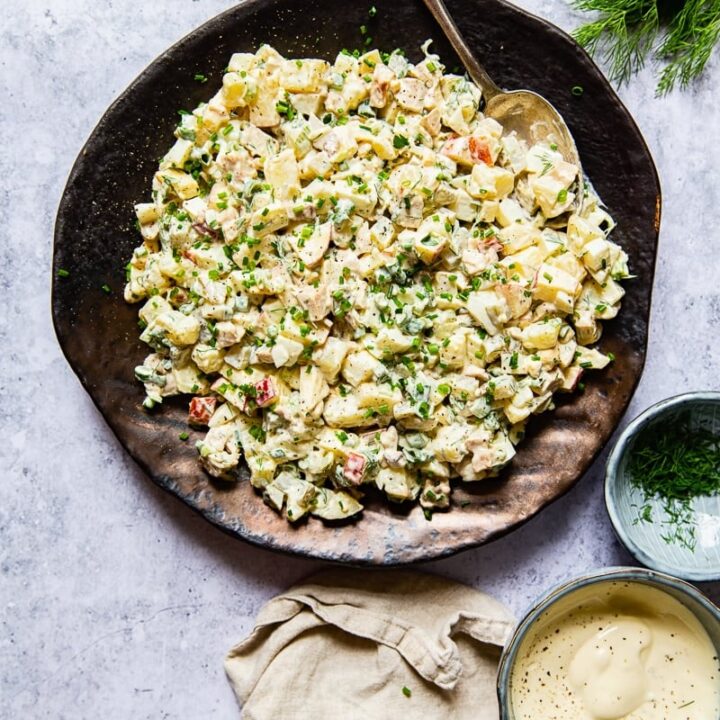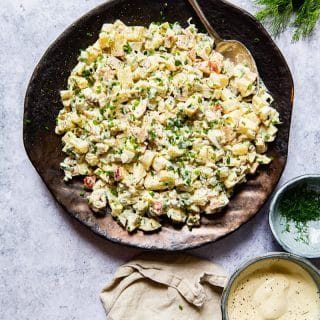 Russian Potato Salad Recipe with Chicken aka Salad Oliver
A hearty and flavourful Russian potato salad also known as Salad Olivier is a welcome addition to any celebration!
Ingredients
For the potato salad dressing
½ cup/125ml

mayonnaise

1

tbsp

white wine vinegar

1 ½

tsp

Dijon mustard

1

tbsp

water

to loosen the dressing

¼

tsp

black pepper
For the potato salad
4

waxy potatoes like red potatoes

medium, boiled and cooled

6

eggs

hard boiled

1 lbs

cooked chicken

such as rotisserie chicken

4

dill pickles (not sweet)

Polish gherkins in UK

3-4

green onions

½

apple

medium

1

tbsp

dill

fresh

1

tbsp

parsley

fresh

salt

to taste
Instructions
For the salad dressing
In a small bowl mix all ingredients with a whisk until well blended. Add a touch more water for desired consistency.
For the salad
Cook eggs and unpeeled potatoes, cool. Peel both and set aside. Boil or roast chicken if not using already prepared chicken. Remove skin and bones. (You can also use any leftover chicken for this salad.)

Dice all ingredients into a ½ inch dice and mix gently in a large bowl, add herbs and dressing last, then season with salt to taste. Refrigerate for at least 30 minutes to allow flavours to meld. Do not be tempted to skip this step as it does make a difference.
Nutrition
Calories:
128
kcal
Carbohydrates:
18
g
Protein:
6
g
Fat:
3
g
Saturated Fat:
1
g
Cholesterol:
122
mg
Sodium:
653
mg
Potassium:
572
mg
Fiber:
2
g
Sugar:
2
g
Vitamin A:
330
IU
Vitamin C:
10.9
mg
Calcium:
46
mg
Iron:
1.6
mg