This smash style burger with crispy caramelised edges and juicy middle is so easy to make at home. Stack it high for more fun. Learn how to make these epic burgers at home! Simple technique, that delivers amazing results!
Or take a look at our classic Hamburger recipe and our 2 Hour Hamburger Buns.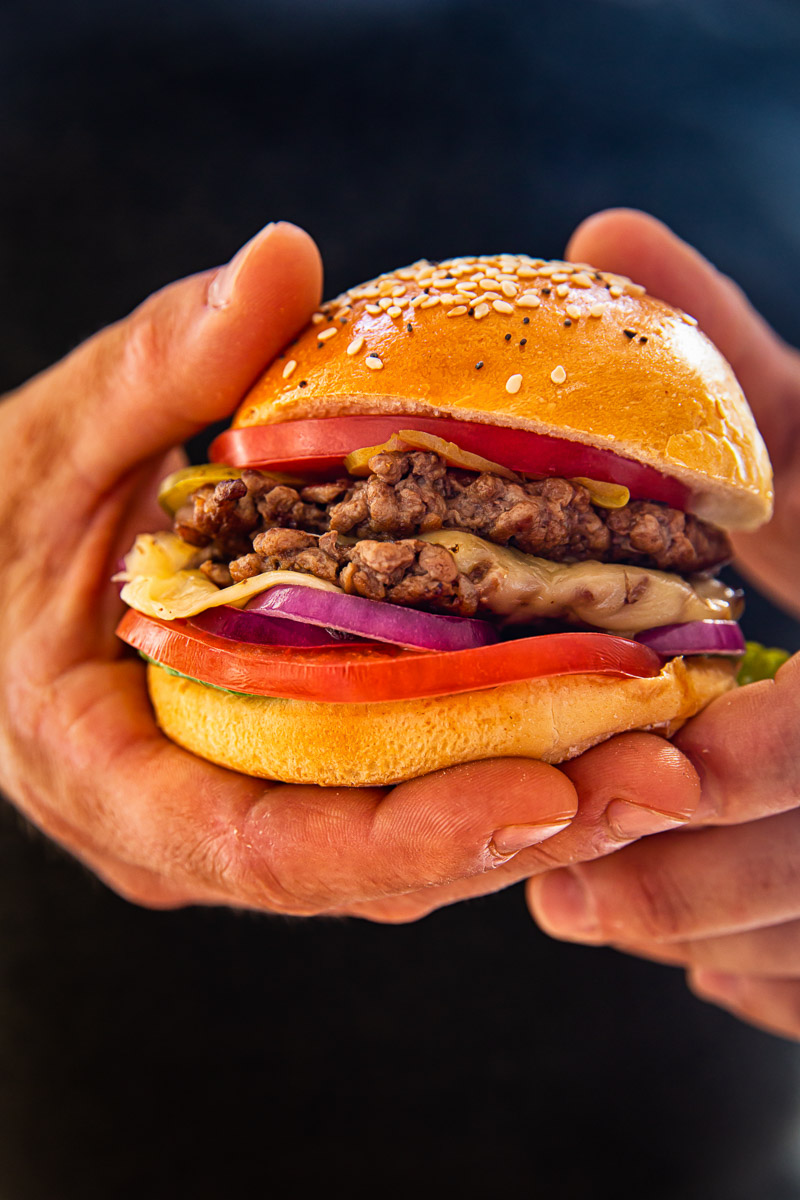 Made famous by a number of fast food chains springing up in the US, a smash burger is deceptively simple and very easy to make at home.
As the name suggests, it consists of thinly pressed beef patties, which appear to be smashed. With less ingredients than a classic burger, it also requires less time while bringing a unique flavour all its own.
What makes this burger so good
These burgers take advantage of the Maillard reaction. This is the technical term for the beautifully caramelized outsides of meatloaf or a toasted marshmallow, and happens when amino acids and sugars react to high heat.
Because a smash burger is so flat, a very high portion of the meat undergoes this reaction. This makes it taste different from a regular burger, which has the same reaction on the outside but not for most of the meat.
The reaction brings out truly delicious flavours, and gives a smash burger a unique flavour profile. My kids – experts in the field of hamburgers – have declared smash burgers their favourite!
What type of beef should I use?
Smash burgers are quite forgiving, and will work with most ground beef. But with everything, the final product is only as good as the ingredients you put in, so the best quality beef you can source will result in better burgers.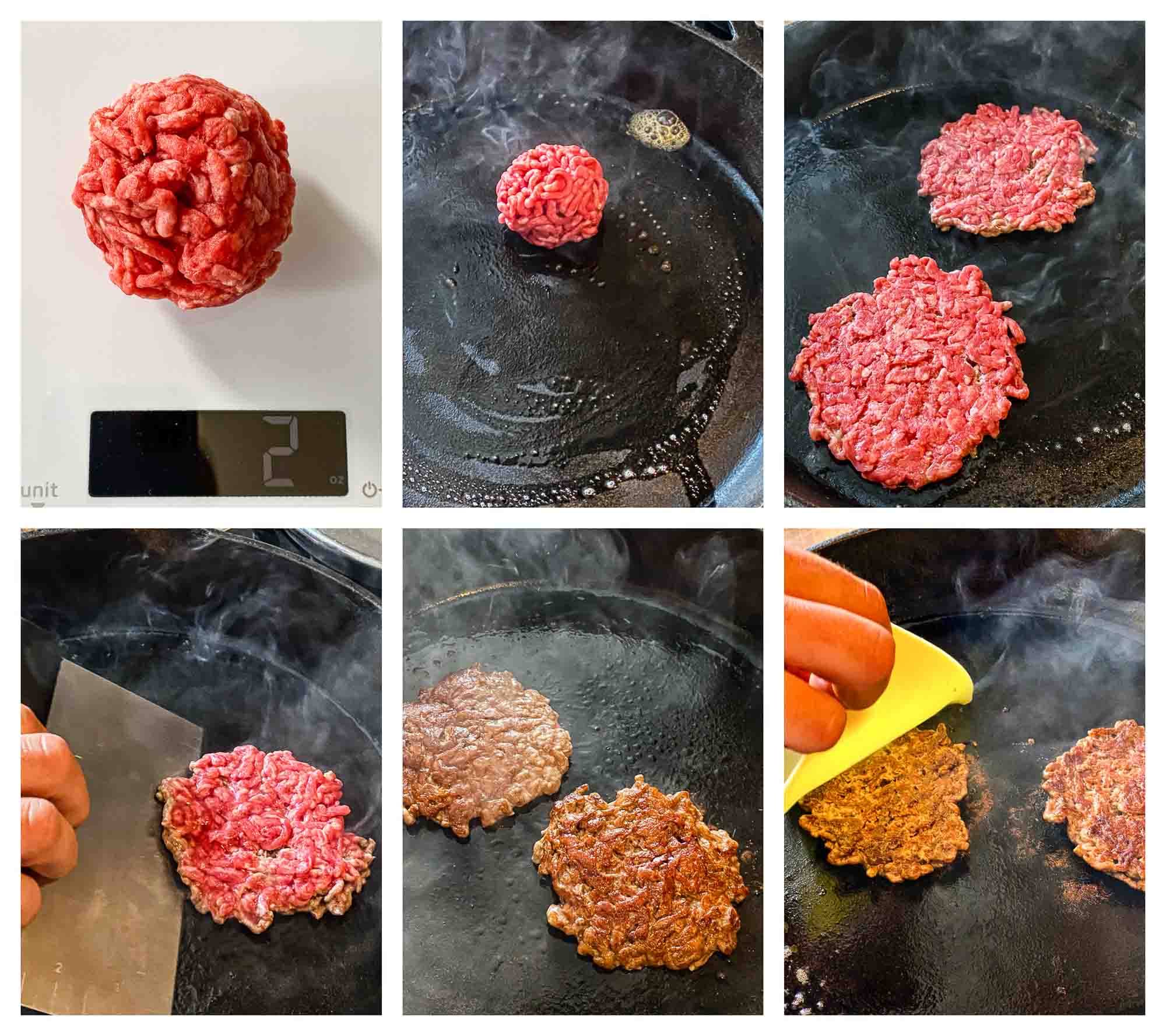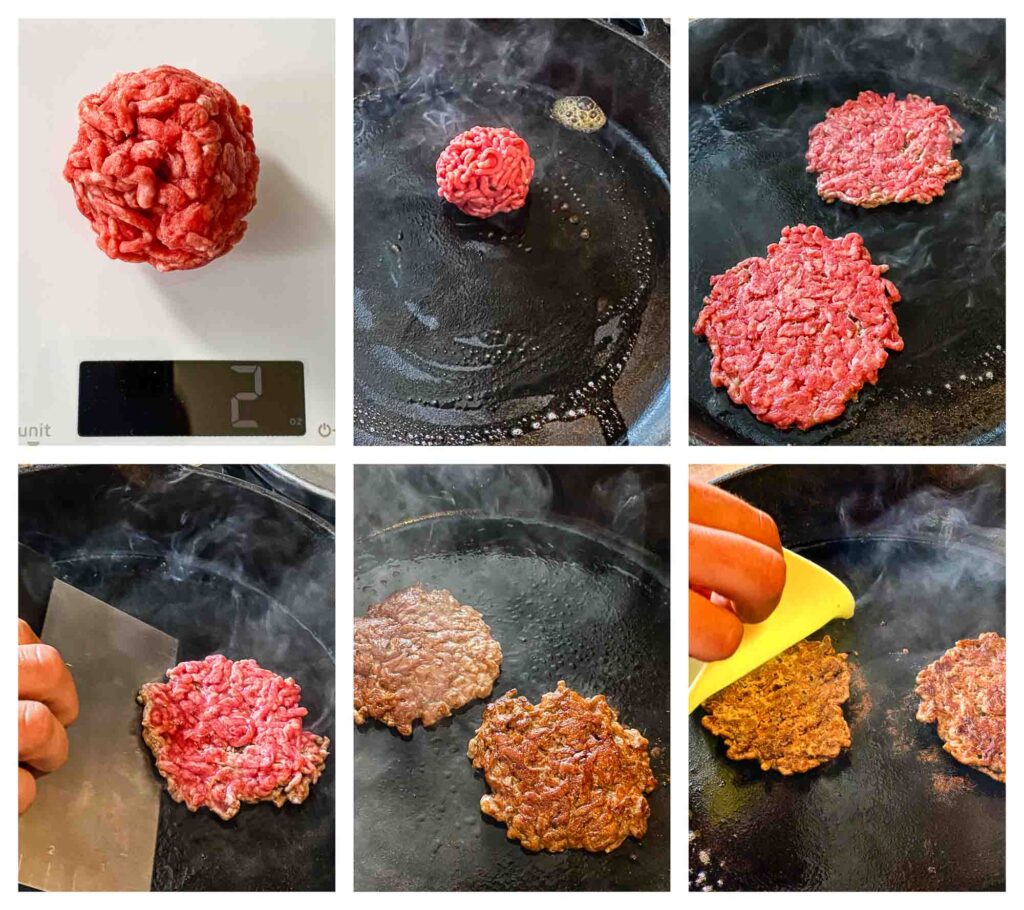 A higher fat content beef will result in extra moist burgers, but I've made them with 5% ground beef and found it worked perfectly well.
What temperature do I cook them at?
For the Maillard reaction to work, the pan needs to be on a high temperature, but this doesn't mean that you will need to put your burner on max. If too high, the burgers will cook overly fast and you'll be left to deal with an awful lot of smoke.
At a slightly lower temperature you will have more time to monitor the patties and avoid overcooking. The right temperature will depend on your stove, but I've found it best to put mine on 7 (medium high heat) and ensure the pan has plenty of time to preheat.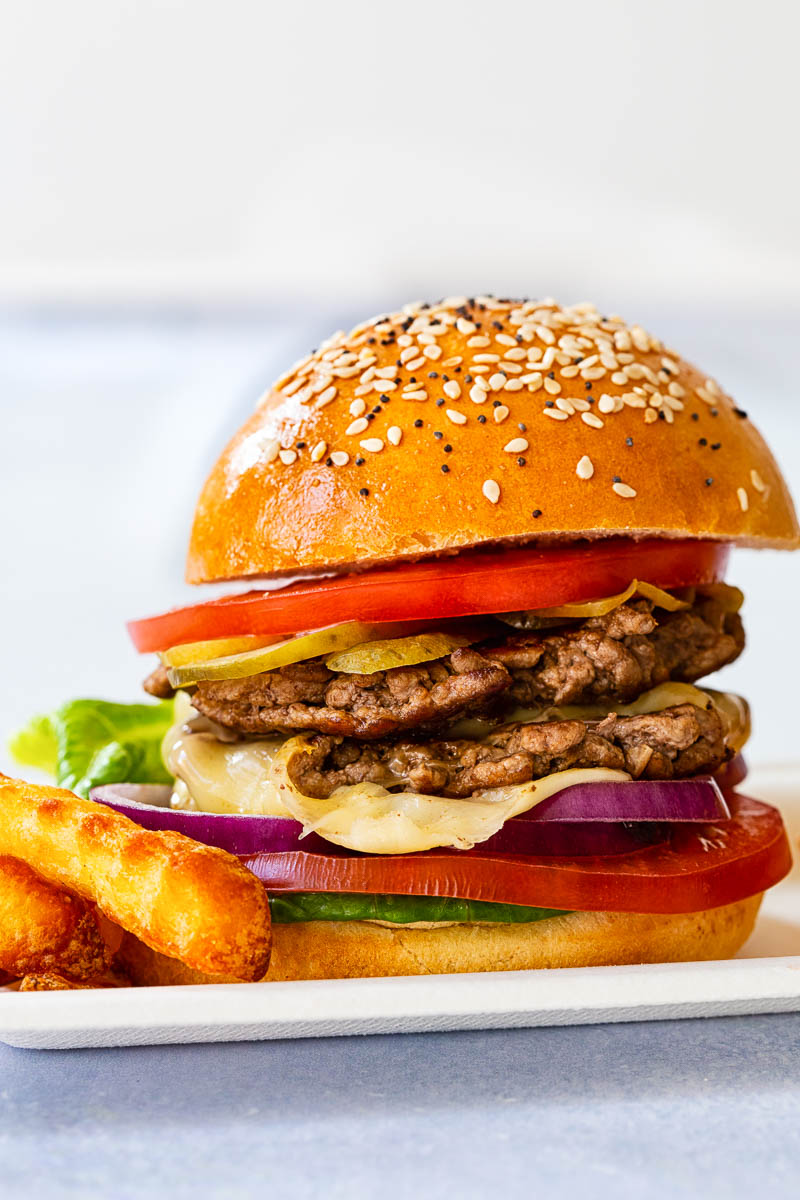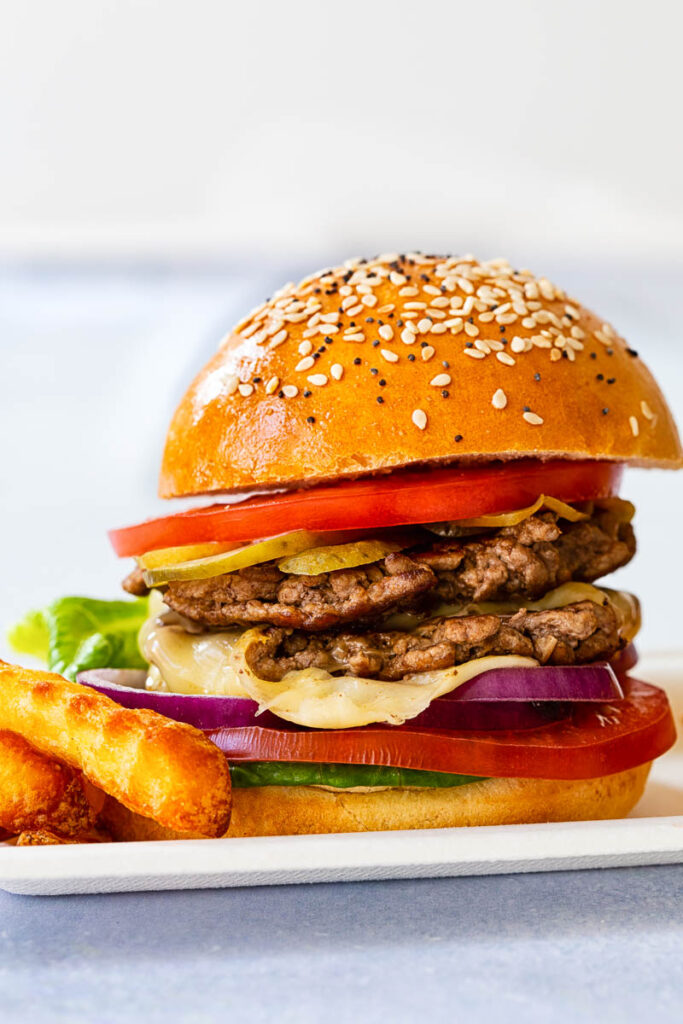 How do you smash the burger?
I had to look around my kitchen to find something to smash them down with. Because they are best if quite flat, none of my spatulas were sturdy enough to do this on their own.
In the end, I used a small saucepan and pressed down with a wooden spoon. It is possible to find burger presses that will do the trick, but solutions are out there if you are willing to be creative.
Recipe tips
To get best results, use a cast iron or stainless steel pan. A non-stick frying pan will make it difficult to have the same results on the surface area of the burger patties.
After a great deal of experimenting, I found that adding a small amount of butter to the pan adds just the flavour and helps the patties to slide off easily.
Choose a light bun for your burger. Because the patties are small, using a thick and bready bun with throw off the balance of the burger.
Add salt and pepper to the patties when they are already on the pan. Because salt draws out moisture, it will dry out the patties if added too soon.
Add on some beef patties! Two is the minimum for good results, but a couple more will only make it better.
Top with other delicious things like cheese, bacon, sliced tomatoes, onions and pickles. The more the merrier!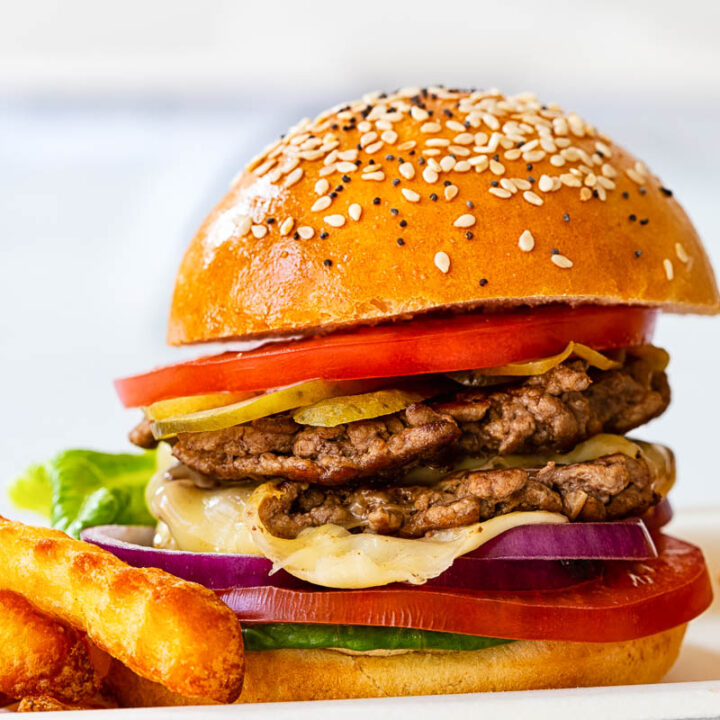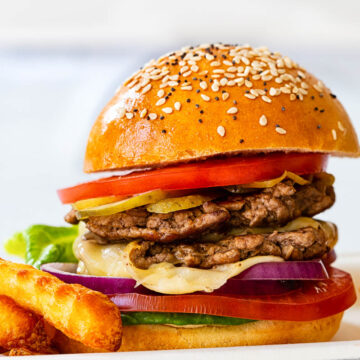 Epic Smash Burger
This smash style burger with crispy caramelised edges and juicy middle is so easy to make at home. Stack it high for more fun.
Print
Pin
Rate
Ingredients
1

lb

/16 oz ground beef

minimum 10% fat

Salt

Pepper

4

hamburger buns

1

tbsp

butter
Instructions
Divide ground beef into 2 ounce portions and shape into loose balls.

Preheat pan on high heat and add a small amount of butter. Add two meat balls to the pan and press down firmly. Add salt and pepper. Cook for 30 seconds or until brown on the edges.

Flip both patties and press down firmly once more. Cook for 1 minute. Top one patty with cheese and place the second patty on top. Remove from heat.

Construct burger with your favourite toppings.
Nutrition
Calories:
433
kcal
|
Carbohydrates:
22
g
|
Protein:
24
g
|
Fat:
27
g
|
Saturated Fat:
11
g
|
Trans Fat:
2
g
|
Cholesterol:
88
mg
|
Sodium:
897
mg
|
Potassium:
365
mg
|
Fiber:
1
g
|
Sugar:
3
g
|
Vitamin A:
89
IU
|
Vitamin C:
1
mg
|
Calcium:
97
mg
|
Iron:
4
mg