These homemade hamburger buns with a soft and fluffy brioche like interior will take your burger game up a notch! They are done in 2 hours from start to finish!
Pair these homemade buns with our Best Homemade Burgers or Asian Pulled Pork with Carrot, Zucchini and Radish Slaw for delicious sandwiches! These buns filled with a fried egg, bacon and a slice of cheese also make the best breakfast.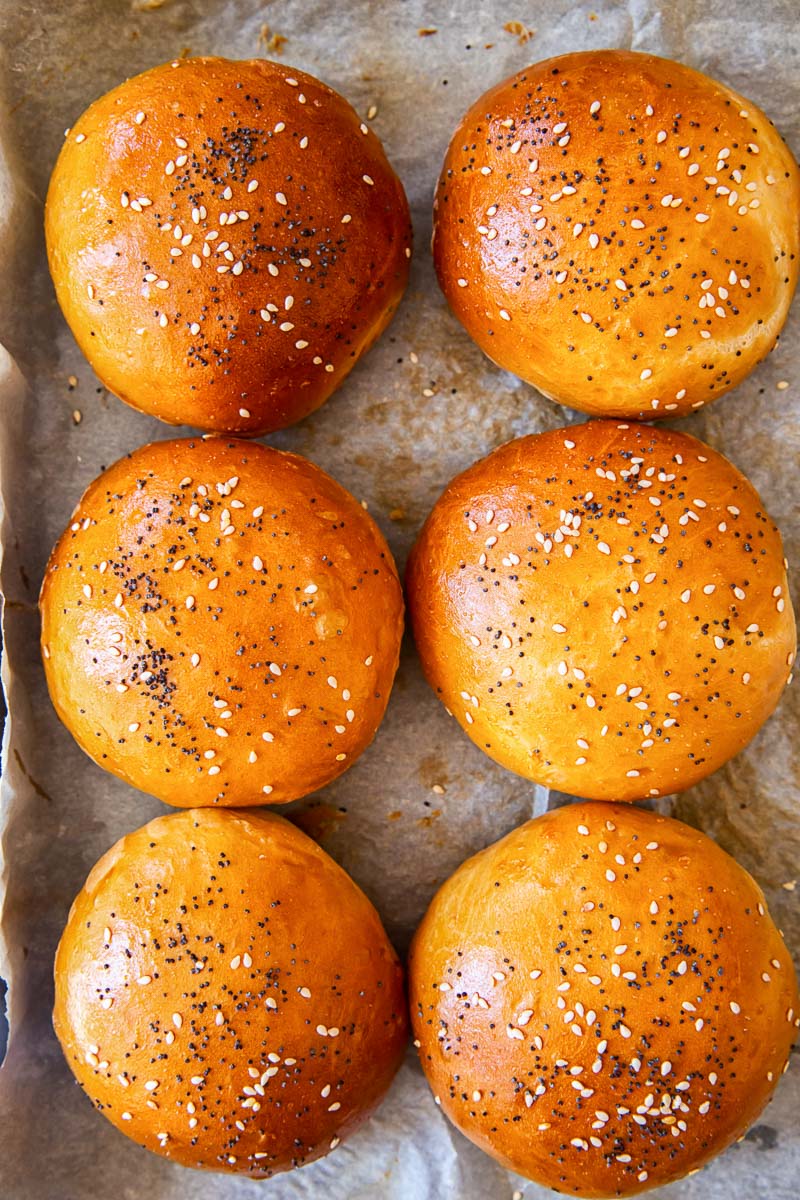 It never seems to be a matter of necessity to make your own homemade hamburger buns until it's no longer safe to go outside and then it becomes a matter of the utmost priority! Are you with me?
However, just because we are spending more time in the house, it doesn't mean we want to spend all our time tending to the rising dough. There are also kids to be homeschooled, books to be read and don't even get me started on Netflix!
These soft and delicious hamburger buns take 2 hours from start to finish!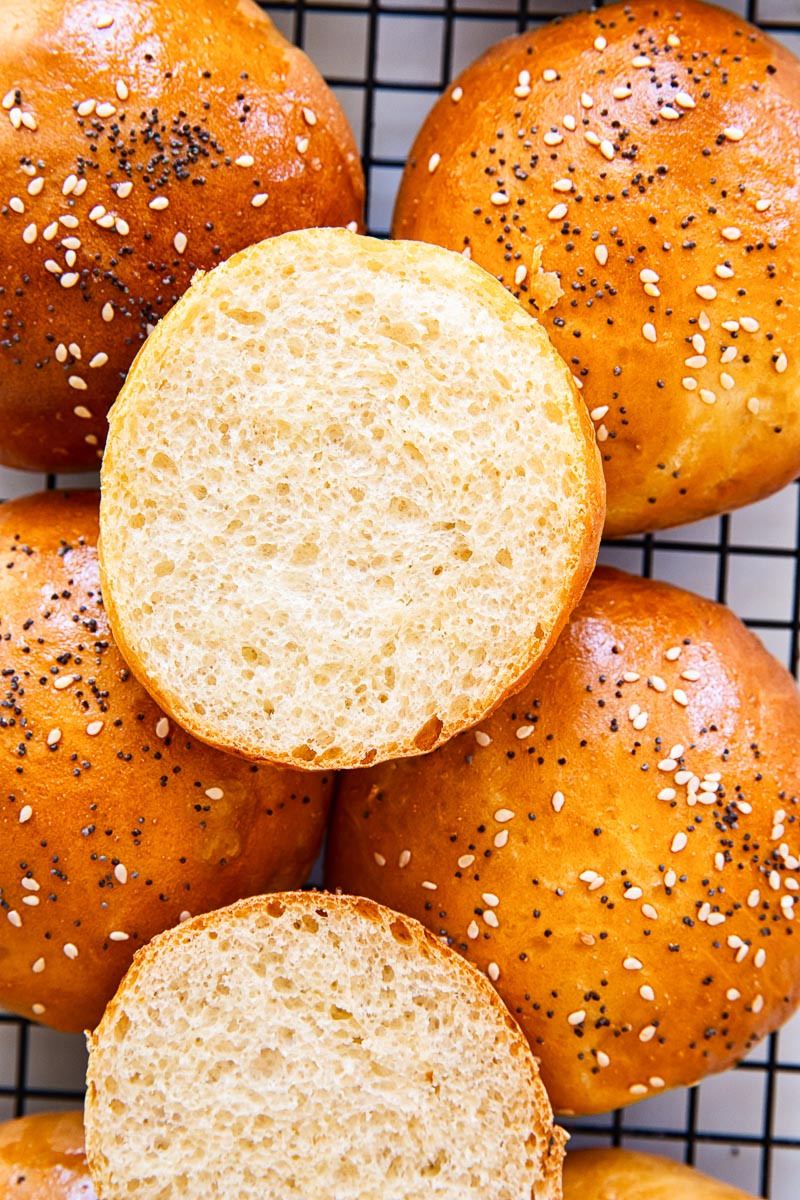 Hamburger Bun Recipe
This recipe comes from my mother as all best recipes do. I took her master yeasted dough recipe, tweaked it a tiny bit to fit my purposes as you can imagine my Russian mother doesn't bake too many hamburger buns!
And what can I say we were absolutely smitten with the results! These buns are all you want to cradle your burger. They boast a sturdy and glossy exterior with soft and fluffy interior crumb.
The most important quality in a burger bun to me is to to be able to soak up the juices without falling apart in your hand while not being unyielding to the bite! Right there is the perfect balance for me.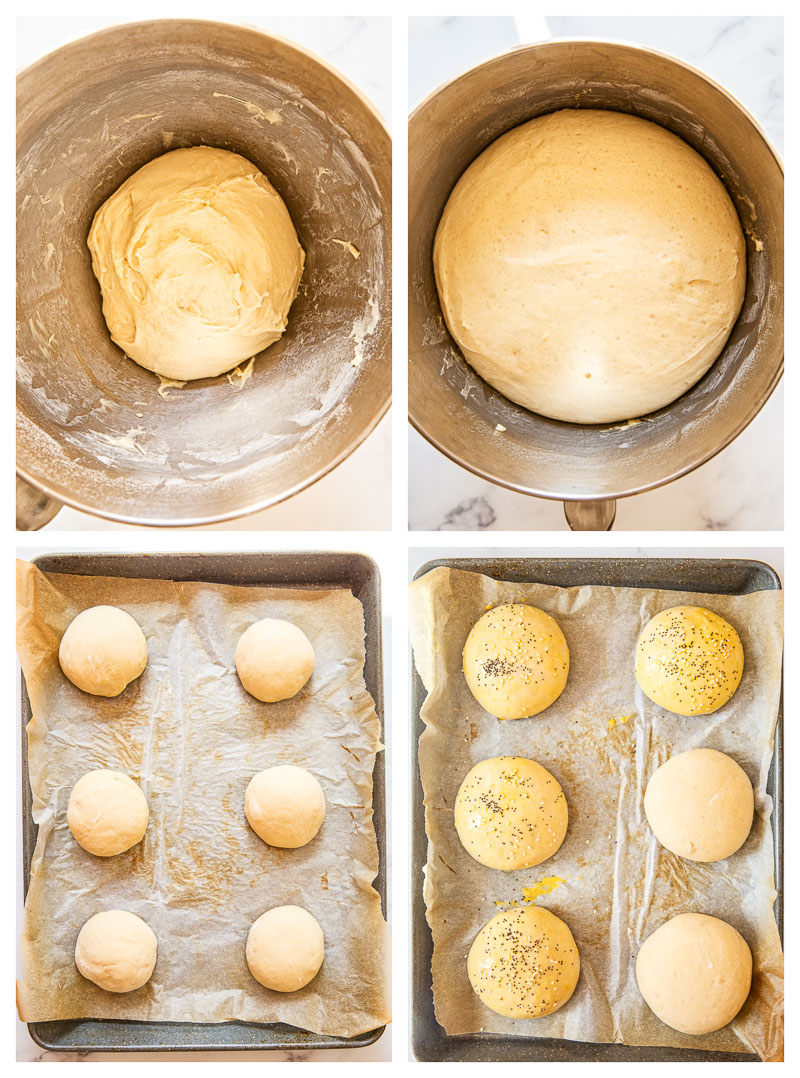 How to Make Homemade Burger Buns
This recipe is not too dissimilar to a brioche recipe, and that is why it creates a soft and buttery bun. Essentially it's an enriched with eggs and oil yeasted dough.
I don't want you to be afraid just because I mentioned the word "brioche", which is strongly associated French bakeries and might sound intimidating. This dough recipe is seriously simple!
The main difference is the process has been simplified by adding vegetable oil straight to the dough instead of incorporating soft butter slowly.
The yeast amount has also been increased to create a fast rising dough. So you can have your buns ready in 2 hours flat.
What flour should I use?
For best results I recommend using strong bread flour for its higher gluten content. However all purpose flour for the US and Canadian readers will also work.
Plain flour will be an acceptable substitute for the UK readers if no bread flour is available although it will produce a tighter crumb.
You can also use whole wheat or spelt flour to make these hamburger buns. Or use a half and half combination of the white and whole wheat flour.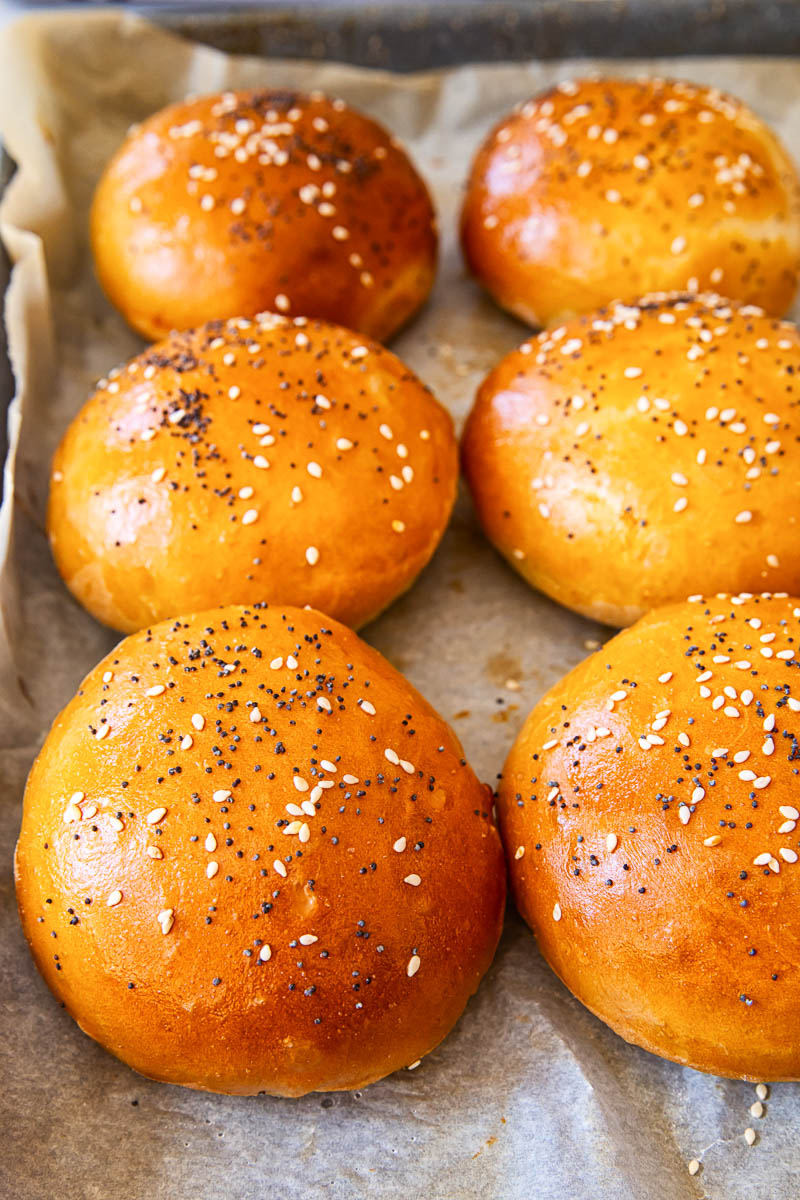 Can I freeze them?
Yes, you absolutely can! You can easily double the recipe and freeze half of it for another day!
If you do double the recipe, all you have to do is to double all ingredients.
Easy Bread Recipes to Try: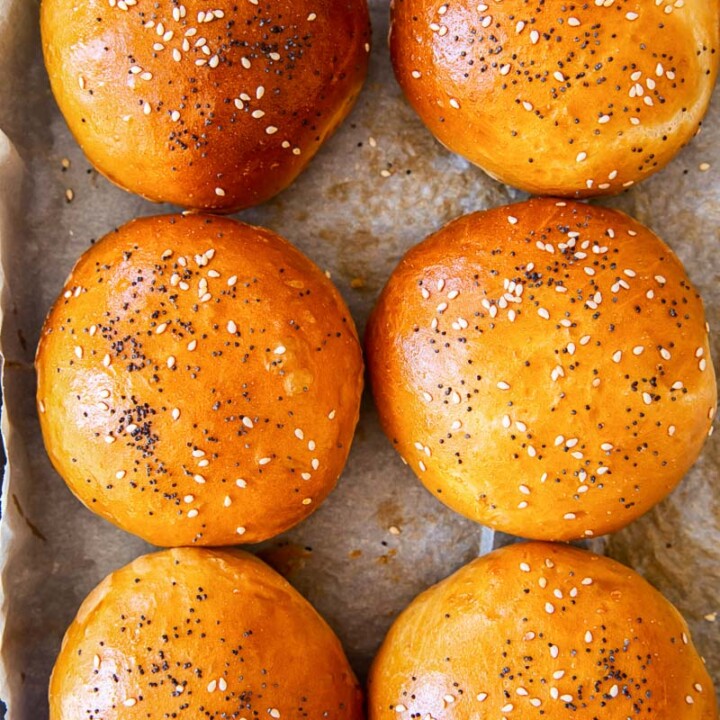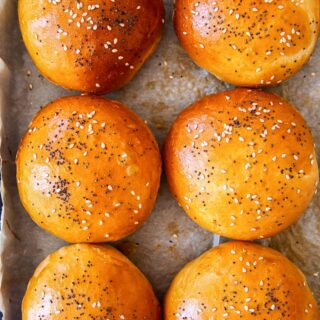 2 Hour Hamburger Buns
These homemade hamburger buns with a soft and fluffy brioche like interior will take your burger game up a notch! They are done in 2 hours from start to finish!
Ingredients
220ml/1 cup

warm milk

whole or skimmed

7g/1 tbsp

active dry yeast

1.5

tbsp

sugar

1.5

tbsp

vegetable oil

1

egg

0.5

tsp

salt

400g/3 cups + 2 tbsp

white bread flour or all purpose flour

read notes

1

egg for brushing

1

tbsp

sesame seeds or poppy seeds
Instructions
In a small bowl combine the warm milk, yeast and sugar and let it stand for 5 minutes. Then add the oil, salt and 1 egg. Mix with a fork.

Add the liquid to the flour, mix until rough dough forms, then take it out of the bowl onto a floured surface and start kneading until smooth and elastic dough is formed for approximately 8-10 minutes. If using a stand mixer, knead using a dough hook attachment for 1 minute on low speed, then switch to medium and kneed for 4 minutes longer.

Take the dough out of the bowl and rub the bowl with vegetable oil, then return the dough to the bowl, cover with plastic wrap and a towel and let it rise for 45 minutes in a warm place until it more than doubles in size. Preheat the oven to 180C/350F.

After 1 hour it should double in size, take the dough out of the bowl onto a floured surface and divide into 8 equal parts. (You might want to weigh them to ensure they are all the same.) Roll into balls and place on parchment-lined sheet 2 inches apart from each other. Cover with a tea towel and let them rise one more time for 30 minutes.

Brush with a beaten egg and sprinkle with sesame seeds or poppy seeds or both and bake in the preheated oven for 20-25 minutes or until golden. Then cool on a wire rack.
Notes
Use bread flour for best results, however all purpose flour will also work.
You may use whole wheat or spelt flour to bake these buns or a 50:50 ratio of white and whole wheat or spelt flour.
Nutrition
Calories:
254
kcal
Carbohydrates:
42
g
Protein:
8
g
Fat:
6
g
Saturated Fat:
3
g
Cholesterol:
44
mg
Sodium:
174
mg
Potassium:
118
mg
Fiber:
2
g
Sugar:
4
g
Vitamin A:
104
IU
Calcium:
54
mg
Iron:
3
mg