These pulled pork sandwiches are the ultimate comfort food. Pork shoulder marinated in exciting Asian flavours of ginger, garlic, hoisin sauce, sesame oil and a touch of maple syrup for sweetness, then slow cooked until tender. Don't skip the slaw. It takes the flavour even further!
You might want to add this Asian Noodle Salad in Peanut Dressing or Thai Green Papaya Salad to compliment these delicious pulled pork buns.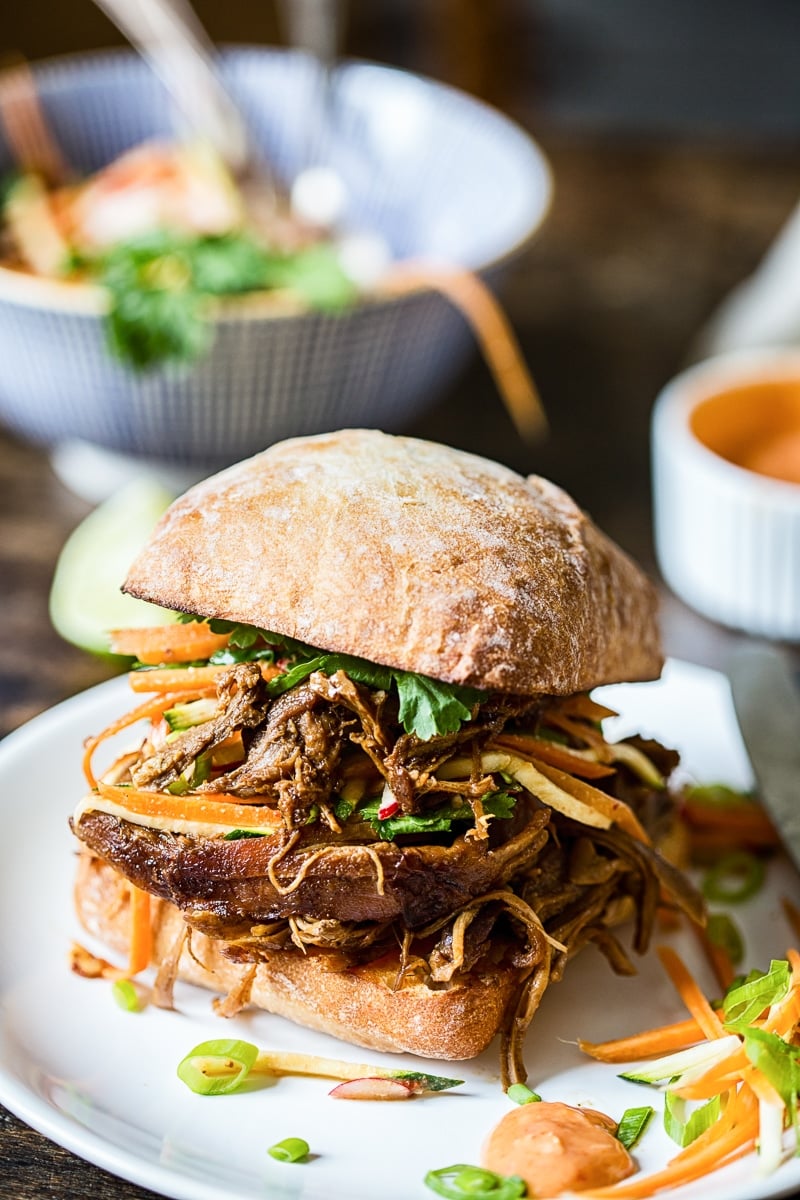 Pulled pork sandwiches came up several times in our conversations lately but as you can imagine they are not something you can whip up on a whim.
They take planning and hours of cooking, so after Brad had mentioned for the umpteenth time I decided to plan ahead.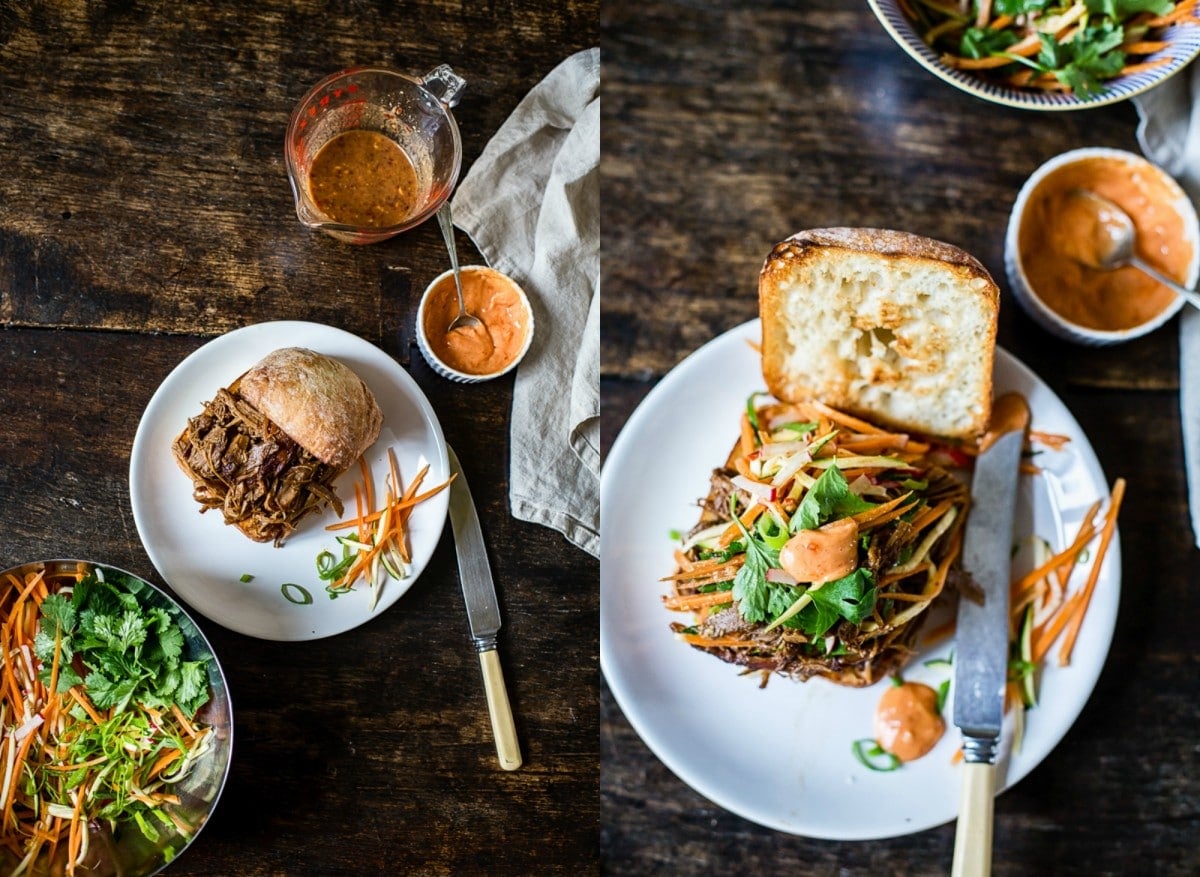 What goes into Asian pulled pork sandwiches?
pulled pork
sturdy bread to hold in all the juices
flavourful slaw to add more texture and balance out the flavours
mayonnaise because it's delicious and it keeps things creamy!
Yes, a little planning is indeed needed. This recipe was inspired by Vietnamese Banh Mi and was originally meant to be served and photographed in a baguette. However, the morning I set aside to take photos I realised the last baguette was sent to school in the form of a lunch, so I was stuck with these buns.
What bread is best to use for these sandwiches?
Not to worry, the buns are not the problem since 'banh mi' simply means 'bread' or 'sandwich'. I do recommend using very hearty bread like these ciabatta buns or mini baguettes as the pulled pork is very juicy. It will soak your buns right through if you use something less sturdy!
What cut of pork should I use?
Pork shoulder is absolutely perfect for slow roasting. You can also use pork butt but do avoid pork loin as it's too lean for the slow cooking process.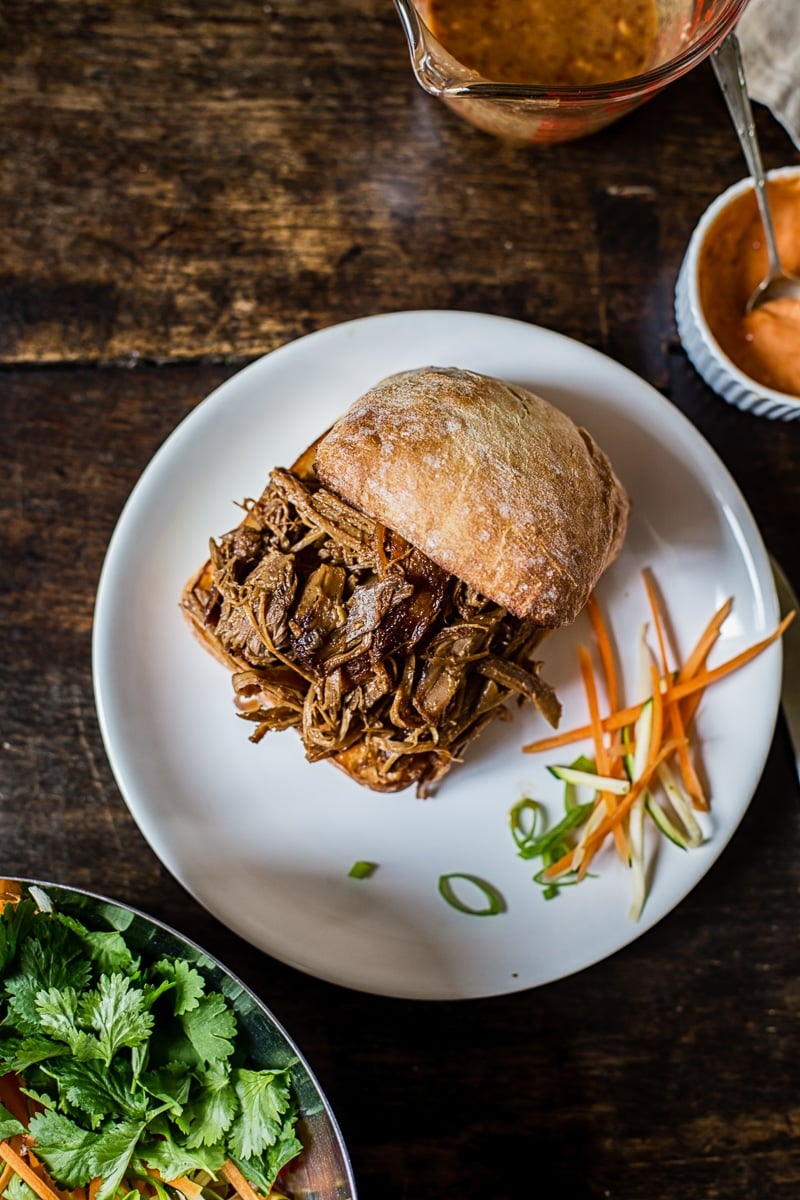 Ingredients
This recipe calls for many ingredients as Asian recipes often do, however very little skill is required since most of the flavour comes from the low and slow cooking process and the beautiful marinade.
All you need to do is to mix up hoisin sauce, soy sauce, grated ginger, sesame oil, rice vinegar, garlic, a bit of maple syrup or honey for sweetness and a few spices to end up with the most fragrant marinade for your pork shoulder. The rest takes care of itself while the meat is being cooked slowly in an oven.
Slaw recipe
When the meat is so flavourful, the sides often come as an afterthought but it's a mistake. The slaw recipe I am sharing brings the needed freshness, crunch and vibrancy as well as a needed balance to the rich pulled pork. Don't skip it!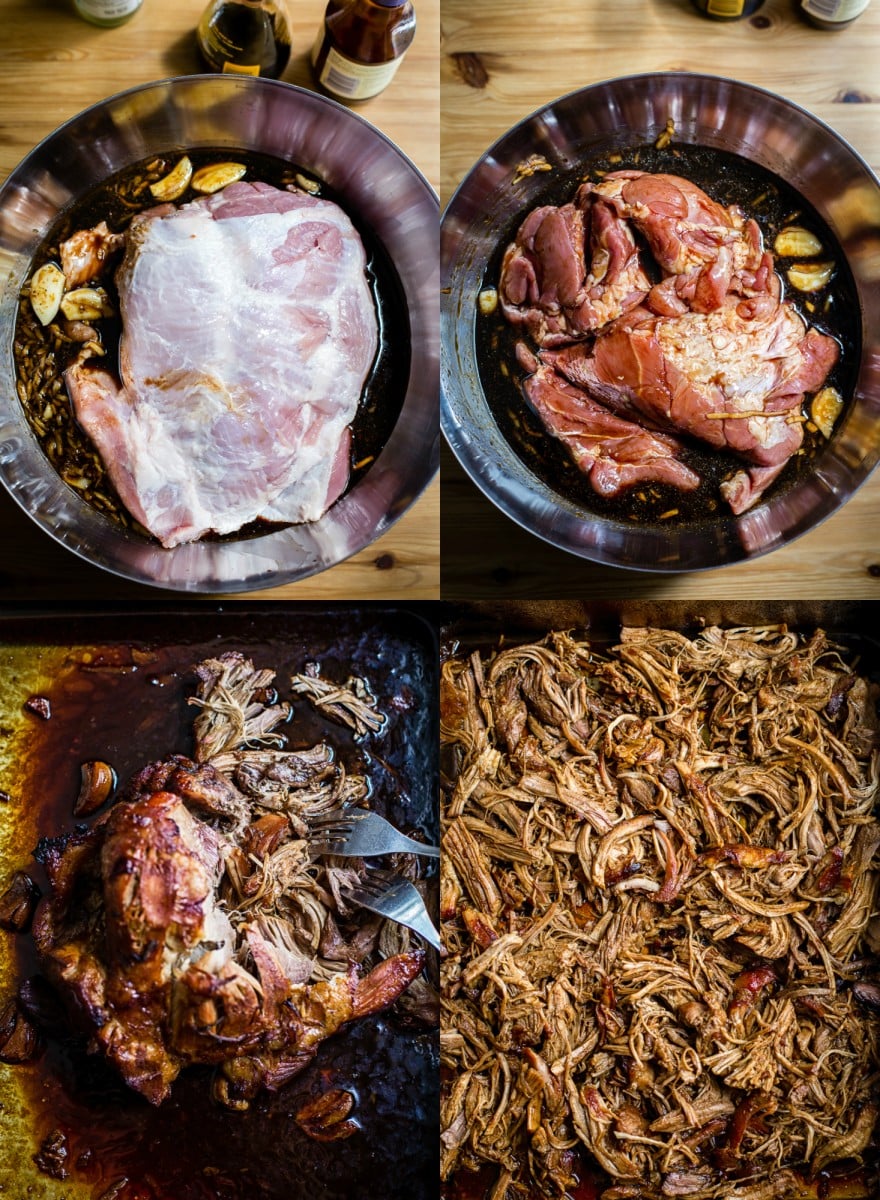 We live in England and our summers are not something you can describe as "blazing hot". Occasionally we do get patches of hot weather when I can't even imagine turning an oven on.
Slow cooker pulled pork
For those days you can successfully cook this pulled pork recipe in your slow cooker without heating the whole house. Follow the recipe as written but instead of oven, cook the meat in a slow cooker for 8 hours on low or 4 hours on high.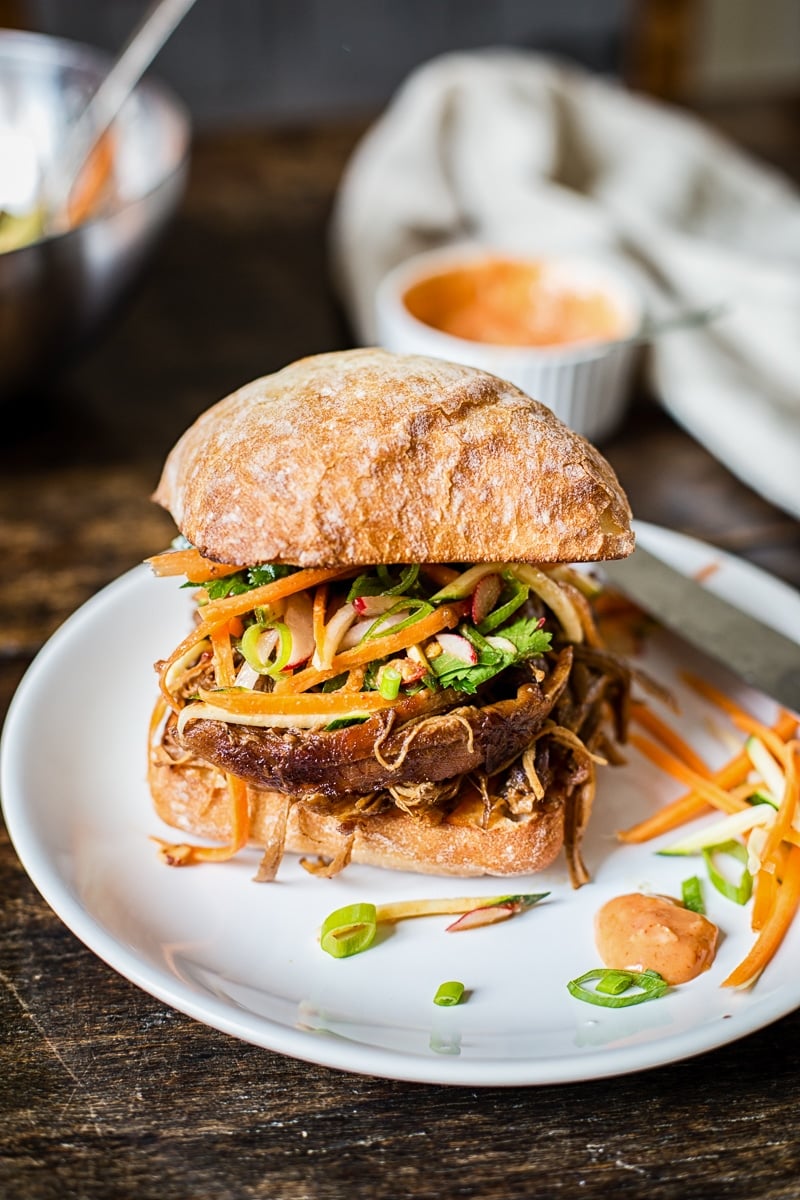 What country is it from?
As I'd mentioned earlier these pork sandwiches are inspired by Vietnamese Banh Mi but I can't say they are really authentic. I used the principles of banh mi, which is really a fusion of Vietnamese flavours and French style of eating.
That is why you see luscious pulled pork cooked in a true Asian style. It is served with zesty pickled vegetables but also with very French favourites like bread and mayonnaise.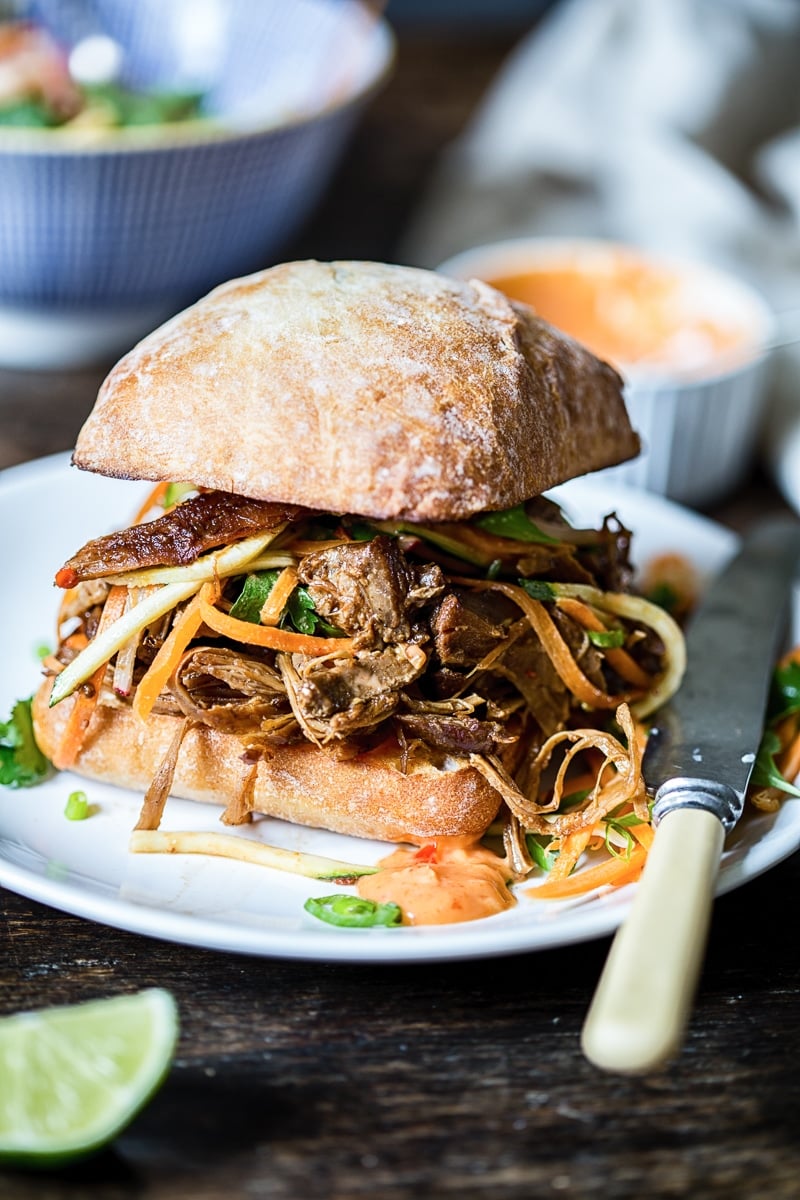 Storage and leftovers
The pulled pork itself freezes beautifully, and it is just as delicious as leftovers as it is freshly cooked.
However the carrot, zucchini and radish slaw needs to be finished on the same day as it gets too watery and doesn't keep well.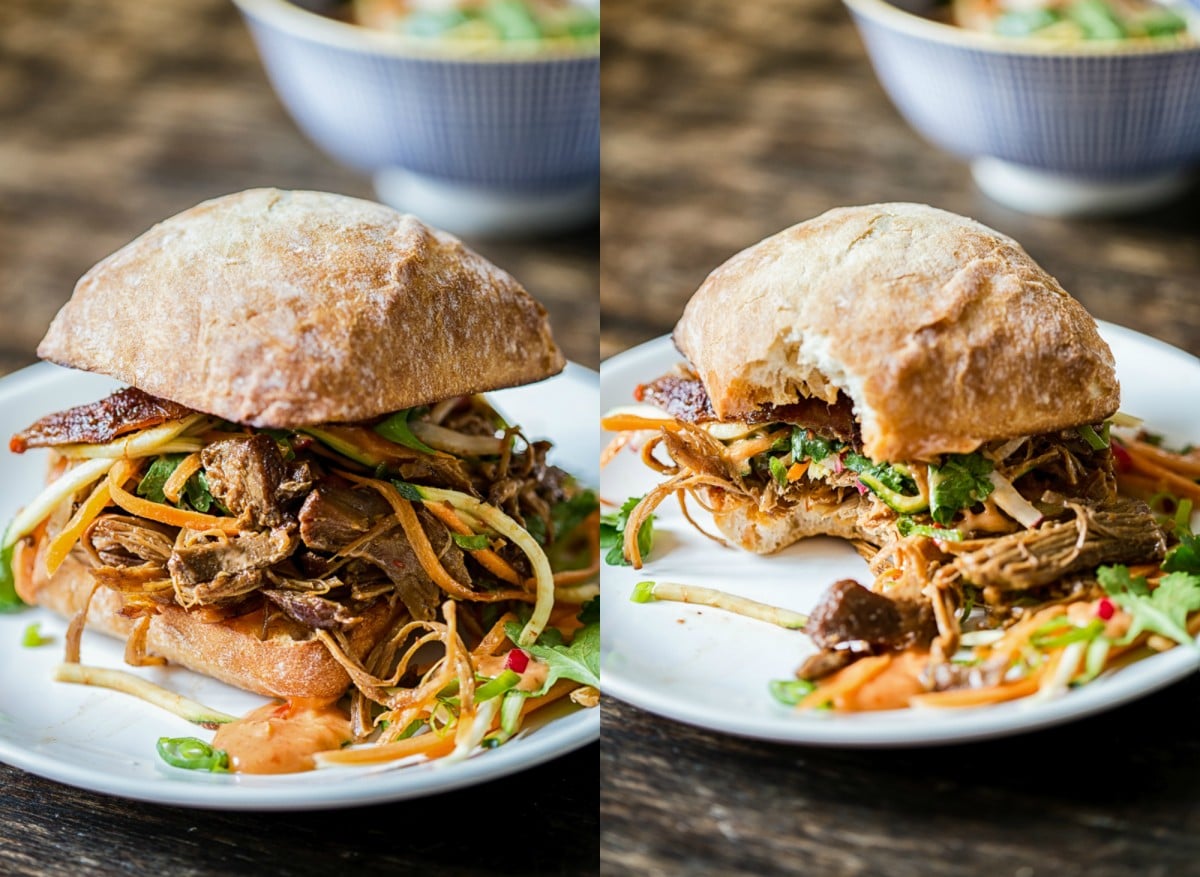 More Asian recipes to inspire you:
Recipe originally posted in 07/2017. Updated with new text and republished in 07/2019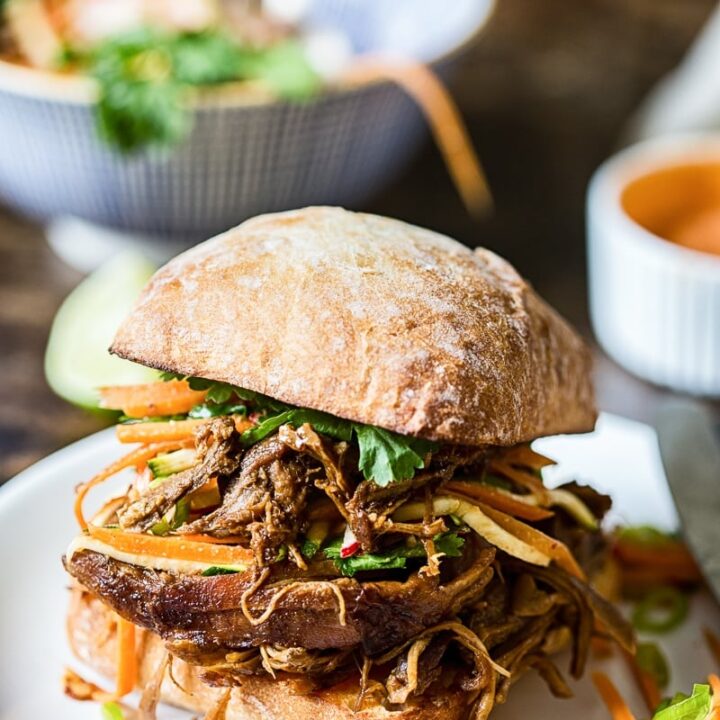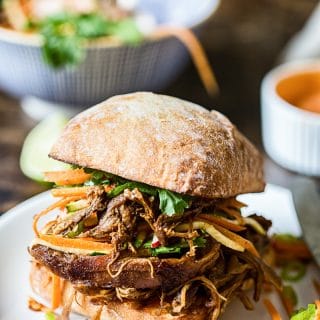 Asian Pulled Pork Sandwiches with Carrot, Zucchini and Radish Slaw
Asian pulled pork sandwiches with fresh and punchy carrot, zucchini and radish slaw. Make the pulled pork ahead of time and enjoy all week long!
Ingredients
For the pulled pork marinade
125

ml/1/2 cup soy sauce

100

ml/1/3 cup hoisin sauce

2

tbsp

sesame oil

3

tbsp

maple syrup

75

ml/1/4 cup rice vinegar

3

tsp

five-spice powder

1

tbsp

ginger

chopped

1

head garlic

smashed

3

kg/6 lbs pork shoulder

trimmed of visible fat
For the carrot, zucchini and radish slaw
1

medium carrot

cut in matchsticks

1

small zucchini

cut in matchsticks

5-6

radishes

cut in matchsticks

2-3

spring onions

½

cup/20g cilantro/coriander

chopped
For the peanut dressing
2

tbsp

chunky peanut butter

1

red chilli

minced

1

garlic clove

minced

1

tbsp

tamarind paste

½

lime

juice only

1

tsp

fish sauce

1

tbsp

brown sugar
For the sriracha mayonnaise
3

tbsp

mayonnaise

2

tbsp

sriracha

1

tbsp

sweet red chilli sauce

8-10

buns
Instructions
For the Asian pulled pork
In a large bowl combine all marinade ingredients, then trim the pork shoulder of all visible fat and marinade overnight or at least for 2 hours in a fridge.

Preheat the oven to 300F/165C. Place the marinated pork shoulder in a roasting pan and pour the marinade over it. Cover with aluminium foil and cook for 3.5 hours, check every hour and baste with the juices from the bottom of the pan.

At the end of the cooking time uncover and cook for 30 minutes longer. The meat should be easily pulled apart by a fork.

Shred the pork with two forks directly in the roasting pan and mix the meat with the juices. Cover with aluminum foil and keep warm until ready to assemble the sandwiches.
For the carrot, zucchini and radish slaw
Cut carrots, zucchini and radishes in matchsticks using a mandolin or a sharp knife. Mix in a medium-sized bowl together with sliced spring onions and chopped cilantro.

In a small bowl combine the dressing ingredients and mix until smooth.
Add the dressing to the slaw right before serving to avoid it becoming too watery.
For the sriracha mayo
Combine all ingredients in a small bowl and set aside until ready to assemble the buns.
To assemble the Asian Pulled Pork Buns
Split the buns in half and slather with sriracha mayo, pile on Asian pulled pork and carrot, zucchini and radish slaw. Serve immediately.