Pulled pork and cheese quesadilla is a brilliant lunch or dinner option, especially when you need to repurpose pulled pork, chicken or beef leftovers! Corn tortillas filled with pulled pork, cheese, herbs and green onions make a delicious, quick and satisfying treat.
Serve them with our 5 Minute Blender Salsa Fresca and Guacamole!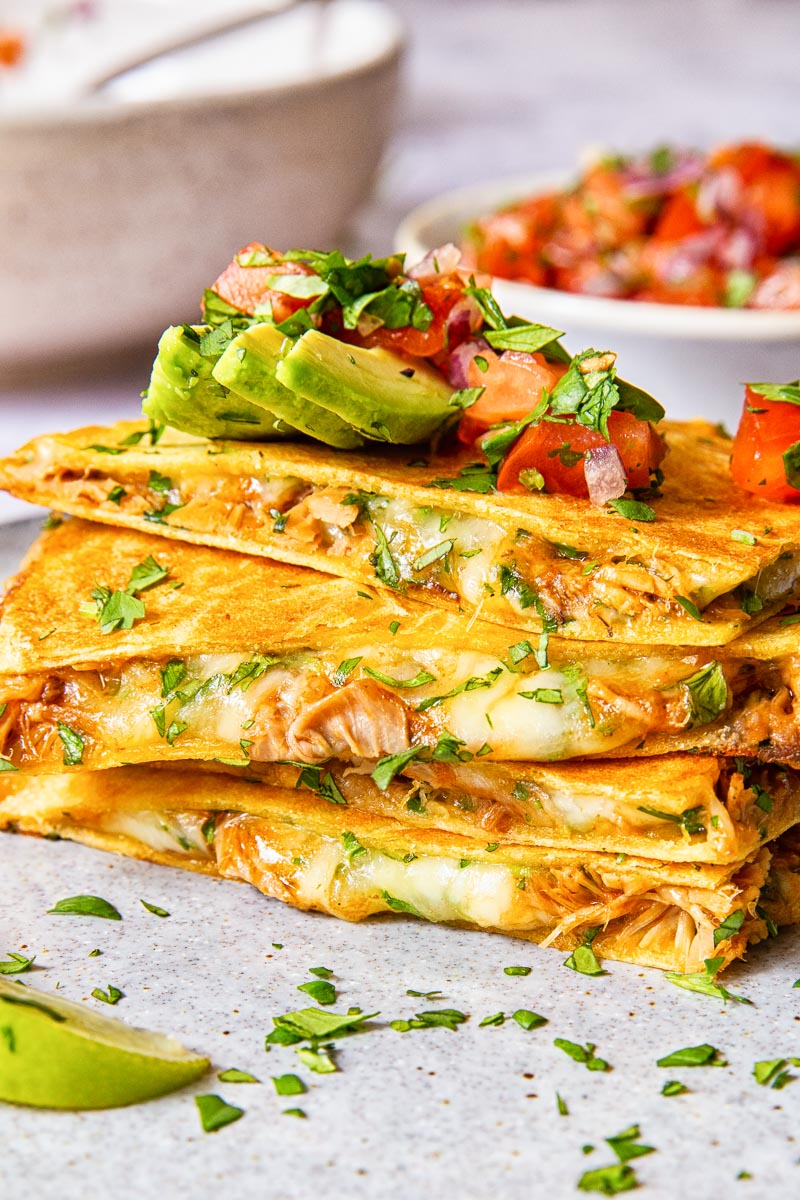 Quesadilla Recipe
Quesadillas are one of those quick dishes that usually save the day when we are short on time. They are also so easy to throw together, which makes them a perfect candidate to prepare with kids and teach them how to make them on their own.
My daughter makes herself a cheese quesadilla almost daily before she heads off to school in the morning. My son loves one for lunch or as an after school snack.
They make a basic quesadilla by filling tortillas with grated cheese. Their favourite is mozzarella. Although using mozzarella is not authentic, it delivers the best melted center!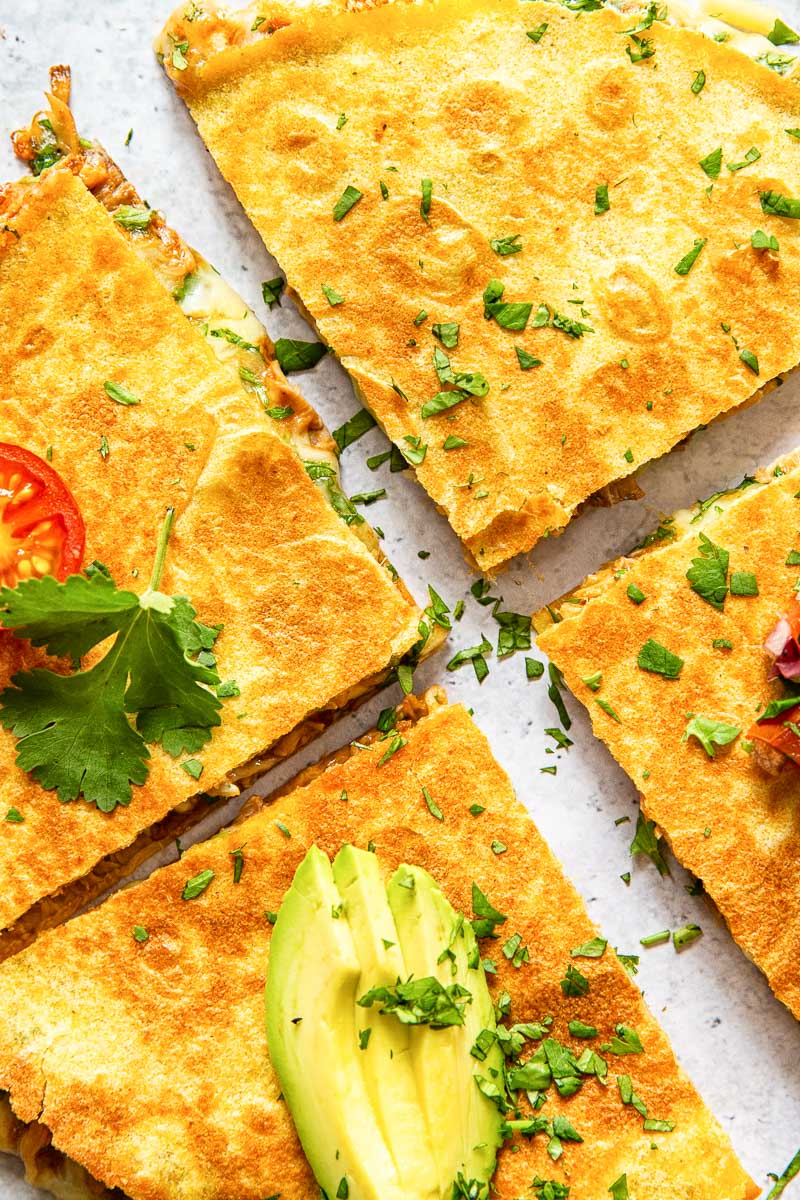 Pulled Pork Quesadilla
Whenever we have pulled pork from making tacos or sandwiches, I love setting a portion of it aside for quesadillas.
Pulled pork quesadillas are a treat like no other. Succulent pork that's been slow cooked for hours for maximum tenderness and flavour adds a delicious touch to simple quesadillas.
By doing that, you transform them from a snack to a full and satisfying meal. Just add a salad or a slaw and you've got yourself a flavour and nutrition packed dinner.
How to make them
Like I mentioned earlier making quesadillas are no more difficult than a grilled cheese sandwich. All you have to do is top a corn or flour tortillas with grated cheese, bits of pulled pork and a sprinkling of chopped cilantro and green onions.
Then cover the goods with another tortilla and cook in a hot frying pan until the cheese is melted and the tortillas are golden and crispy. The whole affair takes no longer than 10 minutes from start to finish.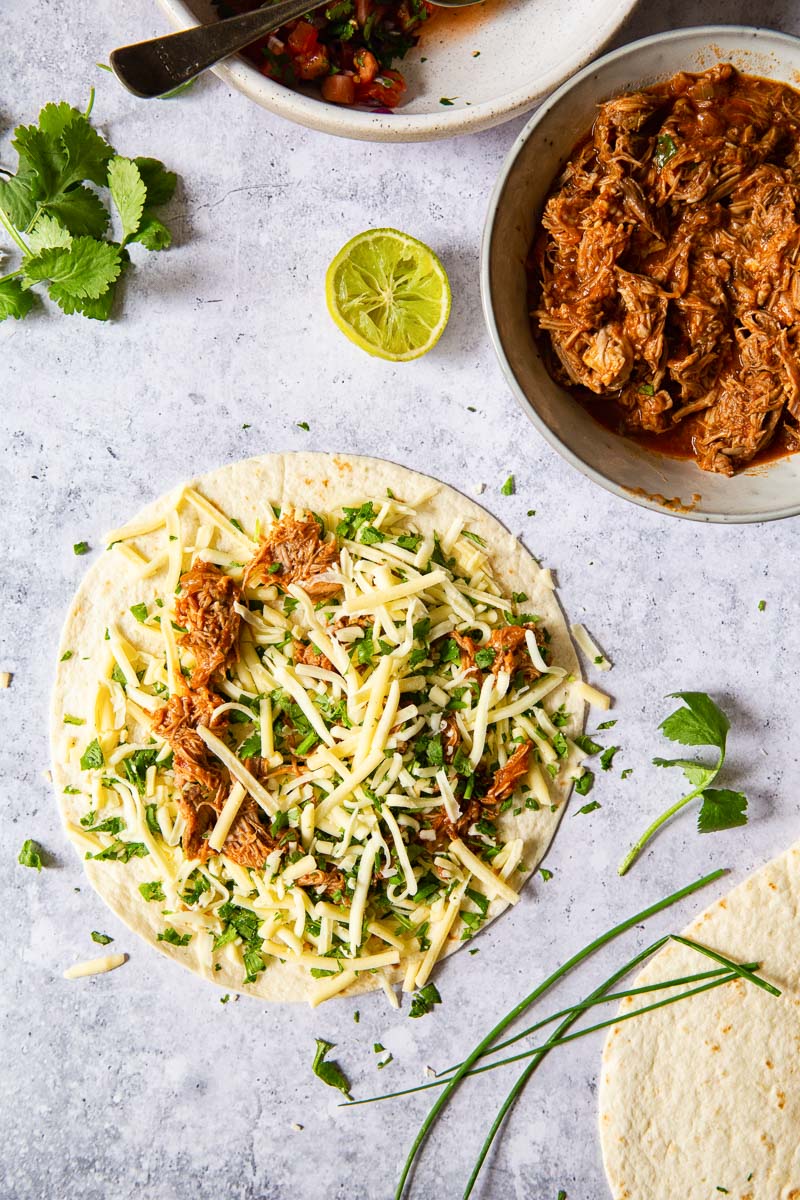 What cheese to use
This is obviously a matter of taste and availability but here are some tips to help you along!
Pick the cheese for its melting ability and taste
Don't be afraid to mix a few cheeses for best results
Add fresh herbs for extra flavour
Our favourite combination is a mix of grated mozzarella and cheddar. We also love adding lightly smoked cheeses for another flavour note. Applewood Smoked Cheddar is a winner. It melts beautifully and that smoky flavour is to die for!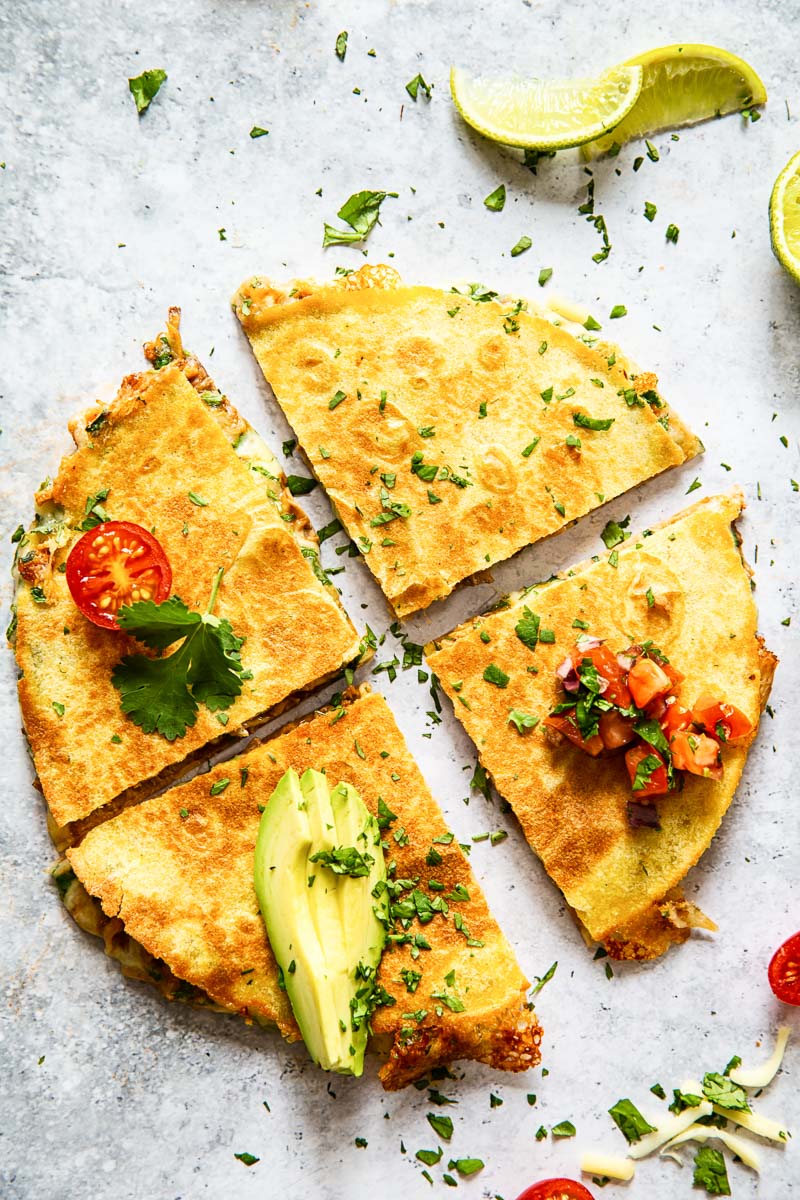 Serving Suggestions
Serve these quesadillas with Black Bean and Corn Salad. It's healthy, delicious and is absolutely bursting with fresh flavours. Your family will love it!
For another delicious quesadilla recipe take a look at our Italian Beef and Roasted Pepper Quesadillas.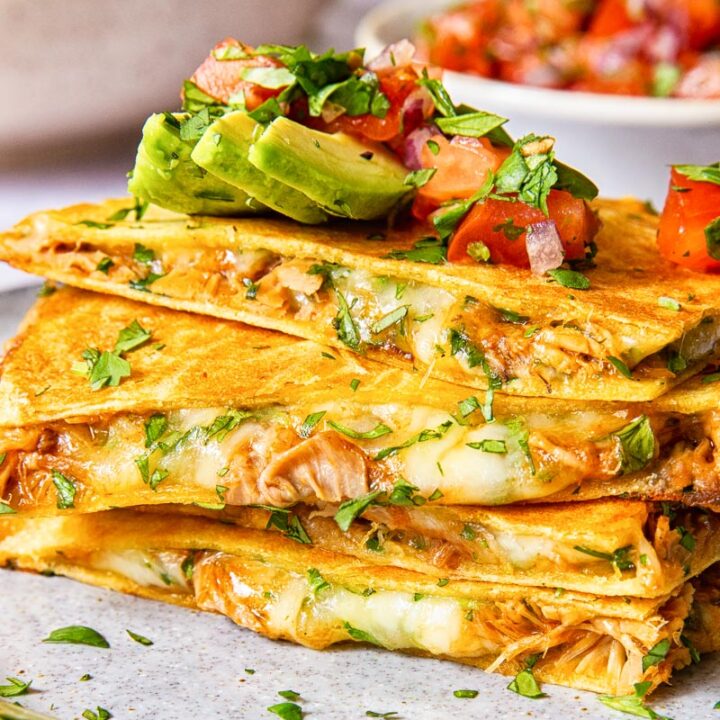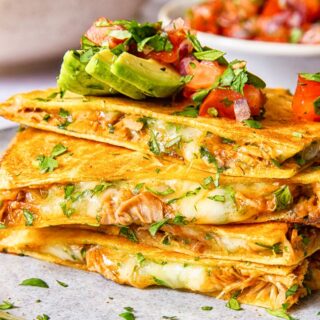 Pulled Pork and Cheese Quesadilla
Corn or flour tortillas filled with pulled pork, cheese, herbs and green onions make a delicious, quick and satisfying treat.
Ingredients
8

corn or flour tortillas

8 inch or 20 cm diameter

225g/1 cup

mozzarella

grated

225g/1 cup

cheddar

grated (I prefer mild cheddar)

225g/1 cup

pulled pork

4

tbsp

chopped cilantro/coriander

4

tbsp

sliced greens onions

1

tbsp

olive oil or vegetable oil, divided
Instructions
Mix both mozzarella and cheddar cheese with chopped cilantro and green onions in a medium bowl.

Top one tortilla with a quarter of the cheese mixture and a quarter of the pulled pork, then cover with another tortilla. Make sure you layer the cheese and pork. You should start and finish with the cheese to ensure tortillas and cheese are in contact on both sides. Otherwise the quesadillas will come apart.

Heat the oil in a frying pan, then add a quesadilla and cook over medium heat until golden for approximately 3-5 minutes (depending on the heat source), flip it and cook for 3 minutes longer. Your quesadillas are ready when the cheese is melted all the way through and the tortillas are golden and crispy. Repeat with the remaining quesadillas. You might need to add more oil if needed.
Notes
You can skip the oil if using a non-stick frying pan.