Chicken Fajita Bowl for the win!! Tender and spicy chicken breasts, sauteed red and green peppers tossed with quinoa, corn, ripe cherry tomatoes and avocado. Easy, good for you and so delicious!
Add our quick Blender Salsa Fresca for more flavour!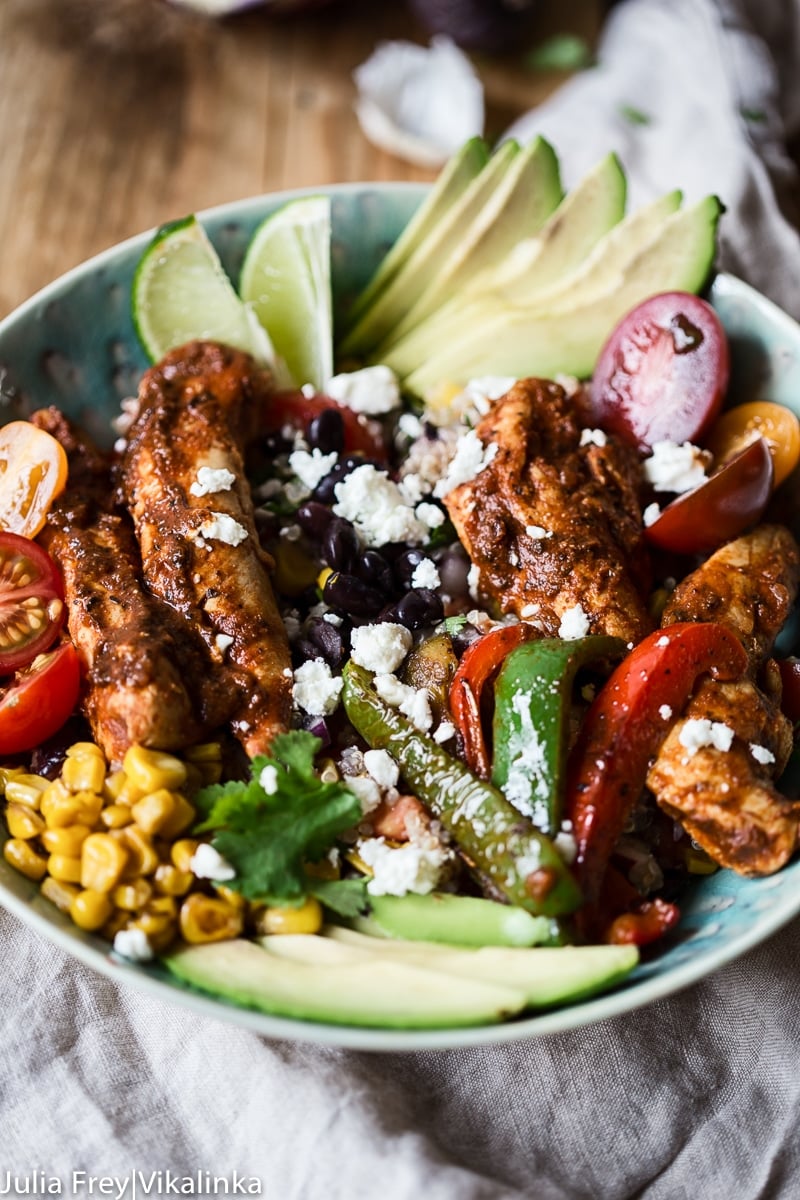 If I had to name my one major food weakness, it would be chips and salsa. No matter when and where I am, I could always find room for them. When Brad and I were younger we would sit down for chips and salsa and our favourite TV show every night.
Sadly gone are the days when we could get away with eating like that and stay in shape! But it's unfair to say that now we are deprived of all the fun food because I am a problem solver!!
Meet Chicken Fajita Bowl…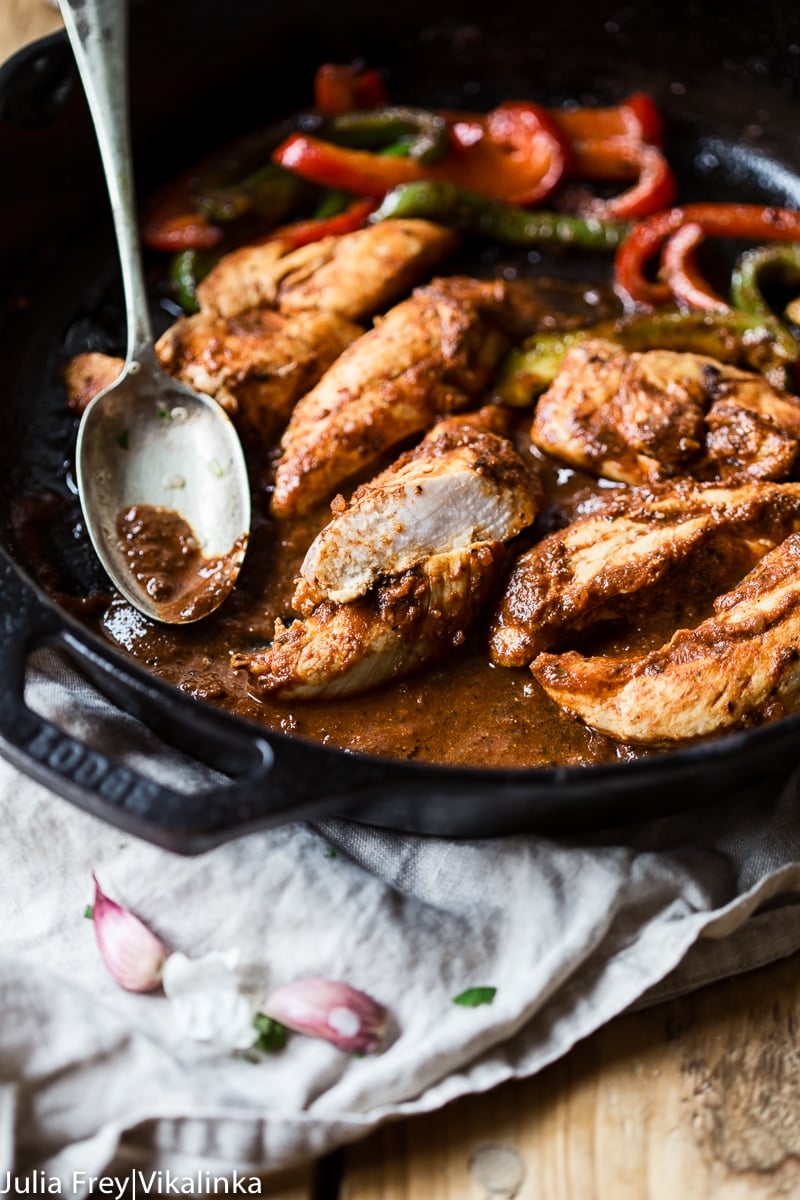 When I first moved to the States I was introduced to a Taco Salad, and to my detriment, it was love at first sight. I later discovered it was one of Brad's favourite things to eat as well.
As tasty as a taco salad is, it is not at all healthy. Blame those chips, cheese, sour cream and fatty beef that create the flavour we crave so much. Delicious, but not that lean!
So in order to replace the unnecessary carbs and fats I decided to go for maximum flavour instead, and that is how this Chicken Fajita bowl was born.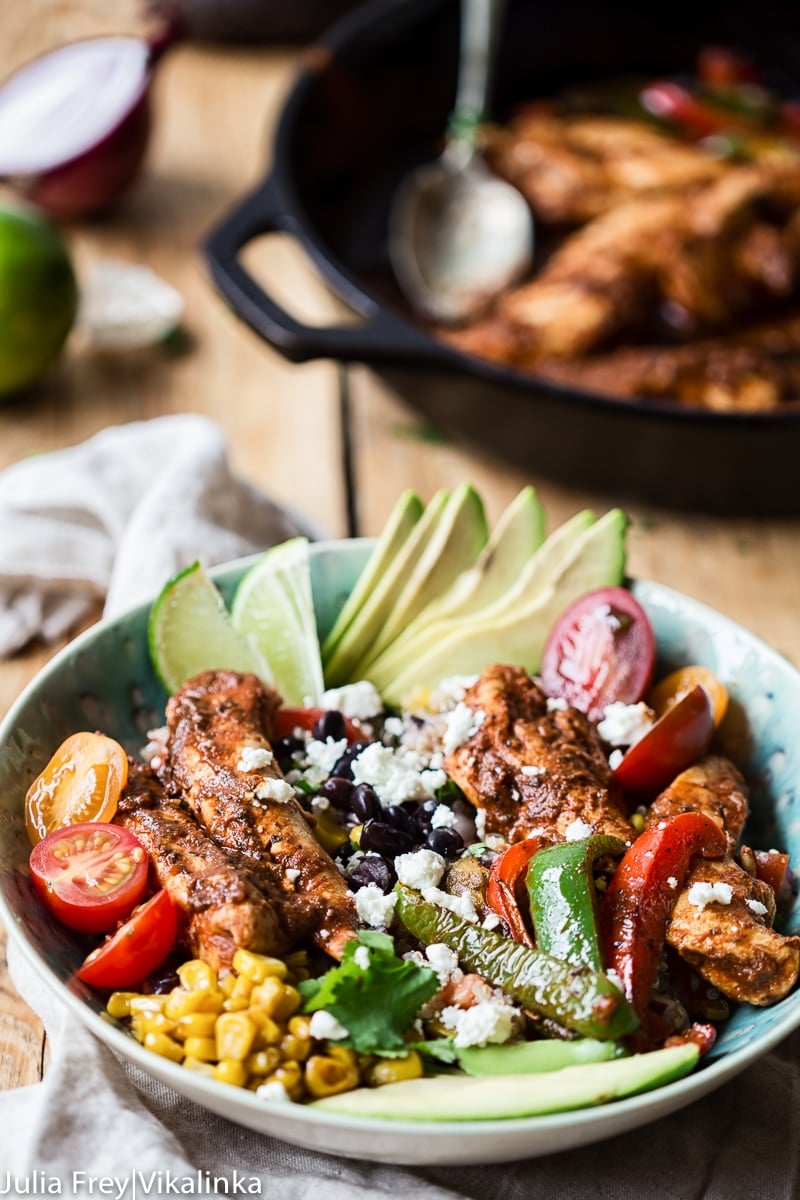 How to Make Chicken Fajita Bowl
The key to eating healthy and satisfying dishes is in the spices, since they give food the taste you crave! The star ingredient here is chicken. So I cooked sliced chicken breasts with warming and spicy Mexican flavours and a touch of tomato paste.
The usual fajita ingredients like crunchy bell peppers, sweet tomatoes, zesty onions and creamy avocados are not only allowed but strongly encouraged!
I also threw in some gluten-free quinoa in the mix to make it more filling and even more nutritious. Then I topped it off with black beans and charred sweet corn.
All the makings of a traditional fajitas minus the tortillas, this creation became a delicious hybrid of a taco salad and fajitas!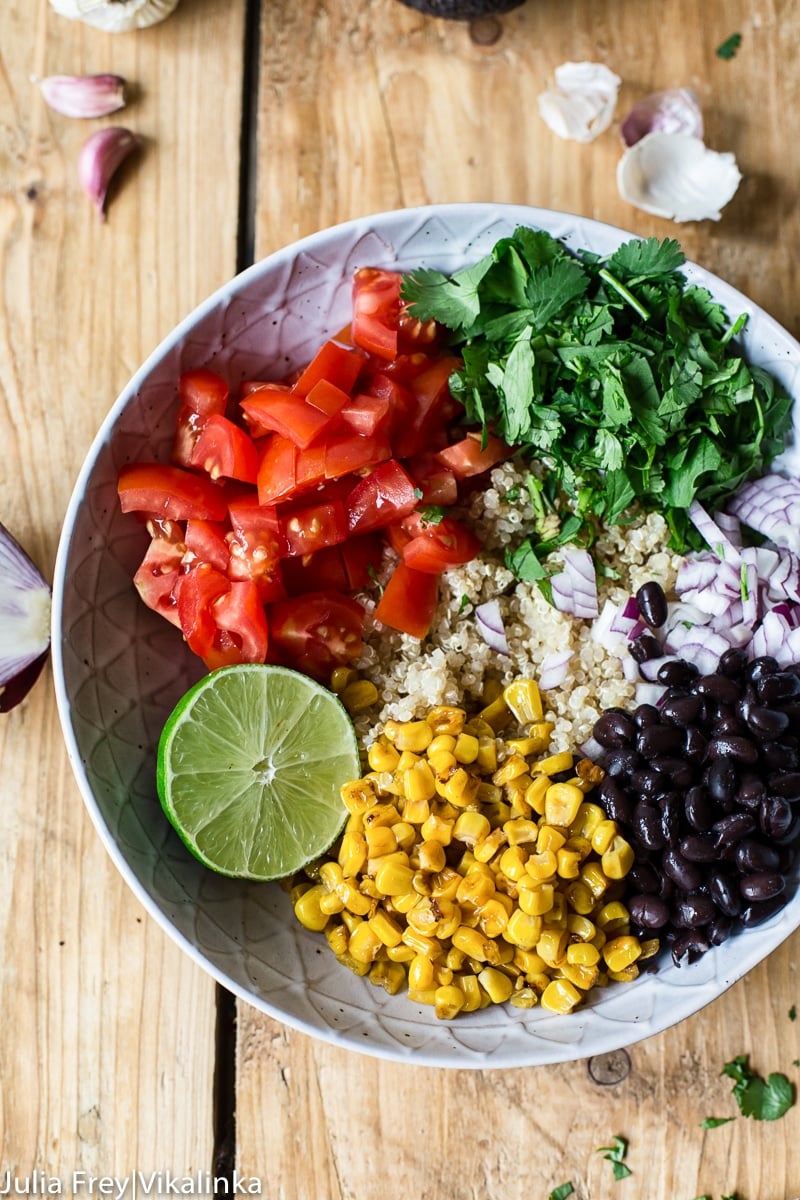 I recently teamed up with Schwartz spices. They just released their gluten-free spice mixes to make lives of those on a gluten-free diet easier and tastier. So for my Chicken Fajita Bowl I used their Gluten-free fajita mix. I was so impressed with the quality that I went out and bought more to keep them handy.
No MSG, no artificial colouring, no additives, just…SPICES! This fajita spice mix also had a good amount of heat and I absolutely loved that!
Thank you Schwartz Spices for sponsoring Vikalinka and keeping this kitchen in business!!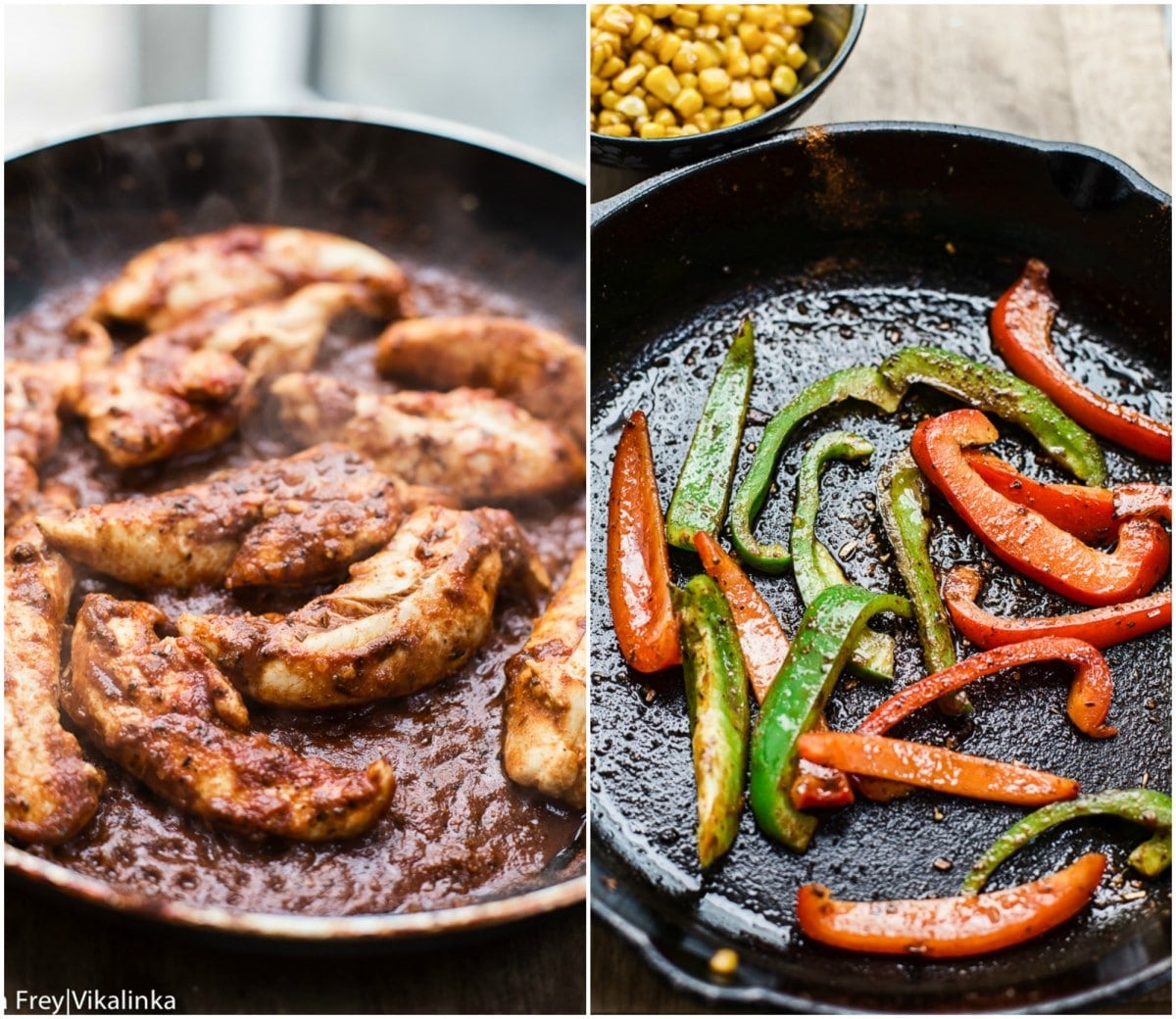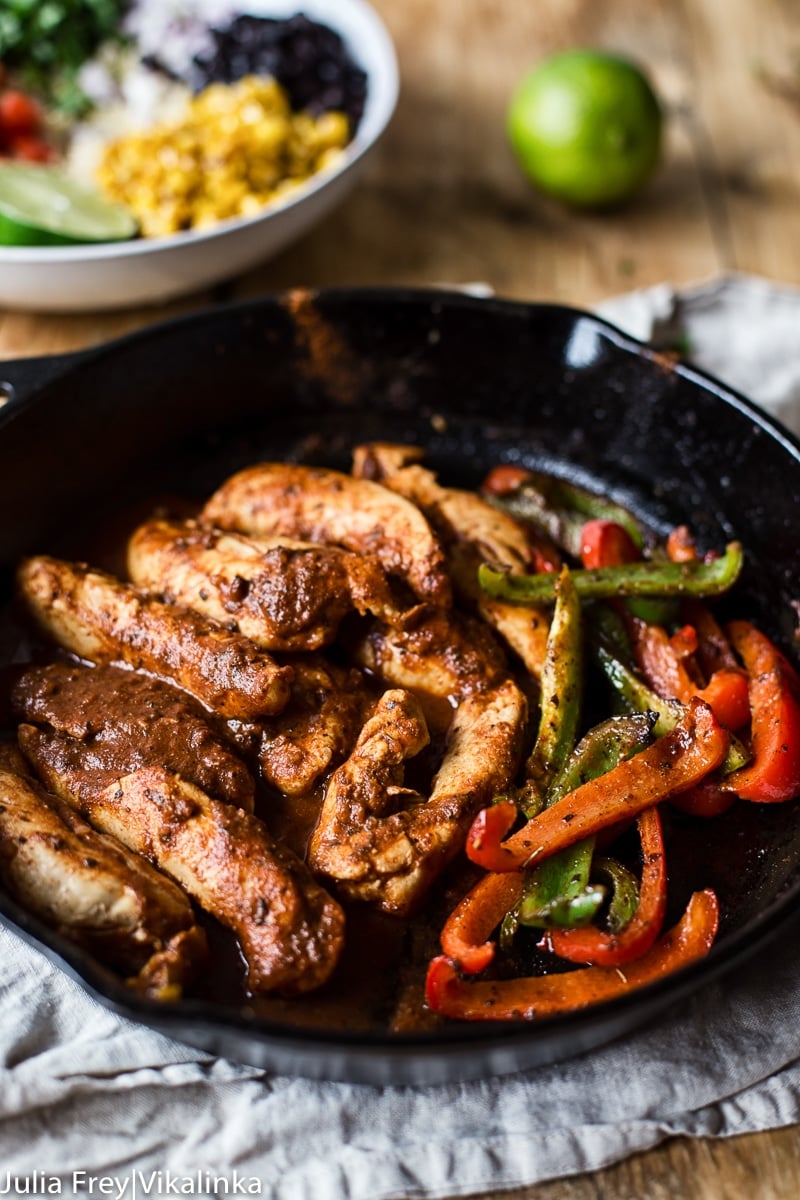 More Tex-Mex Recipes to Try: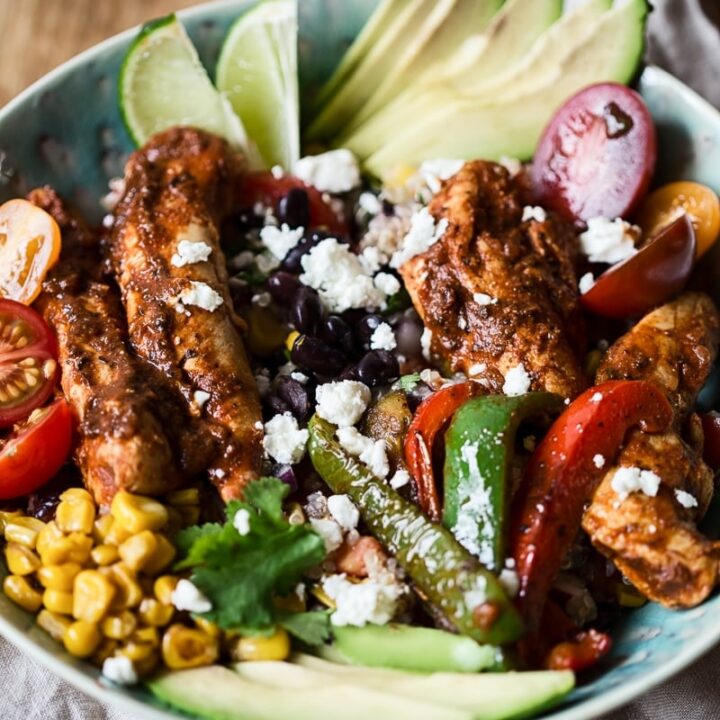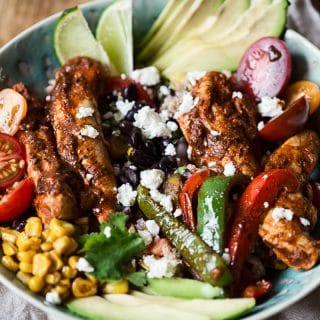 Ingredients
For the fajita bowl
2 to

matoes

diced

1

onion

diced

2

cloves

of garlic

minced

½

cup/30g cilantro

chopped

1

cup/180g cooked quinoa

1-14

oz/400g tin black beans

½

cup/198g tin of corn

2

limes

juice only

2-3

tbsp

olive oil

salt to taste

2

avocados

sliced

2

tbsp

crumbled soft cheese

optional
For the chicken
2

tbsp

oil

divided

1

lbs

chicken breasts

cut into strips

1

packet of Schwartz Fajita mix

1

tbsp

tomato paste

2-3

tbsp

water

1

red pepper

sliced

1

green pepper

sliced
Instructions
Cook quinoa according to package directions, drain and set aside to cool.

Prepare all the ingredients for the fajita bowl by chopping and dicing all the vegetables then set aside for later.

In a frying pan char canned or frozen sweet corn over medium-high heat for approximately 7 minutes until blackened, set aside.

To the same pan add sliced green and red peppers and quickly cook in 1 tbsp of olive oil over medium-high heat until slightly blackened on the outside, approximately 5 minutes. Take off the heat and keep warm.

To the same pan add 1 tbsp of oil, sliced chicken breasts and fajita spice, stir fry over medium heat for 5 minutes until the chicken is sealed. Add tomato paste and water, stir to combine and cook for 5-7 more minutes over low heat until the chicken breasts are no longer pink inside but still very juicy.
To assemble the chicken fajita bowl
In a large bowl combine quinoa, tomatoes, onions, garlic, cilantro, black beans, corn, lime juice, olive oil and salt to taste.

Divide the mixture among 4 serving bowls and top with spiced chicken, green and red peppers, avocado slices, crumbled soft cheese and more chopped cilantro, spoon the spicy sauce from the pan over chicken and serve.