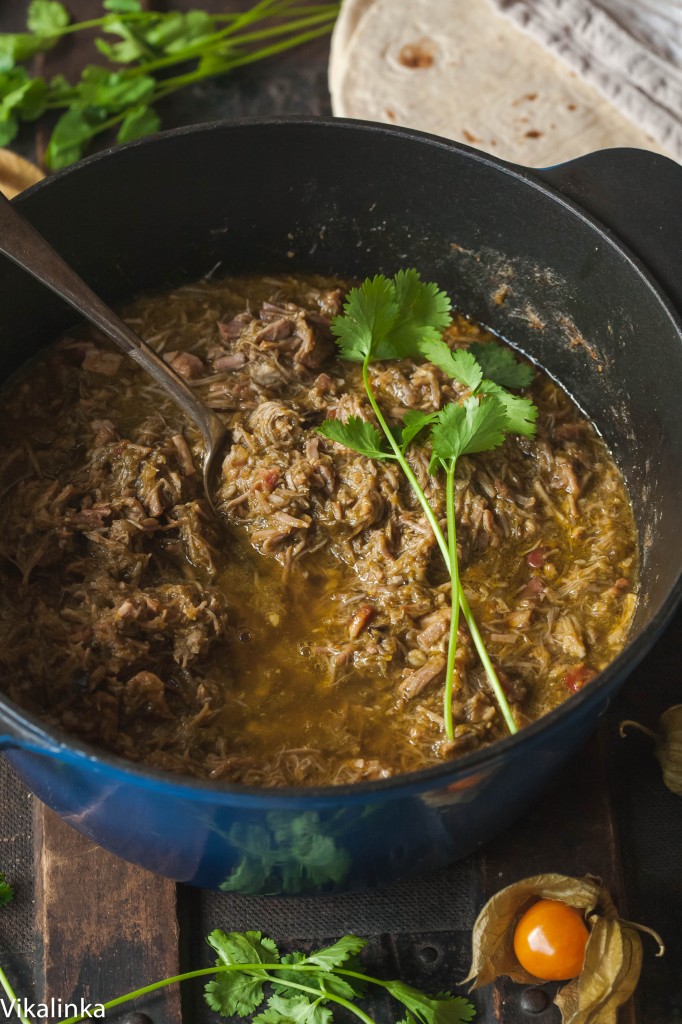 Most of the time I absolutely love living in England. I love this unique country, which manages to straddle both North America and Europe. It suits who I've become over the years and it definitely gives me plenty of material to work with when it comes to cooking. The one teensy weensy weakness, though, causes me to lose sleep once in a while-it's seriously lacking quality Mexican food. I am not the one to complain when there are no good restaurants in town…okay maybe just a little bit but I will complain loudly when there are no ingredients available for me to make said food at home.
I've wanted to make chile verde for a while so as soon as my friend Kellie brought up on Facebook she had a pot of it simmering on the stove I immediately asked her for the recipe. As you may know one of the main ingredients in this chile is tomatillos and they unfortunately turned out to be impossible to track down in London. I spent half of a Saturday driving around in search of these curious and very exotic (for England) fruit but all in vain. I don't give up easily but when I see a lost cause even I call it quits.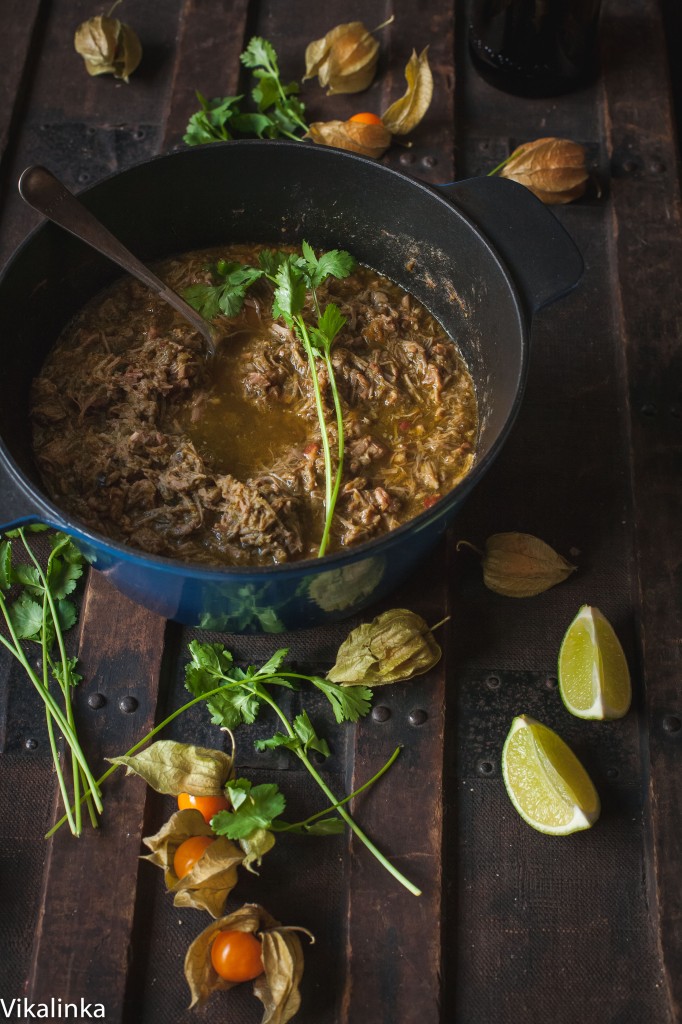 I knew I had to find a good substitution but I didn't really know what to use besides tomatoes. I turned to Wikipedia and found out that tomatillos are closely related to physalis, also known as cape gooseberries, half a pound of which I had on my kitchen counter! I bought these beauties as a decoration for a Russian pound cake I made a few days earlier but I had no idea what else to do with them.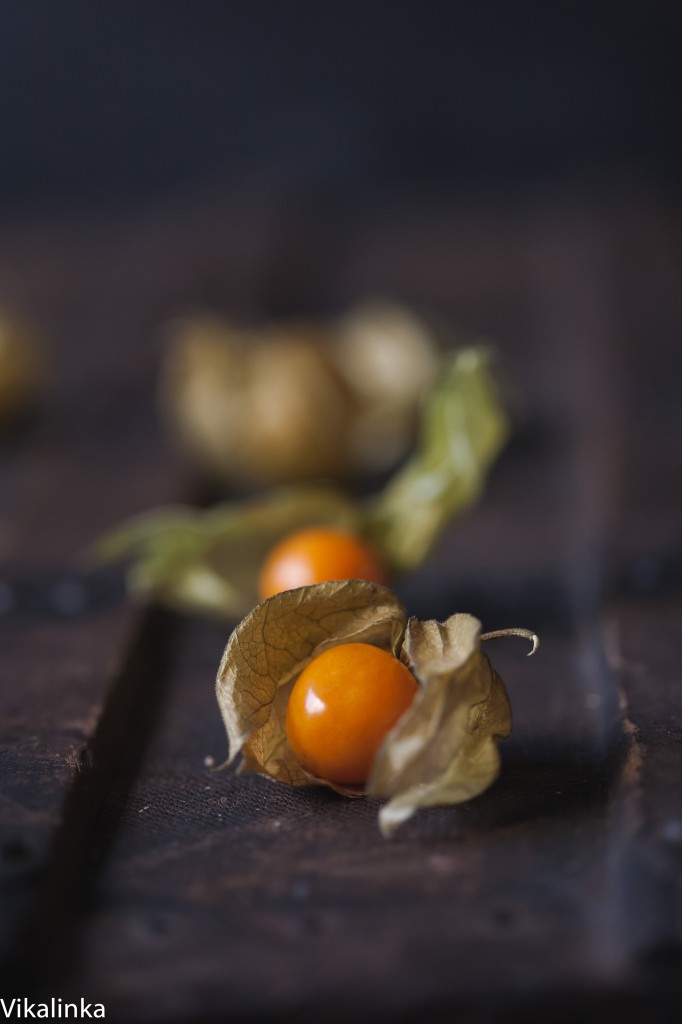 First of all, I decided to taste this mysterious fruit/vegetable and the taste was just like the package described – sweet and sharp…lovely…besides how fun it is to cook with something that looks like a work of an artist!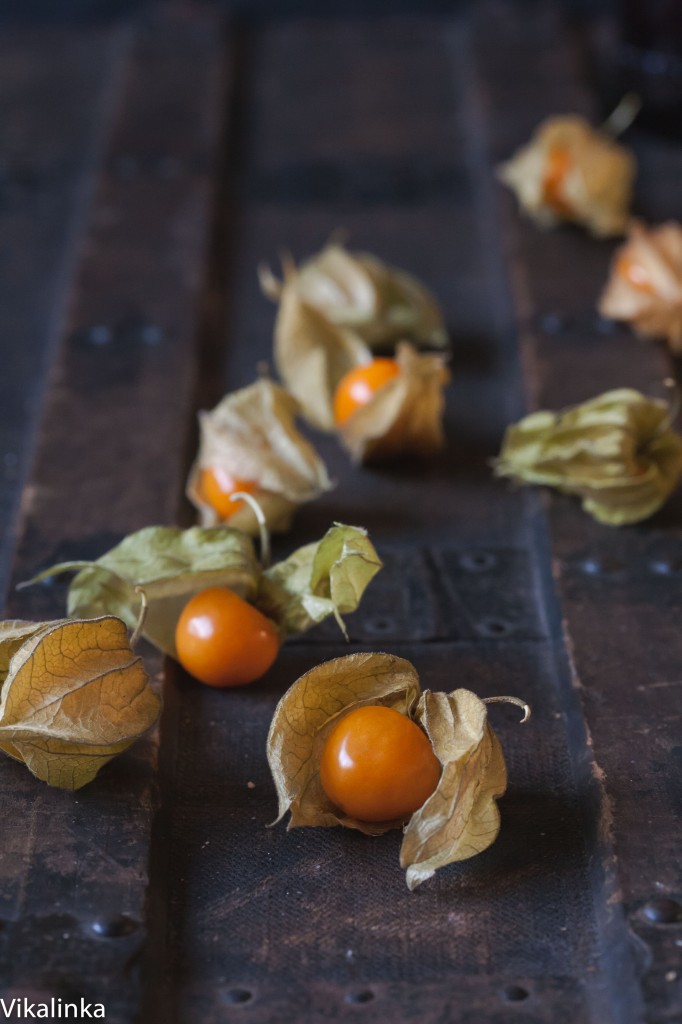 I also decided to add padron peppers that I picked up the same day while searching for tomatillos. Padron peppers' taste is quite delicate, not spicy at all. Their main contribution was putting much needed 'green' in this chile verde. Last time I had padron peppers was in Spain. They were quickly charred and served as a starter…simple and delicious. So that's what I did to them as well. 5 minutes under the broiler and voila.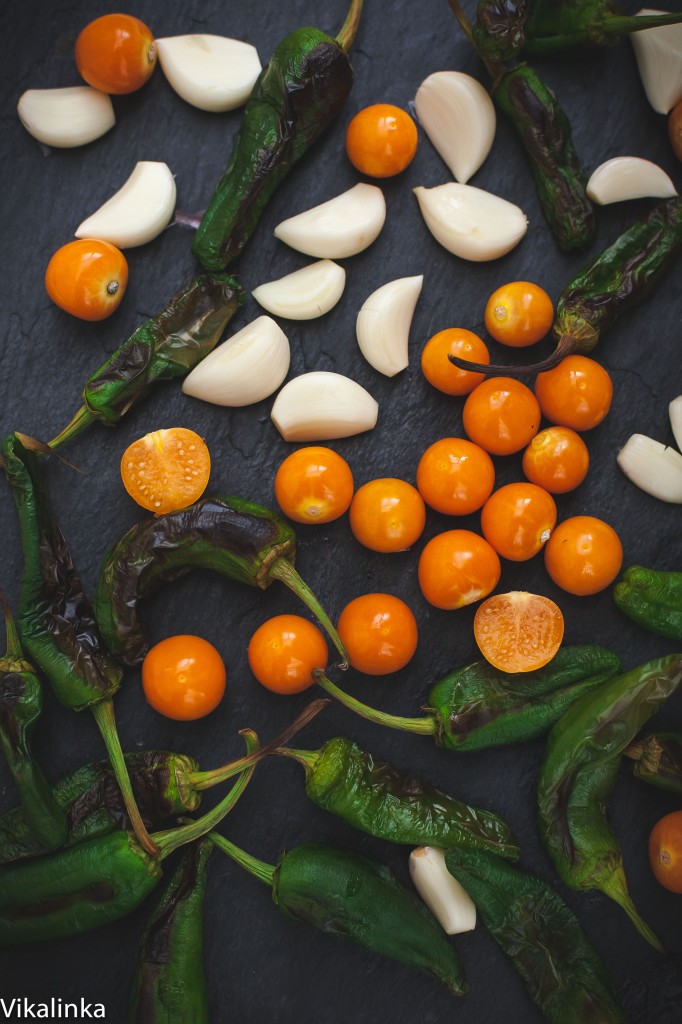 Now that we've gone through the list of exotic ingredients let me tell you that this dish is very simple, throw everything together type of cooking. If you can't find tomatillos or physalis you can always use regular tomatoes. The results, however, are far from simple or plain. The slow cooking process is responsible for deep flavour when the ingredients seamlessly blend together and enrich each other in a beautiful and spicy medley. The recipe that my friend gave is intended for a slow-cooker but I got rid of mine a while ago so I cooked mine in a cast iron pot over the lowest heat possible for 5 hours. You can definitely use your crock pot if that's what you have available. You can serve this chile over steamed rice or as a filling for tacos and burritos. The recipe makes enough to freeze. Bonus.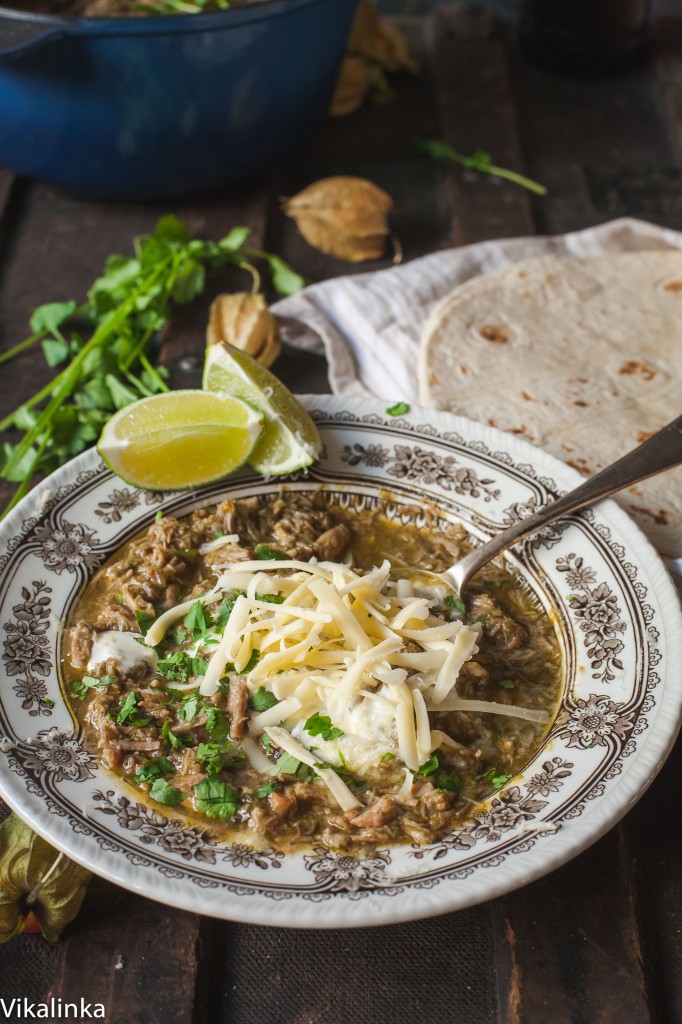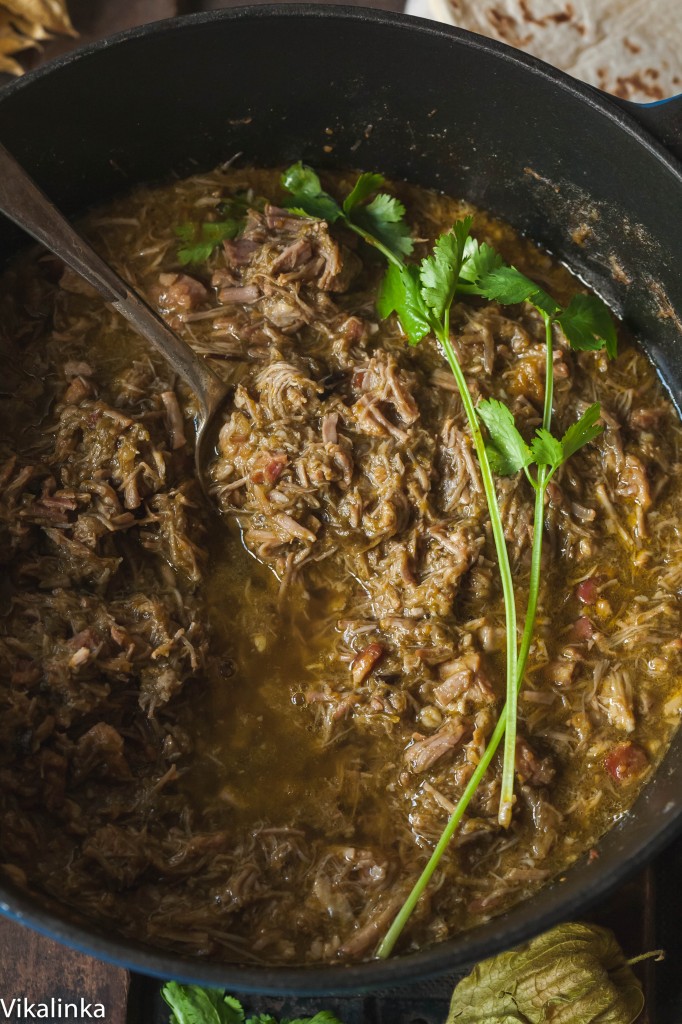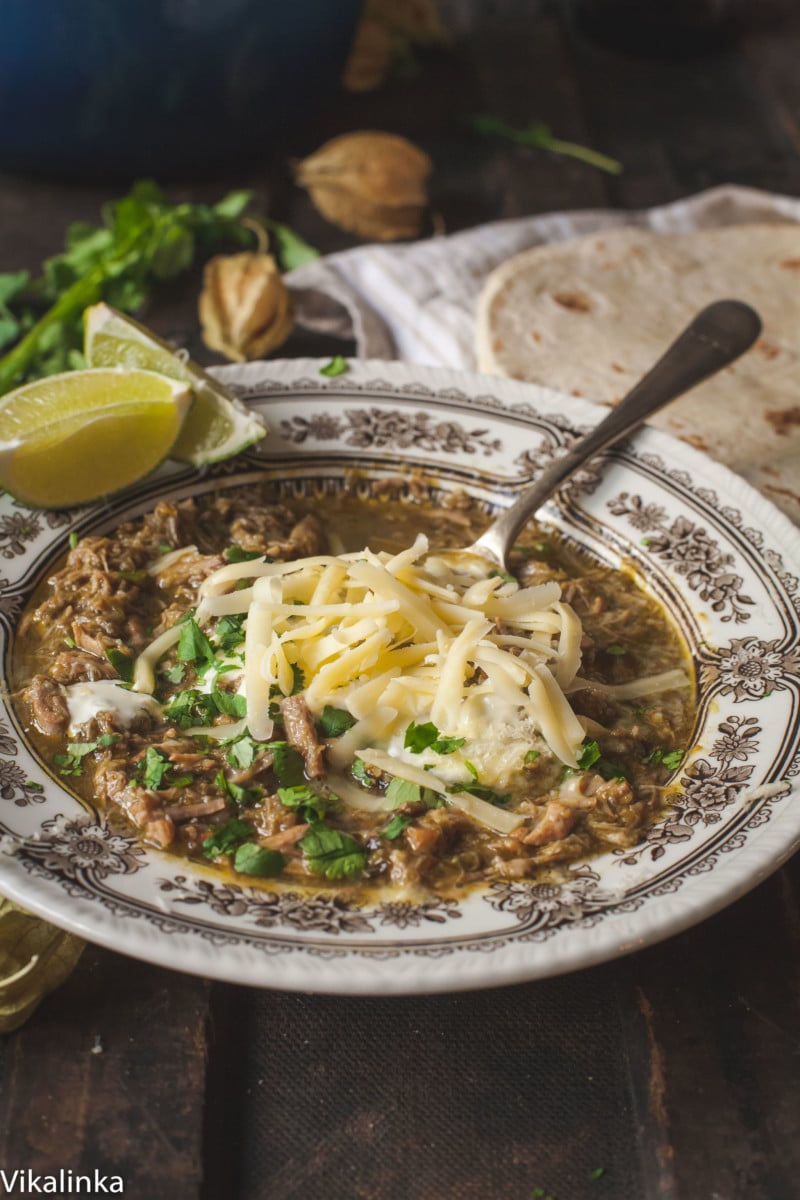 Ingredients
50

g

pork lardons or bacon

chopped

1

onion

chopped

1-2

heads

garlic

minced

150

g

physalis or tomatillos

halved

150

g

padron peppers or shishito peppers

2-3

jalapenos peppers

finely chopped, seeds and membranes removed

2

lbs

pork shoulder or butt

cubed

50

g

cilantro

chopped

1

tbsp

cumin

2

tsp

salt

1.5

litre

water
Instructions
Set your oven setting on broil and move the rack so it's approximately 6" away from the element.

Put padron peppers on a baking sheet and broil for 3-5 minutes until the skins are blistered. Pay close attention to avoid burning. Remove from the oven and set aside.

In a deep cast iron pot fry pork lardons or bacon on medium-high heat until all visible fat melts.

Then add onion, garlic, physalis or tomatillos if using and jalapeno peppers and cook for 5 minutes over medium heat, remove from the pot and set aside.

To the same pot add pork cubes and cook until no longer pink, return pork lardon and vegetables to the pot, add chopped padron peppers, cilantro, cumin, salt and water.

Bring to a boil, then turn the heat down to the lowest setting possible, cover with a lid and simmer for 4-5 hours. 30 minutes before cooking time is up take all pork out with a slotted spoon and put it in a bowl, shred it with two forks, then return back to the pot.

Serve over steamed rice topped with shredded cheese or use as a filling for burritos and tacos.

* Alternatively you can cook this chile in s slow-cooker on high for 4-6 hours.
Nutrition Facts
Chile Verde with Physalis and Padron Peppers
Amount Per Serving
Calories 126
Calories from Fat 54
% Daily Value*
Fat 6g9%
Cholesterol 40mg13%
Sodium 545mg24%
Potassium 296mg8%
Carbohydrates 5g2%
Protein 12g24%
Vitamin A 539IU11%
Vitamin C 21mg25%
Calcium 27mg3%
Iron 1mg6%
* Percent Daily Values are based on a 2000 calorie diet.