Beef and kidney beans are slowly cooked in a tomato sauce, seasoned with warming spices of cumin, chilli, coriander and more. This crowd pleasing chili recipe is a one for the books!
If you are a chili enthusiast and enjoy lots of different flavours, give my Chile Verde a try! Delicious and so comforting!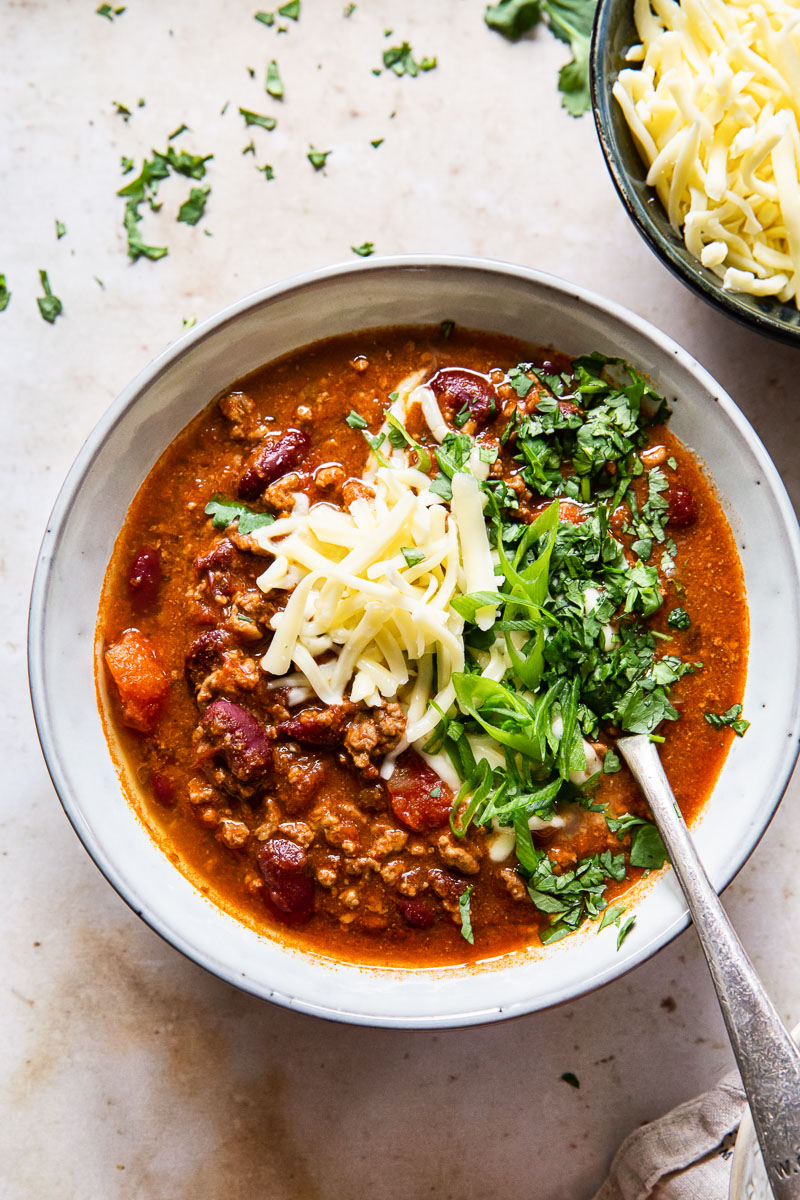 There are certain recipes that are so intrinsic to who you are as a family you forget how truly special they are! This chili recipe is one of them.
I've made it for nearly two decades now and although it has evolved slightly over the years, its core remained. This bowl of chili is the epitome of comfort food.
The reason why I know it's comforting simply because that's the first dish I think of cooking and bringing to my friends when a new baby is born or a family member is lost.
Not only does this chili cheer us up in the moment of eating it but it also keeps on giving. The recipe is quite large, so if you don't have a crowd to feed, a half could be frozen for another meal.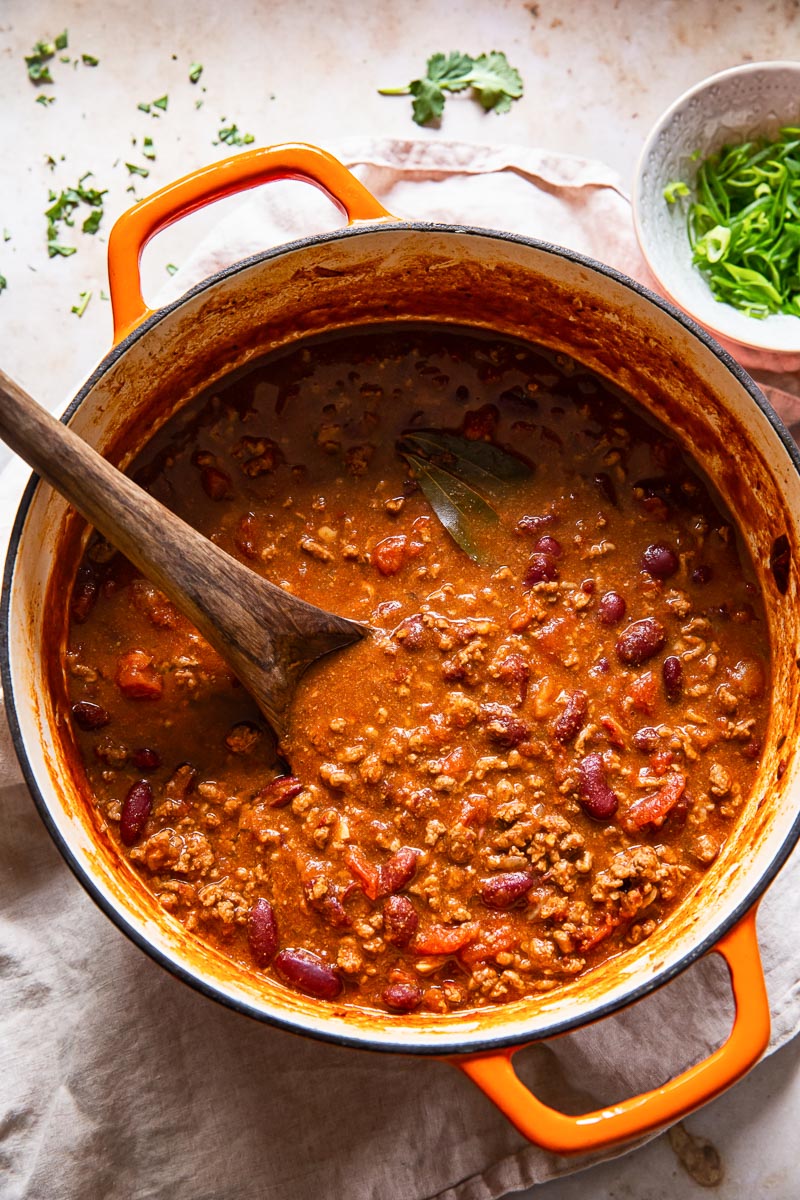 The Ingredients
This recipe mainly consists of
ground beef (I use 5% fat but higher fat will also work)
beans (any kind but I usually use either kidney beans or black beans)
canned chopped tomatoes
onions and garlic
spices
a tiny square of dark chocolate (for a depth of flavour)
Now the spice/seasoning mix is very specific to our family. It tends to be on the hotter side and it is one of the developments that happened over the years.
As our kids grew older, the chili became spicier. That being said, feel free to adjust the spice level to your liking.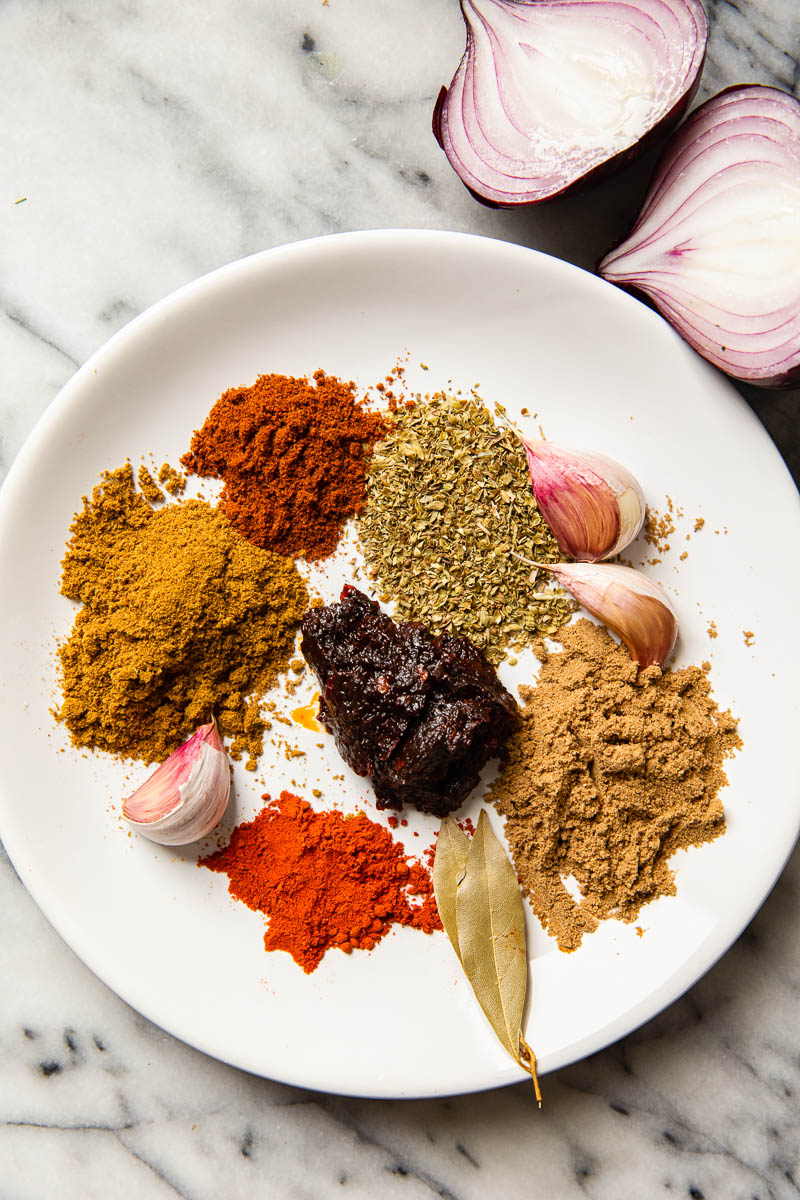 Chili Spice Mix
Here are the spices that I use to season my chili:
cumin (non-negotiable)
chilli powder
dried coriander
oregano
smoked paprika
chipotle paste or chipotle peppers, minced (optional but recommended)
bay leaves
You can definitely adjust the amount and the proportions but I do believe the combination of the above spices makes the tastiest chili.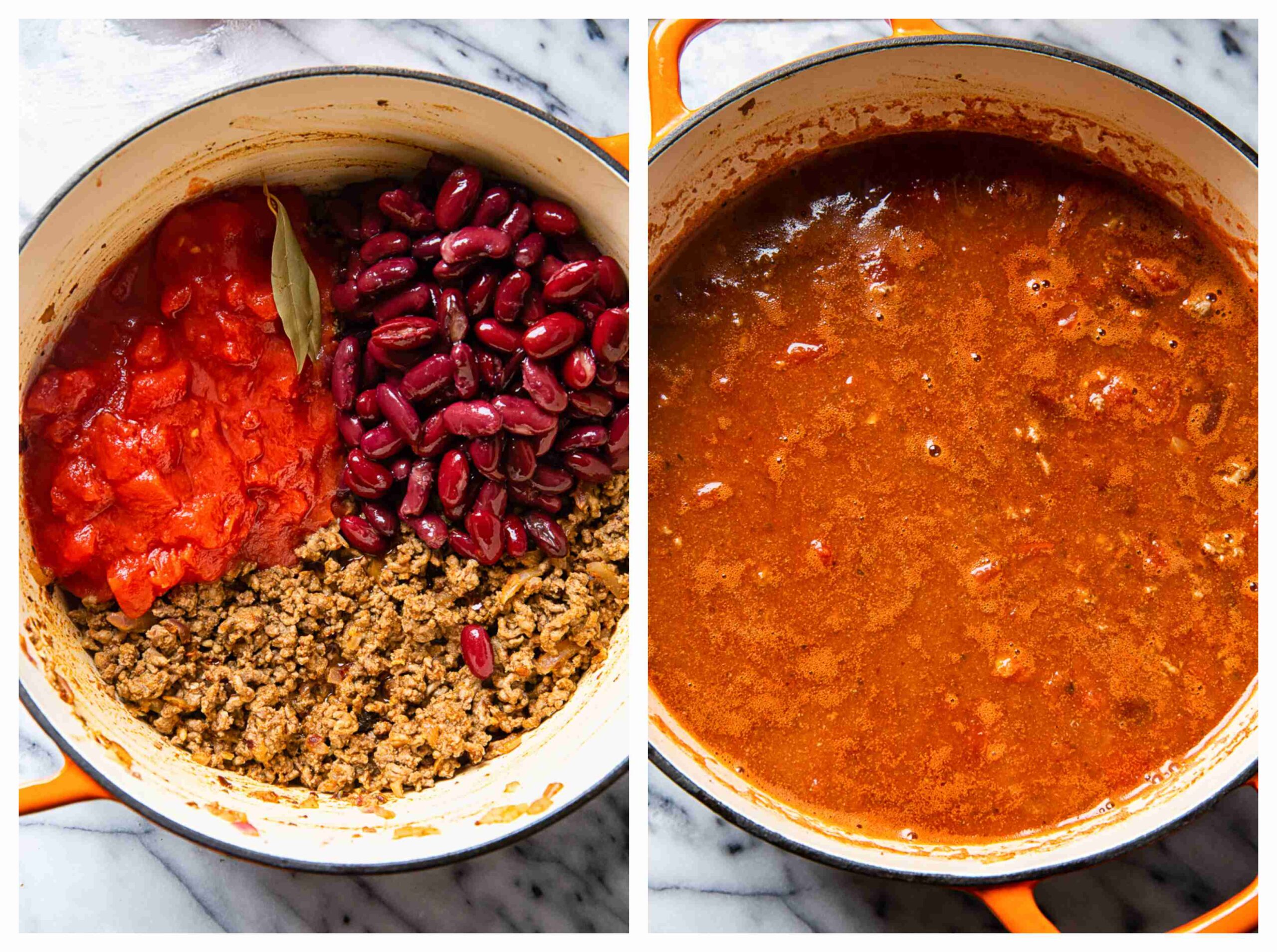 Beans or No Beans
As someone who's been blogging for years I've had my fair share of reader's feedback. Some of my recipes are met with great enthusiasm and some with suspicion.
My Texas Style Chilli (British spelling here) was one of the recipes that you guys said was not authentic and the main point of contention was the BEANS!
I have learned my lesson that no beans go into an authentic chili recipe from some nice and not so nice (comments deleted) folks. However, I also know that although putting beans in chili might not be an authentic method, it is also conventional. To say it plainly, it is done all over the US and the UK.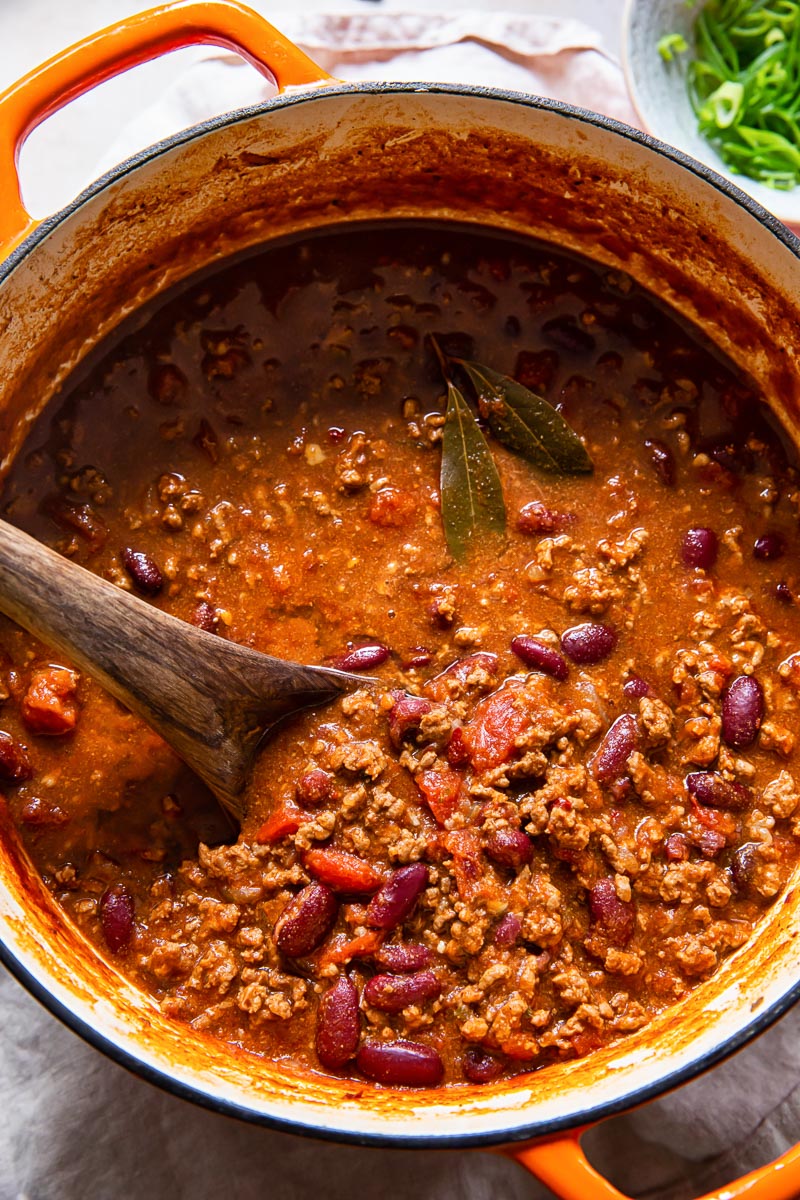 I alway add beans to my chili for two main reasons:
I love the taste and the texture they bring into this dish
Mixing beans and meat is an economical way to cook!
How to make chili
Making chili is very similar to any stew. Cooking it slowly at low heat is key to developing deep flavours.
I alway start up by browning the ground beef. Make sure your beef is truly browning not not simply steaming. For that you need 1 tablespoon of hot oil and a very hot pot. I love using my Dutch Oven for it.
Add your beef and let it sear undisturbed for good five minutes, then start breaking it up with a spoon. Once the the beef is browned, move it to one side of a pan, lower the heat and add the onions.
Saute them well until they are soft and translucent, which takes no less than 7-10 minutes, stir once in a while. Once again this step ensures flavour, so don't rush the process here. Then quickly stir in crushed garlic.
After that feel free simply to add rest the ingredients, stir and simmer for 1 hour. Your work here is done.
How to thicken chili
I recommend cooking chili covered for about 40 minutes but it's important to uncover it and cook for 20-30 minutes longer to allow some of the liquid to boil out for the chili to thicken.
If your chili still looks a bit watery at the end of the cooking time. Take a potato masher to the pot and crush some of the beans with it. That will naturally thicken your chili without using corn starch.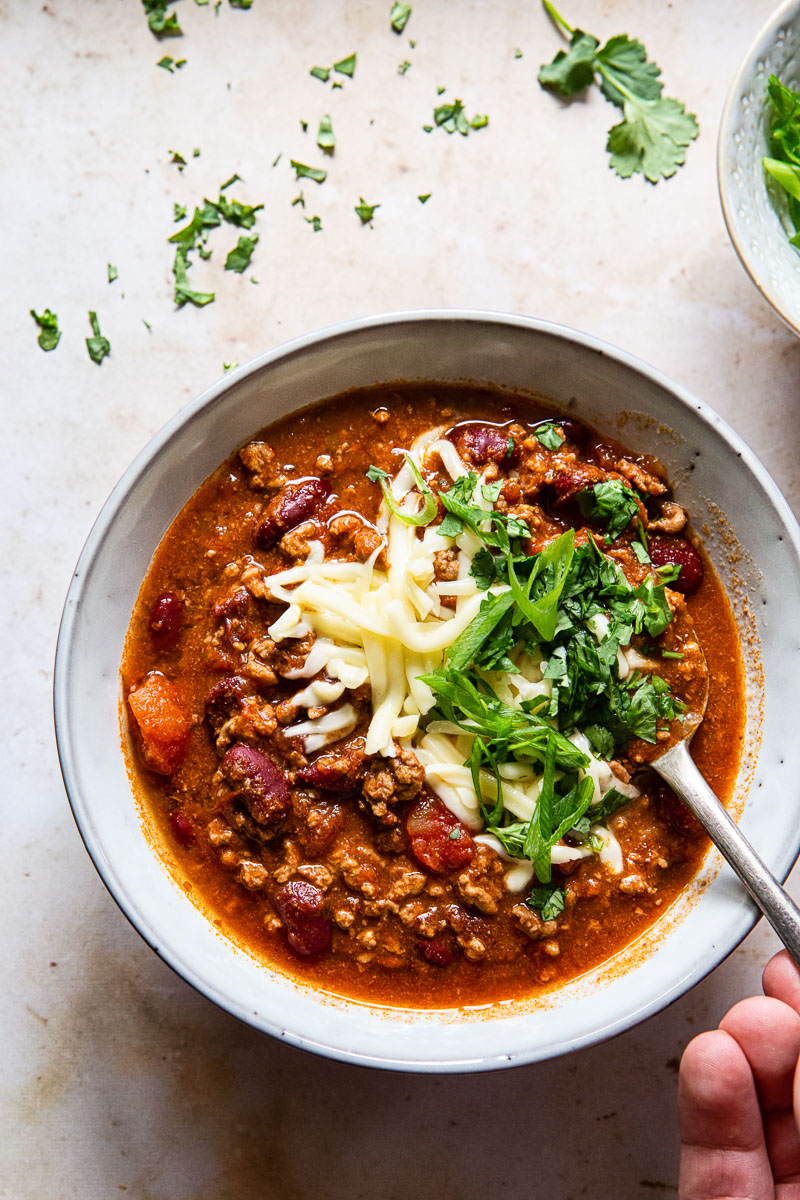 How to serve it
Once again this is a matter of preference. Eating chili with cornbread is an absolutely classic but something we never do. (If you have a favourite cornbread recipe, send it my way!) I do like eating mine with a slice of homemade no-knead farmhouse bread or my easy flatbread.
My kids love their chili over rice or over fries the next day. Topping your baked potato or a jacket potato, as it is called in the UK, is another classic and is very delicious indeed.
It is undoubtedly tastier when served topped with grated cheese, a dollop of sour cream or yogurt, sliced onions and chopped cilantro.
What is your favourite way of eating chili? Let me know in comments!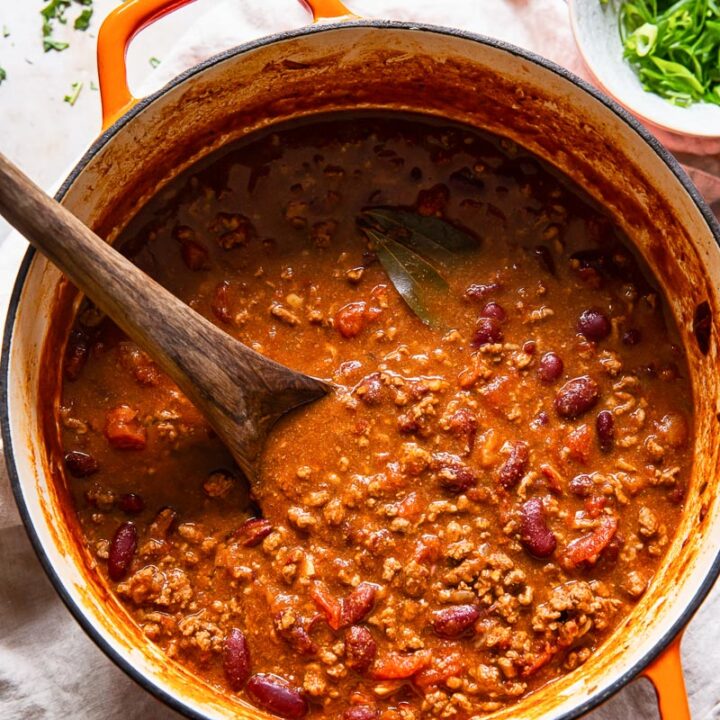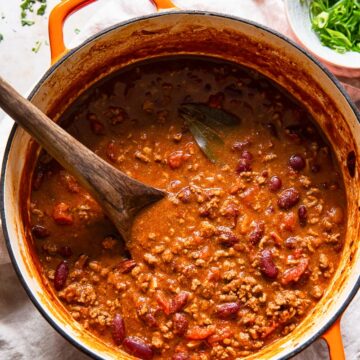 Crowd Pleasing Chili Recipe
Beef and kidney beans are slowly cooked in a tomato sauce, seasoned with warming spices of cumin, chilli and more. This crowd pleasing chili recipe is a one for the books!
Print
Pin
Rate
Ingredients
1

tbsp

vegetable oil

750g/1.5lbs

ground beef

I use 5% fat

1

onion, medium

3

cloves

garlic, pressed

2

tbsp

cumin

1

tsp

chilli powder

2

tsp

ground coriander

1

tsp

oregano

1

tsp

smoked paprika

1

tsp

chipotle paste or minced chipotle peppers

2

bay leaves

salt to taste

2X400g /28oz

canned chopped tomatoes +water from 1 can

2X400g/28oz

canned kidney beans,drained

or any beans you like

1 square/10g

dark chocolate

optional
Instructions
In a large pot heat the oil and add the ground beef, cook until no longer pink while breaking it up with a spoon. Free some space in the pot by moving the beef to one side and add the chopped onions, saute over medium heat for 7-10 minutes. Don't forget to stir once in a while, add the crushed garlic and cook for 30 seconds. Add a pinch of salt and the spices including the chipotle paste and the bay leaves.

Add the canned chopped tomatoes, fill one of the empty cans with water and pour it in as well. Add the beans, bring to a boil and lower the heat, then add the chocolate and let it melt, stir and simmer for 40 minutes covered with a lid. Then uncover and cook for 20-30 minutes longer. Taste and add salt to taste if needed.
Nutrition
Calories:
374
kcal
|
Carbohydrates:
22
g
|
Protein:
23
g
|
Fat:
22
g
|
Saturated Fat:
9
g
|
Cholesterol:
67
mg
|
Sodium:
482
mg
|
Potassium:
779
mg
|
Fiber:
7
g
|
Sugar:
5
g
|
Vitamin A:
359
IU
|
Vitamin C:
12
mg
|
Calcium:
101
mg
|
Iron:
5
mg