Everyone needs a trustworthy chilli recipe, and here is mine! Arguably adding beans to this Texas-style chilli was a tad controversial but authenticity was never claimed. I made it my own!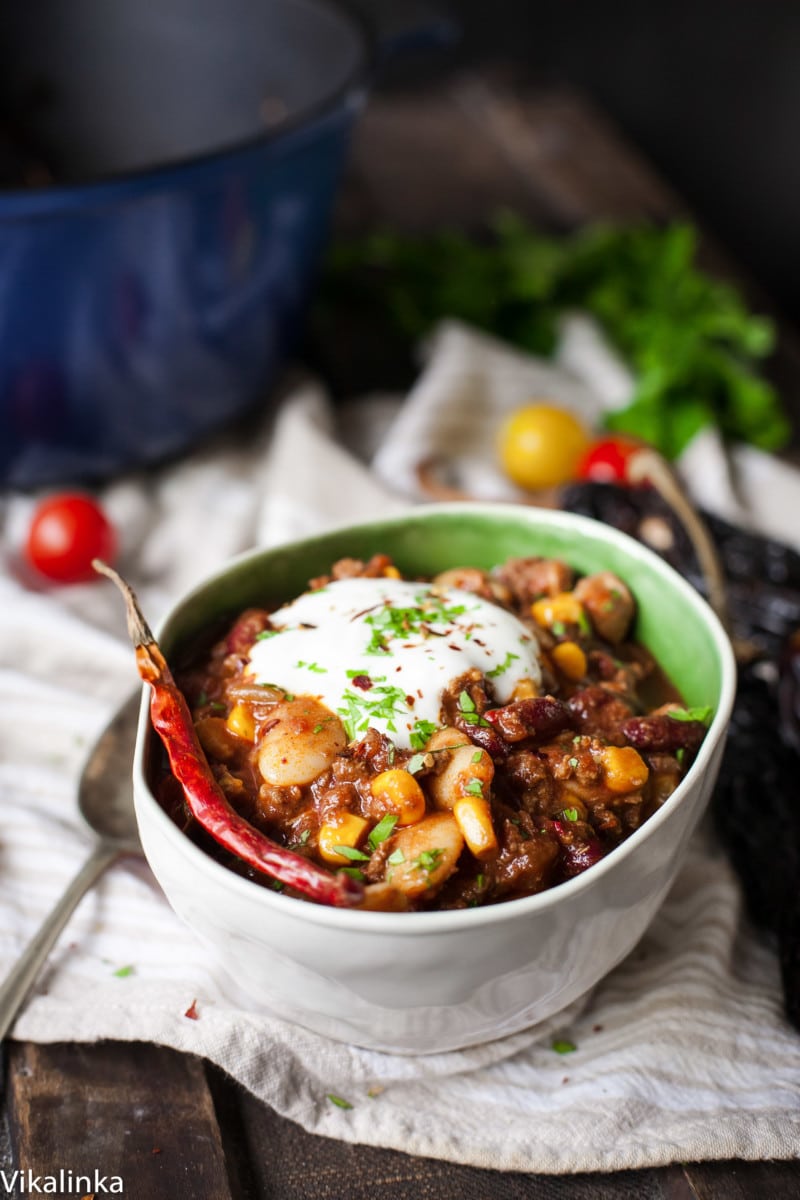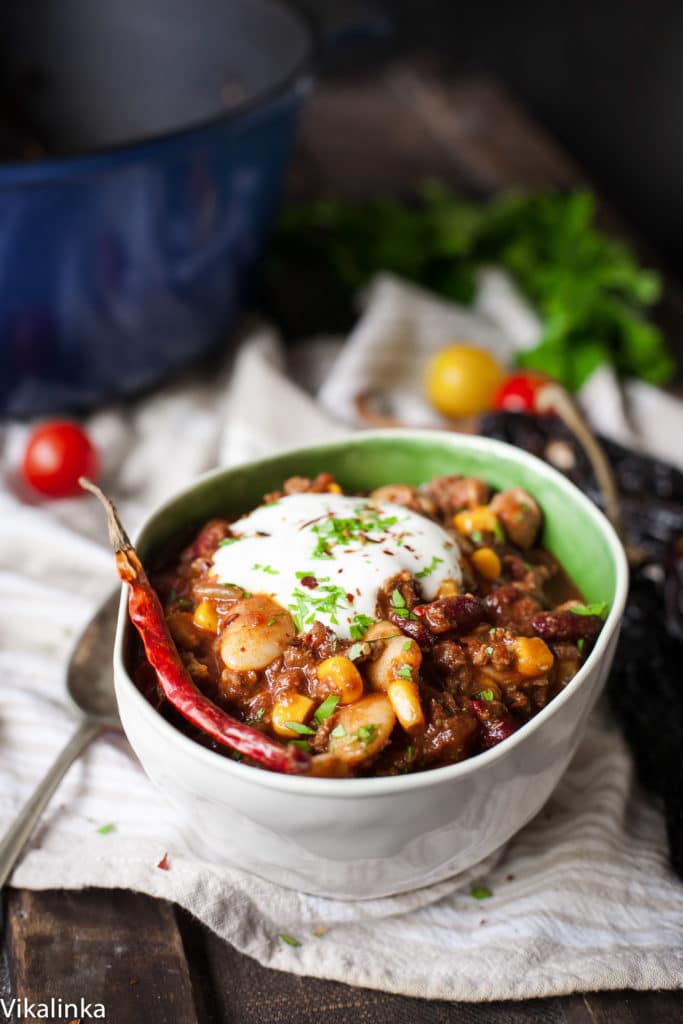 It is mid September yet we are already firmly planted into the autumn season. I am writing this as the rain is relentlessly pounding on the roof of my glass conservatory, and if it wasn't 10 am I'd already, be reaching for a bowl of this Texas-style chilli to cozy up with.
Alas, it's too early and I am settling for a cup of tea instead. What can I say about this chilli?
It's like a warm hug on a sad, rainy day. No, it won't make all your life problems disappear but it will brighten your day and remind you of all that is good and true!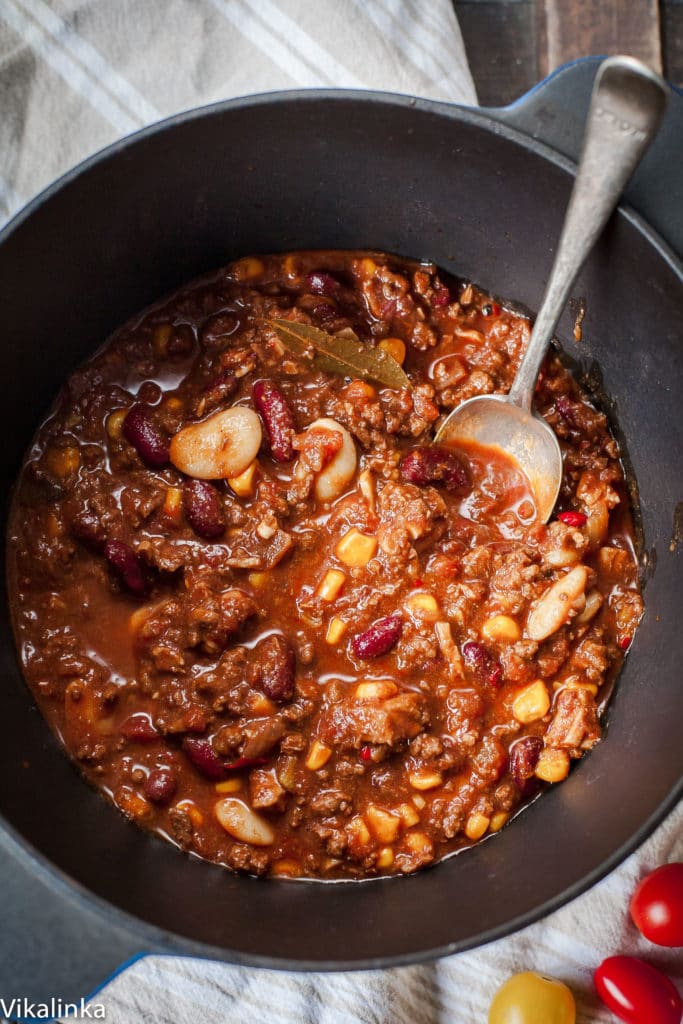 I lived in the States for four years while attending college but I have never been to Texas, hence the cautiousness in the title of the recipe. I named it Texas-style in fear of invoking rage from true Texans 'cause you know…don't mess with Texas and all that business.
I have learned to love chilli while living in the Midwestern Minnesota as well as many other American dishes. They don't always make it on my blog but they are a big part of our daily meals. And since the weather turned, the kids have been begging for a chilli.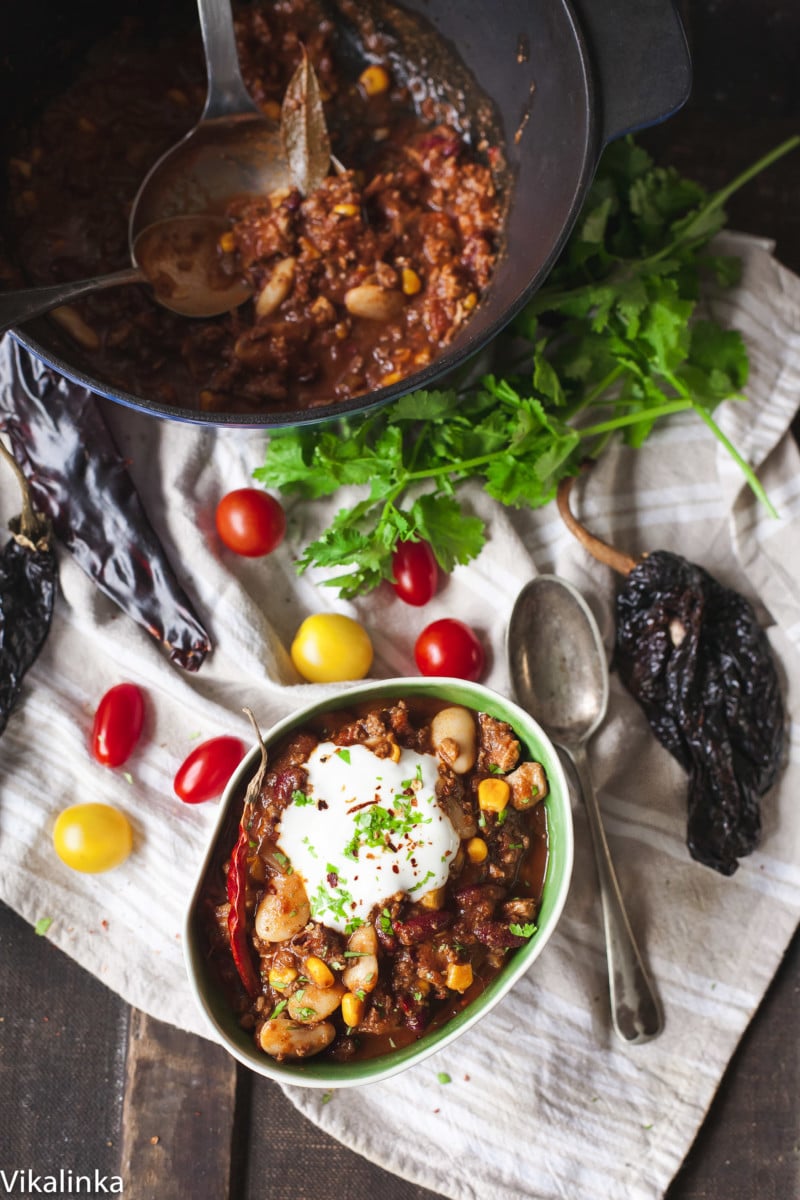 As it often happens at the end the summer season, full of barbecues and naughty holiday food, I try to bring us back to the healthy and wholesome. This chilli recipe is quite good for you.
What goes into a chilli recipe?
I've used a pound of extra-lean ground beef and half a pound of lean pork loin to trim off the fat. It's also full of healthy fibre that comes from beans.
There are a few things I've included that make this chilli extra flavourful and delicious-chipotle paste and dark chocolate. They bring an absolutely gorgeous smokiness to the dish that would make you feel like you are eating it around a campfire!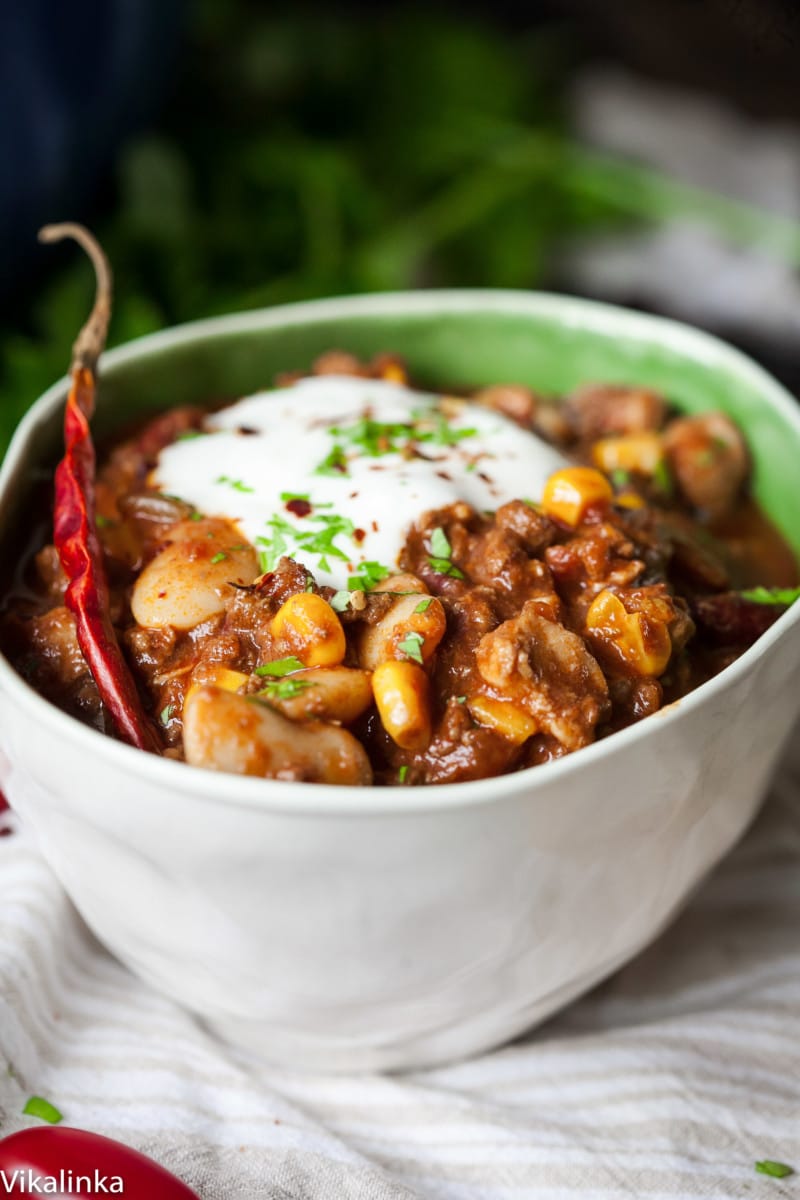 I have looked through many recipes for inspiration and in the end I chose this Texas Chilli recipe from NY Times as a base but adapted it to the ingredients I had at home.
I urge you to do the same! All that matters is that it's an easy one pot dinner so feel free to use any meat you like and any bean combination. Also, adjust the spice to your taste. We like it HOT!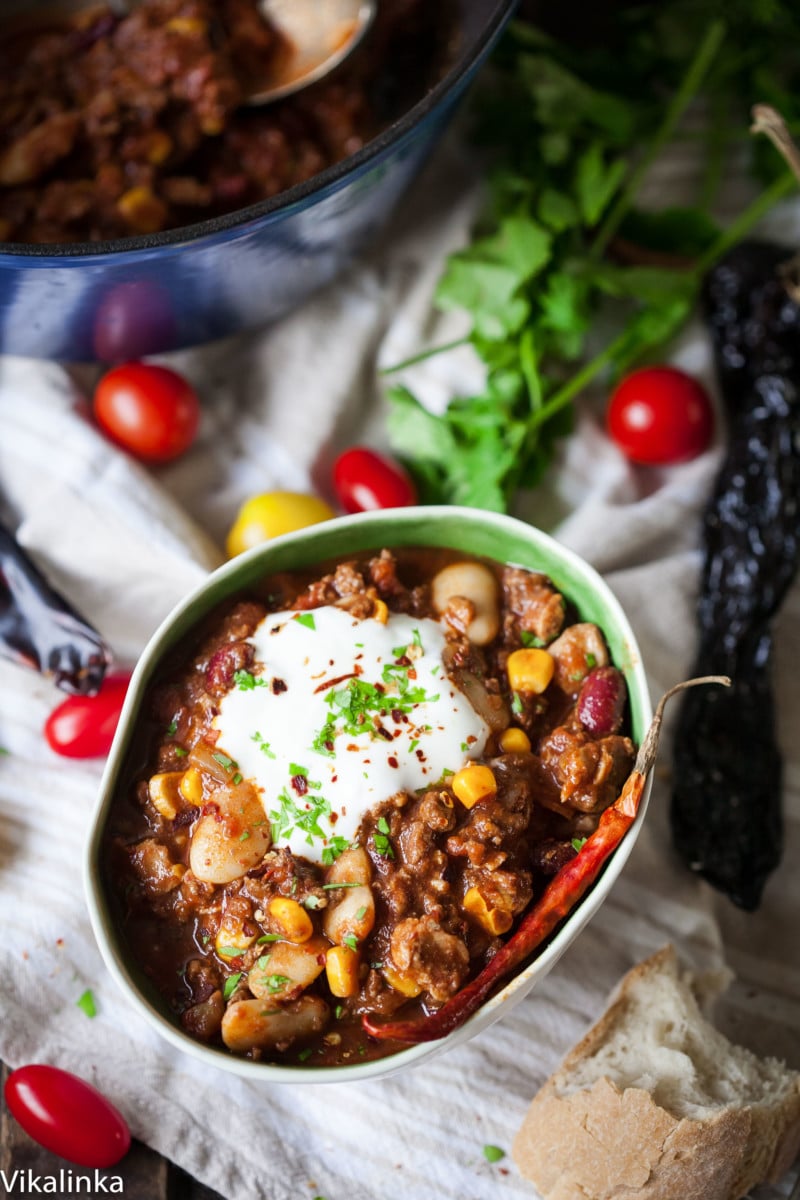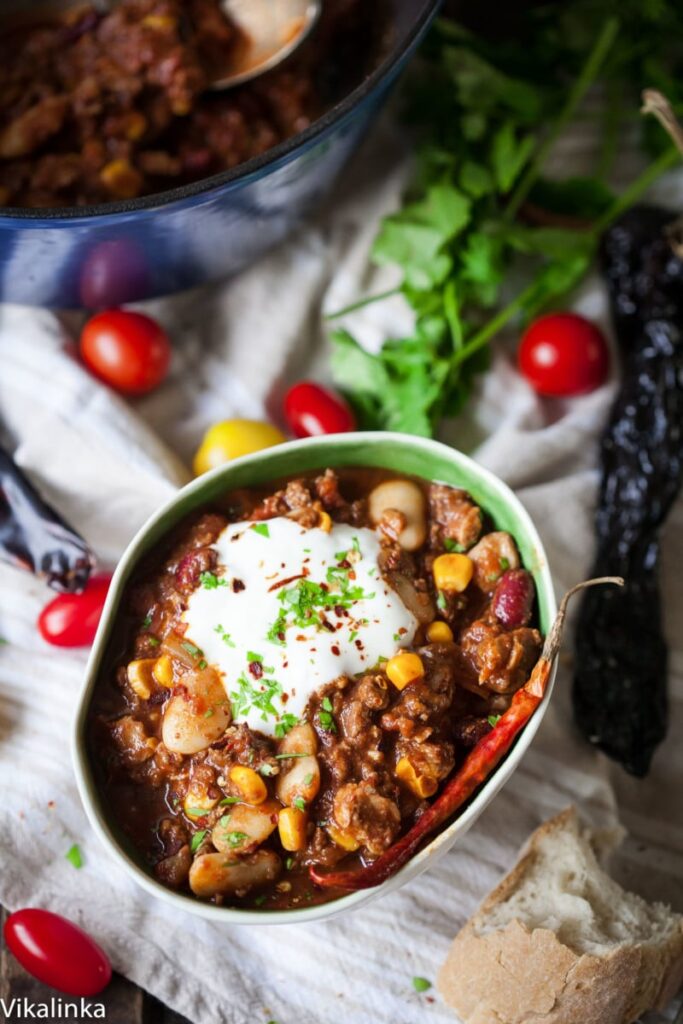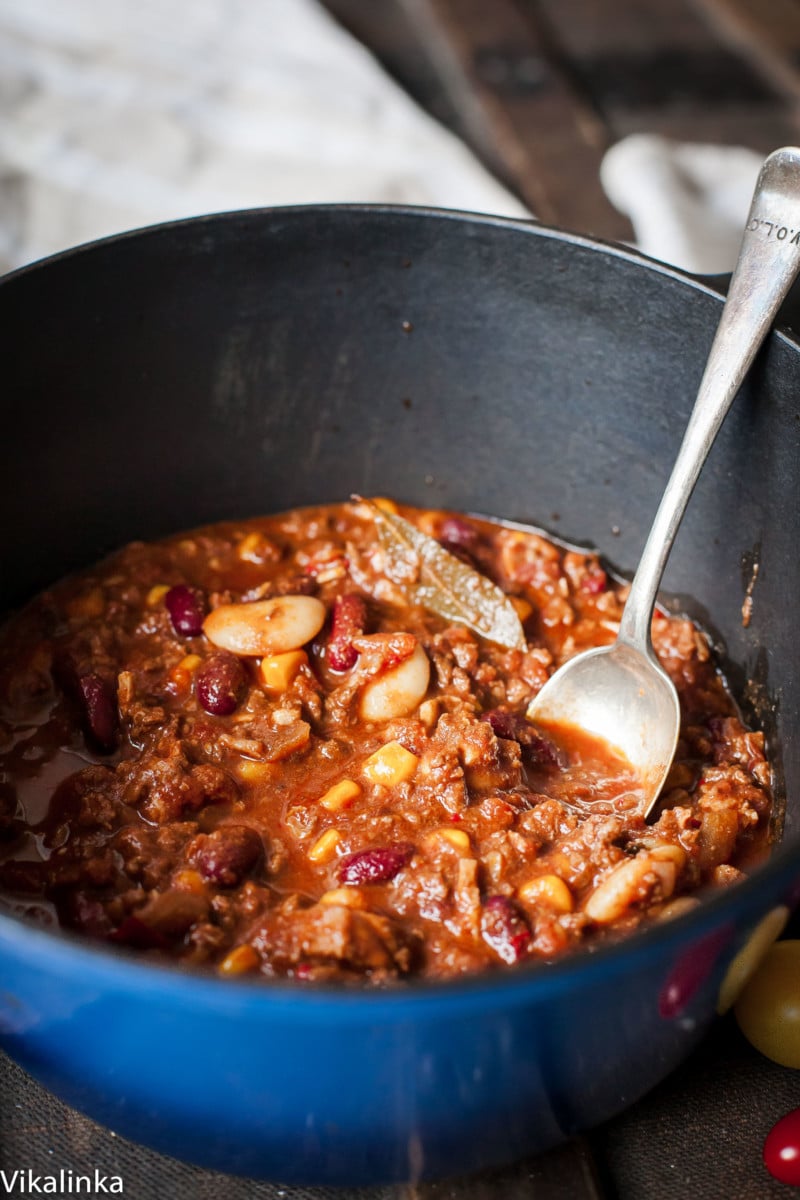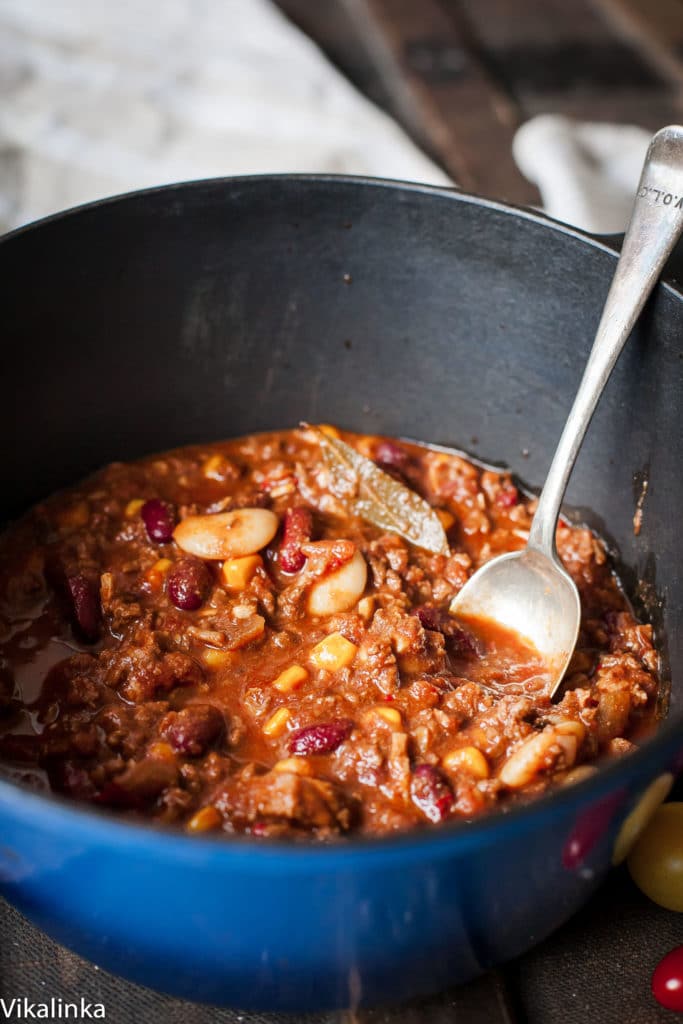 For more comfort food recipes check out
Russian Sweet and Sour Beef Stew Solyanka
One Pot Italian Rosemary Chicken and White Bean Stew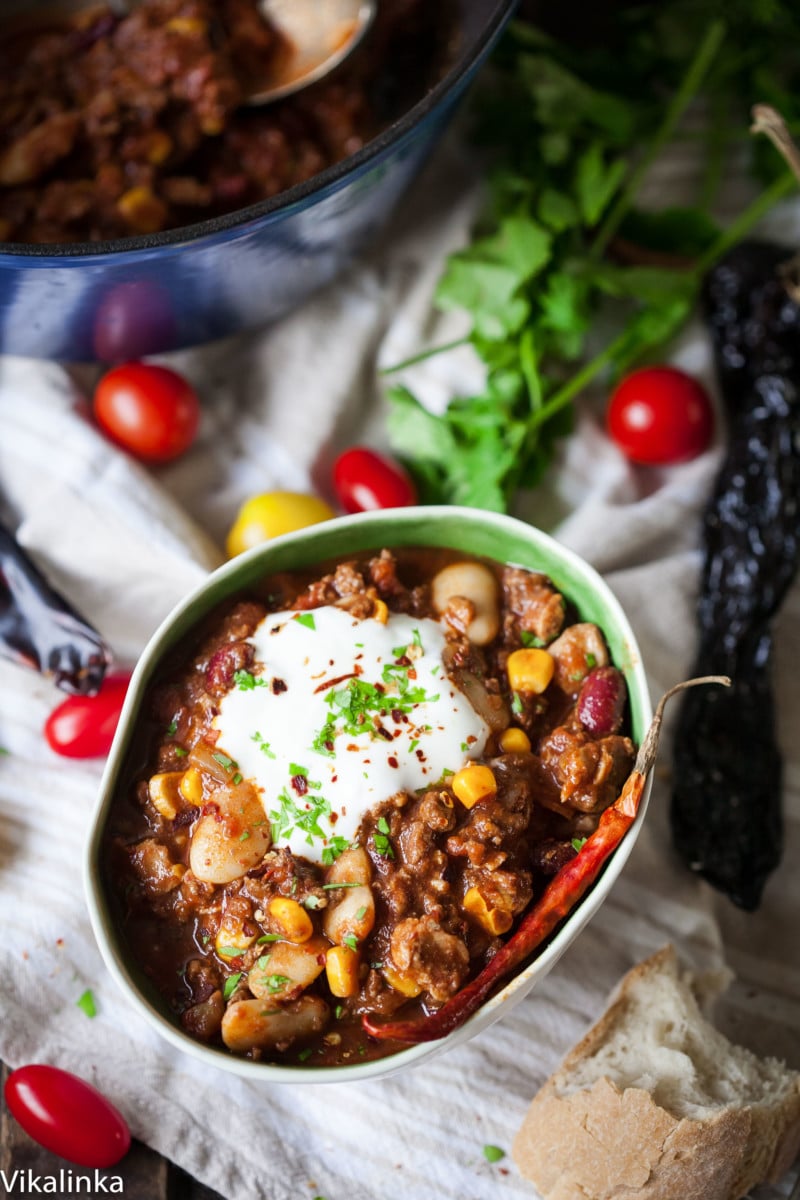 Ingredients
Ingredients for Texas-style chilli recipe
2

tbsp

oil

1

large onion

chopped

2

tsp

cumin

2

tsp

smoked paprika

1

tsp

oregano

2

bay leaves

4

cloves

of garlic

sliced

1

red chilli

deseeded and minced

1

lbs

extra-lean ground beef

½

lbs

pork loin

cubed

2-3

tbsp

chipotle paste or 2-3 whole chipotle peppers pureed

2

X 400 g cans of chopped tomatoes

50

g

dark chocolate

70%-85%

1

X 400 g can butter beans

1

X 400g can kidney beans

1

X 165 g can corn

salt

plain yogurt

fresh cilantro
Instructions
Heat oil in a cast iron pot and cook chopped onion with cumin, paprika and oregano over low heat for 10 minutes until tender. Add sliced garlic and minced chilli, cook while stirring for 2 minutes longer.

Then add beef and pork and brown for 5 minutes, add bay leaves, chipotle paste, chopped tomatoes, 1 tsp of salt. Turn the heat up and bring to a boil.

As soon as it boils, turn the heat to medium-low, add chocolate squares, allow it to melt for a minutes or two and then stir, cover with a lid and let it simmer for 1 ½ hours. Check on it occasionally and stir to prevent from burning.

After 1 ½ hours your meat should be very tender. At this point take a potato masher to the chilli and smash the pork loin chunks slightly while still leaving some texture.

Add beans and corn, taste and adjust seasoning if needed.

Continue cooking for another hour on low heat.

Serve with a dollop of plain yogurt and fresh chopped cilantro alongside rice or tortillas.
Nutrition Facts
Texas-Style Chilli Recipe
Amount Per Serving
Calories 487
Calories from Fat 135
% Daily Value*
Fat 15g23%
Cholesterol 70mg23%
Sodium 296mg13%
Potassium 1578mg45%
Carbohydrates 50g17%
Protein 39g78%
Vitamin A 695IU14%
Vitamin C 26.3mg32%
Calcium 107mg11%
Iron 9.1mg51%
* Percent Daily Values are based on a 2000 calorie diet.