This Russian Sweet and Sour Beef Stew is a meat lover's heaven. It's made with beef, smoked kielbasa sausage, bacon, mushrooms, potatoes and more!
Serve this delicious and hearty stew with our Sweet Potato and Swede (Rutabaga) Mash.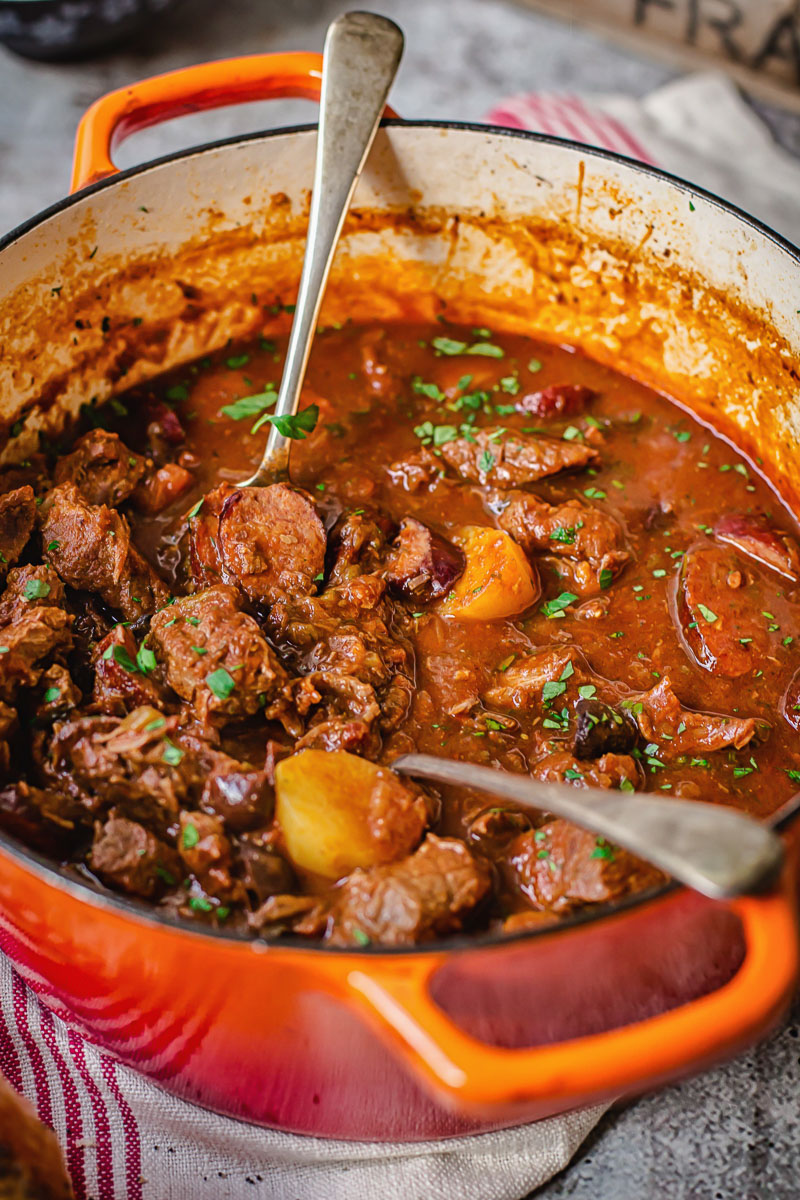 Old Fashioned Beef Stew Recipe
The cold season is here and I feel like stews are becoming a staple in our home. Warm and comforting stews also have a reputation for being a bit boring. So to break up the routine I love adding dishes from around the globe.
Interestingly enough a hearty meat dish cooked in the oven for a long time is an international concept. Stew recipes are easy to find all over the world
Let's take a look at the Beef Stew called Solyanka from Russia. This recipe is an example of simple, rustic cooking, which we all long for at the end of a day.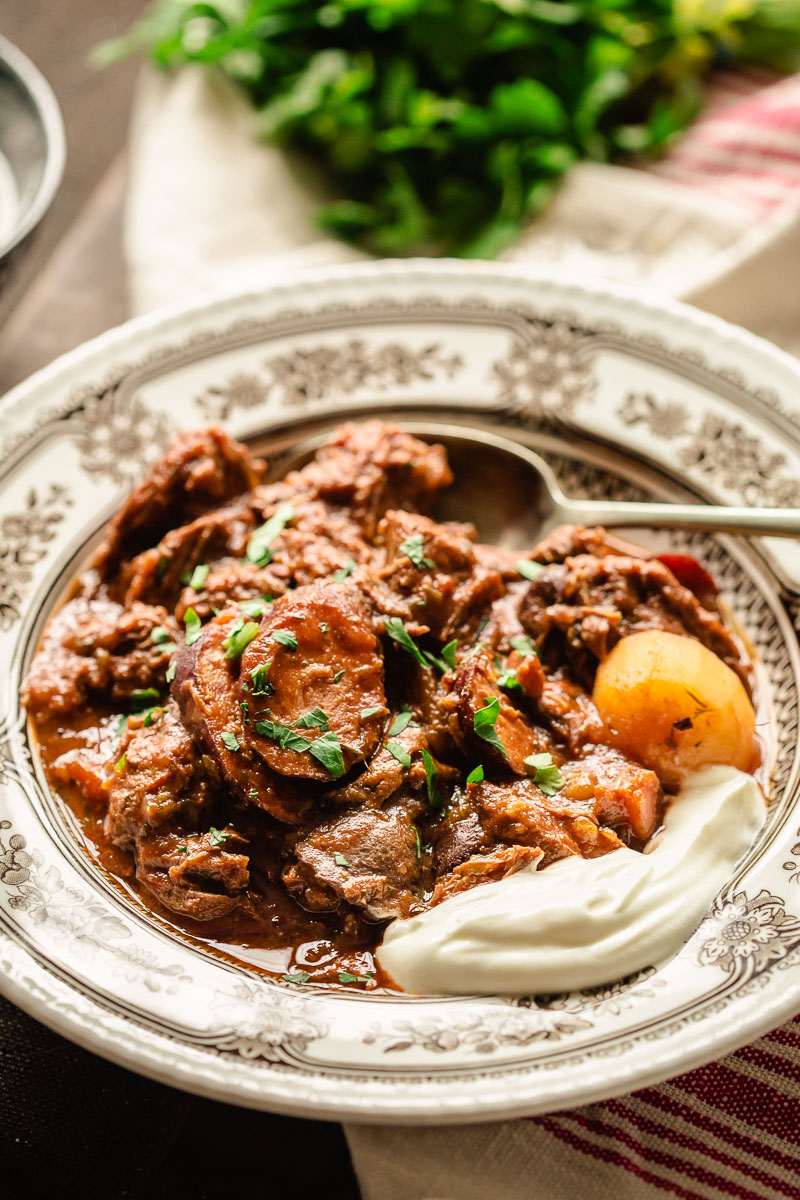 What is Solyanka?
This sweet and sour beef stew is one of the brightest examples of Russian peasant food. The origin of its name is unclear, it's either derived from the word sol meaning salt or selo meaning village.
Whatever the source is, one thing is not disputed. It's a meat lover's heaven.
Made from a combination of beef and a variety of smoked meats like ham, smoked sausage, bacon, salami and salted preserves like pickles, mushrooms, olives, and capers. This hearty beef stew has got it going on.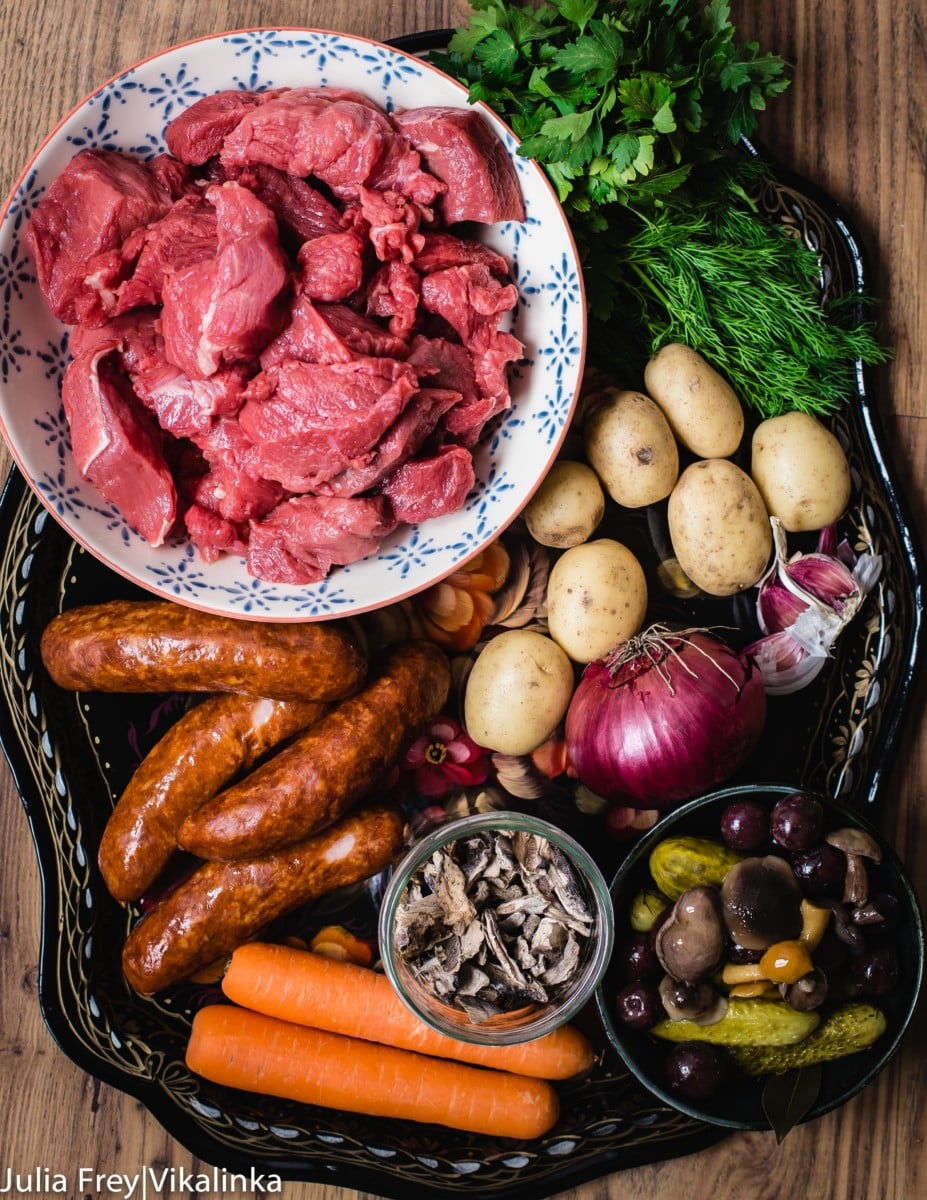 How To Make It
One of the great things about this beef stew is that it's very forgiving. And the ingredient list is easily adjustable.
There are only two requirements.
Right balance of sweet, salty and sour.
Somewhat lengthy cooking time.
Most of the cooking time is the stew bubbling away on your stove. And you wouldn't mind that, would you?
Solyanka is most often served as a soup rather than a stew. However, I prefer this dish a bit thicker. This recipe is my own take on the tradition. I adjusted quantities of ingredients and added or omitted some of them to my own liking.
Thankfully Russian food allows for that kind of freedom of expression and I hope there will be no authenticity police lurking around. I like Solyanka as a stew but a soup consistency would be more traditional.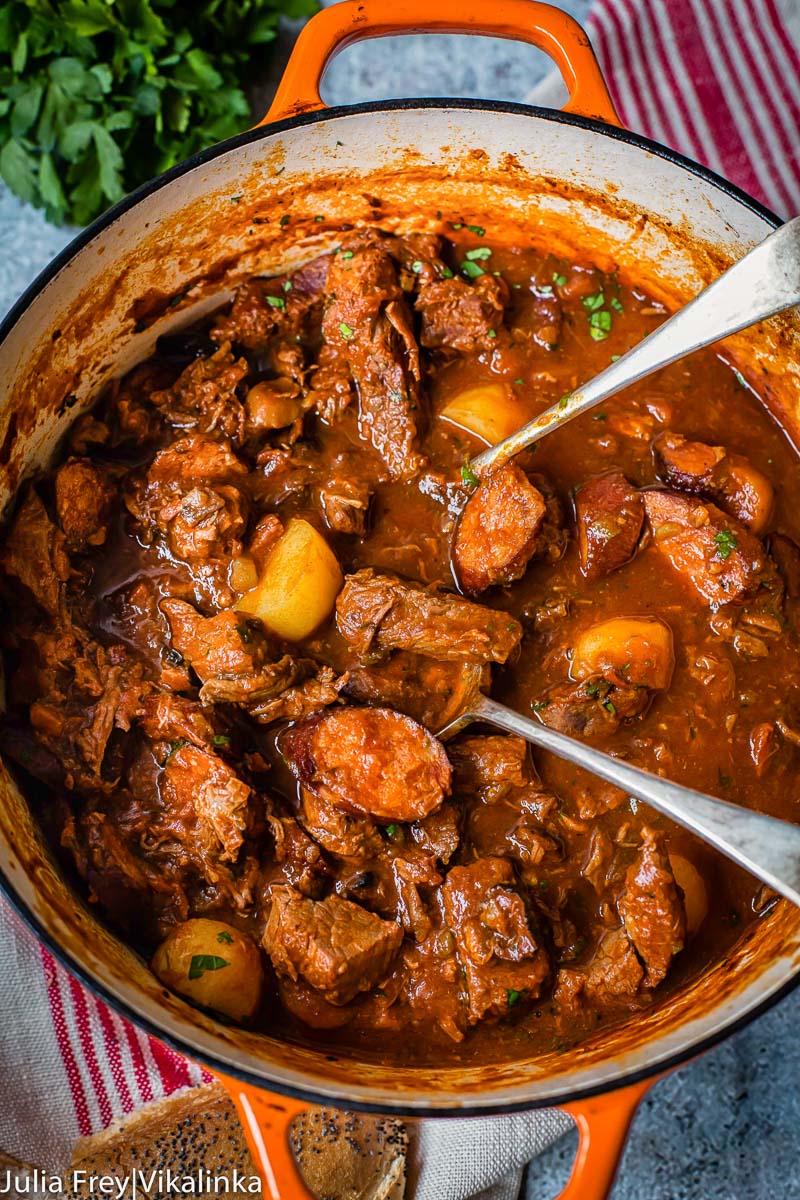 Recipe Tips
Use stewing beef or cut a roasting beef joint into large cubes (my preference). Tougher and cheaper beef cuts work perfectly here.
This stew doesn't use wine but rather relies on pickles, olives and marinated mushrooms for that acidic touch, which brings balance to the rich beef and sausage mix.
The sweet taste comes from crushed tomatoes and carrots. When cooked for a long time they release an incredible amount of natural sweetness.
Don't skip potatoes as they absorb some of the sour notes and add bulk to your stew.
This stew could be cooked on a stove or in the oven.
Can this beef stew be frozen?
Yes! The recipe makes enough to freeze the leftovers and enjoy at a later date. The stew will keep well in the freezer for up to 1 month without losing its flavour.
It will be safe in your refrigerator for up to 5 days.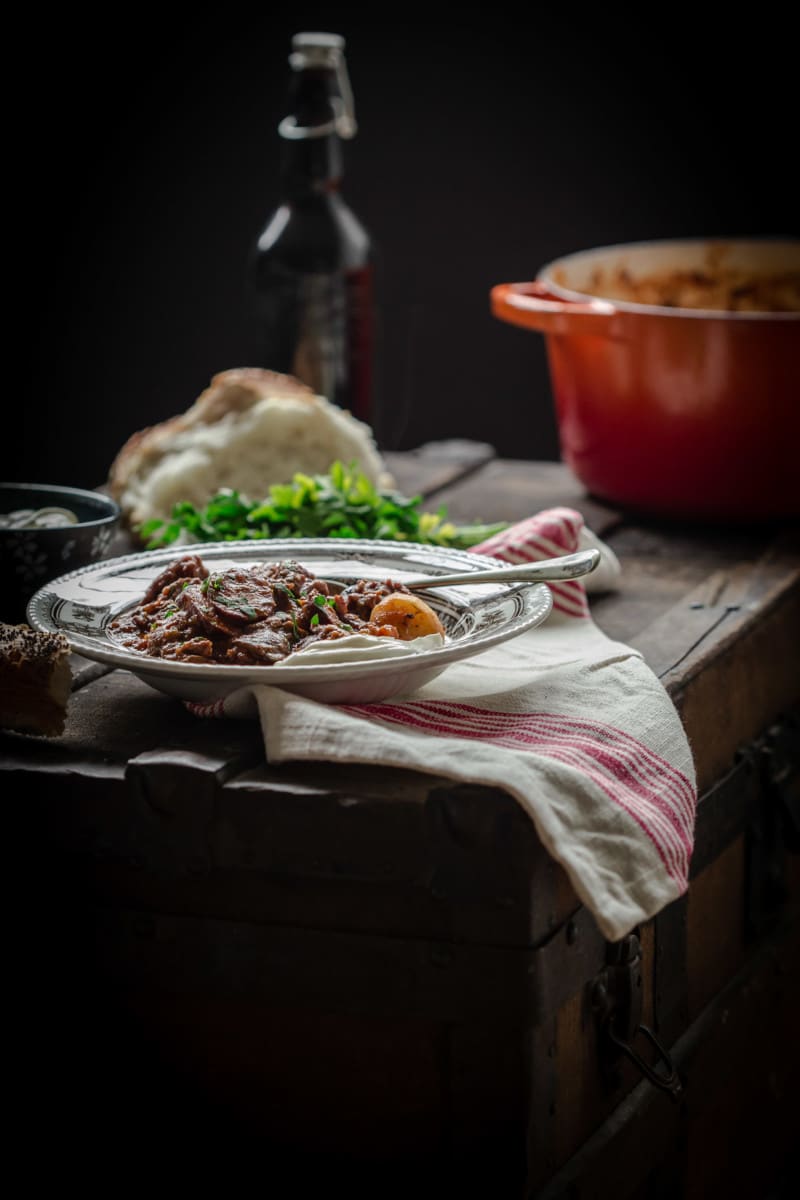 Traditional Beef Stew Recipes From Around the World:
This recipe was originally published in 03/2016. Updated and republished in 11/2020.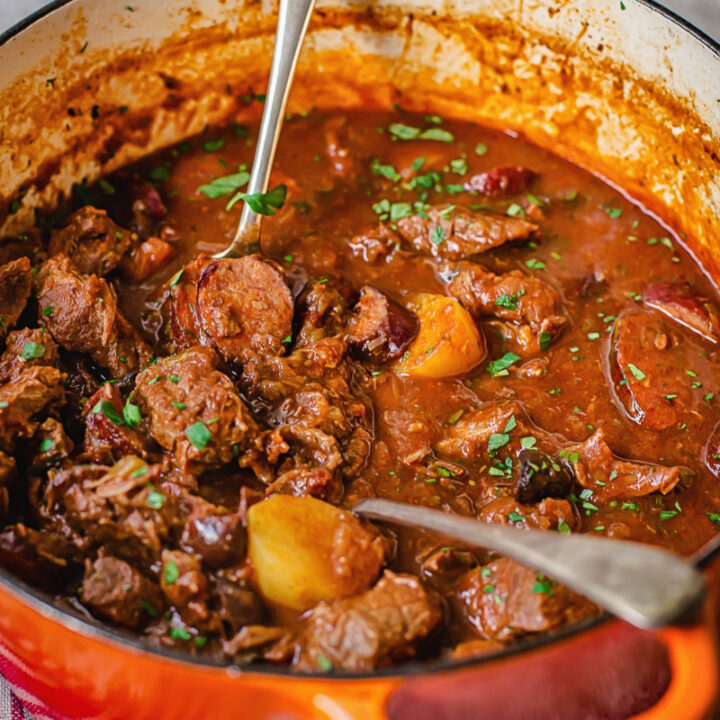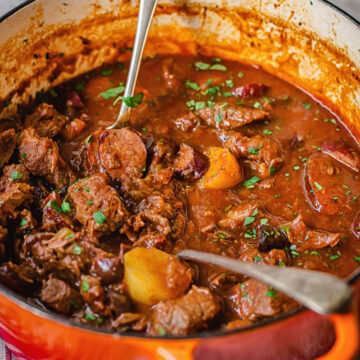 Russian Sweet and Sour Beef Stew "Solyanka"
Russian Sweet and Sour Beef stew is a meat lover's heaven. It's made with beef, smoked kielbasa sausage, bacon, mushrooms and more!
Ingredients
½ cup/40g

dried porcini or mixed mushrooms

1 cup/250ml

cup/250 ml hot water

2kg/4 lbs

stewing beef

4/340

g

smoked sausages/Polish kielbasa

100

g

smoked bacon lardons

1 cup/150g

pickles/gherkins

chopped

6-8

marinated mushrooms

preferably from Eastern European store

15

Kalamata olives

pitted

1

onion

chopped

2

cloves

garlic

minced

1

carrot

sliced

2

bay leaves

½

tsp

black pepper

1

tbsp

butter

2 cups/500

g

tomato passata or crushed tomatoes

1

tsp

sweet paprika

smoked

6

baby potatoes

halved

2

tbsp

of each chopped dill and parsley

sour cream/creme fraiche

lemon slices for serving

optional
Instructions
Soak dried mushroom in boiling hot water and set aside to soften for 30 minutes, then remove mushrooms from water and strain the liquid through a fine sieve, set aside for later use.

In a large cast iron pot fry bacon lardons until they render fat, remove to a separate plate. To the same pot add stewing beef and brown on high heat with a pinch of salt and freshly ground pepper, remove to the same plate as bacon, then add sliced smoked sausage and brown briefly, remove to the same plate as beef and bacon.

To the same pot add chopped onion and sauté on medium heat for 5 minutes, add chopped carrot and garlic and continue sautéing for 5 more minutes, then add butter, marinated mushrooms, pickles, olives and rehydrated mushrooms and paprika, cook while stirring for 5 minutes.

Return beef, bacon and smoked sausage to the pot, add 2 bay leaves, the liquid mushrooms were soaked in, tomato passata and 1.5 litre of water, bring to a boil and then turn the heat down to low. Simmer for 2 hours. 30 minutes before the time is up add halved baby potatoes. Alternatively it could be cooked in an oven at 150C/300F.

Check your stew once in a while, stir to avoid burning. By the end of the cooking time it should be thick and the beef should be very tender. Add chopped herbs at the end. Taste and adjust the flavour if necessary. You might need to add 1 tsp of sugar if your tomatoes were not very ripe.

Serve with sour cream or creme fraiche and slices of lemon if desired.
Nutrition
Calories:
769
kcal
Carbohydrates:
32
g
Protein:
41
g
Fat:
52
g
Saturated Fat:
20
g
Cholesterol:
162
mg
Sodium:
795
mg
Potassium:
1394
mg
Fiber:
5
g
Sugar:
4
g
Vitamin A:
1378
IU
Vitamin C:
33
mg
Calcium:
85
mg
Iron:
6
mg