Warm and comforting Beef Goulash is what we all need in the dead of the winter. Here is my recipe for this delicious and filling warmer.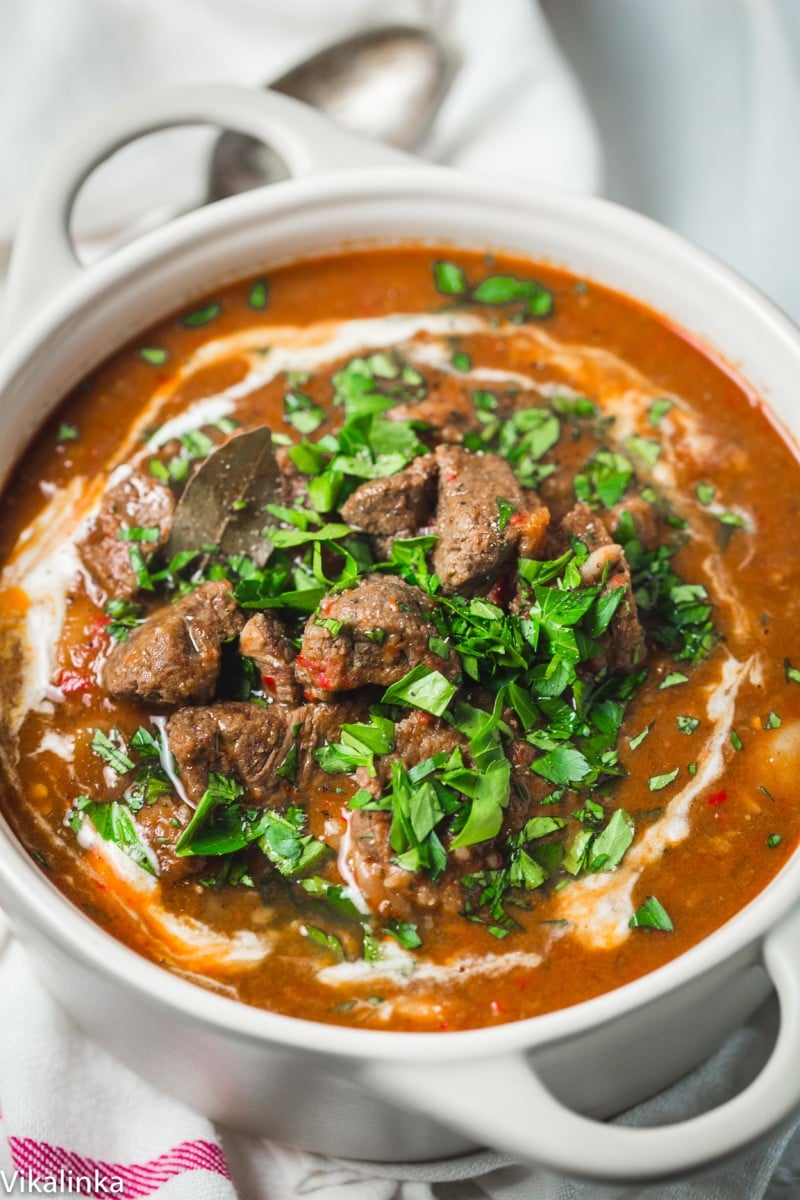 Winter is here and not the wussy kind. Proper winter has arrived to England. For me the gravity of the situation has always been measured by whether or not I need a hat so I don't freeze my brains out.
And I don't make that decision lightly. I like my hair, my long brown locks have always been my most loved and treasured asset, so to cover them up is a big crime against nature… erm did I say nature, I meant beauty.
I have yet to wear a hat this winter but it is surely NOT because the weather is tolerable. I am holding out only because I am still reluctant to sport a hat head at work.
Whenever I get home, though, I find myself in a desperate need for something warm to feel human again, which is when this fantastic beef goulash comes to the rescue.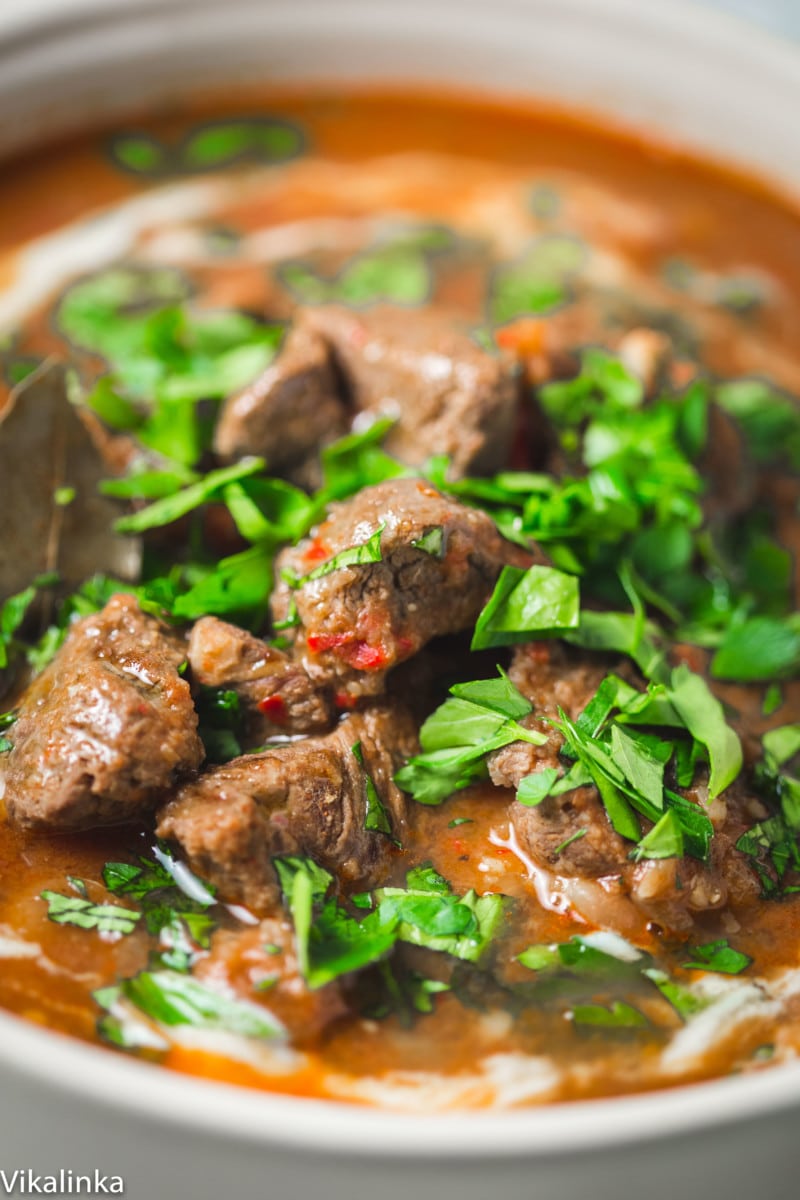 What is Beef Goulash?
I know what you are thinking…beef goulash doesn't just materialise on its own. This delicious smoked paprika flavoured Hungarian stew takes hours for the flavours to meld and for the beef to turn into melt-in-your-mouth little morsels of joy.
All true but there is a way to make it quicker. I was recently sent a new toy for my kitchen and it's a pretty one too. Tefal UK was kind enough to provide me with their new amazing all-in-one machine for a review, which creates incredible dishes at the touch of a button.
The Cuisine Companion can replace up to ten different appliances in the kitchen and is perfect for chopping, whipping, mixing, kneading, cooking, steaming, blending, stirring, emulsifying, whisking, searing, crushing, milling and precise heating
. When I first heard of such a machine I was highly suspicious and also not sure I would like to be replaced in the kitchen. I like the cooking process too much but when it arrived I couldn't help but got excited.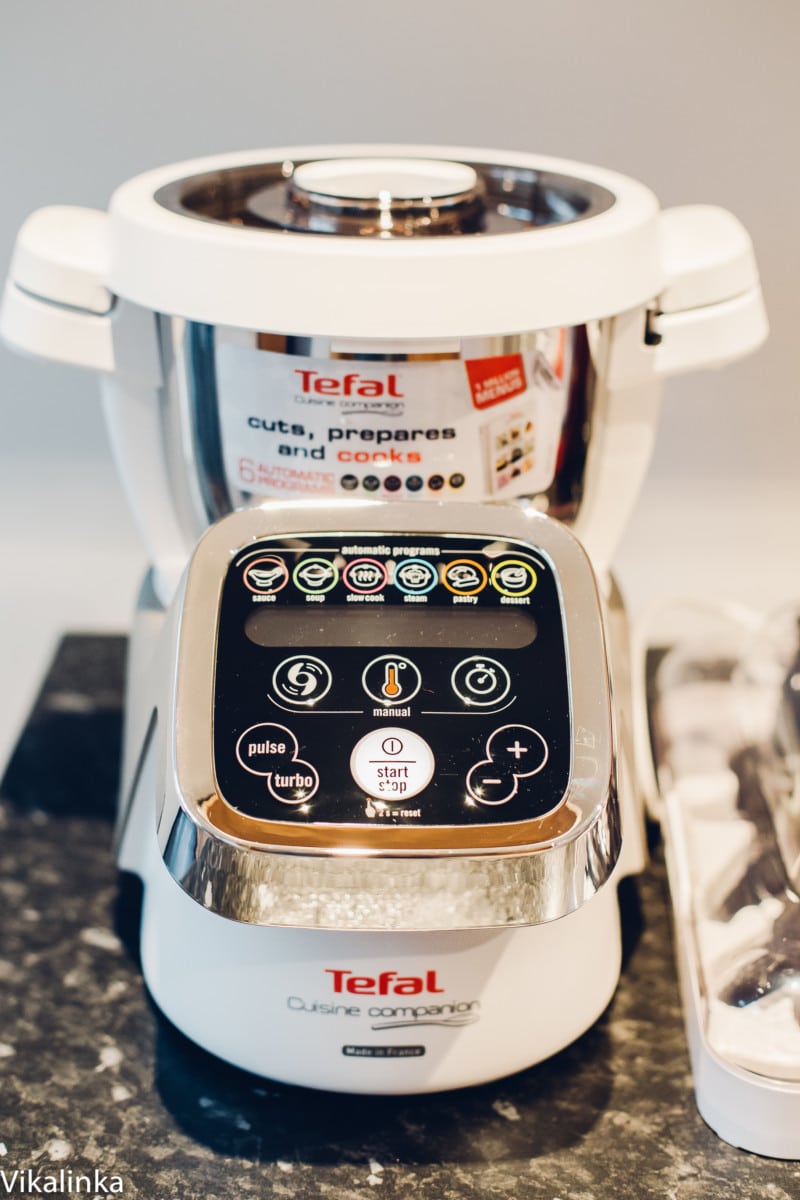 The cooking process was made so easy with this machine and the visual guide was so comprehensive that my 11-year-old son immediately claimed it as his tool and nicknamed it CC.
He was also the first one in the family to use it. He cooked Ratatouille in it, which made a tasty and healthy side dish for our Sunday roast. Next person to use it was my husband. He made a blue cheese broccoli soup for lunch that took all 5 minutes of hands-on time, the rest was handled by Cuisine Companion.
It cooked, stirred and finished by blending the soup into a creamy and velvety bowl of deliciousness. Once I heard all the feedback from my men I decided to tackle the beast myself and I chose something more complex like a hearty beef stew.
I made Beef Goulash. Prep time-10 minutes, cooking time-1 hour 25 minutes while I was nowhere near the kitchen. The result-fabulous! To sum it up, Cuisine Companion cuts the cooking time in half and pretty much eliminates any human effort.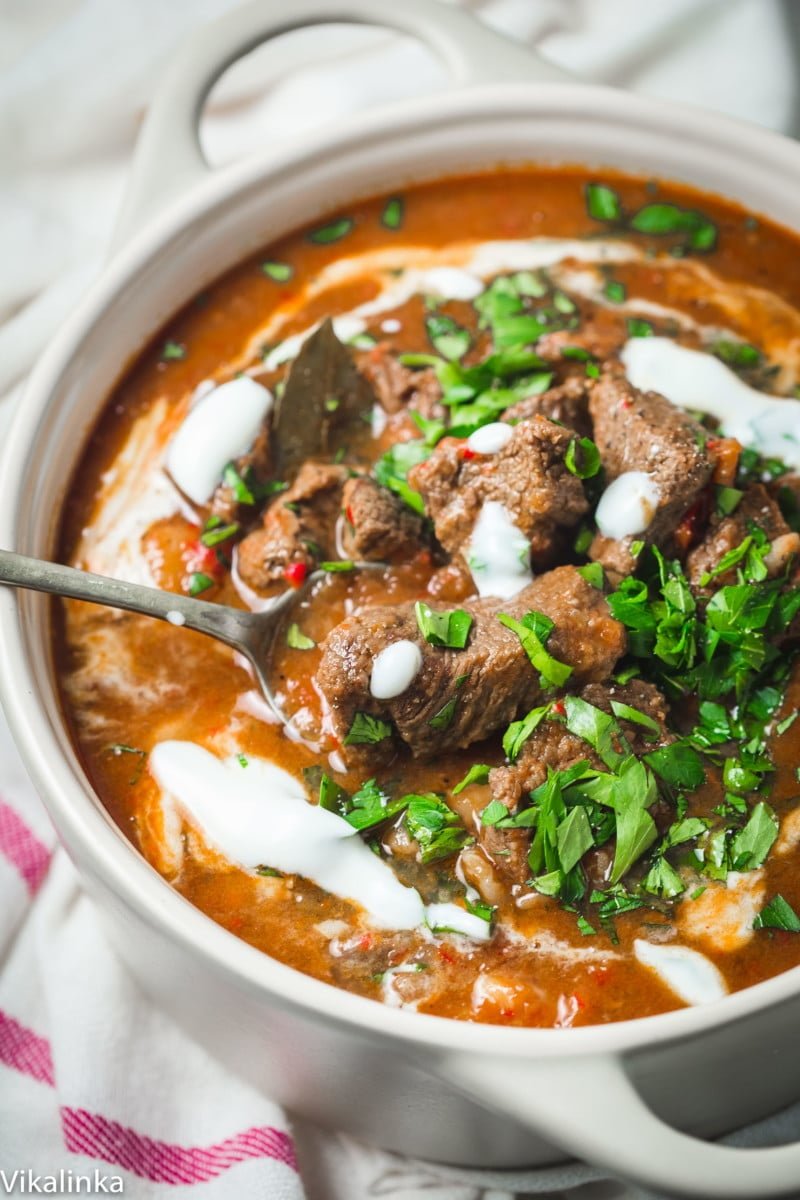 The machine comes with a recipe book for starters, main dishes and desserts. So far, I've only used recipes from that book, although I've tweaked the beef goulash recipe slightly to make it my own.
Once you get to know how Cuisine Companion works you can use any recipe in it as it is not programmed for specific recipes. All in all this machine is a tool that does a lot of the leg work for you in the kitchen. It's not a robot that removes the need for you, the cook, but it will chop, stir and cook, so you don't have to be "chained to the stove". How great is that!
Below is the recipe for Beef Goulash for Cuisine Companion. I have also included a printable version of it for the stovetop.
Preparation: 10 minutes. Cooking-1 hour 25 minutes. Serves: 4-6
Ingredients:
2 lbs stewing beef
2 medium onions
4 garlic cloves
1 large red pepper
2 tbsp plain flour
2 tbsp olive oil
3 tsp smoked paprika
2 bay leaves
250 g/1 can diced tomatoes (tinned)
250 ml/1 cup beef stock
100 ml/1/2 cup red wine
salt
pepper
flat leaf parsley for garnish
sour cream or yogurt (optional)
Directions for Tefal Cuisine Companion:
Peel the onions, garlic and cut onions and red pepper into quarters. Dice the meat and dip it into flour. Place the onions, peppers and garlic into the bowl fitted with the ultrablade knife and mix at speed 11 for 10 seconds.
Replace the ultrablade knife with the mixer and bring the ingredients to the centre of the bowl. Add the oil and paprika and launch the P1 slow cook program at 130C for 5 minutes.
At the end of the program, add the beef, diced tomatoes, stock, red wine, bay leaves and salt and pepper. Launch the P2 slow cook program at 95C for 1 hour 20 minutes. Serve with hot noodles or mashed potatoes. Add a swirl of sour cream or plain yogurt if desired.
Beef Goulash Stovetop Method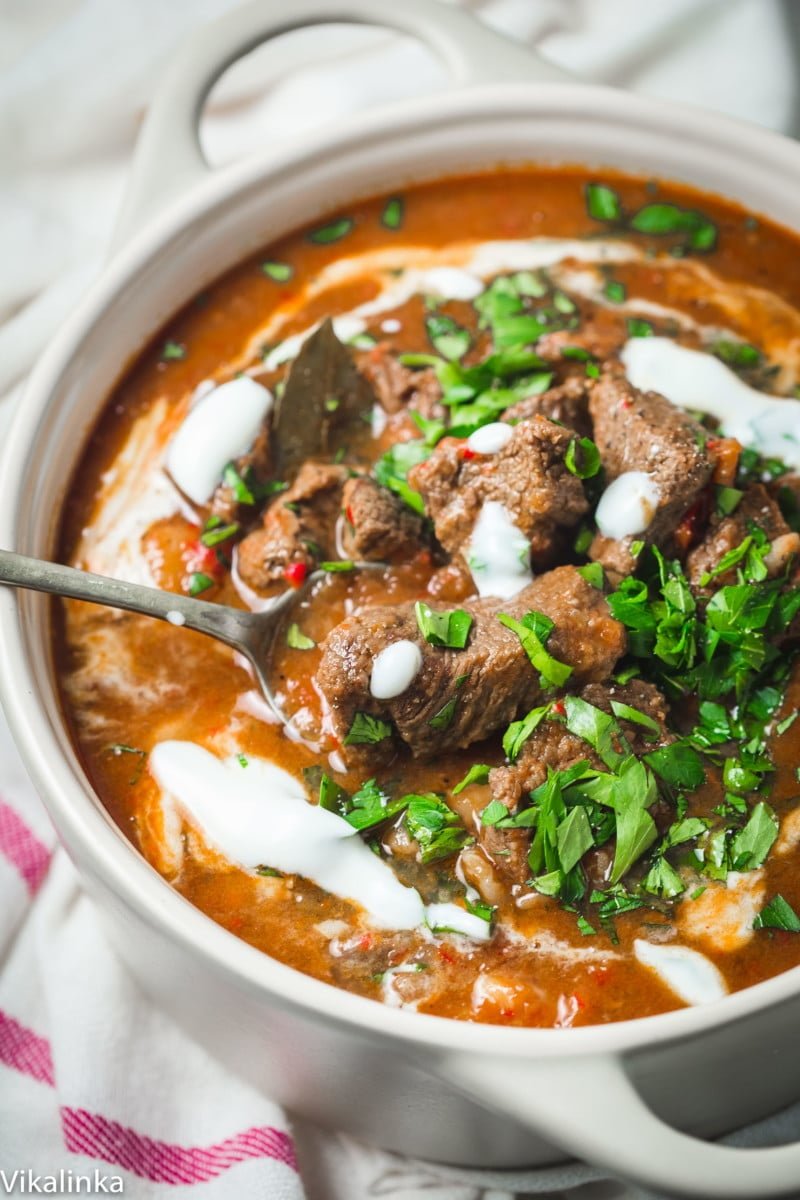 Ingredients
2

lbs

stewing beef

2

medium onions

4

garlic cloves

1

large red pepper

2

tbsp

plain flour

2

tbsp

olive oil

3

tsp

smoked paprika

2

bay leaves

250

g/1 can diced tomatoes

tinned

600

ml/ 2 1/3 cup beef stock

100

ml/1/2 cup red wine

salt

pepper

flat leaf parsley for garnish

sour cream

optional
Instructions
Peel the onions, garlic and slice onions and red pepper. Dice the meat and dip it into flour. (Omit the flour if you prefer to avoid carbs and thicken the sauce with 1 can of blended butter beans, add them 30 minutes before the goulash is done cooking.)

Heat olive oil in a dutch oven or a deep pan and cook onions, peppers over low heat for 7-10 minutes until softened, add chopped garlic and cook for 1 minute longer, add smoked paprika and beef and cook while stirring for 2-3 minutes.

Add diced tomatoes, beef stock, wine, salt and pepper, bay leaves and bring to a boil over high heat, then reduce the heat to low and simmer covered for 1 hour and 30 minutes. Then uncover and cook for 1 more hour.

Serve with hot noodles or mashed potatoes. Swirl sour cream or plain yogurt into your beef goulash for added creamy texture.