Warm and comforting Beef Goulash with tender chunks of meat in a rich, flavour packed gravy sauce is what we all need in the dead of the winter. Here is my recipe for this delicious and filling winter warmer.
Serve this wonderful stew with my homemade rye bread for an authentic Eastern European taste!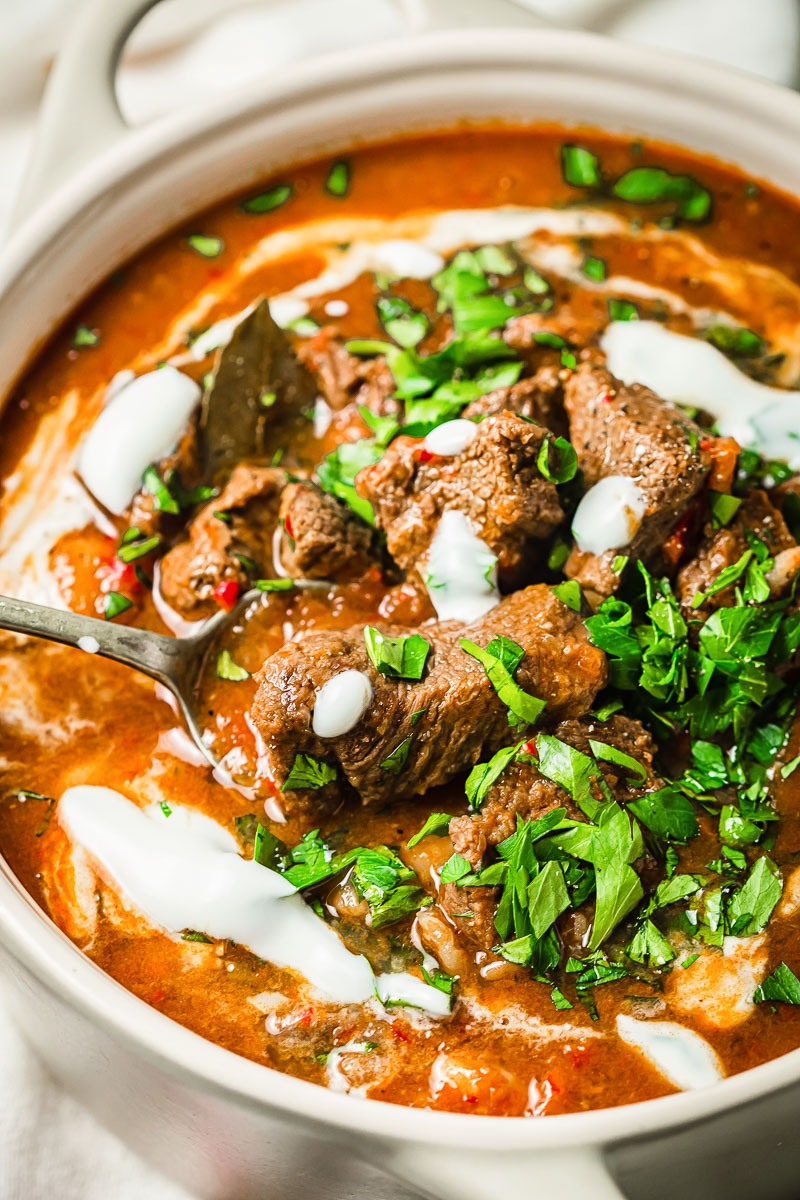 Winter is here and not the weak kind. Proper winter has arrived to England. For me the gravity of the situation has always been measured by whether or not I need a hat. And I do!
Whenever cold weather strikes, I find myself in a desperate need for something warm. That is when this fantastic beef goulash comes to the rescue.
I know what you are thinking…beef goulash doesn't just materialise on its own. This delicious, paprika-flavoured Hungarian stew takes hours for the flavours to meld together, and for the beef to turn into melt-in-your-mouth little morsels of joy.
All true but apart from the length of time it takes to make this stew properly, it's an easy and mostly hands off task.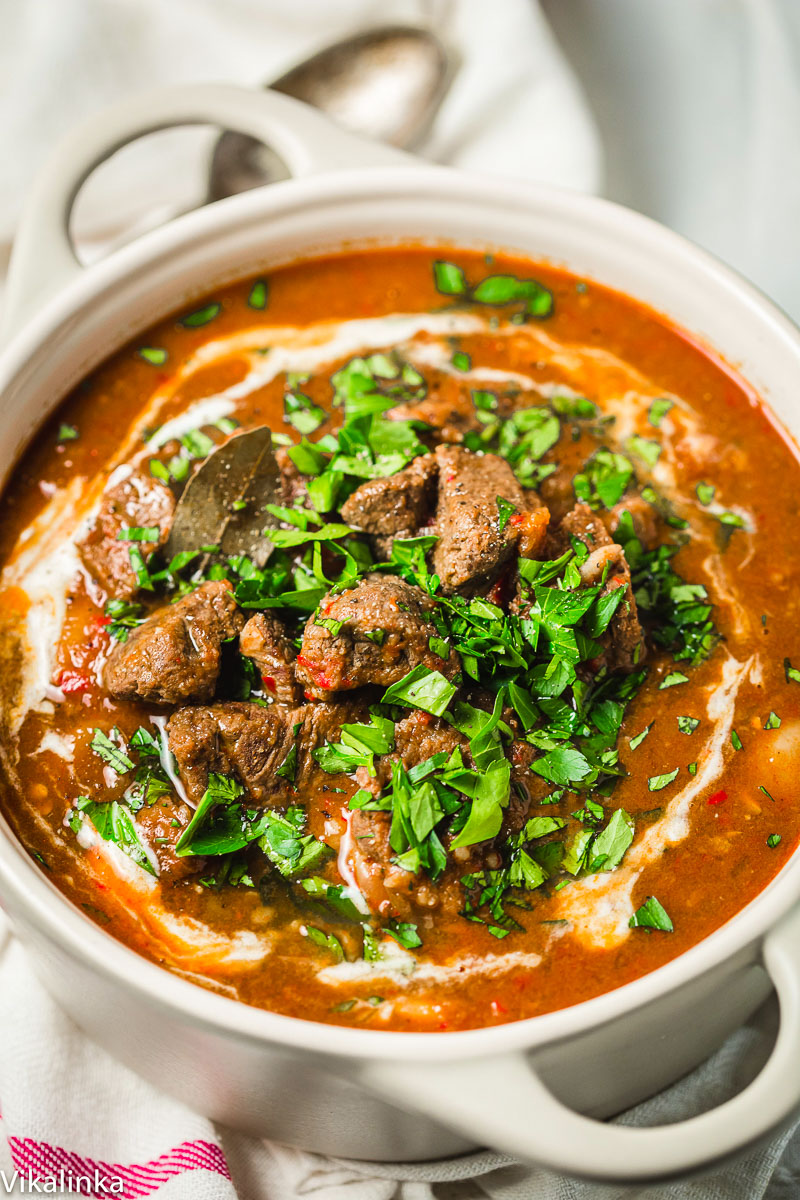 What is Beef Goulash?
The origins of Beef Goulash is in Hungary although it is nearly as popular in many neighbouring countries. You will see it on the menu in most restaurants in Prague, Vienna and many other places in Central and Eastern Europe.
We know goulash as a hearty stew but it has the consistency of a soup in its original form. Whatever thickness you prefer, the main ingredient, which sets it apart from other beef stews, is undoubtedly paprika.
If want to get the most authentic flavour, track down the best quality sweet Hungarian paprika. Or you can experiment with smoky paprika for a bolder taste!
Beef Goulash is often made with tomatoes but interestingly tomatoes were not one of the original ingredients. However, I love the sweet and slightly tangy taste crushed tomatoes bring to this stew!
If you love these flavours but prefer chicken, take a look at our classic Chicken Paprikash recipe.
Recipe Tips
As I mentioned above, the recipe itself is very easy but it takes time. 2.5 hours in the oven is what will deliver the best results.
The most common question I hear is what beef to use in stews. For this one I recommend using stewing beef. It comes already diced in bite-sized pieces, which makes it very convenient. And after hours of being cooked in the delicious sauce the beef comes out beautifully tender and full of flavour.
Make sure your paprika is of the best quality you can afford and up to date. Smell it before using to ensure it has a nice aroma, which will flavour your stew. If there is no smell left, it's out of date.
A pinch of caraway seeds is usually added to the traditional versions of the goulash, which brings a true Eastern European taste. However, caraway has a very strong flavour, so it might be a bit overwhelming for those not familiar with it. I omit in my recipe but give it a go if you are after the authentic taste!
Don't forget to add a dollop of full fat sour cream or yogurt before serving. It adds a nice creamy texture to the goulash. It also tames the paprika flavour just a touch.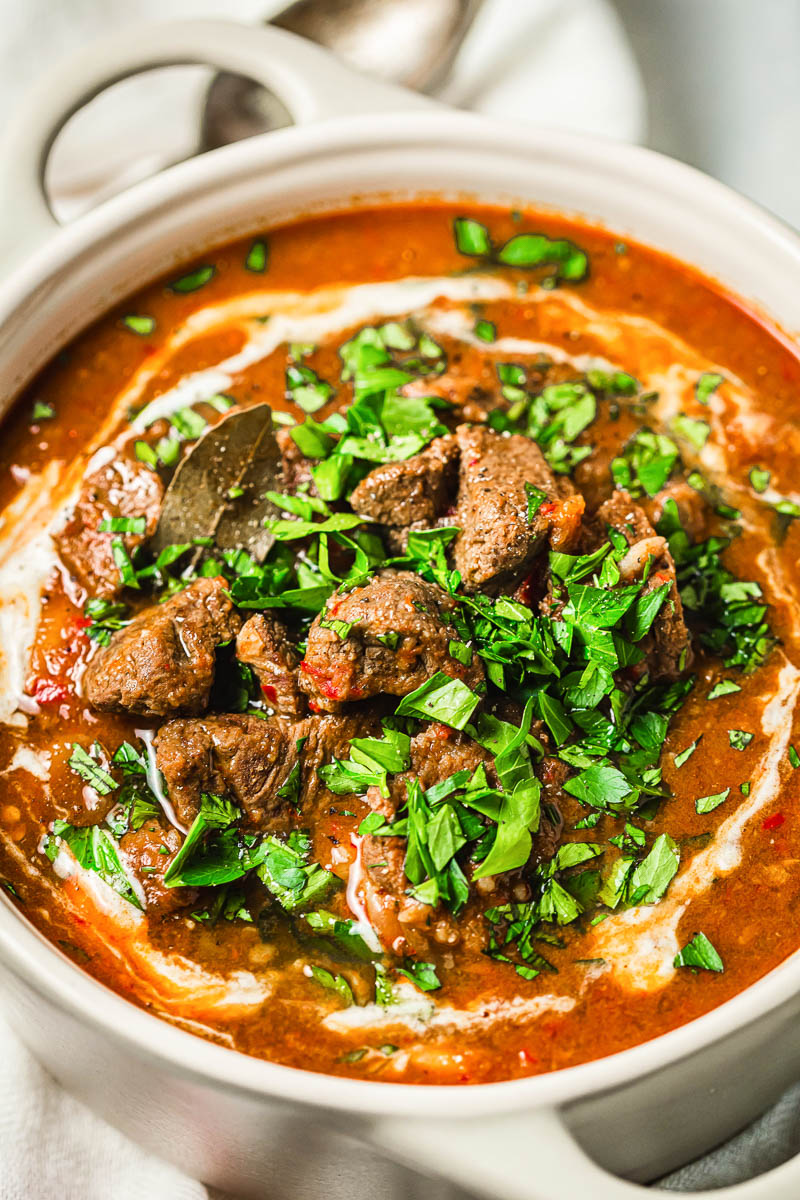 More Comforting Stew Recipes:
This recipe was originally published in 01/2016. Updated and republished in 01/2021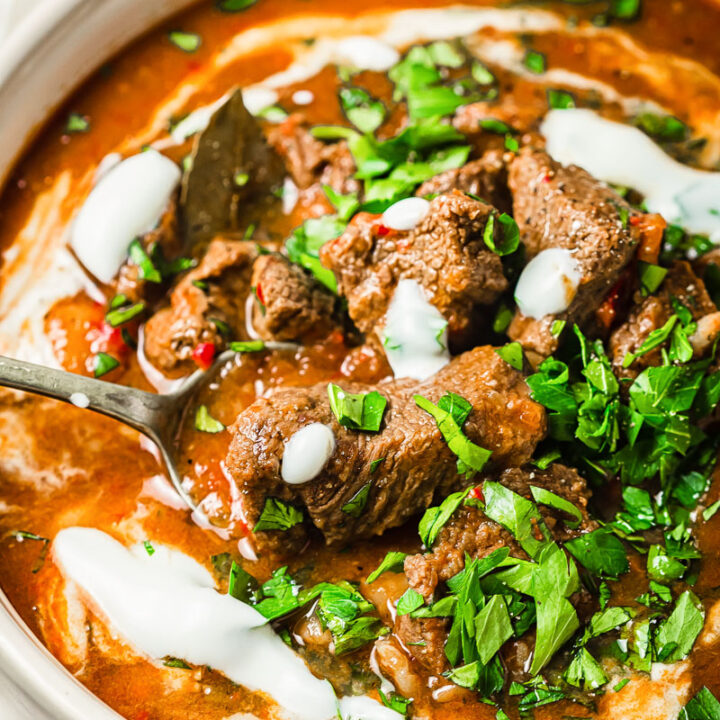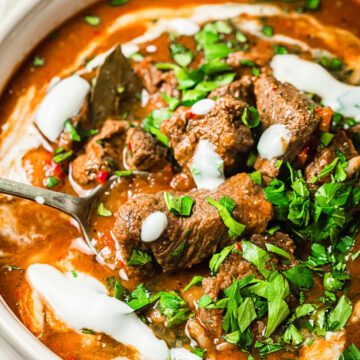 Beef Goulash
Robust aroma of smoked paprika and tender, melt in your mouth chunks beef are what make this Beef Goulash an absolute winner!
Ingredients
2

lbs

stewing beef

2

medium onions

chopped

4

garlic cloves

1

large red pepper

diced

2

tbsp

plain flour

2

tbsp

olive oil

3

tsp

sweet paprika

or smoked

2

bay leaves

400g/14 oz

canned diced or crushed tomatoes

750ml/ 3 cups

beef stock

salt to taste

pepper to taste

flat leaf parsley for garnish

sour cream

to garnish
Instructions
Peel the onions, garlic and chop onions and red pepper. Dice the meat and coat it in flour

Heat olive oil in a dutch oven or a deep pan and cook onions, peppers over low heat for 7-10 minutes until softened, add chopped garlic and cook for 1 minute longer, add the paprika and beef and cook while stirring for 2-3 minutes.

Add diced tomatoes, beef stock, a pinch of salt and pepper, bay leaves and bring to a boil over high heat. Then reduce the heat to low and simmer covered for 1 hour and 30 minutes. Then uncover and cook for 1 more hour. Alternatively this could be cooked in a preheated to 300F/150C oven for 1 hour 30 minutes covered and 1 hour uncovered.

Serve with hot noodles, dumplings or mashed potatoes. Swirl sour cream or plain yogurt into your beef goulash for added creamy texture.
Notes
Omit the flour in step 1 if you are on a gluten-free diet and thicken the sauce with 1 can of blended butter beans. Add them 30 minutes before the goulash is done cooking.
Nutrition
Calories:
498
kcal
Carbohydrates:
14
g
Protein:
31
g
Fat:
35
g
Saturated Fat:
12
g
Trans Fat:
2
g
Cholesterol:
107
mg
Sodium:
818
mg
Potassium:
955
mg
Fiber:
3
g
Sugar:
6
g
Vitamin A:
1260
IU
Vitamin C:
35
mg
Calcium:
76
mg
Iron:
5
mg