Tender chunks of pork shoulder in a savoury tomato sauce, spiced with smoked paprika and chilli powder, this warming stew is what you'd choose to eat around a campfire!
This winter warmer is made even more delicious and nutrient packed by adding white cannellini beans, carrots and butternut squash.
Serve this mouthwatering stew with our Maple Butter Corn Muffins.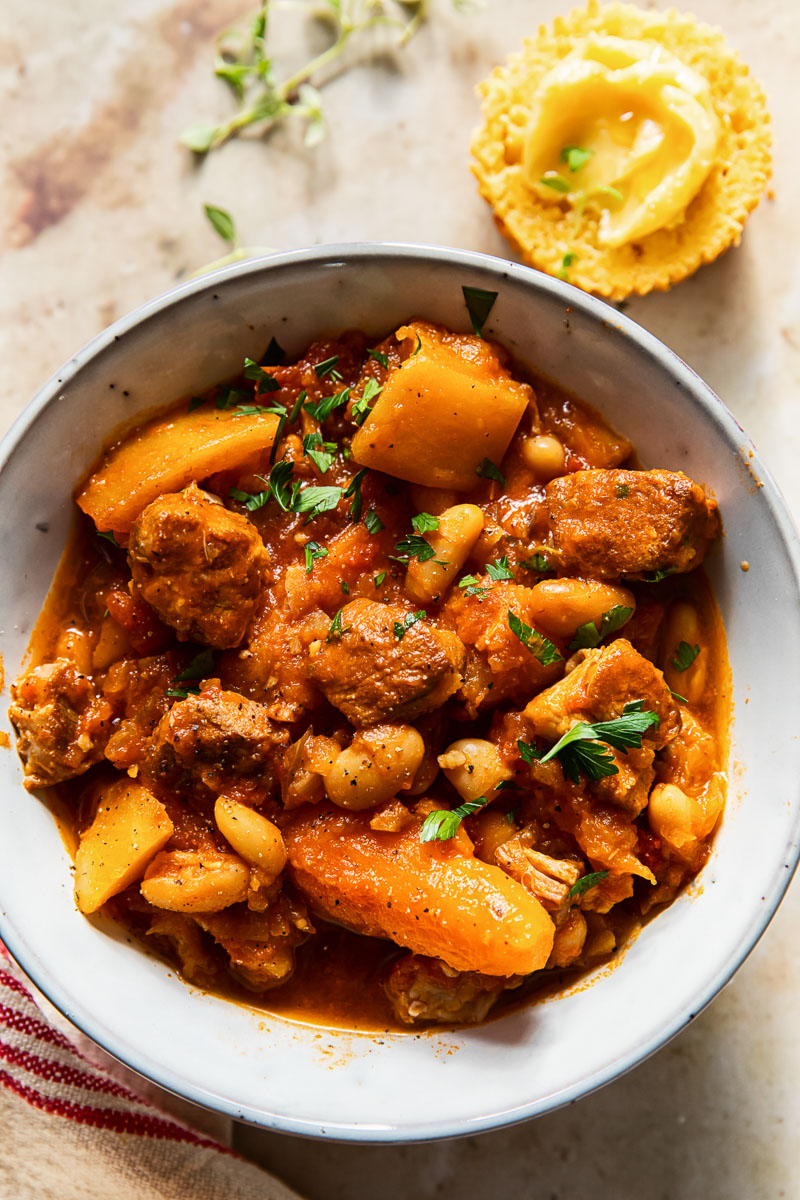 I am sharing this stew recipe just days after we received yet another order from our government to stay home. As we are watching our restaurants and pubs close for the second time this year, the need for delicious homemade food becomes greater than ever.
I am a big fan of hearty dishes, that nourish our bodies and make us feel cozy on the inside. This campfire stew does just that.
I prepared it in the slow cooker to make the cooking process a snap. Easy, wholesome and satisfying this winter warmer ticks all the boxes.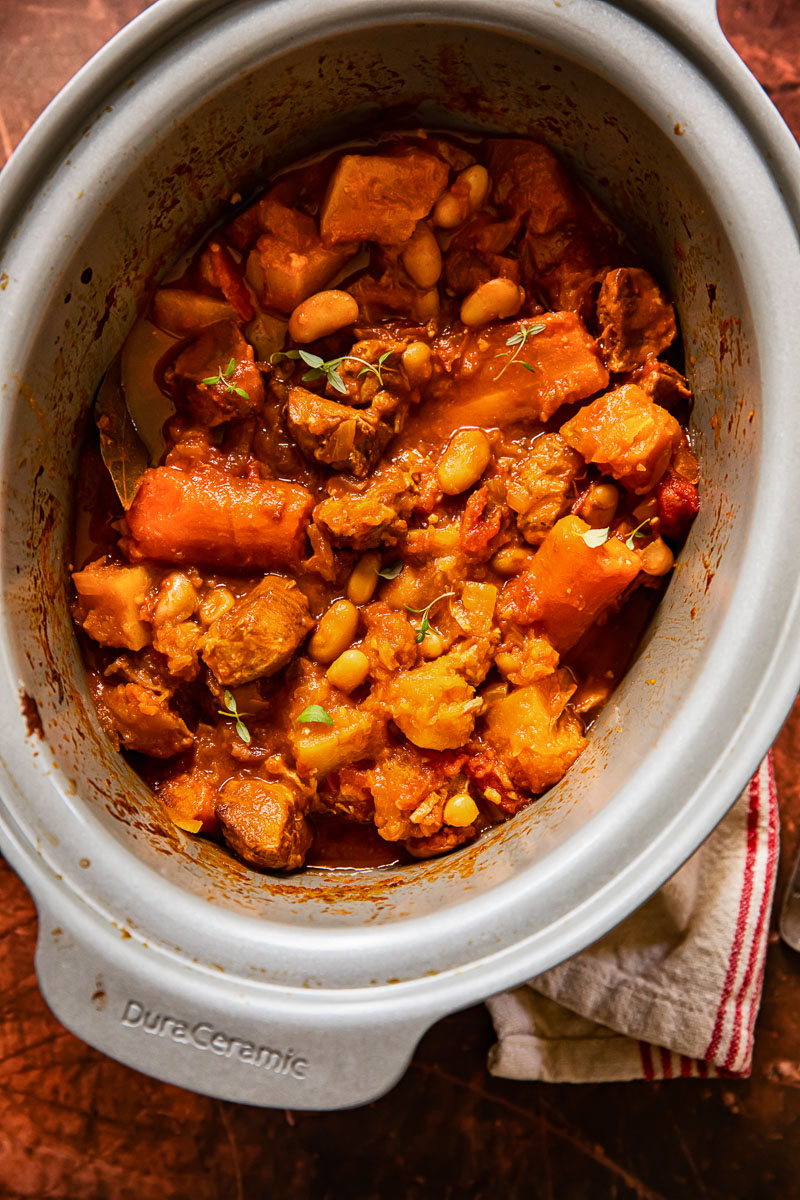 What Is Campfire Stew
As the name suggests this stew is something you'd make and eat around a campfire. I made it to serve for Guy Fawkes Day also known as Bonfire Night in the UK.
Traditionally people have outdoor parties to celebrate the momentous occasion of one guy, who tried to blow up the Houses of Parliament but failed. It's a fun night filled with fireworks, food and bonfires.
This year will be different due to restrictions on public gatherings but we can still have a family party in our garden!
Pork shoulder, chunks of butternut squash, carrots and cannellini beans are cooked slowly with a selection of warming spices.
Since I am not able to cook it over a campfire, I added a healthy pinch of smoked paprika to emulate that smoky flavour.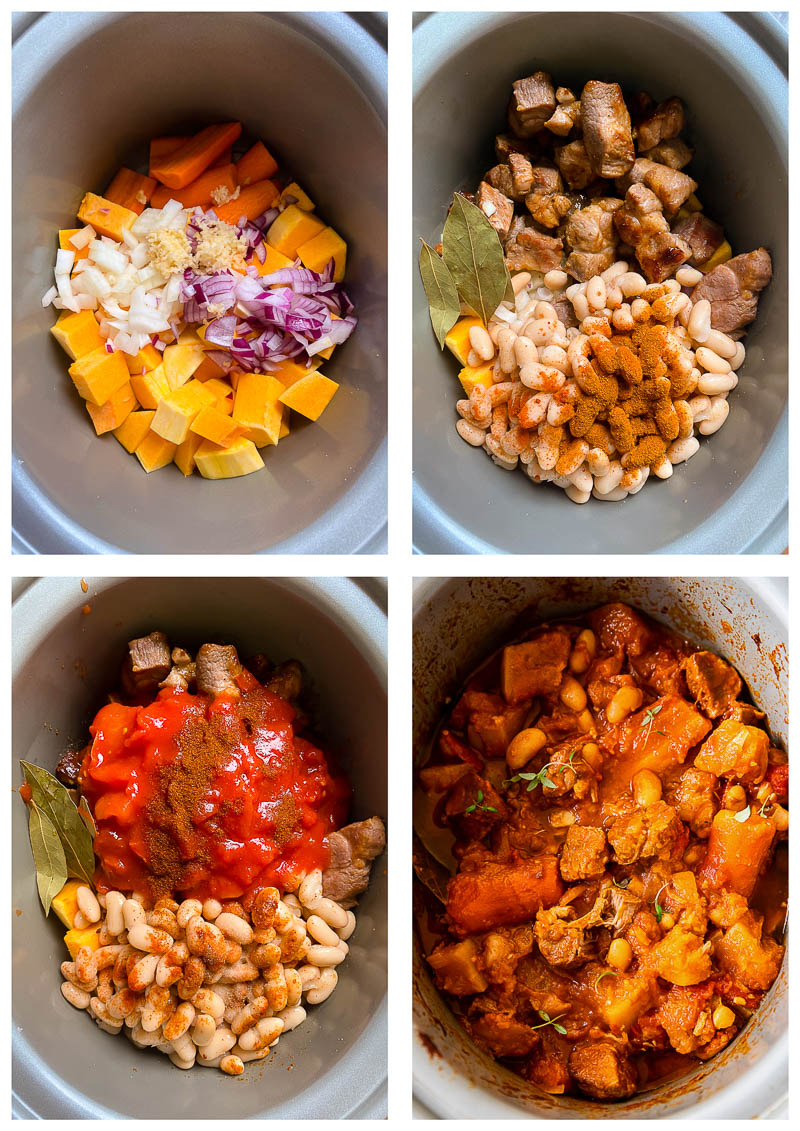 How to Make It
As I mentioned earlier the process for this stew couldn't be easier. Just load up your slow cooker and let it do its thing. The only pieces of advice I have is to brown your pork shoulder pieces beforehand.
While I do not think all meat has to be browned before adding to a slow cooker, pork shoulder does. It tends to be a fatty cut, which benefits from searing at high heat first. I believe it to be a necessary step as no one would like a mouthful of fat in their stew.
I recommend cooking this pork stew on LOW for 8-10 hours depending on your slow cooker. This will produce tender, melt in your mouth pork bites, perfectly cooked carrots and butternut squash as well as just the right amount of liquid.
Substitutions
You can substitute the pork should shoulder with beef brisket or any other cut of beef suitable for slow cooking. No steaks. Butternut squash could be replaced with potatoes.
And feel free to use any beans you love or happen to have in your store cupboards.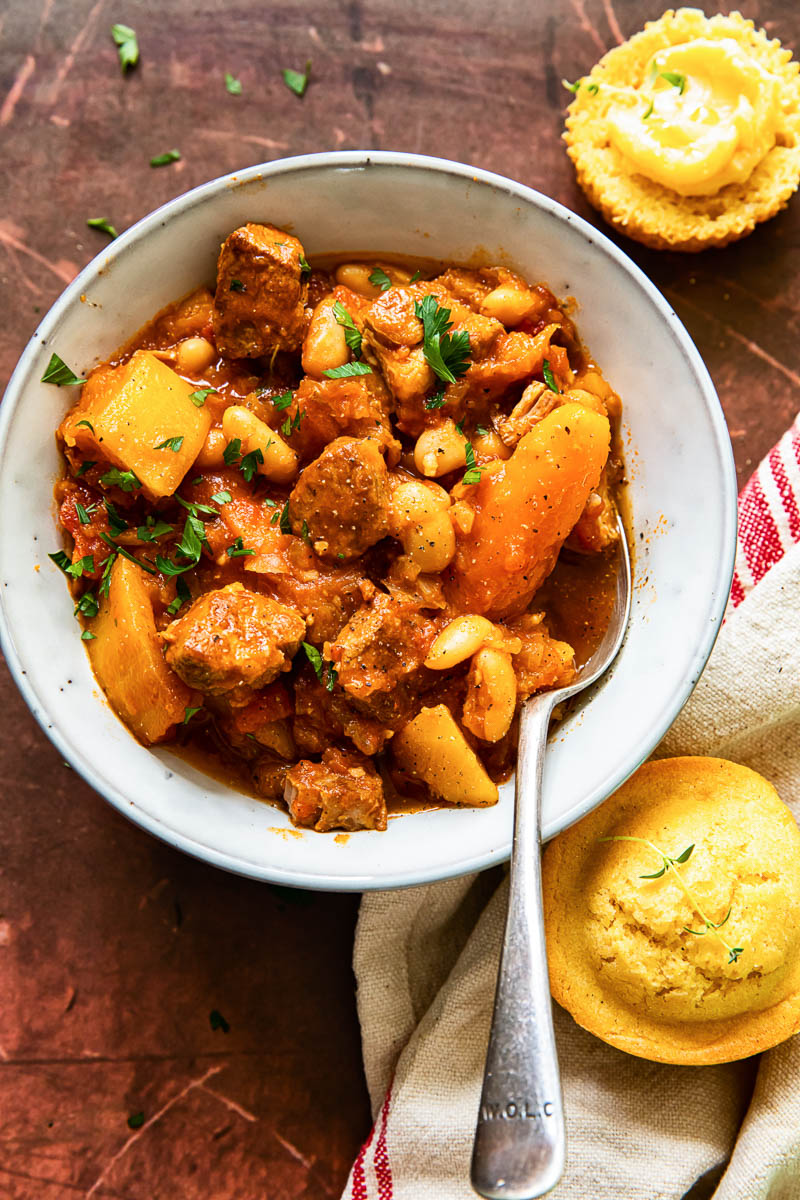 How to Serve Campfire Stew
This stew is sufficient on its own but you can also add a side dish to make it go further. In this case I recommend adding our Chipotle Mayo Roasted Potato Wedges. The perfect mix of a warming stew and smoky flavoured crispy potatoes.
If the stew holds enough spice for you, these creamy Herb and Garlic Mashed Potatoes are also a great match.
Whatever you decide don't forget to add our buttery cornbread muffins or a slice of rustic farmhouse bread.
How to Store
It freezes beautifully. Store in your freezer in an airtight container for up to 1 month.
It will keep in your fridge for 1 week.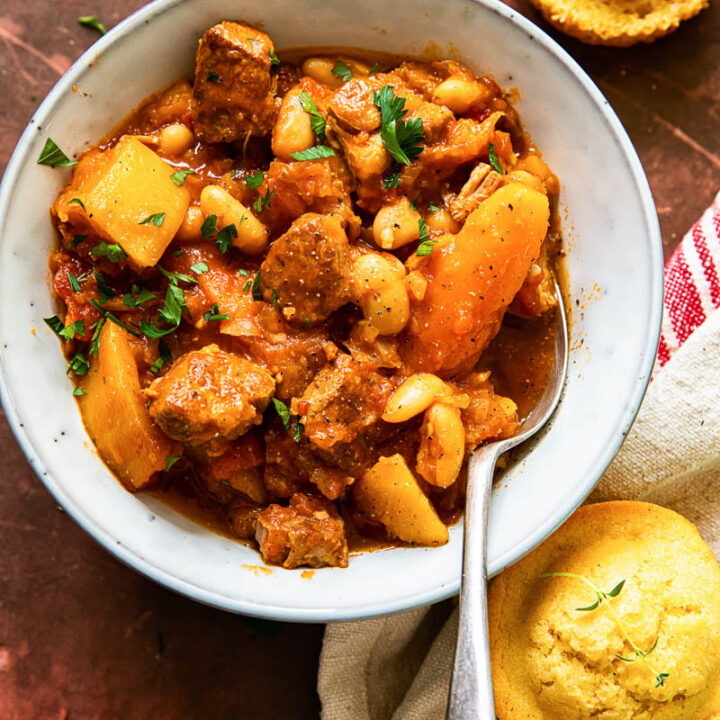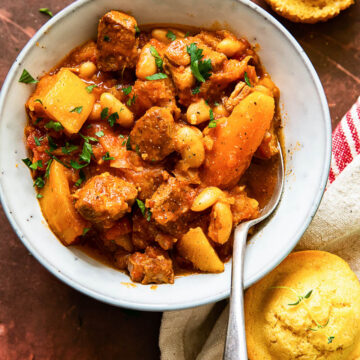 Slow Cooker Campfire Stew
Tender chunks of pork shoulder in a savoury tomato sauce, spiced with smoked paprika and chilli powder, this warming stew is what you'd choose to eat around a campfire!
Ingredients
1.5-2 lbs

pork shoulder

fat removed

1

onion

chopped

2

cloves

garlic

minced

2

carrots

cut into large chunks

1 lbs

Butternut Squash

½ of a medium squash, cubed

250ml/1 cup

Stout such as Guinness

or stock

400g/14oz

canned chopped tomatoes

400g/14 oz

canned cannellini beans

liquid drained (drained weight 240g)

2

bay leaves

1

tsp

smoked paprika

0.5-1

tsp

chilli powder

1

tsp

Worcestershire sauce

1

tsp

salt and pepper
Instructions
Cube the pork shoulder and cut away as much fat as possible. Season with salt and pepper and sear on high heat. Set aside until needed.

Peel and core butternut squash, cut in half, then cube one half of it. Reserve the other half for another use. Peel and cut carrots into large chunks.

Add the squash, carrots, chopped onion and minced garlic to the bottom of a slow cooker. Add the seared pork, cannellini beans, bay leaves, smoked paprika and chilli powder. Pour Guinness and canned chopped tomatoes with 1 tsp of salt and pepper over. Stir to combine. Cook on LOW for 8-10 hours. Taste and add more salt if necessary.
Nutrition
Calories:
171
kcal
Carbohydrates:
19
g
Protein:
14
g
Fat:
4
g
Saturated Fat:
1
g
Cholesterol:
35
mg
Sodium:
427
mg
Potassium:
687
mg
Fiber:
4
g
Sugar:
4
g
Vitamin A:
8806
IU
Vitamin C:
19
mg
Calcium:
81
mg
Iron:
3
mg