This Instant Pot Chicken Stew with mushrooms and carrots is ready in 30 minutes and will rival the classic Coq au Vin any time!
Looking for a delicious mashed potato recipe to serve with this chicken stew? Give our Herb and Garlic Mashed Potatoes a go or be more adventurous and go for Sweet Potato and Rutabaga Mash!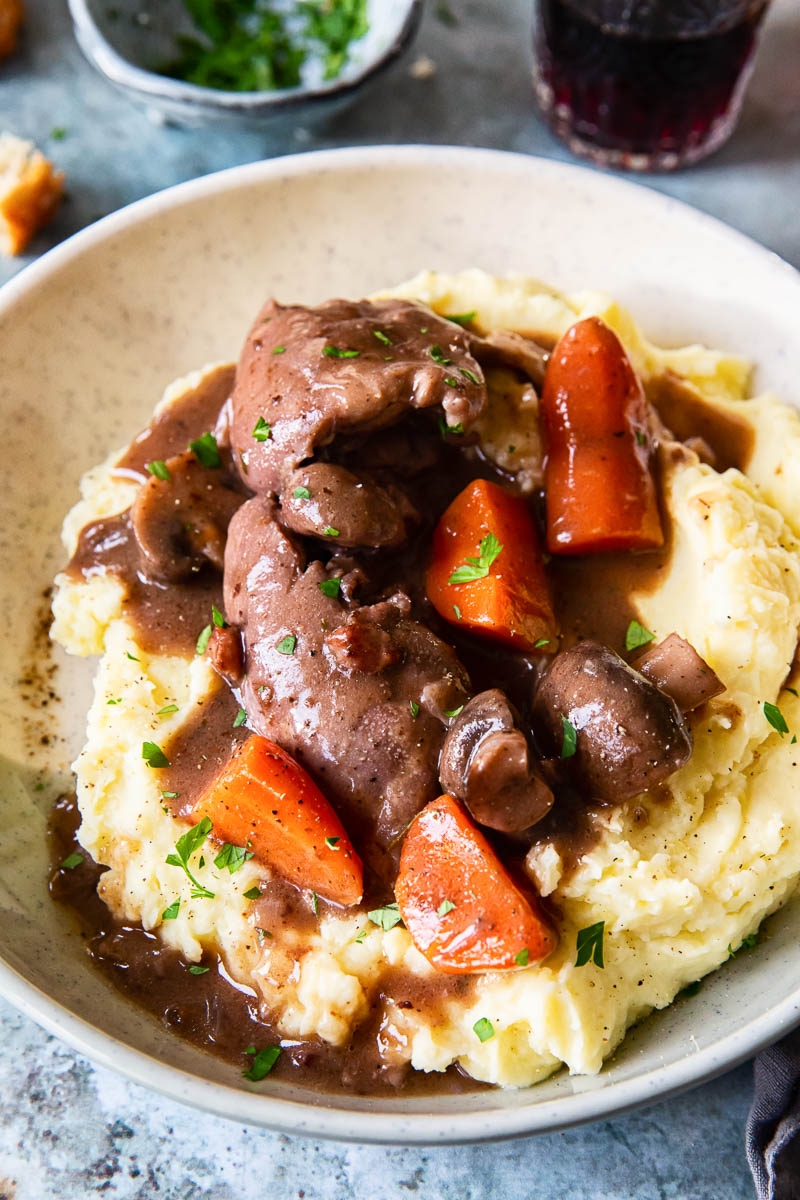 When people learn I am a recipe developer I often get asked what my favourite dish is. I find this question nearly impossible to answer but I can probably list my top 5. French recipe for chicken braised in red wine with carrots and mushrooms also known as Coq au Vin is in that top 5.
As much as I love it I don't make it too often because it is time consuming and quite rich. However, I believe I have found a way to lighten up the classic coq au vin as well as make it in 30 minutes flat instead of 2 hours. Interested? Read on!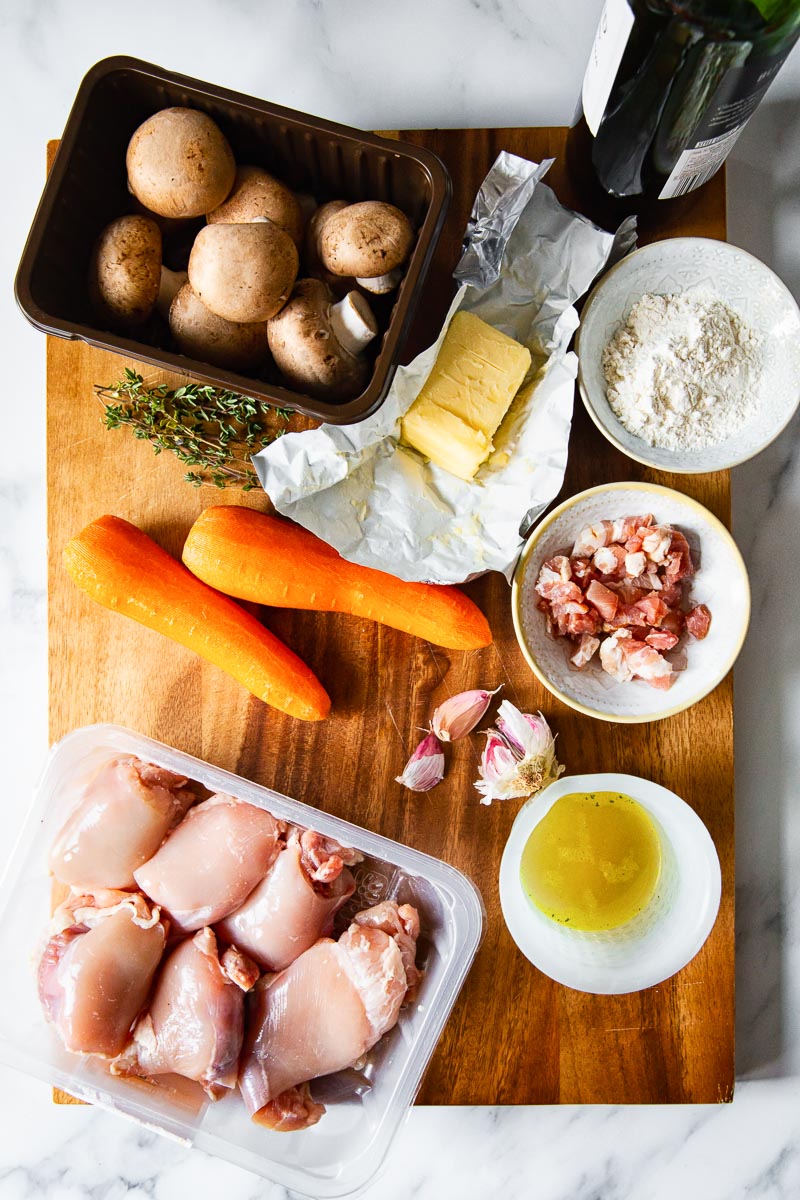 What goes into classic Coq au Vin?
The classic recipe for coq au vin consists of chicken parts first being browned until golden, then braised in red wine with carrots, onions and mushrooms. Bacon is often added for extra flavour. The stew is slowly cooked in an oven until the chicken is tender and the sauce is thick and flavourful.
It's delicious and comforting but it requires time investment. It's simply not the recipe you can whip up after work, at least you couldn't before. Good new is you can now. It's much simpler and faster in an Instant Pot!
Take a look another French classic cooking in a pressure cooker Instant Pot Beef Bourguignon.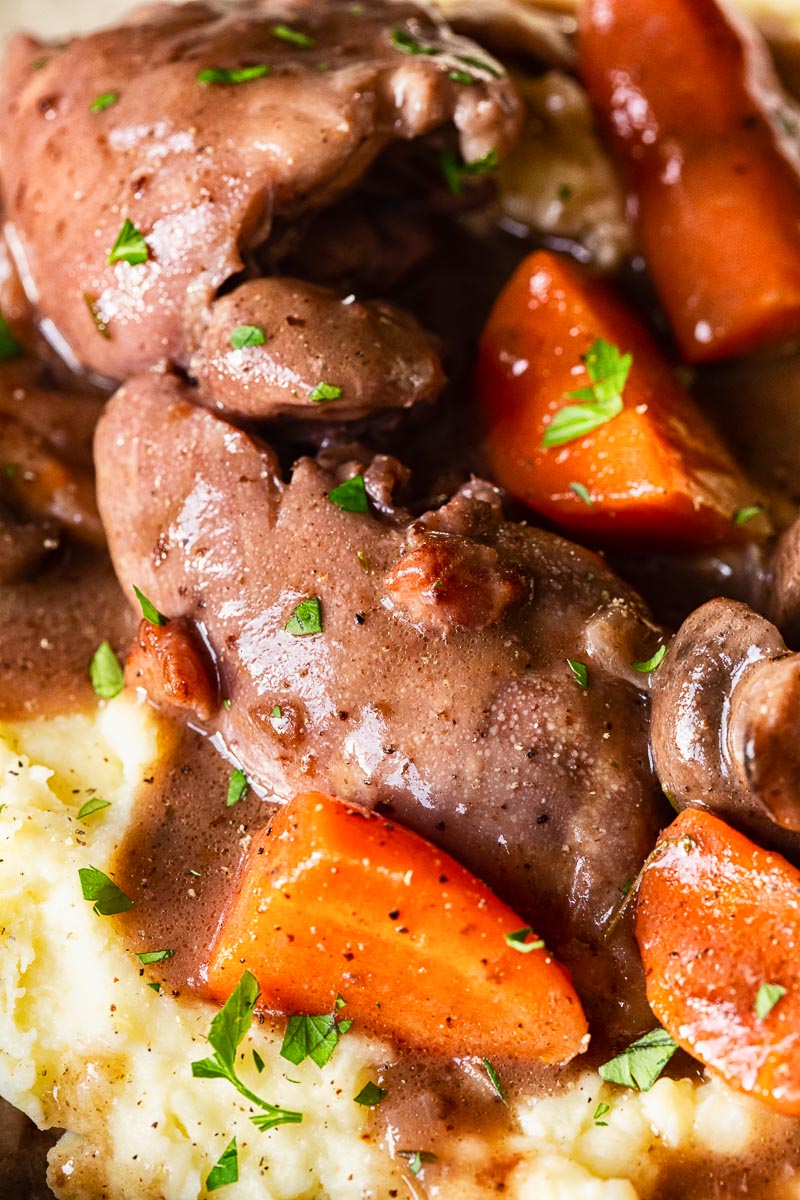 How to make Chicken Stew
Instant Pot is truly a magical appliance for people who are short on time as it it able to develop flavours that are only possible to achieve when ingredients are cooked slowly. Another great feature of the Instant Pot cooking is an ability to tenderise tougher cuts of meat without much effort.
That is why I chose to cook my fast and easy version of coq au vin in it. Not only was I able to get the cooking time to 30 minutes but I also simplified the process by skipping the browning.
It's necessary to brown chicken with skin on before it's cooked in liquid to avoid unpleasant texture as well as to deepen flavour. It's is however the task I do not enjoy since it's time consuming and messy process.
So to avoid it I decided to make this stew with skinless boneless chicken thighs. Same great texture with no bones and no hassle. It's a big win for the cook and the whole family.
You can also use skinless boneless chicken breasts if you prefer. However I'd like to warn you that you are moving farther away from the original if you.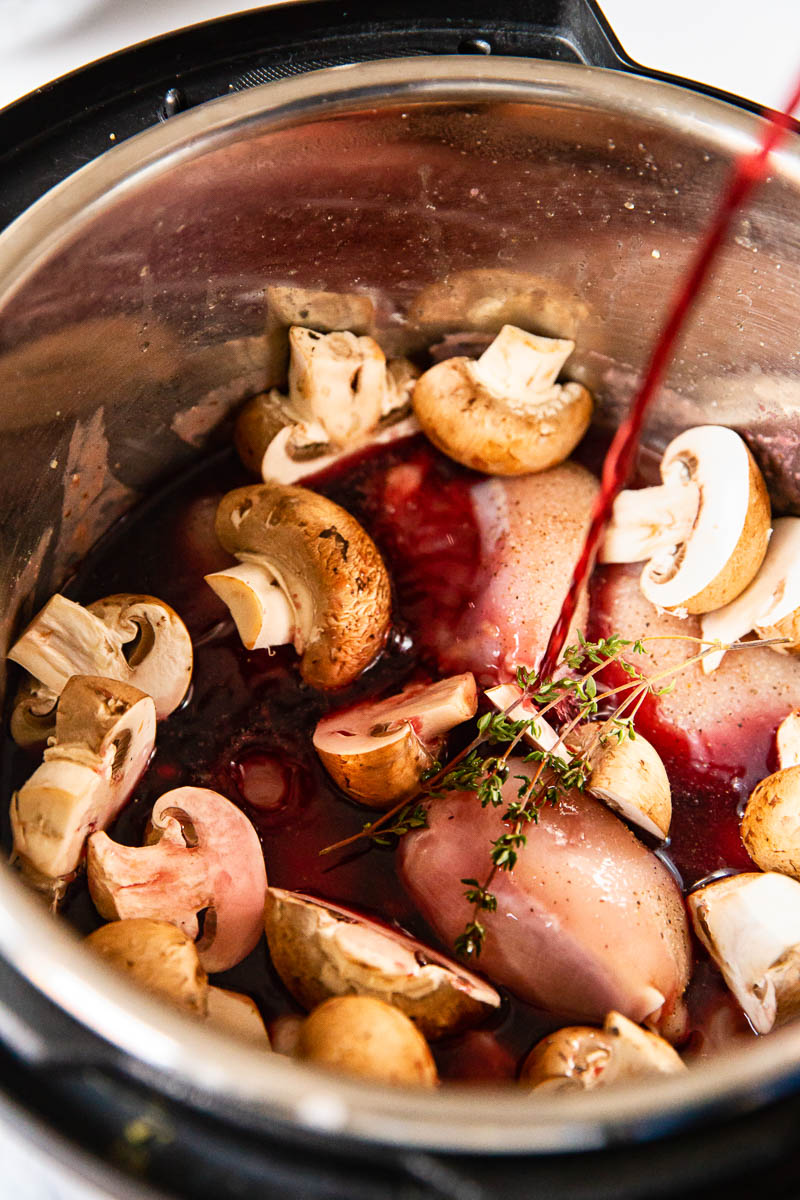 Flavour Makers
Like I mentioned above, browning of the chicken adds flavour but we are doing away with it for this Instant Pot recipe. So how do I develop flavours as deep as the original? I am glad you asked and I have the answer. Two ways actually.
First of all, I start by browning a small amount of bacon lardon, which will become the base flavour of our sauce.
Secondly, this chicken is cooked in wine, and that is a flavour bomb in itself.
What wine to use
Any dry red like Cabernet Sauvignon, Merlot or Shiraz will work in this recipe. Don't reach for a top tier wines for this recipe, it is not necessary. Any decent wine will do but it doesn't have to be a vintage bottle.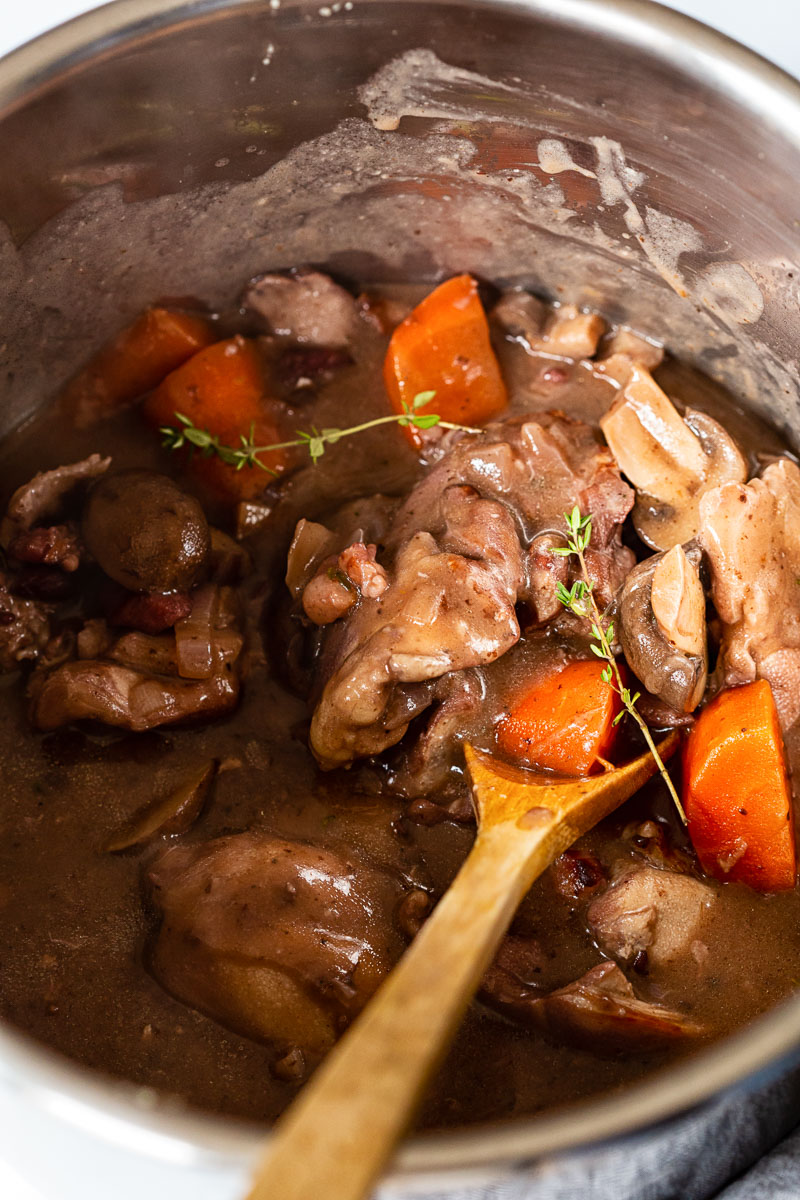 How to thicken the sauce
Instant Pot is brilliant for cooking stews but what it doesn't do is evaporate liquid since the pot is sealed the whole time. As a result a lot of liquid collects and the sauce doesn't thicken in the same way as in the conventional cooking.
There are two ways to go about it. First of all, we add less liquid than the original recipe. Secondly, we can thicken the sauce after the dish has been cooked. In this instance I added a mixture of melted butter and flour into the simmering sauce using SAUTE button and the sauce got thick and luscious within seconds.
If you are gluten free and avoid flour, feel free to use a combination of water and cornstarch/cornflour. I've use both with equal success.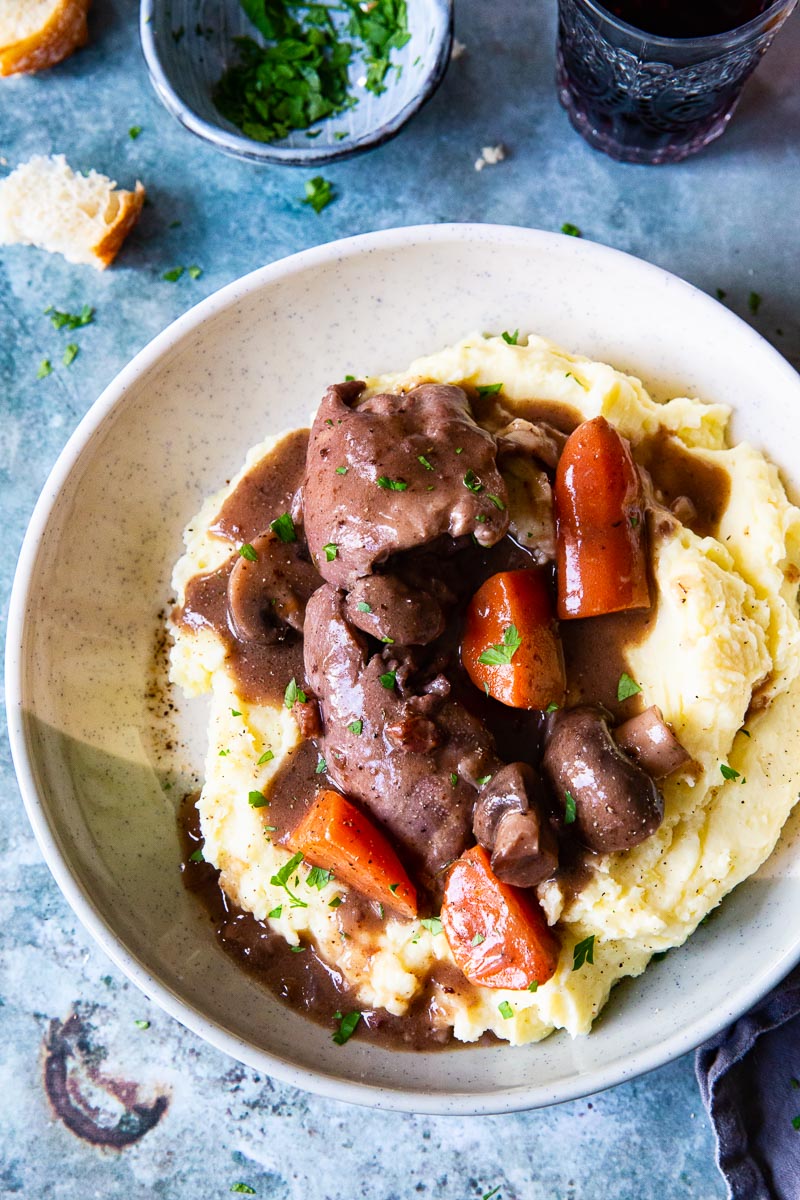 More chicken stew recipes to try: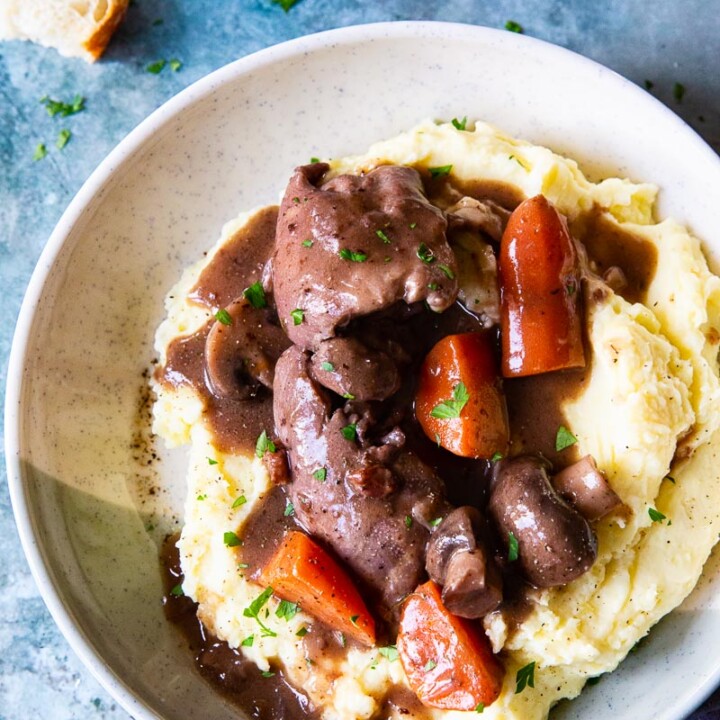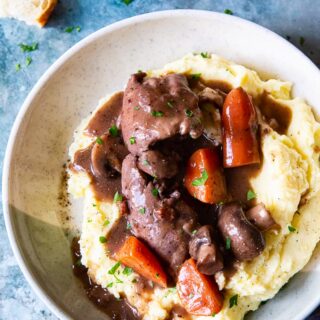 Instant Pot Chicken Stew
This Instant Pot Chicken Stew with mushrooms and carrots is ready in 30 minutes and will rival the classic Coq au Vin any time!
Ingredients
1-2

bacon strips, cut into small pieces

1

tbsp

butter

1

onion, chopped

2

carrots, cut into large chunks

2

cloves

garlic

250g/1/2lbs

mushrooms, halved

3-4

sprigs

fresh thyme or 1 tsp dried thyme

1

tbsp

flour

180ml/3/4

cup

wine

80ml/1/3

cup

chicken stock

salt and pepper

6-8

skinless boneless chicken thighs

1

tbsp

flour

1

tbsp

butter
Instructions
Hit the Sauté button on your Instant Pot on High and fry the bacon until the fat is rendered. If your bacon is very fatty skip the butter, otherwise add 1 tbsp of butter, carrots and onions Sauté for 5 minutes, then add minced garlic and thyme leaves, cook briefly for half a minute, then add 1 tbsp of flour and stir until the mixture is pasty. Continue stirring for half a minute until it starts to smell slightly nutty.

Deglaze the pot with ¼ cup of the wine and start scraping up the bottom to release the burnt bits into the sauce, add the chicken stock and continue scraping until the bottom of your pot is clean. (This step helps to develop deeper flavour.)

Add the chicken seasoned with salt and pepper, halved mushrooms and the rest of the wine, stir and seal the lid. Set the Instant Pot to Pressure Cook for 15 minutes.

At the end of the cooking time manually release the pressure, open the lid, your sauce should still be bubbling. Immediately stir in the mixture of melted butter and flour in to thicken the sauce. Taste and add more salt if necessary. (If the sauce is still not thick enough, hit the SAUTE button and let it simmer for a couple of minutes until the sauce is thick. It will also thicken even more as it cools.)
Nutrition
Calories:
234
kcal
Carbohydrates:
9
g
Protein:
24
g
Fat:
9
g
Saturated Fat:
4
g
Cholesterol:
118
mg
Sodium:
178
mg
Potassium:
545
mg
Fiber:
1
g
Sugar:
3
g
Vitamin A:
3564
IU
Vitamin C:
5
mg
Calcium:
27
mg
Iron:
2
mg