This creamy chicken casserole recipe delivers full flavours! Chicken legs and thighs browned, then slowly braised in white wine sauce with herbs and carrots, then finished with a touch of cream for a rich and satisfying casserole.
If you like this casserole recipe, try our French Chicken Casserole a la Normande!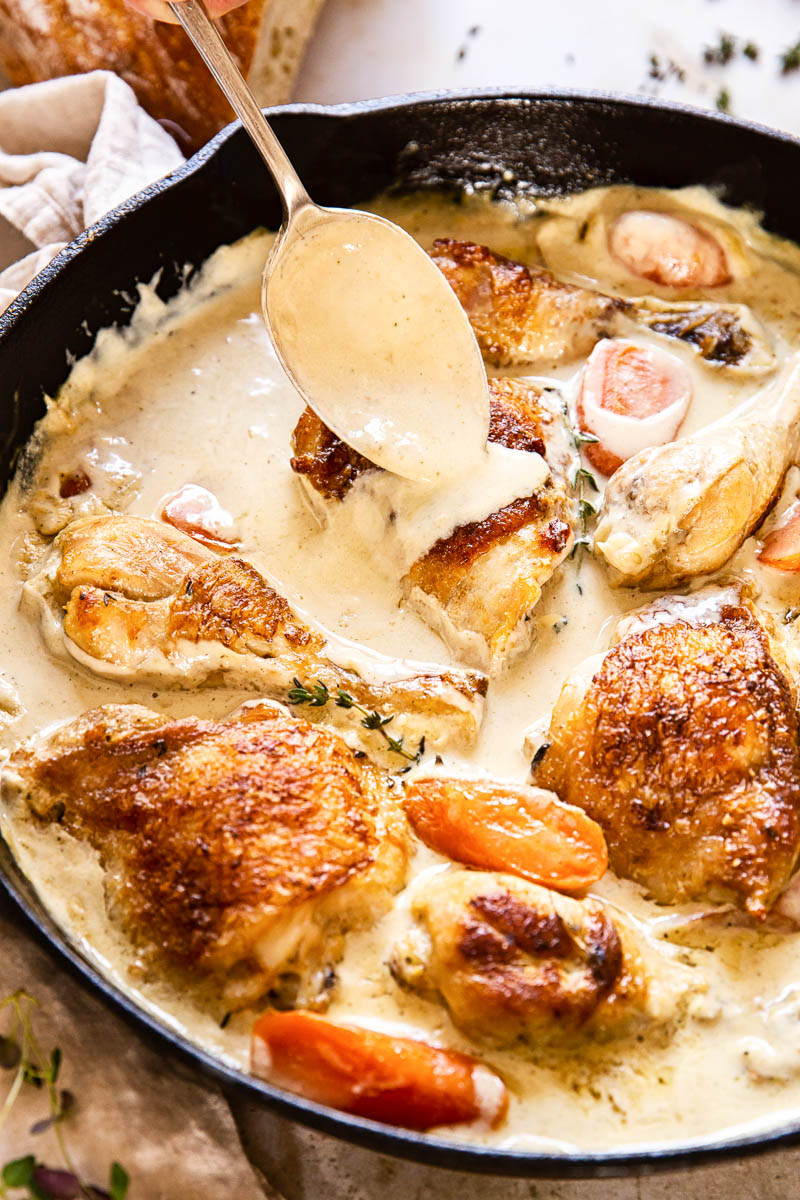 No matter the weather, there is always room for a creamy chicken dish, isn't there?!
Why make this chicken recipe
Easy to prepare since most cooking happens in the oven.
Wholesome, simple, good quality ingredients make this chicken recipe a winner.
Delicious taste and beautiful aroma that will rival a restaurant meal for a fraction of the price.
Suitable for a casual or a formal dinner.
Easily customisable recipe. You can add any vegetables and herbs you love to make this dish your own.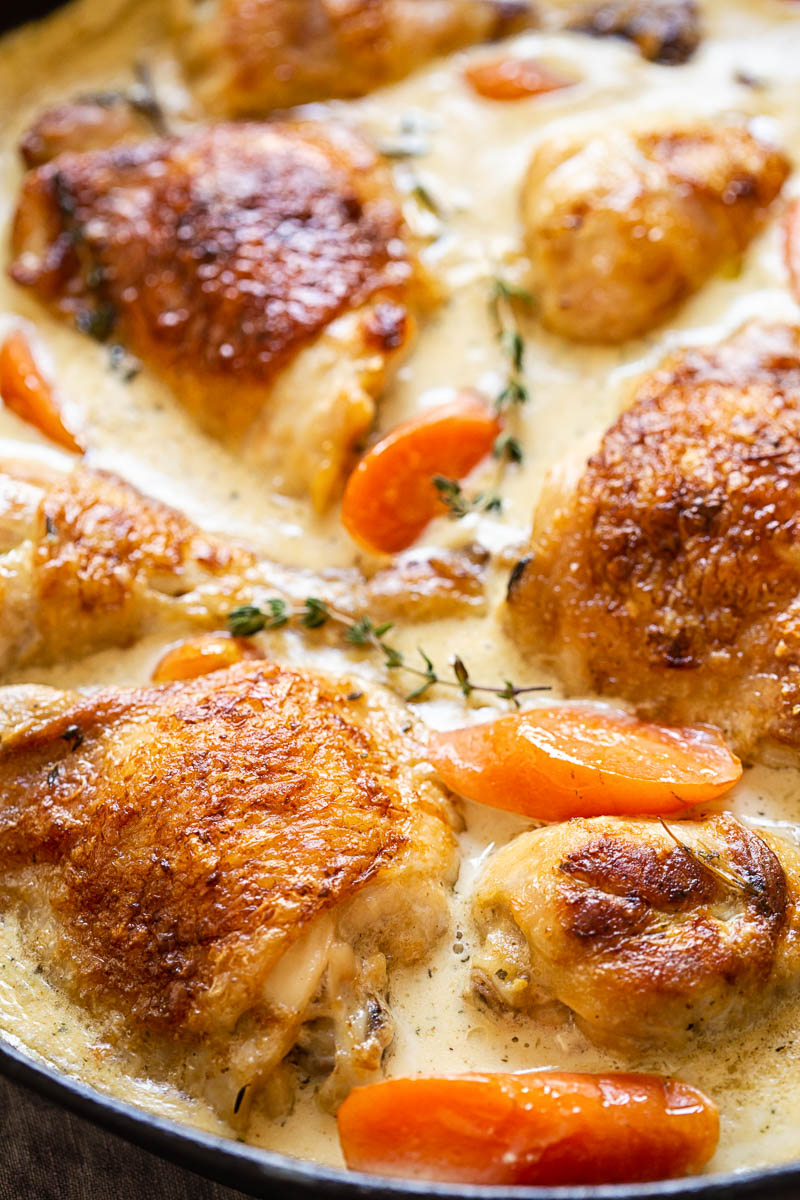 What is chicken casserole?
The answer varies by the country but what everyone agrees on is that casserole is a comfort food dish cooked in the oven. It doesn't just nourish the body. It brings comfort to the soul.
A traditional casserole usually consists of a protein like chicken, beef or fish and vegetables cooked in a savoury sauce. It could be served with rice or potatoes and bread.
This creamy chicken casserole is all of the above and more!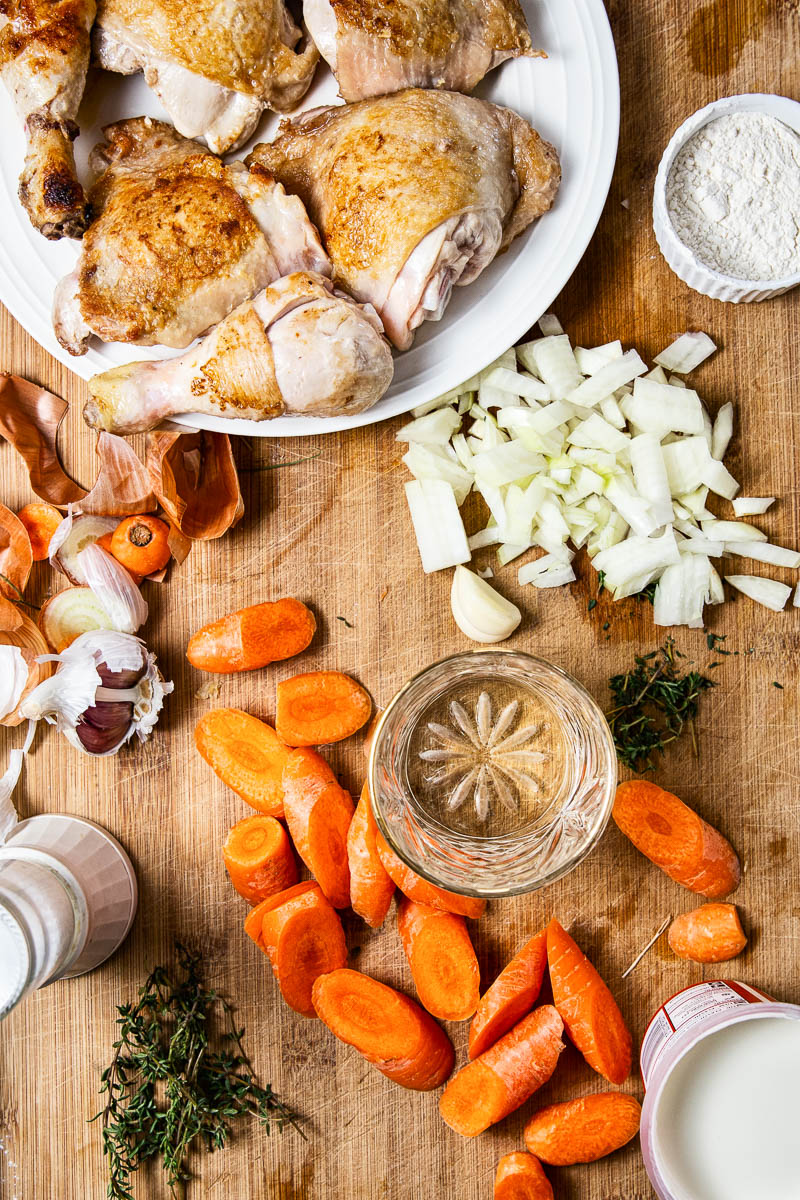 How to make it
If you made your casserole with chicken thighs and legs, you will end up with a richer flavour of the meat itself and the sauce. It's important to brown seasoned chicken pieces first as it will improve the taste and the texture of the meat, especially when using skin-on chicken thighs and legs.
Adding onions or shallots, garlic and herbs also play an important part in making a delicious casserole dish. Hardier herbs like thyme and rosemary give richer flavour than parsley or dill. You can use dried herbs but fresh are always better.
Add vegetables you love for a more interesting, complex flavour. Root vegetables like carrots, potatoes, squash or yams are wonderful in casseroles as they need longer time in the oven same as chicken thighs and legs.
Mushrooms, green peas, red peppers and other delicate vegetables could also be added for extra flavour, texture and a pop of colour.
Finally a well prepared savoury sauce will make all the difference for a chicken casserole. Here is what you need to know about making one.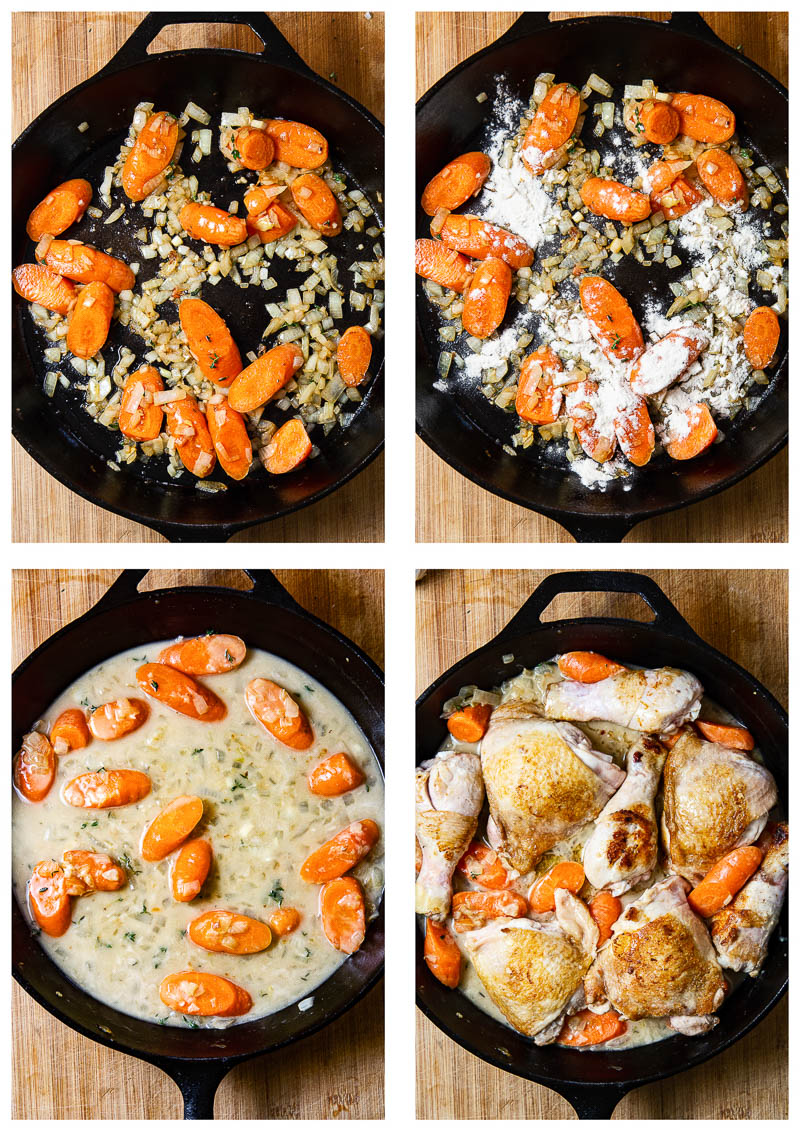 Creamy Sauce Ingredients
The main ingredients that contribute to that finger licking cream sauce are:
Butter
Onion and garlic
Thyme or your favourite herb
Dry white wine
Flour for thickening the sauce
Double or heavy cream. (Could be substituted for a single/light cream)
To avoid the cream sauce from curdling, add it at the end of cooking time since intense heat of the oven can cause the cream sauce to curdle.
Can I omit or replace the wine
The wine is an important player in the way flavours interact with each other in order to create a complex and varied taste. The richness of cream needs the acidity of wine for counterbalance.
If you don't drink alcohol, I would recommend substituting white wine with 1 tablespoon of white wine vinegar or apple cider vinegar and 2 tablespoons of not very sweet apple juice.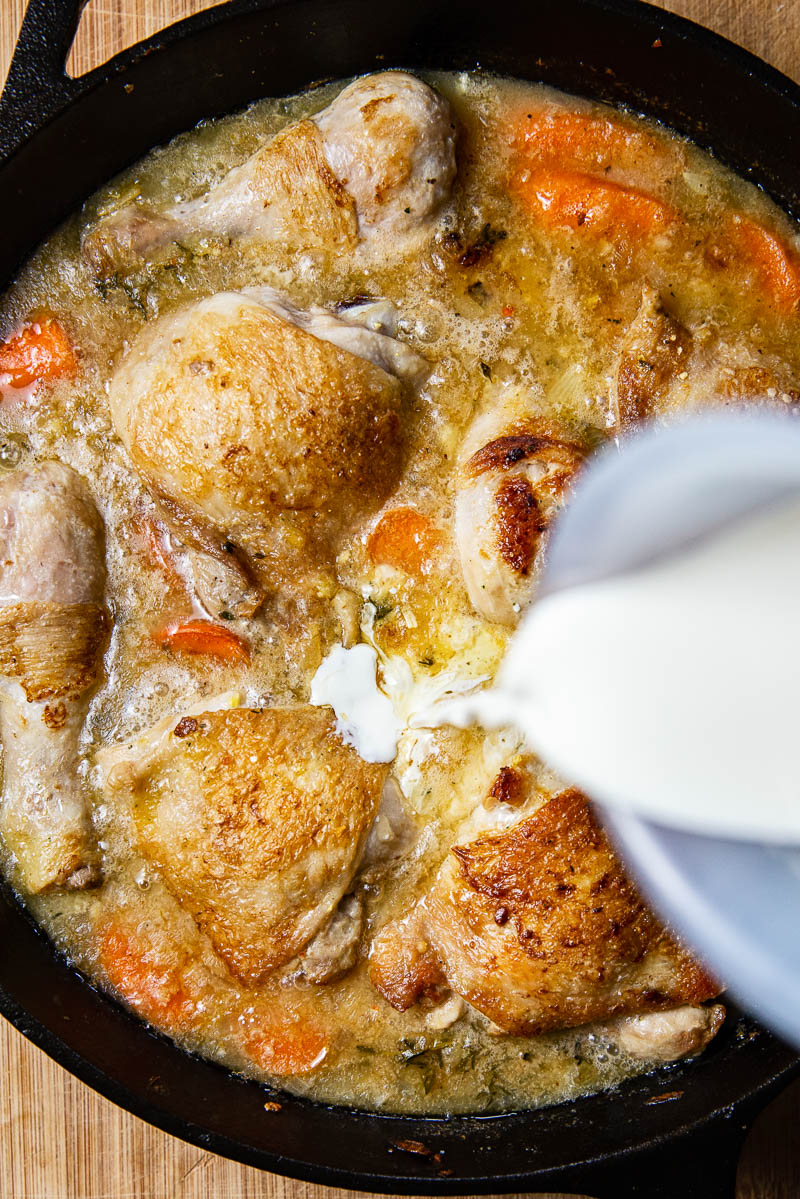 Side dish suggestions
All you need to do is to add a couple of simple sides to make it a complete and nourishing dinner. My favourite dish, which reminds me of a French bistro experience, would be Oven Fried Potatoes with Mushrooms and Caramelised Onions.
You could also start with this elegant Spinach and Apple Salad with Blue Cheese Dressing if you are hosting a special dinner. For everyday fare, consider pairing this chicken casserole with:
Plain White Rice
Brown or Wild Rice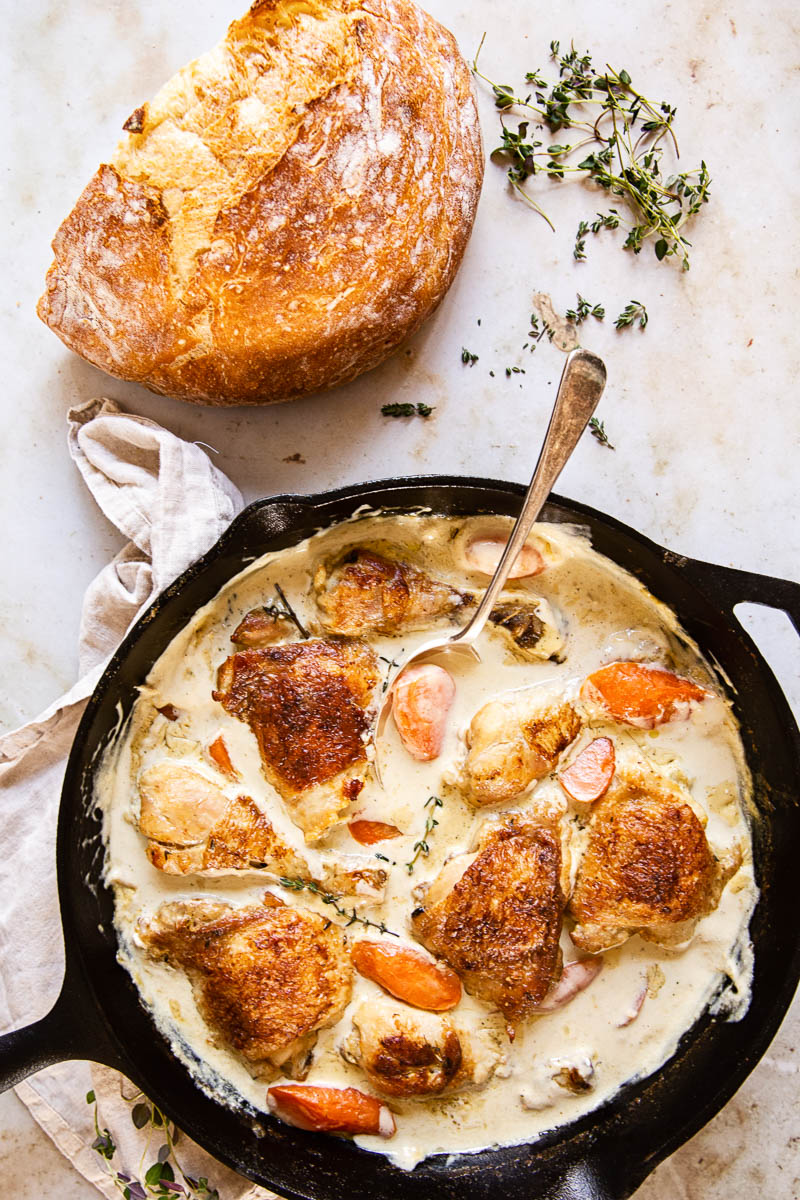 More creamy chicken recipes: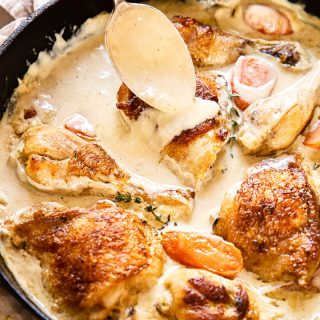 Creamy Chicken Casserole Recipe
Chicken legs and thighs browned, then slowly braised in white wine sauce with herbs and carrots, then finished with a touch of cream for a rich and satisfying casserole.
Ingredients
1

tbsp

olive oil

8

chicken legs and thighs combined

1

tsp

salt

½

tsp

pepper

1

tbsp

butter

1

small onion, chopped

2

cloves

garlic, minced

2

carrots, cut into 2 inch pieces

3-4

sprigs

thyme, leaves only

2

tbsp

flour

125ml/ ½cup

dry white wine such as Sauvignon Blanc

375ml/1 ½cups

chicken stock

125ml/1/2cup

double/heavy cream
Instructions
Preheat oven to 180C/350F. Heat one tablespoon of olive oil in a large pan and brown seasoned with salt and pepper chicken legs and thighs for approximately 4 minutes per side over medium heat until golden on each side but not cooked all the way through. Remove to a plate and set aside till needed.

Discard all fat but 1 tablespoon from the pan and add 1 tbsp of butter. Saute chopped onion and carrots over low heat for 8-10 minutes. Do not allow onions to brown. Add minced garlic and thyme leaves, cook briefly for half a minute. Add the flour and stir to combine until the flour has turned into a paste and is slightly browned. Add the wine while stirring, let the wine simmer for 2-3 minutes until reduced by a half, then add the chicken stock, turn the heat up and bring to a boil, then take it off the heat.

Return the chicken to the pan and bake in the oven uncovered for 45 minutes. Then take out of the oven and add the double/heavy cream and gently stir to incorporate the cream into the sauce. Taste and season with more salt if necessary.
Nutrition
Calories:
543
kcal
Carbohydrates:
9
g
Protein:
30
g
Fat:
40
g
Saturated Fat:
14
g
Cholesterol:
195
mg
Sodium:
662
mg
Potassium:
536
mg
Fiber:
1
g
Sugar:
2
g
Vitamin A:
3945
IU
Vitamin C:
4
mg
Calcium:
48
mg
Iron:
1.7
mg