Chicken breasts sauteed with butter, cremini mushrooms and a touch of white wine, then mixed with sour cream for a rich and satisfying sauce. Serve over rice or mashed potatoes. Do you need this Chicken Stroganoff recipe? Absolutely!! Creamy, dreamy and all around delicious!
For another creamy chicken breast recipe, check out my Chicken and Chickpea Paprikash.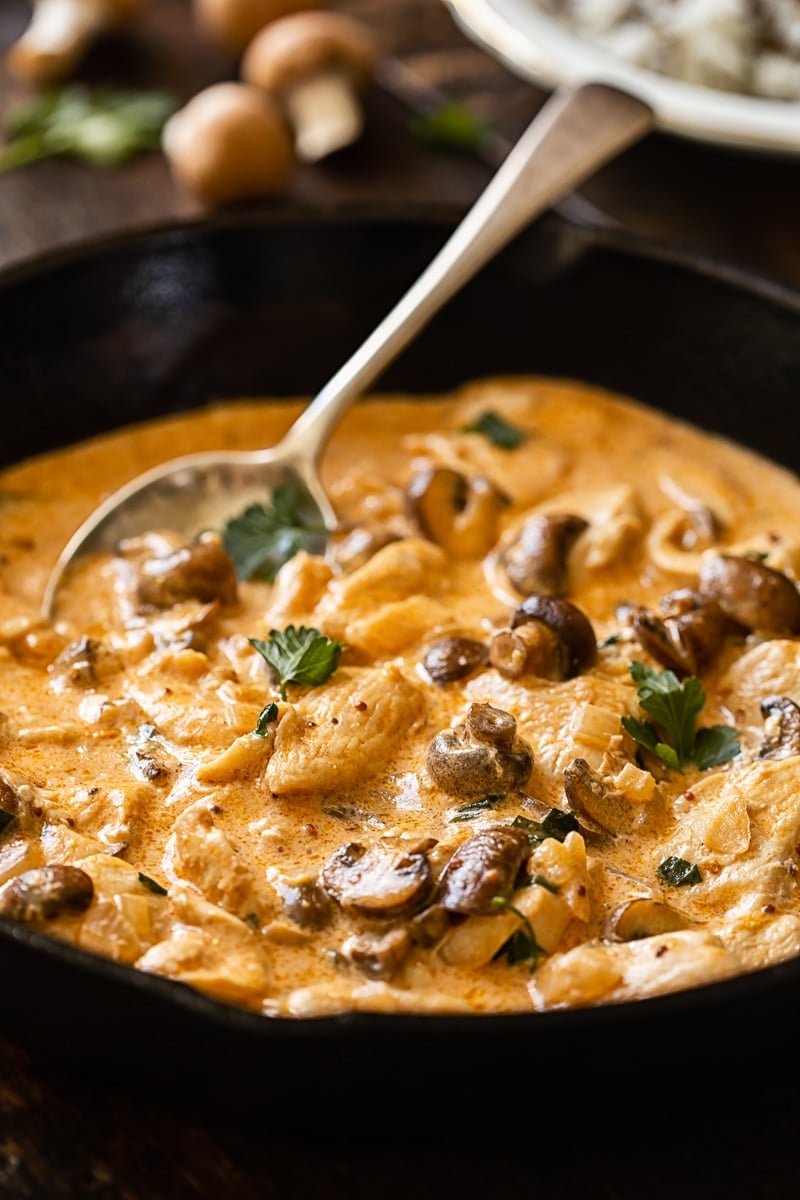 Loving all things creamy is not surprising when one comes from an Eastern European background. We love things cozy, and you friends would too if you had to face long, cold winters!
But I feel like we are not alone in our passion for rich and velvety dinners since my recipe for Best Beef Stroganoff is the most popular dish on my blog to date! Well over 200 readers' reviews to date!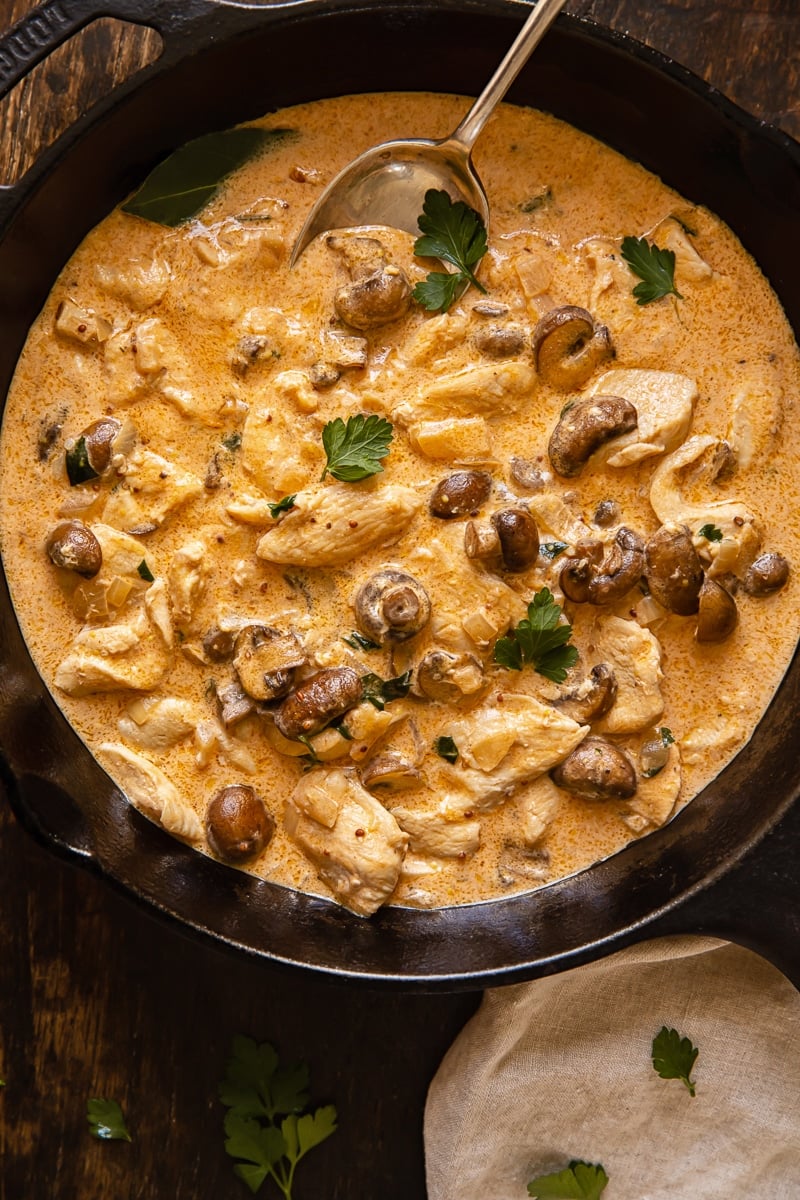 We share this love, my friends and that makes me very, very happy! So happy that I wanted to show you more ways to enjoy Stroganoff.
Can I use chicken for Stroganoff?
It's true that outside of Russia it's mostly known as Beef Stroganoff but in the country of its origin the recipe if often made using other types of meat as well.
It evolved into more of a method of cooking meat in gravy than an actual recipe.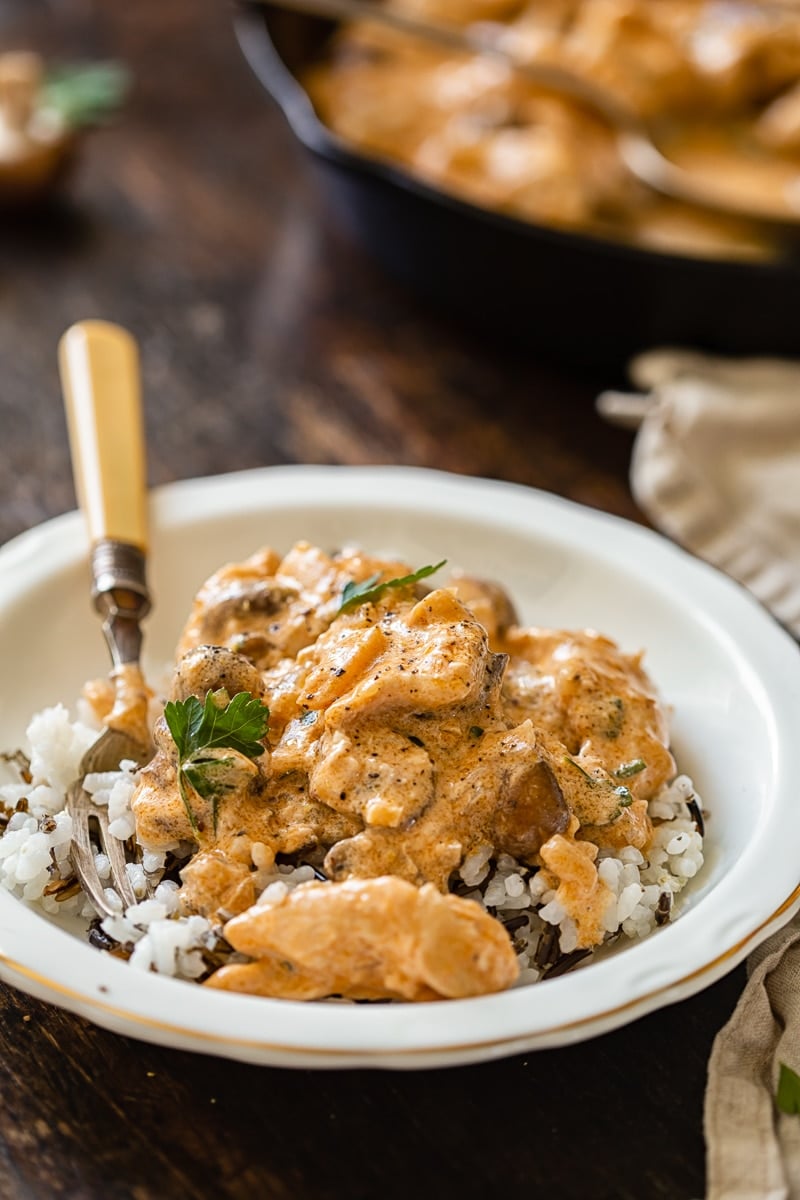 Meat that is often used other than beef is pork and chicken mostly because they are more economical!
No doubt that beef is delicious but you will need rather high quality steak to achieve best results and that puts Stroganoff in a pricey meal category.
Not great since it's too tasty to enjoy only once in while!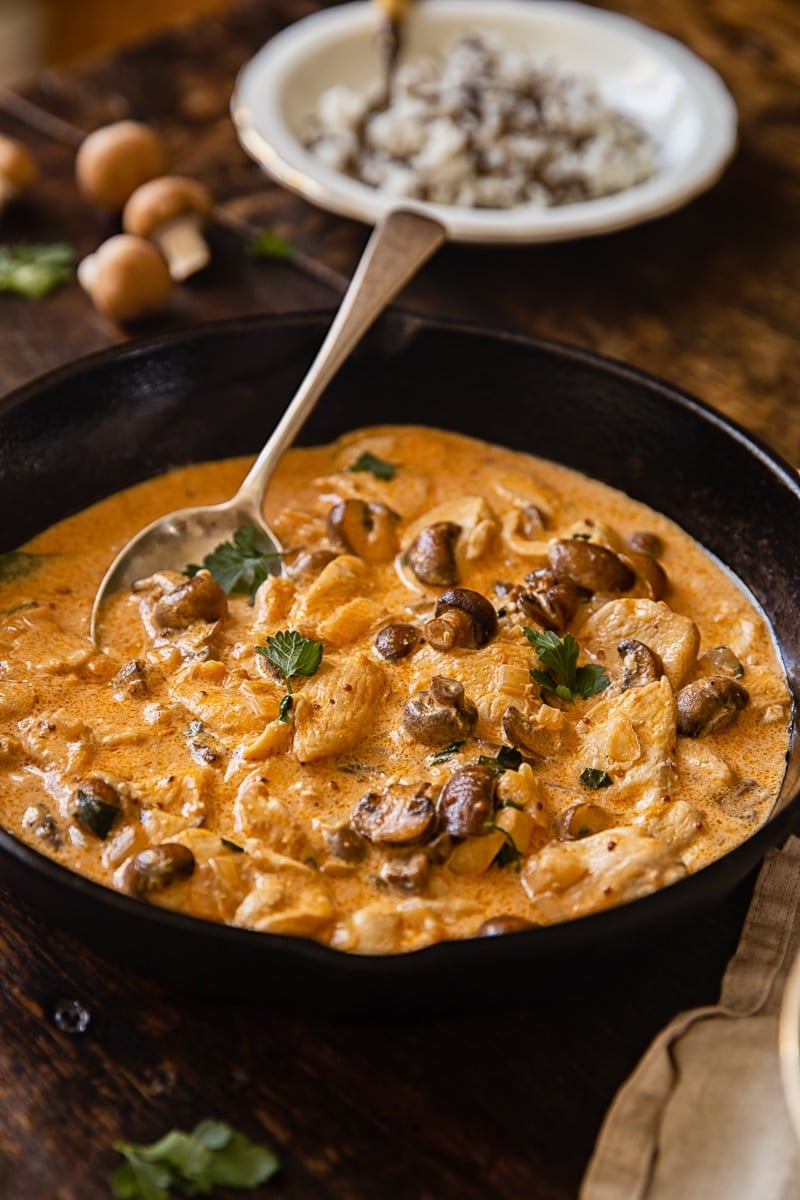 With that in mind I decided to develop a chicken stroganoff recipe, which would be similar yet distinctly different.
I have to say that I was quite pleased with the end result and my whole family agreed that this Chicken Stroganoff recipe is blog worthy.
Once in while I create a dish that is intended for the blog but upon tasting it realise that something is lacking and it is only average or in other words "not blog worthy". Well…not this time!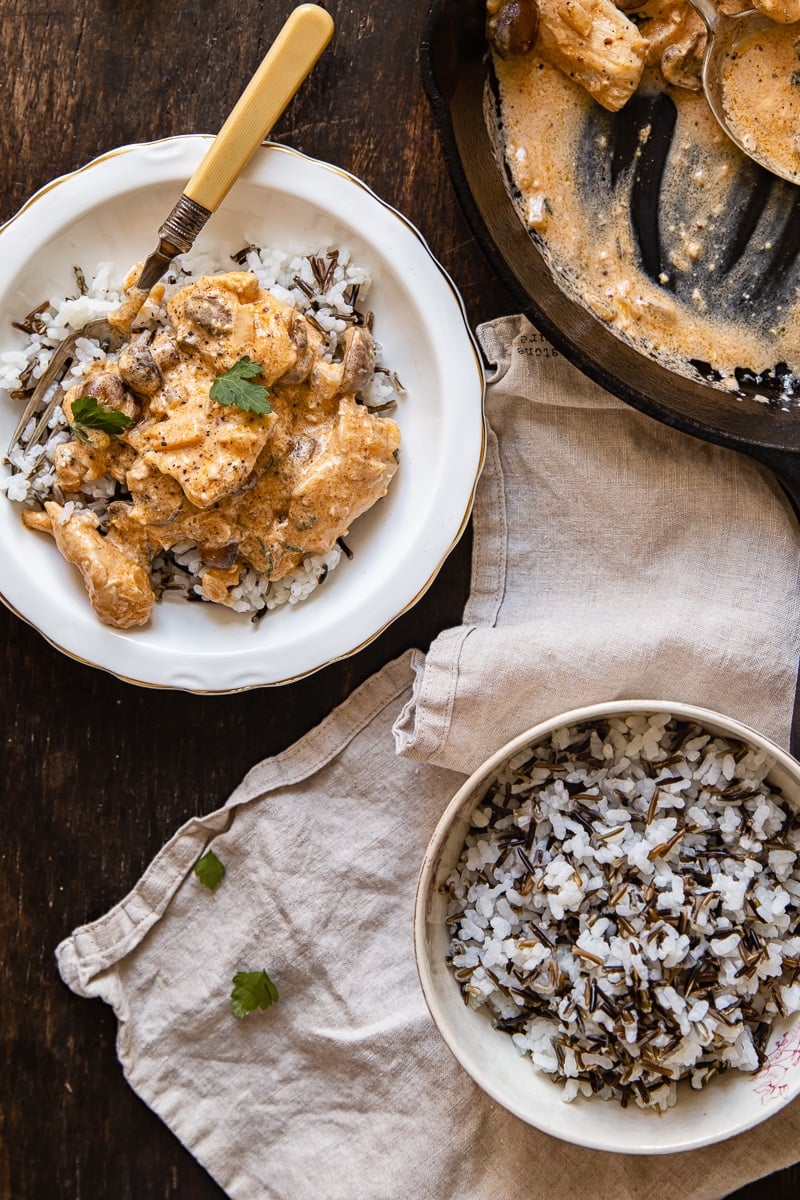 This Chicken Stroganoff recipe is not just a pale cousin of Beef Stroganoff. It is its rival!
I knew that a few more ingredients were needed to set off the delicate taste of chicken breasts and I think a splash of white wine and a tablespoon of tomato paste did that job beautifully.

How to make best Chicken Stroganoff recipe:
Take your time browning mushroom. Not steaming, they need to get a good colour on them, so turn your heat up and make them look golden!
Use a combination of olive oil and butter for extra delicious flavour or used clarified butter to avoid burning!
Cook your sauce over low heat to prevent sour cream from separating!
Use half sour cream and half double cream if you find the taste of sour cream too strong! I don't.


What is the sauce made of?

The main ingredient for the sauce is sour cream. Sometimes double/heavy cream is used in place of sour cream. I personally prefer using creme fraiche as it's the next closest thing to Russian smetana (sour cream).

Whatever cream you choose to use, make sure to flavour it with a touch of dry white wine, tomato paste, whole grain or dijon mustard and a bay leaf.
Good Side Dishes
Serve over a combination of white and wild rice for extra fibre. That suggestion is optional. Obvi.
Other side dishes that are excellent with this chicken recipe are mashed potatoes and egg noodles!
Now you are ready to make Chicken Stroganoff. You can see that it's good till the last drop!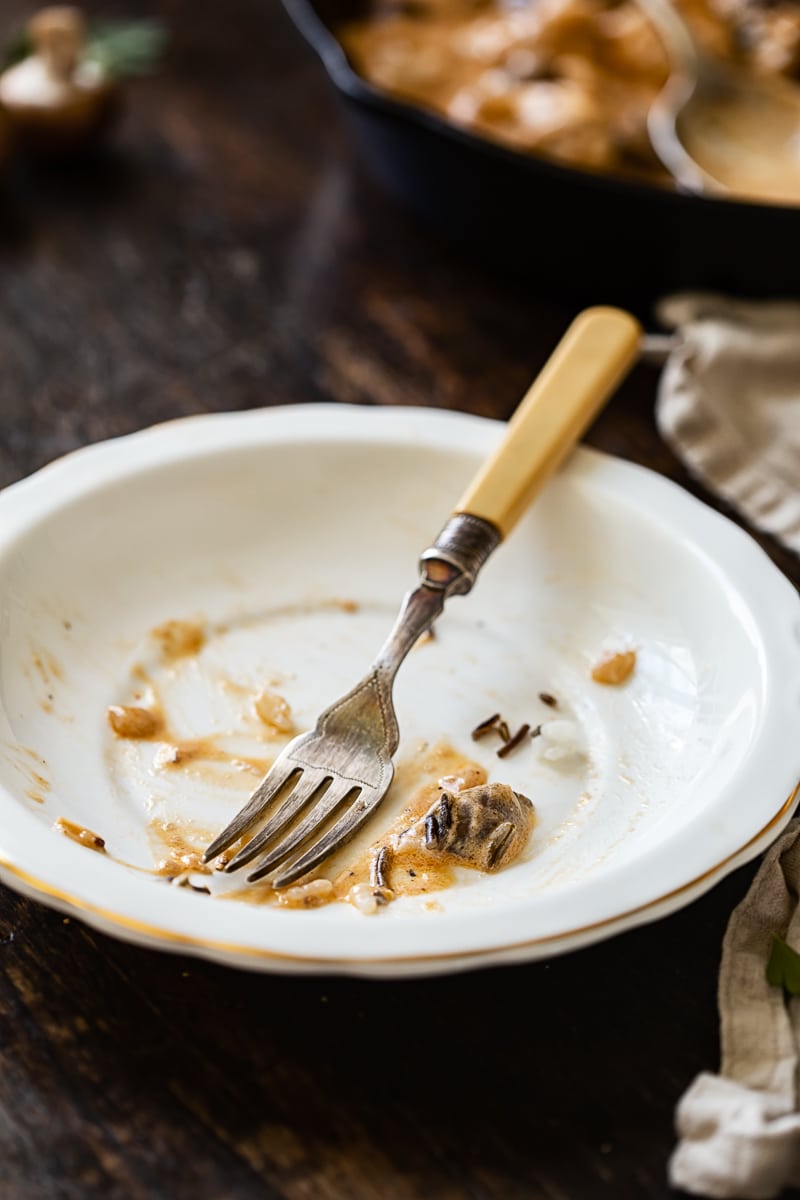 Can you freeze it?
Sour cream sauce tends to separate after freezing. If you want to freeze chicken stroganoff and keep the sauce texture smooth, I would recommend using double/heavy cream instead of sour cream.
More creamy chicken recipes: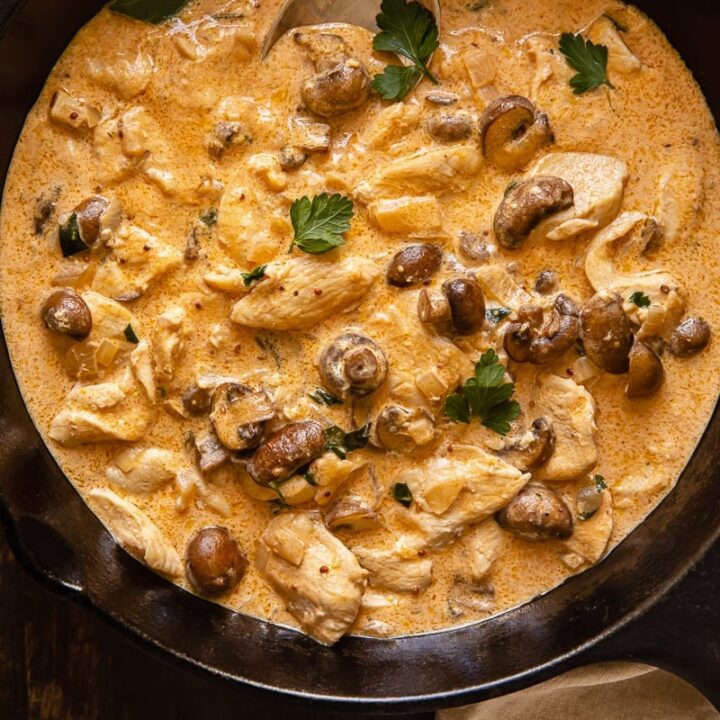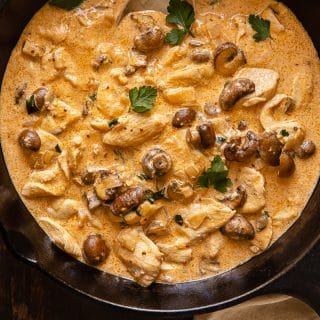 Creamy Chicken Stroganoff with Mushrooms
Chicken breasts cooked with onion and mushrooms in sour cream sauce.
Print
Pin
Rate
Ingredients
1

tbsp

olive oil

1

tbsp

butter

1 cup/125g

chestnut mushrooms

0.5

tsp

salt

1

onion

small, chopped

2

cloves

garlic

minced

1

lbs

chicken breasts

skinless, boneless

0.5

tsp

salt

¼ cup/70 ml

white wine

dry

⅓ cup/85 ml

chicken stock

1

tsp

whole grain mustard

1

tbsp

tomato paste

1

bay leaf

1 cup/250ml

sour cream

or smetana

1

tbsp

parsley

chopped
Instructions
Heat the oil and butter in a large and deep pan and brown sliced or halved if small chestnut mushroom over medium heat until golden, stir once in a while to avoid burning. This will take approximately 5-7 minutes, do not rush that process. Add chopped onion and garlic and cook over lower heat for 5 minutes longer. Remove to a separate plate and set aside.

To the same pan add bite-sized sliced chicken breasts with a pinch of salt and brown on all sides over high heat for 5-7 minutes. When the chicken is browned pour the white wine all over and scrape the bottom of the pan with a spatula to release the brown bits. Then add the chicken stock, mustard, tomato paste and bay leaf.

Return the onions and mushrooms back to the pan, bring everything to a boil and then lower the heat, add the sour cream and chopped parsley and let it simmer uncovered for 5 minutes or until the sauce is thickened to a desired consistency.
Notes
You can use ½ cup of sour cream or creme fraiche and ½ cup of double cream/whipping cream if you find the taste of sour cream too strong.
Nutrition
Calories:
340
kcal
|
Carbohydrates:
7
g
|
Protein:
27
g
|
Fat:
21
g
|
Saturated Fat:
9
g
|
Cholesterol:
112
mg
|
Sodium:
364
mg
|
Potassium:
709
mg
|
Sugar:
4
g
|
Vitamin A:
620
IU
|
Vitamin C:
6.5
mg
|
Calcium:
81
mg
|
Iron:
0.8
mg