Roasted radishes and asparagus is another great way of enjoying these vegetables. Deeper flavour and great texture. Don't forget to add my quick mustard vinaigrette!
Serve on the side of our Tortelloni with Creamy Tomato Sauce for a complimentary contrast of flavours.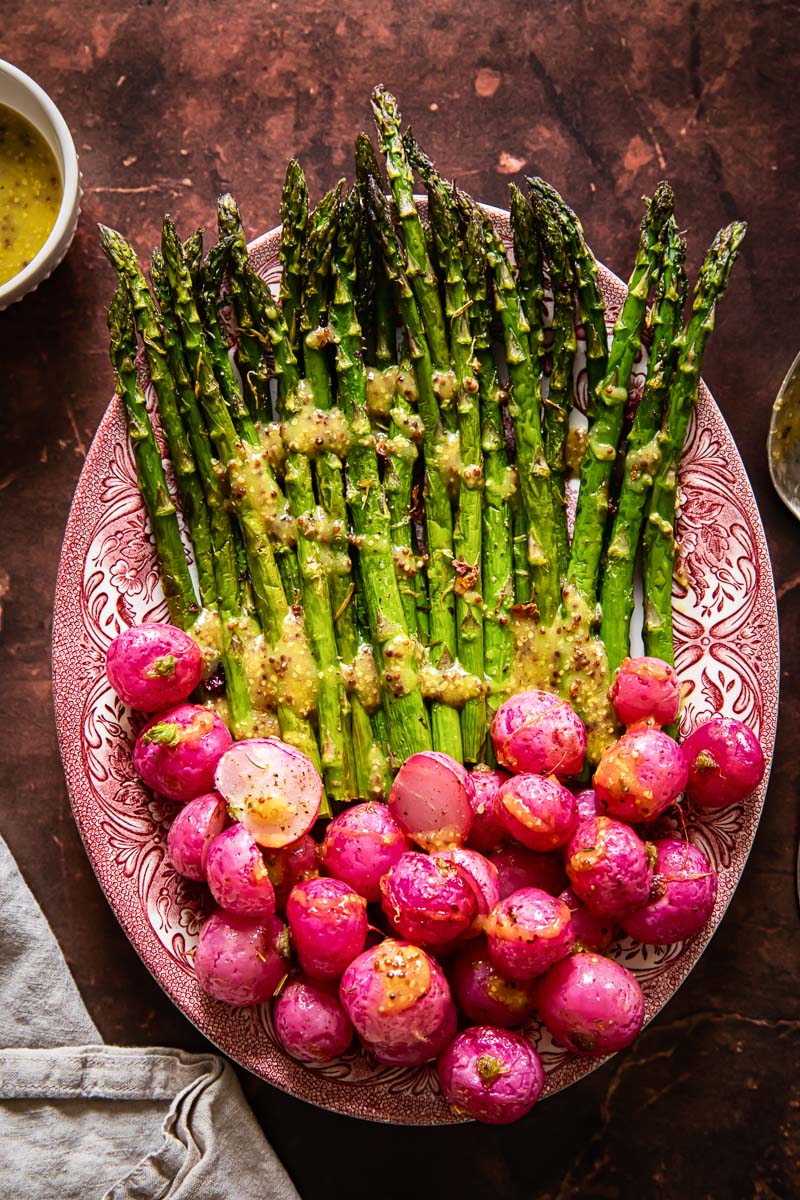 Spring vegetables are something that get me incredibly excited along with the first signs of nature coming back to life after a long winter.
Asparagus and radishes are always on my shopping list. I love steamed asparagus for my dinner and thinly sliced radishes in my salads. However, it's fun to break away from the ordinary and try new ways of enjoying these vegetables. Don't you think?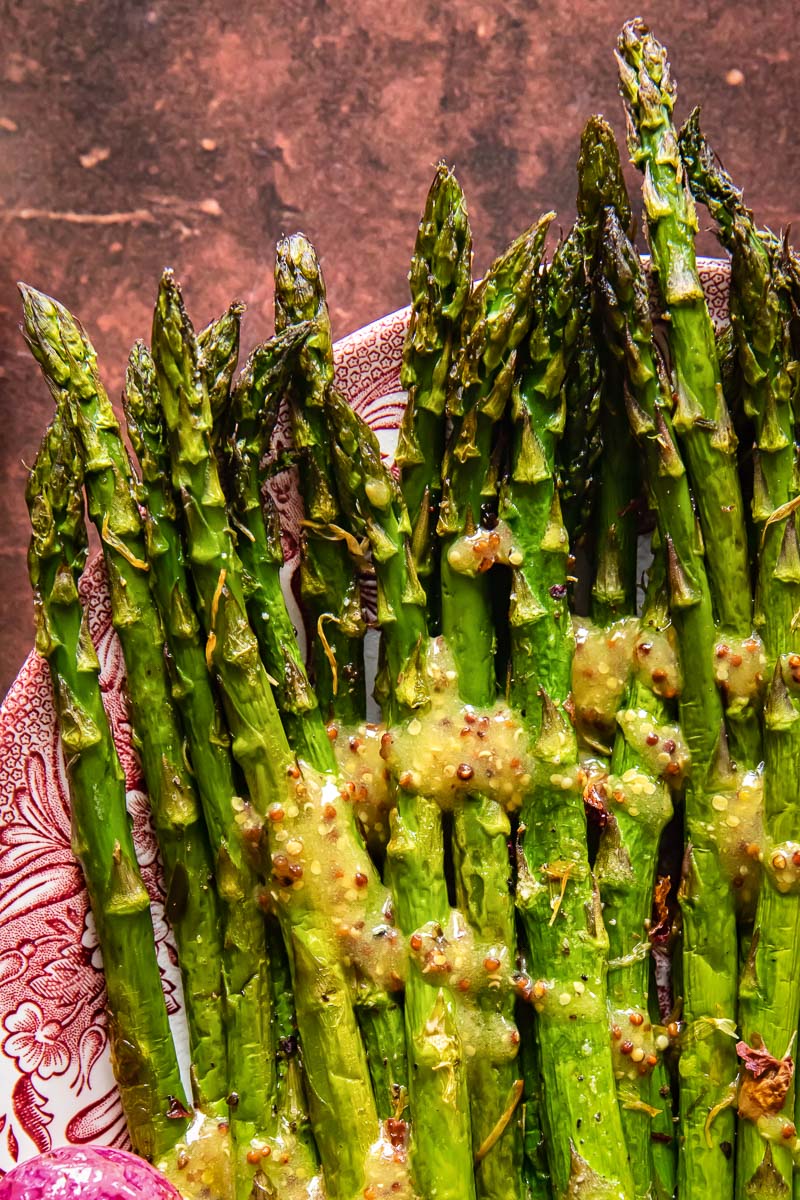 Roasted Vegetables
I love roasting vegetables as this method deepens the flavours and provides a great texture. Slightly crispy on the outside while soft on the inside. Pure perfection! Roasting is also a fuss free and a hands off way of cooking, which I love.
The veg I like to roast are potatoes, carrots, broccoli and brussels sprouts. But my top favourite is roasted butternut squash. It's incredible what time in the oven does to the squash. Caramelisation for days!
I've discovered roasted asparagus a while back and absolutely fell in love. My favourite part is the roasted asparagus texture. Slightly crispy and utterly delicious. Roasting also makes the asparagus almost sweet tasting because it draws out the moisture and concentrates its flavour.
But can roasting radishes be really that good? The answer is YES!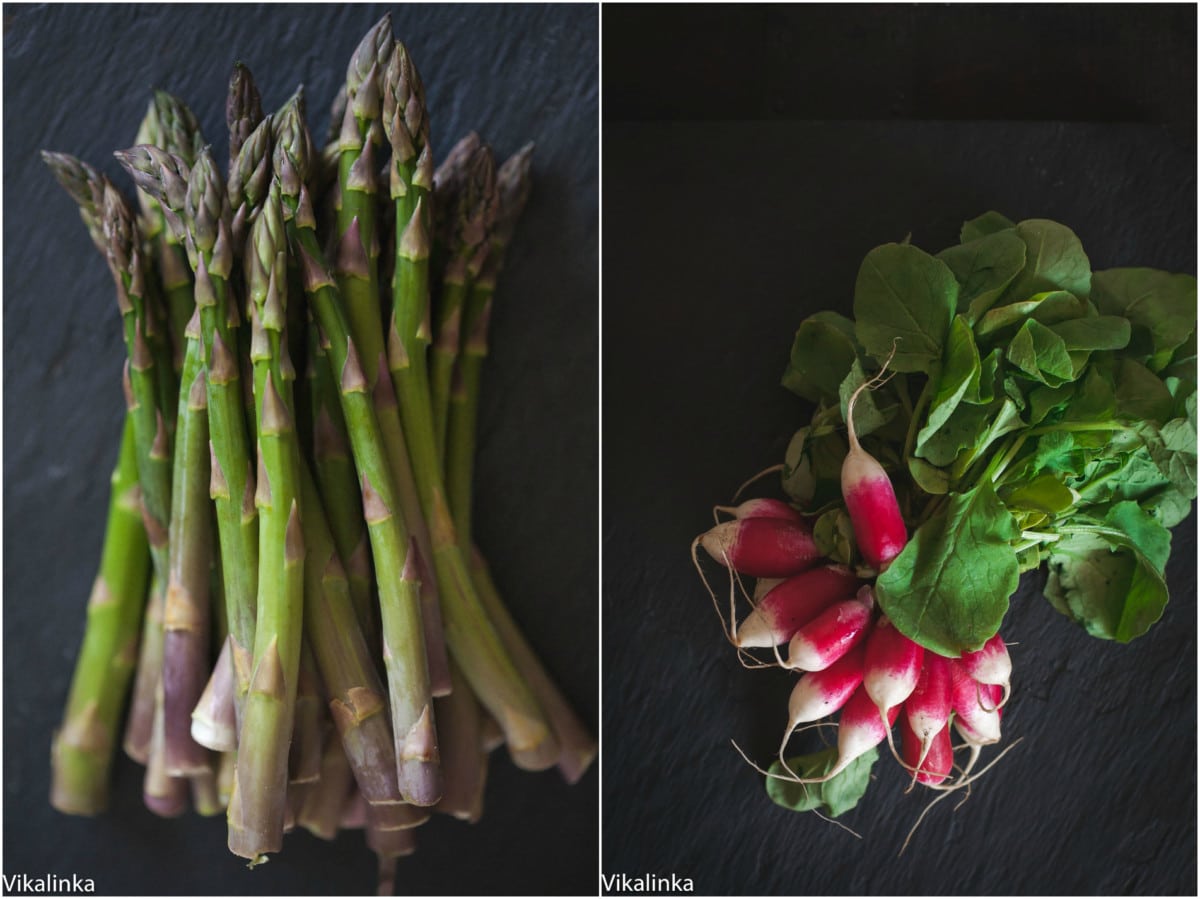 Roasted Radishes
It really shouldn't be surprising that radishes are made for roasting. They are root vegetables, and we roast those all the time. So what happens when we roast radishes?
They mellow out. A zesty radish really loses its zing after being hit with a blast of heat. If you are the type who has been avoiding radishes your whole life because they are bit too sharp and spicy, this method is for you.
And if you are a die hard radish lover, like me, this recipe is also for you! Because you just found another way to enjoy them, which is a win.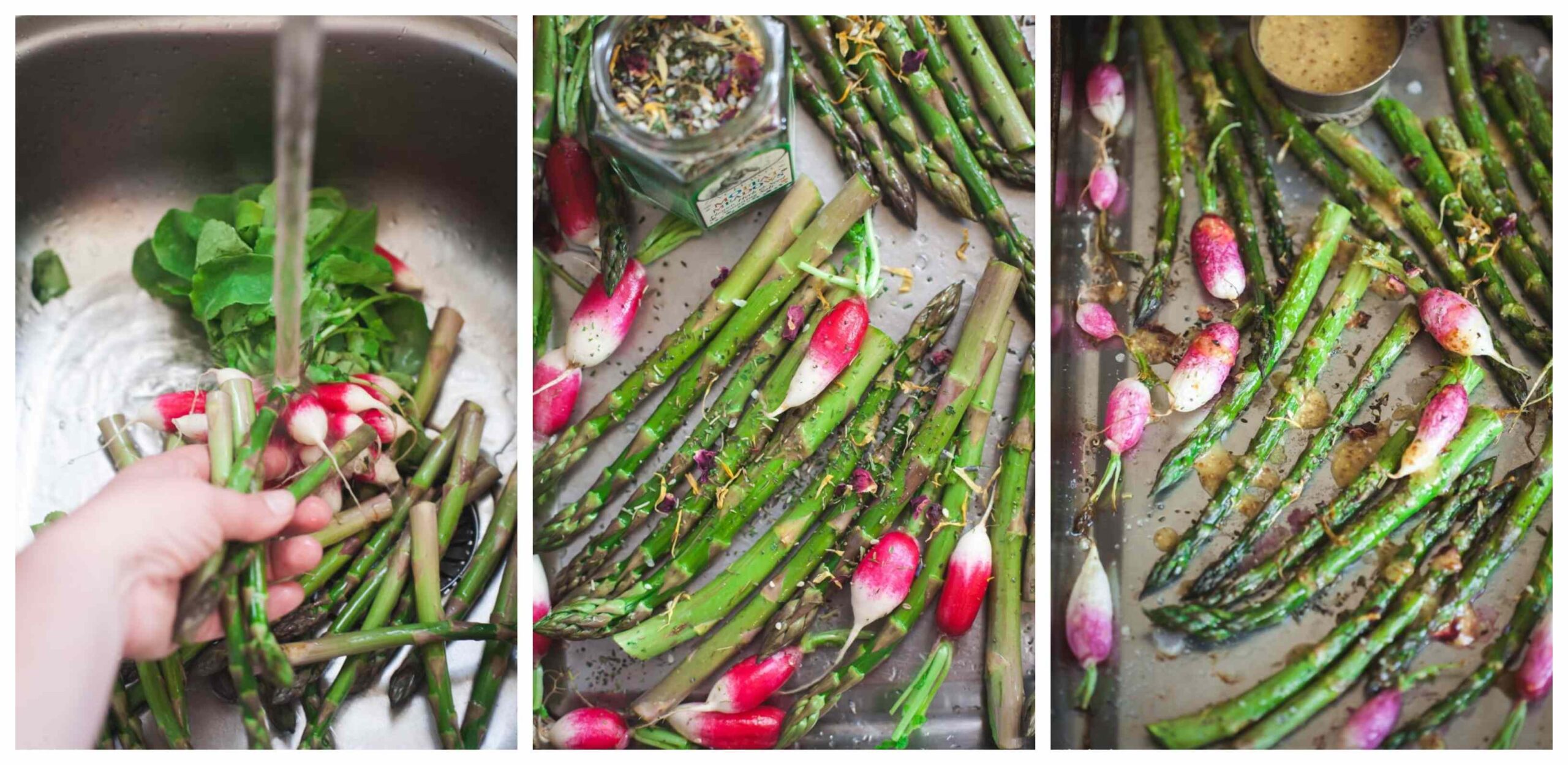 Recipe Tips and Notes
Roast at high heat (400F/200C) and watch carefully as roasting asparagus can be tricky. It will cook much faster if it's too young and thin.
I roast asparagus and radishes together for convenience. However, you will need to remove the asparagus from the pan 5 minutes earlier as radishes will take longer to cook due to their texture.
Depending on the size and shape of your radishes you can either roast them whole or half the large ones.
Don't skip on the mustard vinaigrette. It takes less than 5 minutes to make. And provides a much needed acidic contrast to the mellowed out radishes as well as the sweetness of asparagus.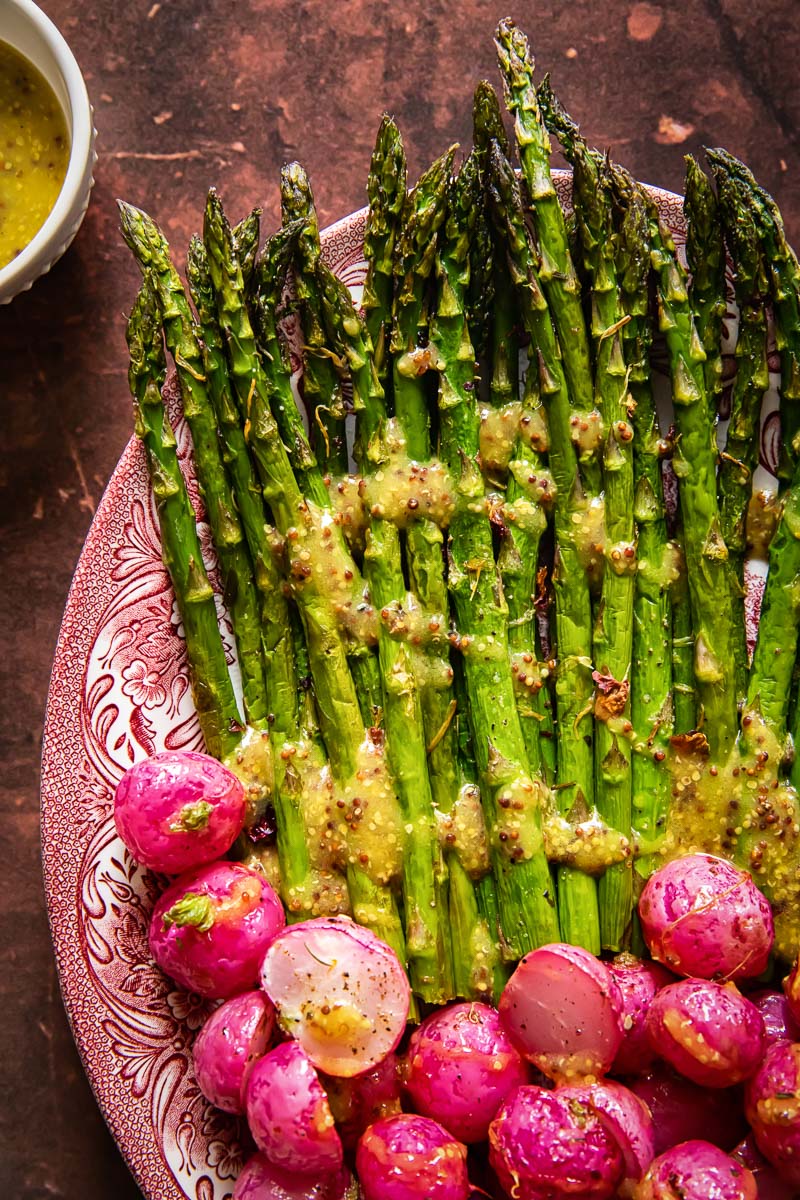 You know this recipe is a winner when you sit down to eat your favourite creamy pasta dish only to realise that the best part of your meal is actually the VEGETABLES!
Serving Suggestions for Roasted Radishes and Asparagus
This recipe makes for a great side dish to beef, chicken and pork. It also compliments creamy pasta dishes really well because of the nice contrast of the zesty vinaigrette and the creamy pasta sauce.
More Radish and Asparagus Recipes to Try:
This recipe was originally published in 06/2015. Updated and republished in 05/2021.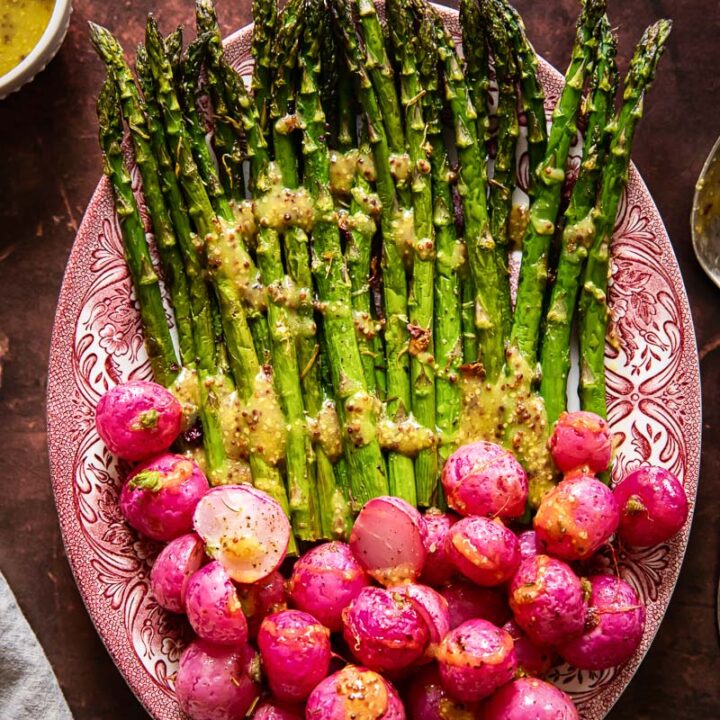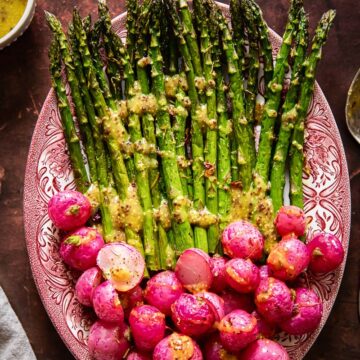 Roasted Asparagus and Radishes with Mustard Vinaigrette
Roasted asparagus and radishes with mustard vinaigrette.
Ingredients
½

lbs

Asparagus

½

lbs

Radishes

sea salt

1

tsbp

olive oil

1

tsp

herb mix of your choice
For the Mustard Vinaigrette
1

tsp

whole grain mustard

3

tsp

white wine vinegar

4

tsp

olive oil

pinch

of salt
Instructions
Preheat the oven to 400F/200C. Arrange asparagus and radishes on a roasting pan, sprinkle with olive oil, salt and herbs.

Roast in the oven for 15 minutes. Remove the asparagus from the pan and keep warm. Continue roasting radishes for 5 minutes longer.

Meanwhile, make vinaigrette by mixing mustard with vinegar in a medium bowl. Slowly pour in olive oil in a thin steady stream while whisking the entire time until the mixture is emulsified.

Drizzle mustard vinaigrette oven roasted vegetables while still hot. Serve immediately.
Nutrition
Calories:
40
kcal
Carbohydrates:
3
g
Protein:
1
g
Fat:
3
g
Saturated Fat:
1
g
Sodium:
32
mg
Potassium:
167
mg
Fiber:
1
g
Sugar:
1
g
Vitamin A:
289
IU
Vitamin C:
8
mg
Calcium:
19
mg
Iron:
1
mg