A basic risotto recipe with an addition of asparagus and fresh micro herbs makes this dish an outstanding dinner option, that is spring ready!
Take a look at our Prawn Risotto with Tomatoes and Peas if you need more delicious ideas.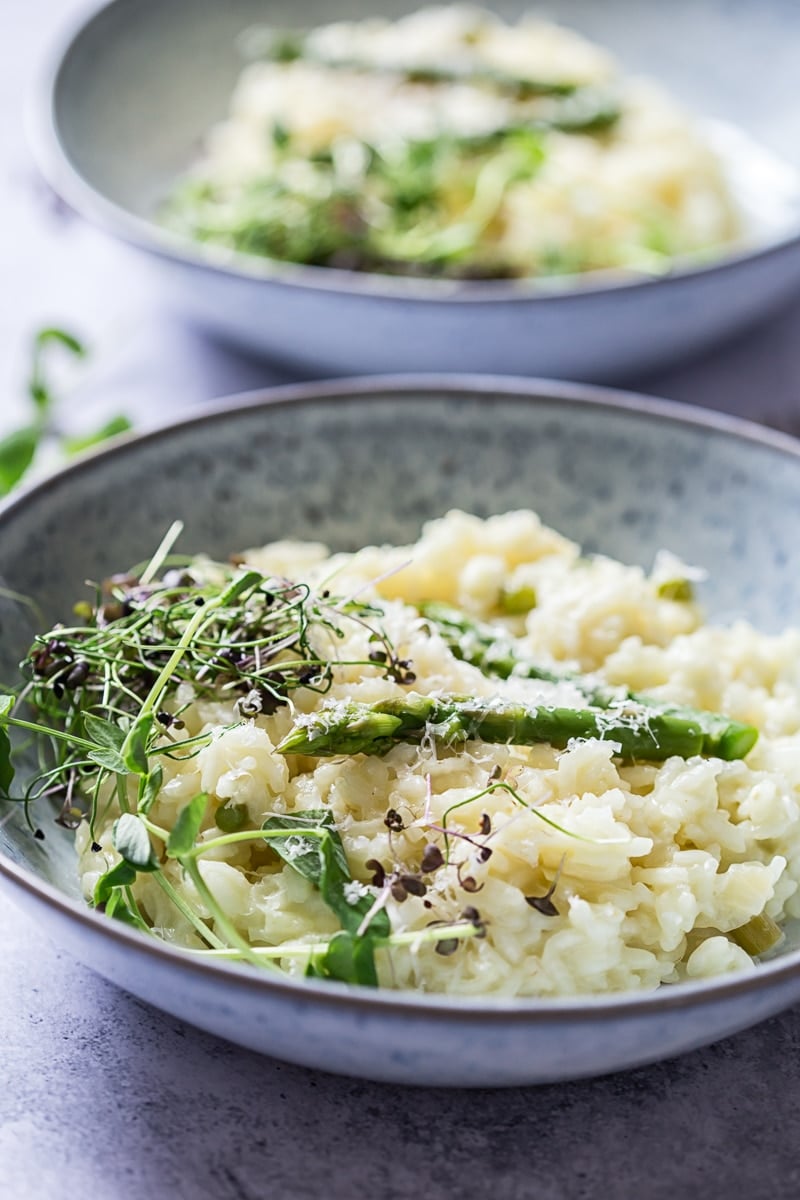 Whenever I am in an Italian restaurant I seem to lean towards risottos. I do love pasta but something about warm, oozy and cheesy rice just sings to my soul.
I used to be obsessed with perfecting my risottos and played with flavours a lot but all my attempts were only appreciated by my husband. My kids were firmly against risotto and I couldn't figure out why.
To make a long story short I stopped making them for family dinners but I continued with my risotto obsession whenever I was on my own.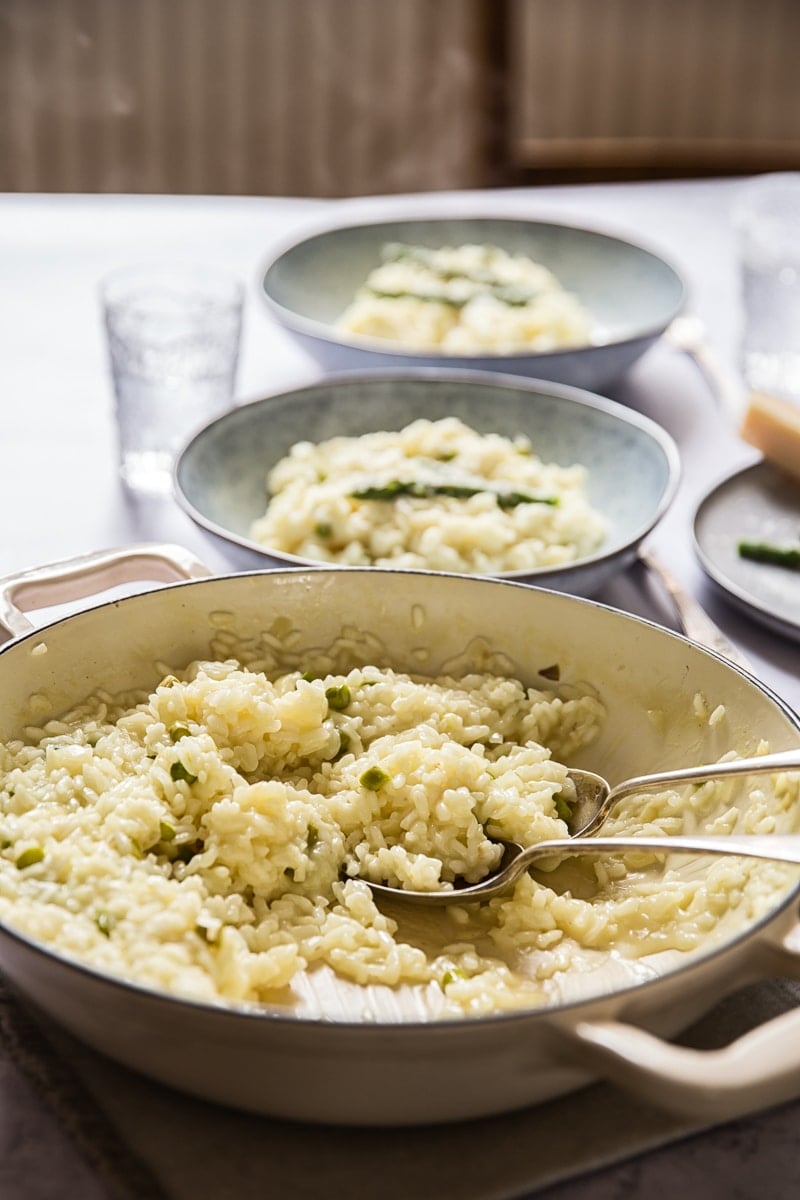 Asparagus Risotto
Yesterday I felt especially inspired by incredibly fresh looking asparagus and a micro herb mix in my fridge. They looked so green and springy. I felt that a creamy risotto would be the perfect vessel to show them off!
I thought that the vibrant greens would provide a perfect contrast in flavour and texture to the plump and satisfying Arborio rice in my risotto. And that is how this dish came to be!
Risotto is a main dish, not a side kick, contrary to what some people believe. It is complete in itself and doesn't need a protein on the side. Most risottos are vegetarian in Italian with the exception of seafood risotto.
They are also is viewed the same as pasta dishes or primi piatti in Italian. So it's one or the other type of a deal. For the best results use either Arborio or Carnaroli rice. Both are plump and starchy, which creates that signature creamy texture.
If you like to add something else to your risotto, take a look at our Antipasti section, little dishes to start your meal in a true Italian fashion.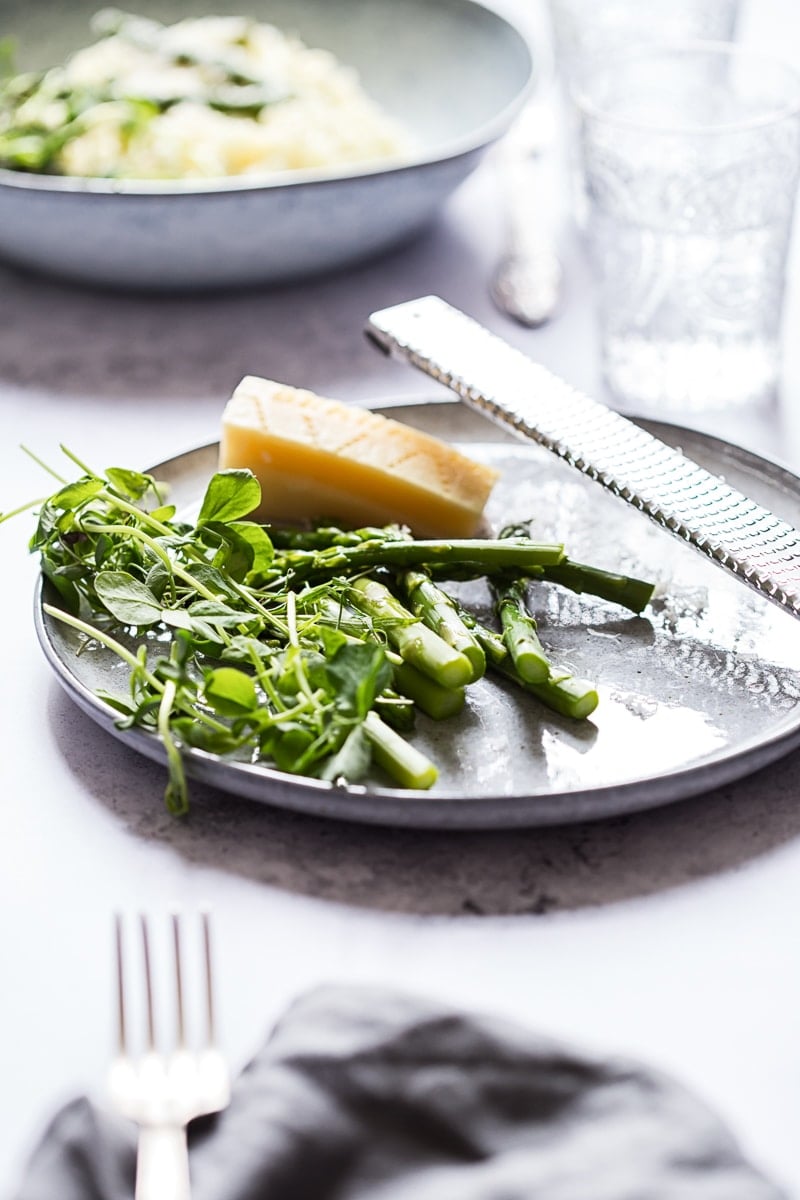 Additional Flavours
Lately I've been buying various micro herb mixes. The young and tender shoots are especially lovely in salads, sandwiches or topping for devilled eggs.
They are also so beautiful when combined with warm and comforting dishes. They lift them up, add flavour effortlessly and make the texture more exciting. Not to mention they look gorgeous!
Who wouldn't be seduced by a bowl of warm and luscious risotto topped with fragrant herbs?! It turns out everyone! Even my children, who happened to be home on their school break and couldn't wait for me to finish the shoot, so they could dig in.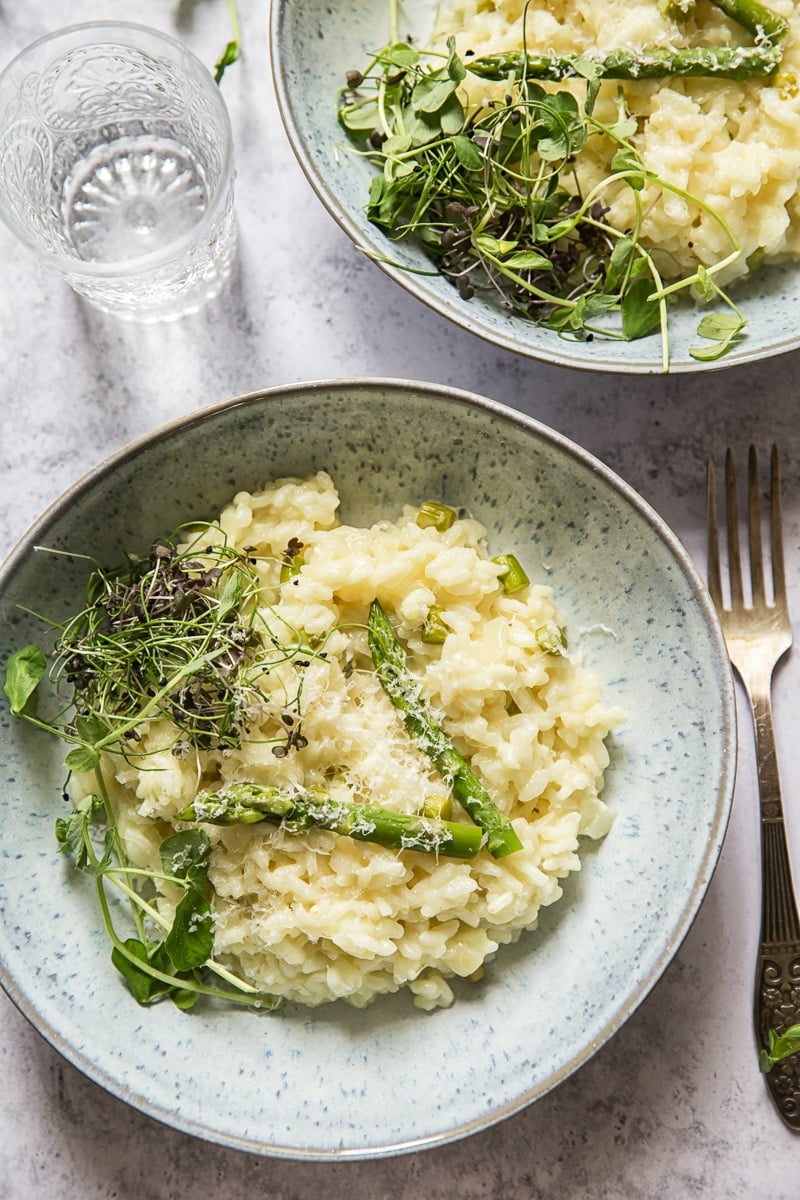 Recipe Tips and Notes
Have hot stock ready, so you don't bring the temperature down with every ladleful.
Salt to taste but go light on cheese as it will make your risotto too stodgy. Risottos love salt!
Cook risotto in a deep pan and stir often to achieve the creamy texture, which comes from the starch in rice, NOT from the cheese.
Every time you add hot stock to your pan it should be just slightly above the rice level as in pictures below.
Just like pasta your rice should be cooked al dente. If it's soft all the way through it's overcooked.
Your risotto should be loose in texture and slightly jiggly when served in a bowl.
My last and best trick is to add a couple tablespoons of butter at the end, turn the heat off and cover with a lid for 5 minutes.
Storage and Leftovers
If you make too much, risotto is a great dish to have as leftovers. Store in an air tight container in the refrigerator for up to 3-4 days. Or freeze for up to 1 month.
If you feel adventurous, you can turn your leftover risotto into a Southern Italian delicacy arancini.
Favourite Risotto Recipes to Try: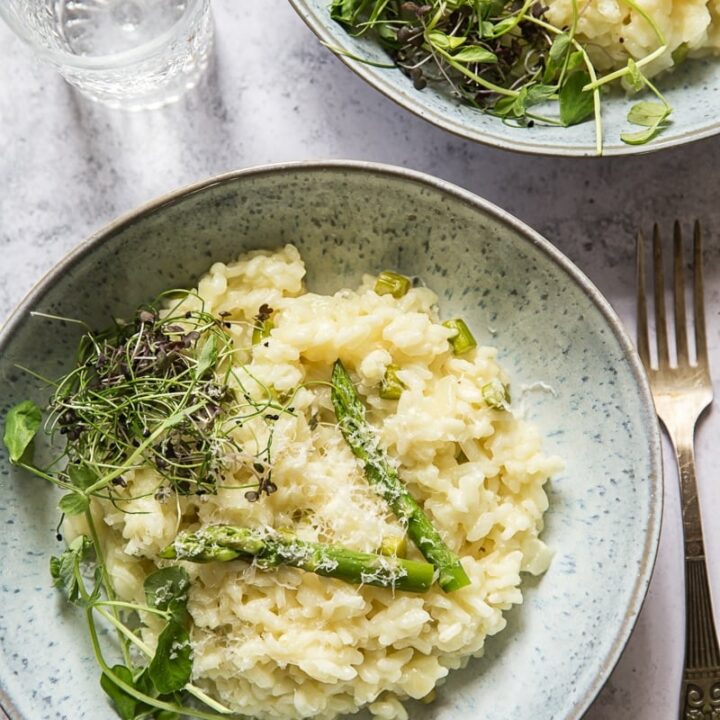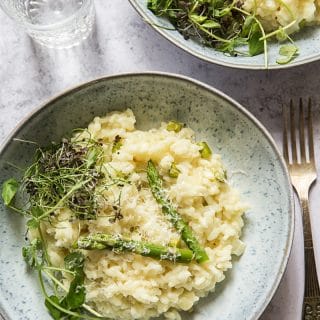 Spring Asparagus Risotto
A basic risotto recipe with an addition of fresh spring asparagus and micro herbs makes this Spring Asparagus Risotto an outstanding dinner option!

Ingredients
1

onion

small, chopped

2

cloves garlic

minced

2

tbsp

olive oil

extra virgin

2 cups/400g

Arborio rice

¼ cup/75ml

dry white wine

such as Sauvignon Blanc or Pinot Grigio

5 cups/ 1.25 litre

vegetable or chicken stock

15

spears

asparagus

chopped, tips reserved

1 cup/100g

Parmesan cheese

grated

2

tbsp

butter

salt

to taste

micro herbs

optional
Instructions
Put the stock in a pot and bring it to a boil. Wash the asparagus and cut off the tips, cut the rest of the stalks crosswise in 1 cm pieces.

Chop up onion and garlic and cook them in olive oil in a large deep pan over low heat for 7-10 minutes.

Turn the heat to medium and add rice, and fry it while stirring for 2-3 minutes, add the wine and continue stirring until the wine evaporated.

Add 1 cup of the stock (see photos in the post how much the stock should cover the rice) and cook over low/medium heat until the stock is absorbed by the rice, add the chopped asparagus reserving the tips to the rice, continue adding a ladle of the stock each time you see the risotto getting a bit dry. Stir for about 20-30 seconds after each addition of the stock to bring out the starch for a creamier risotto.

While your risotto is cooking, quickly cook the asparagus tips. They will take 5-7 minutes, so arrange for both asparagus and risotto be done at approximately the same time.

When all your stock is gone taste your rice to make sure it's cooked, if it's not add a ladleful of water.

When the rice is the right texture remove it from the heat and stir freshly grated parmesan into it, stir, then add butter, cover with and let it sit or 5 minutes. Place a few asparagus spears and a small bunch of micro herbs into each bowl before serving.
Nutrition
Calories:
641
kcal
Carbohydrates:
85
g
Protein:
18
g
Fat:
20
g
Saturated Fat:
8
g
Cholesterol:
36
mg
Sodium:
1704
mg
Potassium:
442
mg
Fiber:
3
g
Sugar:
1
g
Vitamin A:
400
IU
Vitamin C:
23.3
mg
Calcium:
334
mg
Iron:
5.3
mg