If you are craving a retro recipe with a modern update, these double decker devilled eggs are what you need!
These eggs are stuffed with with creamy egg yolk, then topped with smoked mackerel pate and micro greens for more texture.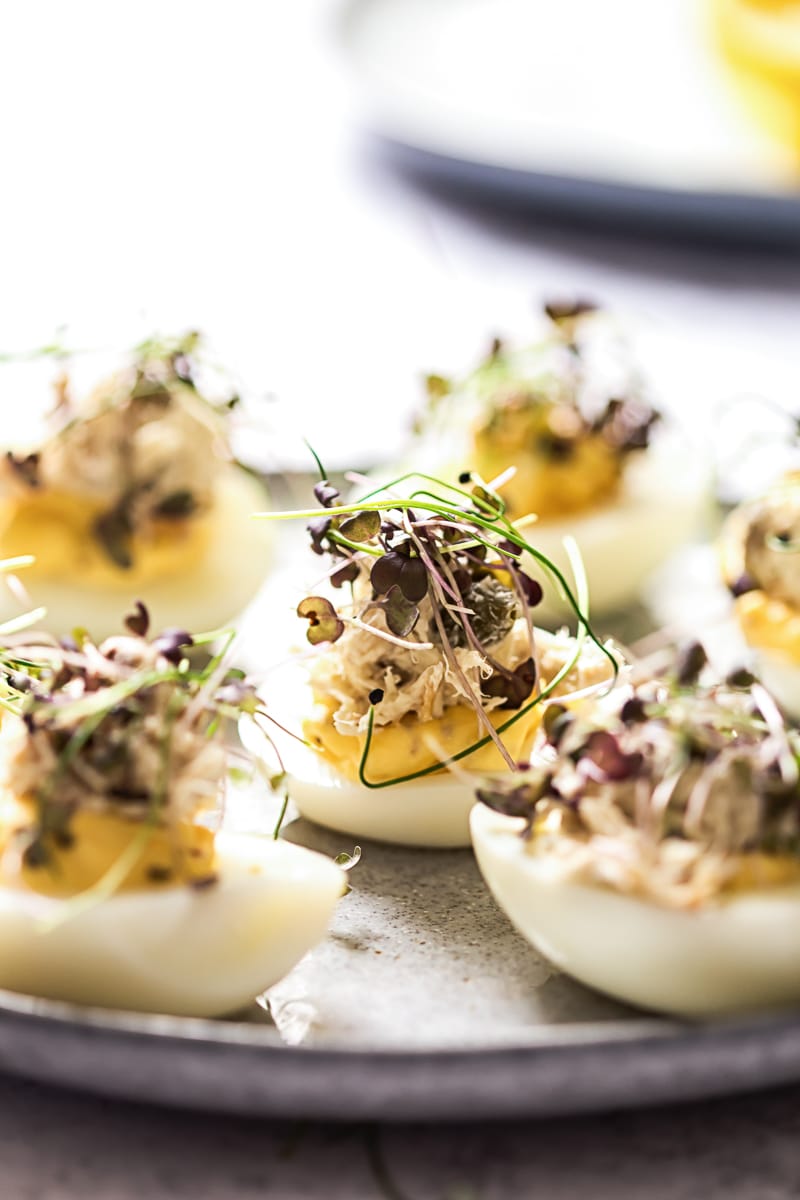 Easter has come and gone and if you are into egg colouring like us, you might find yourself stuck with a dozen or so of hard-boiled eggs. Not the worst problem to have, in my opinion.
I love putting eggs in salads, sandwiches, even soups but once in a while I like to up the ante and create something more special like these double decker devilled eggs.
I tend to come up with this sort of recipes right after holidays when the fridge is still stuffed to the brim and flavour combinations practically pair themselves up.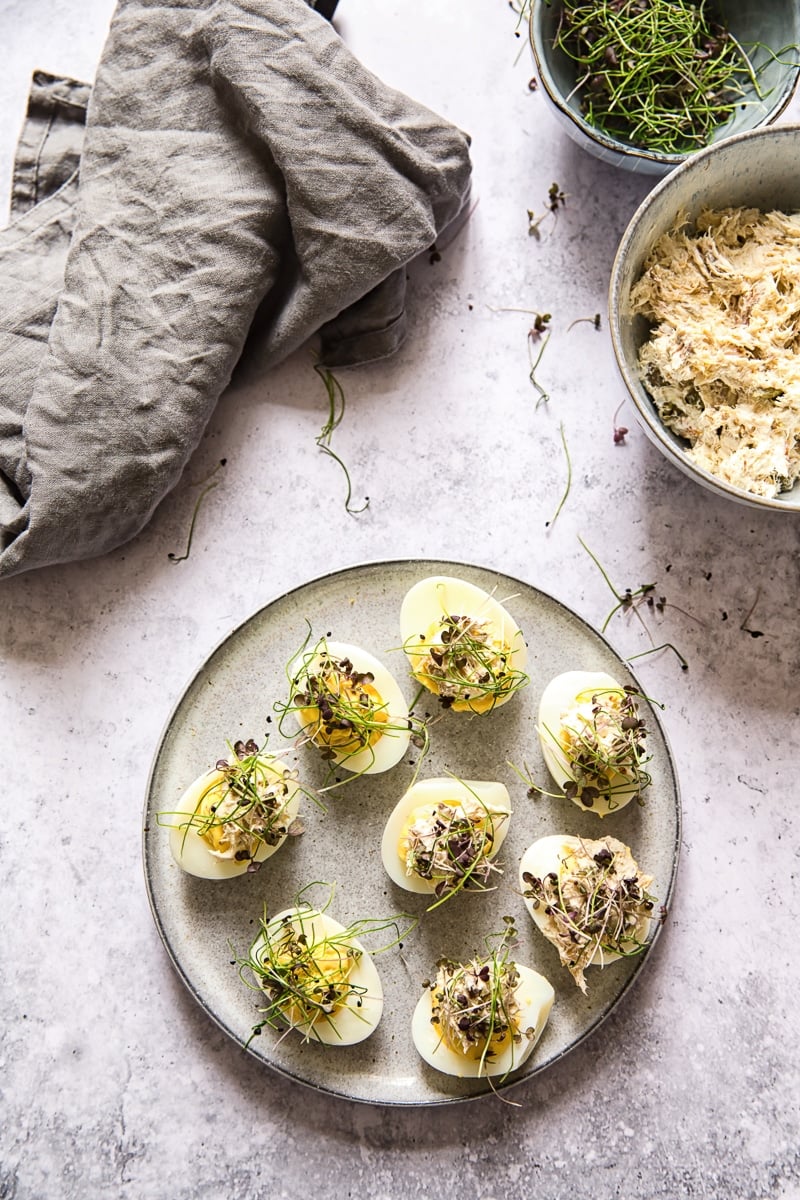 Do you have any foods that you secretly love but won't really admit it because they are too old-fashioned? Like tater tot casserole for my husband…or devilled eggs for me?
I've loved devilled eggs since I was little as they were a firm fixture on any holiday table when I was growing up.
Sadly they are not really the trendy food everyone likes to talk about. Devilled eggs don't get updated as much as other things to suit our modern taste and esthetics.
And they don't often make their way into modern cookbooks. Not that an old-fashioned recipe for devilled eggs needed to be improved but it's always fun to experiment and create something new!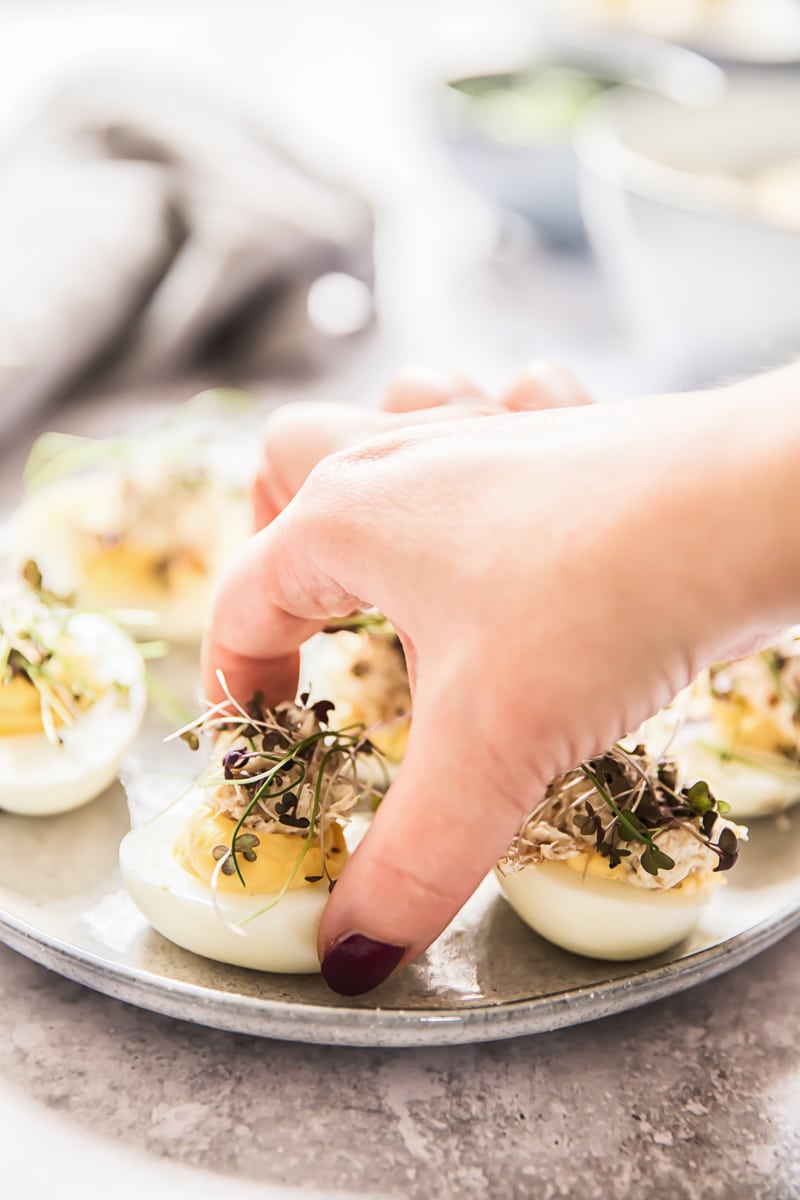 What's in these double decker devilled eggs?
These devilled eggs are special because they are doubly stuffed or should I say doubly topped… umm…two-tiered?
Anyway, the eggs are devilled, then topped with smoked mackerel pate and micro greens. Each mouthful is an explosion of flavours and textures!
Creamy egg yolks spiked with whole grain mustard and Japanese mayonnaise, chunky smoky mackerel pate and fresh and crunchy micro greens. That is what you are tasting with each bite!
What can I substitute smoked mackerel with?
hot smoked salmon
smoked chicken or even shredded rotisserie chicken
ham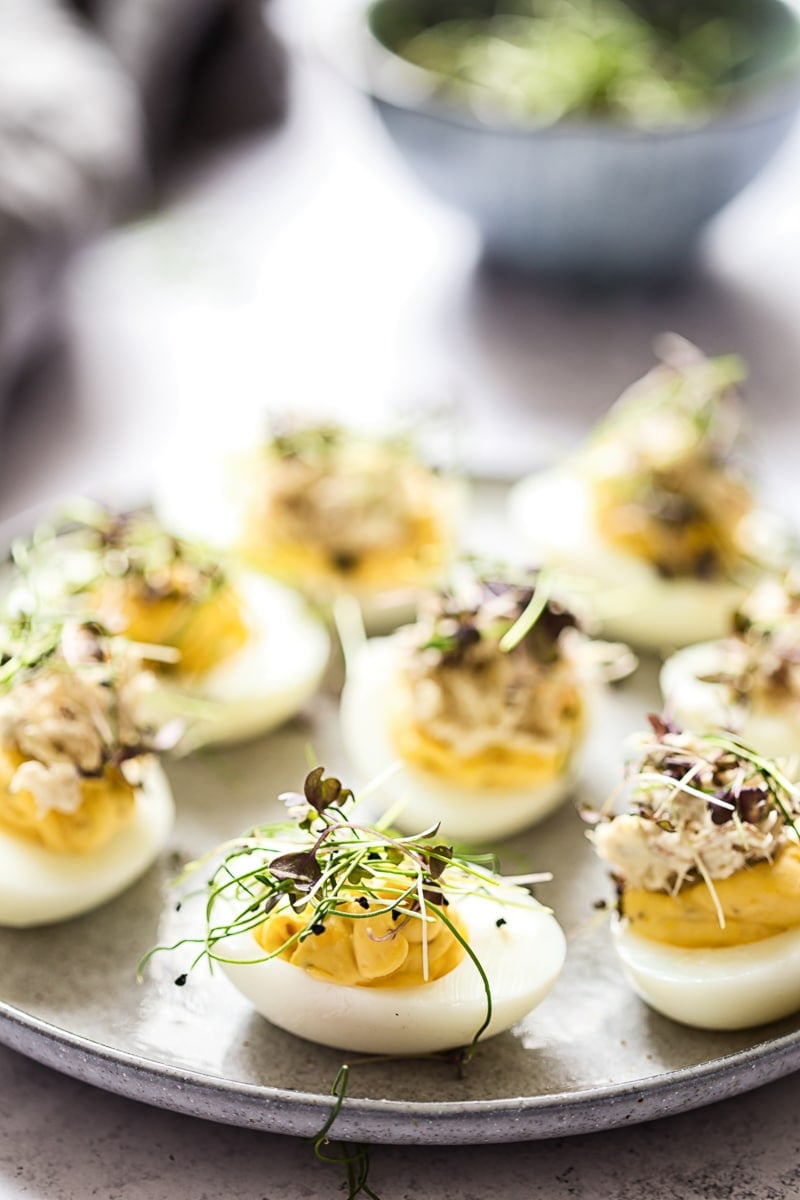 How do I cook perfect eggs for deviled eggs?
It seems easy enough but what is the best way to make hard boiled eggs, so the whites are firm but not rubbery and the yolks are bright yellow and perfectly creamy?
With a lot of experimenting I go back to the same method that works every time. As a side note, use eggs that are not straight from a store. The fresher the eggs the trickier they are to peel. There is a scientific reason for it but I won't get into it here.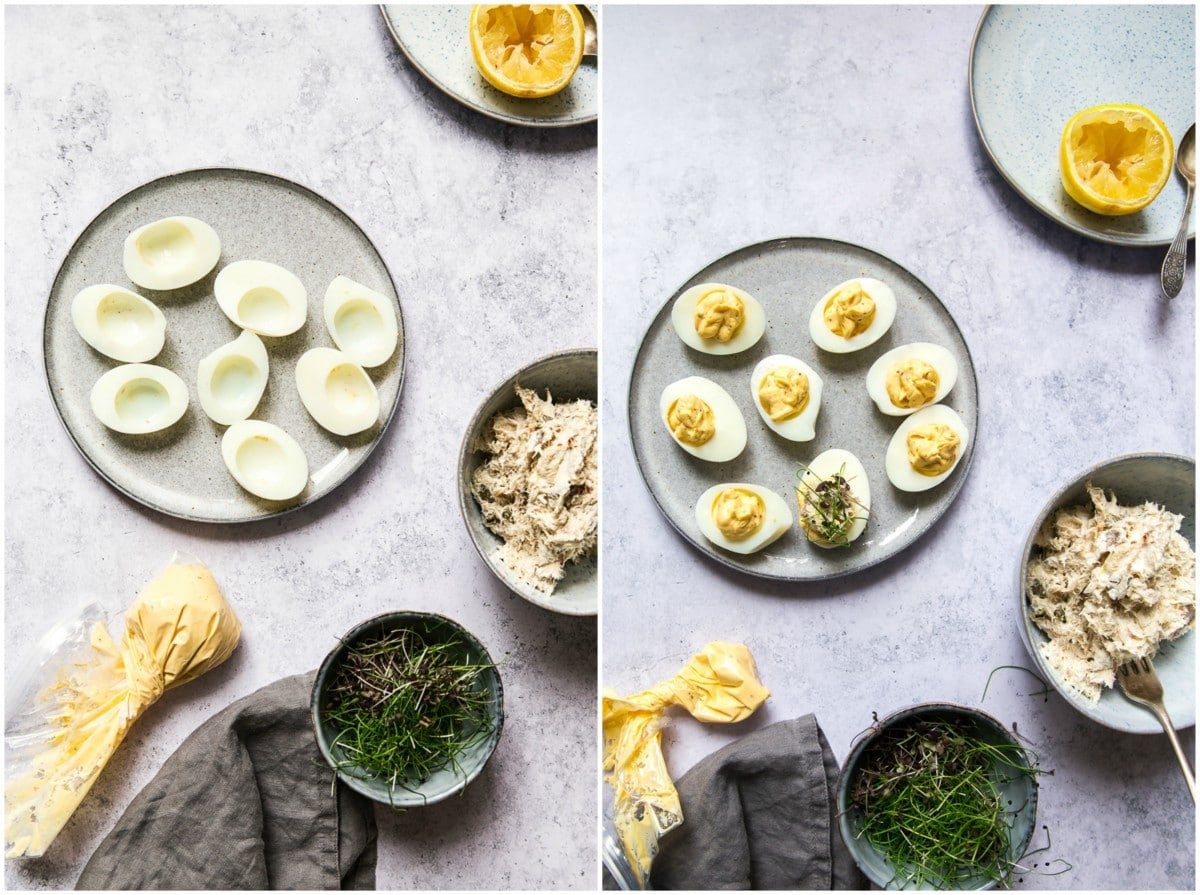 It sounds counterintuitive but it's true. If you struggle to peel your hard boiled eggs, you are using the freshest eggs. Give them 3-4 days and then try again. Magic.
Bring the eggs to a boil in a pan.
Immediately turn the heat off and leave the eggs in the pan covered for 15 minutes.
Then run cold water over the eggs until cool enough to handle.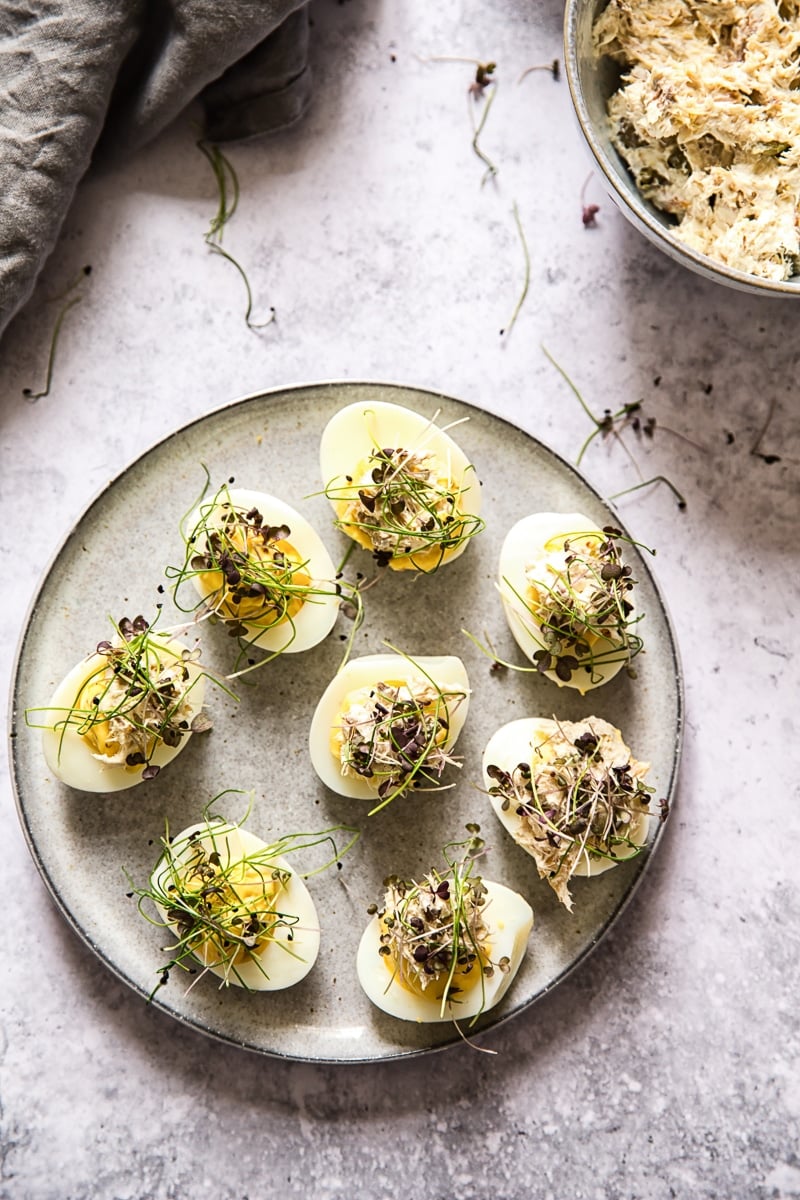 More egg recipes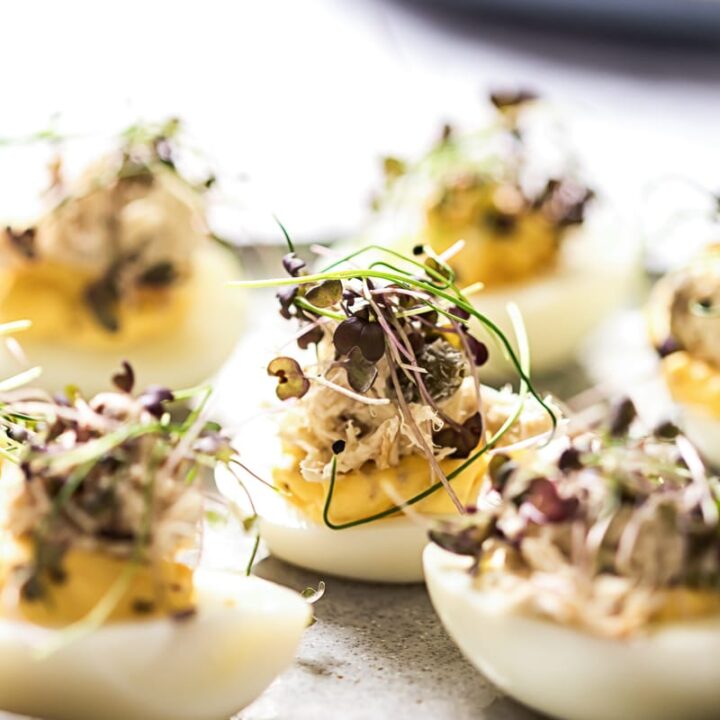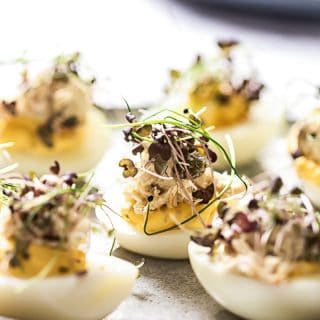 Double Decker Devilled Eggs
Devilled eggs topped with creamy mackerel pate.
Ingredients
4

eggs

large

4

tbsp

Japanese mayonnaise or any mayo of your choice

1

tsp

whole grain mustard

½

tsp

white wine vinegar

salt to taste
For the smoked mackerel pate
100

g/ 1-2 fish fillets mackerel or any other hot smoked fish

100

g/ ⅓ cup cream cheese

1

tbsp

lemon juice and zest of ½ lemon

1-2

tsp

capers or chopped pickles/gherkins

micro greens
Instructions
Bring the eggs to a boil, cover them with a lid and turn the heat off, let them sit covered for 15 minutes. Drain the water and pour cold water over the eggs, leave them until cooled.

Meanwhile, add skinned and de-boned mackerel to a medium bowl, flake it with a fork, then add cream cheese, lemon juice and zest and mix with a fork until well combined but the fish is still quite chunky, then add capers and set aside.

Peel the eggs, cut them in half lengthwise and remove the yolks to a small bowl. Turn the yolks into a paste using the back of a spoon, then add the mayonnaise, whole grain mustard and white wine vinegar, taste and add salt if needed. (I didn't as mine was plenty salty from the mayonnaise.) The yolk mixture should be light, creamy and pipable in texture. If yours is too heavy, add a touch more mayonnaise.

Fill the egg whites with the egg yolk mixture using a teaspoon or pipe with a pastry bag/ziplock bag, then top with a teaspoon of the smoked mackerel pate and a pinch of micro greens.
Nutrition
Calories:
138
kcal
Carbohydrates:
1
g
Protein:
6
g
Fat:
12
g
Saturated Fat:
4
g
Polyunsaturated Fat:
4
g
Monounsaturated Fat:
3
g
Trans Fat:
0.02
g
Cholesterol:
100
mg
Sodium:
517
mg
Potassium:
73
mg
Fiber:
0.04
g
Sugar:
1
g
Vitamin A:
303
IU
Vitamin C:
1
mg
Calcium:
27
mg
Iron:
1
mg