This Tuna Noodle Casserole from scratch delivers a modern twist on the retro classic while staying true to its humble roots! A huge crowd pleaser!
Pair this hearty casserole with a crunchy and vibrant Rainbow Slaw for a perfectly balanced meal.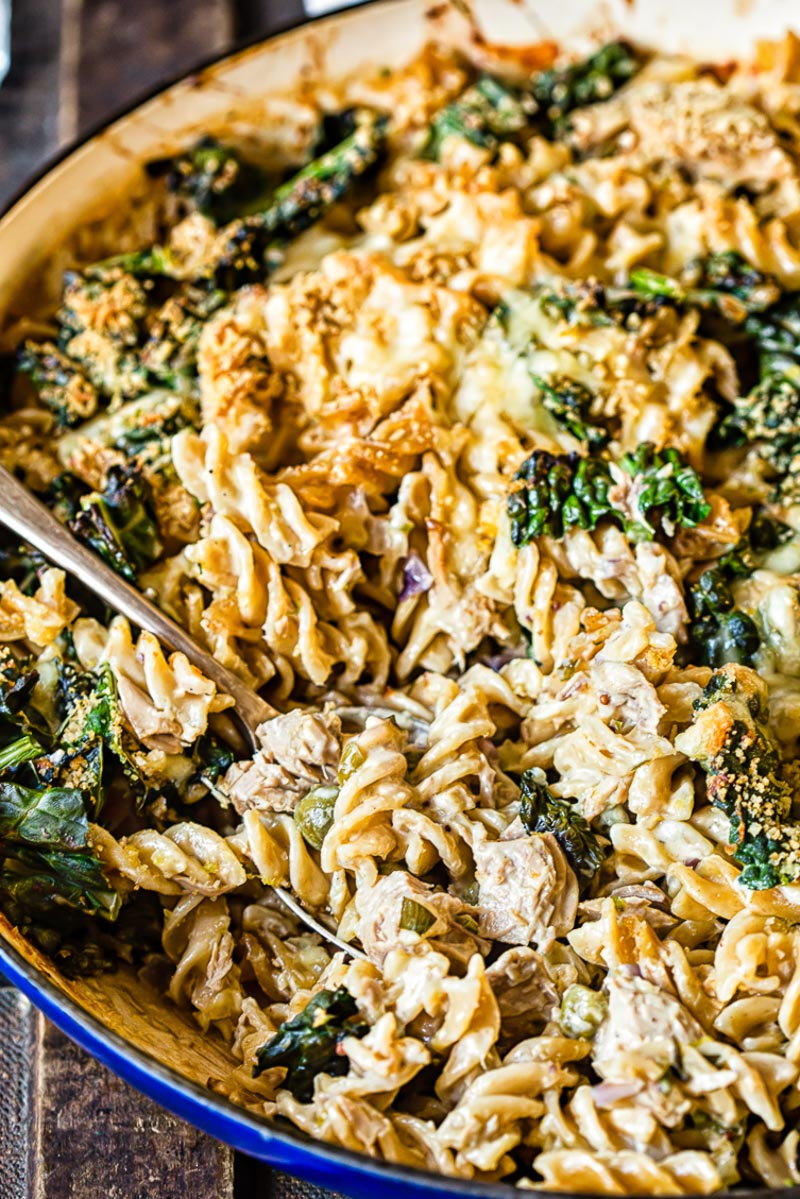 Thank you Arla Lactofree for sponsoring this post and keeping Vikalinka kitchen cooking!!
Tuna Noodle casserole usually evokes quite strong feelings. Both good and bad. I didn't grow up eating this American classic but I have experienced it as a young adult while attending college in Minnesota.
I can't say I was thrilled whenever it was on the menu. The tuna noodle casserole, we were served in our college cafeteria, was quite a bland mixture held together by copious amounts of Campbell's cream of mushroom soup and mayonnaise. No, it didn't leave a good impression.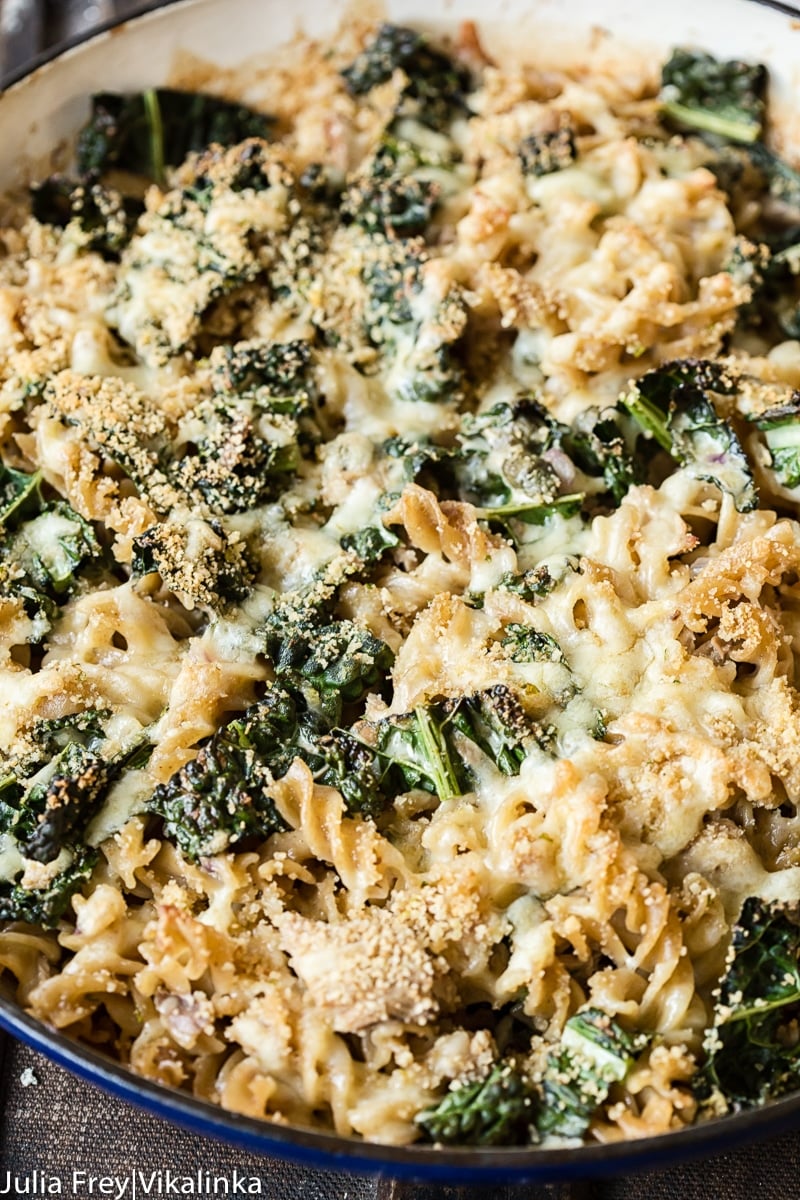 Tuna Noodle Casserole From Scratch
What possessed me to re-make it you might ask? I guess the realisation that the basis of it is quite good, and if used with quality ingredients and infused with flavour, could be healthy and nutritious.
Not to mention, extremely cheap. Yes, tuna noodle casserole is very inexpensive way to feed a crowd. It is also quite convenient as you can make it ahead of time and freeze it until needed. The quality will remain the same.
The idea for this tuna noodle casserole came from a tuna melt I made one day using tuna, capers, mayo, mustard and tarragon on a slice of sourdough.
I was just playing around and using the ingredients I had. When I took the first bite, the taste of it blew my mind! So turning the sandwich into a hot casserole made from scratch was a no brainer.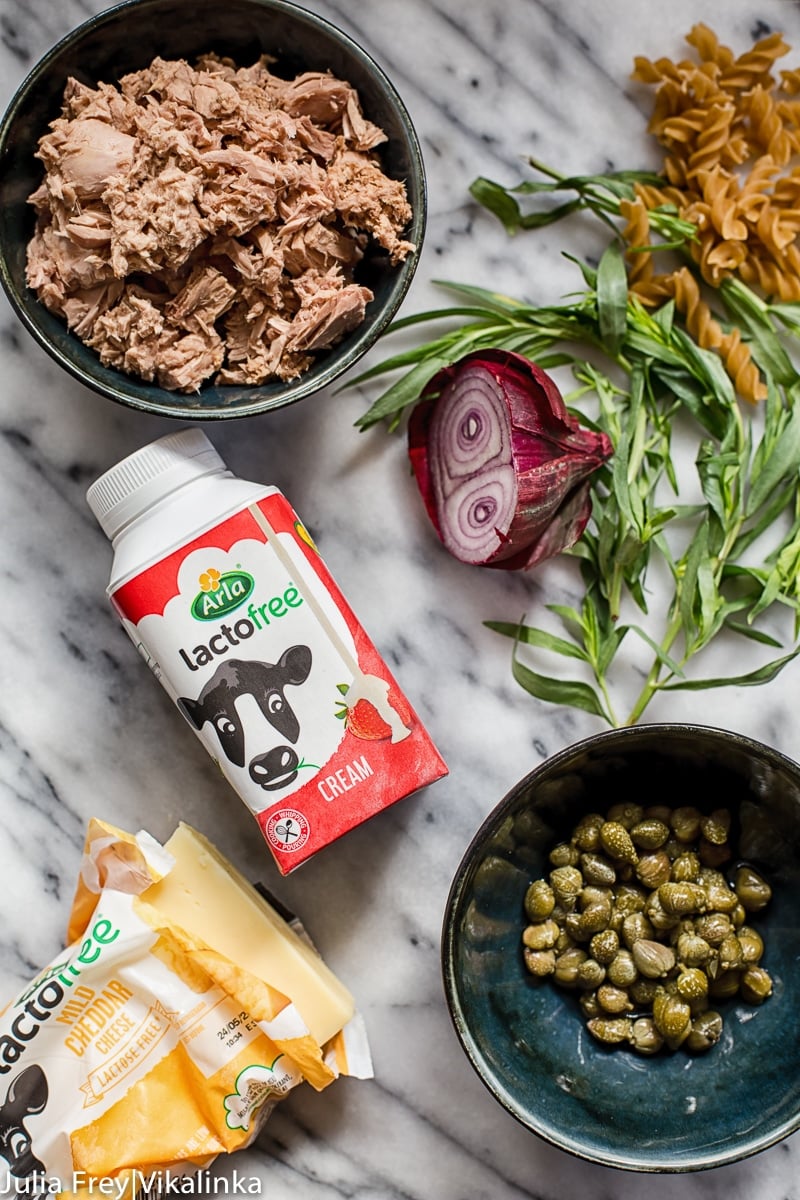 How To Make It
The recipe I am sharing today is a creamy and cheesy riff off the retro version we all know. I updated the recipe by swapping out the Campbell's cream of mushroom sauce for a much more sophisticated, homemade cream sauce.
This homemade sauce is very easy to make and it actually compliments the rest of the ingredients instead of competing with them like the cream of mushroom soup does. Capers, tarragon (game changer), a splash of white wine and dijon mustard all work so well in combination with tuna.
Let me tell you…this dish was such a hit with my kids. It became an instant family favourite. If you don't like tarragon, use parsley but I beg you to give tarragon a chance.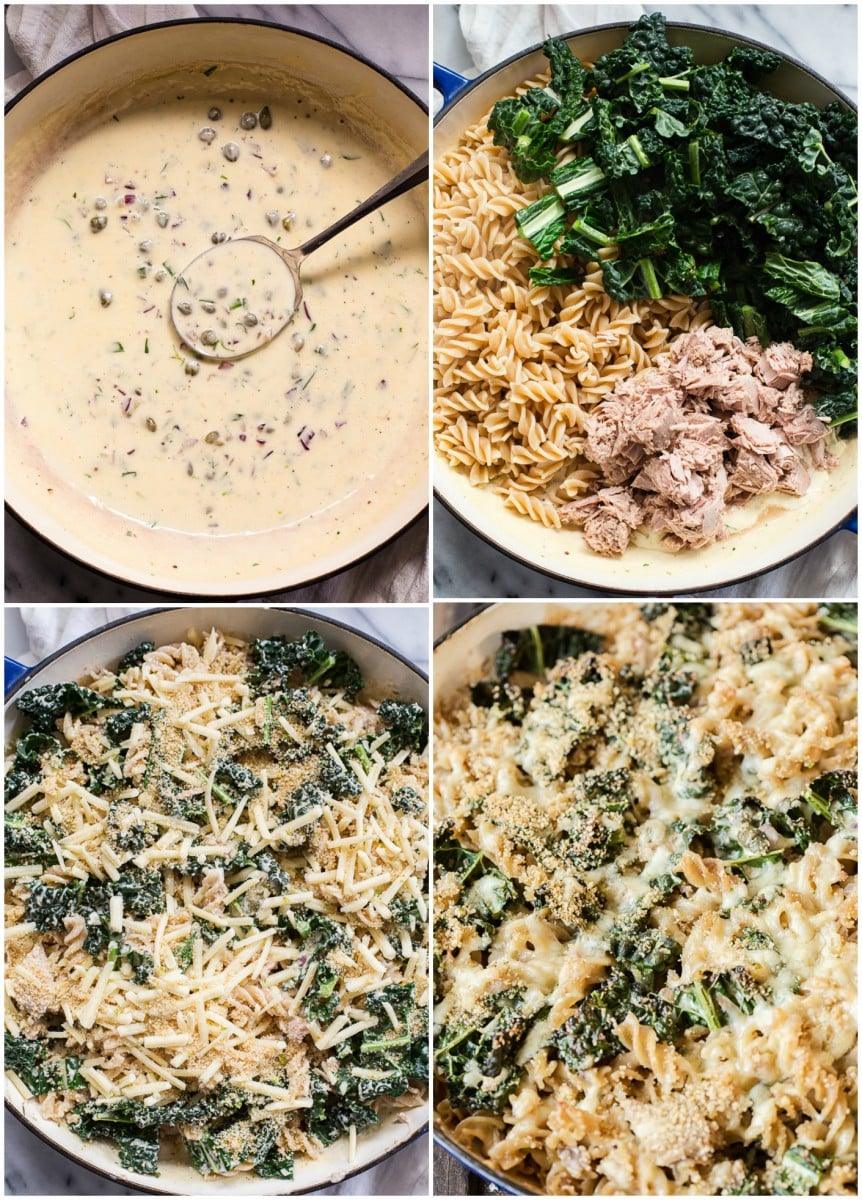 Add Some Fibre
I decided to use wholewheat fusilli and also added cavolo nero kale for extra nutrition. Top finish it off, I sprinkled some cheese and herb and garlic breadcrumbs.
I know it may sound like a presumptuous statement but I think I created the tastiest tuna noodle casserole ever!! Another win is it takes 30 minutes to prepare and it is so inexpensive!!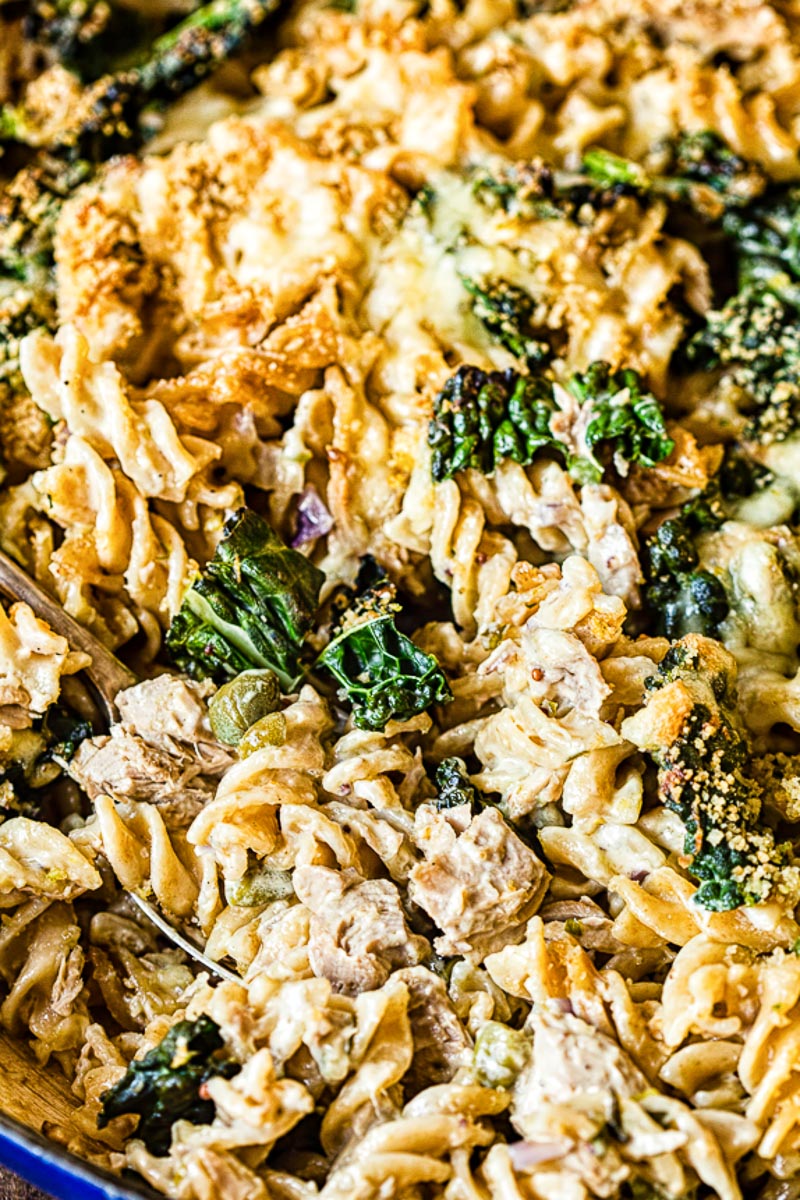 Serving Suggestions
One of the best things about this dish is that it's a one pan dinner since we have starch, protein and a vegetable cooked together.
So all you need to round off your meal is a delicious Winter Salad.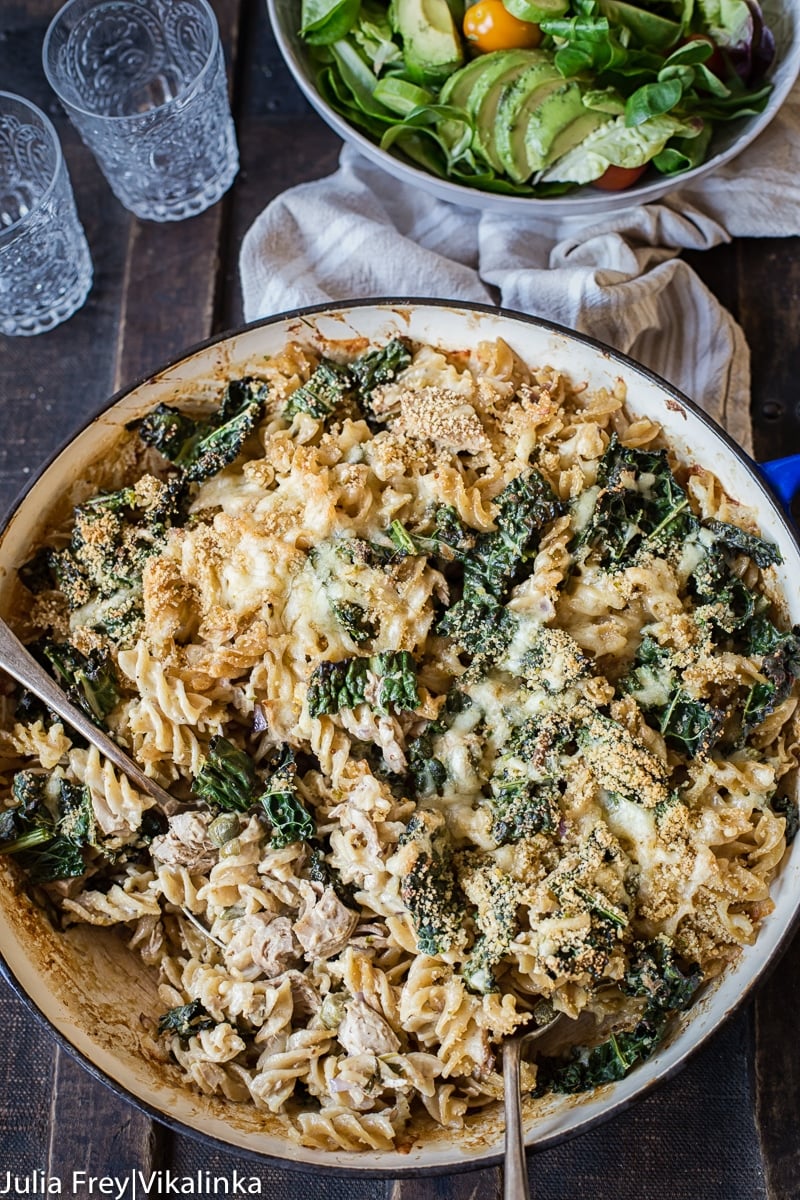 More old fashioned casserole recipes with a modern twist: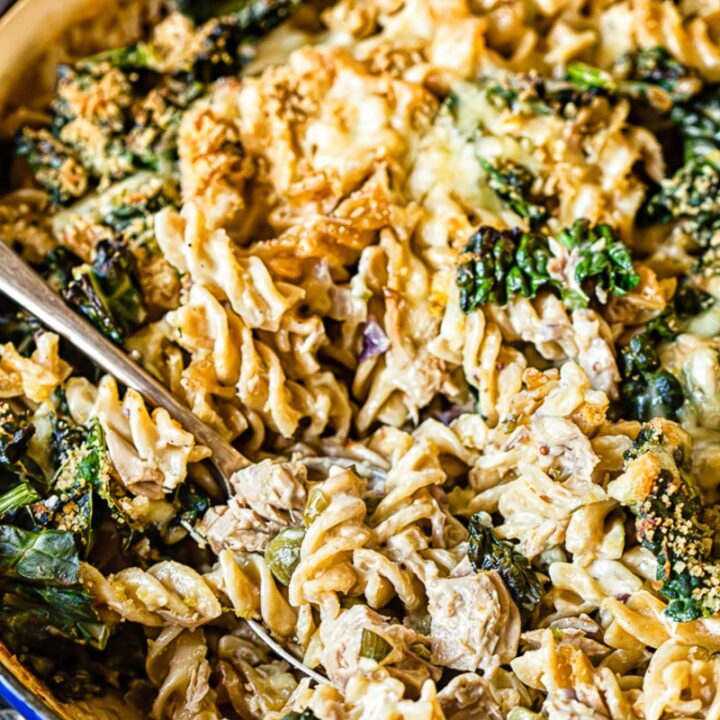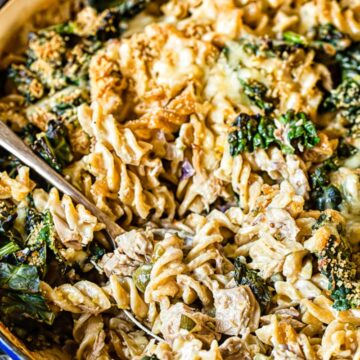 Tuna Noodle Casserole with Kale
This old fashioned Tuna Noodle Casserole with all the modern updates like wine and caper cream sauce as well as kale is far from boring!
Print
Pin
Rate
Ingredients
2

tbsp

butter

½

onion

chopped

1

tbsp

fresh tarragon leaves or ½ tsp dried tarragon

chopped

1

tbsp

flour

125 ml

/1/2 cup white wine

250 ml

/1 cup single/light cream or half and half

2

tsp

dijon mustard

2

tbsp

capers

salt and pepper

320g/

/10 oz canned tuna

packed in water

½

lbs

wholewheat pasta

100 g

/1 cup kale or spinach

chopped

75 g

/1/2 cup cheddar cheese

grated

2

tbsp

herb and garlic breadcrumbs
Instructions
Bring water to a boil, add 1 tsp of salt and cook pasta according to package directions.

Preheat the oven to 200C/400F.

Make the cream sauce by melting the butter in a large pan and sautéing chopped onion with fresh tarragon in it over low heat until onion is tender and tarragon is fragrant for approximately 7 minutes.

Add flour and cook while stirring for one minute, then add wine, let it bubble for a few seconds, then add cream, mustard and capers, cook for additional 3-4 minutes over medium heat until the sauce thickens slightly, add salt to taste and take it off the heat.

Drain pasta when cooked and add directly to the sauce, then add drained tuna, chopped kale, gently toss to combine, add additional salt if needed.

Sprinkle with cheese and breadcrumbs (* At this point you can freeze the casserole and cook it at a later date.) Or if cooking immediately, bake in the preheated oven uncovered for 20 minutes until the top is golden and the tuna noodle casserole is heated through.
Nutrition
Calories:
585
kcal
|
Carbohydrates:
56
g
|
Protein:
36
g
|
Fat:
23
g
|
Saturated Fat:
13
g
|
Cholesterol:
92
mg
|
Sodium:
1277
mg
|
Potassium:
639
mg
|
Fiber:
1
g
|
Sugar:
1
g
|
Vitamin A:
3174
IU
|
Vitamin C:
32
mg
|
Calcium:
307
mg
|
Iron:
4
mg