Turn autumn vegetables into a colourful, vibrant coleslaw! With a little help of a food processor this stunning Rainbow Slaw with Lemon Garlic Tahini Dressing is ready in just 10 minutes!
For a coleslaw perfect for a holiday table, try this Festive Red Cabbage Slaw!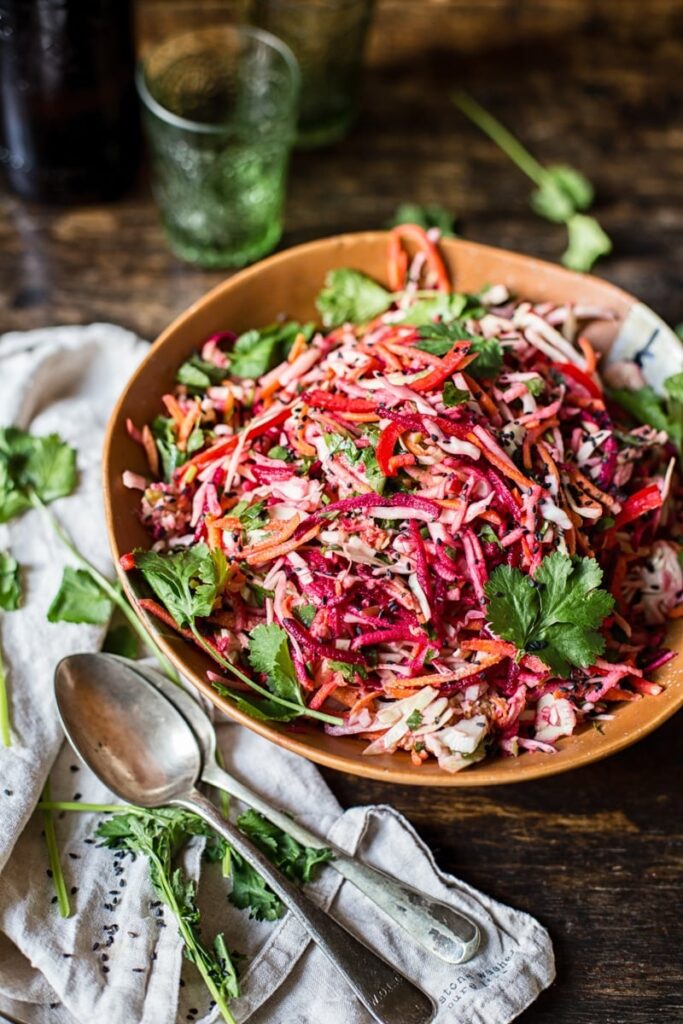 It's always a good idea to eat seasonably as much as possible so that fruit and vegetables are as fresh as they can be. Autumn is a fantastic time of year for seasonal recipes that are heavy in stunning vegetables.
To celebrate the bounty of this year, I am making dishes that do just that, letting fresh and seasonal vegetables shine in all their colourful, crunchy glory!
The idea for this rainbow slaw came to me at night as I was wondering what to do with a new pile of vegetables in my fridge. This slaw has been created to show off the beautiful vegetables in the full range of colours, crowned with a vibrant dressing.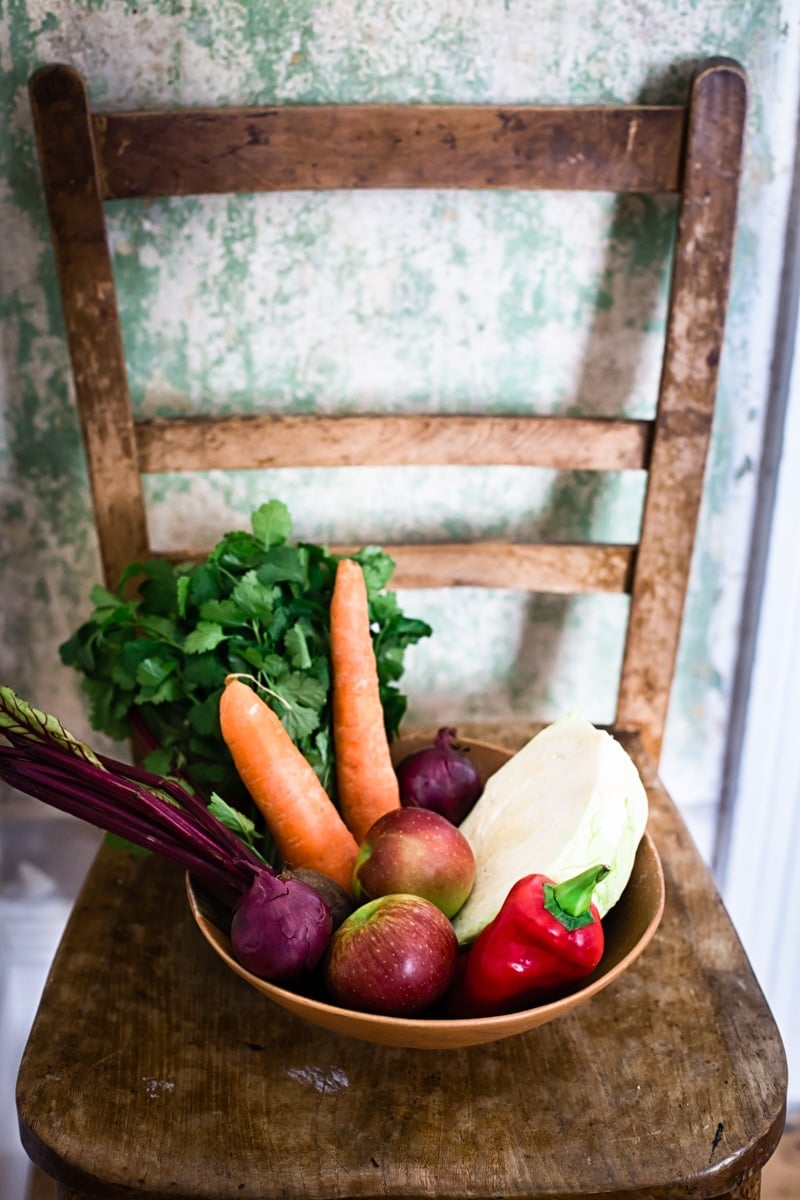 The combination of slightly bitter cabbage, spicy onion and sweet beets, carrots and apples is lovely. They all bring something special to the mix, with a diverse range of flavours that meld beautifully.
The no mayo dressing is designed to add to the autumn flavours. The light nuttiness of tahini and fresh lemon juice with floral olive oil adds to the taste of the slaw while still letting the fresh flavours shine.
The result is a slaw that looks as tastes as good as it looks, making it a stunning addition to the dinner table. It's a fresh side dish that is a perfect match with savoury meat dishes like roast chicken or pork loin roast.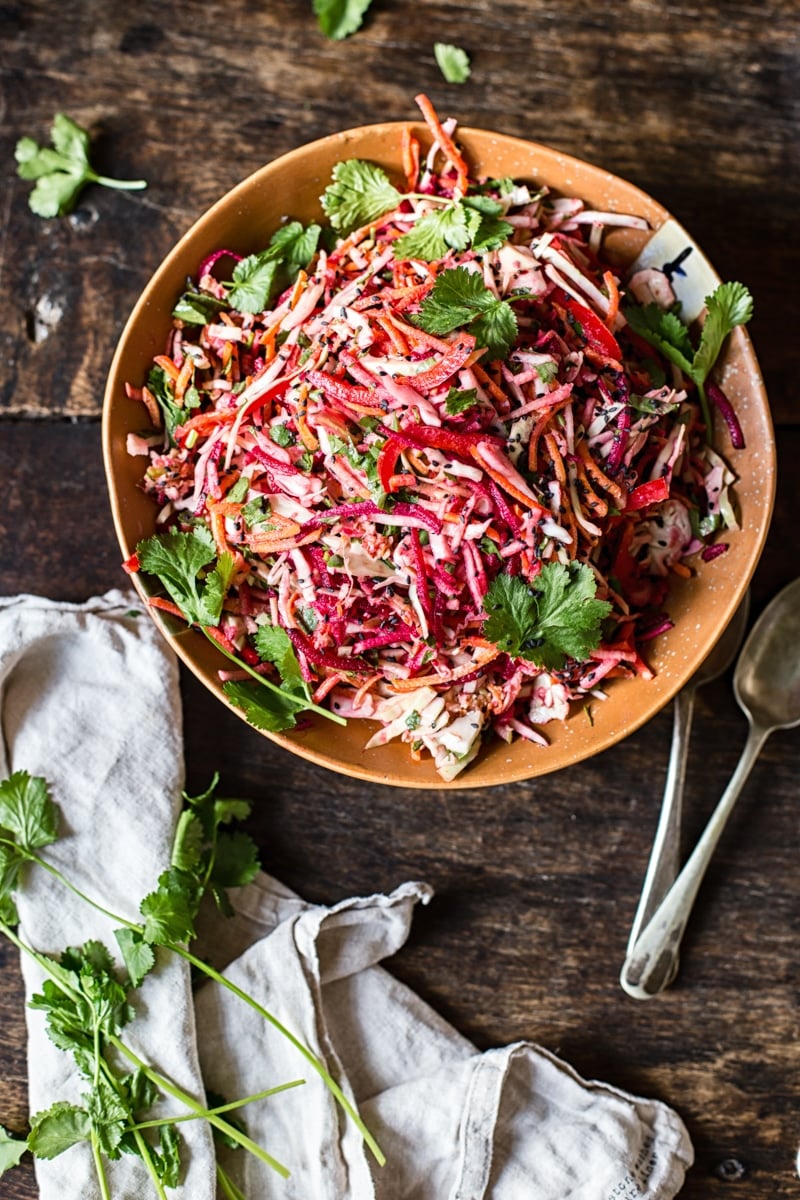 Making Rainbow Slaw
I am sure I won't be the only one thinking that preparing vegetables deters us from recipes like this one. It takes a while to peel and cut them, doesn't it!
That is why I am such a huge believer in the right equipment for the kitchen. I don't love gadgets but I do love useful appliances like a food processor. I'm a huge fan of mine and use it almost daily.
This pile of vegetables took a whole FIVE minutes to turn into a slaw. Why would you buy a store ready-made mix that costs double and comes out dry or, worse yet, discoloured!
If you don't have a food processor, then a mandoline will help you to have evenly cut vegetables. Of course, you can cut the vegetables by hand if you really must! Just do you best to cut them thinly and evenly.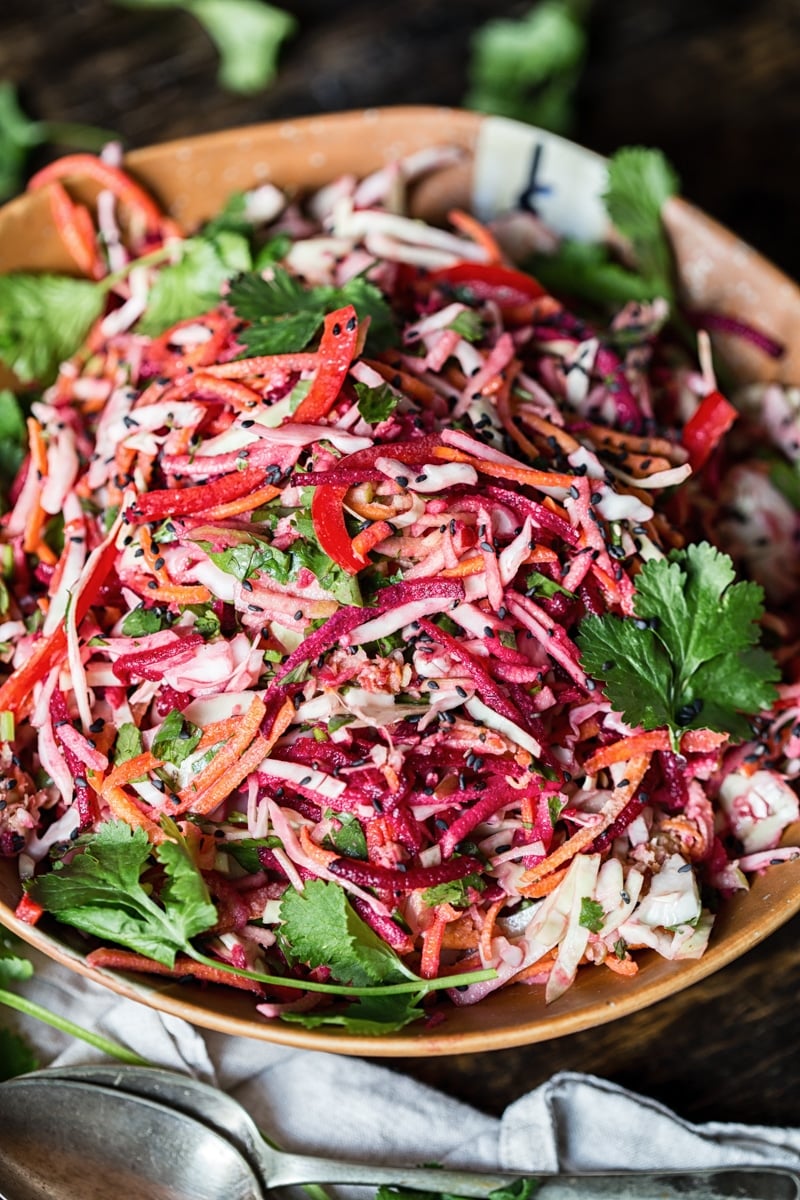 Coleslaw ingredients
Any salad made of crunchy vegetables can be called a 'slaw'. But to be a 'coleslaw' the salad needs to be made with cabbage. Any crunchy vegetables such as broccoli, radishes and even turnips can be included too.
For this coleslaw, I mixed a number of vegetables together that would be a tasty mix with lots of colours together for visual appeal. They also add a nutritious boost as different coloured vegetables are rich in various vitamins and minerals.
One last word about beets, or beetroot as it is called in England. They are a polarising vegetable that people either love or hate.
If you love it, you are already with me. But if you hate beets, I suggest trying them raw as they are in this rainbow slaw. Raw beets are delicious in salads and taste surprisingly similar to carrots!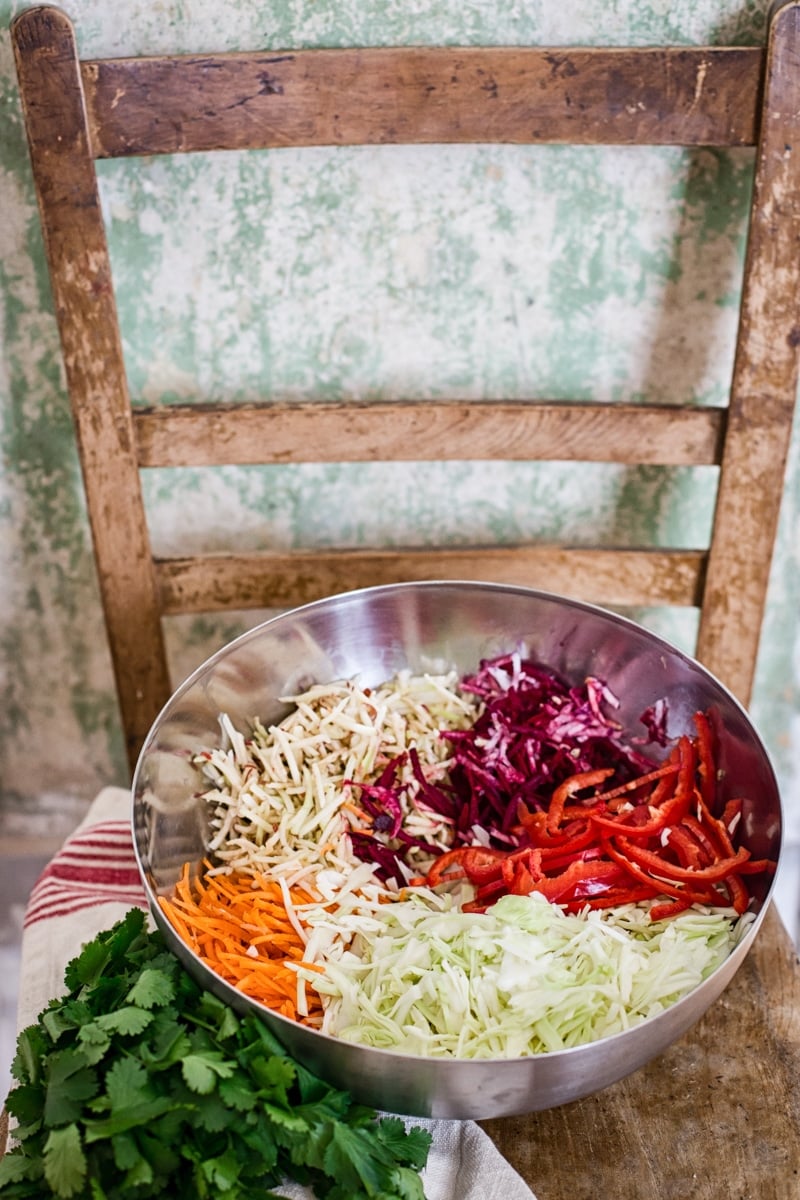 The dressing recipe
For many people, classic coleslaw is made with a mayonnaise dressing, but I love the chance to try something different. I've created this rainbow slaw as a no mayo coleslaw option, which also happens to make it vegan!
This version is a very healthy option, made with all natural ingredients. I built the dressing around tahini, the same ingredient that gives hummus its great taste. I've then added lemon, garlic and olive oil to really add some punch!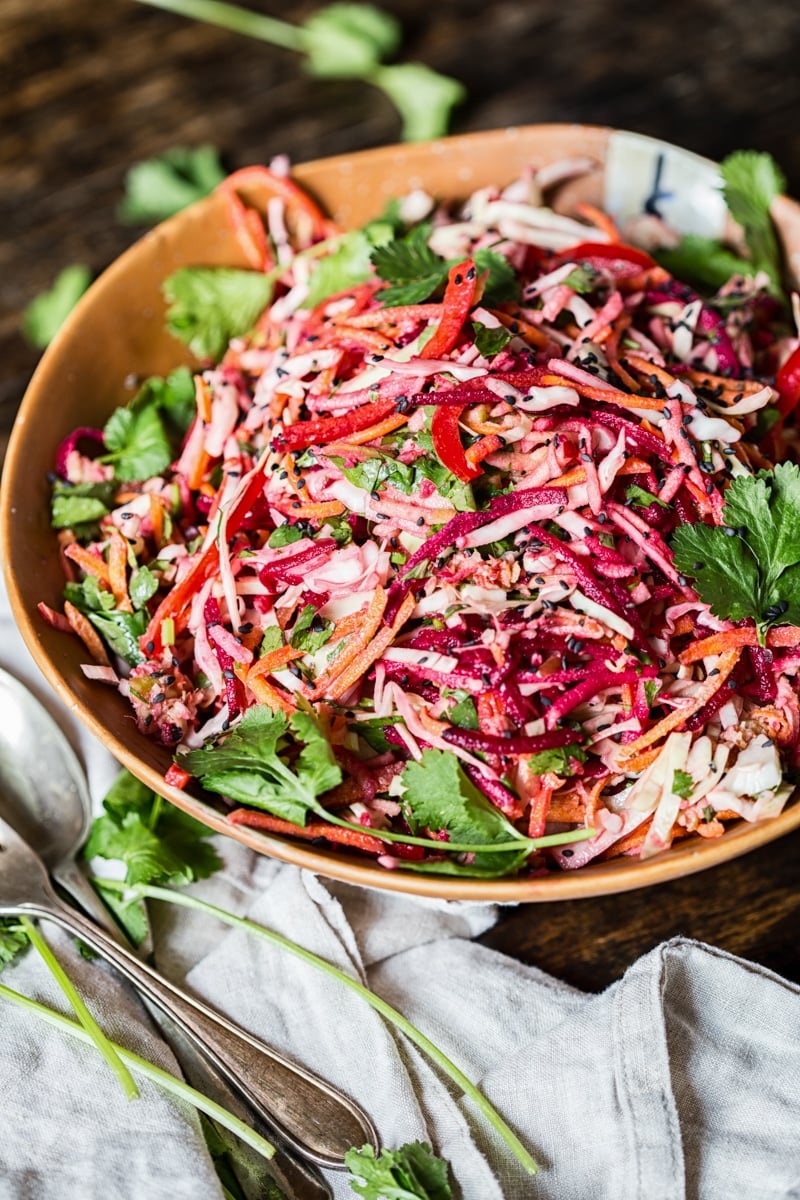 More fresh side dishes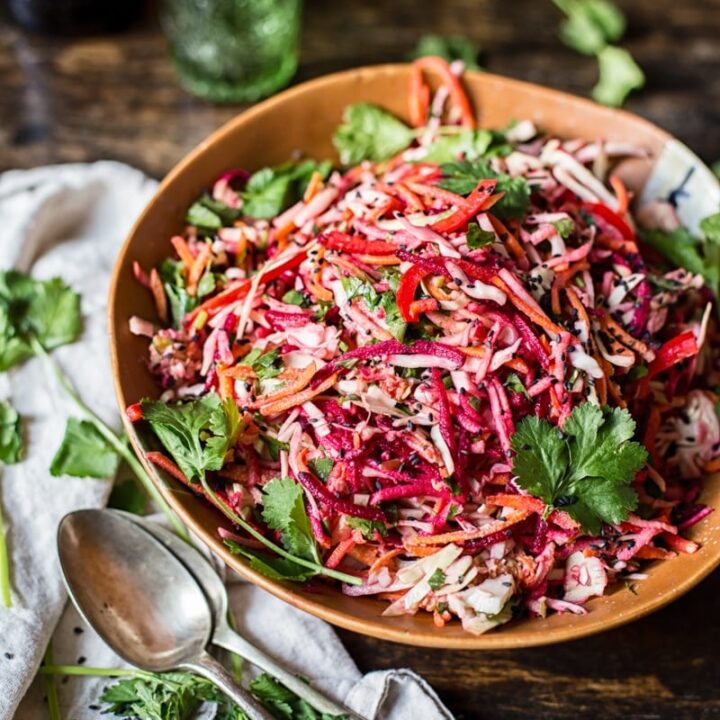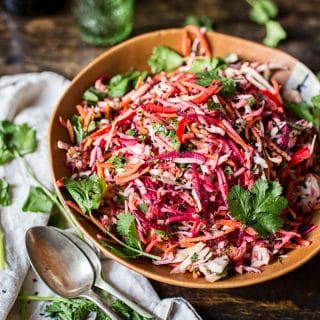 Rainbow Slaw with Lemon Garlic Tahini Dressing
A stunning rainbow slaw with a fresh dressing, ready in 10 minutes!
Ingredients
For the rainbow slaw
½

small white cabbage

core removed

1

large red pepper

2

apples

1

beet

1

small red onion

1

large carrot

a large bunch cilantro/coriander

chopped
For the lemon garlic tahini dressing
⅓

cup/85 ml

tahini paste

1

tbsp

olive oil

1

garlic clove

crushed

1

lemon

juice of

4-5

tbsp

cold water

salt to taste

black sesame seeds

optional
Instructions
Fit your food processor with a slicing blade and cut cabbage and red pepper using it.

Wash and scrub all the vegetables well but do not peel. Remove the ends from beets and carrots. Then switch to a large grating blade and process the rest of the vegetables. Alternatively you can use a sharp knife to cut the cabbage and red pepper and a vegetable grater for the rest.

Chop cilantro and combine all vegetables in a large bowl.

In a jam jar combine all the dressing ingredients but the water and shake vigorously to combine. Add water 2 tbsp at a time to achieve a desired consistency.

Add half of the lemon garlic tahini dressing to the slaw and toss gently to coat. Salt to taste. Sprinkle with sesame seeds. (Keep the remaining dressing in a fridge for another use.)
Nutrition
Calories:
135
kcal
Carbohydrates:
17
g
Protein:
3
g
Fat:
7
g
Saturated Fat:
1
g
Polyunsaturated Fat:
3
g
Monounsaturated Fat:
3
g
Sodium:
320
mg
Potassium:
320
mg
Fiber:
4
g
Sugar:
9
g
Vitamin A:
1833
IU
Vitamin C:
52
mg
Calcium:
53
mg
Iron:
1
mg