Nothing better than a freshly made coleslaw to complement your summer BBQ or a picnic. Crunchy mix of white and red cabbage with julienned carrots in a tangy mayonnaise dressing is simply delicious.
Use this delicious slaw to top our Asian pulled pork sandwiches for an epic dinner everyone will rave about.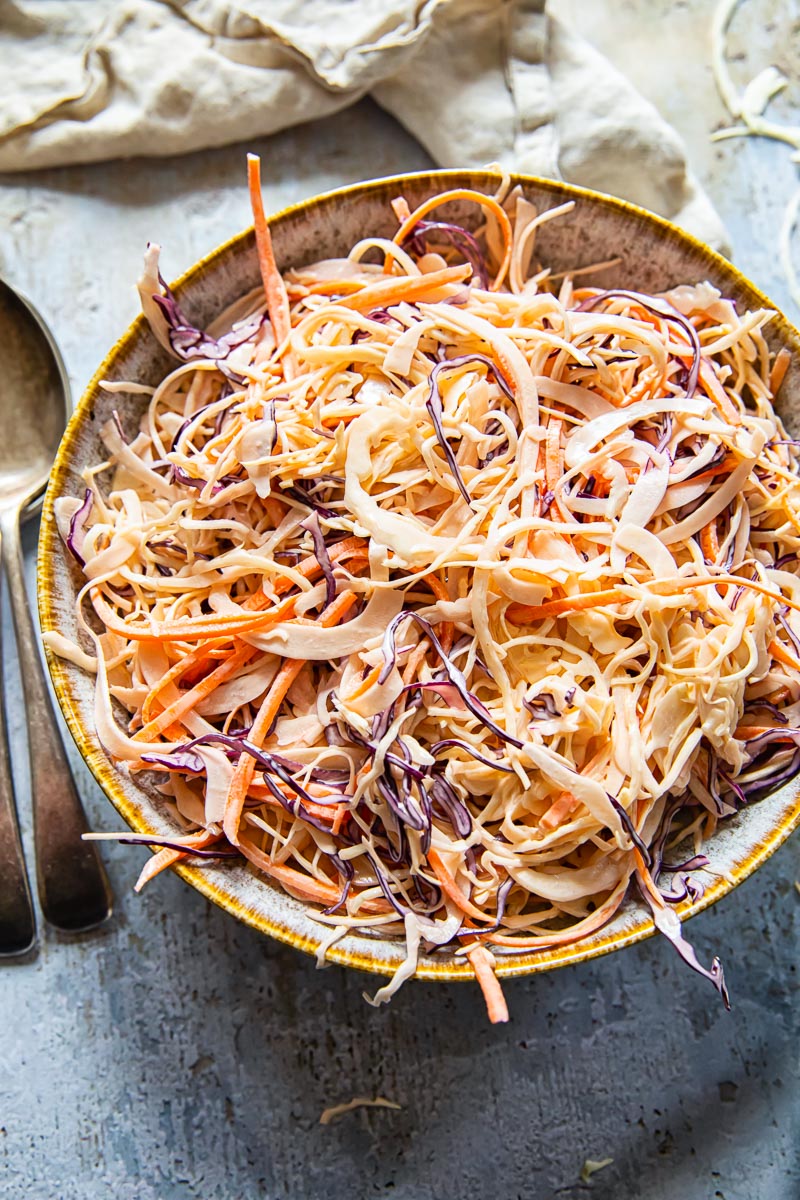 As warmer weather is approaching, the BBQ season is upon us. Bring on burgers, hot dogs and a myriad of side salads. I don't know about you but my summer menu always includes my epic potato salad and a coleslaw.
Slaw Recipe
Over the years I shared many creative slaw recipes like Rainbow Slaw with Lemon Garlic Tahini Dressing or Festive Red Cabbage Slaw. I even developed recipes using more exotic flavours like my Carrot and Cucumber Slaw for an Asian salmon recipe or Cilantro Lime Slaw for pulled pork tacos.
However, I have yet to share a classic recipe I use over and over again. It's simple and delicious.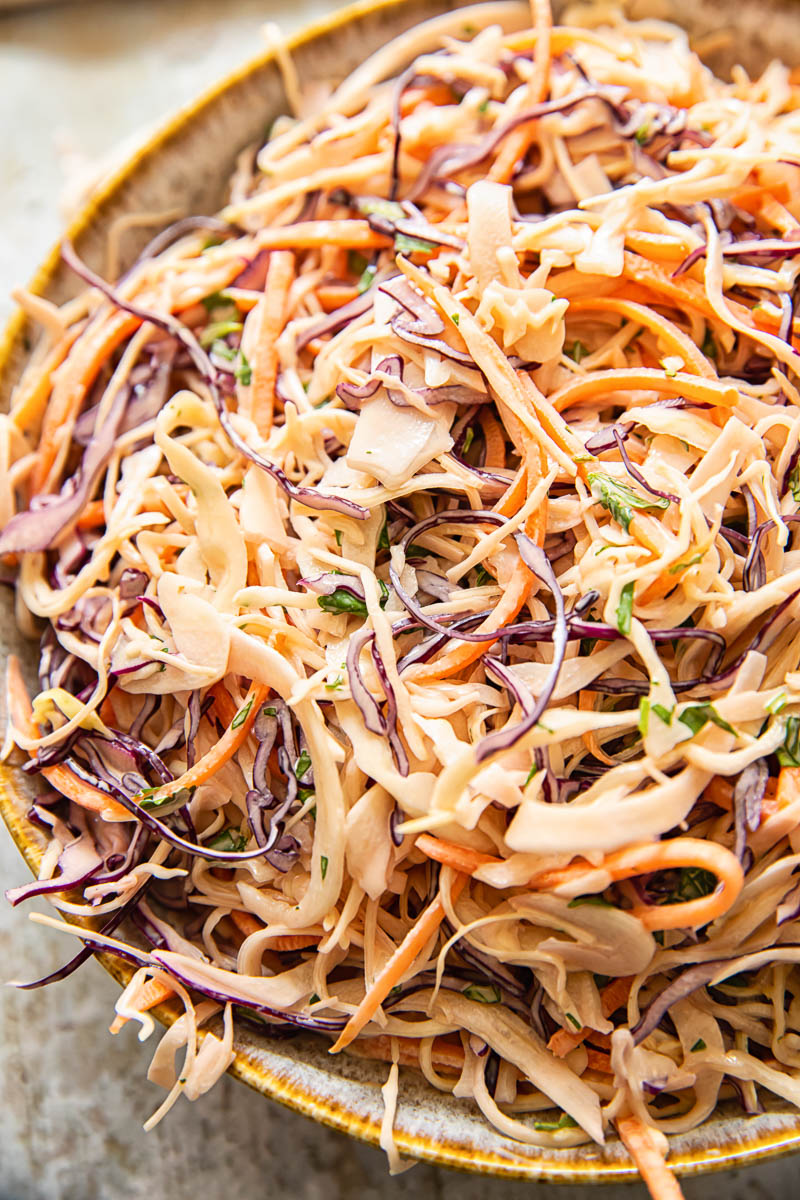 What is coleslaw?
To share a traditional coleslaw recipe we should look at what qualifies any dish to be called a coleslaw. And also…what is a slaw and are they different?
Any crunchy vegetables in a salad form can be called a slaw like my Carrot, Zucchini and Radish Slaw. However, a salad needs to have cabbage, as a primary ingredient, to be called "coleslaw". Cabbage is the 'cole' in the slaw.
Any cabbage can be used. White, red, Savoy, you name it!! I prefer my coleslaw to be 3 parts white cabbage, 1 part red cabbage and 1 part carrots.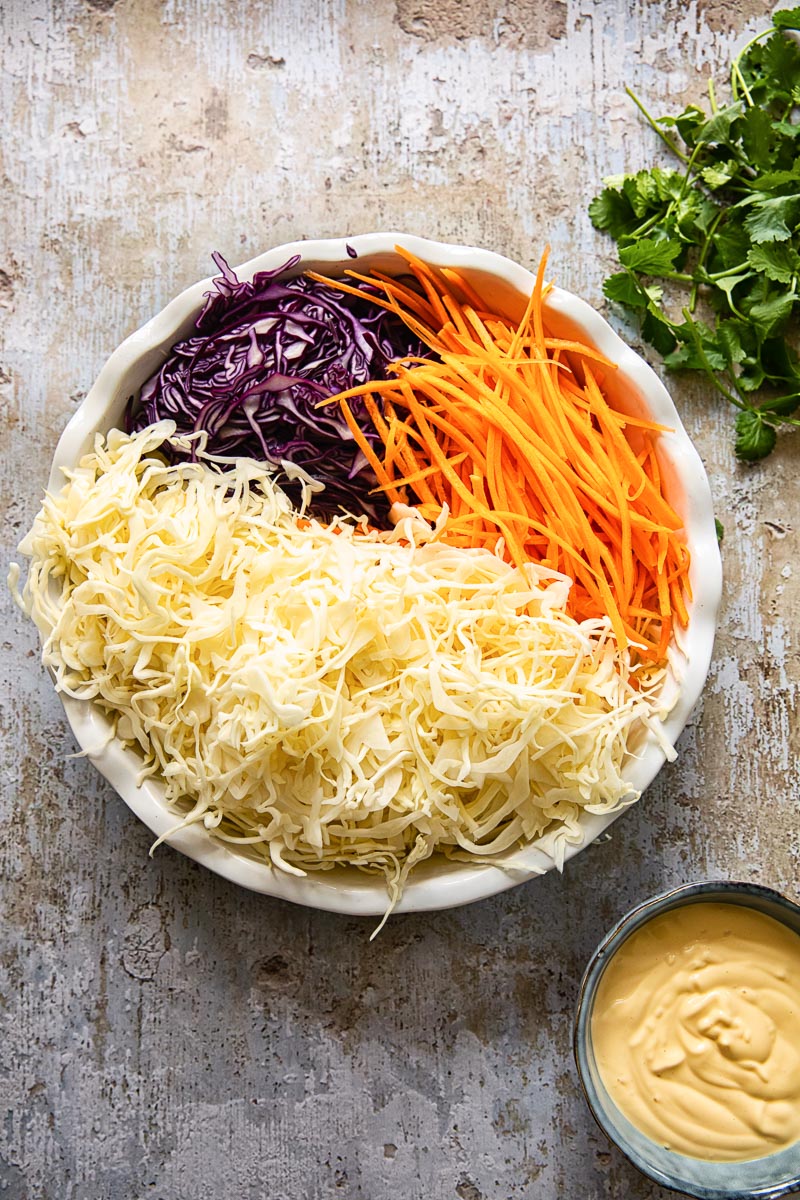 The Dressing Recipe
People seem to have strong opinions about the dressing. There are two camps. One firmly believes a coleslaw should have a creamy mayonnaise based dressing. And the other one insists it's too heavy, and a perfect slaw should be dressed with a mix of vinegar, sugar and oil.
Both could be considered classic as mayonnaise wasn't even invented until the 1800s, and the coleslaw has been in existence for much, much longer.
I personally love both but for the classic recipe I use a mix of mayonnaise, white wine vinegar, salt, pepper and a touch of Dijon mustard. No sugar. I rely on the carrots to provide the natural sweetness. But feel free to add some if that's your preference.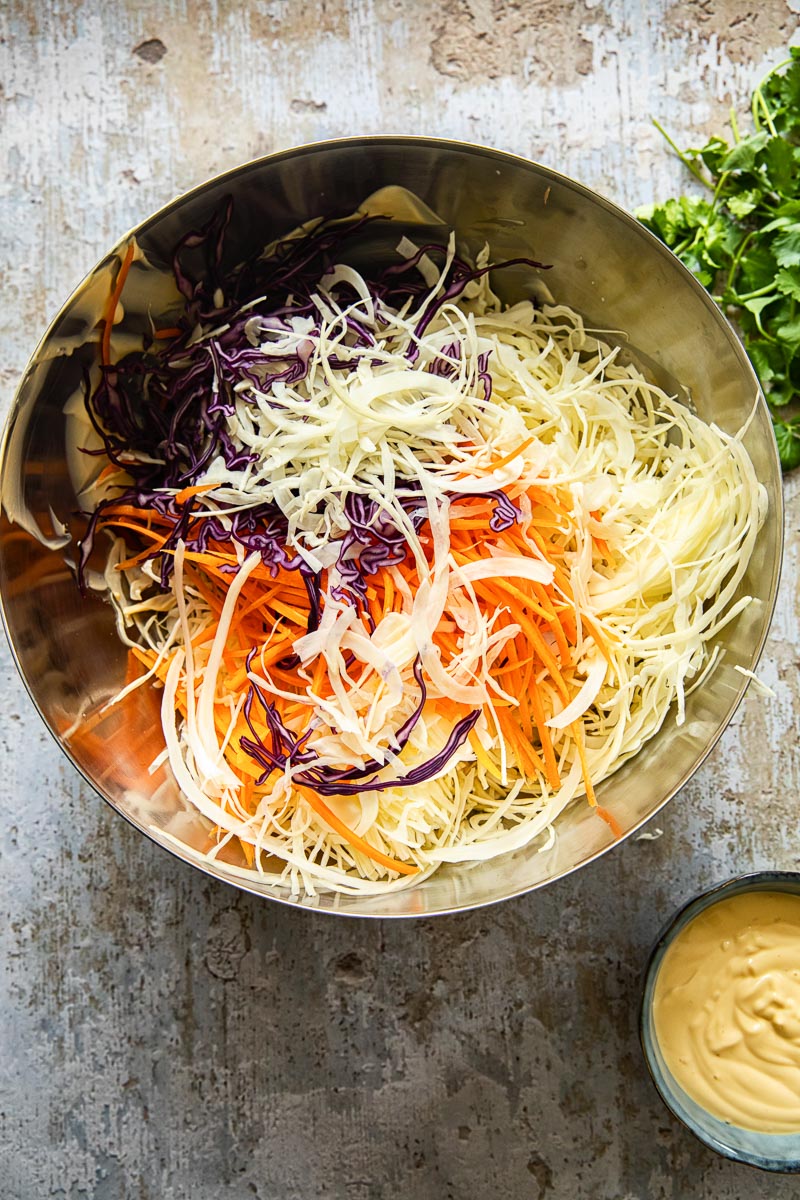 Recipe Tips and Notes
Texture is everything is a coleslaw. Slice your cabbage as thinly as possible. That is especially true for the red cabbage as it tends to be quite a bit tougher than the white one. Use a mandoline if you have one.
I prefer to cut my carrots in long thin strips using a julienne peeler but grating it works just as well.
My preferred coleslaw mix ratio is 3 parts white cabbage, 1 part red cabbage and 1 part carrots. This way the red cabbage adds a nice burst of colour but doesn't overpower the slaw.
I also like to add soft herbs to my slaw for extra flavour. Cilantro is one of my favourites but feel free to omit it if you are in favour of the pure traditional slaw.
While I realise everyone has their favourite slaw dressing, I believe mine is quite special. A mix of mayonnaise, white wine vinegar, and a touch of Dijon dressing with salt and pepper is delicious and complements the cabbage so well. I don't put sugar in mine but you definitely can!! You can also use apple cider vinegar for a milder, fruitier taste.
If you like a sweeter taste, add an apple. So delicious!
Experiment with mayonnaise from other countries! Japanese Kewpie Mayonnaise is absolutely delicious albeit a bit expensive. So if you want to save money but still enjoy a higher quality mayo, check out Russian stores if there are any in your area. Russian mayonnaise is ridiculously tasty and will make your salad dressing stand out! I always get asked for my recipe whenever I use it.
Finally, don't let the lengthy slicing stop you from enjoying a coleslaw, get a mix from your supermarket and get ahead of the game. Adding your own dressing and mixing it fresh will still taste better than a prepared salad from a deli!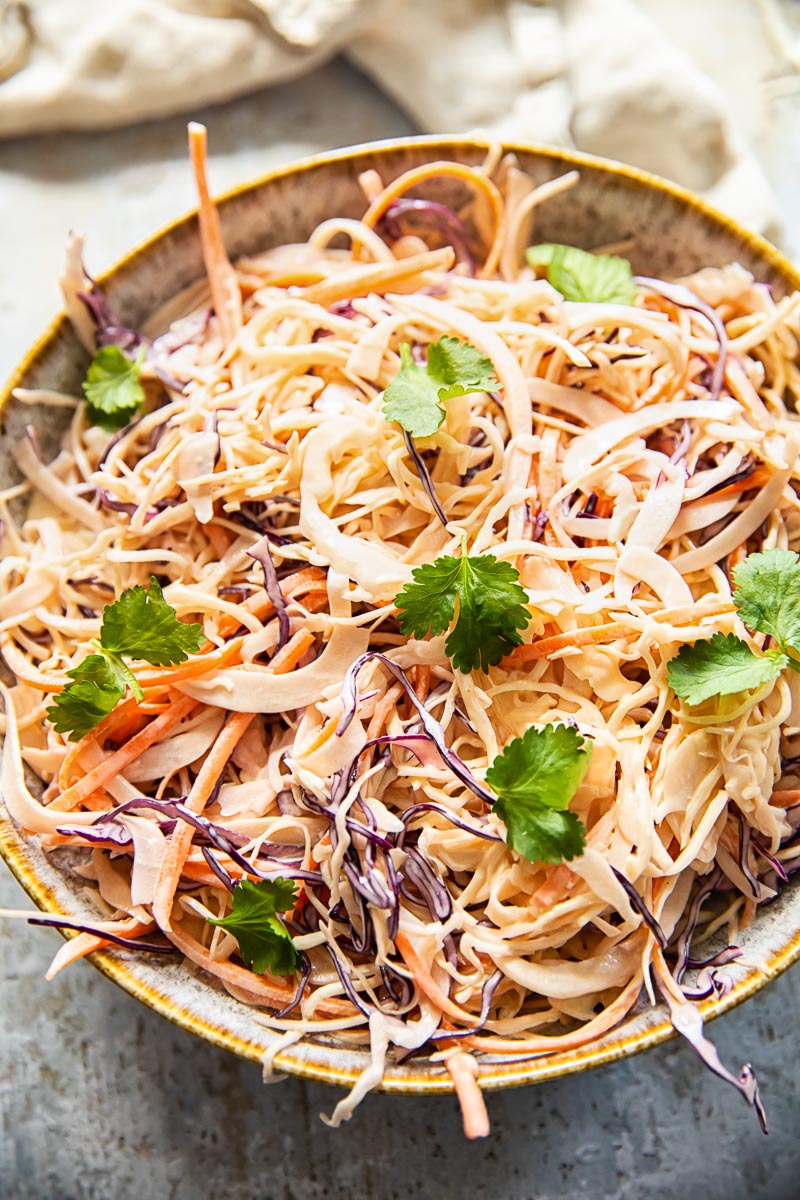 How long it keeps
One of the reasons I love coleslaw as it keeps much longer than a lettuce based salad. It doesn't wilt and the taste does not deteriorate. It's the perfect side dish to bring to a picnic.
This slaw will keep well in your fridge for up to 5 days. Although I have to say that the cabbage will release quite a lot of liquid if it's hanging in your fridge for this long.
More BBQ and Picnic Side Dishes to Try: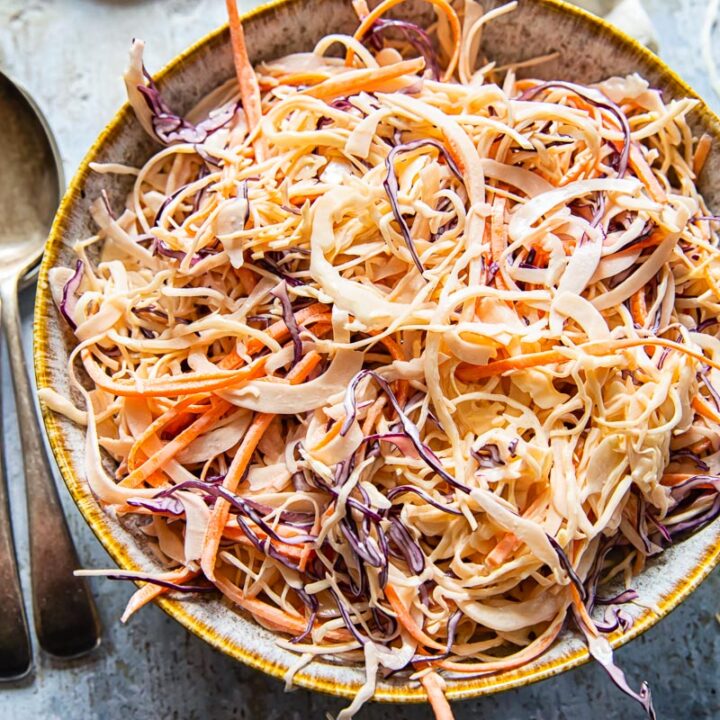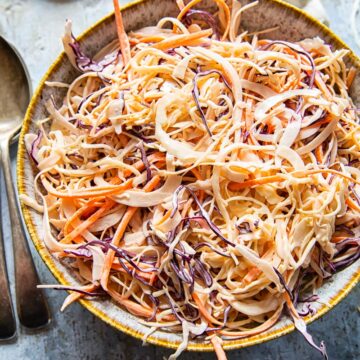 Classic Coleslaw Recipe
Crunchy mix of white and red cabbage with julienned carrots in a tangy mayonnaise dressing are simply delicious.
Print
Pin
Rate
Ingredients
½ head(3 cups)

small white cabbage

thinly sliced

1/4/head(1 cup)

small red cabbage

thinly sliced

2

carrots

julienned or grated

20g/1/2 cup

chopped cilantro

optional

125ml/1/2 cup

mayonnaise

½

tsp

white wine vinegar

or apple cider vinegar

1

tsp

Dijon mustard

salt and pepper to taste
Instructions
Slice the white and red cabbage thinly. Use a mandoline if you have one. Grate the carrots or use a julienne vegetable peeler to cut them into long thin strips. Chop up the cilantro leaves if using. Combine all ingredients in a large bowl.

Mix the mayonnaise, white wine vinegar and Dijon mustard in a small bowl. Add the dressing to the slaw and toss to combine. Season with salt and pepper to taste.
Nutrition
Calories:
124
kcal
|
Carbohydrates:
4
g
|
Protein:
1
g
|
Fat:
12
g
|
Saturated Fat:
2
g
|
Trans Fat:
1
g
|
Cholesterol:
7
mg
|
Sodium:
416
mg
|
Potassium:
138
mg
|
Fiber:
1
g
|
Sugar:
2
g
|
Vitamin A:
2877
IU
|
Vitamin C:
18
mg
|
Calcium:
24
mg
|
Iron:
1
mg