Learn how to make burger patties from ground beef for the best, juiciest homemade burgers! Then take them up a notch by adding our 2 Hour Hamburger Buns and our special burger sauce.
Don't forget our famous potato salad if you are hosting a barbecue!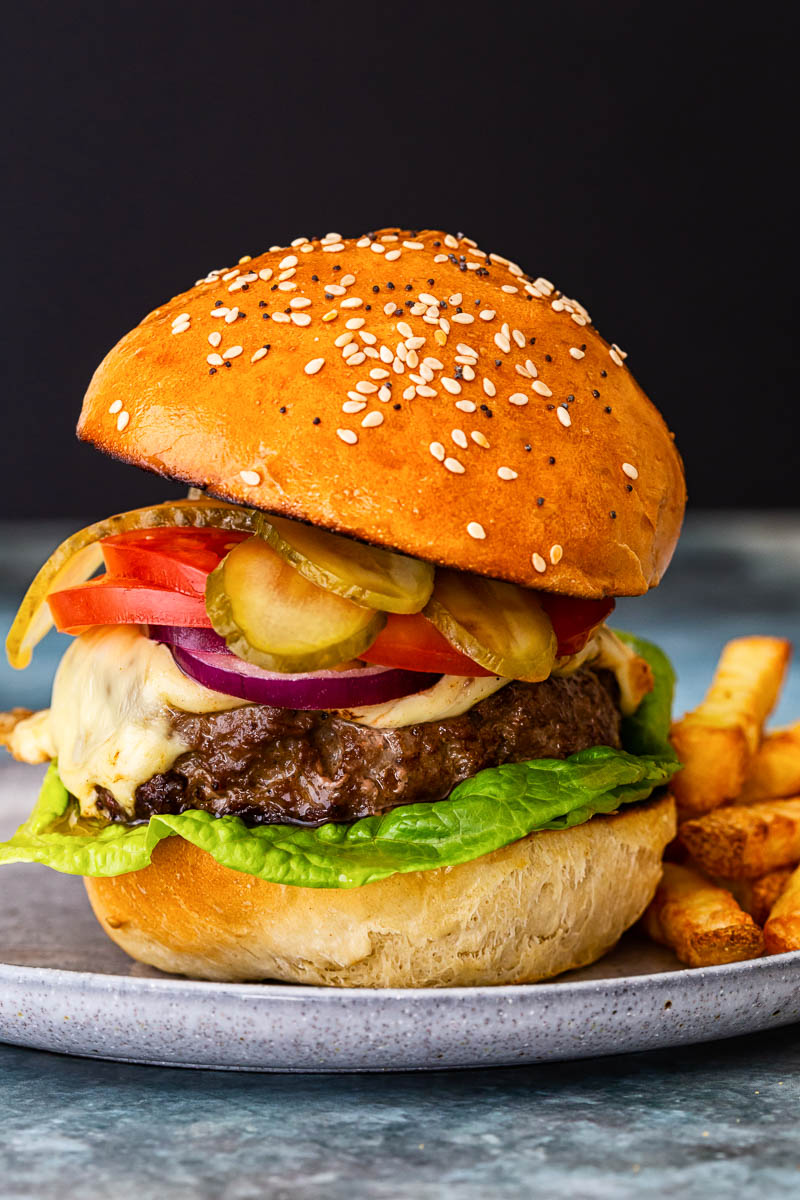 One the things my husband laments more than anything about our life in London is the absence of a decent burger. It's not that they don't make good burgers here but it's not a given like it is in North America.
You need seek good hamburger places out and never forget what they are. So we make our own burger to avoid disappointment! Another reason is choosing crazy delicious toppings and sauces.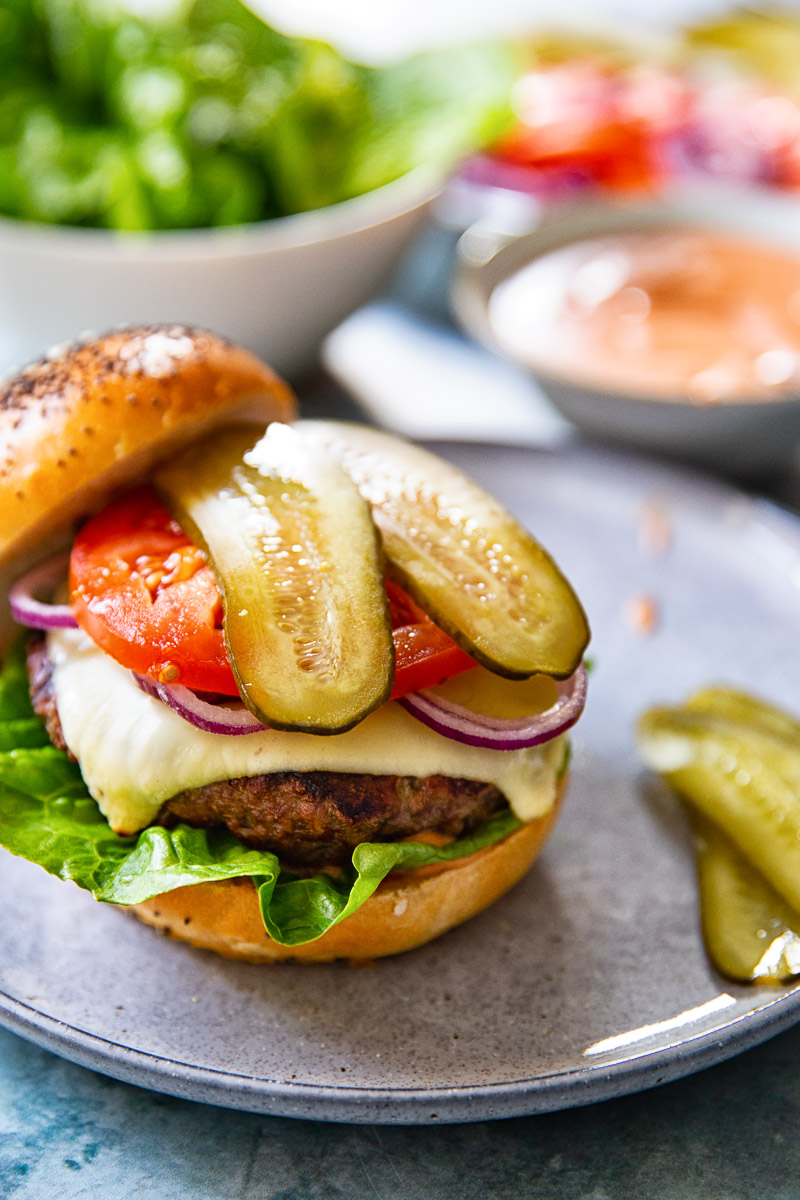 Best Homemade Beef Burger Recipe
I don't want summer to be over before I get a chance to share our family burger recipe. There is nothing fancy about it. It's classic but over the years of cooking and experimenting we settled on this method for the best homemade burgers.
And of course it would be foolish not to admit that a proper burger starts with the best quality beef! And a very good bun. For this reason I prefer making my own buns. They are perfect. Soft and fluffy but with enough substance, so they do not disintegrate in your hand when you add a juicy burger and sauces.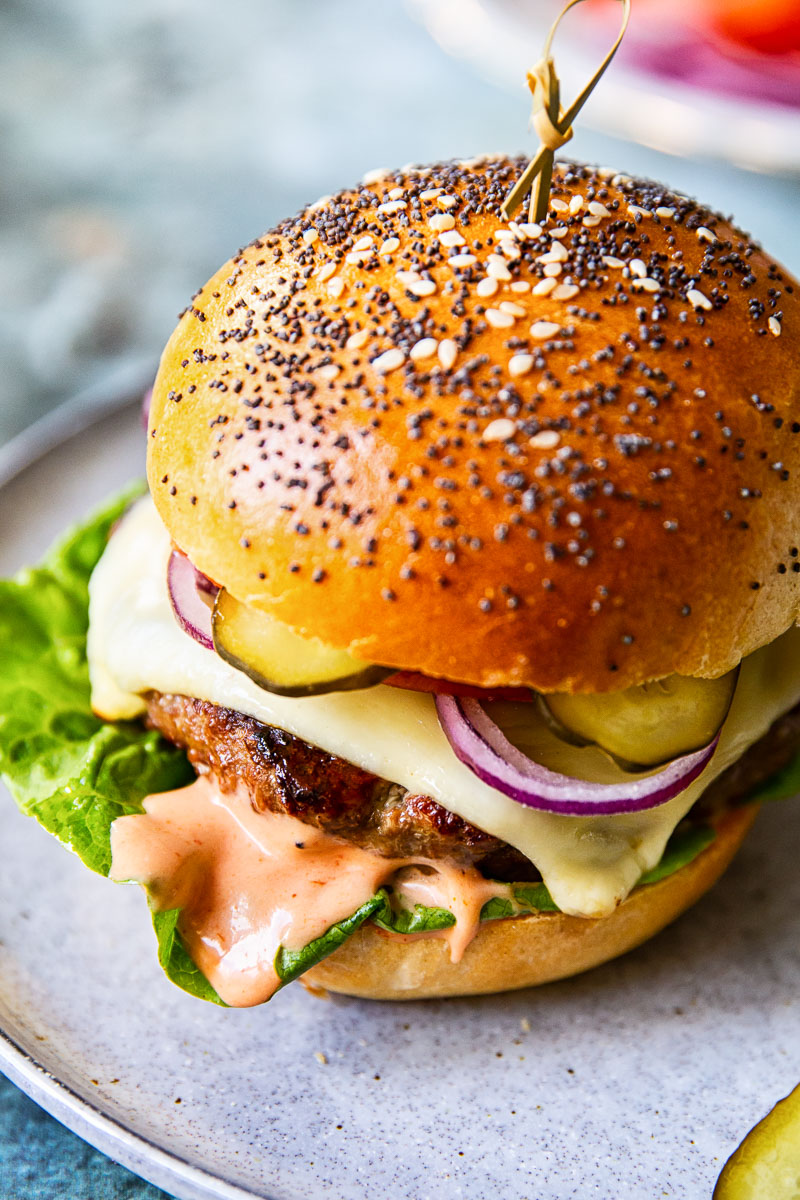 How to make burger patties from ground beef
I know there are burger purists out there, who don't believe in adding anything to the beef. I am not one of them. I like my meat to be seasoned but not too much. I believe seasoning is necessary to enhance the taste of the beef.
Ingredients
Here is what I add to my ground beef. A small grated or blended onion, salt and pepper. I also add an egg to bind the mixture together. That's it.
Julia's Tips
Another point I'd like to highlight is the beef quality and fat content. I often use lean or extra lean beef in my recipes but NOT in hamburgers.
You need to use ground beef that has at least 10% fat content for that juicy bite! Also buy the best quality beef you can afford. Meat quality makes all the difference.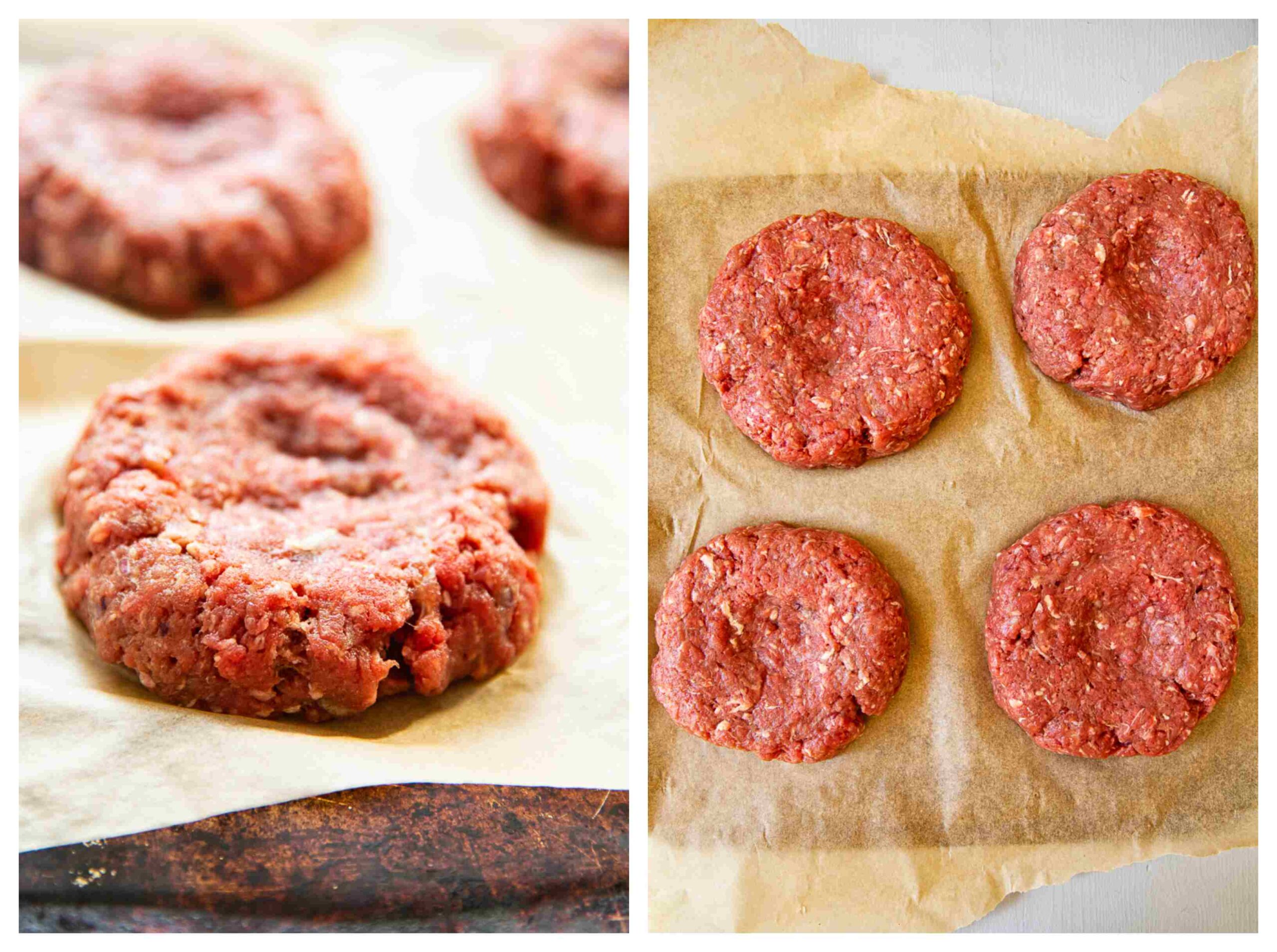 You might've noticed a small indentation in the middle of each burger patty in the photos above. Those are done intentionally to prevent the burgers from puffing up in the middle during the cooking process. A trick we learned years ago from a friend.
Finally, there is nothing worse than going through the trouble of making a perfect burger patty and then ruining it on the grill by overcooking it. If you are not confident your burgers are cooked all the way through, investing in a digital thermometer is a much better idea than eating dry burgers. The internal temperature of homemade burgers should be 160F/71C.
Burger Topping and Sauces
We all know that what you put on your burger is deeply personal but allow me just to give you a few of suggestions. What you do with your burger is your business.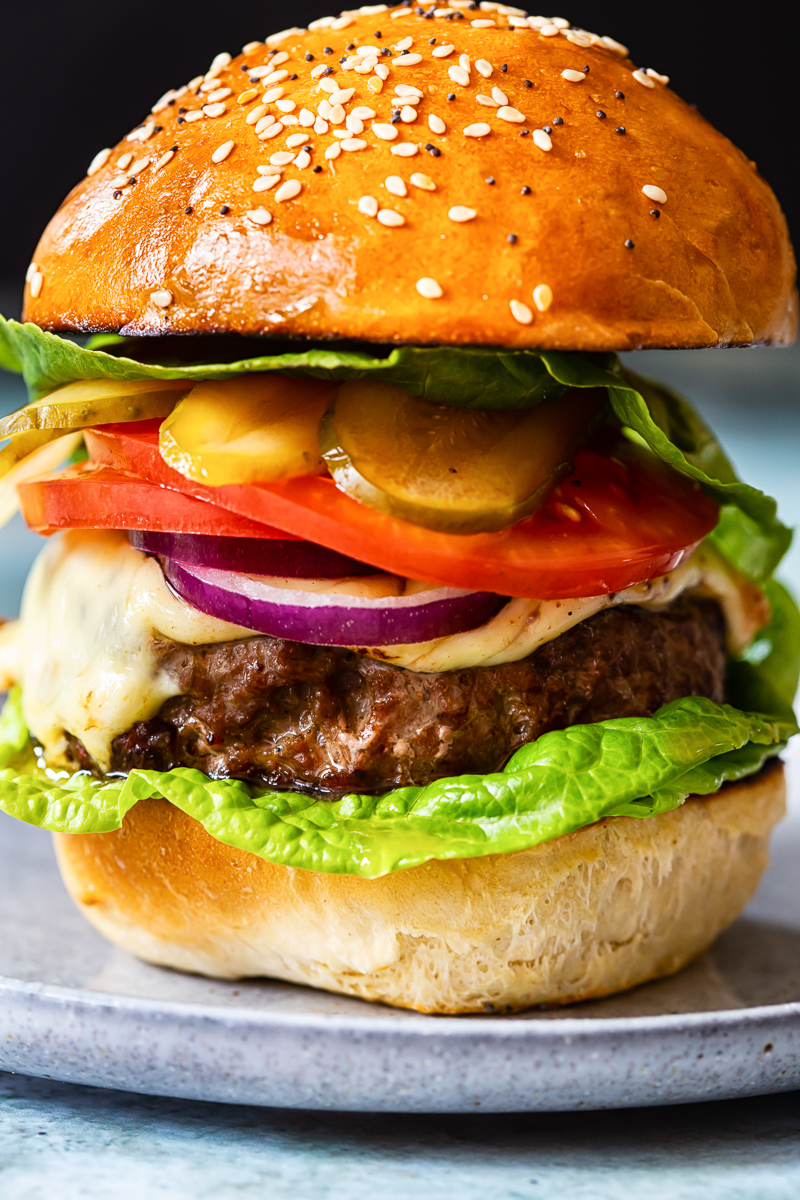 Cheese (I personally cannot imaging my perfect burger without a slice of melty cheese)
Sliced onions raw or cooked and caramelised
Sliced tomatoes
Sliced pickles
Fried mushrooms
Bacon (a personal favourite)
BBQ sauce
Our special sauce
The sauce we love to put on our burgers is a combination of mayonnaise, ketchup and a dash of sriracha sauce. It's sweet and spicy with a satisfying creamy texture. It's simply perfect!
What are your favourite topping? Let me know in comments!
Best side dishes for your next BBQ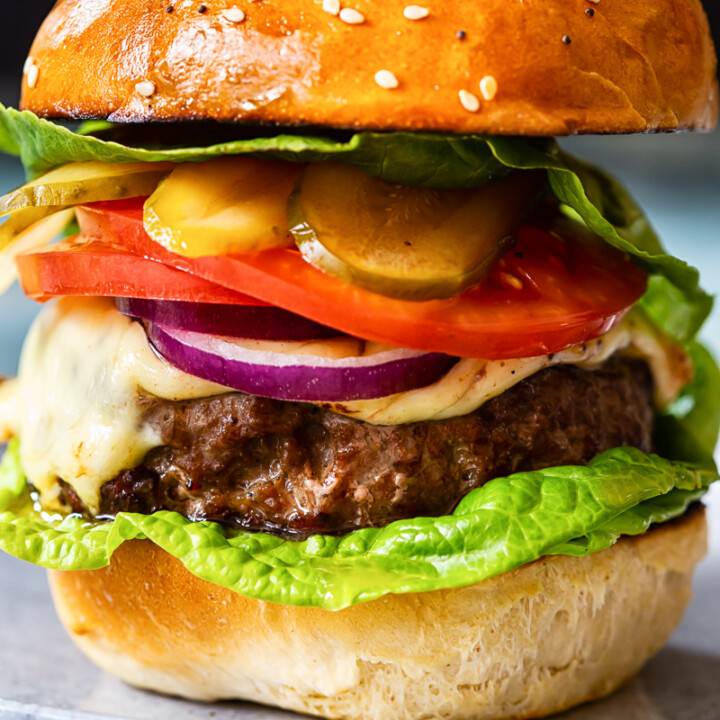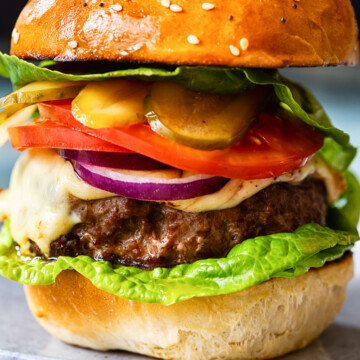 Best Homemade Burgers
Learn how to make burger patties from ground beef for the best, juiciest burgers!
Ingredients
650g/1.5lbs

ground beef

good quality, 10% fat

1

onion

small, grated

1

egg

1

tbsp

salt

1

tsp

black pepper
For the special burger sauce
2

tbsp

mayonnaise

2

tbsp

ketchup

1

tbsp

sriracha
Instructions
In a large bowl combine the ground beef, grated onion or blended onion, a beaten egg, salt and pepper. Do not overmix. Divide into 4 equal parts. I use a scale but it's not necessary. Then roll them into balls and using any flat surface like the bottom of a frying pan press them down to approximately 1 inch thick. Your hamburger patties should be slightly larger in diameter than your buns as they will shrink when cooked.

Then press an indentation in the middle of each burger with your thumb, this will keep the patties flat when cooking, otherwise they have a tendency to puff up in the middle. Arrange the burgers in a single layer on a parchment lined pan and chill them in a fridge for at least 1 hour. (This step helps patties to keep their shape on the grill.)

Grill your burgers for 5 minutes on each side. Cook time may vary depending on the level of heat from the grill. Be alert to any flare-ups from burning grease if using a BBQ. Do not press on your burgers while they are on the grill or all the juices will leak out. Add sliced cheese on top of each burger 1 minute before you take your hamburgers off the grill, cover with a lid and let the cheese melt. (If you are worried about your meat not being done, use a digital meat thermometer to check the internal temperature. It should read 160F/71C.)

In a small bowl combine the mayonnaise, ketchup and sriracha. Serve with the burgers along other toppings like lettuce, sliced tomatoes and pickles.
Nutrition
Calories:
496
kcal
Carbohydrates:
5
g
Protein:
30
g
Fat:
39
g
Saturated Fat:
14
g
Cholesterol:
159
mg
Sodium:
2068
mg
Potassium:
518
mg
Fiber:
1
g
Sugar:
3
g
Vitamin A:
98
IU
Vitamin C:
5
mg
Calcium:
42
mg
Iron:
3
mg