Finally a pasta salad recipe that LOOKS like a salad! Cherry tomatoes, red and yellow peppers, chives and olives dressed in a delicious basil vinaigrette. This summer staple is going to become a huge hit at picnics and BBQs.
Pair this vibrant salad with my Summer Party Mojito Grilled Chicken!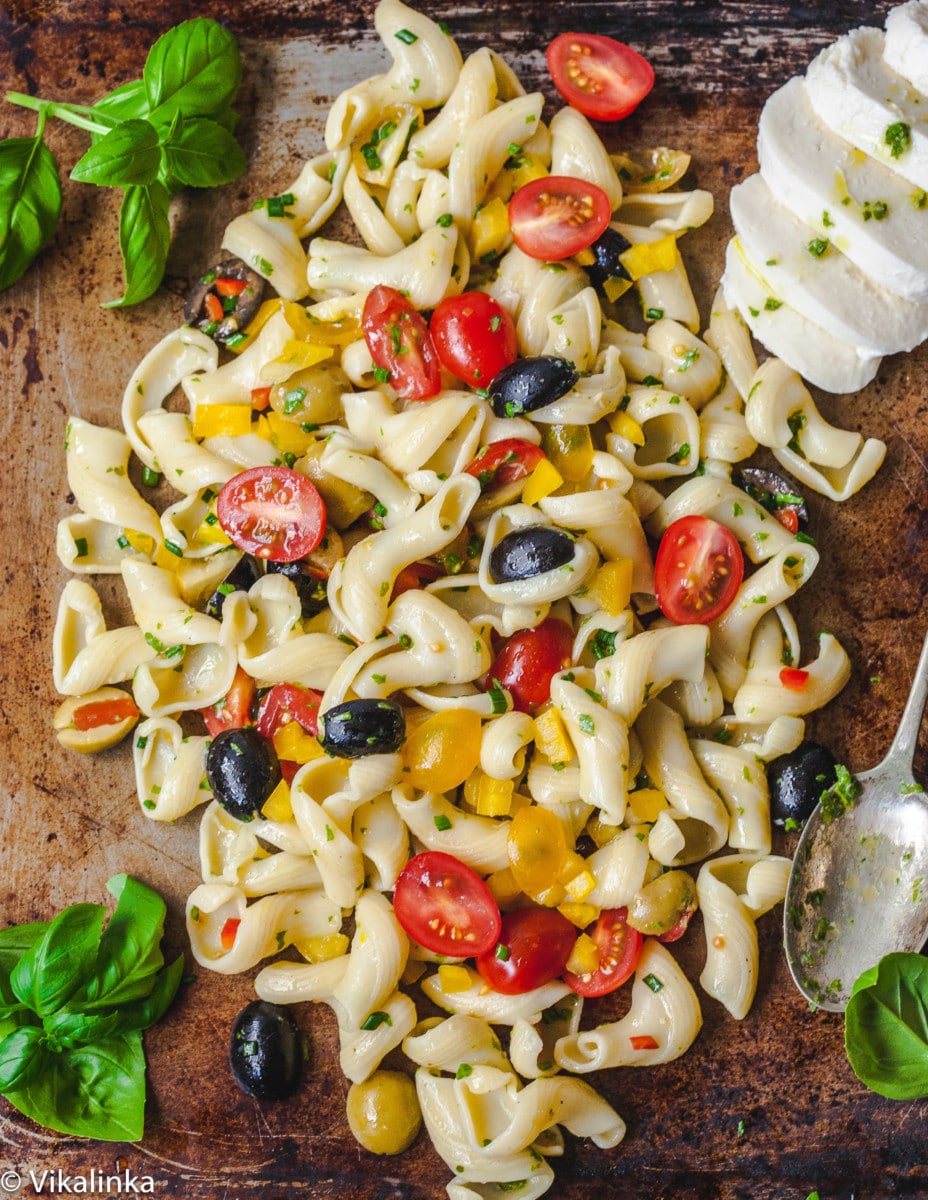 Pasta Salad Recipes
Who doesn't love a good ol' pasta salad recipe! Well, me actually. At least not the classic version of it, by which I mean an overcooked pasta drenched in mayonnaise. Just can't do it.
Pasta is such a great ingredient to use in salads in the summer but it's plain by nature, so it needs bold flavours to perk it up. This Greek Orzo Pasta Salad with Grilled Zucchini uses a zesty vinaigrette and briny feta cheese to do that.
My Green Goddess Pasta Salad relies on its homemade creamy Green Goddess dressing. It's chock full of fresh herbs!
And finally this Asian Noodle Salad, not what we traditionally think of, but a pasta salad of sorts nonetheless. It's absolutely packed with fresh, crunchy vegetables and a spicy peanut dressing delivers a light kick as well as loads of flavour!
How to make Italian Pasta Salad
This pasta salad recipe, however is my new favourite. First of all, it features the funnest pasta shape of all – trompetti or little trumpets.
Disclaimer: Trompetti pasta is not crucial to the success of this salad. I just chose it because it looked so awesome! Use any small pasta you can find.
Secondly, it's packed with colourful veggies, zesty green and black olives and dressed with garlic and basil vinaigrette. In other words, it's definitely not lacking in the flavour department. And it's much friendlier on a waistline.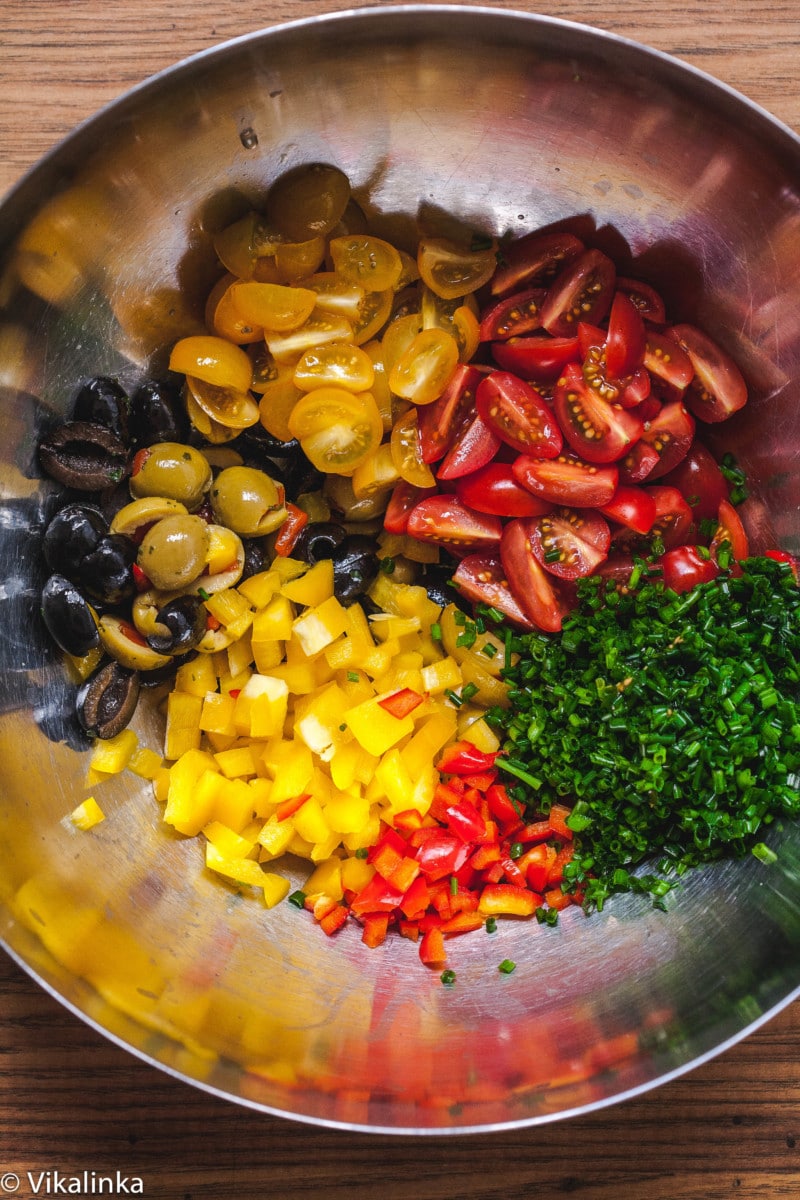 This pasta salad recipe was adapted from Jamie Oliver. I made changes to the original recipe by making the dressing into a basil garlic vinaigrette and adding red and yellow bell peppers.
I also added fresh mozzarella for extra protein and to be consistent with the Italian flavours.
Salad Dressing Recipe
You can always buy Italian salad dressing but what I offer here is much better. It's tastier and fresher.
My basil vinaigrette is also very easy to make. All you need is fresh basil, which I always grow in the summer, garlic, white wine vinegar or lemon juice and extra virgin olive oil.
Fresh seasonal ingredients. Just what we want to see in the summer.
You can use a blender, food processor or just chop everything by hand and shake it well in a mason jar.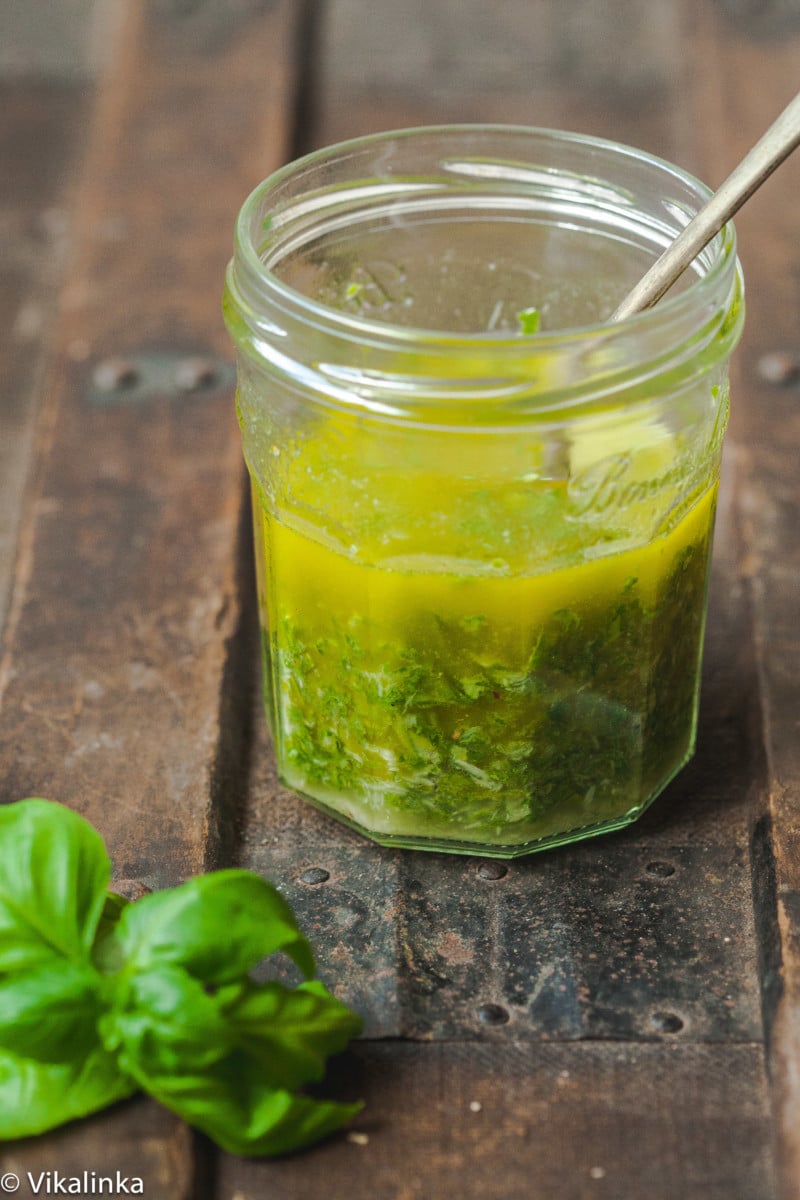 Why it works
What we enjoyed the most about this recipe was the feeling that we were actually eating a SALAD with all those veggies and not just a glob of pasta.
It's a truly fantastic summer side dish to complement grilled meats or a tasty lunch on its own. If you wish to add some protein or extra deliciousness to your salad serve it with a ball of fresh mozzarella.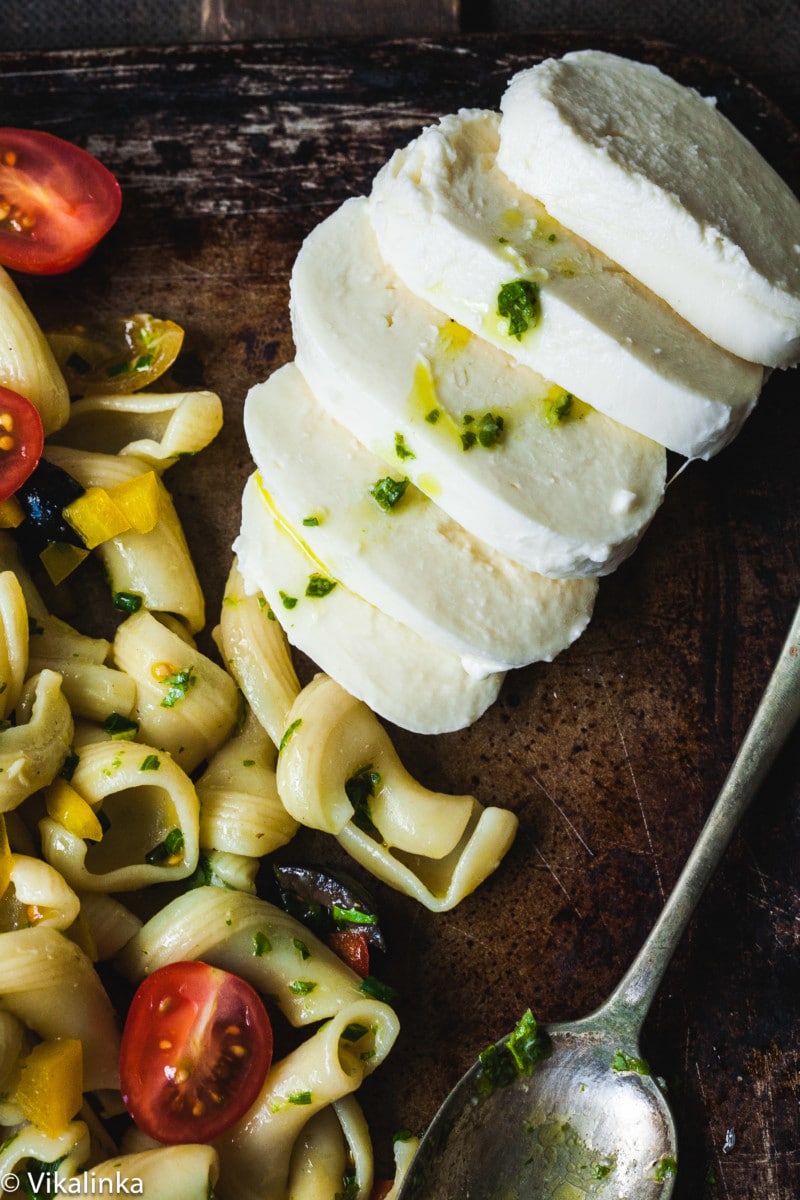 Can I make it ahead of time?
You absolutely can! It doesn't wilt, it doesn't get soggy. It's the perfect summer salad that even salad haters will adore! Keep it refrigerated for up to 3 days.
Try this pasta salad recipe and I promise it will become a favourite to bring to picnics and barbecues!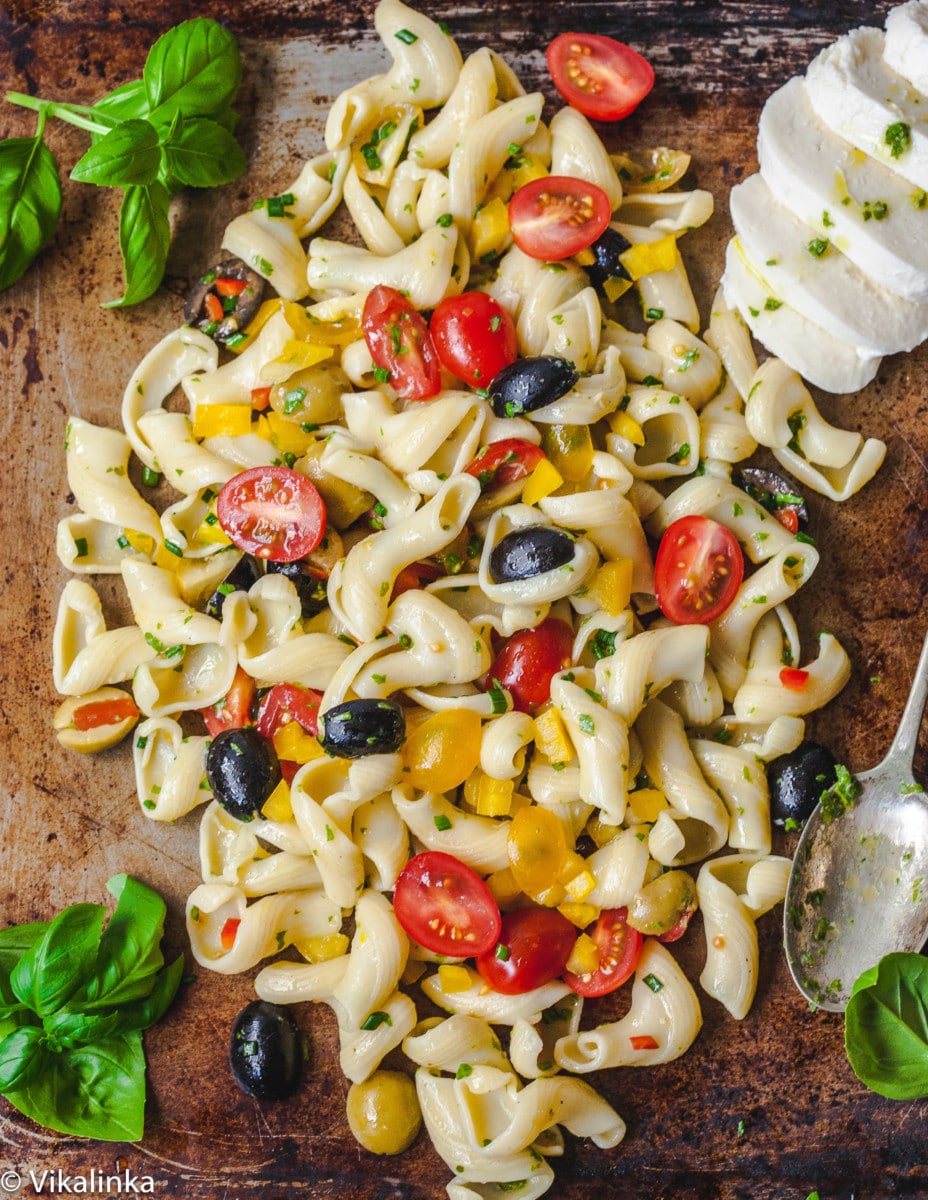 More Italian Salad Recipes:
This recipe was originally published in 05/2014. Updated and republished in 06/2020.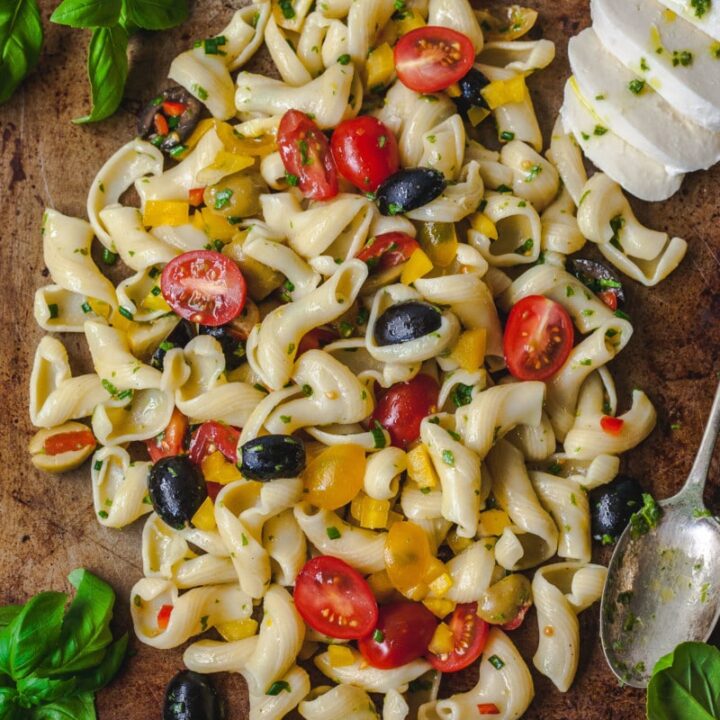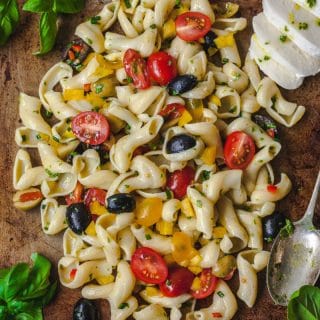 Pasta Salad Recipe with Basil Vinaigrette
Pasta salad recipe with cherry tomatoes, chives, red and yellow peppers with basil vinaigrette.
Ingredients
250g/1/2 lbs

small pasta

3

cloves

garlic

unpeeled

400g/2 cups

yellow cherry tomatoes

halved

400g/2 cups

red cherry tomatoes

halved

40g/1/4 cup

black olives

pitted and halved

40g/1/4 cup

green olives

pitted and halved

2

tbsp

fresh chives

chopped

½

red pepper

diced

½

yellow bell pepper

diced

10g/1/2 cup

fresh basil

4

tbsp

white wine vinegar

or to taste

7

tbsp

extra virgin olive oil

salt to taste

freshly ground black pepper to taste
Instructions
Cook pasta according to the package directions together with unpeeled cloves of garlic. Drain pasta, remove garlic cloves, peel them and set aside for the vinaigrette. Cool pasta.

In a large bowl combine red and yellow peppers, red and yellow tomatoes, black and green olives and chives.

In a food processor or a blender combine basil, white wine vinegar and cooked garlic cloves, process till smooth. With a motor of your food processor still running open the chute and pour in olive oil in a thin steady stream, blend for 30 seconds till smooth.

Add pasta to the bowl with vegetables, mix gently and dress with the basil vinaigrette. Season with salt and pepper to taste. Chill in the refrigerator for the flavour to meld for one hour before serving.
Nutrition
Calories:
211
kcal
Carbohydrates:
23
g
Protein:
4
g
Fat:
12
g
Saturated Fat:
2
g
Sodium:
141
mg
Potassium:
275
mg
Fiber:
2
g
Sugar:
2
g
Vitamin A:
504
IU
Vitamin C:
32
mg
Calcium:
22
mg
Iron:
1
mg